8 Best Office Chairs in Malaysia for Work and Comfort
Featured Image Source: Uneebo Office Design via Unsplash
If you want to improve your productivity, you need to stay focused and comfortable throughout the day. With this in mind, you might want to consider getting one of the best office chairs in Malaysia right now.
These days, office chairs come in various styles and specifications that can either make or break your long-term comfort. That's why you need to know what to look for before you decide on buying a new chair.
Luckily, we've prepared a few guidelines to help you choose the perfect features for your needs. Read on and discover how the best office chairs in Malaysia can improve your comfort and work experience!
Things to Look for When Buying an Office Chair
As previously mentioned, office chairs are designed with various specifications that can affect your overall comfort. This means that you need to pick the right features that best suit your personal preferences.
For example, some office chairs have extra features like headrests and lumbar supports that help improve your posture. Additionally, some chairs also have different fabrics and adjustable features that can further enhance your experience.
Whether you're buying your first chair or just looking for an upgrade, these guidelines will help narrow down your search.
Swivels and Casters
Swivels and casters are mechanisms that allow office chairs to rotate 360 degrees and move around on wheels. Put simply, having swivels and casters give you more mobility in an office environment.
Though some office chairs don't have wheels, we highly recommend that you get one with swivels and casters for these reasons:
Wheels allow for easier movement in your office
Allow for 360-degree turns
You can transfer your desk from room to room with ease
Wheels are less noisy when moving your chair
Lumbar Support
If you suffer from chronic back pains, you should consider getting lumbar support. Top-end ergonomic chairs have built-in lumbar mechanisms that you can adjust to suit your posture.
With the correct lumbar support, you can drastically improve your posture and relieve a lot of stress from your back. Additionally, lumbar supports can also help ease body pains around your legs, hips, back, shoulders, and neck.
Surface Material
If you don't want to feel sweaty when you work, you should consider the fabric or exterior of your chair. Some fabrics offer more breathability while others are easier to clean and maintain.
Which fabric you choose depends entirely on what works best for your lifestyle. Below are some of the common fabrics you'll find in Malaysian office chairs:
Fabric
Fabric is a warm and durable material that you'll find in a lot of low-tier office chairs. Despite its simple aesthetics, fabric is a soft and breathable material that offers enough comfort and durability.
The downside to fabric is its susceptibility to stains and absorbs moisture very quickly. This means that you'll have to leave it out to dry for a few hours if it gets wet.
Here are some benefits of having a chair with a fabric exterior:
Retains its temperature when left unused in a cold environment
Fairly breathable for your skin
Comes in a variety of colours
Soft texture
Mesh
Mesh fabric is more commonly used on ergonomic office chairs because of its soft, light, and breathable characteristics. Compared to fabric, mesh chairs are less prone to stains and are easier to clean.
You may also want to consider a mesh fabric if you have a stuffy work environment. Put simply, mesh fabrics are perfect for rooms with little ventilation or no air conditioning.
You may prefer to use an office chair with mesh fabric for the following reasons:
Very breathable material
Does not absorb moisture
Dries quickly
Light and comfortable
Easy to clean
Leather
Though top-end chairs are made with real leather, you'll find office chairs in Malaysia with durable faux leather exteriors. Either way, a leather chair provides a premium and professional look that will enhance your office aesthetics.
Leather chairs offer a clean finish that's fairly easy to clean and maintain. On the downside, leather isn't as breathable compared to fabric or mesh.
It's undeniable that a leather chair looks gorgeous, but it's not ideal for warm environments. You might want to avoid leather chairs if you sweat a lot.
Here are some benefits to having a leather office chair:
Luxurious design
Clean and smooth finish
Easy to clean
Stain-resistant
Waterproof
Cushion
There is no definite rule to having the best cushion, however, there are a few materials that you may prefer. For example, mesh cushions offer more breathability which makes them ideal for people who live in warm areas.
To keep things simple, you want to look for a cushion that's firm enough to hold your weight comfortably. In contrast, cushions that are too soft tend to wear out faster over time.
Some top-end office chairs may come with memory foam-like cushions that perfectly adjust to your body shape. Similarly, you can also purchase separate cushions for your chair if your seat is too firm.
Armrests
Armrests are an important part of keeping your workflow smooth. Although some office chairs do not have this feature, having armrests can significantly reduce arm and wrist fatigue.
Ideally, you want your armrests to be as tall as your elbows so that your arms can rest at a 90-degree angle. With this in mind, you want armrests with adjustable height and angle features to suit your body type.
Having soft pads on your armrest is also an extra feature that can enhance your comfortability.
Though armrests are generally useful, some people may prefer to do without them. For example, music producers who play large instruments would benefit from armless chairs to avoid restricting their movements.
Headrest
You don't normally find headrests in typical Malaysian office chairs. However, having a headrest can be beneficial.
If you enjoy sitting back and reclining your chair, having a headrest could elevate your experience to higher levels! You can even get an adjustable headrest for an even comfier experience.
Put simply, headrests are like built-in pillows for your office chair. Just make sure you don't get too comfortable when you have lots of stuff to work on.
Footrest
You can consider a footrest as more of a luxury feature rather than a necessity. That's why you won't normally find office chairs with footrests.
However, footrests are great if you enjoy lounging on your chair after a long day of work.
Adjustability
The adjustability of a chair is one of the most important aspects to consider. After all, you need a chair that's flexible enough to fit your height, weight, and posture.
You can generally adjust the seat height and tilt tension of most office chairs. However, adjustable backrests, armrests, and neck support features provide an extra level of comfort that you'll surely appreciate.
Best Office Chairs in Malaysia
Now that you know what to look for, it's time for you to check out the best office chairs available in Malaysia.
Check out our list of popular office chairs and discover the perfect one to improve your comfort, style, and productivity!
1. AM Office Ergohuman Chair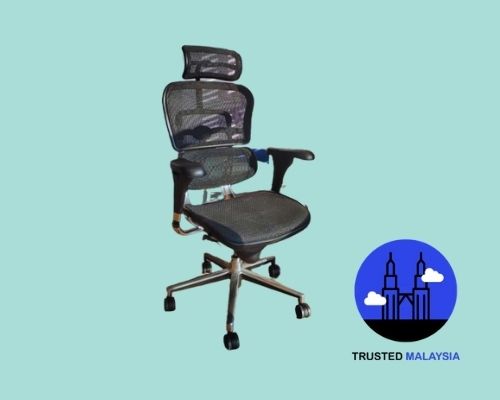 Price: RM2,650.00
Do you suffer from body aches after sitting all day? If you experience chronic pains, you might want to check out the AM Office Ergohuman Chair.
As one of the top Malaysian office chairs in the market, the AM Office Ergohuman Chair has tons of features to enhance your comfort. Its lumbar mechanism effectively supports your lower back so you don't slouch while you work.
With its highly breathable mesh fabric, you can stay cool while you breeze through your workload all day long. You can even use its reclining feature to enjoy relaxing naps right on your chair!
With its soft padded armrest, ergonomic design and adjustable features, this chair will fit you like a glove. With this chair, you can finally work longer hours without the hassles of back pains!
Free installation for Zone A delivery
Two-year warranty
Easily adjustable features
Reclining feature
Aluminium base
3 colour variations
Additional charges for Zone B delivery
Self-assembly for Zone B delivery
Non-refundable
Non-exchangeable
High price point
Customer Reviews
This ergonomic chair is so good that customers took their time to write down their positive experience.
One satisfied buyer writes:
"This chair can support your back spine, can adjust based on your height and it's comfortable for long sit working. The material is very cooling due to mesh quality and it's comfortable. A very heavy chair. Very good quality. Thank you Sue and AM Office for suggesting this chair."
Another customer writes:
"Best chair ever I bought! Came in ready 3x big parts easy to build in just few minutes and effortless 3x sections' pairs screwing. Very comfortable, cooling fabric touch better than leather chairs, heavy strong stable quality materials, the rolls very nice and smooth and does not make awkward sounds"
2. KOKUYO ENTRY Ergonomic Office Chair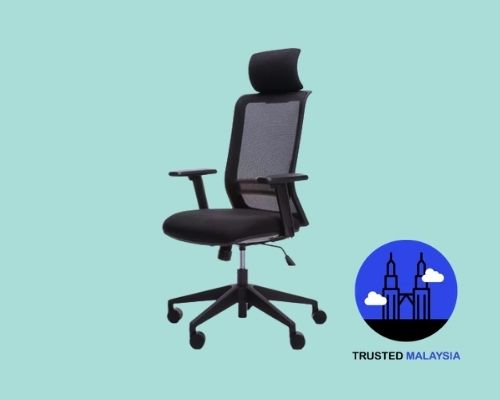 Price: RM870.00
If you're looking for a budget-friendly ergonomic chair, the KOKUYO ENTRY is a great choice. Equipped with the essential adjustment features, this office chair can give you the comfort you need without breaking the bank.
The KOKUYO ENTRY comes with a padded headrest and an adjustable lumbar support system. The lumbar support has 3 different configurations that you can adjust to fit your lower-back needs.
With its mesh fabric exterior and adjustable tilt tension, you can stay cool and relaxed throughout the day. Its swivel and castors are also very well built for a durable and stable finish.
The KOKUYO ENTRY is a straight-forward ergonomic chair that has the right amount of features to keep you comfortable.
3-year warranty
Detachable headrest
3-way lumbar support adjustment
Adjustable armrest and backrest
Mid-tier price point
Fixed headrest position
Limited lumbar adjustments
3. TTRacing Duo V3 Gaming Chair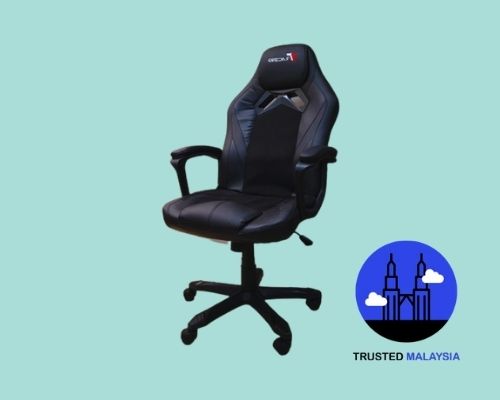 Price: RM399.00
If you like to work and play, the TTRacing Duo V3 Gaming Chair may suit your fancy. Considered an entry-level gaming chair, its comfortable design doubles as a reliable office chair.
Built with high-quality materials and a Carbon Fibre PU leather exterior, this chair has both style and functionality in mind. It also packs a lot of interesting features that both gamers and workers can enjoy!
The Duo V3 defies gravity with its 155 Degree Tilt-in-Space feature that allows you to recline 155 degrees backward. This means that you can let your body rest afloat while you take a well-earned break.
Its sleek leather exterior is paired with a breathable elastic fabric that helps keep you cool throughout the day. Along with its sturdy and durable frame, this chair is designed to hold your weight for a very long time.
3 colour variants
Thick cushions
Padded armrests
Adjustable tilt tension
Built-in neck pillow
Fixed headrest
Non-adjustable lumbar support
Non-breathable leather exterior
Fixed armrest
Customer Reviews
With its cool and straight-forward design, this chair is perfect for people who want a simple and reliable experience.
Here's what one customer has to say for the product:
"wow. easy to install. 5 minute craft. just bought it. i like it. i want it. i get it. "
A satisfied customer says:
"The chair is Nice and comfortable. Great response from the seller. The seller sent invoice to email."
4. F&F: Fagelbo Designer Black Frame Office Chair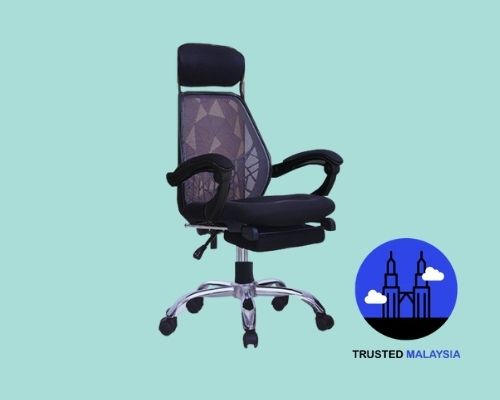 Price: RM699.00
If you're looking for office chairs in Malaysia, you want something that has the right amount of cushion and airflow. Luckily, The F&F Fagelbo Designer Office Chair has all that and more.
This simple-looking model is equipped with the basic features that you need in a reliable office chair. Its mesh backrest allows for maximum airflow while its soft seat cushion provides the right amount of comfort and breathability.
The best part about this chair is its extra features, such as the smooth reclining backrest. The armrest also moves together with the backrest for a very immersive reclining experience.
For maximum relaxation, this chair has a retractable footrest that you don't often find in typical Malaysian office chairs. Additionally, it also has a back compartment where you can store small office essentials like a jacket or a neck pillow.
1-year warranty
Reclining backrest and armrests
Built-in headrest cushion
High-back design
Retractable footrest
2 height adjustment levers
Fixed headrest
No lumbar support mechanism
Non-adjustable armrest
Average build quality
5. IKEA Renberget Office Chair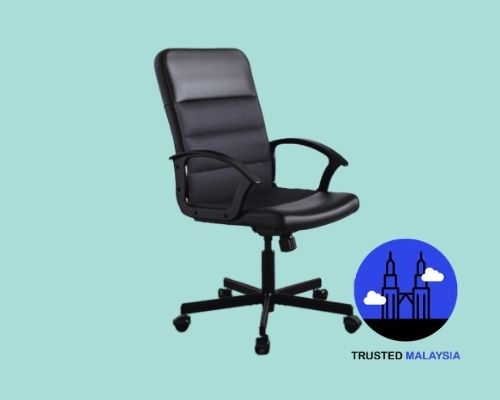 Price: RM209.00
If going for a minimalistic office style, you might like to take a look at the IKEA Renberget Office Chair. Don't let its simple design fool you, this chair has features that aren't common in Malaysian office chairs.
For some people, ergonomic and gaming chairs can look a little too overwhelming. Luckily, the Renberget's low-key design has just the right amount of features to keep you comfortable throughout the day.
In line with keeping things simple, this low-back chair has a mixed fabric of polyester, cotton, and polyurethane. Its unique fabric makes it very easy to clean and maintain for a long time.
Aside from its adjustable seat height, you can also adjust its tilt tension to suit your body weight more accurately. Additionally, its castors have a unique locking mechanism that stops the chair from moving when you stand up.
The IKEA Renberget Office Chair is a perfect option for a minimal home office setup.
Easy assembly
Adjustable tilt tension
Locking castor mechanism
Easy to clean fabric
Stable swivel design
No lumbar support
No headrest
Low armrest height
No armrest padding
Minimal cushion
Customer Reviews
Despite its simple features, the IKEA Renberget gathers plenty of positive feedback from customers.
A satisfied buyer has this to say about the product:
"Chair and wheels of chair so stable, and it is genuine ikea chair. User manual guided step by step on installation of chair. Chair also arrived before CNY from Penang (seller side) to KL (my side) only spent 3 days"
Another customer writes:
"I like this chair. Received in good condition, cheap, nice and thank you seller. It is really worth it and convenient."
6. Kitchen Z High Back Mesh Office Chair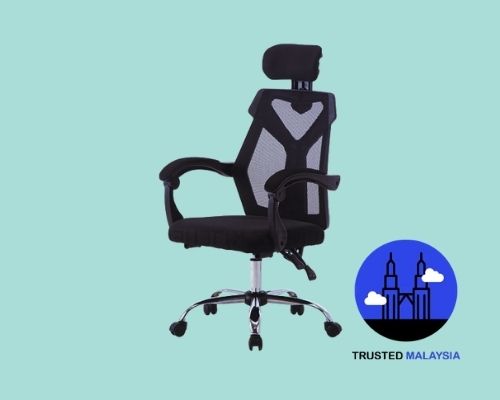 Price: RM399.00
If you're looking for a cool-looking office chair, the Kitchen Z High Back Mesh Office Chair should be on your list. With its almost-gaming aesthetics and ergonomic features, this chair has the look and feel to enhance your office.
Its unique Y-shaped back frame makes this chair stand out. Not only does it look cool, but the design also provides a durable frame to support your weight.
This chair has a padded headrest that you can adjust to fit your ideal head position. Its armrests also recline together with the backrest for a comfortable reclining experience.
Coupled with its lumbar curve and mesh backrest design, this chair can make you look and feel cool all day.
Adjustable headrest height and angle
155 degrees reclining
Reclining armrests
Padded armrests
Noiseless castor wheels
Non-adjustable armrest
No lumbar mechanism
Customer Reviews
Here are some of the glowing reviews left by customers:
One buyer had this to say:
"Nice quality , easy installation. Gaming chair too mainstream , use ergonomic office chair instead."
Another satisfied customer left this review:
"Good product, good value for money, fast delivery, worth for money"
7. OfficePro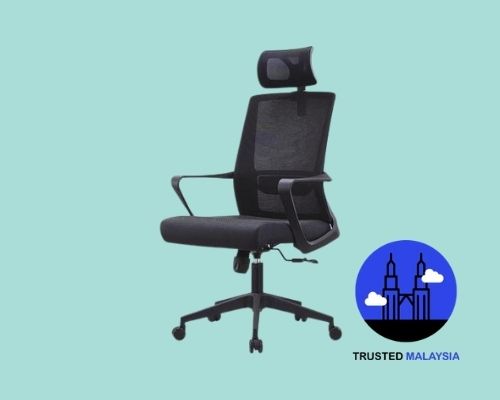 Price: RM549.00
OfficePro's range of office chairs include ergonomic chair, mesh chairs, director chairs, highback chair, lowback chair, visitor chair, typists chairs, study chairs, sofas, and link chairs. They can set up just about any office environment with our range of designs and models.
They also provide office chairs at KL , Selangor, and Malaysia.
Turn to them for jet black ergonomic chairs with comfortable mesh back and lumbar support. Their products are suitable for the executive office.
Now, you can say goodbye to lower back pain and take on those long working hours!
Their products sets a tone of smart, clean and modern looks
Easy cleaning using a cloth
This unit has been tested for office use and meets the requirements for safety
It`s recommended for hotel, meeting room, college institutes, or office use
Delivery prices depends on your location
8. ErgoPro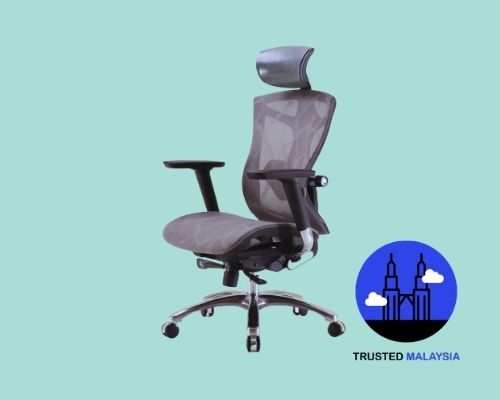 Price: RM 2299 ( Add on RM 300 for footrest )
The ErgoPro chair is the most ergonomic office chair in the country. With its adjustable arms, lumbar support, back height features, and seat slider as an add-on, this chair will truly adapt to your body.
Unlike other companies, customers can choose whether they want a leg rest or not. The price for the leg rest is RM300.00.
Another reason why people choose this chair is that it also has an adjustable seat cushion to position forward or backward. Plus, they offer the chair in two colors, black and ash gray.
In comparison to the other office chairs on this list, you can pay for this product using installment. It can be done in a period of 6, 12, or even 24 months.
Well-positioned controls to allow easy adjustments on the fly
Ergonomic Contour design to match the human spine
4 years warranty 
Endorsed by chiropractor 
Fully adjustable seat and lumbar support 
Aluminum alloy strong base 
Installation Option is only available in Klang Valley
FAQs About Office Chairs in Malaysia
---
By picking out the chair with your ideal features, the best office chairs in Malaysia will add more comfort and style to your office.
Did we miss out on other great office chairs? Send us a message and we'll check out your recommendations as soon as we can.
If you still haven't found your perfect chair for your office, why don't you check out our list of the best gaming chairs in Malaysia? After all, some gaming chairs are sleek and comfortable enough to double as office chairs.