The 7 Best Breakfast Spots in Petaling Jaya
Known as the shopping hotspot of Kuala Lumpur, Petaling Jaya is home to numerous malls and stores. However, what most people don't know is that this area also houses some local restaurants that offer breakfast and brunch meals.
As foodies ourselves, we're always searching for the best restaurants around town. That's why today, we're going to take a look at some of the best breakfast spots in Petaling Jaya.
You know what they say: breakfast is the most important meal of the day. So, start your day right with our top recommended restaurants!
How We Chose the Best Breakfast Spots in Petaling Jaya
To truly filter the best of the best breakfast spots found in Petaling Jaya, we've assessed them based on the following criteria:
1. My Toast and Roast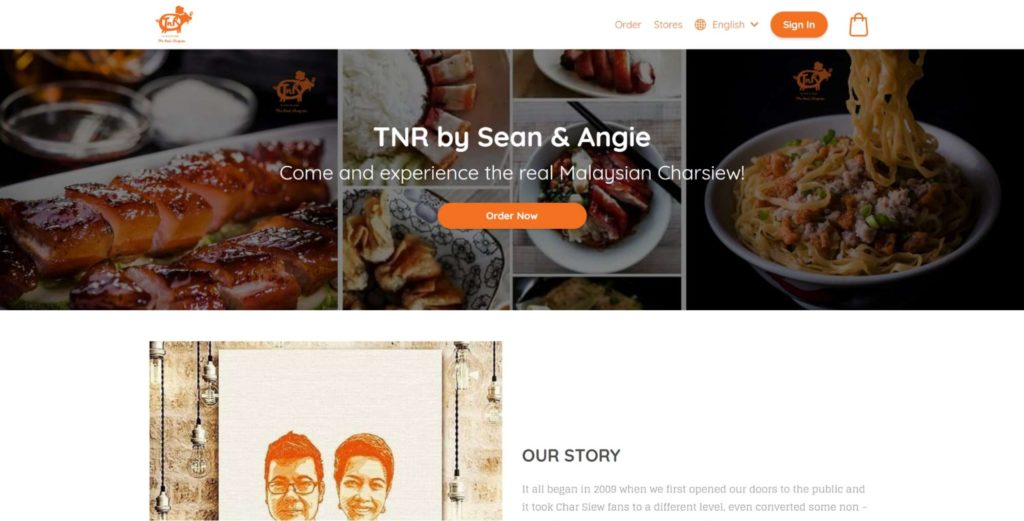 Test
Info
PRODUCTS

Hickory Smoked Chicken Whole Leg

Char Siew, Hakka Noodles

Wonton Noodles, Rice

WEBSITE
https://www.tnrfood.com
ADDRESS
101 Jalan SS2/6 47300 Petaling Jaya, Selangor Malaysia
CONTACT DETAILS
+60 16-682 2249
OPERATING HOURS
Mon-Wed, Fri-Sun: 10:15 AM - 05:30 PM
| | |
| --- | --- |
| Criteria | Ratings |
| Value for money | ★★★★☆ (4/5) |
| Customer Service | ★★★★★ (5/5) |
| Variety | ★★★★☆ (4/5) |
| Taste | ★★★★★ (5/5) |
| Ambience | ★★★★☆ (4/5) |
If you're looking for a breakfast spot that offers the most amazing Chinese dishes in Petaling Jaya, My Toast and Roast should be on your radar.
As soon as we held the menu, we saw several Chinese dishes that piqued our interest. This included the chicken curry, smoked chicken, Hakka and Wonton noodles—all of which we eventually ordered.
Although, one of the things that we were hearing the most about My Toast and Roast is their char siew. We decided to give in to the hype and added this to our order, and we're glad we did!
Our team especially loved how this barbequed pork instantly melted in our mouths. Pairing this with rice is a golden idea—we just couldn't agree whether it tastes better with fried or steamed.
This is their best-seller and they did say that it sells out fast. Luckily, we got there early and got our hands on it.
The staff also recommended that we try out their Hakka Noodles. However, our team had mixed feelings about it since some of us liked its springy texture, while others found it tough.
As for the ambience, we felt how true My Toast and Roast was to its roots. From the rustic interior down to the simplistic stools and tables, everything about this restaurant screams authenticity.
On the downside, what we didn't like during our experience is the limited parking space. The other customers we spoke with also found this frustrating, especially during peak hours.
Aside from the trouble with parking, we don't recommend eating here during peak hours since the service turns subpar.
It's also worth mentioning that My Toast and Roast's location is also quite difficult to find, especially if you're a first-time diner. Nonetheless, we think the entire dining experience here is worth it, given its delicious specialties and cheap prices!
Delicious dishes, especially Char Siew and Hakka Noodles
Friendly and accommodating staff
Airy interior
Cheap prices.
Parking space could use some improvements
Location isn't that easy to find
Service can be subpar once the place gets packed with customers
Non-halal
Customer Reviews
Char Siew is topnotch
"Love their Char Siew. There are 2 characteristics that a plate of Char Siew must have to satisfy my taste buds: slightly charred edges and caramelised edges. Toast & Roast's Char Siew has both of them and that's what keeps me coming back again and again. The best part is the fat because it sort of melts in your mouth.
I recommend the Hakka noodles to go with the Char Siew. Make sure to order both of them separately (not the Hakka Char Siew Mee) as I find the Hakka Char Siew Mee a bit too bland. If you order the normal Hakka Mee, it comes with flavourful minced pork." —Jyn-Yann N., Yelp.com
Hakka noodles are a must-try
"Toast & Roast is the name you will expect for well, toast, and not Hakka-based cuisines, but because of that simple intentional mistake, their fame just rose even higher, propelling them into one of the better restaurants in Selangor.
With their Hakka noodles being one of the must-order dishes in this institution, their pork belly and roasted pork are well-reputed for being much smokier and crunchier than their usual competitors. Along with their other obligatory non-swine products like steamed/smoked chicken, it seemed to me that this is the one-stop place to go if you want to taste delicious chunks of well-cooked meat.
I, for one, liked this place pretty damn much. Loved it in fact. I am perhaps too much of a carnivore than anything else, but then again, as a Chinese, who isn't?" —Andy L., Yelp.com
2. Breakfast Thieves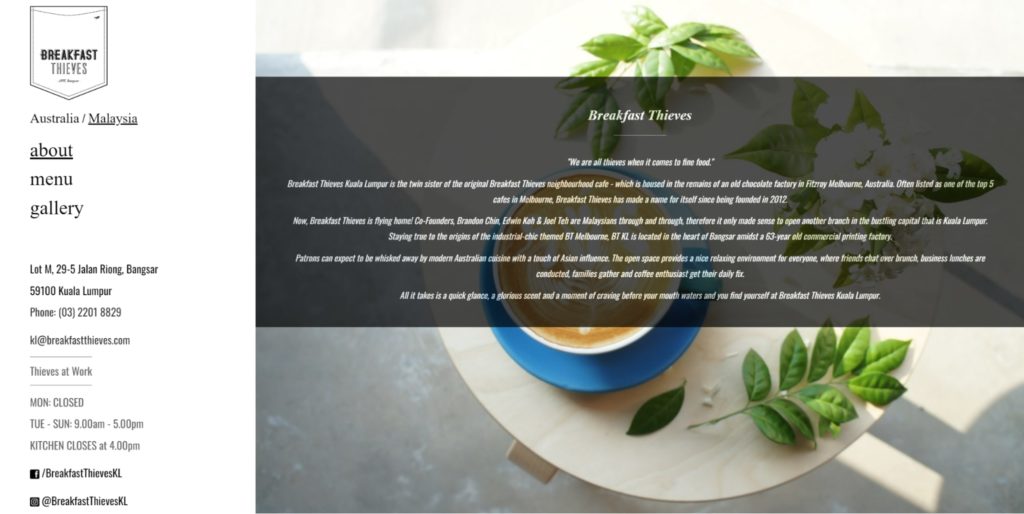 | Test | Info |
| --- | --- |
| PRODUCTS | |
| WEBSITE | http://www.breakfastthieves.com |
| ADDRESS | 29-5 Jalan Riong 59100 Kuala Lumpur Malaysia |
| CONTACT DETAILS | 03-2788 3548 |
| OPERATING HOURS | Tues-Sun: 9:00 AM - 5:00 PM |
| | |
| --- | --- |
| Criteria | Ratings |
| Value for money | ★★★★☆ (4/5) |
| Customer Service | ★★★★☆ (4/5) |
| Variety | ★★★★★ (5/5) |
| Taste | ★★★★☆ (4/5) |
| Ambience | ★★★★★ (5/5) |
One trendy restaurant we tried in Selangor is Breakfast Thieves. Since it opens at 9:00 AM, which is pretty late for breakfast in our books, it's a perfect option for late risers to have their first meal of the day.
What we liked about Breakfast Thieves is how they elevated the usual breakfast and brunch food items by presenting them in a trendy way. Hence, you'll find items that feature unorthodox descriptions such as 'marbled jammy eggs'.
But aside from being trendy, they proved to be a solid breakfast joint with their wide selection of quick eats and beverages. One item we highly recommended is their soft-shell crab burger called the 'Uncle Foo' which I had the pleasure of ordering.
Everything about it was ace but what surprised me the most was the brioche bun. It held all the other ingredients in the sandwich well like the fried egg, lettuce and chilli ginger sauce.
This sturdiness was a huge yes for us since I don't like it when my sandwich starts to fall apart after one bite.
We just found that the items here tend to be on the pricey side. But, we think this is justifiable based on the quality and serving size.
Nonetheless, this still may not be everyone's cup of tea as some people aren't willing to spend high prices on a breakfast meal.
Furthermore, if we were to nitpick, we didn't like how the menu didn't have photos. Although we understand that it's for aesthetic reasons, it can get confusing, especially for newcomers.
Speaking of aesthetics, we also loved the restaurant's bright and cosy vibes which is thanks to the building's floor-to-ceiling windows. We think it sets a great mood to start the day!
Creatively presented dishes
Instagrammable ambience
Fast service
Variety of dishes, including vegetarian and vegan options.
Menu doesn't have pictures which can confuse some customers
Prices lean toward the expensive side
Customer Reviews
Pleasant experience
"Dined here for lunch… Service by the Filipino waiter was prompt and efficient. The menu was simple but the food was well executed, taste and presentation-wise. The coffee was good and the fruit juice was pure and undiluted.
Price-wise, the food here is slightly above average but still offers a good value. The only downside is that the parking in the APW, Jalan Riong area is horrendous."—YapFC, Tripadvisor.
Outstanding Food & Thorough MCO SOP
"Second time here and the food excellent food fully justifies the cost (which is not outrageous. Would thoroughly recommend the Terry Benedict and Admiral Cheng-Ho that we had on this trip.
Of particular note in these strange times was the thorough cleaning of table and chairs immediately following the departure of customers. This plus the light, bright airy space – and choice of indoor and outdoor tables gives confidence that this is not a place to worry about visiting."—NGarrity, Tripadvisor.
3. One Half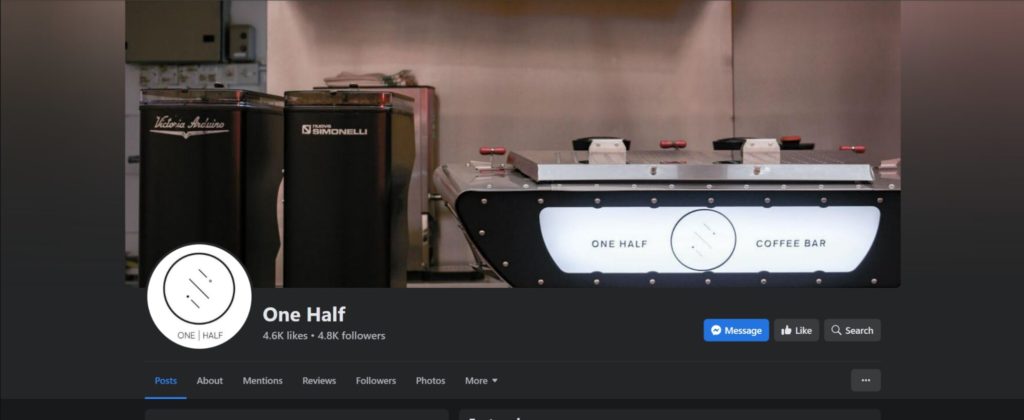 Test
Info
PRODUCTS

Pastries, Coffee, Beer

Sandwiches, Salad

Hotdog, Fries

WEBSITE
https://www.facebook.com/onehalfco/
ADDRESS
17, Jalan 20/13, Taman Paramount, 46300 Petaling Jaya, Selangor, Malaysia
CONTACT DETAILS
+60 3-7733 1277
OPERATING HOURS
Every day from 8:00 AM to 10:00 PM
| | |
| --- | --- |
| Criteria | Ratings |
| Value for money | ★★★★☆ (4/5) |
| Customer Service | ★★★★☆ (4/5) |
| Variety | ★★★★☆ (4/5) |
| Taste | ★★★★★ (5/5) |
| Ambience | ★★★★☆ (4/5) |
Sticking with our search for trendy breakfast spots, another nice cafe we found in Petaling Jaya was One Half. This hipster cafe gave us a quick fix to start our day right, thanks to their different kinds of brewed coffee.
One Half offers your typical coffee drinks, such as espressos, lattes and the works. But what we love most is their filter coffee!

Interestingly, this coffee is one of their best-sellers. We especially liked that we were able to choose which kind of bean to use for brewing, and in this case, we tried the fruity Ethiopian beans.
Aside from the outstanding drinks at One Half, we were able to enjoy their varied pastry offerings. Their freshly baked croissants paired perfectly with our cuppa, and the chocolate tart was a nice cap to our breakfast.
If you're not that into coffee, One Half also has non-coffee drinks—a plus for variety!
It's also worth noting that the staff are very accommodating which makes ordering and dining here all the more pleasant.
As for the place's vibe, we enjoyed the 'hipster-like' dining experience. We think its rustic interior which consists of exposed concrete and subtle hints of wooden accents is super chill and aesthetic.

A bonus is their outdoor seating, which is especially useful since it can get easily crowded inside since it has limited tables. We just wish that One Half has more parking spaces in its location.
Overall, we were happy we got to experience a cool little coffee shop that's passionate about the beverage.
Delicious coffee
Fresh off-the-oven pastries
Availability of non-coffee drinks
Chill vibes
Ample parking space
Could use some more tables
Customer Reviews
Great coffee!
"We loved this place. The shop is really interesting to have a little browse.
The decor is really modern and the seats are very comfortable with both Indoor and outdoor seating.
The coffee was really good. The food was yummy too! But the salted caramel cake was the best by far!"—PatrickG826, Tripadvisor.
One Half – Definitely not half the awesomeness
"A good surprise hidden at taman paramount. The signage is so small that I almost missed it. Combination of handmade and organic items store + little cafe.
Love the Valrhona Dark Chocolate Tart – silky smooth bittersweet chocolate on a thin pastry. Had to eat slowly to savour every bite.
As for the Banana Almond Tart, it has a good taste but the pastry at the side is slightly too thick and dense.
The cold brew tonic (black coffee + tonic + grapefruit) is a quirky refreshing drink but is on the milder side of flavour."—RachelBlurr, Tripadvisor.
4. Paya Serai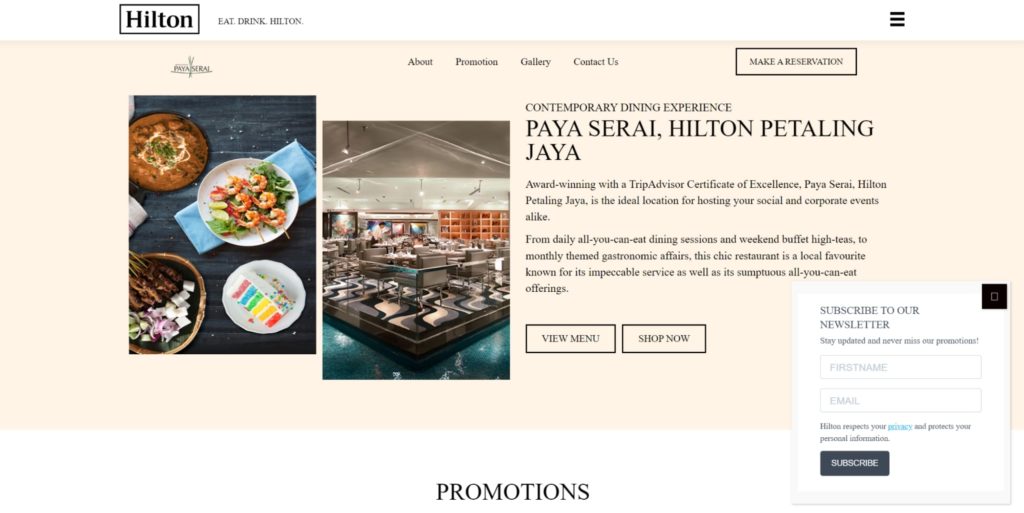 Test
Info
PRODUCTS

American and Continental buffet packages

Oriental, Malaysian

WEBSITE
http://eatdrinkhilton.com/paya-serai/#/
ADDRESS
No 2 Jalan barat Hilton Petaling Jaya, Petaling Jaya 46200 Malaysia
CONTACT DETAILS
+60 3-7955 3533
OPERATING HOURS
Every day from 6:00 AM to 10:30 PM
| | |
| --- | --- |
| Criteria | Ratings |
| Value for money | ★★★☆☆ (3/5) |
| Customer Service | ★★★★★ (5/5) |
| Variety | ★★★★☆ (4/5) |
| Taste | ★★★★★ (5/5) |
| Ambience | ★★★★★ (5/5) |
Located in the renowned 5-star Hilton Hotel in Petaling Jaya, the Paya Serai is an equally classy dining spot that we tried and enjoyed.
Although the restaurant isn't exclusively a breakfast joint, it does offer one of the best breakfast set buffets in the country.
We arrived at around 8:30 AM and the breakfast buffet was until 10:30 AM so we had plenty of time to go through their breakfast sets.
We discovered that there were four breakfast sets, each of which feature juices, hot beverages and fresh fruits. To top it all off, each set had a special unique offering.
Here's a table to check out what each breakfast set here at Paya Serai has to offer:
| | | |
| --- | --- | --- |
| Package | Price | Special offering |
| Oriental Picks | RM 69 | Plain, chicken or seafood congee |
| Malaysian Delights | RM 69 | Nasi Lemak, Soto Ayam |
| Continental | RM 60 | Yoghurt and pastries |
| American | RM 69 | Sausages, pastries, grilled veggies |
However, we couldn't help but to try Malaysia's national dish, Nasi Lemak, while we were here which is why we ordered it along with the Soto Ayam.
The Nasi Lemak, in particular, is worth mentioning as it closely sticks to the original recipe of the national dish while adding a few twists. The biggest difference is its use of a special squid sambal instead of a regular one.
Usually, sambal would only be made with chillies, garlic, lemongrass, shrimp paste, etc. With this variation, the dish is made much more delectable by adding that distinguishable seafood flavour.
Since it's located in the 5-star Hilton Hotel, you can expect the same elegance featured in the interior of this restaurant. However, this is also the reason for its steep prices.
Steep prices aside, dining in Paya Serai was pleasant, especially with its friendly staff and speedy service.
All-you-can-eat style dining
Friendly staff
Gorgeous interior design
Halal, vegan and vegetarian options.
Pricey packages
Limited buffet spread.
Customer Reviews
Super comfortable stay, amazing breakfast, exceptional service!
"This is our 2nd time at Hilton PJ and Hilton always delivers! Main reason for our return is the exceptional service by staffs at Hilton. They are professional, courteous, friendly and warm.
Special recognition to Shaz, Rizal, Shamsul, Ayu & Rohini who made our breakfast experience one of the best that we've ever had! Btw, I loved the teh tarik station!! Keep it up, thanks for making us feel at home. Will def return!"—Michelleruhui, Tripadvisor.
Good variety, tasty food
First time having a buffet dinner here. There's a variety of cuisine from Malay, South Indian, Chinese, North Indian, and Western. Food is tasty. Really enjoyed the biryani rice, varuvaal chicken, Nasi Minyak with ayam masak belada and chicken pie. The chicken from all cuisines was soft and tender and rice flavourfull but mild to go well.
Desert was western and Malaysian, and could definitely be improved. Overall good with room for improvement in ensuring all food is warm and replenished, considering the price of RM128. The service is really good, the staff ( Azlina, Rossi, Zomari, Izwan) are well-spoken, polite, attentive and helpful. Thank you."—Sya_Luna7, Tripadvisor.
5. Antipodean Atria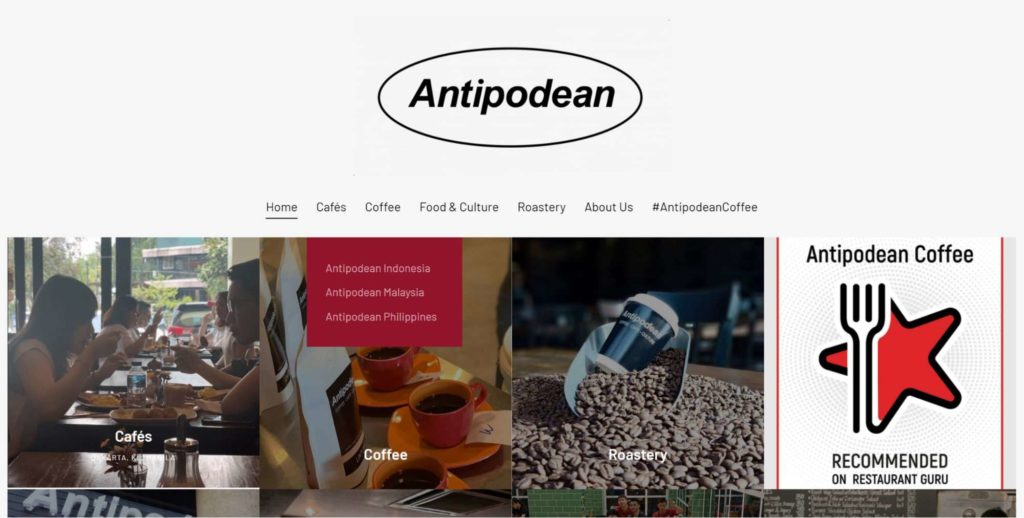 | | |
| --- | --- |
| Criteria | Ratings |
| Value for money | ★★★★☆ (4/5) |
| Customer Service | ★★★★☆ (4/5) |
| Variety | ★★★☆☆ (3/5) |
| Taste | ★★★★★ (5/5) |
| Ambience | ★★★★★ (5/5) |
"Coffee + Cafe + Culture," this three-word mantra perfectly summarises the dining experience at Antipodean Atria, and we're glad we were able to try it out ourselves!
Antipodean offers a variety of breakfast staples, such as toast, eggs and pancakes. Out of all their offerings, however, we decided to go for a classic Eggs Benedict.
When it comes to this dish, the poached egg is the main highlight and thankfully, the one we got was perfect. We also loved how they only put the right amount of their hollandaise sauce to drizzle over the eggs, bacon and baby spinach.
We were also impressed to see how inclusive their menu was, as they also offered an expansive vegetarian menu for those that don't eat meat.
Of course, we also put their coffee selection to the test. We personally got a flat white and it had the perfect balance of foam, coffee and milk.
As we sat with our cups of coffee, we were able to appreciate that the cafe had a rustic vibe going on with its high ceilings, dark colours and overhead lights.
We also think it's worth noting that there's a corner that was filled with colour—the kids' zone. We thought it was thoughtful, as Antipodean Atria considers families too.
Although, one drawback that we saw was their occasional high prices, especially for some of the brunch items. It's not atrocious but it's just something that may throw off some people.
Lastly, we think that this cafe opens an hour too late for those seeking breakfast, even for late risers like me. However, nothing could be done about this as the establishment follows the mall's operating hours.
Relaxing ambience
Aromatic coffee drinks
Great location
Vegetarian options
Some items are pricey
Packed with customers most of the time
Opens a tad bit later than other breakfast spots.
Customer Reviews
Impeccable Service
"We visited ANTIPODEAN in Atria last weekend, it was lunchtime and the place was packed, though we have to queue the floor manager, Rahmat, keep on checking on us to make sure we were well taken care of. After half an hour's wait, we got our tables and ordered.
The food came very fast, we were happy with the food quality as well as the attentive service by the floor manager and the waiters. It was my birthday, and the floor manager also gifted me a slice of cake on the house. It was a wonderful surprise! I would definitely be coming here again."—MiinHway F, Tripadvisor.
Good food & excellent service
"This is our favourite place for brunch. They served tasty & good selection of food. Highly recommend the Smashed Avocados.
While you're here you must try their desserts, it's super good. Excellent service was provided by Zahangir & Rafat. Keep up the good work. Definitely will return again. Thank you."—153ireneh, Tripadvisor.
6. Zao – Breakfast Anytime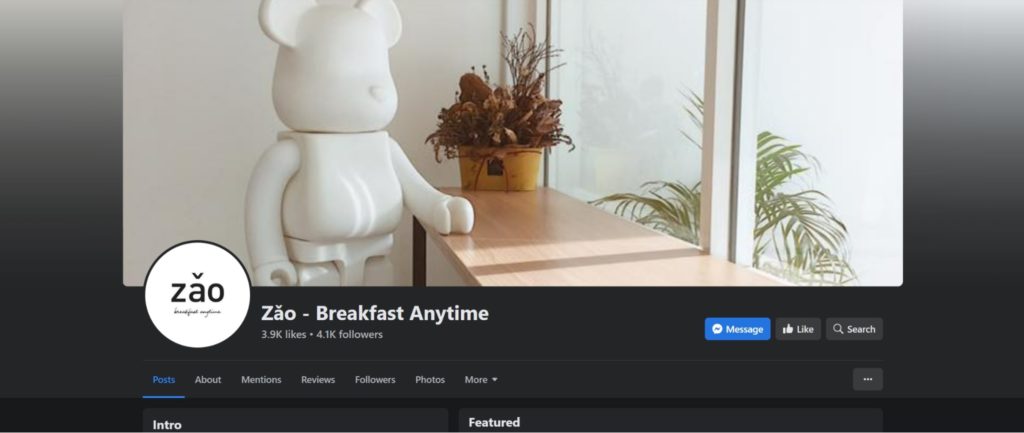 Test
Info
PRODUCTS

Sandwiches, Quick bites

Coffee, Rice meals

WEBSITE
https://www.facebook.com/zzzaooo/
ADDRESS
50G Jalan 19/3, Petaling Jaya 46300 Malaysia
CONTACT DETAILS
+60 11-2828 9173
OPERATING HOURS
Weekdays except for Wednesdays: 6:00 AM - 3:00 PM

Weekends: 8:00 AM - 4:00 PM
| | |
| --- | --- |
| Criteria | Ratings |
| Value for money | ★★★★☆ (4/5) |
| Customer Service | ★★★★☆ (4/5) |
| Variety | ★★★★★ (5/5) |
| Taste | ★★★★☆ (4/5) |
| Ambience | ★★★★☆ (4/5) |
Situated in Jalan, Petaling Jaya is a cute little cafe that serves amazing breakfast dishes: Zao – Breakfast Anytime. Right off the bat, one of the things that impressed us was their huge servings.
We were pleasantly surprised when our order called "Fifty G" arrived on our table. Basically, it was a plate with a boatload of sausages, bacon strips, beans, toast and different kinds of veggies.
To make this order and other Eat Big dishes this jam packed, however, they must charge a higher price compared to their other items.
Some people on our team who didn't feel like eating much opted for something called "Mushhh" from their Light and Easy meals. It consisted of portobello mushrooms (which were so flavourful) as well as a mixed salad, pork bacon and a sunny-side-up egg.
They also offer a similar dish that's vegetarian-friendly called "Wholesome," which replaces the meat with asparagus—this earns them plus points in our books for being inclusive!
As for their beverages, you can find a myriad of hot and cold coffee and tea drinks that go perfectly well with their dishes. We also appreciate that they also offer Milo Packs which is a cocoa powder-based drink that's famous in Malaysia.
Meanwhile, we think their beverage menu was limited for a coffee shop. But then again, they also serve various meals, which provides a good balance to the selection.
Finally, Zao's ambience is hip but maintains a simplistic hole-in-the-wall appearance. We really like how it mostly consists of white walls and contrasting pieces of furniture, creating such a pleasant vibe to start off our day.
All-in-all, it's a great spot to kill time while enjoying delicious and hearty meals.
Cool and hip ambience
Plentiful servings
Vegetarian options
Limited coffee selection
Some items from their menu can be pricey.
Customer Review
Sliced Porks Sandwich!
"Huge amount of fresh slices porksss and cheese! New idea for a sandwich you never eat! And also the toast, purple chia seed toast. Yummmssss!"—Shirleen Tan, Burpple.
Early breakfast
This is by far one of the earliest breakfast place I've known to open for business so far (not taking into account 24 hours outlet ok?) although applicable on weekdays only. Really perfect for those early birds out there.
This place is basically a no-frills breakfast spot with about 20 food items in the menu, mainly focusing on sandwiches, toasts, and breakfast platters.
Bacon Avocado – an open sandwich concept where crispy bacon, creamy avocado, lettuce on top of charcoal toast. Not enough? They top it up with one sunny side up.
Low carb platter – mixed greens, mashed creamy avocado, and pork chop loin. Add bacon at extra cost.. I added bacon strips for RM3. Note: the bacon strips were thinner than the regular ones.
They only serve pressed juice plus basic black coffee, lemonade and ginger molasses drink.
It's self-service at this breakfast place – proceed to order at the counter and wait for your number to be called before collecting.
I'd give full marks if they serve more selection of coffee"—BL_Leo, Tripadvisor
7. Village Park Restaurant

Test
Info
PRODUCTS
Authentic local Malaysian dishes
WEBSITE
https://www.facebook.com/profile.php?id=100067908908016
ADDRESS
5 Jalan Ss 21/37 Damansara Utama, Petaling Jaya 47400 Malaysia
CONTACT DETAILS
+60 3-7710 7860
OPERATING HOURS
Mon-Sat: 7:00 AM - 7:30 PM

Sun: 7:00 AM - 6:00 PM
| | |
| --- | --- |
| Criteria | Ratings |
| Value for money | ★★★★★ (5/5) |
| Customer Service | ★★★★☆ (4/5) |
| Variety | ★★★★☆ (4/5) |
| Taste | ★★★★★ (5/5) |
| Ambience | ★★★★☆ (4/5) |
If you want to experience authentic Malaysian dining at its best, we recommend heading to Village Park Restaurant, a longtime local favourite in Petaling Jaya.
Of course, we had to get the nasi lemak, as this is as authentic as it gets, and we didn't regret it!
We couldn't decide whether it was the special sambal sauce or the added crispy crumbs but there's something different about this restaurant's nasi lemak that elevates it.
In fact, Village Park Restaurant's nasi lemak alone is why the eatery is brimming with locals and tourists every day. It was a good thing we got there early before the crowd started to build up.
Even though the restaurant offers both inside and outside seating, it can get busy quickly, especially during lunchtime. For instance, when we went here for a late breakfast, we found it pretty congested.
We also the customer service here is quite subpar. Although, we can chuck it up to the crowds since it was pretty hectic that day.
Aside from the perfect nasi lemak and fried chicken combination, this restaurant offers other Terengganu-style dishes such as ayam madu, ayam api, ikan cencaru and more.
As for the ambience, we love how Village Park Restaurant made us feel like a local in Malaysia, from its simplistic stools and tables, homey vibes and, of course, cheap prices.
Spacious interiors
Authentic local dishes
Cheap prices
Can get crowded during lunchtime
Subpar customer service during peak hours
Customer Reviews
Still got it! Delicious!
"Came here for breakfast, and it was still easygoing and delicious. In the mornings, there are definitely less people, but love that they open for breakfast so you can get your nasi lemak fix. For dine-in, still seems to be a walk-in, sit down and order to a person at your table rather than at the counter as some other reviews suggest. We had the OG ayam goreng and also the rendang."—yuann00, Tripadvisor
Ayam Goreng
"No trip to KL is completed without a stop at Village Park Restaurant. Well known for their nasi lemak, the place is so popular that the seats covered the walkway outside too.
And it's easy to spot a plate of Ayam Goreng on every table. Made of fragrant coconuty steamed rice accompanied with fresh hot crispy fried chicken and sambal. The chicken is well season and so crispy delicious that you can't get enough of it.
P.S: it's very packed before 1pm and you might have difficulties finding a seat, so best to drop by early morning or late afternoon."—Cassie Ong, Burpple.
FAQs about the Best Breakfast Spots in Petaling Jaya
That wraps up our guide on the best breakfast spots in Petaling Jaya. These restaurants will truly help kickstart your day with their high-quality dishes and authentic dining experience.
To discover more breakfast spots in Malaysia, check out some of the best ones we've found in Penang.
---