Source: Joyce McCown via Unsplash
By Aisya binti Ahmad
Extreme joint pain can limit our movement significantly and affect our daily activities. Thankfully, with the best chiropractors in Malaysia, any type of joint discomfort can be treated in just a few sessions.
If you're looking for a chiropractor in Malaysia but don't know where to start, our list of the best chiropractors in Malaysia might help you.
1. HealthWorks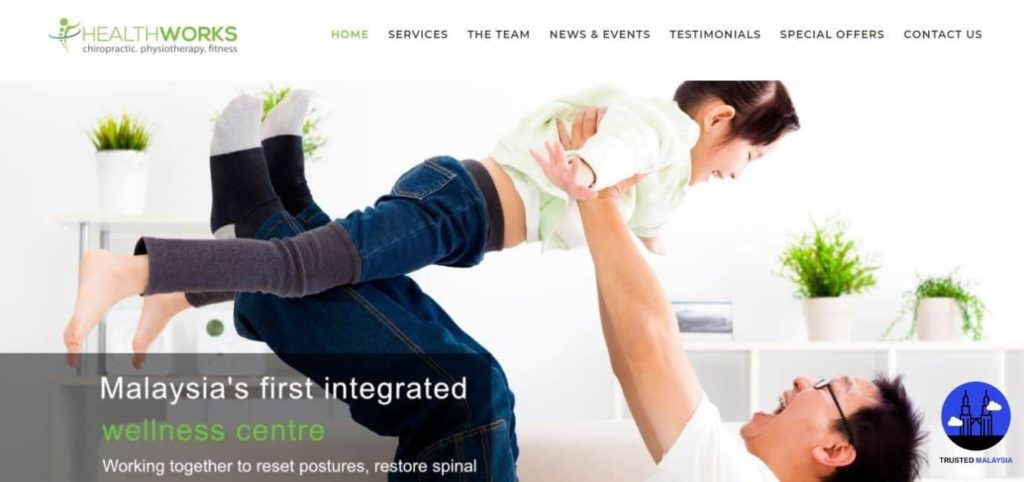 Healthworks is Malaysia's first care centre that offers integrated posture care, with services such as physiotherapy, kinesiotaping, chiropractic, and more.
This clinic has the best chiropractors in Malaysia who aim to reactivate bodies by resetting postures and restoring spinal health.
Among the treatments their chiropractors offer are the diversified spine and drop table techniques and the activator method. The treatment method is selected according to your condition for precise, safe, and effective adjustments.
You can go to them for treatment for your acute or chronic pain, sports injury, or simply the feeling of stiffness in your body. The best chiropractors in Malaysia will help ease your pain quickly.
Highlights
Malaysia's first care centre for integrated posture care
Wide range of chiropractic services
Addresses acute or chronic pain, sports injury, or stiffness of the body
Customer Reviews
Dr Lucas Ong is one of HealthWorks' resident chiropractors. ST Lee, one of his previous clients, shared their experience in this review:
"On 8 March 2019, I walked into Healthworks for the first time. I was suffering from pain and tight hamstrings in my left leg and a stiff lower back. With the comprehensive examinations, Dr. Lucas Ong knew exactly what to do and I was impressed by the results after just a few treatments.
During every visit he worked firmly and expertly on my spine whilst casually chatting to help me relax. I was amazed to find that the pain reduced almost immediately and continued to diminish with every session. I am confident that I am on the road to full recovery. Thanks, Lucas."
2. Aligned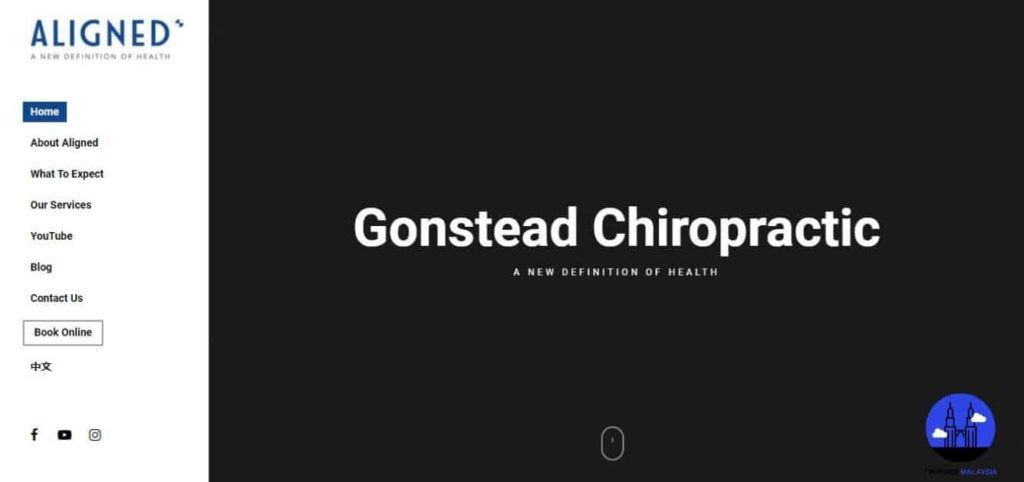 As one of the best chiropractors in Malaysia, Aligned provides bespoke treatment programmes for their patients. This makes sure that they are facilitating recovery and maximising progress while preventing injury.
To be specific, Aligned uses the Gonstead System, a tried and tested method for correcting the spine for patients of any age.
Their team of experienced chiropractors are also registered under the Association of Chiropractic in Malaysia and the Gonstead Chiropractic Society in Australia. And so, you can be assured that they're updated with the latest chiropractic methods to serve their patients better.
Not only will the best chiropractor in Malaysia provide you treatment, but also advice on lifestyle changes to prevent the pain from coming back. What's more, availing their package of five treatments entitles you to one free treatment.
Highlights
Uses the Gonstead System in chiropractic
Chiropractors registered under Association of Chiropractic, Malaysia and Gonstead Chiropractic Society, Australia
Advice on lifestyle changes to avoid pain
Free treatment with the package of 5 treatments
Customer Reviews
Foo Jia K., a previous patient at Aligned, said:
"I came to the clinic with a horribly sore lower back and shoulders. The staff here, especially Dr. Adeline, have been very patient in helping me recover.
After only 3 treatment sessions, I began to feel much better. She also provided advice on what to do in order to speed up the healing process. So worry not, because you'll be placed in some of the best hands in the industry."
3. Spinecare Chiropractic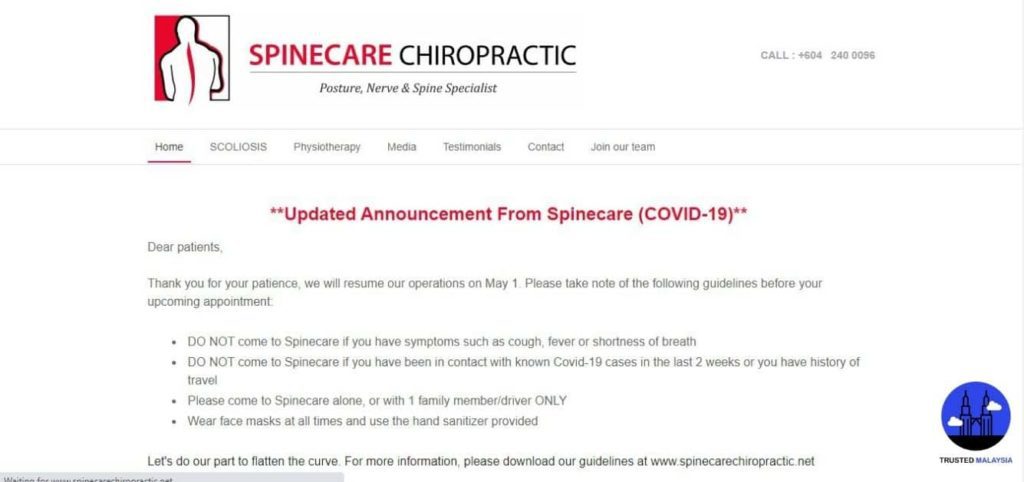 Spinecare Chiropractic provides a comprehensive range of physiotherapy and chiropractic services to ease joint, muscle, and spinal pain. They're one of the top clinics with the best chiropractors in Malaysia and have treatments focused on aiding your body's natural healing abilities.
Dr Terry Chen, one of the resident chiropractors in the clinic, is one of the pioneers of the Advanced BioStructural Correction (ABC) in the country. This is an ultramodern chiropractic technique that corrects spinal misalignments for better spinal structure and function.
This clinic has the best chiropractors in Malaysia that can perform extremity adjusting which targets the joints other than the spine. It helps restore the range of motion in the hands, wrists, elbows, feet, ankles, knees, and hips.
Spinecare Chiropractic is made up of Penang locals who have been serving Malaysians and visitors from Southeast Asia and China over the years.
Highlights
Aids the body's natural healing abilities
Offers Advanced BioStructural Correction and extremity adjusting
Has served local patients as well as patients from Southeast Asia and China
Customer Reviews
A former patient, Alvin L., wrote this review of Dr Terry's service:
"Dr Terry gives great attention into details and will definitely help the patient throughout the recover process. My back pain was reduced after 1-2 visits and I can assure patients he is dedicated to his job of treating his patients. Highly recommended."
4. Alive Chiropractic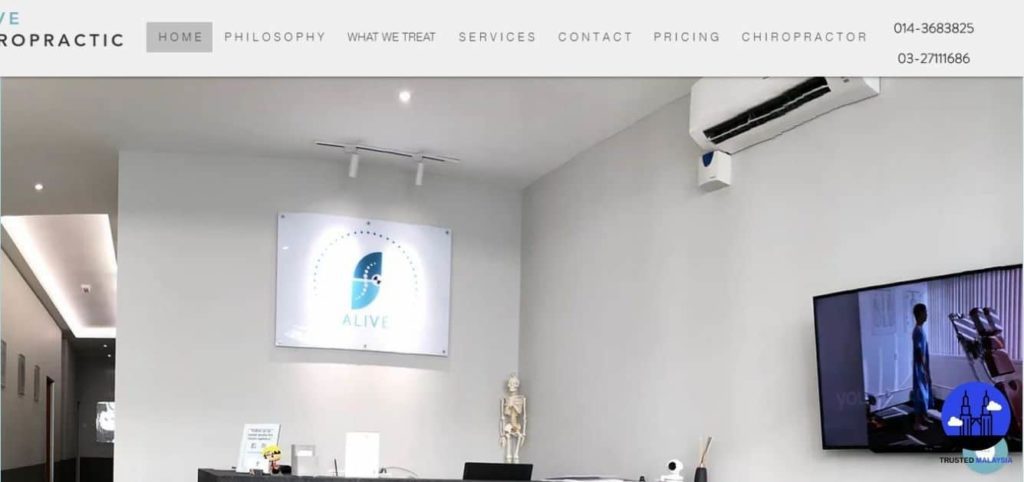 Alive Chiropractic, one of the clinics with the best chiropractors in Malaysia, uses the Gonstead method of analysis to assess patients' conditions. They address the misalignment of the vertebra for the body to start up its natural healing process to ease discomfort and pain.
​Specifically, they treat conditions from back and neck pain to slipped discs, scoliosis and postural problems and more.
Alive Chiropractic's chiropractic care may also improve conditions such as menstrual cramps, hormonal issues, digestive issues as well as sleeping disorders, anxiety, and depression.
Highlights
Uses the Gonstead method of analysis
Addresses misalignment of the vertebra to begin the body's natural healing process
May improve menstrual cramps, hormonal issues, digestive issues, sleeping disorders, anxiety, and depression
5. Tonik Asia Group Specialists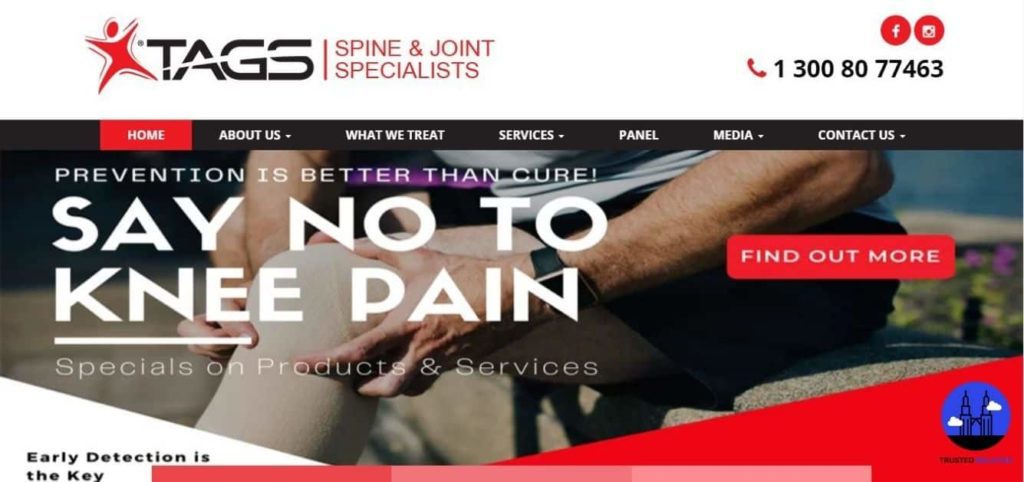 Tonik Asia Group Specialists is made up of a multidisciplinary team of professionals that practice chiropractic, orthopaedic and physiotherapy.
As one of the clinics with the best chiropractors in Malaysia, they integrate complementary and alternative healthcare with standard medical practice.
Among the conditions they treat are different body pains, sports injuries, scoliosis, poor posture and more.
They also have several branches in Malaysia to serve patients nationwide.
Highlights
Integrates complementary and alternative healthcare with standard medical practice
Several branches nationwide
6. BeWell Chiropractic
BEST FOR
Physiotherapists and Gonstead Chiropractors
PRODUCTS
https://www.bewell.my/chiropractors
WEBSITE
https://www.bewell.my/
ADDRESS
A-03-02, Sunway Geo, Jalan Lagoon Selatan, Bandar Sunway, 47500 Subang Jaya13, Jalan Radin Bagus 5, Sri Petaling, 57000 Kuala Lumpur, Federal Territory of Kuala Lumpur
CONTACT DETAILS
Sunway Geo
WhatsApp: +6019 641 9884
Email:

[email protected]

Sri Petaling
WhatsApp: +6011 1182 2300
Email:

[email protected]

OPERATING HOURS
Contact for more details
Bewell Chiropractic was formed by a team of experienced Gonstead chiropractors. They are the only few Chiropractic clinics that practices the Gonstead technique honed from Australia.
Their chiropractors are also part of the Gonstead Chiropractic Society of Australia and the Association of Chiropractic Malaysia (ACM). They stay true to their beliefs with the Gonstead technique being the most efficient way of fixing an injury with proven results over the years of experience with our patients. Bewell Chiropractic strives to serve the best we can in assisting your journey to recovery of a healthy lifestyle.
Highlights
Great bedside manners
Calm and relaxing atmosphere
State-of-the-art facility
Customer Reviews
Here's what someone had to say:
"I was into my 34 weeks of pregnancy, and have been suffering from back pain, shoulder pain and headache through out my pregnancy. It disturb my daily activity to the extent that I can't eat or sleep properly. My headache can even make my tears keep dropping. I went for traditional massage and acupuncture, but it only gave me temporary relief. One day I was having an unbearable shoulder pain and I try to google and found BeWell chiropractor and I decided to give a try. My first treatment with them was excellent. After first treatment, I can feel the difference immediately. My headache disappeared, and my tears also stop and the best thing is I can sleep very well! DC Michiko gave me detail explanation and she is a very friendly and experience chiropractor. (As I cannot take X-Ray and an experience chiropractor is very important to people like me) who can find out what's my problem with her touch. After few round of follow up, my shoulder pain and back pain is totally gone and I can sleep. During my last stage of pregnancy, I have a serious gum infection which affect my shoulder and legs and I see her as Dentist told me he can't help me as I cannot take X-Ray. After an adjustment from Dr Michiko, I feel so much better and I can eat! I had recommended to a few people as I know how it feels when you are in pain."
7. Chiropractic First Group
Chiropractic First is a group of specialist clinics that emphasises on spine and nerve care. Being the pioneer of chiropractic care in Malaysia with a team of highly trained chiropractors, Chiropractic First has been providing safe and effective chiropractic care for families of all ages and walks of life.
Chiropractic First's approach is to resolve or reverse health issues by getting to the root of it through specific techniques to correct subluxations. This will improve posture, restore bodily functions, increase immunity, and improve one's quality of life.
With over 20 clinics in Malaysia, Singapore, China, Indonesia, Spain and the United Kingdom, Chiropractic First provides chiropractic care for families around the world. There are 9 clinic locations in Malaysia with a team of professionals certified by the Association of Chiropractic Malaysia.
Highlights
Wide range of Chiropractic services
Comprehensive consultation prior to treatment
Safe for babies, pregnant mothers and elderlies
Effective for slipped disc, scoliosis, headaches, neck pain, back pain, numbness & tingling, shoulder pain and subluxation
Customer Reviews
Here is what one of Chiropractic First's patients has to say:
"The curvature of my scoliosis has lessen vastly throughout the treatment and the nerve pain I used to have before has completely gone after the whole three stages of the treatment have completed. The doctors and staffs are very kind, friendly and attentive to your progress as well as always making sure you understand the treatment and your own healing process. The clinic is a very comfortable place to get the treatment as well as for you to educate yourself about spinal health. By getting the treatment here, you don't just get the treatment you need but also the knowledge that you can use for others from different age groups with different health problems that stem from your spine. Overall, I would really recommend this place over taking medications that you might not actually need because unlike so many doctors who only give you medications but not educate you enough on your condition, here you get the treatment you need and the understanding about your own condition and you can be actively involved in your own progress while getting the improvement you paid for." – N. Iman
And that's the end of our list of the best chiropractors in Malaysia! No matter which clinic you choose from our list, you will surely be able to ease whatever body pain you have in no time.
Looking for chiropractors based in Kuala Lumpur? Check out our list of the best Kuala Lumpur chiropractors.