The 6 Best Safety Boxes in Malaysia
There are a lot of reasons to purchase a safety box. They keep important items like cash, documents, and jewellery secured so you won't have to worry about them all the time.
In this article, we listed the best safety boxes in Malaysia according to their price, level and type of protection, and size. If you have decided which of your possessions deserve more protection, then it'll be easier for you to decide and order your safety box right away.
The Best Safety Boxes in Malaysia
Ready to give your belongings extra security? Read on and find out what we think are the best safety boxes in Malaysia for you!
1. Yale YSB/200/EB1 Compact Safe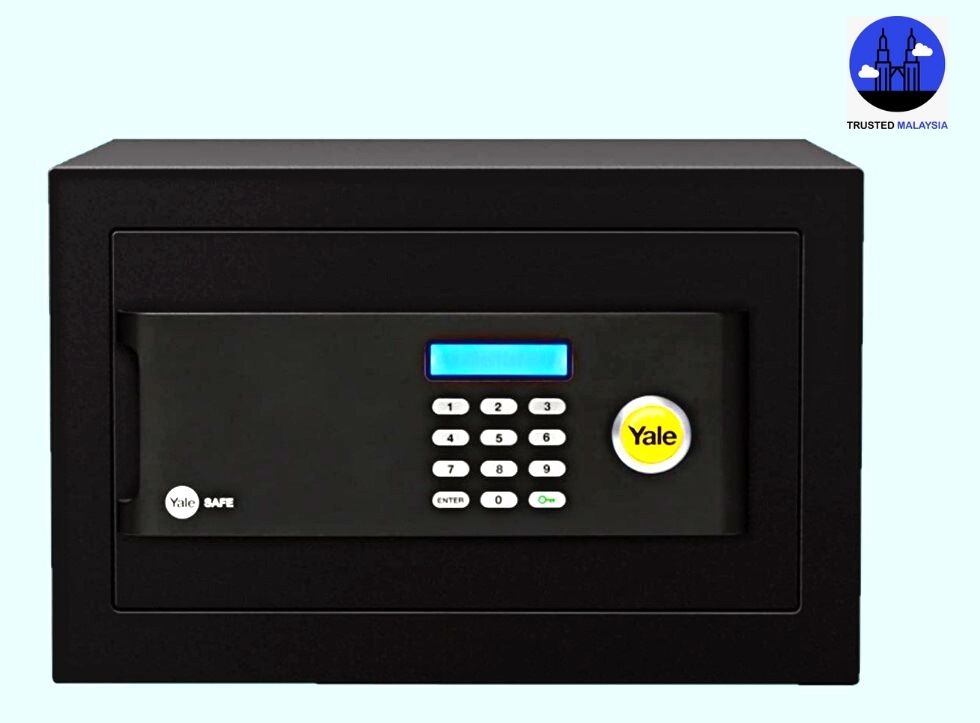 Price: RM450.00
| | |
| --- | --- |
| LOCK TYPE | Electronic + Key |
| MATERIAL | Stainless Steel |
| INTERNAL DIMENSIONS | 192 mm x 345 mm x 145 mm |
| EXTERNAL DIMENSIONS | 200 mm x 350 mm x 200 mm |
| WEIGHT | 9 kg |
| WARRANTY | 1-year local supplier warranty |
The Yale YSB/200/EB1 Compact Safe is a safety box that uses an electronic lock with a digital keypad to safeguard your belongings. The box is made of armoured steel plates and a brushed aluminium faceplate which is both durable and long-lasting.
The laser-cut steel doors have an auto-opening function to make the process of looking for your things more convenient. These are activated as soon as the correct code is inputted.
The lock is a motorized one which is a combination of positional sensing, mechanical locking, control electronics, and a high-power motor-driven lock. These make sure that the lock has an extended life while ensuring it's a high level of protection.
It also has a reinforced steel hinge which makes it almost impossible to break open. It can be unlocked by using either the electronic code or a mechanical key.
The interior has a full felt lining which we really like since it makes it feel very luxurious. It also has an internal light source so you can easily and quickly see the contents of your safe.
It's also fireproof so, in case of a fire, all of your belongings stashed in this safe are protected.
Fireproof
1-year warranty
Uses motorized lock
2 unlocking methods
Auto-opening function
Customer Reviews
Good for small cupboards, impressive backup keys
"Brilliant little safe to hide in a small cupboard. I was particularly impressed by the set of back-up keys should the electronics fail. Comes with batteries and wall bolts." -Tim
2. Office Gap Supply LS2 Fire Resistant Safe Box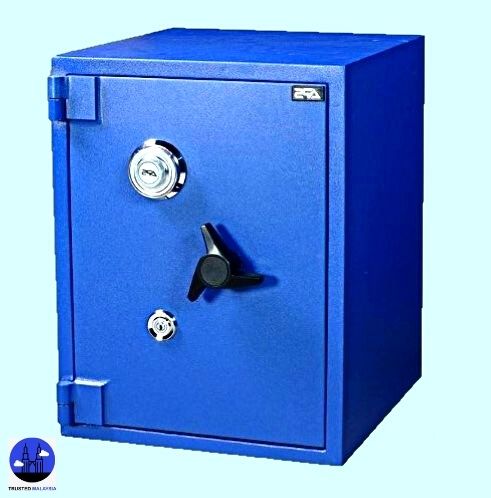 Price: RM2,099.00
| | |
| --- | --- |
| LOCK TYPE | Key lock + keyless combination |
| MATERIAL | Integrated with thermally expanded microfoam |
| INTERNAL DIMENSIONS | 508 x 343 x 350 mm |
| EXTERNAL DIMENSIONS | 602 x 463 x 512 mm |
| WEIGHT | 197 kg |
| WARRANTY | None |
The Office Gap Supply LS2 Fire Resistant Safe Box is a sturdy safety box that you can entrust your most precious belongings and documents with.
The best thing about this safety box is its emphasis on being fire-resistant. It's protected with thermally expanded microfoam which is a special kind of insulation material.
The V-Ridge design of the safety box is what helps the safety box become increasingly fire-resistant. This design also prevents smoke from going inside and ruining your belongings.
It also doubles as an interlocking feature that protects against conventional tool attacks. Additionally, there's a separate drawer that acts as an air buffer between the body and the main drawer which helps prolong heat transition.
The lock is a 1:1,000,000 3 wheel keyless combination lock with a cylinder lock for maximum protection. It can be opened either through the key lock or the combination lock.
You can get this safety box in either blue or brown.
Comes in 2 colors
2 unlocking methods
Fire-resistant
Expensive
No warranty
Only one layer
3. GEOMASTER Safety Box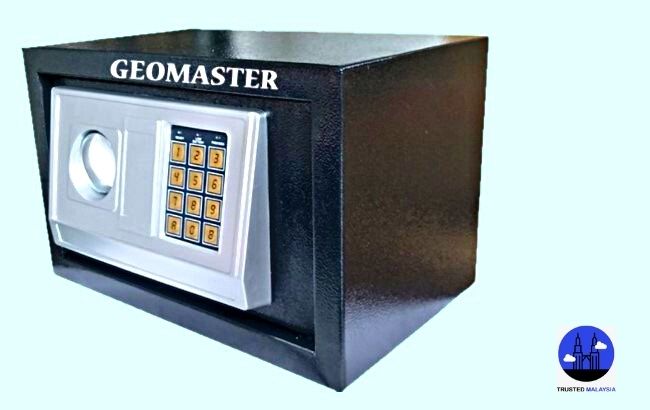 Price: RM330.00
| | |
| --- | --- |
| LOCK TYPE | Electronic lock |
| MATERIAL | Solid steel |
| INTERNAL DIMENSIONS | 490 x 355 x 325 mm |
| EXTERNAL DIMENSIONS | 500 x 360 x 330 mm |
| WEIGHT | 20 kg |
| WARRANTY | None |
The GEOMASTER Safety Box is a 3-layer safety box that makes it easy to view all your things right away. This makes it ideal for organizing your different kinds of valuables.
It's made of solid steel which is the best material to protect against burglaries. It has a soft powder-coated finish which is a big difference from the usual hard steel finish that safety boxes are topped off with.
Now for its functions, if you enter the code wrong 3 times in a row, the keypad automatically shuts off for 20 minutes. This is to prevent unlimited tries to open your safe.
For added safety, you can also anchor holes on either the bottom or the back of the safe. This safety box comes with a wall mount screw you can use for this.
There's also a free battery and a master key that comes along with it.
However, you should note that this safety box hasn't been specified to be fire-resistant.
3-layer
Affordable
Ideal for organizing 
Can be wall-mounted
No warranty
Not fire resistant
Only 1 unlocking method
4. Chubbsafes Viper 35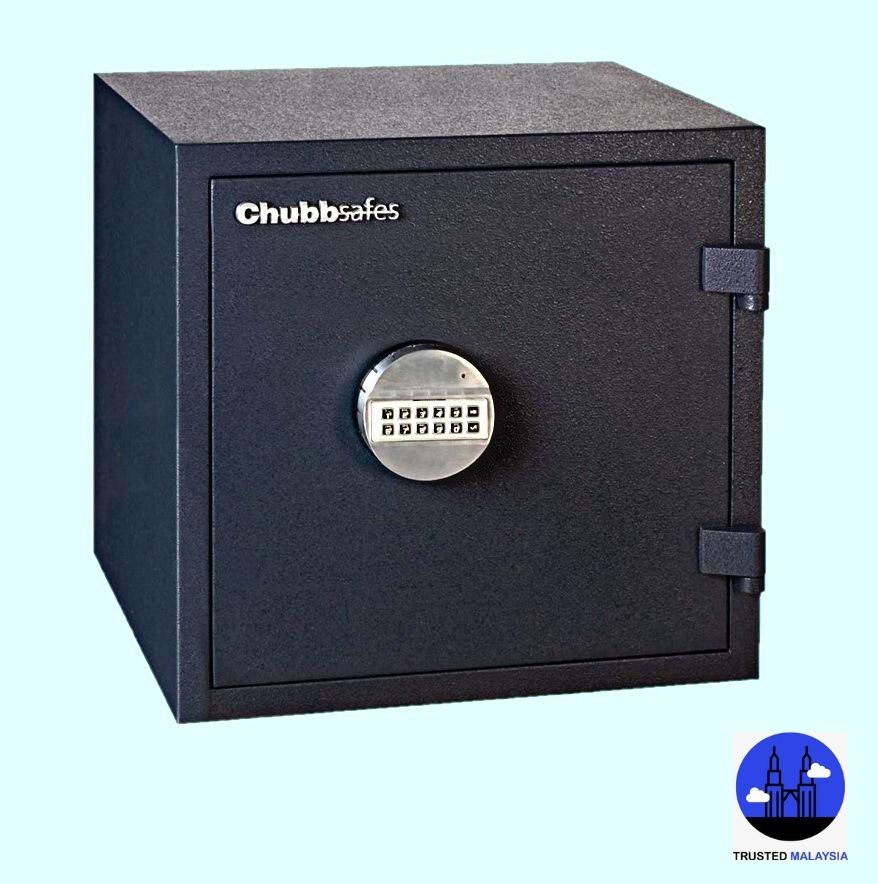 Price: RM2,046.03
| | |
| --- | --- |
| LOCK TYPE | Electronic lock |
| MATERIAL | Solid steel |
| INTERNAL DIMENSIONS | 360 mm x 335 mm x 281 mm |
| EXTERNAL DIMENSIONS | 450 mm x 445 mm x 390 mm |
| WEIGHT | 38 kg |
| WARRANTY | 1-year local supplier warranty |
The Chubbsafes Viper 35 was created by one of the oldest and most trusted safe brands in the world, Chubbsafes. It's secured by Electronic Lock- EN 1300 Certified Pulse lock which certifies both reliability and security.
The Viper 35 has two layers so you can properly file out your documents or separate your valuables. We like this because it makes it much easier to find what you're looking for.
An additional form of security is that V-bolt lock system which helps maintain the door's integrity. This design gives level S2 protection against burglaries.
It can also withstand 30-minutes of fire to protect your documents which should be enough time to grab your safe or put out the fire.
One downside about this is there aren't any alternative unlocking methods. You can only open it using the digital keypad so be sure to remember your code.
2-layer
Fire-resistant
1-year warranty
Expensive
Can't be wall-mounted
Only 1 unlocking method
5. TRENY Standard Electronic 50EA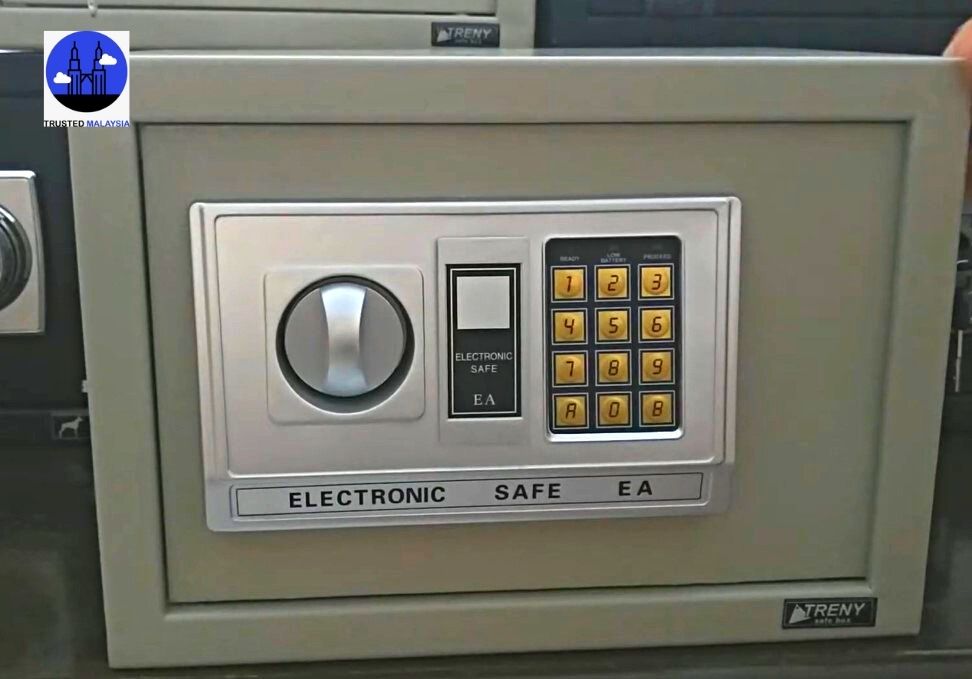 Price: RM 164.61
| | |
| --- | --- |
| LOCK TYPE | Electronic lock + keylock |
| MATERIAL | Solid steel |
| INTERNAL DIMENSIONS | Not mentioned |
| EXTERNAL DIMENSIONS | 500 x 350 x 300 mm |
| WEIGHT | 17 kg |
| WARRANTY | 1-year local manufacturer warranty |
The TRENY Standard Electronic 50EA is an affordable and compact safety box that makes it easy to keep your valuables hidden from sight.
The door bolt consists of 3 solid steel bars which make it virtually impossible to be broken into during a burglary attempt.
There are two unlocking methods which are either the key or the password. If you use the password to unlock this safe, you'll have to turn the left rotary switch to open it.
It can store 2 sets of passwords with 4-8 digits each. For maximum security, it will be locked for a prolonged period of time after a total of 3 consecutive input errors.
You can mount it onto your wall to keep it nice and secure in your room. The package comes with a set of screws you can use to do this.
In the case of a low battery, an indicator light will let you know that it's time to put in new batteries. In case the battery dies, you can always use the key to open the safe easily.
This safety box is also available in smaller sizes, which you can check in the link we've provided.
2-layer
1-year warranty
2 sets of passwords
2 unlocking methods
Low battery indicator
Can be wall-mounted
Not fire resistant
Unspecified internal dimensions
6. The Space Safe 2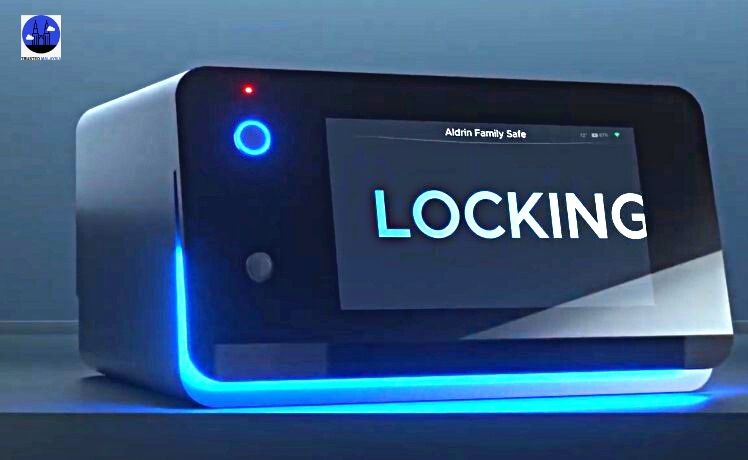 Price: RM 599.99
| | |
| --- | --- |
| LOCK TYPE | Electronic lock + mechanical keylock + Biometric sensor |
| MATERIAL | 10-gauge steel |
| INTERNAL DIMENSIONS | 426mm x 315mm x 237mm |
| EXTERNAL DIMENSIONS | 430mm x 403mm x 241mm |
| WEIGHT | 35 lbs |
| WARRANTY | 1-year local supplier warranty |
Next on our list is a safe that looks like it came from the future. Here we have The Safe Space 2, a discreet yet elegant smart safe.
We know that its price is a bit higher compared to others, however, we will change your mind as to why it is worth the investment.
First of all, they are the only smart safe that has an exterior and interior camera that has a 1080P HD video and two-way talk. Second, since it has over 1.2 cu ft of storage, you can put in a lot of your most precious items inside.
Next, it has 2 interior USB ports that can charge any devices you plan on storing. Lastly, with its temperature and humidity sensors, your items will be able to stay in their tip-top conditions.
Interior and Exterior Cameras
Huge LCD touch display
Phone App with notifications
Temper sensors
Biometric Fingerprint Sensor
Can be bolted down
Notify 911 from App
3 unlocking methods
Things to Consider Before Buying a Safety Box
1. Type of Safety Box Protection
Not all safety boxes come with the same level of security and the items you need to secure are the most important factors. On standard, safe boxes are built for either fires or burglary.
2. Size and Capacity of the Safety Box
When choosing a safe, the size and capacity depend on what you plan to store inside. Safety boxes may look bigger on the outside but the interior dimensions are a lot smaller due to the thickness of materials used.
By checking the size of your items, you can determine the amount of space and allowance for extra room for any new valuables you might add later on.
3. Type of Lock
Safety locks operate more securely now that digital options are available. However, electronic locks are still the most popular type for safety boxes and others may have another layer of protection with multiple unlocking methods.
Compared to digital or electronic locks, mechanical locks, however, are recommended to be maintained by a safe technician every 5 years.
4. Location of the Safety Box
Some safes are big enough to be seen as soon as you walk in the room but the most common principle would be to hide them as much as you can. The accessibility and convenience of where your safety box is could be a double-edged sword when there's an incident of burglary.
FAQs about Safety Boxes in Malaysia
---
When it comes to our most valuable belongings, we can never really be too careful. This is why we made sure to list down only the best safety boxes in Malaysia to guard these belongings of yours.
If you purchased any of these safety boxes or you would like to recommend some to us, please feel free to reach out to us! We'd love to hear from you.
If you're looking for more ways to up your home security, we suggest checking out our list of the best home security systems in Malaysia.