Zenyum vs Invisalign vs Dr Clear Aligners vs Smile Direct Club: Which of These Clear Braces Suit You Best?
The invisible braces market in Malaysia is dominated by these four big companies: Invisalign, Zenyum, Dr Clear Aligners, and Smile Direct Club.
In this article, we'll discuss how to pick the right clear braces for you by analysing each company's key strengths and weaknesses. Later, we'll give our verdict as to which of them suits you best.
Without further ado, let's start!
Zenyum vs Invisalign vs Dr Clear Aligners vs Smile Direct Club
To determine which of them is the best for you, we'll look at each of these clear aligners brands in terms of these criteria: comfort, treatment process, price, pros and cons, and customer reviews.
| Clear Aligner | Treatment Length | Required Wear Time per Day | Suitable For |
| --- | --- | --- | --- |
| Zenyum | 9 - 15 months | 20 hours | Minor corrections |
| Invisalign | 6 - 12 months | 20 - 22 hours | Mild to severe malocclusions |
| Dr Clear Aligners | 6 - 9 months | 20 - 22 hours | Mild to moderate cases |
| Smile Direct Club | 4 - 6 months | 22 hours | Mild to moderate misalignments and biting problems |
What are the consultation and monitoring methods for clear aligners?
| Clear Aligner | Consultation | Dentist Monitoring |
| --- | --- | --- |
| Zenyum | In-person assessment | In-person checkups or virtual monitoring (varies by clinic) |
| Invisalign | In-person assessment | In-person checkups or virtual monitoring (varies by clinic) |
| Dr Clear Aligners | In-person assessment | In-person monitoring or virtually via mobile app |
| Smile Direct Club | In-person consultation at any SmileShop | Remote monitoring via app |
What are the price range and additional costs for clear aligners?
Clear Aligner
Price Range
Additional Costs
Zenyum
RM6,399 - RM9,999
RM350 for consultation

RM300 for post-treatment re-scan (case-by-case basis)

RM600 for retainers

Invisalign
RM15,000 - RM20,000
Consultations and retainers cost varies per clinic
Dr Clear Aligners
RM5,950 - RM10,000
RM700 for retainers
Smile Direct Club
RM8,700 - RM8,800
RM380 - RM400
1. Zenyum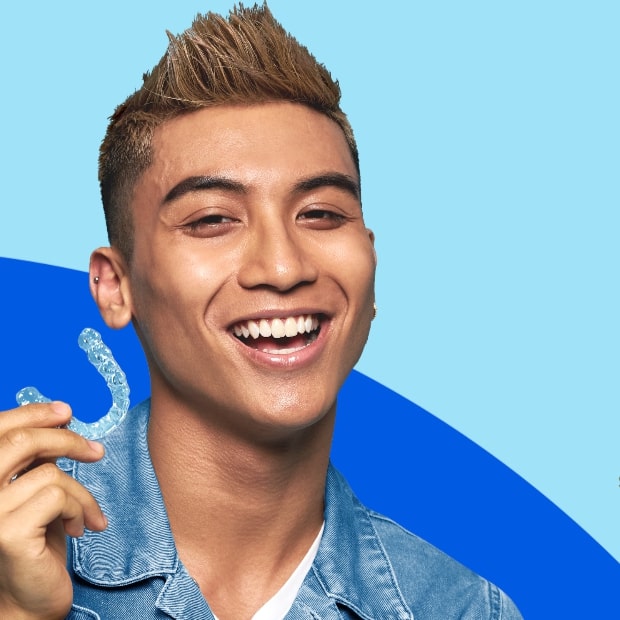 Test
Info
SUITABLE FOR
Minor corrections
Former braces wearers with shifted teeth
PRODUCTS
ZenyumClear
ZenyumClear Plus
TREATMENT PLANS
ZenyumClear - mild to moderate crowding, gaps, overbite
ZenyumClear Plus - moderate to severe crowding, gaps, overbite
PRICING
RM6,399 - RM9,999
WEBSITE
https://www.zenyum.com/my-en
CONTACT DETAILS
Phone: (+60) 11 2668 2800

Email: [email protected]

WHERE TO GET THEM
Through partner dentists
HOW TO BEGIN TREATMENT
Free assessment online
Zenyum is a relatively new clear aligner brand first founded in Singapore with a presence in 6 other countries, including Malaysia. It is more affordable than other individual braces and doesn't require many dental visits as they are done virtually through their app.
1. How comfortable is Zenyum?
Wearing Zenyum is comfortable, according to many clients. There will be a bit of pain and discomfort because the tray is applying pressure to your teeth to shift them to their proper positions.
However, the pain you feel with Zeynum is minimal compared to other invisible braces in Malaysia, making it a superb and affordable choice! Users also noted that they got used to wearing Zenyum braces very quickly.
No problems during meal times, either, since you can take it off. And you can eat without worrying about food getting stuck on them.
2. What's the treatment process for Zenyum?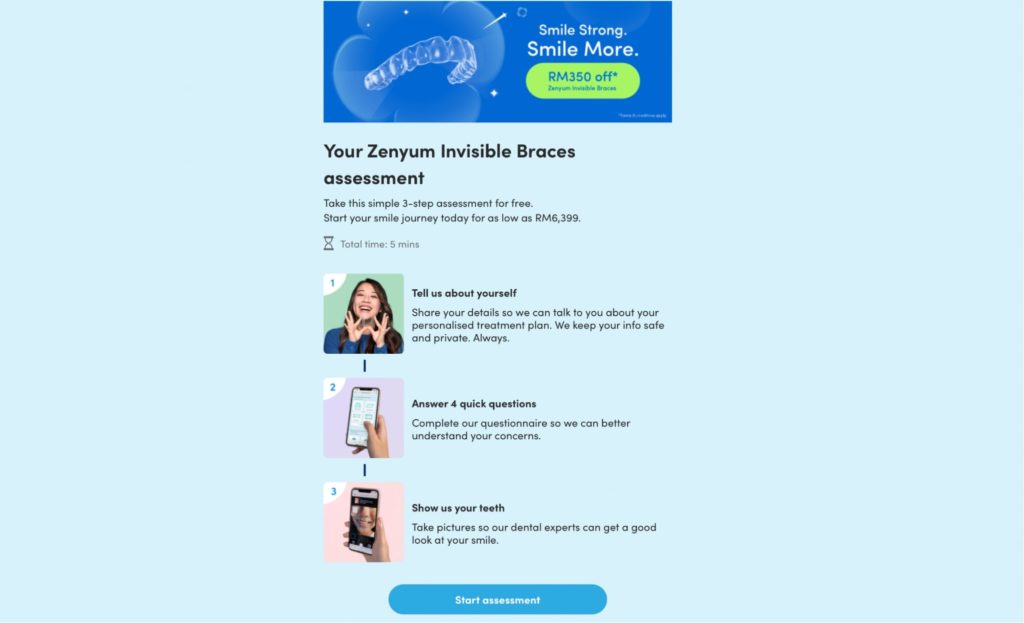 The treatment process is straightforward with Zenyum—all you have to do is answer their online survey and upload a photo to be sent to their qualified specialists. Soon, they'll contact you and give you options on which partner dental clinics you can visit.
There, they'll discuss Zenyum with you, diagnose your case, and perform a 3D scan and X-ray of your teeth. If you decide to go on, they'll send them to the company to produce your invisible braces.
Afterwards, they will conduct a fitting for your teeth and assist you with properly using and maintaining them. Also, they'll get you started on the app where you can chat with your dentist anytime, upload your teeth photo, and check your progress.
3. What are the costs of Zenyum treatment?
Zenyum in Malaysia costs RM6,399 to RM9,999, depending on whether you opt for ZenyumClear or ZenyumClear Plus aligners. The affordable yet high-quality treatment is what draws customers in.
Additionally, the Zenyum clinic offers one-time or monthly payments. There's a 3-month interest-free monthly payment option for ZenyumClear and up to 6 months for ZenyumClear Plus.
Moreover, you only have to see your orthodontist about 2 to 3 times throughout your treatment. As a result, you can save on consultation costs and time compared to other invisible braces brands.
Free initial assessment
Affordable treatment
Virtual checkups are available via app
Dental visits for only 2 to 3 times
Monthly payments are available
Works with dental clinics across Malaysia
ZenyumClear only treats mild cases
Longer treatment time of up to 15 months
Great virtual support
"Easy, digital and intimate are the words that come to mind while thinking back on my Zenyum experience. The virtual support team was always on top of things, providing prompt support whenever it was needed. Highly recommend to anyone suitable for this procedure." – Mei Yi Kok, Facebook Reviews
Hassle-free treatment
"They provide really good service to customers, would give them five star rating. I find it super convenient and hassle-free as I don't need to pay frequent visits to the clinic, besides they are also able to deliver the full set straight to my house address! I'm overall satisfied with my results and will definitely recommend this to my other family and friends!" Zhe Yuan, Facebook Reviews
2. Invisalign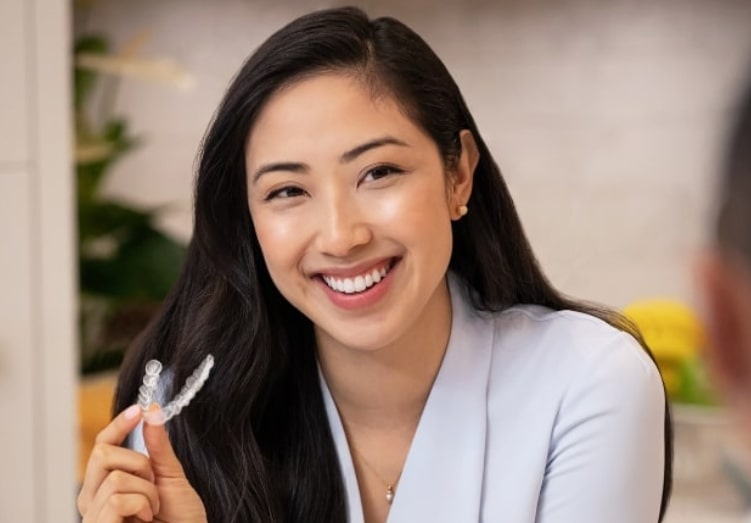 | Test | Info |
| --- | --- |
| SUITABLE FOR | Mild to severe malocclusions |
| PRODUCTS | Invisalign |
| TREATMENT PLANS | Invisalign for Class 1 to 3 malocclusions |
| PRICING | RM15,000 - RM25,000 |
| WEBSITE | https://www.invisalign.com.my |
| CONTACT DETAILS | Website's online form |
| WHERE TO GET THEM | Dental clinics across Malaysia |
| HOW TO BEGIN TREATMENT | Book an initial assessment |
Invisalign is a long-established brand for invisible braces. Currently, there are ten million people (and counting) reaping the benefits of straightened teeth without the geeky metal brace look.
Besides that, there are many advantages to this that are tested and proven today, and we'll go over them one by one below.
1. How comfortable is Invisalign?
Many people shared that Invisalign is one of the most comfortable invisible braces because it's without any sharp edges. It's safe to say that they feel similar to wearing a mouthguard.
As a result, the people using Invisalign never got small wounds or sores on their lips or gums, unlike metal braces with wires and brackets.
It even felt comfortable while they were eating. You can also remove them, so you don't have to clean them thoroughly afterwards.
2. What's the treatment process for Invisalign?
The treatment process of Invisalign is fast, with dentist interaction for each phase. Patients will have to replace the aligners weekly and only need to visit the dentist every 6 to 8 weeks.
If you compare Invisalign vs Zenyum, the former caters to more teeth malocclusions. The pioneer invisible braces can treat most cases like severe overbites, overcrowding, and crooked and protruding teeth, making them a top and trusted choice for clients.
With Invisalign, you can see results as early as 6 months. But this will ultimately depend on your condition.
3. What are the costs of Invisalign treatment?
The Invisalign cost in Malaysia is anywhere between RM15,000 to RM25,000. It varies depending on the dental condition, whether mild or severe.
Remember, you also need to pay the initial assessment and retainers costs, estimated at around RM467 to RM1,245 and RM1,245, respectively. These costs will vary per clinic, too, with the most popular ones having higher prices.
Furthermore, because of the supervision and care of licensed dentists, the price for Invisalign is significantly higher than other invisible braces, like Zenyum and Smile Direct Club.
Comfortable to wear
Can treat severe malocclusions
Doctor supervision and care throughout the treatment
Most dental clinics offer Invisalign
Premium cost
Not suitable for very severe dental cases and those requiring tooth extraction
Provides comfort and quick results
"They are a comfortable fit and removable when eating and cleaning. Saw visible results In 6 weeks and in 6 months my teeth were 90 percent straight. I used them longer because my eye teeth were sticking out like fangs on a vampire. Nice product Invisalign." Martin, Consumer Affairs
Quick dental appointments
"Our overall experience has been very good. The timeline for straightening teeth is short than with braces and provide great result. Orthodontist appoints are quick, usually around 10 minutes, and the process can be adjusted along the way." Beth, Consumer Affairs
3. Dr Clear Aligners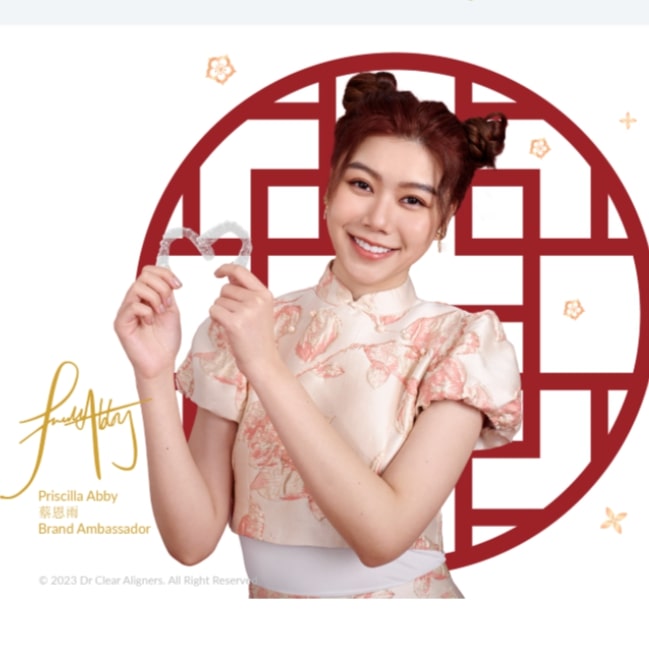 Test
Info
SUITABLE FOR
Mild to moderate cases
PRODUCTS
Clear Aligners
Clear Aligner Pro
Dr Clear X
TREATMENT PLANS
All Dr Clear Aligners products are suited for misaligned teeth, crossbite, underbite, overbite, teeth gap, open bite and crowded teeth 
PRICING
RM5,950 - RM10,000
WEBSITE
https://www.drclearaligners.my/en/
CONTACT DETAILS
Phone: +60 17-331 1392

Email: [email protected]

WHERE TO GET THEM
Dr Clear Aligners dental clinics
HOW TO BEGIN TREATMENT
Start with free assessment
Dr Clear Aligners offers custom clear aligners to repair crooked teeth and large space gaps. In addition, they sell comfortable and budget-friendly braces in their branches in Malaysia and Singapore.
Conveniently, its licensed cosmetic dentists assist clients every step of the way, from consultation to delivery.
1. How comfortable are Dr Clear Aligners?
Unlike conventional braces that scar your mouth to treat your dental situation, Dr Clear Aligners feel smooth and light in your teeth. Clients can attest to this fact throughout the entire 9 months of their smile transformation journey.
2. What's the treatment process for Dr Clear Aligners?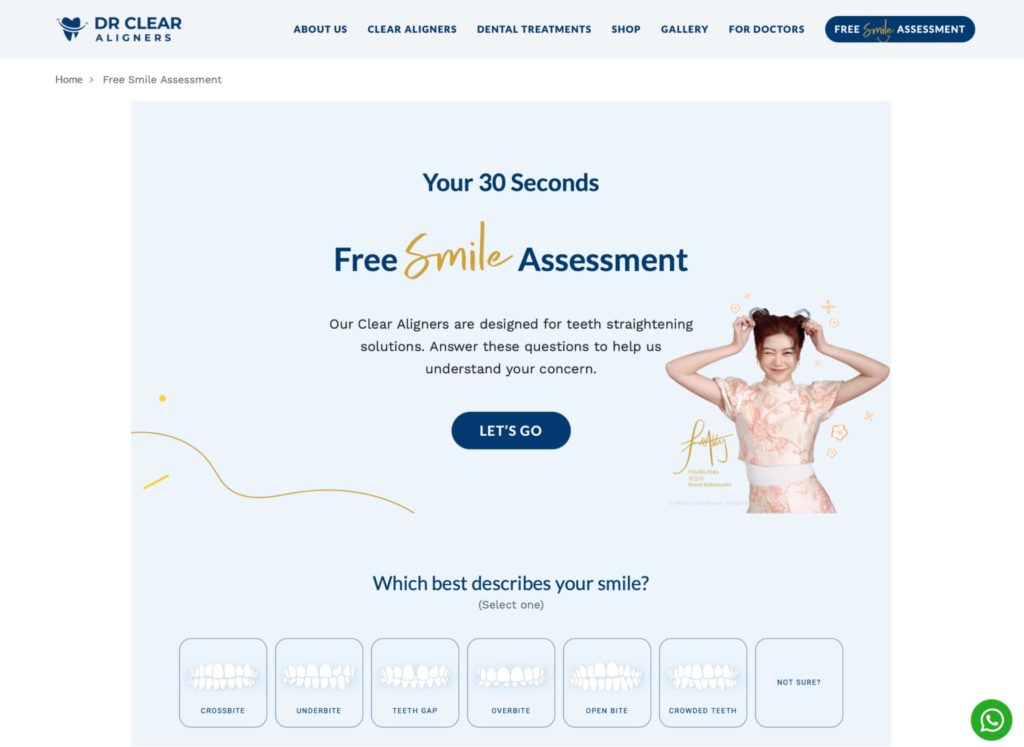 The treatment process for Dr Clear Aligners involves the client filling out the online assessment form. Thanks to their concise form with graphics of dental issues, it's incredibly easy to do this.
According to clients, they have a cordial staff that will offer assistance with your dental situation. And if you have any questions, they can answer them and help you with anything else you might need.
Moreover, about 90% of customers praised their wonderful service, which makes Dr Clear Aligners a solid choice compared to other brands of clear aligners in Malaysia.
3. What are the costs of Dr Clear Aligners treatment?
Dr Clear Aligners is one of the most affordable invisible braces in Malaysia. It costs anywhere between RM5,950 to RM10,000.
Another affordable aspect is the free online assessment. But a 3D intraoral scan will cost around RM300, and retainers are RM700.
A positive aspect is the payment plans for 3, 6, or 12 monthly instalments. Specifically, you can pay as little as RM546 per month, offering budget flexibility. But the best part is, they offer interest-free payments!
Suitable for gap teeth
Budget-friendly clear aligners
Offers interest-free payments
Easy to maintain
Simple assessment form
Not able to correct major or complex cases
Treatment takes a bit longer at 9 months
Affordable and convenient product
"Dr Clear Aligners is way more affordable compared to famous brand. Comparing to traditional metal braces, invisible braces are more convenient, you can take on and off easily. It's transparent so people hardly know you are wearing it. I am satisfied with the overall result and service quality!" – Bernard Cheong, Google Reviews
Top-notch partner clinics
"The experience I had from day one was top notch. From consultants to the arrangement of things, it was all smooth and easy. I have yet to do the actual binding and IPR but I am happy with the service and experience so far. Partner dental that I went was great too. Clearly explain everything, and did an awesome thorough job. Thank you Dr Clear Aligners." Nina Yusoff, Google Reviews
4. Smile Direct Club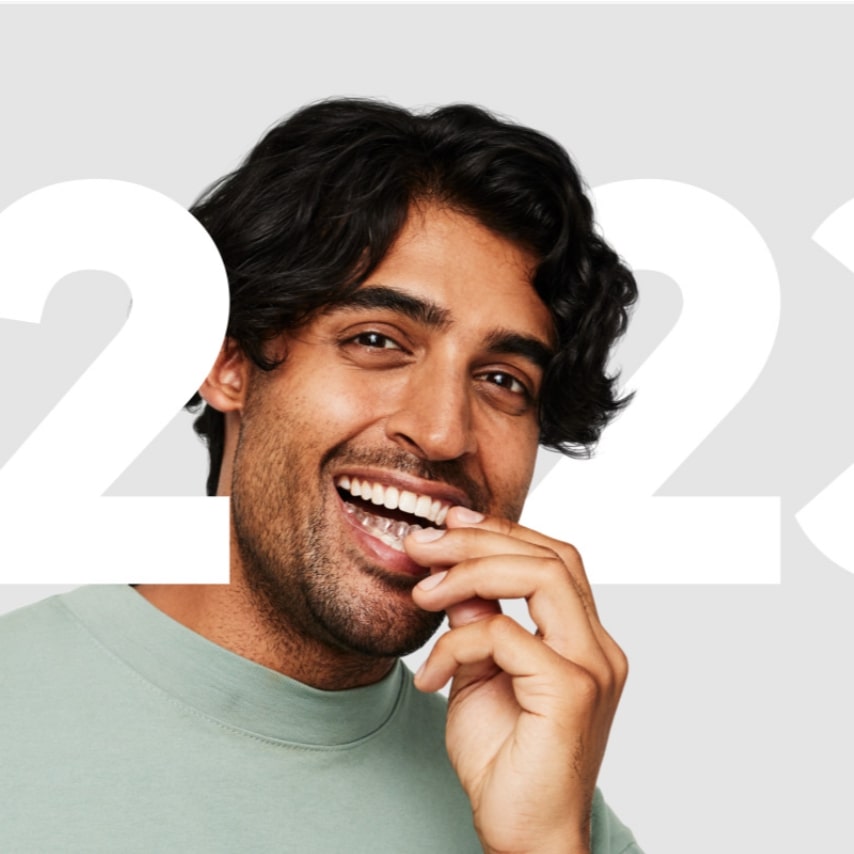 Test
Info
SUITABLE FOR
Mild to moderate misalignments
Biting problems
PRODUCTS
SmileDirectClub Aligners
Nighttime Aligners
TREATMENT PLANS
SmileDirectClub for daytime wear
Nighttime Aligners for continuous 10-hour wear at night
PRICING
RM8,700 - RM8,800 (depending on the clinic or shop)
WEBSITE
https://smiledirectclub.com.sg/en-sg/
CONTACT DETAILS
Email:

[email protected]

WHERE TO GET THEM
Partner clinics or online
HOW TO BEGIN TREATMENT
Free assessment
Formed in 2014, Smile Direct Club was founded by Jordan Katzman and Alex Fenkell. They offer their standard 22-hour clear aligners and nighttime aligners.
Their braces are fitted to treat mild to moderate misalignments and biting problems only. There's no in-person doctor supervision with this—only virtually the entire time.
1. How comfortable is Smile Direct Club?
Smile Direct Club offers the same comfort as Invisalign, which is pain-free and mouth ulcer-free. Their clear plastic trays both work similarly and gently move the teeth to the correct position.
Most clients felt comfortable wearing their Smile Direct Club aligners. They didn't report any pain or discomfort, even when they wore them all day.
2. What's the treatment process for Smile Direct Club?
The treatment process for Smile Direct Club starts with a free 30-minute consultation. Once at the clinic, they will assess your teeth condition, design a custom treatment plan, and perform a 3D dental scan.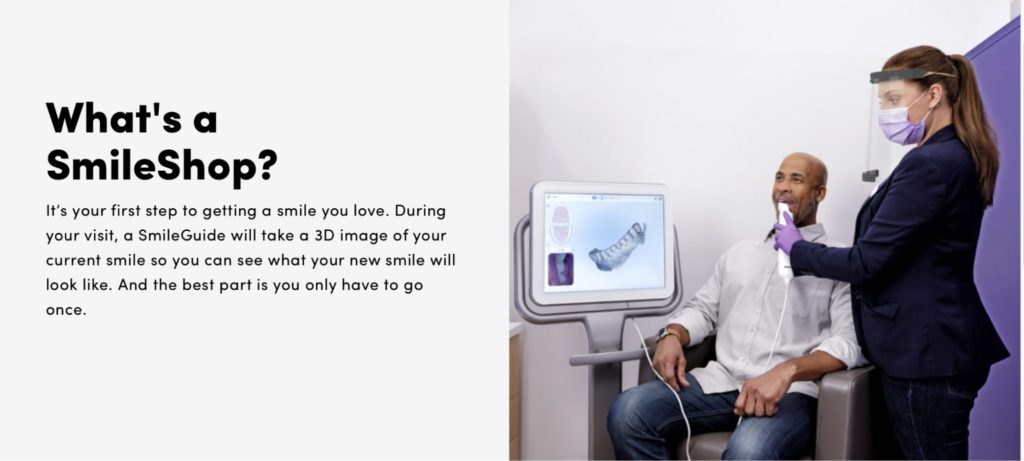 After a while, they will ship your invisible braces by post to your address. From there on, you can wear your clear aligners to treat the misaligned teeth.
Additionally, it's excellent for those who don't want to visit the dentist. For instance, if we compare Smile Direct Club vs Zenyum, the latter is great for those scared of dentists because it only needs virtual consultations.
After your treatment (which takes around 4 to 6 months), you can come back to your dentist so that they can see the improvement. Once done, you can also buy a set of retainers to maintain perfect teeth.
3. What are the costs of Smile Direct Club treatment?
Smile Direct Club costs around RM8,700 to RM8,800, depending on the current exchange rates. Since there's no branch in Malaysia, the closest location for shipment is in Singapore.
You can opt for a one-time payment or on an instalment basis for two years, but with interest. Also, they offer a refund of up to 30 days if your custom clear aligners don't properly fit your teeth.
Ideal for mild to moderate dental issues
Competitively priced
Great for people who don't want to visit a dentist
Offers two convenient payment options
Gives 30-day refund
No physical consultation for invisible braces
Not suitable for complex or severe dental issues
No branches in Malaysia
The results had been fast and great for most clients on the website. Also, they said that the braces were affordably priced.
Easy process
"It's the modern way to smile. I appreciated SmileDirectClub's low cost for the same effort as braces. I had two buck teeth on the top and then four crooked at the bottom. The process was user-friendly. You make the appointment and if you couldn't make it, it's also easy-adjustable too. They give you a whitening kit after the appointment visit. They align your teeth with the digital tool that they have and that's it. The results are great. It's something that looks like it wouldn't hurt straightening teeth and it really did the job. It took just a year if one is responsible." – Dominique, Consumer Affairs
Less painful than traditional braces
"The process was great. I went in that day and got scanned. I did it in 30 minutes, then they sent me the aligners three weeks later. It was really easy. I had braces when I was 26, and the aligners were a lot less painful than that. The result was in line with expectations too. They straightened out my teeth, so it was good. I'd tell people SmileDirectClub is a good experience and they should do it." – John, Consumer Affairs
How to Choose the Right Clear Braces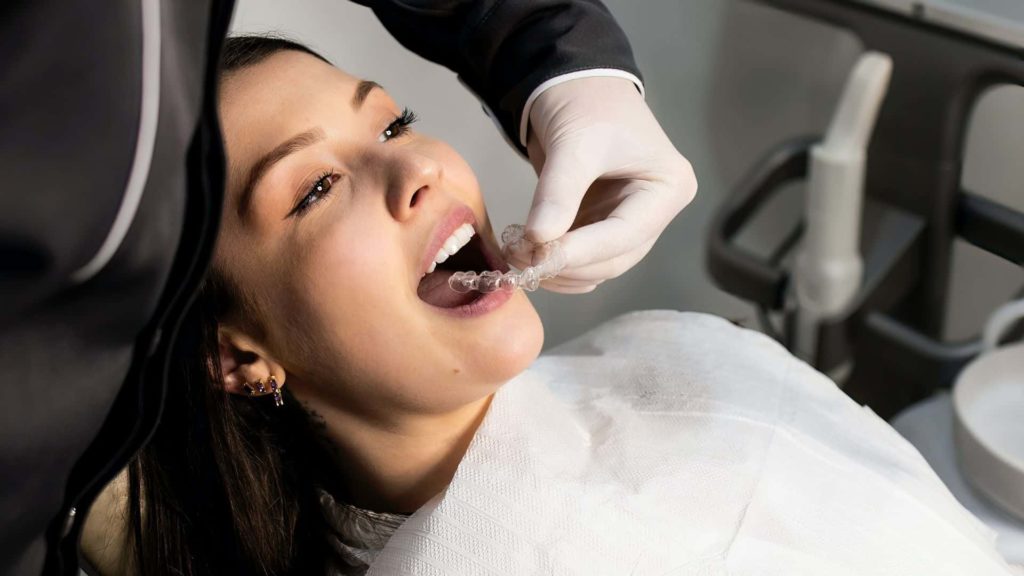 Clear braces differ from each other with respect to the bite or teeth issues they can treat, comfort, treatment length, maintenance, and cost.
Here's a simple step-by-step guide to help you figure out which clear braces to get.
1) Determine your dental issue.
First, you must know what dental issue makes you want to get invisible braces. Do you have minor teeth misalignment, uneven front teeth, or a sharp overbite?
It should be easy to know this when you look at your teeth in the mirror. However, if the problem is more complex, you can consult your family dentist or qualified orthodontist for an expert diagnosis.
They should be able to tell you the specific problem and recommend and advise you on treating it using clear aligners.
2) Research the top products online.
There are more than a few invisible braces brands online. The leading ones are Invisalign, Zenyum, Smile Direct Club, Dr Clear Aligners, and Wonder Smile.
Each of these can treat different problems. For example, Invisalign can treat both minor and major malocclusions (mispositioning of the teeth and jaw).
Meanwhile, Zenyum can correct a range of complexity, from gaps to severe crowding. And Wonder Smile is suitable for people with mild misalignments.
But we've done the work for you here, and we'll be comparing the top four invisible braces shortly.
3) Analyse their strengths and weaknesses.
Apart from the issues they can treat, there are other factors you have to consider. Some may feel more uncomfortable than others, and treatment time may take shorter for one product than another.
Are you the type of person who doesn't want to go to the dentist? Some braces require little to no supervision from a dentist, while others require you to consult with them every 6 weeks or so.
Just like buying any product, you must know the invisible braces' pros and cons to see what you should get.
4) Estimate the total price you have to pay.
It helps to estimate the total costs you have to pay so you can pick a product that gives you the most bang for your buck.
The price factors include the initial consultation fee, follow-up consultation, treatment, and retainers so you can maintain your perfect smile.
Conclusion: Which invisible braces should you get in Malaysia?
The best invisible braces to get comes down to the particular smile issue that you have. As we mentioned earlier, certain aligners are only suitable for certain issues—you can't expect, for example, Smile Direct Club to treat severe malocclusion cases, since it's not made for that.
For this, you should get Invisalign braces as they can treat all complex issues with your teeth and bite. That said, you have to pay a high sum to get treated, but it's fast and effective nonetheless, and a lot of clients can testify to that.
If you only need minor to moderate dental straightening, the other three options of Zenyum, Smile Direct Club, and Dr Clear Aligners are fantastic, so now you have to look at their other aspects like treatment time, price, financing, and convenience.
Speaking of convenience, with Zenyum, you only have to see the dentist 2 to 3 times and the rest of the consultation will be done via their app. You only have to upload your smile photos for the dentist to check and monitor.
If you want a fast treatment time of only 3 to 9 months for mild teeth problems, Zenyum aligners could be for you.
In contrast, Smile Direct Club has completely cut out their middleman (dentists and orthodontists) and it's basically up to you to keep up with the treatment until it's completed.
But of course, you can consult with the clinic, if you somehow feel apprehensive about the process.
But what's great about them is their payment options where you don't need to pay a lump sum all at once, but instead, in equal monthly repayments until fully repaid. Do note that there's interest atop this payment, unlike with Dr Clear Aligners.
FAQs about Invisible Braces