What makes up a typical Malaysian dinner?
Malaysian cuisine is one of the most diverse cuisines in the world. With plenty of dishes that are rich with all kinds of delicious flavors, Malaysians aren't lacking in options when it comes to the special meal at the end of the day: dinner.
A typical Malaysian dinner usually consists of a soup, a main dish with rice, and several side dishes. So, for dinner, Malaysians usually eat dishes like tasty nasi lemak, peppery bak kut teh, flavorful mee goreng, and many more delicious meals.
Malaysians love to serve and eat all of that appetizing food and more for their dinner. But when does dinnertime actually take place in Malaysia?
What time do Malaysians eat dinner?
A study on the meal patterns of Malaysian adults reveals that Malaysians like to eat dinner anywhere from around 6:00 p.m. to 9:00 p.m. Dinner times can vary depending on the schedules of the people in the household. 
Still, some Malaysians start eating as late as 10:00 p.m. Thankfully, several food delivery services are still available at nighttime. 
Even if the usual dinner time in Malaysia is much later compared to other countries, Malaysians still have time to enjoy tasty meals. Let's find out about some famous Malaysian dishes that are perfect for nighttime eating!
10 Popular Dishes Malaysians Like to Eat for Dinner
Malaysian food reflects their diverse society, with their cuisine containing influences from Malays, Indians, and Chinese. With such a rich relationship with food, Malaysian dinners like the ones we listed below tend to be mouthwatering and fascinating.
1. Roti Jala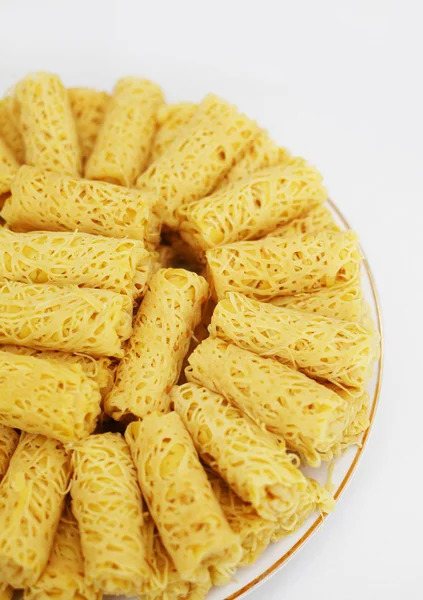 Roti jala is a delicious and savory Malaysian snack. In English, its name literally means "net crepes" because of its netlike appearance based on old Malay fishermen's nets.
Making roti jala is fairly simple. The main ingredients are flour, eggs, turmeric, and milk, all mixed into a batter that is drizzled onto a hot pan.
This Malaysian snack is meant to be cooked until it is soft and delicate. Roti jala is considered street food in Malaysia, making it easy to find for locals and tourists alike.
Thanks to its tender quality and yummy flavor, roti jala can be served perfectly on its own. Other options for presenting it include pairing it with different types of curry.
2. Nasi Lemak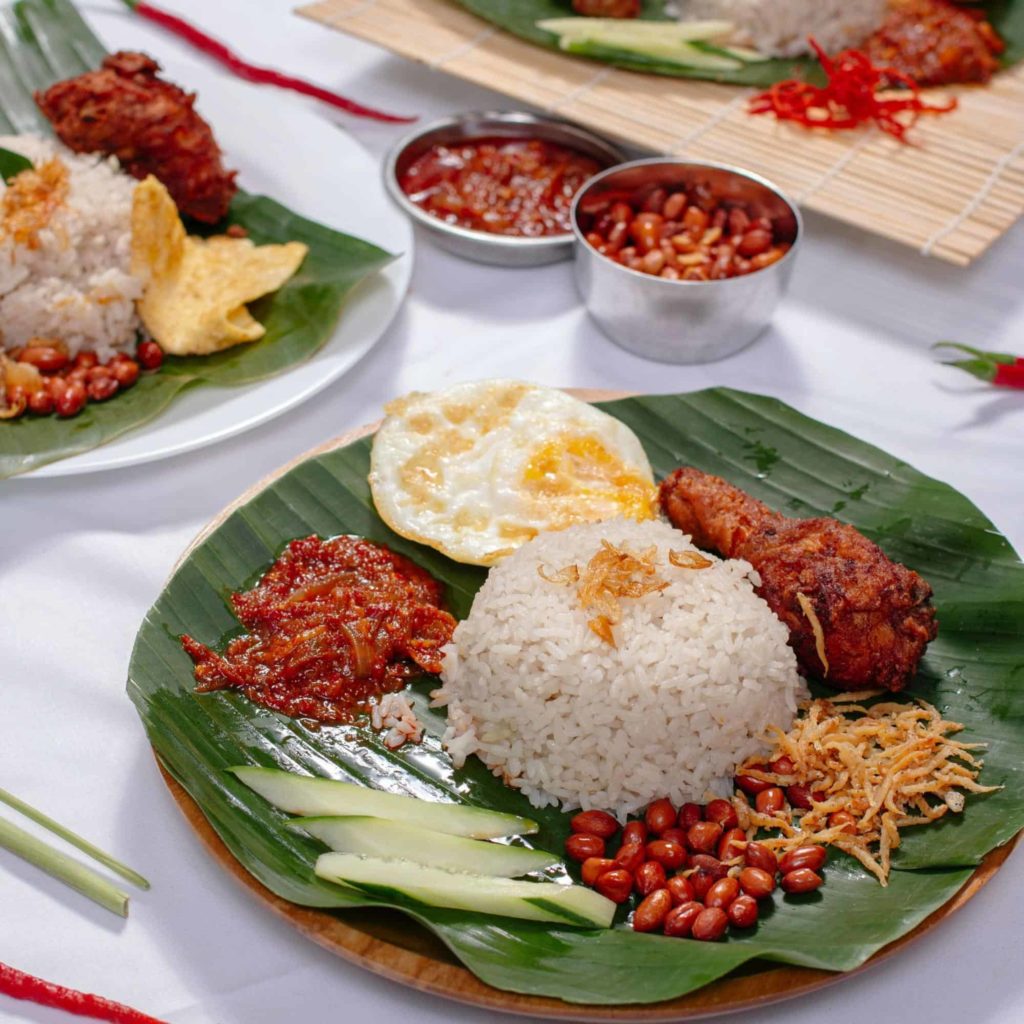 Nasi lemak is considered to be the national dish of Malaysia, as well as the most famous. Malaysians eat this dish for all their mealtimes, with it being a favorite for dinner as well.
The main component is fragrant rice that is first soaked in coconut milk and then cooked with pandan leaves. This cooking method gives nasi lemak its rich flavors.
Malaysians typically pair nasi lemak with sambal, or chili sauce, of their choosing. Other additions to the meal can include anchovies, peanuts, and boiled eggs.
In Malaysian dinners, nasi lemak is a top option because of its deliciousness, making it essential for end-of-the-day relaxation.
3. Satay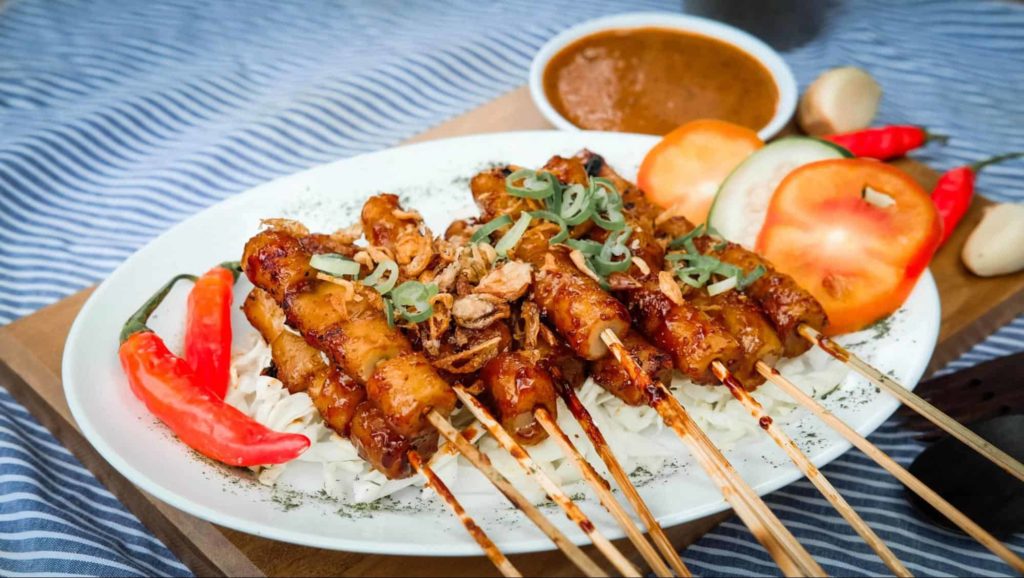 Satay is a hearty dish that can be made by grilling marinated meat on skewers and then pairing it with a sauce. It has roots in Indonesian cuisine but it is also a highly sought-after food in Malaysia.
Malaysian satay stands out from others because of its unique use of spices and ingredients. The usual mix consists of lemongrass, shallot, turmeric powder, coriander powder, and chili powder.
Different meats like beef, pork, and chicken can all be used for satay. Chicken is one of the most popular options for satay, with many recipes that can be found online.
Satay is usually cooked on a grill, creating a great blend of smokey and meaty flavors. Malaysians often pair their satay with a sauce made by combining soy and peanut.
4. Bak Kut Teh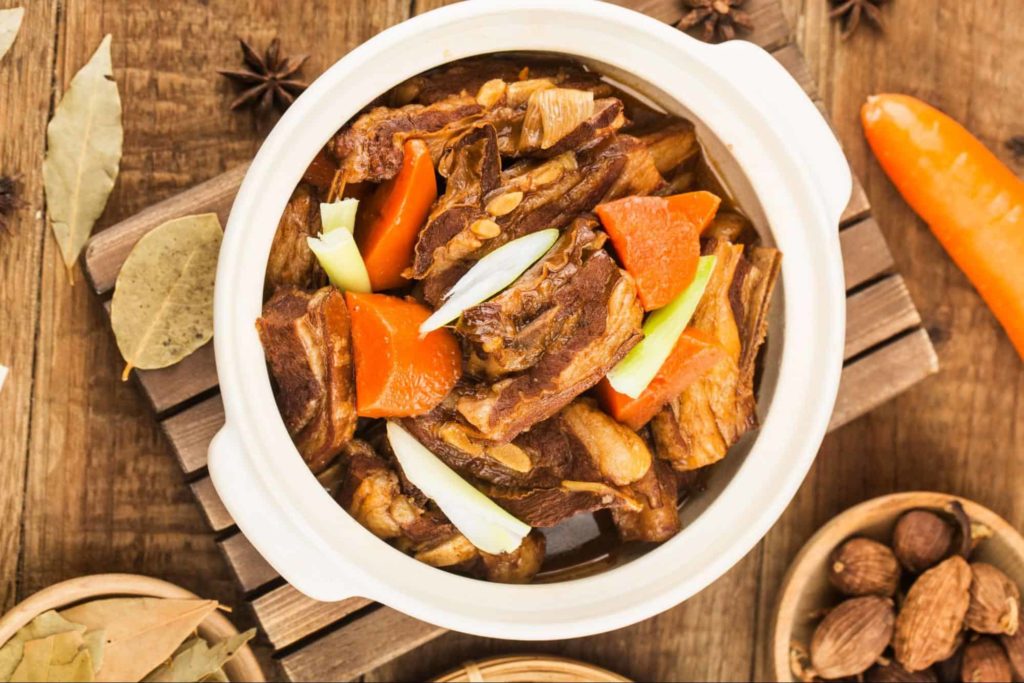 Bak kut teh is a famous soup dish that is made with pork ribs and a broth of herbs and spices. The name of the meal is Chinese but when it is translated, it means "pork ribs tea."
Even if the word "tea" is in the name, bak kut teh does not actually contain tea. At its base, it is pork ribs boiled gently in a mix of herbs like star anise, dong quai, cinnamon, and garlic.
This Malaysian soup dish is traditionally cooked in a clay pot, but some modern recipes allow it to be cooked in innovative pressure cookers. Preparing bak kut teh in a pressure cooker allows one to easily control the tenderness of the pork ribs.
Bak kut teh is yummy enough to serve on its own. Still, Malaysians often pair it with some plain rice or a small sauce made by combining chili, soy sauce, and minced garlic.
5. Asam Pedas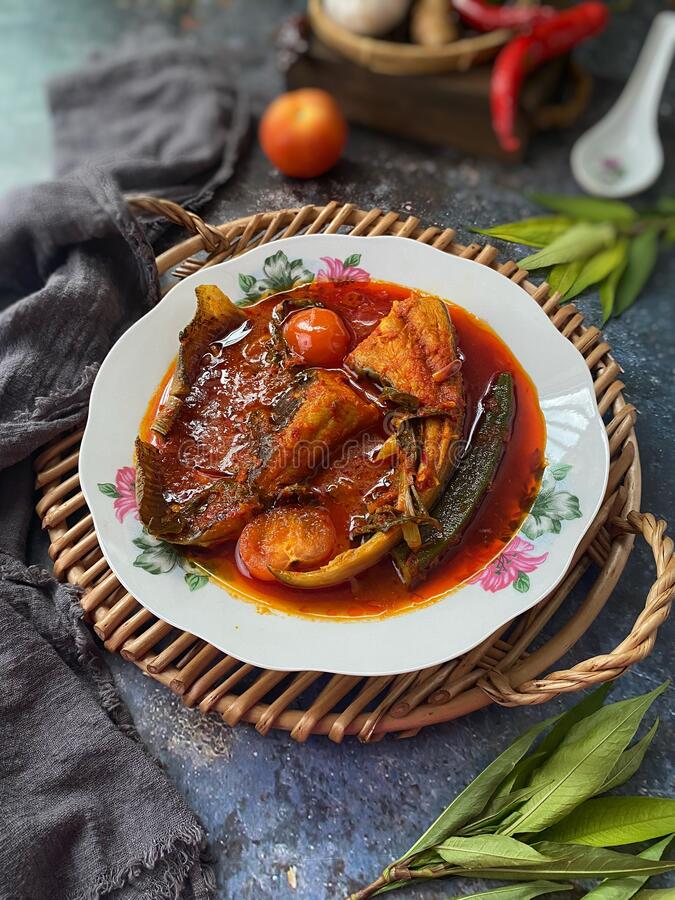 A delightful combination of spicy and sour, asam pedas is a fascinating Malaysian fish dish. It is a wonderful Malaysian dinner that is known for its tasty balance of delicious sourness and aromatic spiciness.
Asam pedas is made using a combination of tamarind juice, spice paste, fish curry powder, and various vegetables. Fish serves as the main protein of the meal, and it is usually added last and kept intact for presentation purposes.
This fish dish also allows Malaysians to be creative in achieving their preferred level of spicy and sour. In addition to spice paste, some Malaysians add dried chili peppers for that higher level of delicious heat.
When making asam pedas, it is better to have different sets of cookware ready to handle all the components that need to be cooked. 
6. Ikan Bakar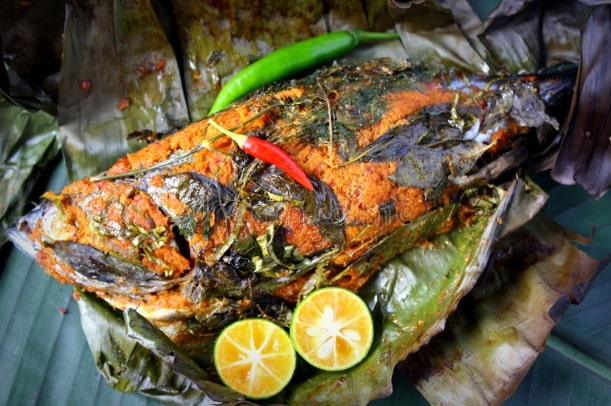 Another mouthwatering Malaysian dinner staple is ikan bakar, a charcoal-grilled fish dish that is made with a special spice marinade. This fish dish can be eaten as is or paired with rice.
Ikan bakar gets its delicious flavors from a spice marinade with a base of sweet soy sauce and either margarine or coconut oil. Other spices like kecap manis, sambal, and bumbu can also be added to the marinade.
What sets ikan bakar apart from other Malaysian fish dishes is how it is cooked. The fish is wrapped in a banana leaf to lock in all the flavors and moisture while on the grill.
Malaysians love having this fish dish for breakfast, lunch, and especially dinner. Its unique texture and taste make it a filling meal to enjoy at the end of the day.
7. Mee Goreng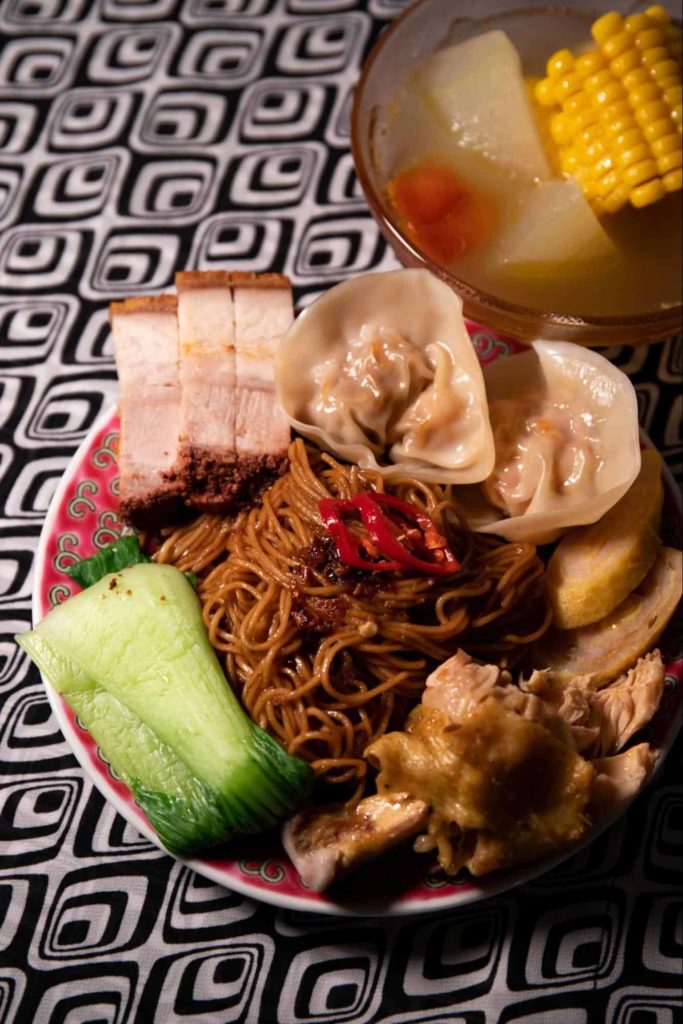 A staple in both Malaysian homes and restaurants, mee goreng is a perfect dinnertime meal. Directly translating into "fried noodles," mee goreng is a satisfying dish made with stir-fried noodles and various vegetables.
Mee goreng is a convenient yet amazing meal for Malaysian dinners because of how easy it is to cook. The ingredients for typical mee goreng can be found in most markets and groceries in Malaysia.
Typically, mee goreng is made with thin yellow noodles. Along with additions like garlic, shallots, chopped cabbage and other vegetables, these noodles are stir-fried in cooking oil that can be flavored with chili or tomato ketchup.
When it is done cooking, a great mee goreng dish will have a couple of slightly crispy and charred noodles. Some Malaysians also like to add different proteins to it like chicken, beef, or fried prawn.
8. Pisang Goreng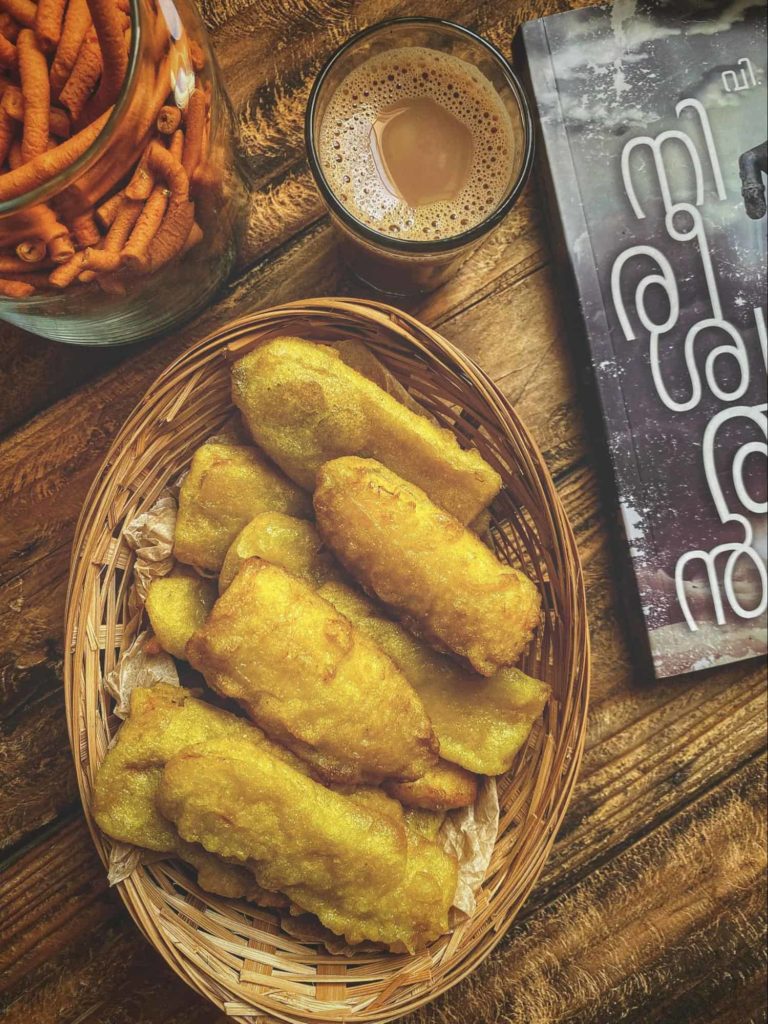 Amazing Malaysian dinners can also be accompanied by special snacks like the very beloved pisang goreng. The traditional pisang goreng uses bananas or plantains to be covered in a batter and then deep-fried.
In choosing the bananas to be used for pisang goreng, Malaysians typically make use of pisang tanduk. For a softer and sweeter alternative, others use pisang kepok instead.
The pisang goreng batter is fairly easy to make, with ingredients like eggs, flour, breadcrumbs, and aromatic additions like coconut milk or vanilla extract. The end result is a crunchy banana fritter that packs deliciousness in each bite.
Even though pisang goreng is most commonly made and sold by street vendors, Malaysians can also make it at home as a snack before or after eating dinner. A healthier alternative makes use of an air fryer and dry-battered bananas.
9. Kek Batik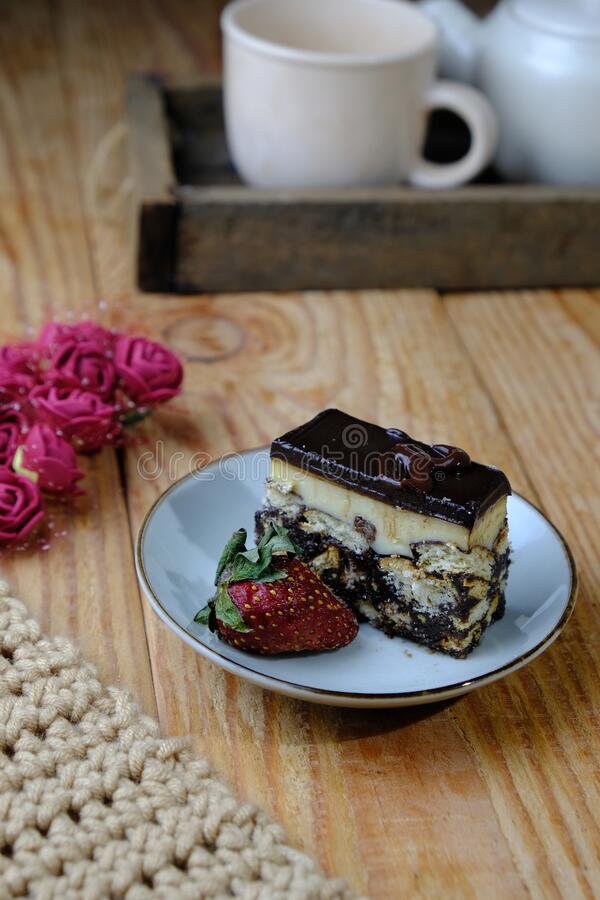 A delectable Malaysian fridge cake dessert, kek batik gets its name from the inner batik-like patterns that can be seen when it is sliced. This delicious dessert requires no baking.
Kek batik is considered a staple in Malaysian desserts since making it is very straightforward and requires only a few simple ingredients like Marie biscuits, condensed milk, cocoa powder, eggs, butter, and some Milo.
Malaysians serve kek batik for special events like Eid al-Fitr and Christmas. Still, because it is such a piece of cake to make, some Malaysians eat it as a tea-time snack or even after having dinner.
What makes kek batik perfect as an after-dinner dessert is its fudgy and delicate texture with a bit of crunch from the crushed biscuits. This dessert is definitely a top five for most Malaysians.
10. Teh Tarik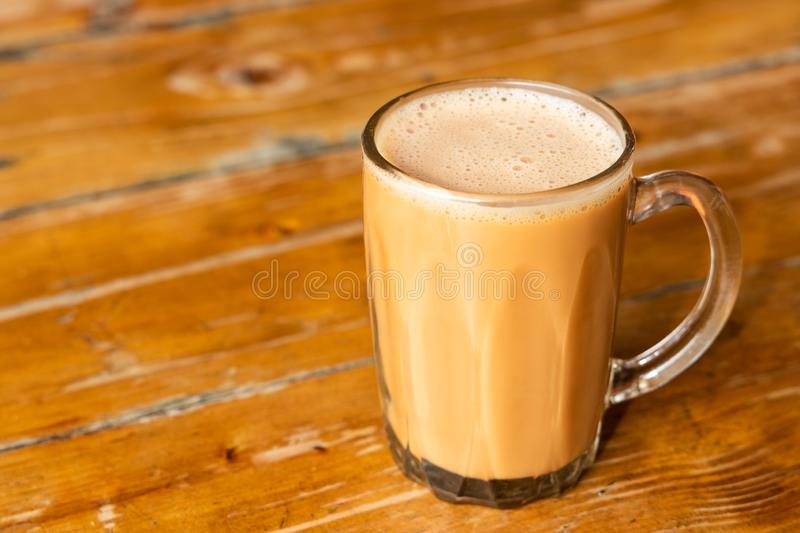 Malaysian dinners can only be made more special by ending it with the country's national drink, teh tarik. A direct translation of the Malay name is "pulled tea," referring to the process of making the drink.
Teh tarik gets its rich and creamy flavors from the use of sweet condensed milk blended with brewed black tea. It is made by repeatedly "pulling" the blend by pouring it from one container into another.
This delicious drink is made light, frothy, and silky smooth because of the pulling process.
Usually sold in mamaks and kopitiams, teh tarik can be a light and delicious way to end the day for most Malaysians. There are also some great and easy recipes for homemade teh tarik.
Other Popular Malaysian Dishes, Desserts, and Beverages
Nasi Kandar
A must-try for anyone visiting Malaysia, nasi kandar is a steamed rice and curry dish that originated in Penang. It is famous among locals and tourists alike, with many of the latter going to Penang just to try it out.
Nasi kandar is a unique dish because of the different types of curries that are mixed with the steamed rice. Beef curry, chicken curry, and vegetable curry are some of the most common curries that go great in nasi kandar.
Typically served with side dishes and gravies, nasi kandar is a versatile dish that never fails to deliver superb flavors. It is a great choice for a delicious and filling meal.
Cendol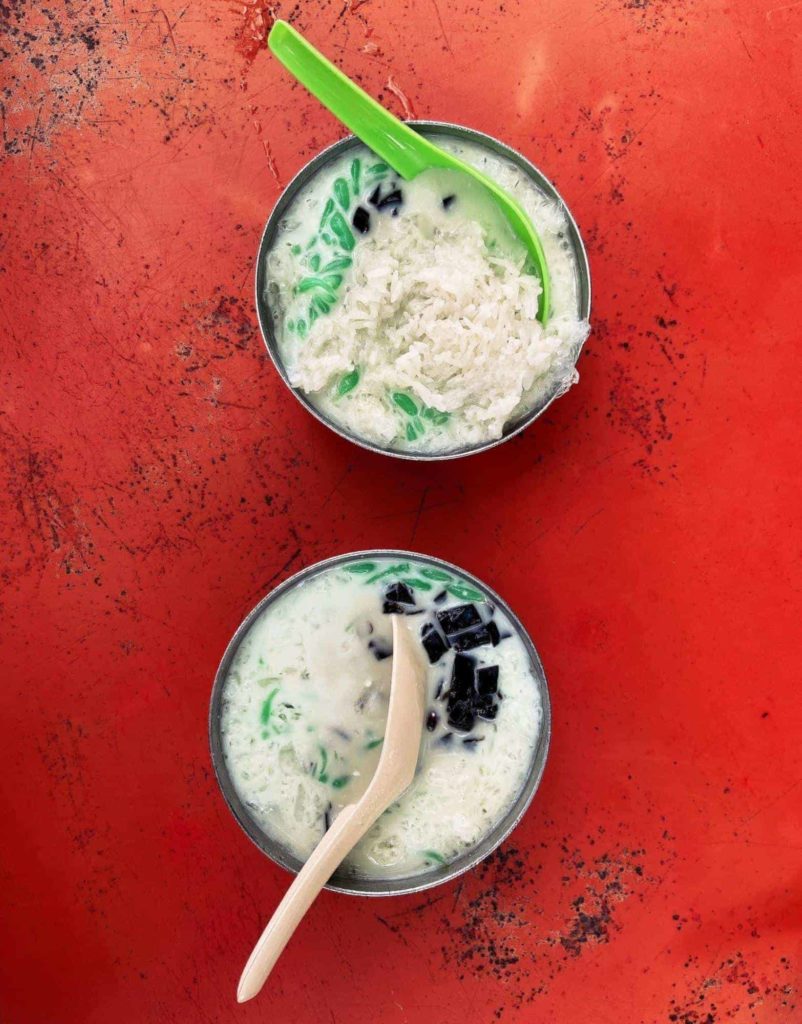 Another famous Malaysian dessert is the sweet cendol. This iced and layered dessert is made up of green rice flour jelly and coconut milk, with syrup made from gulu melaka or palm sugar.
Served with finely shaved ice, cendol is a very refreshing Malaysian dessert that is perfect for enjoying all year round. Malaysians often add some toppings for flavor like durian, red azuki beans, and even some jackfruit.
Being the popular dessert that it is, cendol can be sold by anyone from street vendors to even some coffee shops.
Gin Pahit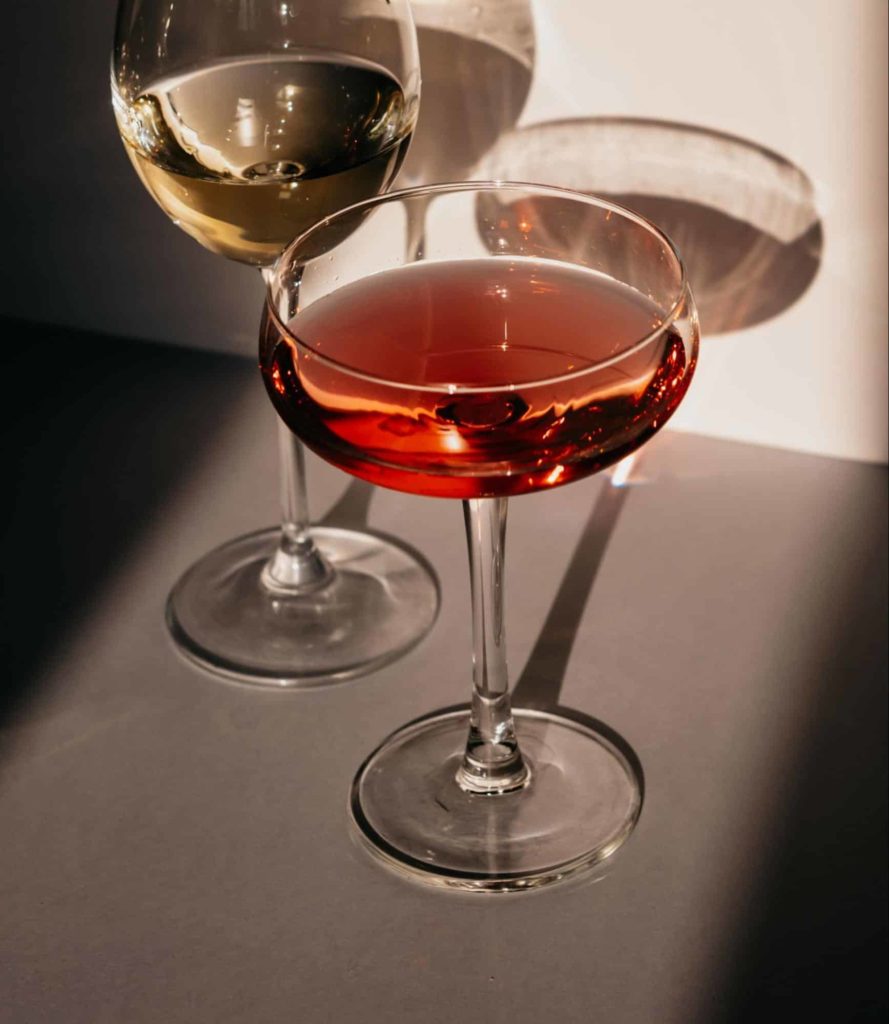 For the more adventurous nightlife enjoyers out there, gin pahit is the perfect Malaysian alcoholic drink. Made with gin and Angostura bitters, this flavorful drink can be enjoyed well on its own.
A direct translation of the name is "bitter gin" and rightfully so because it contains the perfect balance of bitter and sweet. It is made by stirring the ingredients, sometimes with absinthe, in ice and then straining the mix into a chilled cocktail glass.
Some bartenders garnish the drink with just the right amount of lemon zest to keep the drink's balance in flavors. Gin pahit can be enjoyed in any rooftop bar in Malaysia.
The 4 Best Mamaks in KL
Now that we've discussed some of Malaysia's most famous and delicious dishes, let's talk about mamaks! Mamaks are eateries in Malaysia that are typically open for 24 hours, has an open-air setup, and are usually be found roadside.
These food establishments serve a combination of inexpensive yet yummy Malay and Indian food. A lot of mamaks in Malaysia serves a lot of the dishes we mentioned above, so why not give them a try If you find yourself looking for dinner at odd hours?
1. Nasi Kandar Pelita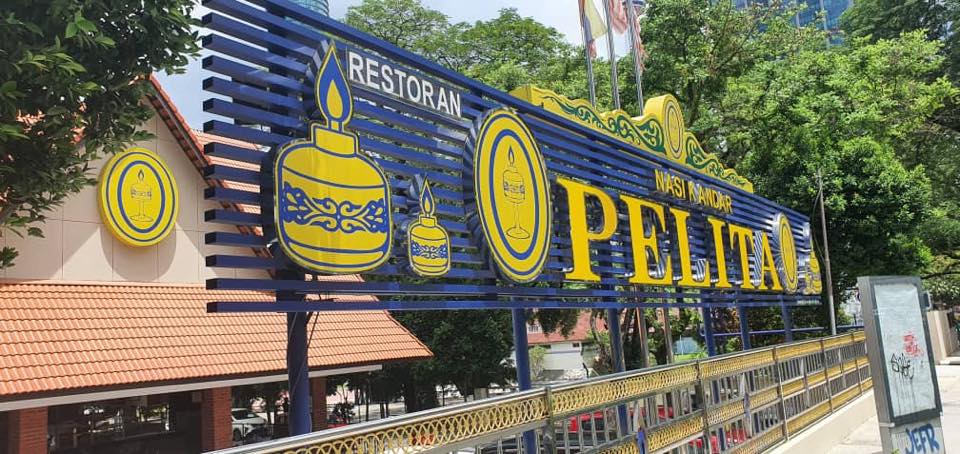 Address
149, Jalan Ampang, Kuala Lumpur, 50450 Kuala Lumpur, Wilayah Persekutuan Kuala Lumpur, Malaysia
Contact
+60 3-2162-5532
Insider Tips
Best known for nasi kandar. Other must-trys include fried chicken, masala tosai, sirap bandung cincau, thosai sardin, and limau ais.

Place is open 24 hours. Avoid long waiting times by going during non-peak hours.

Budget
$
A very popular option for Malaysians and foreigners, Nasi Kandar Pelita is a mamak that serves delicious dishes inspired by Malay and Indian cuisine. It is the largest chain of nasi kandar restaurants in the country.
Nasi Kandar Pelita can be found on one of the busiest and oldest roads in Malaysia, Jalan Ampang. The mamak is famous for its authentic and unique nasi kandar that uses a recipe perfected by one of their founders, Pak Misai.
2. Restoran BRJ Bistro Corner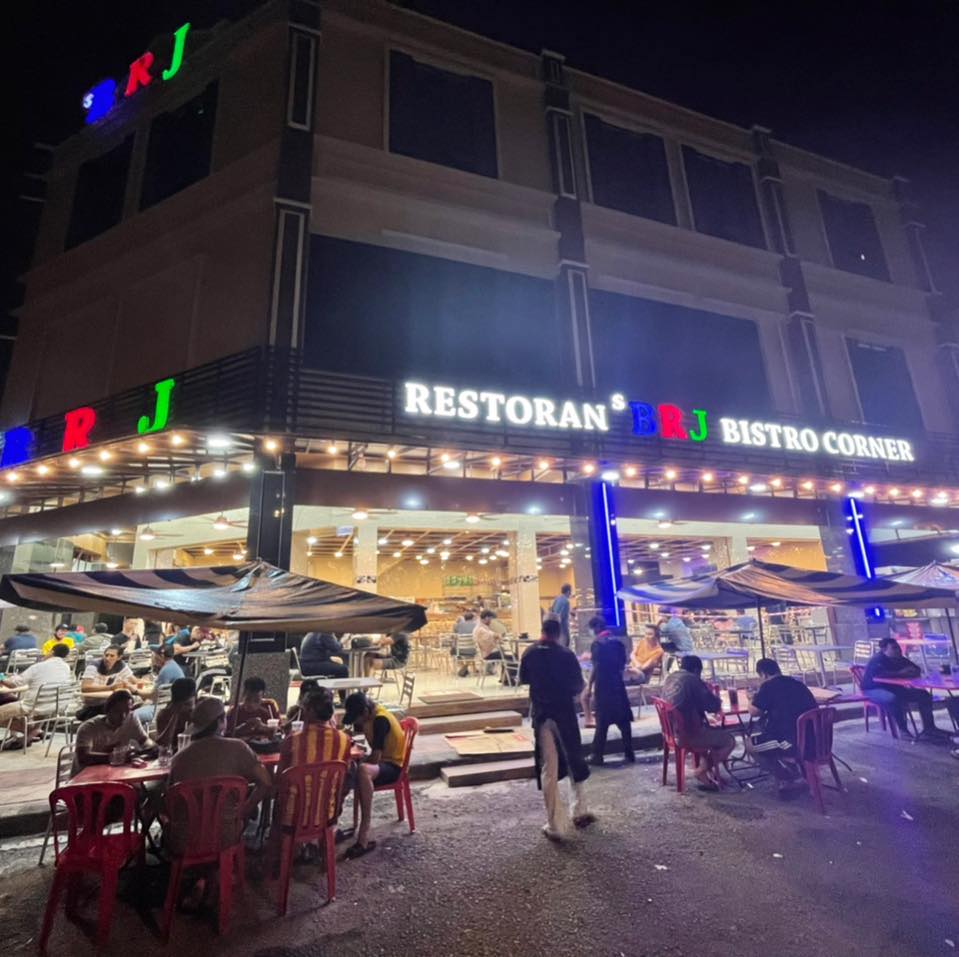 Address
10 & 12, Jalan 4a/27a, Seksyen 2 Wangsa Maju, 53300 Kuala Lumpur, Wilayah Persekutuan Kuala Lumpur, Malaysia
Contact
+60 3-4141 6475
Insider Tips
Best known for nasi lemak specials. Must-trys include nasi lemak ayam goreng special, nasi lemak sizzling kambing, and cheese naan.

Open for 24 hours. A famous nighttime spot for young people and college students; can get crowded at night.

Best to bring cash for payment as debit, credit, and QR pay are not always accepted.

Budget
$
Another 24-hour mamak that has made its mark on the Malaysian restaurant scene is Restoran BRJ Bistro Corner. This mamak features mouthwatering dishes that are a combination of Indian Muslim and typical mamak cuisine.
Restoran BRJ Bistro Corner is also a great spot for nighttime dining. It has indoor and outdoor dining areas that can seat numerous groups of people.
3. TG's Nasi Kandar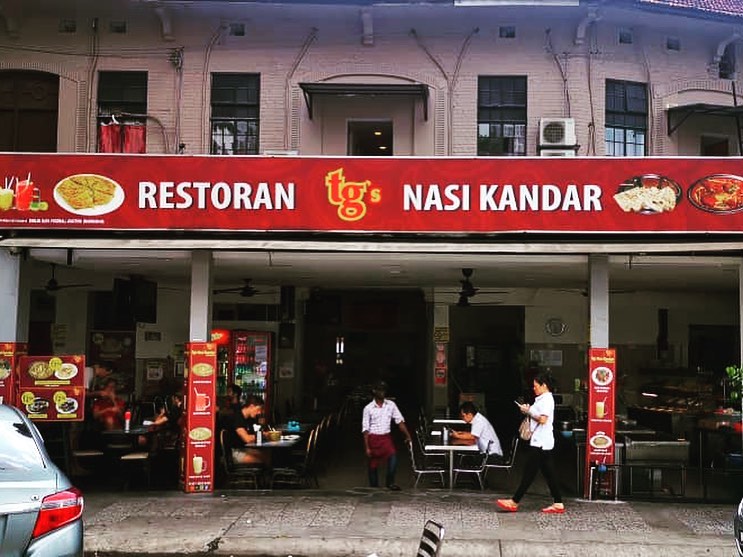 Address
8, Tengkat Tong Shin, Bukit Bintang, 50200 Kuala Lumpur, Wilayah Persekutuan Kuala Lumpur, Malaysia
Contact
+60 11-1055 6435
Insider Tips
Famous for its nasi kandar. Other must-trys include curry chicken, lamb biryani, roti canai, and cheese naan.

Spot is open for 24 hours. Can be a bit busier than usual during nighttime since it is a popular tourist spot.

Budget
$
Located in the Golden Triangle of Kuala Lumpur, TG's Nasi Kandar is an all-time favorite mamak. Even with the location, the prices of the mamak's many offerings are very affordable.
TG's Nasi Kandar is well-known for its nasi kandar, along with a variety of tasty food that Malaysians greatly enjoy. Since it is situated in a popular tourist area, the mamak is open 24 hours and can be enjoyed at any time of the day.
4. Kedai Mamak Husin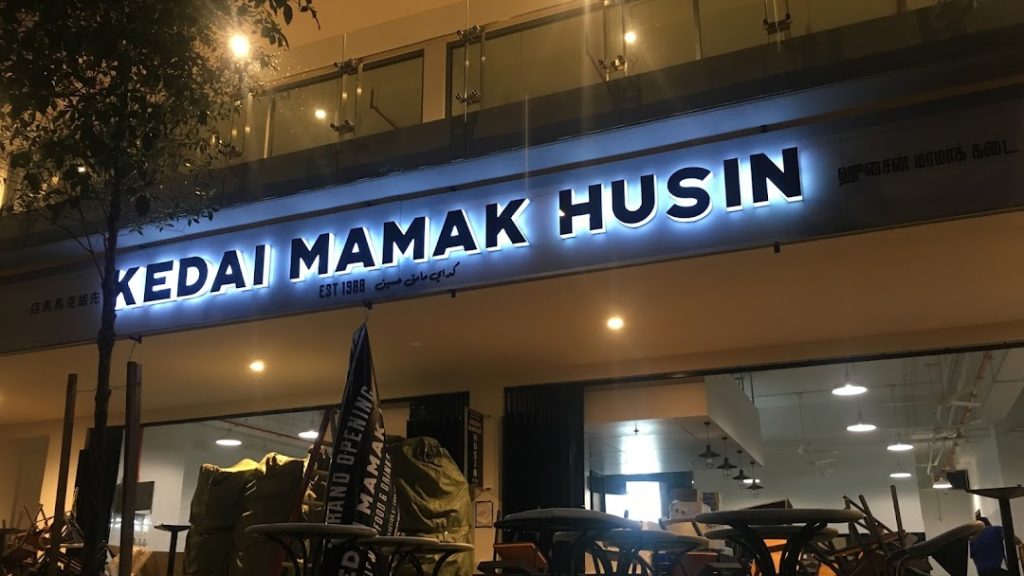 Address
G4 & G5, Idaman Robertson, no 2, Jalan Robertson, 50150 Kuala Lumpur, Malaysia
Contact
+60 12-693 8786
Insider Tips
Well-known for its wide range of offerings. Must-trys include nasi lemak, maggie goreng, chicken tandoori, roti canai, and butter cheese naan.

One of the best nighttime mamaks; can enjoy dinner in the breeze of the cold night. Open for 24 hours.

Budget
$
Kedai Mamak Husin is another 24/7 mamak with a huge variety of meal offerings. It is located on the ground floor of The Robertson building in the Kuala Lumpur Centre.
The mamak is famous for offering different Malaysian food at affordable prices. Since the place is open to the outside, with some outdoor seating as well, eating here is highly recommended to enjoy the cool Malaysian night breeze.
FAQs about What Malaysian Eat for Dinner