The Top 6 Water Bottles in Malaysia
When it comes to choosing a water bottle, we may not know exactly what to look for. This is because we tend to overlook a lot of its functions when purchasing one since we think all it should do is hold our water.
In this article, we're going to be giving you a list of the top water bottles in Malaysia and why we think they are the best. So without further ado, let's start!
The Top Water Bottles in Malaysia
Let's begin with the water bottles themselves, how much they cost, where to purchase them, and a few facts about them.
1. Gemful BPA Free Water Bottle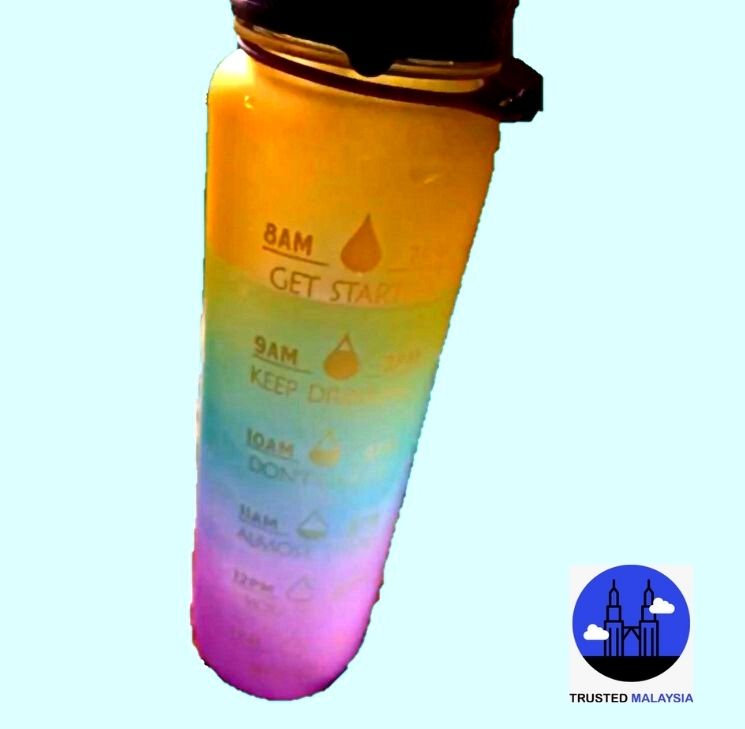 Price: RM 33.70
| | |
| --- | --- |
| Capacity | 1000ML |
| Material | Tritan material |
| Straw | Yes, removable |
| Water flowing method | Pop-up cap; Wide mouth |
| Size | 29.3 cm x 7.8 cm |
Gemful has designed a water bottle with a beautiful gradient design that would look great on your backpack.
The water-flowing method is a flip lid that opens with a click of a button so you don't have to messily fiddle around with a cap to open it up and drink water. For your convenience, it also has a wrist strap to make it easy to carry.
This Gemful water bottle comes in 6 colors: green, pink, purple, yellow, blue, and tricolor. The finishing has a matte surface with a frosted casing.
To talk more about its design, we love how they incorporated motivational quotes and time markers. They did this to encourage you to stay on top of how much water you've drunk for the day to stay hydrated.
This pretty water bottle can carry up to 1 liter of water and has a temperature resistance of 0°C -100 °C. It also has thermal insulation to keep your liquids at your preferred temperature.
It's made of Tritan material which is dishwasher friendly, durable, BPA-free, and impact-resistant.
Comes in 6 colors
Flip lid for easy-drinking
Has removable straw
Has thermal insulation
Has motivational quotes and time markers
Only has one size
Expensive compared to others
Customer Reviews
Here are a few reviews of users of this pretty bottle:
"Very beautiful bottles 🤩🤩 Highly recommended 💯" -S
"it's pretty cool!like this colour sooo muchhhhhh!it's definitely my type" -T
2. MAXGEAR Hot Cold Shaker Insulated Bottle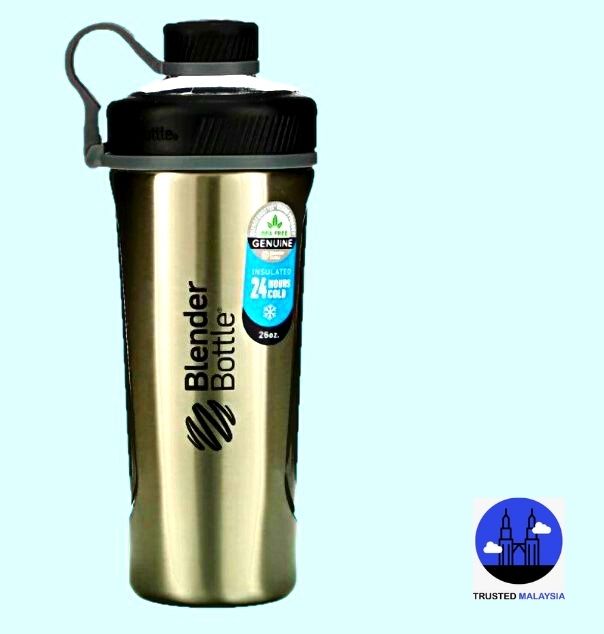 Price: RM 31.90
| | |
| --- | --- |
| Capacity | 720ML |
| Material | Stainless steel |
| Straw | No |
| Water flowing method | Flip-up cap |
| Size | 24cm x 10cm |
If you're someone who works out a lot, you probably drink protein shakes on top of your regular water drinking schedule. If you are, consider this MAXGEAR water bottle with a 720ML capacity.
While you can always put any kind of liquid in any water bottle, using this MAXGEAR water bottle makes it much easier to deal with your protein shakes and any other drinks with a smell. This includes juices, martinis, cocktails, coffee, and the like.
This is because its stainless steel material keeps it from absorbing any odor at all, plus it comes with a blender ball for easy mixing.
It also has a sealed lid that prevents leakage so when you use its backpack hanging feature, you won't have to worry about it spilling everywhere behind you as you walk.
To keep your drinks as hot or as cold as you want them to be for up to 6 hours, it's double-wall vacuum insulated.
Stainless steel prevents odor-absorption
Double-wall vacuum insulated
Can be hung on your backpack
Comes with a blender ball
No straw
Only comes in one size
Customer Reviews
Check out these happy reviews of Shopee users who purchased this MAXGEAR water bottle:
"BUYING FOR THE 3RD TIME👍👍🥰🥰🥰 SO HAPPY TO FOUND THIS PRODUCTS. TQ" -Nor
"produk berkualiti baik, seller sgt bagus, if barang ada rosak seller akan tukar dgn baru.. terbaik.. suggested produk jika anda sedang mencari.." -Muhamad
3. Tempered Glass Tumblr by Home Genie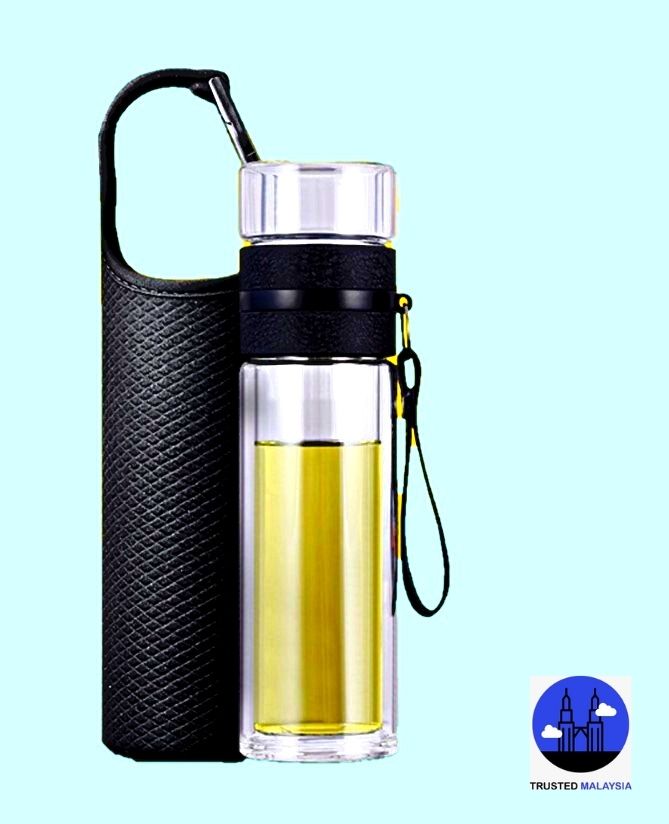 Price: RM 4.80
| | |
| --- | --- |
| Capacity | 450ML |
| Material | Stainless steel; Tempered glass |
| Straw | No |
| Water flowing method | Wide mouth design |
| Size | 24 cm x 6.5 cm |
For a more minimalistic look with maximum functions, check out this Tempered Glass Water Bottle by Home Genie.
The screw-top is 100% leakproof so you don't have to worry about any of your liquids spilling over in your bag. The outside of the bottle is made of tempered glass and stainless steel which is great in terms of durability.
The inside of the water bottle is made of borosilicate glass which is toxic-free, BPA-free, and lead-free. This kind of glass also helps prevent oxidation so if you ever put any fresh fruit juices in here, it won't end up smelling weird.
The borosilicate glass is also heat resistant so whether you're putting in ice-cold water or boiling hot water, you're good to go.
Probably the selling point for this water bottle is targeted at tea drinkers because it's also a tea infuser bottle thanks to its strainer. You can also use this for fruit juices and not worry about any lumps or residue in your drink.
Affordable
100% leakproof
Has a strainer for tea, coffee, and juice brews
Made of tempered glass, borosilicate glass, and stainless steel
Small capacity (<500 mL)
Doesn't come with a straw
Customer Reviews
Here are what users of this Home Genie water bottle have to say about it:
"Very useful! Convenient way to serve me great tea with this bottle" -P
"Fast delivery, good quality and nice to use. " -Garry
"good quality👍 not bad👍 worth to buy👍 delivery is a bit slow🤔but still ok" -Genie
4. Big BPA With Straps Free Exercise Gym Training Drink Gallon Water Bottle With Straw Portable Bottle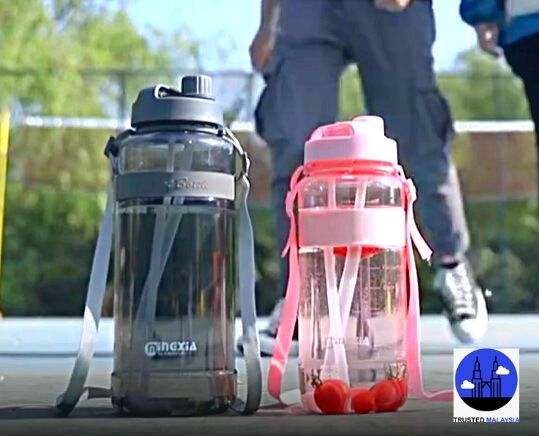 Price: RM 13.87-24.07
Capacity
700ML, 1000ML, 2000ML, 3000ML
Material
Plastic
Straw
Yes
Water flowing method
Erect straw, Concealed straw, Wide mouth design
Size
700ml:21 cm x 7.7cm
1000ml:24cm x 8.8cm
2000ml:29.4 cm x 10.5cm
3000ml:33.8 cm x 12.3cm
While this water bottle isn't a branded one, it doesn't make it any less of an option than the other ones we have on this list. This water bottle comes in 4 different sizes and only one color.
The 1000-3000ML options are perfect for athletes or people who just enjoy sports during their free time for two reasons. You can place it anywhere and still see it due to its large size and it has a large capacity as well.
We think the best feature of this water bottle is that it has two straws. One erect straw that's removable and one that you can conceal just by twisting it.
Just know that this water bottle isn't suitable for hot liquids since it's made of plastic. However, you can go wild with how cold you want the water you put in to be.
Additionally, it's 100% BPA free so you don't have to worry about those toxic chemicals. It also has a handle and a push cap which makes it easy to carry.
Affordable
Has two types of straws
Comes in many sizes
Not suitable with hot liquids
No backpack attachments
Customer Reviews
Check out these nice comments left by users of this water bottle:
"Nice and convenient bottle" -Pohyee
"thank you seller I received my parcel. thank you and your produc quality 👍👍👍⭐" -Dhian
5. Mountain Sport Bike Cycling Water Bottle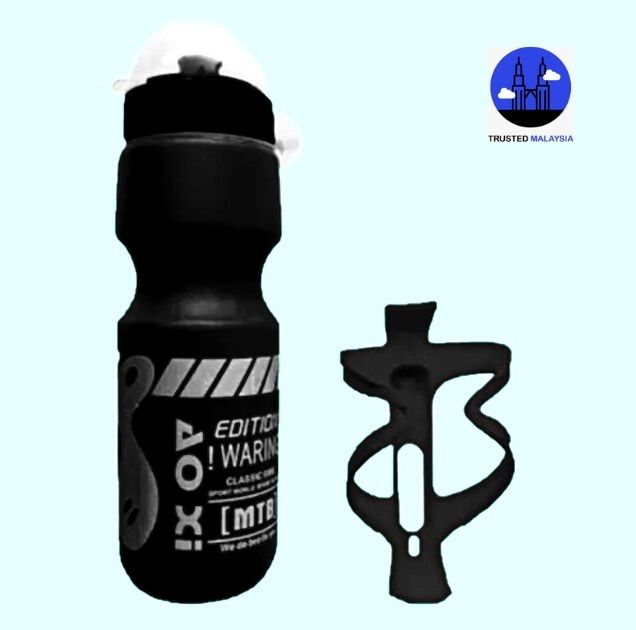 Price: RM 4.65-5.01
| | |
| --- | --- |
| Capacity | 750ML |
| Material | PE Plastic |
| Straw | No |
| Water flowing method | Squeeze bottle, Direct drinking |
| Size | 24cm x 10cm x 5cm |
Now, of course, we had to include a water bottle specifically for cyclists. If you're one and you're looking for the perfect water bottle to mount onto your road or mountain bike, consider this one.
This affordable water bottle can carry 750ml of water for you. This may not seem like a lot but, for cyclists, it is especially since it's a squeeze bottle.
What we mean by this is a squeeze bottle makes it super easy to drink your water while also conserving it at the same time so you don't run out before your next pit stop.
This water bottle is made of 100% food-grade PE plastic which is known for its durability and thermostability. It comes in white, red, blue, black, and yellow.
It's designed to be able to hold securely onto a mounting accessory while still being easy to remove. We'd also like to note that this water bottle comes with a mounting accessory for your bike already so you don't have to spend extra on one!
Affordable
Perfect for cyclists
Squeeze bottle
Comes in 5 different colors
Comes with bike mounting accessory
Doesn't come with a straw
Small capacity for non-cyclists
6.   Eplas Modern Water Bottle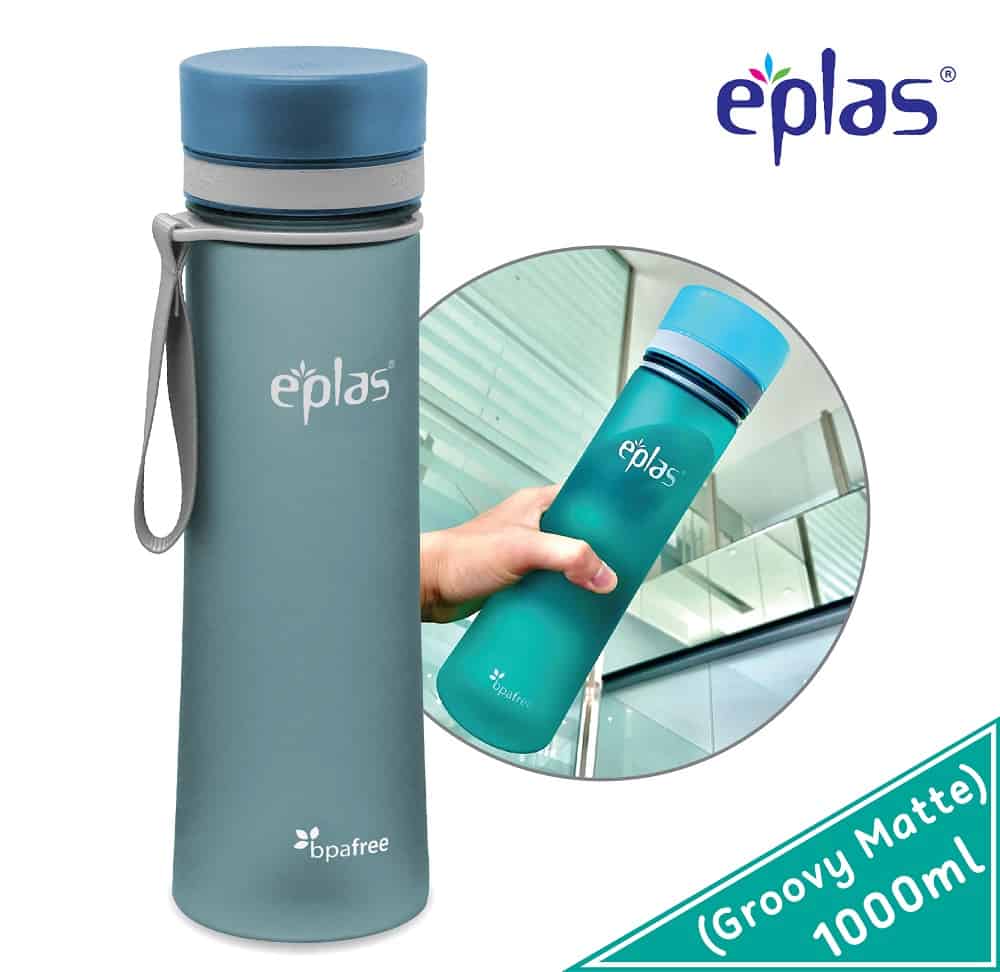 Price: RM 25.90 – RM 29.90
| | |
| --- | --- |
| Capacity | 800/1000ml |
| Material | Tritan material |
| Straw | None |
| Water flowing method | Narrow spout |
| Size | 38 × 5 × 50 cm |
Eplas Modern Water Bottle is a tumbler formulated by one of Malaysia's leading manufacturers when it comes to plasticware and kitchenware products for everyday use. Coming in two sizes, its sleek design is both ergonomic and trendy that is ideal just for any individual.
We like that it is designed in such a way that it is easier to grip due to its narrow design yet still contains a considerable amount of water or beverage that is perfect for outdoor or indoor use.
Aside from this, it is also made of Tritan from Eastman Copolyester and even complies with FDA regulations and is up to par with the industry standards as well so customers can be sure of its dynamic use and durability.
Note that there might be some limitations when it comes to color options but interested customers may browse online if any of their other water bottle products are featured in the color to their liking.
Overall, with its matte groovy design, stain-resistant and odorless features, and easy-to-use structure, we highly recommend clients check their product out and see its innovative and unique look.
Comes in trendy colors
Ergonomic structure
Convenient and easy-to-use design
Does not come with a straw
Things to Consider Before Buying a Water Bottle
1. Purpose
Do you need your water bottle for training at the field or court? Or do you just need it for everyday use at the office?
These are some of the questions to ask yourself before you purchase a water bottle because the answer to these affects the size, capacity, and functions you'll be looking at.
2. Functions
One of the most looked at functions of a water bottle is thermal insulation. If you like to keep your coffee/tea hot or your water ice-cold, you'll definitely need one with thermal insulation.
You'll also remember that one of our water bottles in this list has a tea diffuser which makes it multifunctional so that might pique your interest.
3. Features
Features of a water bottle are small things that you may somehow overlook but then, in your day-to-day life, you'll suddenly realize they make all the difference with how you go about your water drinking routine.
A few features of water bottles to look at can be removable straws, concealable straws, blender balls, special caps, wrist straps, and the like.
FAQs about Water Bottles in Malaysia
---
Be sure to stay hydrated with our list of the pick water bottles in Malaysia! You may think it's just a jug you put your water in but, trust us, you're going to know the difference between getting the right one for you and just getting a random one.
If you're someone who knows what we're talking about, don't be afraid to send in your suggestions for water bottles! We'd love to put it on this list.
And before you go, if you're a caffeine addict, you may also want to check out our list of the best coffee machines in Malaysia!