The Top 5 Payment Gateways in Malaysia
Online businesses have been continuously flourishing as years go by and one of the most important tools merchants should think about are their payment gateways.
Merchants don't really need to be an expert when it comes to processing online payments, securing customer data, and payments flows. However, understanding the basics of payment gateways will help you choose the best service provider for you.
Our top payment gateways in Malaysia are chosen based on the strength of their security and reliability. So, without further ado, let's dive into the best payment gateways in Malaysia!
How Much Do Payment Gateway Services Cost in Malaysia?
Payment gateway services are crucial for running your business online and their importance can be a reason for a high cost. Despite this, the last thing any merchant wants is for their profits and earnings to be taken away by expensive fees.
To help you, we came up with this table of the common services payment getaways offers and their average cost.
| | |
| --- | --- |
| Service | Average Cost |
| Setup Fee | RM300 – RM500 |
| Annual Fee | RM99 – RM500 |
| Commission per Transaction | 2-3% |
| Recurring Bill | Yes |
| Charges on Refunds | RM0-RM.050 per transaction |
The Top Payment Gateways in Malaysia
Now that you know what to expect when it comes to charges and fees, let's learn more about the payment gateways in Malaysia!
1. eGHL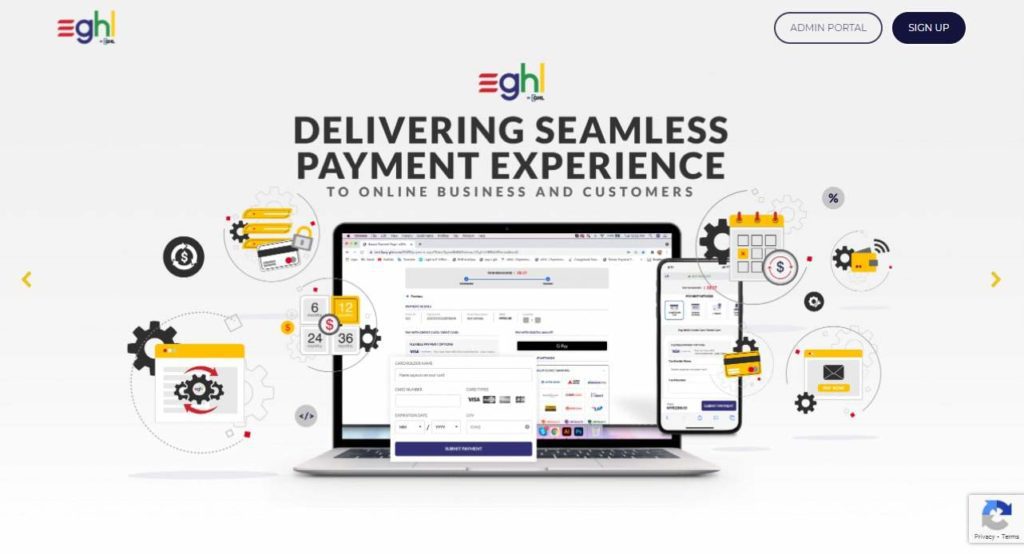 SERVICES
Credit Card, Online Banking, E-Wallet payments, O2O, Payouts Support
CURRENCIES
Over 48 currencies
WEBSITE
https://e-ghl.com/
ADDRESS
C-G-15, Ground Floor, Block C, Jalan Dataran SD1 Dataran SD, Jalan PJU 9, Bandar Sri Damansara, 52200 Kuala Lumpur
CONTACT DETAILS
Email:

[email protected]

OPERATING HOURS
Mon-Fri 9:00 am – 6:00 pm
eGHL is an online payment solution that was created for Southeast Asia online businesses. They work with both up to 100 card and non-card payment channels.
If you use eCommerce sites like EasyStore or SiteGiant, you can integrate this gateway easily thanks to their user-friendly plugins, API, and SDK. You can also integrate it with Shopify but there will be a bit more redirections since eGHL can't be supported on the Shopify sites itself.
They pride themselves in creating an easy-flowing payment system for your customers. This means a simple layout with minimal redirections since redirections can be a turn-off for e-citizens.
In line with this, you can also easily share your purchase links with your unlimited "BUY NOW" buttons. All you need to do is embed those buttons on your websites and social media pages so shopping carts aren't required.
For the safety and security of you and your customers, they are PCI DSS Level I certified. This means they can process more than 6 million transactions annually while ensuring all the data is stored, processed, and transmitted safely.
They also offer your clients an option for scheduled payments and you, in turn, will always be paid on schedule.
Offers scheduled payments
Works with up to 100 card and non-card payment channels
User-friendly plugs-in and software
Easy-flowing payment system
Unlimited "BUY NOW" buttons to embed
No easy refund option for your clients
Limited to Southeast Asia
Customer Reviews
Here's a review left by Michelle about her experiencing paying with eGHL:
"Purchased items from ulikes and pay through eGHL, received item and everything is smooth and simple." -Michelle
2. iPay88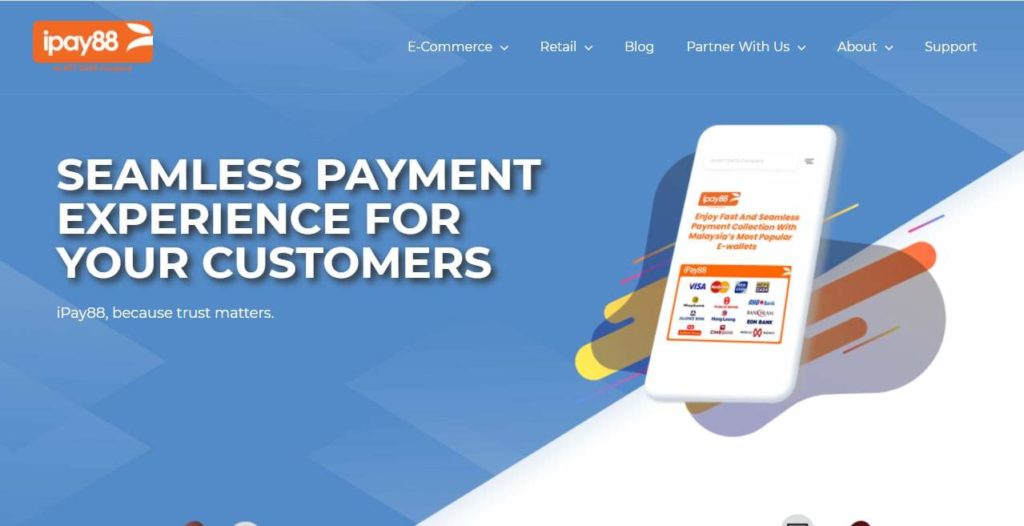 | | |
| --- | --- |
| SERVICES | E-commerce payment, Retail payment, O2O, Payouts Support |
| CURRENCIES | RM only (other currencies go through iPay88 multicurrency getaway) |
| WEBSITE | https://www.ipay88.com/ |
| ADDRESS | Suite 2B-20-1, 20th Floor, Block 2, Plaza Sentral Jalan Stesen Sentral 5, 50470 Kuala Lumpur, Malaysia |
| CONTACT DETAILS | Telephone: +603 2261 4668, +603 2261 4663 |
| OPERATING HOURS | Monday to Friday, 9:00AM – 6:00PM |
iPay88 is a payment gateway that puts security and fraud protection before anything else. They've registered with Bank Negara Malaysia and are compliant with PCI DSS to ensure this.
It's safe to say it's pretty easy to integrate iPay88 into your online presence offers because it provides innovative payment solutions through Mobile Apps, POS integration, and Terminals.
If you offer services or subscriptions, you'll be glad to know that this payment gateway offers the options for recurring payments. This makes it great for donations and bills payments as well.
You can provide your clients with payment links through emails or direct links on your website or social media site. These options come with e-invoices to be sent to your client.
You can pay with up to 37 payment channels including Paypal, GPay, all major Malaysian banks, credit cards, and e-wallets. They also have "Buy Now, Pay Later" options with PayLater by Grab and Moby.
Offers recurring payments
Offers "Buy Now, Pay Later" options
Registered with Bank Negara Malaysia
Can pay with up to 37 payment channels
No easy refund option for your clients
Limited to Southeast Asia
Customer Reviews
Here are a few reviews left by some of iPay88's big name users:
"The smart android terminal comes in handy and it allows us to accept multiple e-wallet options. iPay88 customer service is always ready to serve us." -Nando's Malaysia
"We like how iPay88 allows us to integrate with most of the payment methods in Malaysia." -Samsonite
3. Worldpay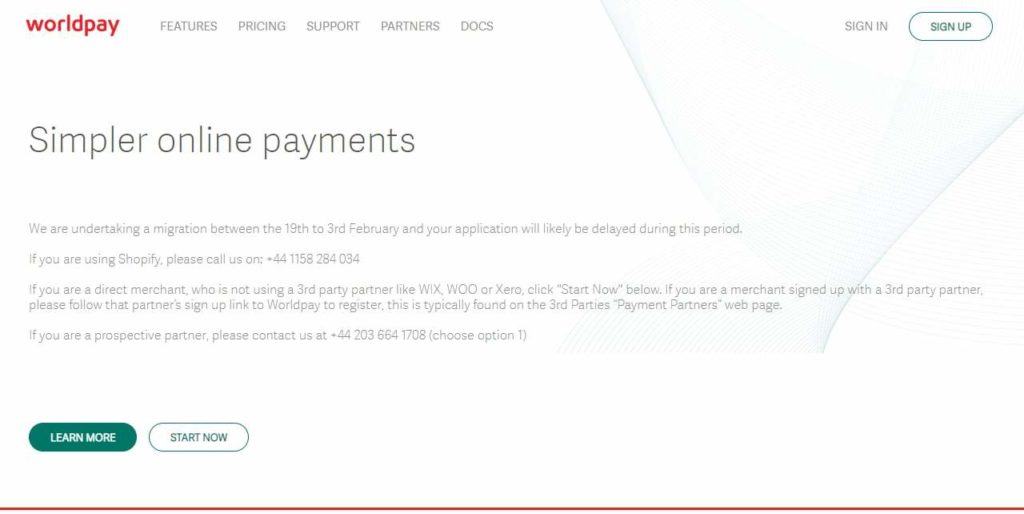 | | |
| --- | --- |
| SERVICES | Credit Card, Online Banking, E-Wallet payments, Payouts support |
| CURRENCIES | RM + Up to 120 currencies |
| WEBSITE | https://online.worldpay.com/ |
| CONTACT DETAILS | Telephone: +65 6580 6402 |
Worldpay is an American payment gateway that's so widely used in Malaysia that we thought it belonged on this list.
Their goal was to create a payment gateway with a seamless design. For them, this meant that it would be easy to use on your desktop, tablet, or even your phone.
Worldpay provides you with real-time updates on order data and you can export it anytime. In the event that you ever need to issue a refund, all you need to press is a button so no headaches there.
As soon as you sign up with them and add their API to your website, you can start receiving payments within 24 hours. That's something we can all agree is quick and easy.
Just note that if you're using Shopify, you have to contact them directly to incorporate Worldpay into your shop.
Finally, they offer fraud management tools to protect you from fraud before it even occurs. You may be wondering how you can even use these tools but they provide very easy-to-understand instructions as you go along.
Easy-to-use on any gadget
Offers recurring payments option
Offers fraud management tools
Provides real-time updates on orders
Easily refund on payments
Complaints about customer service
Doesn't offer instalment plans for your clients
Customer Reviews
Check out these reviews by users of Worldpay:
"I was in touch with the corporate support for my business and was sooooo impressed with how much they assist me. Really appreciate it. I think it is worth mentioning that i got my help from Brenda and John Howey. Really appreciate the service. Thank you" -Mohamad
"Simple straightforward and exactly what our business requested. Thanks for your assistance highly recommended." -Matthew
4. Stripe Payments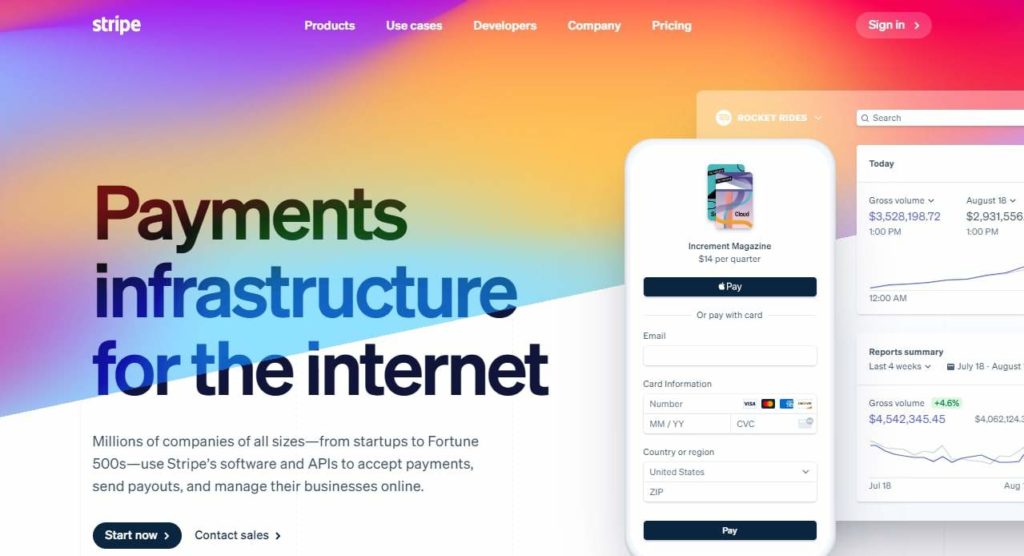 Stripe Payments is a payment gateway that seeks to support all sorts of businesses as they grow more in their online standings.
Whether your business is a retail one, subscription-based one, on marketplaces, or is a software platform, Stripe Payments is a pretty good option. However, it uses some of the world's most powerful API's so it's not the easiest software to integrate.
Once it's integrated, though, it's pretty easy to navigate through and figure out without much help.
With this payment gateway, it's easy to send payouts and accept payments. And for added functionality, you even get business management tools.
Some of these management tools include those to help you send out invoices, issue virtual and physical cards, manage your spending, and beat fraud.
For those who use sites like WooCommerce, NetSuite, and Shopify, they have pre built integrations which makes it easy to pay. We'd like to note that this seems to be one of the easiest to integrate into Shopify's software without the need to contact the developers.
Great for international businesses
Easily integrates to all kinds of e-commerce sites
Offer business management tools
Requires technical skills to implement
No easy refund option for your clients
No instalment plans
5. Paypal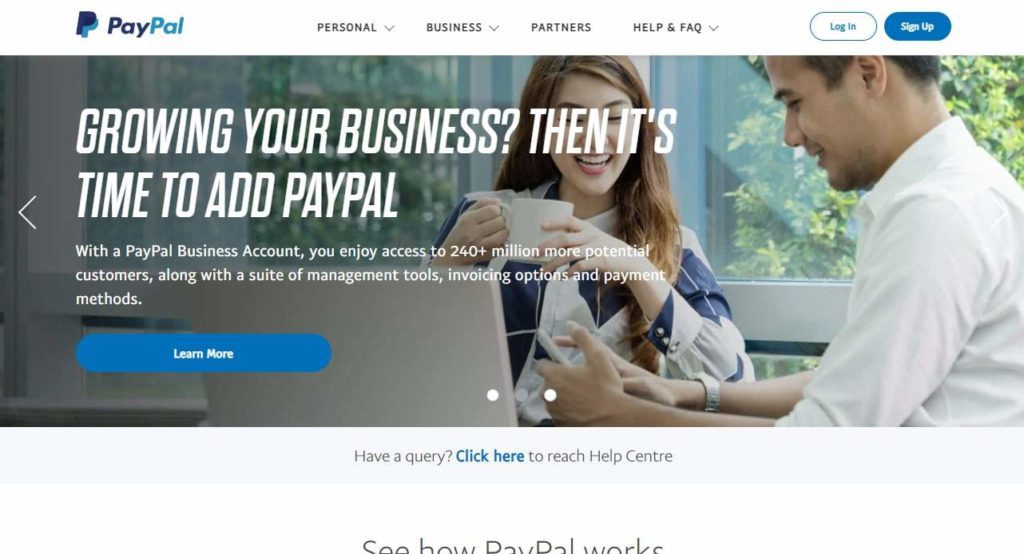 SERVICES
Credit Card, Online Banking, E-Wallet payments, Email & Online invoice
CURRENCIES
RM + 23 more currencies including USD, GBP, Yen, and SGD
WEBSITE
https://www.paypal.com/my/home
ADDRESS
Level 26, No 1, First Avenue, Bandar Utama, 47800 Petaling Jaya, Selangor, Malaysia
CONTACT DETAILS
Telephone: +603 7723 7155
OPERATING HOURS
Monday to Friday, 9:00AM – 8:00PM
Saturday & Sunday, 9:00AM – 6:00PM
Of course, what's a payment gateway article without the mention of PayPal? Paypal is known as the most widely used payment gateway in the entire world.
You probably know about the personal accounts you can make on PayPal but what we'll be talking about here is their business account.
If you're a freelancer selling on social platforms, your own PayPal.me link is all you have to share with your customers so you don't have to give out your bank details. If you have a website, you just have to add a PayPal button and the money paid to you will be sent to you directly.
PayPal offers a "Buy Now, Pay Later" option for all payments so your customers have more flexible payment options. Whether you do your business via messages such as email or through your online stores, PayPal offers you solutions to get paid securely without a hitch.
You also have the option of creating and sending your own customizable email invoices.
Well-known and reliable payment gateway
Offers your clients with a "Buy Now, Pay Later" option
Most e-commerce platforms offer a PayPal payment option
Charges fees on every payment you receive
PayPal Seller Protection is only available for US citizens
Customer Reviews
Check out these reviews left by anonymous users of PayPal's business account:
"I love the way paypal make it easy to process payments, and the perfect and secure way the payments are made."- Anon
"It has been seamless and teaching how to use for clients has also been great. I like PayPal and would recommend."" –Anon
FAQs about Payment Gateways in Malaysia
---
Payment gateways are one of the most convenient forms of technology nowadays that help us navigate the world of our business finances much, much easier. We hope this list we put together of the top payment gateways in Malaysia was helpful to you!
Also, if you have any questions or concerns, please don't hesitate to send us a quick message and we'll get back to you as soon as we can!
Before you go, you may also be interested in our article on the best digital banks in Malaysia!