Top 5 Robot Vacuums in Malaysia
Cleaning can feel like a time-waster for some people. They might rather be doing something more important, especially if there are a lot of other things that need to get done.
And we all know that cleaning isn't exactly the easiest chore.
Today we'll be talking about something that's going to help lessen some of those distractions. So if you're ready to make cleaning less of a chore, let's take a look at the best robot vacuums you can find in Malaysia.
What to look for in a robot vacuum cleaner
In order to ensure that you are getting the best option for your money, it is essential to consider the things listed below when buying a robot vacuum:
Top Robot Vacuums to Choose From
1. iRobot Roomba 960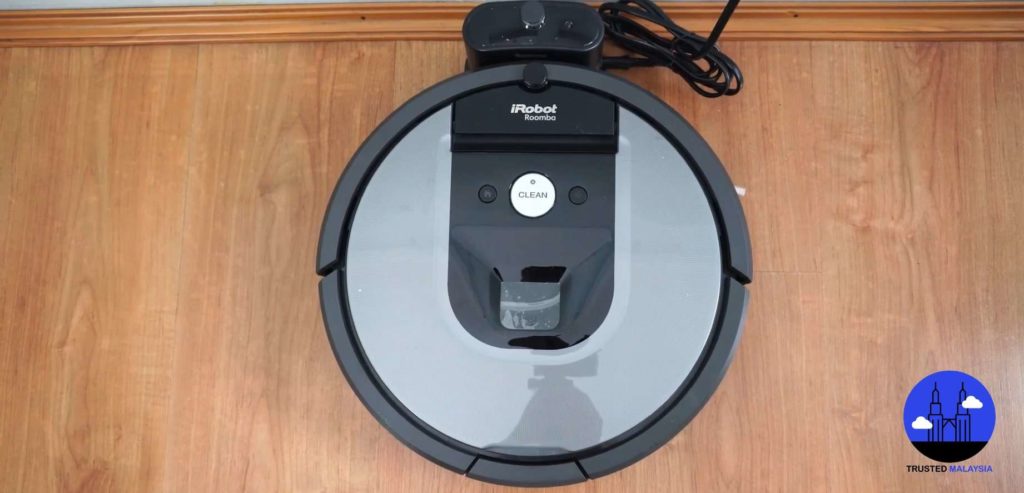 | Test | Info |
| --- | --- |
| CAPACITY VOLUME | 0.82 L |
| SURFACE CLEANED | Carpets, Tile, Floor, Hard Floors |
| CONTROLLER TYPE | Vera, Google Assistant, Amazon Alexa |
| PRICE | $699.95 |
| | |
| --- | --- |
| Criteria | Ratings |
| Surface covered | ★★★★☆ |
| Price | ★★★☆☆ |
| Moping capability | ★★★★★ |
| Battery life | ★★★☆☆ |
Get it from Amazon.
The iRobot Roomba 960 has proved to be a must-have for pet parents and individuals with allergies. Thanks to its unique iAdapt 2.0 Navigation with vSLAM technology, it offers more than enough coverage for your house.

Another thing we like about the Roomba 969 is that It was created to work with the majority of cellphones, allowing you to control it from anywhere in your home.
This little robot vacuum has plenty of battery power to get the job done, lasting up to 70 or 75 minutes on a single charge. Don't worry if it stops before the task is finished; the vacuum will return to its dock for a full recharge between rounds, a telling of how clever it is!
We like that you can tell your iRobot Roomba vacuum cleaner to clean a room using one of the three cleaning-pass functions on your smartphone. The latter is particularly helpful in homes where there tend to be large quantities of hair everywhere, whether from pets or humans.
We think it makes for an excellent way to always ensure that floors are clean, even if only for a few minutes at a time between busy schedules.
As helpful as this robot vacuum is, its price is pretty hefty and might put off the majority of customers who are looking for more affordable options. Nonetheless, it would make for a good investment because it does its job so well!
Wide range of controller options
Can clean even thick carpets
Good for pet owners and those with heavy allergies
Pricey
Shorter battery life than most
Customer Reviews
Top-of-the-line model
"I have a 2-bedroom 2-bathroom all-hardwood apartment with a dog. From my research, you have to buy the top-of-the-line model (or close to it) since the lower models are apparently no good. I bought the 960 and it's amazing. Very intelligent slows down and gently nudges my dog when he gets in the way, very thorough in finding all the rooms and corners to vacuum. I supervised it at first but after day one I realized I didn't have to. Highly recommended." – Kevin
Efficient and easy to maintain
"I saved for this model and I'm so glad I did. We named him "Rick". Rick is awesome! He has learned our house and has become very efficient. We have a Golden Retriever that sheds constantly. We run Rick three times a week and the hair on the floor has all but disappeared. Rick is so easy to clean and maintain. The app tells you when. Rick also maps your house and posts a cleaning map of where he cleaned that session. Just amazing!" – Jon Todd
2. Roidmi Eve Plus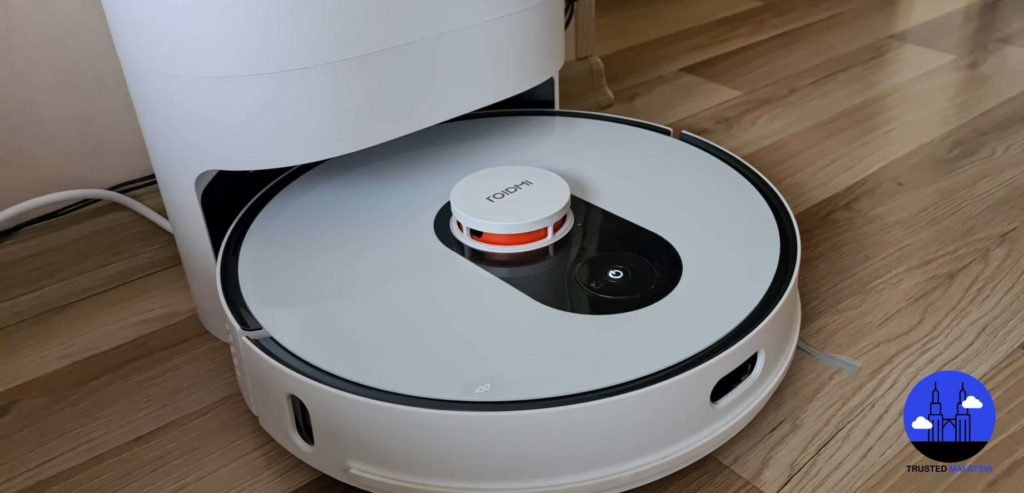 | Test | Info |
| --- | --- |
| CAPACITY VOLUME | 0.3 L |
| SURFACE CLEANED | Tile, Floor, Hard Floors |
| CONTROLLER TYPE | Vera, Google Assistant, Amazon Alexa |
| PRICE | $356.52 |
| | |
| --- | --- |
| Criteria | Ratings |
| Surface covered | ★★★☆ ☆ |
| Price | ★★★★☆ |
| Moping capability | ★★★★☆ |
| Battery life | ★★★★☆ |
Get it from AliExpress.
If you can spend an extra RM1,000 and are okay spending a little more than that, then another alternative would be going for the Xiaomi Roidmi Eve Plus Robot Vacuum Cleaner. This robot vacuum offers mop help, dry dust cleaning capabilities, vacuuming into the dustbin and easy recall for spot cleaning.
When you're out of town for the long holiday weekend, Eve Plus can take care of your home on its own! We particularly like that its automated cleaning system has sensors throughout the house which track the amount of dirt that accumulates in each room of your home, and all you have to do to initiate a session is push a button on your phone!
Eve Plus's performance relies on its 27000 Pa industrial motor, along with the fourth generation high-sensitivity LDS lidar which helps separate fine particles from larger dirt. This means less vacuuming and more time spent out in the world enjoying your adventures.
Albeit, the price tag is pretty high when taking into consideration that the capacity of the robot is pretty low at 0.30L. But its station can easily keep up with it with a 3L holding capacity for long-term cleanups.
Can take care of long-term cleanups
Uses a dedicated Mi Home app for remote instructions
Moderately pricey
Low robot water capacity
Customer Reviews
Delightful usage
"I got the ROIDMI EVE Plus a few months ago and it is happily doing its rounds on the ground floor and delighting me every day with a solid cleaning performance and reliability." – SummerNight, Germany
Very good purchase
"Robot vacuum cleaner very sober, a very good suction force with a mop mode (which will not make the stubborn stains away). I am very satisfied with the noise, it is quieter than a vacuum cleaner sweeps. I enjoyed its automatic emptying after each session end (3L bag). If your door is open, he's gonna push it into the room, I found it pretty funny. In short, a very good purchase, which I recommend." – Maxence, Amazon
3. Deebot Ozmo T8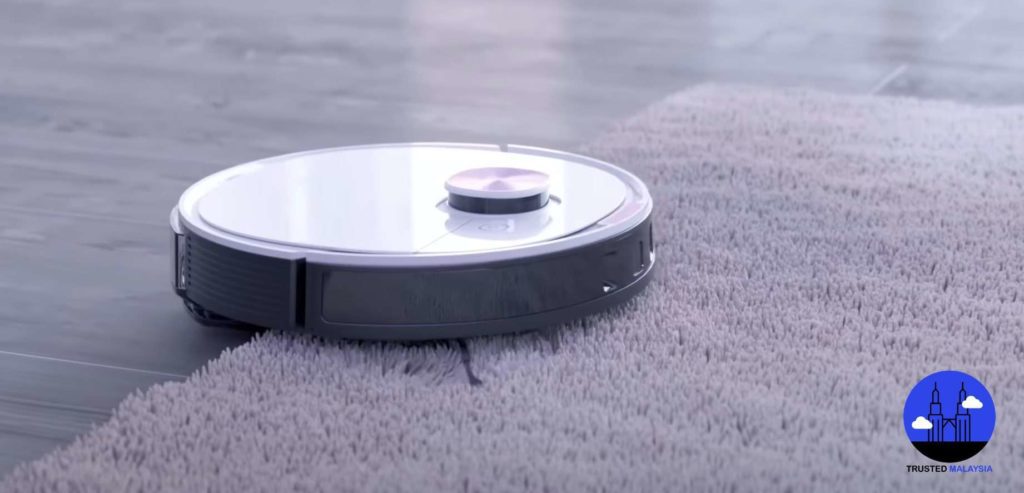 | Test | Info |
| --- | --- |
| CAPACITY VOLUME | 0.24 L |
| SURFACE CLEANED | Floors, Carpet |
| CONTROLLER TYPE | Vera, Google Assistant, Amazon Alexa |
| PRICE | $549.99 |
| | |
| --- | --- |
| Criteria | Ratings |
| Surface covered | ★★★★☆ |
| Price | ★★★★☆ |
| Moping capability | ★★★★☆ |
| Battery life | ★★★★★ |
Get it from EcoVac.
The Ecovacs Deebot Ozmo T8 robot vacuum cleaner is among the very best that Malaysia has to offer. It's quite popular for a reason, and those reasons start with some revolutionary cleaning technologies.

The T8 comes with 3D mapping capabilities and a laser-suction engine which, when working together, can help this robot vacuum quickly get through and clean most parts of your home without you getting in its way.

We like that this particular model from EcoVacs comes with smart navigation technology that detects when the robot cleaner is hitting your staircase and stops automatically. Moreover, we're impressed with the Ozmo T8's remote control function – you can control it with your phone which is perfect for when you're away.
Also, don't forget that this little guy comes furnished with a high-efficiency air filter or HEPA. If you're ever worried about how much noise it's making, there's also voice reporting, so that you know exactly what he's been up to all day long!
When using this robot vacuum, you might have to refill it often since it only houses 0.24 L of water for mopping – a volume that's quite lower than other robot vacuums at the same price point!
Has 3D mapping technology
Cleans 30% faster than other robot vacuums
Deebot app is buggy sometimes
Small container capacity
Customer Reviews
Works as expected
"I used to have a Neato D7. The Ecovacs T8 performance surpasses that one in every aspect. With its object recognition, it learns. The longer you have it the better it performs. For example, initially, it sometimes ran over cat toys and shoe laces. Not anymore. It never gets lost. It very, very rarely gets itself stuck anywhere. Virtual no-go barriers are very accurate; I can have it avoid rug fringes; something I was never able to manage with the Neato. I think the battery life is a little over-rated; they probably measure it on a standard power setting on hard floors. It's much less on Max on the carpet. Oh well, it's got a recharge resume. The map feature is adequate for damp mopping. Of course, it isn't as good as a handheld mop, it's foolish to expect it to be. They say not to use cleaning fluids, just water. I've put a small number of various cleaning fluids in without a problem. If it ever gunks it up the reservoir is a $20 replacement. It's a pricey machine, but if you've had other bots and are continually frustrated with them the T8 will be a godsend. It works like you would expect it to." – Moose, Amazon
Impressive suction
"I did my research and found this to be one of the tops in suction for the robot vacuums. It has proven itself each night. I didn't realize just how dirty the house really was until I had this vacuum start working nightly. I empty a full or nearly full bin each morning. We have hardwood floors and a large area rug in the living room. It does go over the rug from the hardwood without any trouble. I have been picking up the dog's water dishes, and dining room chairs, other than that I do nothing special. It is another job gladly taken off my chore list:). Oh, and let's not forget the mopping aspect too! I have only used that part once, and it has worked out great as well. Just fill the water tank, click on the mopping pad and it's ready to wash the floor. The app seems fairly easy to use, but I am still trying to get used to it. Just using the basics right now. I don't need to use the "no-go zones", but would like to explore more about how to use the video features. I am happy I invested in the EVOVACS DEEBOT T8!" – Sherrie A.
4. Qihoo 360 C50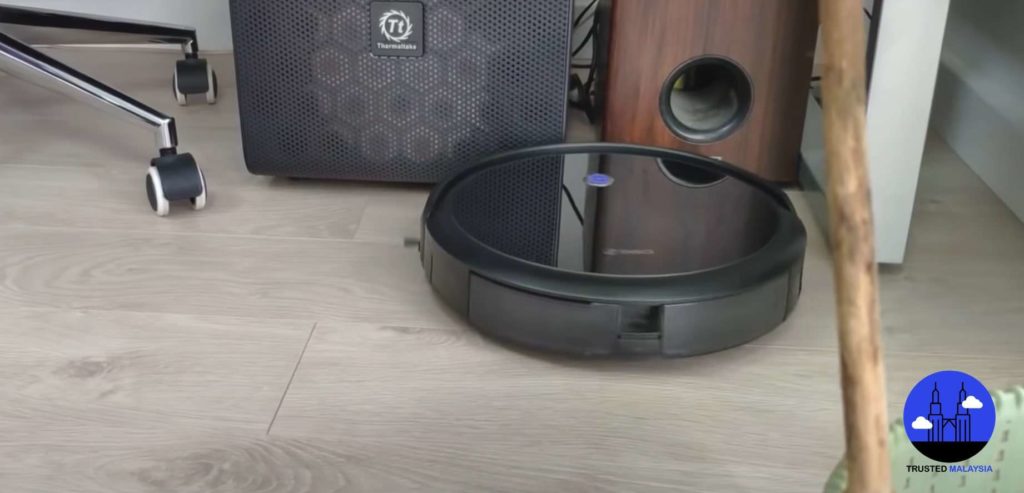 | Test | Info |
| --- | --- |
| CAPACITY VOLUME | 0.3 L |
| SURFACE CLEANED | Hardwood, Tile, Low-pile Carpet |
| CONTROLLER TYPE | Voice Control, App Control, Remote Control |
| PRICE | $189.99 |
| | |
| --- | --- |
| Criteria | Ratings |
| Surface covered | ★★★☆ ☆ |
| Price | ★★★★★ |
| Moping capability | ★★★★★ |
| Battery life | ★★★★★ |
Get it from Amazon.
For those of you looking for a great value, the Qihoo 360 C50 2in1 Vacuum & Mop Robot Vacuum Cleaner is hard to beat! We think that it has impressive features in its price range.
The Qihoo 360 C50 2in1 Vacuum & Mop Robot Vacuum Cleaner is a 360-degree vacuum and mop combined into one wonderful device. We like that it's easy to program which makes it a safe option for seniors – especially those who have pets and allergies.

This vacuum both sweeps and mops the floor, which may leave the floor wet during deep cleaning sessions. But the suction power on this device is strong enough to collect pet dander as well as cat litter from your floor – it even works on the "Quiet" setting!
The Qihoo 360 C50 2in1 Vacuum & Mop Robot Vacuum Cleaner is ideal for small homes with few obstacles and carpets. But unlike other robot vacuums, this only has gyroscope technology to guide it when cleaning which limits its cleaning capacity.
What sets it apart from others is that this device comes with a 12-month warranty from its manufacturer so you can have a guaranteed quality cleaning service for an entire year.
Great value for the cost
Vacuum and mop in one robot 
Limited reach in cleaning
Only has gyroscope
Customer Reviews
Very good suction power
"I like how once you set a path it keeps it. You just turn it on and it goes. It has very good suction power. It is easy to use. It is easy to clean after using. I also like that it has a mop function for wood floors." – TaxLady, Amazon
Doesn't miss anything
"I love this thing! I only bought it cause it mops too! We run the vacuum every few nights or so cause we have have laminate floors, omg at the stuff it picks up! Cat food cat/dog hair dirt it's wonderful! I would definitely buy again!" – Ruby Hale
5. Dibea GT200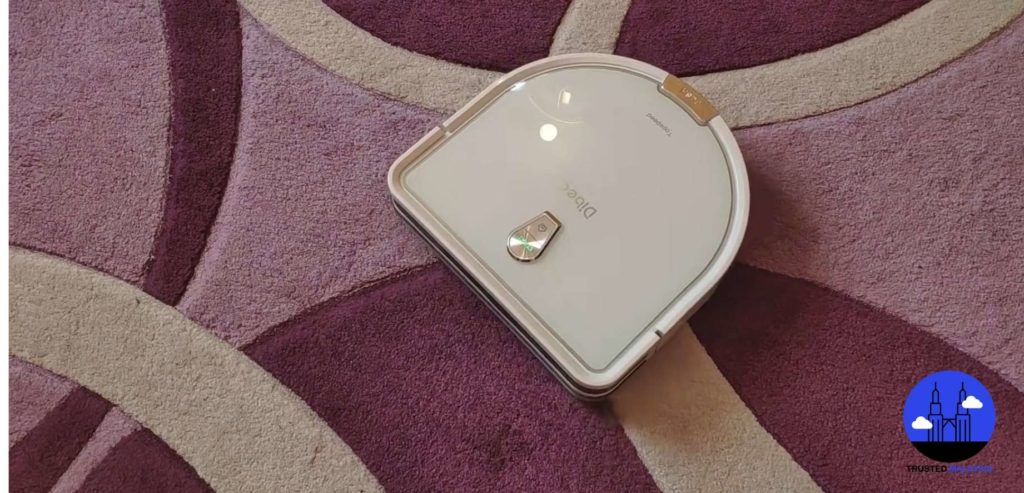 | Test | Info |
| --- | --- |
| CAPACITY VOLUME | 0.35 L |
| SURFACE CLEANED | Upholstery, Dual Action, Hard Floor |
| CONTROLLER TYPE | Dedicated app, Alexa, Google Home |
| PRICE | $599.00 |
| | |
| --- | --- |
| Criteria | Ratings |
| Surface covered | ★★★★☆ |
| Price | ★★★☆ ☆ |
| Moping capability | ★★★★☆ |
| Battery life | ★★★★★ |
Get it from Dibea.
If you're looking to keep your carpet-covered rooms clean without breaking the bank, you might want to check the Dibea GT200 Robot Vacuum out! *
The Dibea GT200 Robot Vacuum has been given favorable online reviews due to its impressive versatility and ability to quickly sweep carpets, hardwood floors, and tiles with ease. Users of all sizes can use this product without much difficulty thanks to its adjustable height and large wheels that have a silicone layer for extra traction.
We like that it is lightweight and will be a breeze to use to vacuum your floors every single day. Moreover, we're big fans of its aesthetically pleasing design as well.
Do note that when first tested, this vacuum had a few odd movements initially which may catch you off guard. But after giving it a chance, its suction abilities are sufficient at vacuuming overall; even in normal mode with minimal noise!
However, owners of higher-end robot vacuums will note that this device features inferior mapping technology when compared to other manufacturers that use LIDAR navigation systems. The technology still has quite a lot of room for improvement, but compared to the competition it's better than some.
Overall, the Dibea GT200 Robot Vacuum is a decent robot vacuum cleaner that does its job just good enough.
Makes minimal noise
Best for smaller apartments
Not the best navigation systems
Pretty pricey
Customer Reviews
Easy to set up
"I like the Product. It is quite easy to set up and works very well. Completes the 3-bed room job in 30 Mins.. Very satisfied with the robot." – DS Rawat
Overall okay
"This was a 30days pre-order so delivery took long. But for the price, I think this is a decent bot. A little loud but option to mute it softer. Zig zag mode is lost into random mode once you remote control the movement. Sometimes it senses obstacles but other times it just knocks into them. Overall ok." – Shopee User
FAQs about robot vacuums