The Top 5 Diffusers in Malaysia
Diffusers let out different scents that carry beneficial outcomes throughout your room. The fact that you can choose your favorite scent and make your room smell like a dream is just a bonus!
If you feel like it's time for you to purchase one for your personal (or even office!) space, then come on and check out the top diffusers in Malaysia with us.
The Top Diffusers in Malaysia
Let us find out all about the top diffusers in Malaysia so we can decide on what fits you the best.
1. Xiaomi HL Mini Air Aromatherapy Diffuser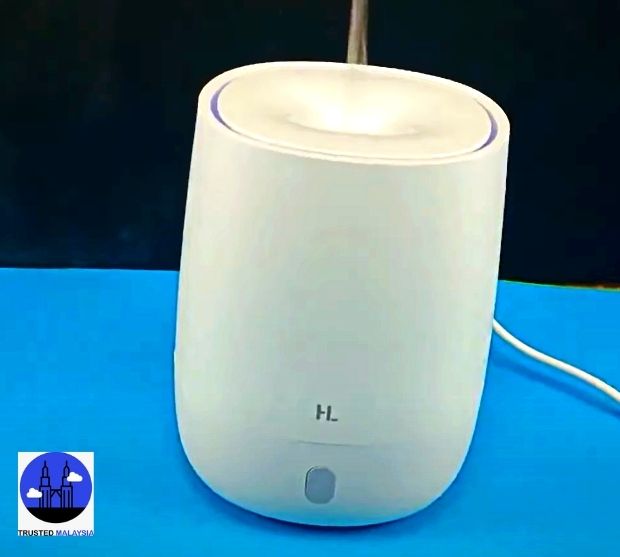 Price: RM 48.99 – 57.99
| | |
| --- | --- |
| BRAND | Xiaomi |
| COLOR/S | White, Pink |
| RUNNING TIME | 6-10 hours |
| WATER CAPACITY | 120ml |
| FUNCTION/S | Air humidifier, Nightlight, Air aromatherapy |
| WARRANTY | None |
The Xiaomi HL Mini Air Aromatherapy Diffuser is a diffuser with a minimalistic design that'll help it look good in any space.
It can act as an air humidifier, aromatherapy companion, and even a nightlight. You can put a few drops of your favorite essential oils in the diffuser to make your room smell just the way you like it.
One thing we really like about this diffuser is that it uses ultrasonic vaporization so that it provides a consistent stream of mist that's also ultrathin. You won't see any droplets or condensation around you.
Now, when the 120ml water capacity is filled and it's fully charged, it can run for about 6-10 hours. If the water starts running low, a red light alerts you of this.
They don't specify the average charging time of this device but we do know that you can also use it when it's plugged in.
The fact that it's made of ABS and PP makes us sure of its durability. This is because these two materials are very resistant to physical impacts, moisture, and even chemical corrosion.
It has a smart power-off which turns the device off when the water runs out to prevent any damages. It also has an anti-slip silicone pad on the base to keep it safe on any surface.
This humidifier comes in two colors: white and pink. Note that this diffuser doesn't come with a warranty.
Portable
Affordable
Multifunctional
Has smart-off function
Made of durable material
Best for minimalistic looks
Can run for up to 10 hours
No timer
No warranty
No anti-spill feature
Charging time is not specified
Customer Reviews
Good value for money, easy to open and refill
"Reasonable fast in shipping. Good product quality and good value for money too. Love the petite and simple look. Easy to open and refill water. Pity the colour in lightning does not alter on its own. Overall very pleased 👏👏💕💕" -Eczsoap
Worth the price, functions well
"Product functions well. Worth the price. Size is good enough for my bedroom." -Kawaiikanojo
2. Samu Giken Watering Air Revitalisor Aroma Purifier Diffuser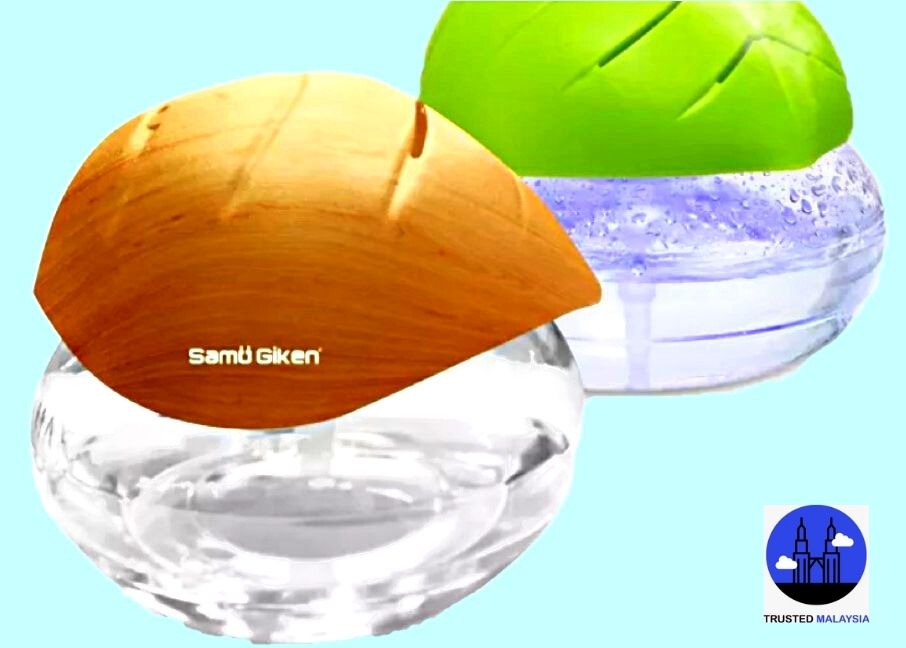 Price: RM 39.90 – 40.90
| | |
| --- | --- |
| BRAND | SAMU GIKEN |
| COLOR/S | Black, Blue, Green, Pink, Purple, Red, Wood, White, Yellow |
| WATER CAPACITY | 1L |
| COVERAGE AREA | < 30 sqm |
| FUNCTION/S | Deodorizing, Aromatherapy |
| WARRANTY | 1-year local manufacturer warranty |
This Samu Giken Diffuser would be a great addition to your space as it deodorizes your home and can be used for aromatherapy. It can also double as a nightlight since the transparent bowl can be lit up by a nice little LED light.
There's a wide range of colors for you to choose from so if you have a lot of rooms in your home or want to give them out as gifts, it's perfect. There's blue, black, pink, purple, red, wood, white, yellow, and green.
The water capacity is 1L and it has a coverage area of up to 30 square meters. Now, the average running time of this diffuser isn't specified but it does need to be plugged in since it doesn't have batteries to run on.
Be sure that the machine is turned off when you are adding water to prevent any damage or any safety hazards.
By the way, when you purchase this product off the Shopee link we provided, you also get a free 10ml essential oil.
Affordable
Multifunctional
1-year warranty
Comes in 9 colors
Large water capacity
No timer
Not portable
No anti-spill feature
No smart-off function
Customer Reviews
Recommended seller, good condition
"Tq seller.. Dpt brg dgn keadaan baik.. Wpn ad kotak kemek sket.. Recommended seller.. Packaging ok.. Beli satu ijo n pink.. Yg ijo dpt dkt jiran.. Pink besday opismate.. Pahni leh ode lg…" -m*****1
Good product, silent operation
"product dah cuba, ok suara tak banyak kuat, saya letak bilik tidur,rasa ok,lagi takut suara banyak kuat,nasib baik tak kuat sangat,delivery cepat,packing pun baik ,terima kasih" -cat924620
3. ACSON Ultrasonic Aroma Diffuser Lamp with Bluetooth Speaker AAD20B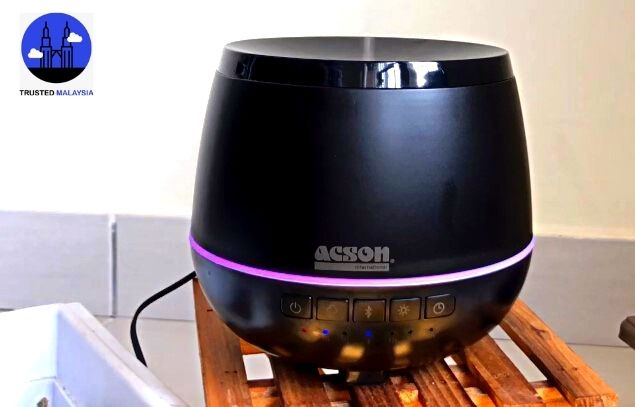 Price: RM 229
| | |
| --- | --- |
| BRAND | ACSON |
| COLOR/S | Black, White |
| WATER CAPACITY | 200ml |
| RUNNING TIME | Up to 8 hours |
| COVERAGE AREA | < 20sqm |
| FUNCTION/S | Humidifier, Aroma diffusion, Bluetooth speaker, Timer |
| WARRANTY | 1-year local manufacturer warranty |
The ACSON Ultrasonic Aroma Diffuser is a multifunctional device that we highly recommend you get for you and your home. This device is a humidifier, has a Bluetooth speaker, and provides rainbow-colored ambient lighting.
Talk about getting your money's worth. It's also made of ABS and PP, making it durable and highly resistant to damage.
It also has two spray modes: intermittent mode and continuous mode. With continuous mode, it can emit mist for up to 4 hours while interval mode can emit mist for up to 8 hours with 10-second intervals.
All the buttons to these settings and modes can be found on the front of the device so it's pretty easy to understand and use.
Note that this diffuser has a coverage area of up to 20 square meters. It also has a timer function for 1, 3, and 5 hours.
This diffuser comes in black and also in white.
2 spray modes
Multifunctional
1-year warranty
Has smart-off function
Has Bluetooth speakers
Made of durable material
Expensive
Not portable
No anti-spill feature
Customer Reviews
Recommended and works well
"Fast delivery. Item works well…easy handling. Recommended" – R***u
Good item
"Everything is good. Fast deliver. Like it so much 👍" -k***
4. Baseus Car Diffuser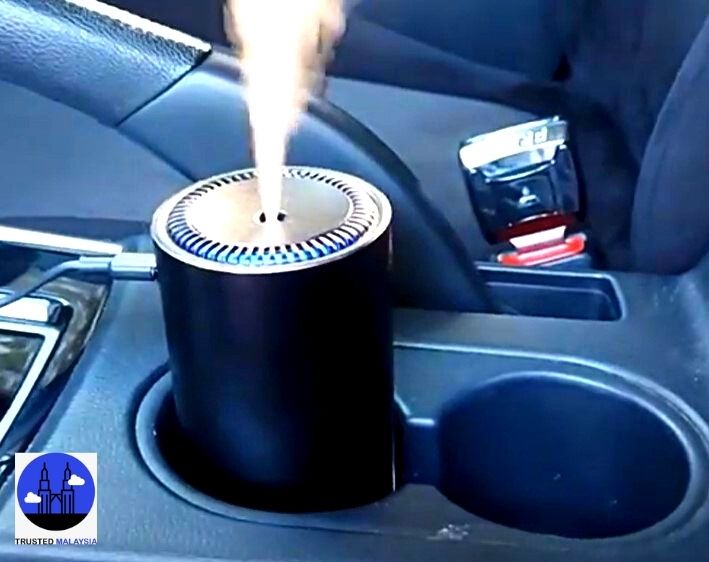 Price: RM 79.99
| | |
| --- | --- |
| BRAND | BASEUS |
| COLOR/S | Black, Dark gray |
| WATER CAPACITY | 300ml |
| RUNNING TIME | Up to 12 hours |
| FUNCTION/S | Air purifier, Humidifier, Aroma diffusion |
| WARRANTY | 1-month international seller warranty |
Using the Baseus Car Diffuser increases the humidity in your car by 40% which successfully keeps your skin moisturized. It only lets out a fine mist and doesn't create any of those pesky condensation beads.
This helps prevent fogging on your windshields and cracking in your leather interiors. This device is also able to detect when the water is too low and shuts off automatically.
It operates silently so you won't be bothered especially on those car trips when you just want peace and quiet. It's also equipped with a sealing ring inside so if someone accidentally knocks it over, no water gets spilled out.
This diffuser has an intermittent mode that runs for 12 hours and a continuous mode that runs for 6 hours. The former is best to be used when the air conditioner is off whilst the latter is best for when it's on.
Of course, you can also turn them off whenever you want. By the way, we'd love to highlight that, on average, you only really need to change the water once every 7 days.
You can get this diffuser in either black or dark grey.
Anti-spill
Portable
Best for car use
Silent operation
Smart-off function
Not ideal for homes or large spaces
Only 1-month warranty
Customer Reviews
Nice product, works well
"has arrived thank you so much seller nice product quality good condition and working well and very fast delivery ⭐⭐⭐⭐⭐👍👍👍👍👍" -Anis
5. Snowball Oil Diffuser EOD150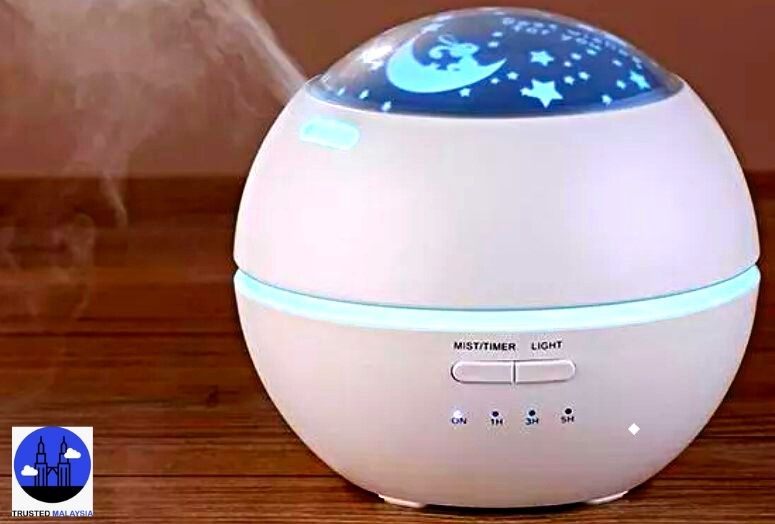 Price: RM 63.90
| | |
| --- | --- |
| BRAND | Granular |
| COLOR/S | White, Green, Pink |
| WATER CAPACITY | 150ml |
| RUNNING TIME | Up to 7 hours |
| COVERAGE AREA | < 34 sqm |
| FUNCTION/S | Aroma diffusion. Humidifier |
| WARRANTY | 1-year local manufacturer warranty |
This Snowball Oil Diffuser EOD150 is a three-tier product that's affordable and adorable. It uses ultrasonic vibration which enables silent operations and effective diffusion of essential oils.
It has an LED light you can shut off anytime that comes with 3 different films so you can choose the design you want it to emit. You can choose between snowflakes, a galaxy, or a floral design.
It's perfect for kids because it also has 7 different rainbow lights to keep them entertained as they stare at the designs.
This diffuser has 4-timer settings. You can choose to have it shut off after an hour, 3 hours, 5 hours, or have it go on in continuous mode for 7 hours.
It has non-slip silicone mats installed at the bottom to make it safe to place on any surface. For your safety, it also has an auto-shut-off system that activates when the water has run too low.
The water tank is 100% BPA-free making it safe for babies, toddlers, and pregnant women.
Portable
Affordable
Multifunctional
1-year warranty
Smart-off function
BPA-free water tank
No anti-spill feature
Small water capacity
Customer Reviews
Practical product
"i love the diffuser very much…practical…love it. 👍👍👍👍👍👍👍👍👍👍👍👍👍👍👍" -Sofiah M.
Nice and cute product
"Nice product tq yea seller . Suka dan puas hati 🥰🥰🥰 Cute je tgok🥰" – Faijah B
Things to Consider Before Buying a Diffuser in Malaysia
1. Area Coverage
Your diffuser should be able to cover the entirety of your room so you get the most out of it. Before purchasing your own diffuser, you might want to know the size of your room to get the right diffuser for you.
The average diffuser covers around 20-30 square meters.
2. User-friendly design
It's best to get a diffuser that's easy to understand and operate. Make sure to look for a diffuser that comes with a simple manual and doesn't involve too many buttons and applications.
It also helps to get a diffuser that has a remote control. This will definitely help, especially during times when you feel too lazy to get up from your bed to change the settings.
3. Noise
Some diffusers create noises when running and if you are the type to get easily bothered by noises like this, choosing on
Make sure that the diffuser you are eyeing emits minimal to no sound for better sleep and concentration.
4. Quality
Just like any item we purchase, we always have to be cautious with the product's quality. We recommend you buy diffusers that are made of durable material like ABS+PP.
Essential oils contain chemicals that can cause cracks and break your diffuser if the material isn't strong enough to hold it.
FAQs about Diffusers in Malaysia
---
That brings us to the end of our list of the top diffusers in Malaysia. Did you find what you were looking for?
We hope you did and that it brings you and your home the much-needed relaxation we all need in these times! Please don't hesitate to reach out to us if you have any questions or suggestions for this article.
Now, before you go, we also suggest you check out our list of the best-rated air purifiers in Malaysia for added air cleaning in your home!