The Top 6 Coworking Spaces in Penang
Coworking spaces have been a go-to for tons of startups and freelancers since they became a thing in the mid-'90s.
Penang offers a lot of different coworking spaces around the state so it might be a bit difficult to figure out which one you and/or your team should be staying at for a bit. That's why we put together this article!
Read on to learn all about the top coworking spaces in Penang and what makes them the best.
How Much Do Coworking Spaces Cost in Penang?
Here's an average of what you're supposed to be expecting when it comes to price ranges of coworking spaces depending on the kind of space you want:
| | |
| --- | --- |
| Service | Average Cost |
| Virtual Office | RM 55/month |
| Day Pass | RM 27/day |
| Hot Desk | RM 395.25/month |
| Fixed Desk | RM 500/month |
| Private Suite | RM 895/month |
The Top Coworking Spaces in Penang
When you're a busy person, you want to save every second of your time for things that matter and that means you can't waste time going through all the coworking spaces in Penang individually.
So, look no further than this article when you need to find the top coworking spaces in Penang!
1. Common Ground, Georgetown

Located in Pulau Tikas in Georgetown, Common Ground Georgetown is definitely in a prime spot as it's the middle of one of the state's most established commercial districts. You'll find this coworking space on the 2nd floor of Moulmein Rise Shoppes.
Gurney Plaza and Gurney Paragon are pretty close by which gives you a lot of places to eat and wander around when you need a break from your work. There are also tons of different hotels and accommodations for those of you who aren't staying in the city long-term.
They offer three types of working spaces; the Hot Desk (RM 499/seat/month), Fixed Desk (RM 599-899/seat/month), and Private Offices (RM 799/seat/month). To learn more about what these three types of working spaces are, we go into full detail about them at the end of the article so keep reading!
You'll notice that Common Ground is one of the more expensive coworking spaces on this list but there's actually a good reason for that and that's because of what they have to offer. As a venue that caters to office workers, they've provided amenities to help your work days go by smoother in their 18,000 sq ft space.
Some of these are the usual office needs: high-speed internet, output devices (printers, copiers, scanner), admin support, and an onsite community manager and staff. You'll also have access to any of their 4 call booths, 2 board rooms, 2 discussions rooms, and their event space.
Common Ground also has a lounge and a pantry where you can store your snacks! They offer free coffee, water, and tea but they also have an onsite coffee house.
Lots of on-site amenities
Prime location
Offers administrative support
Pretty pricey
Closed on Wednesdays and weekends
Customer Reviews
Here are a few reviews left by previous clients of Common Ground:
"A great work space for start ups and entrepreneurs, environment is nice and cozy with all needed office equipment provided. There is also Frank Laurent Coffee Roasters to provide you with much needed caffeine boost and light meals." -Tan
"I have a private room with two desks at this co-working space. Rent is reasonably priced considering the grade of their modern/new facility. Very happy so far. Interior design is mature and tasteful which I love as a designer. It's located away from touristy areas of Penang, therefore filled with more serious local professionals. Managing team is very friendly! For private rooms: Three month minimum contract with two month deposit. If you sign up for 6 or 12 month, they give you discount." -Yoshiyuki
2. Masco Co-working Space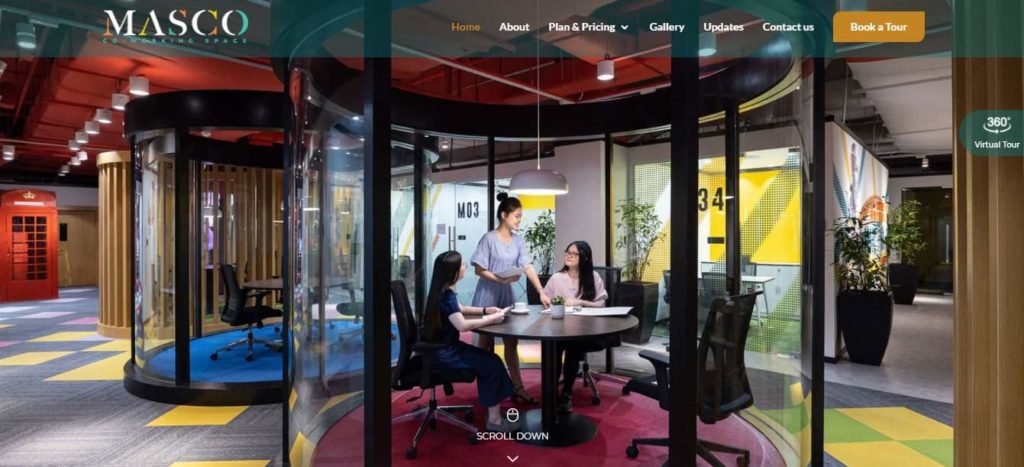 | | |
| --- | --- |
| WEBSITE | https://masco.my/ |
| ADDRESS | Prangin Mall, 33-1-123A, 33-2-123, 33-3-123C, (Level 1 to Level 3, Atrium B, Jalan Dr Lim Chwee Leong, Georgetown, 10100 George Town, Penang, Malaysia |
| CONTACT DETAILS | +60 4-293 3333 |
| OPERATING HOURS | Daily 10:00 am – 10:00 pm |
At an impressive 66,000 sq ft, Masco Co-working Space in Georgetown houses over 100 teams at the time of this writing. It's located on the 1st to 3rd level of Prangin Mall and is open every day from 10:00 am – 10:00 pm.
Since it's at a mall, it becomes so much more convenient to go run errands or do interesting things during your break times.
To make your office experience easier, they offer these amenities: high-speed internet, mail handling service, presentation tools, cleaning services, and a receptionist team. It might also be good to mention they keep a pretty well-stocked pantry to keep you powered through the day.
They offer day passes (RM30/day), hot desks (RM 300/month), fixed desks (RM499), and private office suits(RM 1,500/month) that are pretty flexible in terms and conditions. You can also rest in their spacious common areas or have a little bit of fun in their game zone.
Also, the fact that there are a lot of teams working here is great for networking but it can also be a bit of a downside for people who prefer limited amounts of people around them.
Masco also facilitates Members Events to help the startups, freelancers, and business owners working in their space grow together as a community instead of just being people who share a similar space.
Stays open late
Convenient location
Offers day passes
Game zone may be too distracting
Not recommended for people who prefer small crowds
Customer Reviews
Check out these comments left by Matthew and Mei about the times they spent in Masco:
"This is a real winner of a coworking space. Comfy seats, good WiFi, high quality facilities, and air conditioning that doesn't leave you freezing by the afternoon. Plus it's open late (10pm) and inside a shopping mall, so you are only a few steps away from whatever you might need." -Matthew
"HUGE co-working space inside Prangin mall – 40,000 sq feet and 4 floors of space. Everything from fixed desk, private room to hot desk, and also the frills like free flow coffee, snacks and a game rooms. Very convenient, for food (inside Prangin mall after all) and parking (Prangin mall parking is RM2 for a full day of parking). The place is also fitted with flexible venue space (can expand depending on attendance) as well as studios (from photography to videography and sound recording)" -Mei
3. M Summit 191 Coworking Space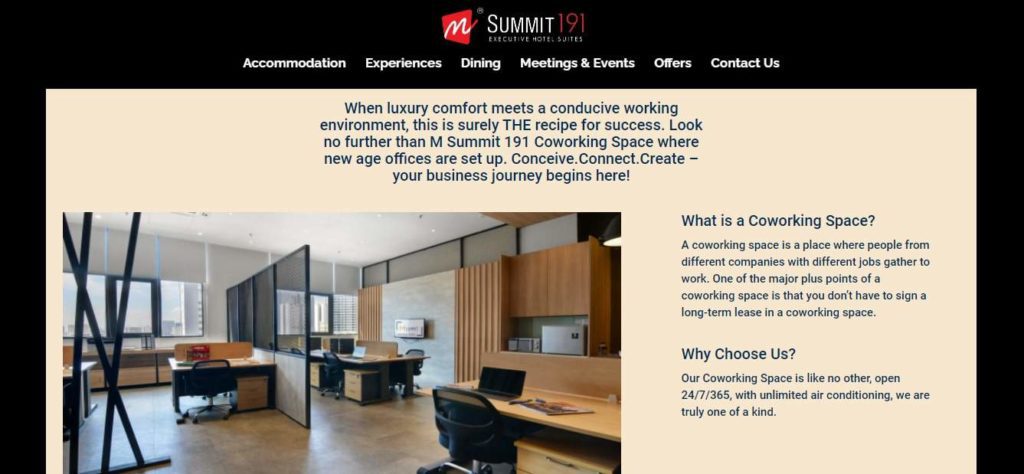 M Summit 191 Coworking Space can be found in Pulau Pinang. It's an extension of the famous M Summit 191 Executive Hotel Suites, which makes it ideal for those who are on business trips and need a place to work for a bit.
It's also ideal for people who prefer smaller crowds since it's a pretty small coworking place. Don't worry, though—they didn't skimp on making sure they provide coworking spaces as comfortable and luxurious as the rest of the hotel.
Their coworking spaces are open 24/7 so, no matter what time you wake up or if you get a random idea in the middle of the night, you can always pop into the office and hash it all out.
They offer day passes (RM 20), hot desks (RM 300/seat/per month), fixed desks (RM 300/seat/per month), virtual offices (RM 180/seat/per month) and private office suites for 4-6 people (RM 2,800-4,000/per month).
Choosing M Summit as your coworking space gives you access to the hotel's gym, free printing, free parking, discounts to the rooms, and Sky Bar discounts. They also offer free rental of meeting rooms, extra parking spots, and special rates for hotel stay for certain packages.
Open 24/7
Offers day passes
Access to hotel's amenities
Limited seating
Private suites are expensive
Customer Reviews
For reviews on past customers' experiences at M Summit was, check these out:
"wow…awesome ambience. Loved the beautiful views of Komtar, heritage city and even the sea. Best place to get my work done without burning a big hole in my pocket. Super affordable and the Internet is lightning fast. The Quiet Zone is a cool place to relax during breaks – offers just the right dose of power sleep! Zzz" -Su Anne
"Very nice to stay and feel relaxed to our own works. Very cleanand excellent 👍 service. Have Gym room and car park free of charge. We didn't have any issue with the room co-working space. The staffs is well mannered and helpful. And also easy to find any transportation and very near to shopping outlets. A good experience overall 😉" -Darshini
4. Settlements Penang | Coworking Space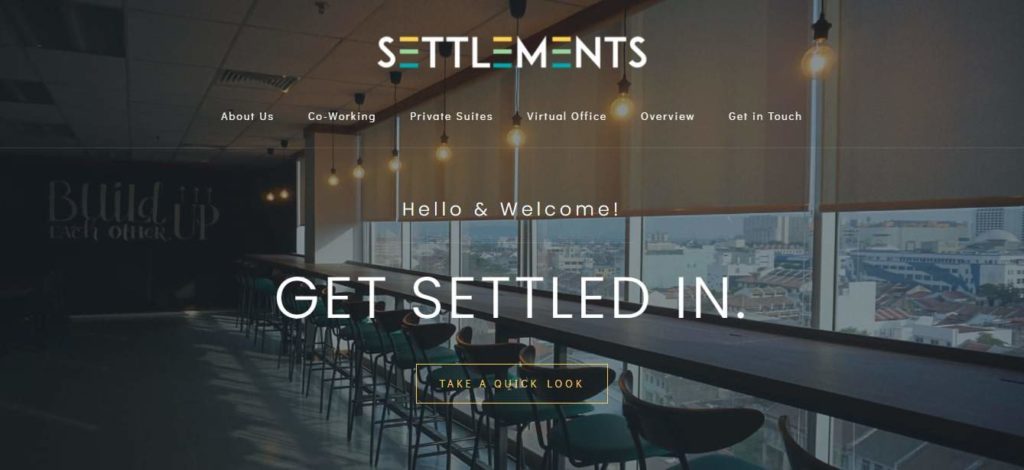 | | |
| --- | --- |
| WEBSITE | http://settlements.work/ |
| ADDRESS | Level 8, Livingston Tower, 170 Argyll Road, 10050 George Town, Pulau Pinang, Malaysia |
| CONTACT DETAILS | +60 4-371 0299 |
| OPERATING HOURS | Mon-Fri 9:00 am – 6:00 pm |
This 18,000 sqft coworking space can be found on the 8th floor of Livingston Tower in Pulau Pinang.
Choosing Settlements as your coworking space gives you easy access to the beloved coffee house MORE by Arang Coffee and Urban H Hotel. They also provide a gym that you can use at your disposal which is pretty convenient so you don't have to waste time commuting to the gym.
They also have a meeting/discussion room for up to 120-pax and you get booking credits every time you avail of these rooms.
To help you destress, they have a foosball table near the casual seating areas which consists of beanbags and hammocks. They also offer usage of lockers, although additional charges may apply.
This coworking space operates 24/7 and, during office hours, provides you with reception services. You get to enjoy their free flow of coffee and tea in the pantry.
They offer day passes (RM 25), 5-day passes, (RM99), hot desks (RM 320/seat/day),fixed desks (RM 400/seat/day), virtual office (RM 50/month) and private suites (RM 700/desk/month).
You can check them out and work there every first Thursday of the month for free from 9:00 am- 6:00 pm.
If you choose to get a Settlement membership, you're opening the door to a lot of benefits like discounts at partner F&B outlets such as More by Arang Coffee and The Twelve Cups. You'll also find yourself receiving discounts at both local and international partner coworking spaces.
Offers a 5-day pass
Open 24/7
Offers membership perks for partner outlets
Day pass/5-day pass is only for office hours
Virtual office requires at least a 6 month contract
Customer Reviews
If you want to know a few thoughts of those who have tried Settlements, check them out here:
"An exceptional co work space in George Town. Professional feel yet casual design with lots of natural light, strong wifi, clean, well supplied kitchen area, flexible plans & all supported by a helpful staff. Highly Recommend!" -Stephen
"Great co-working space with private suites for small to medium sized companies. Love the environment and layout of the place. Even has a great view of Georgetown's heritage area! Good coffee fix at the cafe just downstairs; in the same building." -Ming-y
5. Regus – Penang, Menara Boustead

Regus is a well-known office provider all around the world, with over 3,000 locations. They're known for providing great networks for office spaces, coworking areas, meeting rooms, and virtual offices.
Regus-Penang Menara Boustead is in a premium location with tons of local and international companies choosing the area thanks to how accessible it is from anywhere in George Town. You'll find Regus on the 16th level of Menara Boustead.
The large floor-to-ceiling windows give way to natural light which brings out the classy decor throughout the whole office. This makes it welcome your business clients for meetings.
Speaking of meetings, Regus has an app where you can book all their spaces from meeting rooms, coworking spaces, and private offices so it makes the process much easier.
However, you should note they only have 2 meetings room which could be an issue especially with the number of people who choose Regus as a place of business. This could mean you'll have to have your meetings elsewhere or book these rooms in advance to make sure you secure them.
Now, Regus has 43 private offices and only 12 coworking spaces. This makes them more ideal for teams since 12 coworking desks is a bit limited but if you ever find a spot for you, that's great!
They also offer virtual offices from RM 60/month. Their coworking spaces are from RM 462/person/month, offices spaces from RM 580/person/month, and meeting rooms from RM 88/hour.
Open 24/7
Premium location
Easy booking through Regus app
No day pass
Pretty pricey
Only 2 meeting rooms
Customer Reviews
Check out these reviews left by previous Regus-Penang Menara Boustead clients:
"Quiet office with good facilities. Excellent nearby street food is a bonus." -Jeremy
"I love the business lounge and the very friendly and helpful staff" -Stefan
6. Hundred Years Co Space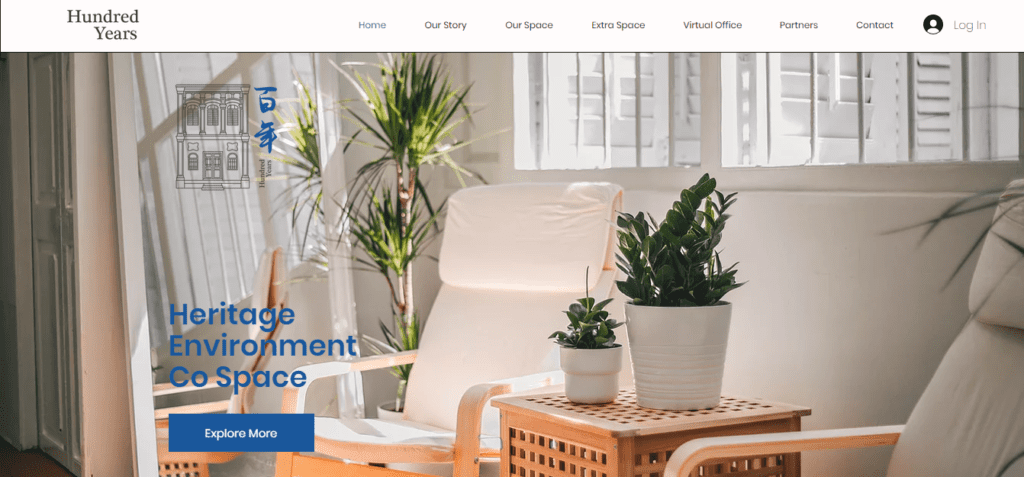 WEBSITE
https://www.hundredyears.space/
ADDRESS
Hundred Years
83 First Floor , Muntri Street,
10200 George Town,
Penang, Malaysia

Hundred Years VG
(Vangohh Eminent)
No. 3406, Level 2
Jalan Machang Bubok 2,
14020, Bukit Mertajam,
Penang, Malayia
CONTACT DETAILS
+6018 7888 916


[email protected]

OPERATING HOURS
Contact for more details
Hundred Years Co Space is standing in a beautiful restored pre-war building in the city of Penang. They cooperated with Vangohh Eminent in order for them to expand into the mainland.
They offer member spaces, private desks, and office spaces. For their extra spaces, they have daily space, quota space, meeting rooms workshop space, exhibition, and market space.
Unlike other companies, they also offer a virtual office. The features of this service are: a prestigious prime business address, mail alerts via Whatsapp, calls. and emails, mail self-collection, mail handling service, directory signage, website directory, and a meeting room access with a discounted price.
Their facility is like no other.
They are one of the companies that offers private locked drawers and shower rooms. With these, they also have unlimited high-speed internet, printers, scanners, high security, in-house cafe, florist, and marketing consultant.
Has a lot of amenities
Pleasing environment
Neat facility
Operating hours are unavailable
FAQs about Coworking Spaces in Penang
---
Coworking spaces are a great place to build a network with those in your industry and even those in different industries. It's a breeding ground for those who want to grow in their respective careers or grow their business while also saving a couple of Ringgits!
Let us know all about your coworking space experience. If you've ever leased at the spaces listed above, please don't hesitate to tell us all about it.
Now, as a startup building your business from scratch, you may be needing help with your website. You can always check out our article on best web design firms in Penang for that!