The 5 Best Emcees in Malaysia
What's a party without someone to host it and set the tone for how it's going to go, right? If you're here right now, there's no doubt you're planning an event and are in need of an emcee.
Look no further! We guarantee that by the time you finish looking through this list of the best emcees in Malaysia, you'll have picked one out and you can finally check the task of finding one off of your checklist.
Factors That Affect the Cost of Emcee Services in Malaysia
When choosing an emcee, one thing you should make sure to check out is how much their services cost. Of course, every person who's ever organized an event knows how important it is to set a budget and stick to it.
However, you first have to set your expectations of how much these kinds of services cost so you can set a realistic budget. Now, here are the factors that affect an emcee's rates and why:
1. Kind of event
The kind of event affects the rate the emcee charges because different events have different requirements in terms of how they interact with crowds and what tone they're meant to set.
For example, school band events require an emcee to be very hyper and match the energy levels of the students. On the other hand, emcees for like company seminars require a more serious approach that takes a lot of practice to master.
2. Size of event
The reason why the size of an event affects the emcee's rates is that larger events require more energy and have more requirements compared to smaller ones. It's only right that they get paid according to the work that they do and the energy they're required to exert.
3. Length of event
There are some events that last only a day and some that go on for multiple days. Of course, you'll be paying them an amount that corresponds to how long they'll be working with you.
Some emcees also charge by the hour so an hour-long event would be much cheaper than a 6-hour event. However, some emcees charge their rates per day regardless of how many hours so be sure to clear that out with them.
4. Location of event
The reason why the location of your event could affect the rate is because of additional tasks that this could mean for your emcee and, if needed, their team. If you live in the same city as your emcee provider, chances are they won't charge you for transportation.
If your event will require them to go out of town or even out of the country, expect their rates to be much higher. This is because they'll be charging travelling costs to you as well as the time they spend in transit will be taken into account.
5. Expertise of emcee
They say that when you're hiring a performer, you aren't just paying them for the time they offer you their services but also for the years they spent training in order to give you such quality service. This is why those who have been in the industry longer and have more well-known names tend to charge higher rates than newbie emcees but, hey, they're well-known for a reason.
The Best Emcees in Malaysia
Here are the top best companies for emcees in Malaysia and everything you need to know about them!
1. JerryWong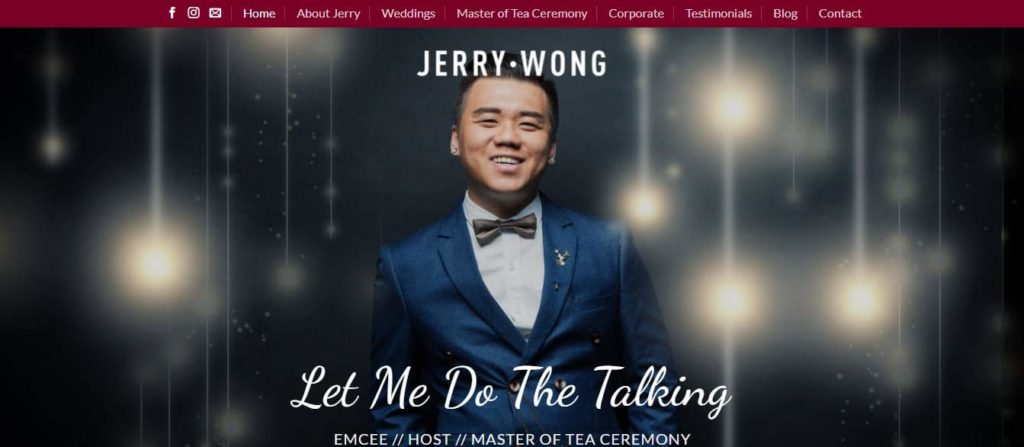 | | |
| --- | --- |
| SERVICES | Master of tea ceremony, Wedding host, Corporate events emcee |
| WEBSITE | https://jerrywong.com.my/ |
| CONTACT DETAILS | +60162022528 |
Jerry Wong began his emcee career in 2015 in an effort to spread his cheerful and brazen attitude to people while also making a living out of it. Based on his client's reviews, he seems to make quite the impact on every event he hosts.
Whether it's something that requires him to be his most professional and serious self like company training, workshops, and conferences, or weddings that require a more playful attitude, Jerry knows what to do.
He's also experienced in hosting tea ceremonies which are a type of pre-wedding ritual. His presentation and management of this ceremony have been quoted to be an interesting experience as he displays his authentically bubbly and witty personality while he makes sure everything runs smoothly.
One of the best things about Jerry is he's fluent in Mandarin, Bahasa Malaysia, Hokkien, Cantonese, and English. This gives him opportunities to host a wide range of events and connect with audience members who speak these languages.
Offers free quote
Fluent in 5 languages
Experienced in handling tea ceremonies
Caters to weddings and corporate events
Does not cater to school events
Does not cater to birthday parties
Customer Reviews
Let's take a look at the reviews left by Wong's previous clients:
"Picking Jerry as our wedding emcee was the best decision that my hubby and I made during our entire wedding planning process. He is professional, easy to talk to, open to last minute changes and yet, his great taste, style and ability to read a room make a good reception into a phenomenal one.Aside from that, he is able to bring up the mood and add colours to my wedding event. I got so many comments from friends and family that we had picked the perfect Emcee, and I couldn't agree more!Jerry, Thank you from the bottom of my heart!"-Kelly Khakis
"If there's a 10 stars rating available, I would definitely rate 10 stars service for Jerry. He's such a responsible, professional, humorous, experience, a.k.a wedding planner, multitasking emcee that i ever met! All my guests gave me feedback on his perfect emcee skill, asked for his contact for their occasion, and he deserved it! Rmb one of my guests told me she tried to ask Jerry to hv a glass of wine, Jerry politely rejected,said that he's on duty and will come back to them after the wedding dinner ends, omg, he's such a professional emcee. Non-stop follow up guest attendance for my family, worked out our rundown, prepared music background, he's not just an emcee, as well as a wedding planner. Thanks Jerry for making our wedding perfect! All the best to you!"-Belindle Lee
2. MC JO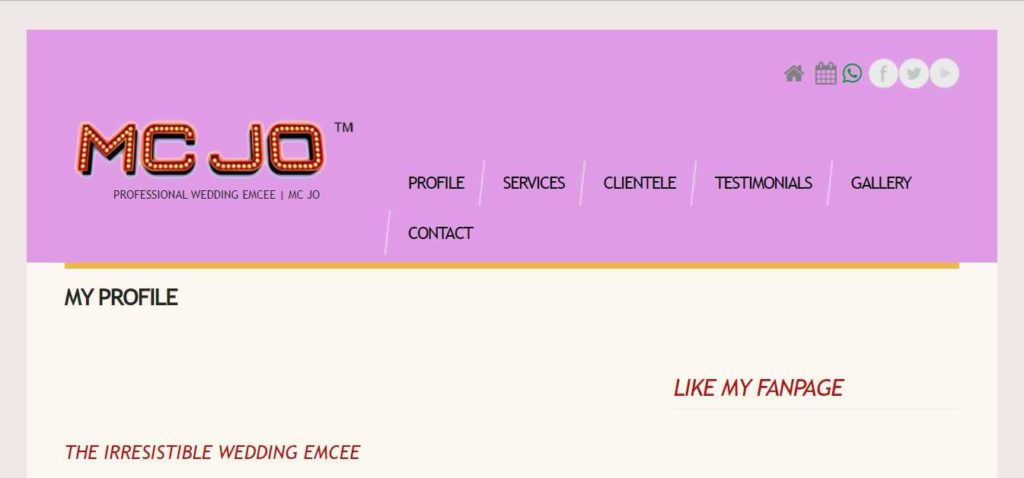 MC JO is an emcee who specializes in everything related to the best day of your life, also known as your wedding day. The best thing about hiring her for your wedding is that she just isn't just an emcee for this special event, she's also a wedding coordinator and planner.
We recommend her because this fact takes the load off of your shoulders so you know you won't need to hire 3 separate people or teams to plan, coordinate, and emcee your day.
Based on reviews left by her past clients, she and her team have done an amazing job at providing their clients with unforgettable wedding experiences that have gone off without a hitch.
The most important thing about being an emcee and wedding planner is being likable and easy to coordinate with and it seems like they know how to do just that.
Some of her emcee services include a performance that consists of singing, dancing, speaking, being a game master, and marching in gambit.
They also offer photobooth rental and basic decorations for your big day.
Bilingual
Specializes in weddings
Offers photobooth rental
Wide range of emcee services
Plans and coordinates weddings
Doesn't offer free quote
Doesn't offer tea hosting ceremonies
Customer Reviews
Here are some positive feedbacks from recent clients of Jocelyn:
"My mother likes you so much, my brothers like you so much, my sisters like you so much! Next year, I am sure I will count you in our annual dinner!"-Dato Jack Yap
"We like every idea of yours! It was so cool to have you."-Zen & Hui Ni
"Hi Jocelyn, I give your number to one of my mom's friends. My father also said a lot of his friends compliment on your performance too. Thank you! All the best!"-Nick & Sutthi
3. William Lee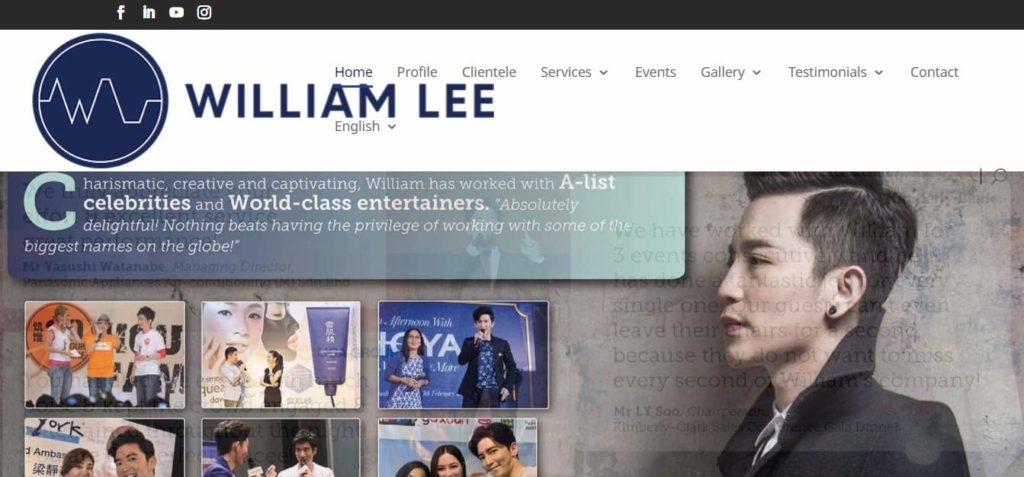 SERVICES
Wedding planning, Workshop, Master of ceremonies
WEBSITE
https://williamlee.com.my/
ADDRESS
Lot RT-2A3, Level 6 Les' Suites, The Gardens Mall, Mid Valley City,
59200 Kuala Lumpur, Malaysia
With over 4,000 live events hosted in over 10 countries under William Lee's belt, there's no denying he's an expert who knows how to command and entertain a crowd. Whether it's a beauty pageant, private celebration, corporate event, or any other event, we highly recommend considering him.
One thing his clients tend to point out is his entertaining sense of humour and how easily he forms good connections with his clients. This causes them to form long-term business relationships with him where they hire him recurringly.
Some of these clients are even well-known multinational companies with the highest of standards so we'd say that's a testament to how good Lee is as an emcee. During this time, he also provides emcee and hosting services for virtual/hybrid events.
On top of all that, he's a certified wedding planner care of Australia's The Wedding Planner Institute. He also offers workshops for aspiring emcees so if you're interested go ahead and check it out!
Offers hosting services
Impressive track record
Caters to a wide range of events
Offers wedding planning services
Does not offer free quote
Does not offer wedding coordination services
Customer Reviews
Check out these reviews left by happy and satisfied clients who have nothing but nice words to say about William Lee and his team:
"William and his team were the perfect choice for our wedding. He is an excellent emcee who is able to converse in multiple languages and is a very experienced professional who will ensure your wedding will be a good event. Many of our guests were very impressed by his skills and some even asked for his contact details for future events. Other than his emceeing abilities William's team had also assisted us in the coordination of our night and without them our wedding would not have gone the way we wanted it to go. His team, in particular Theressa, was constantly in contact with us months before the wedding and was a vital part of the planning.
She ensured that all our wedding vendors were in sync and updated. On the day itself, Theressa went above and beyond to ensure that all bases were covered and no mistakes were made. She was very hands on and by our side all the time making sure to handle any issues that popped up. In short, I would most definitely recommend hiring William and his team, they are friendly, professional and extremely reliable."-Nicholas Yang & Lau K-Yin
"I am glad to have William and the rest of his team members, especially Theressa to be part of my big day! I am really grateful and thankful for all the effort from Theressa to make this a successful wedding!! She is a very professional wedding planner and responsible person. She has done beyond what she is supposed to do! As for William, he is truly an amazing, talented and humble person! His voice is so unique that I can listen to him "talking" all day all night. Once again, my wife and I would like to sincerely thank you for everything! Would definitely recommend it to all the people out there who are looking for an emcee and wedding planner. You'll definitely not be able to find someone greater than William Lee. Truly God's gift to mankind!"-Vincent Lai
4. Melvin Aeria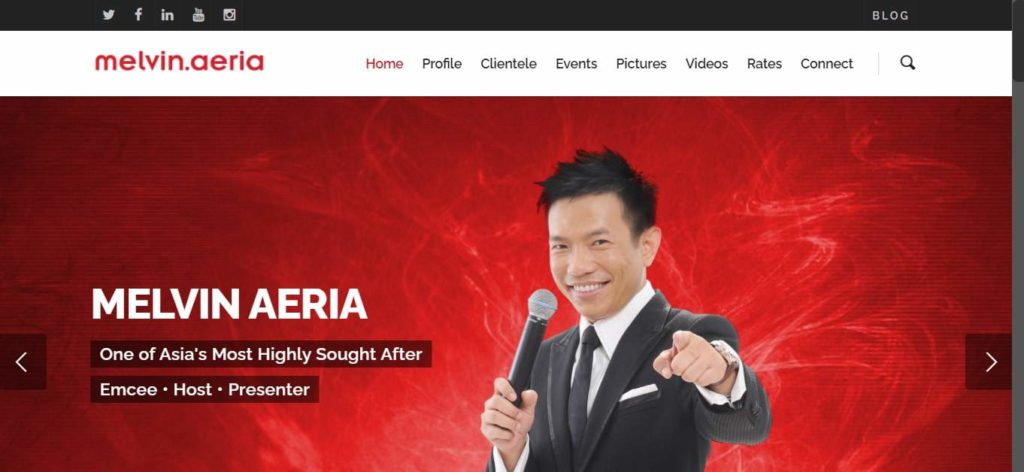 Melvin Aeria is known to be one of Asia's most highly sought-after hosts, presenters, and emcees with an average of 150 events worldwide per year. These events include gala dinners, product launches, award presentations, special celebrations, conferences, conventions, and more.
He also does theme parties where he dresses up as your desired character and entertains your guests by embodying all the traits of that character making him perfect for kid's birthday parties.
He's been praised by his clients as a very lively and enthusiastic host that knows how to engage with audience members properly according to the event he's hosting.
We also appreciate that he mentions how he charges his rates, which are by half-day blocks (Morning, Afternoon/Evening, Night), and any events that go past these blocks incur surcharges. Surcharges are also applicable for events that require him to travel out of town, overseas and have pre-event requirements.
He's fluent in English and Bahasa Malaysia. He can also speak a bit of Cantonese, Hokkien, and Mandarin which is useful for friendly banter but not enough for hosting.
Bilingual
Impressive track record
Great for children's parties
Caters to all kinds of events
Does not provide event coordination services
Does not provide event management services
Customer Reviews
Below are some reviews from past satisfied clients of Melvin:
"One of the most Powerful, Flexible, Experienced and most importantly Reliable Emcee that you can find in Singapore & Malaysia. One need not worry when you have him host your event as his delivery is 110% every single time, rain or shine. A true Professional who takes pride in what he does."-Ecopia
"He is an extremely versatile and talented person. He is able to do the serious conferences as well as the fun events. His specialty is his ability to engage with the audience which a lot of emcees are not able to do. And most importantly, Melvin does his research on the event and client prior to the event. Overall, he will make your event memorable with his charms and antics!"-Crystal
5. Shaun stephen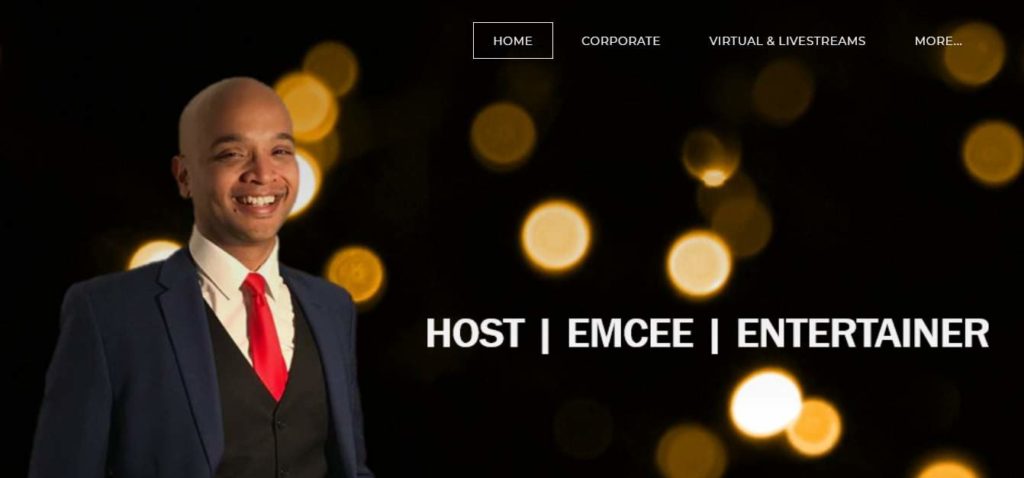 Regardless of the type of event that you're planning, Shaun Stephen and his 12 years of professional emceeing experience are sure to be a good choice.
He's one of the most sought-after events emcees for all sorts of events such as conferences virtual shows, product launches, government-related ceremonies, mall roadshows, talent shows, weddings, themed events, and many more.
He's worked with individuals planning intimate celebrations all the way to multinational companies like Samsung and Microsoft as well as national events like Nutrifest.
Stephen is described as an energetic and lively emcee that knows how to keep audience members entertained and focused on the event.
Now, if you're worried about getting him due to how much his rates might cost, you can always request a free quote by contacting him through the number in the table above.
Offers free quote
Impressive track record
Caters to a wide range of events
Does not offer event planning services
Does not offer event management services
Doesn't mention if he speaks more than one language
FAQs about Emcees in Malaysia
---
Emcees are one of the most vital parts of an event because they control the flow of the event so they make or break the event. They make hyped events more hyped and solemn events solemn so it's important to get one who you can be sure knows how to get people in the right mood.
Feel rest assured in the fact that this list of the best companies for emcees in Malaysia will give you an emcee that knows exactly how to do this!
Now, we wish you luck with your event and we hope you have a successful one! Please feel free to reach out to us and let us know all about your experience with your chosen emcee.
You might also find the need for someone to take this event planning off of your hands so go on and check out our list of the top event management companies in Malaysia.