The Top 5 Ceiling Fans in Malaysia
Ceiling fans are a great addition to a room both by being additional decor and by giving the occupants of a room additional air circulation. Now, if you're in the market for one, you are definitely in the right place.
This list has anything and everything you need to know about the top ceiling fans in Malaysia so read on with us!
The Top Ceiling Fans in Malaysia
We've compiled this list exclusively for those who are looking for the top ceiling fans in Malaysia so feel free to keep on reading and take your pick!
1. Panasonic's NAMI 5 F-M15E2VBHH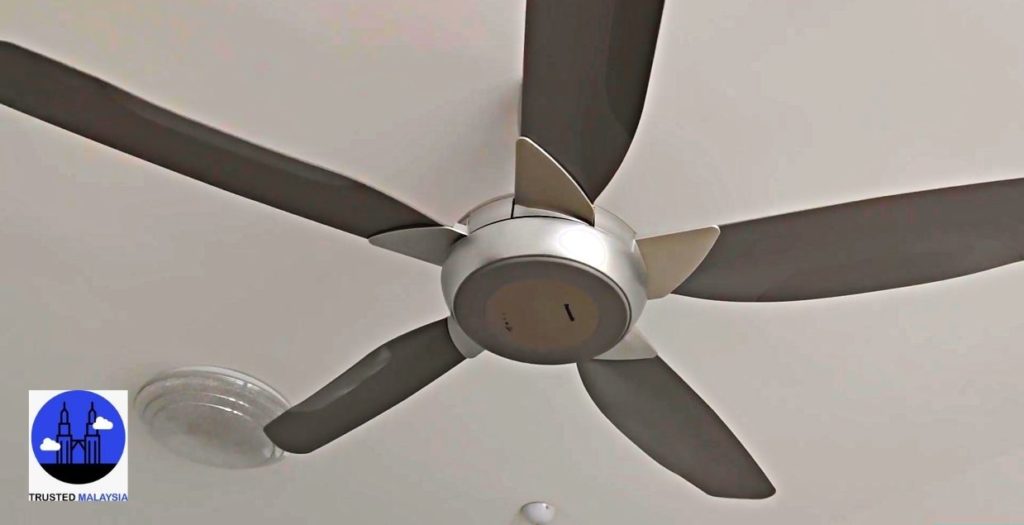 Price: RM 569
| | |
| --- | --- |
| NUMBER OF BLADES | 5 blades |
| BLADE SIZE | 60 inches |
| NUMBER OF FAN SPEEDS | 2 |
| TIMER | Yes (1, 3, 6 hours) |
| AIR DELIVERY | 225 m³/min |
| REVERSE FUNCTION | No |
| POWER CONSUMPTION | Maximum of 85 watts |
The NAMI 5 F-M15E2VBHH is one of Panasonic's ceiling fans that people absolutely love both for its industrial design and its functionality.
It's easy to use—all you really have to do is select your desired function with the use of the remote control. Setting the timer on your fan will be as easy as counting to three with this remote.
It has a special function called the Yuragi function which emulates a gentle breeze by controlling the wind force and varying the air velocity for a more natural flow. This ceiling fan is also equipped with a sleep mode that turns the fan an hour after its set, which is perfect for saving energy.
When on sleep mode, the fan speed gradually decreases until the hour is up so you don't get waken up by a sudden change in air velocity. Despite the strong airflow that'll make everyone feel comfortable, the noise levels are really low so you don't have to worry about a loud fan disrupting sleep or even conversations for when you're fully awake.
If you find the price a bit steep for a one-time payment, you can always avail of their installment plan with hoolah. The plan consists of 3 monthly payments of RM 189.67.
Has Yuragi function
Has sleep mode/timer
Instalment available with hoolah
Remote-controlled with control holder provided
No reverse function
Only has 2-speed levels
Pretty pricey
High power consumption
2. Eco Breeze EB-6016
Price: RM 138
| | |
| --- | --- |
| NUMBER OF BLADES | 3 blade |
| BLADE SIZE | 60 inch |
| NUMBER OF FAN SPEEDS | 5 level speed |
| TIMER | No |
| AIR DELIVERY | 256.32 m3/min |
| REVERSE FUNCTION | No |
| POWER CONSUMPTION | Maximum of 70 watts |
If you're looking to get a more sustainable and eco-friendly ceiling fan, getting Eco Breeze's EB-6016. Getting this particular ceiling fan means you're also supporting local brands, which is a plus in our book.
Eco Breeze worked around with Japan Technology in order to develop a high-quality fan that's regulator controlled which is what they can thank for its energy efficiency. This runs on only 70 watts which is significantly lower than how many watts most ceiling fans run on.
It's equipped with an anti-vibration plate which prevents wobbling. It also has a full copper winding for durability.
This fan's simple design is also great for those who don't really want to draw attention to their ceiling fan and just want it to do its job of circulating the air around a room.
It has 5-speed levels which give you more options on the wind speed for your comfort. One more factor that makes this fan stand out is that even at the highest speed, it still produces minimal sound because of its eco-motor.
5-speed levels
Energy-saving
Simple design
Affordable
No timer
No remote control
3. Deka V5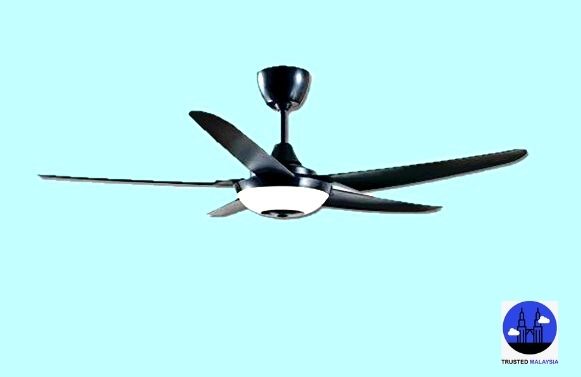 Price: RM 299
| | |
| --- | --- |
| NUMBER OF BLADES | 5 blades |
| BLADE SIZE | 56 inches |
| NUMBER OF FAN SPEEDS | 4 |
| TIMER | Yes (1, 3, 6 hours) |
| REVERSE FUNCTION | No |
| POWER CONSUMPTION | Maximum of 78 watts |
| LIGHT POWER | 22 watt LED |
Now, we have Deka's V5 ceiling fan as one of Malaysia's top ceiling fans.
It's a Bluetooth-enabled and remote-controlled fan that works well to cool any room and it also doubles as an overhead light so, yes, we can say it's a multifunctional addition to your home.
It has a very clean and sleek look that we think would suit any room because it's pretty hard to go wrong with such classic looks. It was designed with bringing both comfort and elegance into people's homes and we think they achieved this goal.
It has 4 different speed levels for the fan so you can adjust it to your comfort anytime and with ease. The LED light has 3 tones and can also be controlled through the remote.
You can also set the timer through the remote; you can choose between shutting it off in an hour, 3 hours, or 6 hours.
Has an LED light
Has a timer
Bluetooth-enabled and remote-controlled
Clean, sleek look
No reverse function
Pretty expensive
4. Rubine RCF-CENTRO-3BL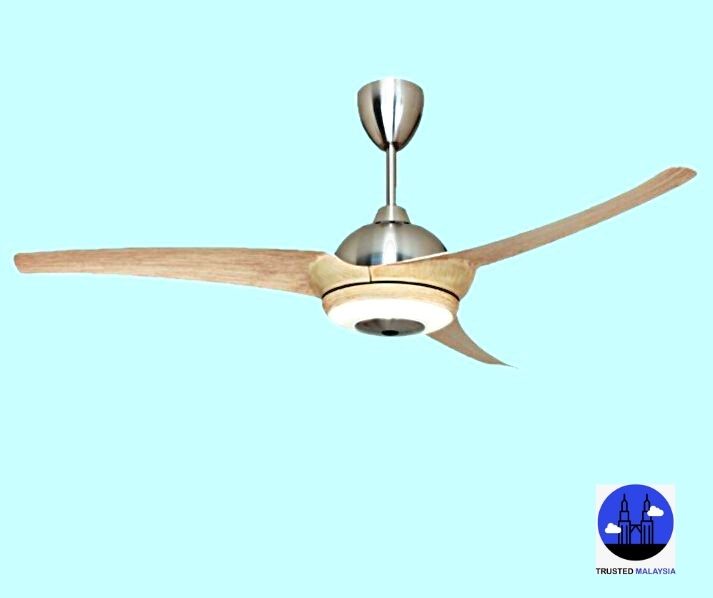 Price: RM 312
| | |
| --- | --- |
| NUMBER OF BLADES | 3 blades |
| BLADE SIZE | 52 inches |
| NUMBER OF FAN SPEEDS | 4 Forward, 4 Reverse |
| TIMER | Yes (1, 3, 6 hours) |
| REVERSE FUNCTION | Yes |
| POWER CONSUMPTION | Maximum of 75 watts |
| LIGHT POWER | 18 watt LED |
Have you ever heard of Rubine RCF-CENTRO-3BL? It's more commonly known as Rubine's Centro Ceiling Fan and the fact that it's known around Malaysia is for a pretty good reason.
It's the perfect ceiling fan no matter the season or weather is around where you live. This is because the blades can move either clockwise or counterclockwise which greatly affects the temperature of your room.
It has 8 functions; 4 clockwise speed controls and 4 counterclockwise. You can select your speed of choice and also set a timer with the use of the remote control.
For colder and rainier seasons, clockwise spinning helps generate better ventilation without it being too cold. For hotter days, set it counterclockwise to make it much cooler.
Finally, let's talk about its aesthetics because that really stands out especially since industrial design is really in now. That, paired with its LED light, is a nice little addition to your room.
Low wattage
Has a light
Industrial design
Forward and reverse controls
Relatively expensive
No Bluetooth controls
5. Khind CF615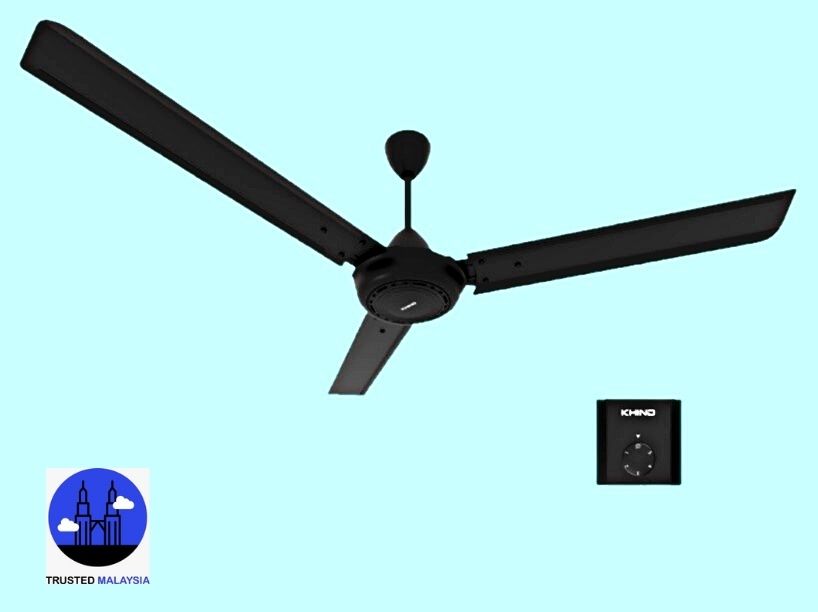 Price: RM 99.99
| | |
| --- | --- |
| NUMBER OF BLADES | 3 blades |
| BLADE SIZE | 60 inches |
| NUMBER OF FAN SPEEDS | 5 |
| TIMER | No |
| AIR DELIVERY | 240 m3/min |
| REVERSE FUNCTION | No |
| POWER CONSUMPTION | Maximum of 80 watts |
If you're looking for an affordable and high-quality ceiling fan, we recommend the Khind CF615 for you and your home. It's simple, cute, and not at all complicated to use or install.
It has 5-speed levels to choose from so you'll never really feel too hot or too cold without being able to adjust it right away. It doesn't have a remote control but it is instead controlled by a regulator attached to the wall.
The fan's metal blades are corrosion resistant and the motor is pretty durable so you can rest assured that this ceiling fan will last you for a while. We like that it has an energy-efficient performance as well so you don't need to expect a shoot up in your electricity bill with regular use.
A testimony of how good it is is the fact that it's almost always out of stock because people keep on flocking to buy it when it is in stock.
Affordable
Energy-efficient
5-speed levels
No reverse function
No timer
Things to Consider Before Getting a Ceiling Fan in Malaysia
Size
You really have to consider the size of the ceiling fan in relation to your living space before buying it in. Of course, you wouldn't want to get one that looks too big or too small on your ceiling because that would look awkward.
While the standard blade size is 60 inches, there are you can surely find a larger or smaller one if your space needs you to.
Wattage
You should consider the wattage for two reasons; to be eco-friendly and to save yourself some money.
As with any appliance, a lower wattage means you save more money with your electricity bill. It's more eco-friendly because when an appliance has a lower wattage it uses up less of the Earth's energy resources.
Aesthetics
Of course, we can't forget how the ceiling fan actually looks! You want it to match your taste as well your room's appearance so you can look at it without feeling like something's off.
Having a fan that doesn't match your whole room could ruin the whole vibe since that's most likely going to be a permanent fixture. It's not like a floor fan that you can just move around so think about it first.
Controls
The kinds of controls for ceiling fans are regulators on the walls and remotes. There are also some that can be controlled with Bluetooth on your phone.
Take into consideration whether or not you're the type of person who doesn't want to have to go through the effort of going to the regulator and you only want a remote or your phone. It seems like a small factor but it makes all the difference down the line.
FAQs about Ceiling Fans in Malaysia
---
If you feel like you have to choose between having a functional appliance and a stylish one, we hope these fans let you see that it's not the case. Be sure to have the best of both by purchasing from this list of the top ceiling fans in Malaysia!
If you have any recommendations at all for ceiling fans, please don't hesitate to reach out to us and tell us all about them. We'd love to review them and add them to this list!
Also, please feel free to check out our article on the best aircon services in Malaysia which may come in handy for you one day.