How to Repaint Your Kitchen Cabinets
A huge part of kitchen spaces is taken by kitchen cabinets. If they look dull and old, then the rest of the interior will be affected.
Rather than replace them which will cost you a few thousand ringgits, you can paint them anew. This is a great solution that can be done by a person of any skill level and without spending a lot.
In fact, this is what we're here for. We're going to show you how to repaint your kitchen cabinets so they will look incredible and stay durable for a long time to come.
Without any more delay, let's begin!
Materials and Tools You'll Need
Here are the things you will need for the DIY kitchen cabinet painting:
Preparation Tools and Equipment
Marker
Sanding sponge
Tack cloth
Drop cloth
Screwdrivers
Paintable caulk
Caulking gun
Putty knife
Wood filler
Cleaning Items
Water
Trisodium phosphate (TSP)
Bucket
Cleaning rag
Painting Materials
Paintbrush
Mini paint roller
Painter's tape
Paint tray
Top-quality latex paint (preferably those that give a satin semi-shiny finish)
Stirrer
Painting cup
Painter's tripod
Primer
Safety Gear
Safety goggles or glasses
N95 face mask (or one that has a similar rating)
Waterproof gloves
The Importance of Wearing Safety Gear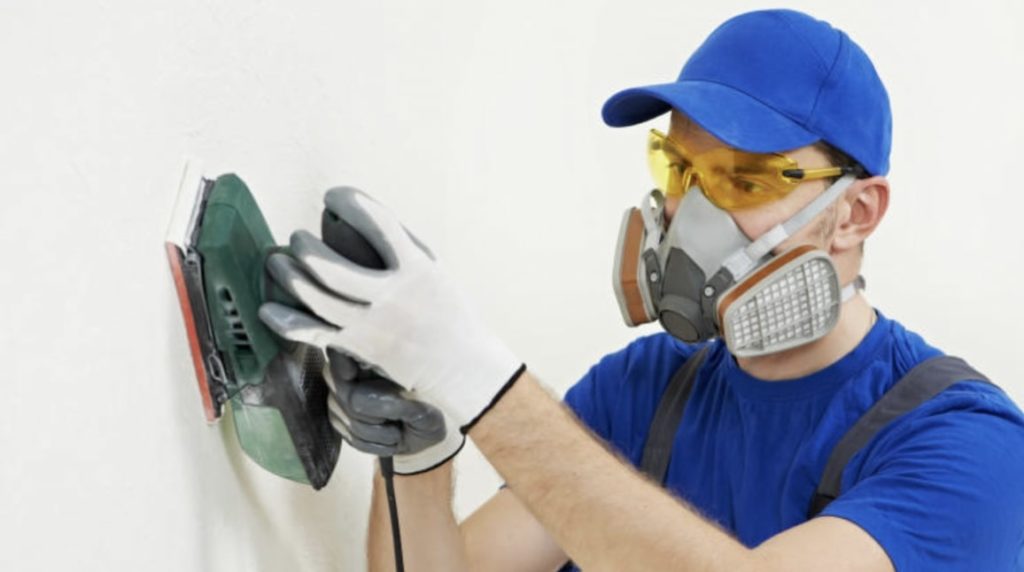 You'll need to wear safety gear while painting and sanding to protect your eyes and lungs from toxic dust and fumes. For this, we strongly recommend getting carpenter goggles and an N95 mask or another face mask rated for this kind of project.
More so if you think that your cabinet paint contains lead, because it's a dangerous substance that can cause severe health problems and illnesses. But, if you're uncertain to continue the work due to this, you could just conduct testing or leave it to an experienced painter.
Steps to Take for Repainting Your Kitchen Cabinets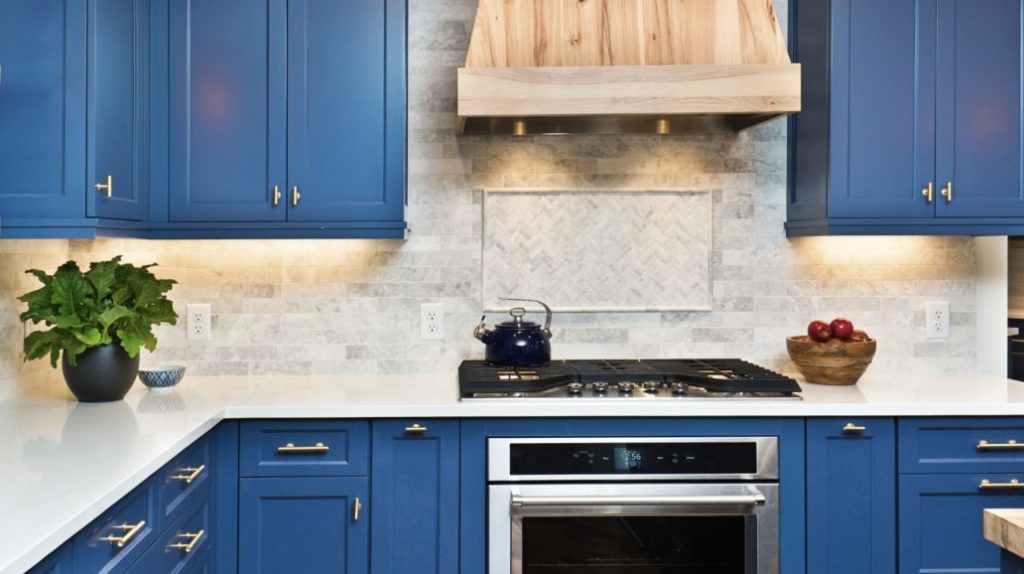 Get ready to start your kitchen cabinet painting project. Here are the steps you need to take to get the job done:
1) Clean the cabinets
Combine water and TSP to form a powerful cleaning agent for your kitchen cabinet. Read and follow its manufacturer's directions to be safe and efficient.
The cabinets should be wet after applying the mixture to them. Then, wipe them with a clean rag and let the cabinets dry.
2) Take out the cabinet doors, drawers, and parts
Dismantle the cabinets. Do this by removing each shelf, drawer, and door, as well as taking out all their hardware.
Place the parts on plastic so they won't be lost and you can install the kitchen cabinets easily later on.
Then, set up the painter's tripod in your preferred workspace and mount the cabinet doors on them to prepare for sanding.
3) Sand the cabinet frame
Sanding is essential because it creates grooves in the cabinet's surface that make the primer and paint stick. Furthermore, it will ensure the paint stay around for a long while.
Now, the amount of sanding you have to do depends on the existing surface's finish. Bear in mind that sealed wood, laminate wood, and finished paint require only little sanding, lest they get damaged.
It's advisable to use a medium-grit sanding sponge or paper and scuff in the direction of the grain. The latter keeps the polished look smooth and consistent.
4) Vacuum the dust
Clean off the dust and debris resulting from the sanding work. Vacuum the cabinet, doors, and drawers on all sides, and then use a tack cloth to remove the leftover particles.
5) Apply the Primer
The purpose of the primer is to form an ideal surface for the paint to adhere to and to hide flawed parts of the cabinet.
Start by masking the frame around your cabinet with tape and then apply a suitable primer to the surface. Use a paintbrush to paint small areas and a mini brush roll for flat and large surfaces.
There are many different kinds of primers available. For instance, there are oil-based primers that are used to prime surfaces with an oil finish, latex paint for oil or latex-painted surfaces, but if you aren't sure, you can use Shellac primers, which can work for a variety of surfaces.
After you have finished priming the cabinet, do the same with the doors and drawers. However, be careful not to prime their sides as they can be difficult to open or close when you put them back to the cabinet.
6) Patch up cabinet holes
Once the primer has dried, inspect the cabinet and its parts for any holes and cracks.
Seal holes with a wood filler by using your finger for small ones or a putty knife for large ones. Also, use paintable caulk to seal the joints between the cabinet and the wall—this will make your cabinet look neat after the work!
7) Sand any excess primer
The wood filler should have dried by this time. Scuff the areas if you see any remaining wood fillers on them.
Afterwards, examine and prime the filled holes, and repeat the excess filler sanding once again. After drying, clean up the dust and dirt with a tack cloth and vacuum cleaner.
Now, you're definitely ready to paint!
8) Paint the cabinet
Similar to coating with a primer, you should use a small brush on small surfaces and a mini paint roller on big and flat sides.
Earlier we recommended latex paint with a satin or velvety finish. Latex paint is great since they emit low levels of VOCs, are relatively quick to dry, and give great durability to your cabinets.
Though the paint will hold on to the cabinet surface on the first coating, we highly recommend giving it a second one because it will make the paint supremely durable so your kitchen interior will stay beautiful.
9) Reassemble the cabinet doors and hardware
When the paint has entirely dried, you can put the pieces back together. Fix the doors and hardware in place on the bare cabinet and insert the drawers into empty slots, and you're all done!
More Resources on Painting Your Kitchen Cabinets