How Do Malaysians Really Feel About Drugs?
Malaysia and other Southeast Asian nations play a significant role in the world's drug trade and misuse conversation. In Southeast Asian countries, the use of illegal drugs is a serious issue that is increased by trafficking, with Malaysia experiencing increased drug use and sale.
Malaysians are against the usage and sale of any form of drugs in their country. The government of Malaysia even designated February 19 as National Anti-Drugs Day, which serves to further emphasize this.
Malaysia has enacted severe penalties for drug offenses, including trafficking, and relatively minor ones like drug use. It is already difficult enough that drug offenders currently make up 65% of the prison population which shows how problematic the anti-drug campaign is here.
The Long-Lasting Drug Issue in Malaysia
Malaysia has developed into a top target for drug traffickers as a result of its strategic geographic location. The government didn't become aware that the drug problem had reached a crisis point and that drastic action was needed until 1983.
In Southeast Asian nations, the use of illegal drugs is a serious issue that is exacerbated by trafficking, with Malaysia experiencing an increase in drug use.
According to the NCBI, Opioids, such as heroin and morphine, are still the most often abused narcotics in Malaysia, but amphetamine-type stimulants, such as ecstasy and methamphetamine, have recently been identified as a developing issue.
Below is the breakdown of drug addicts in Malaysia from 2013 to 2020, conducted and collected by the Statista Research Department.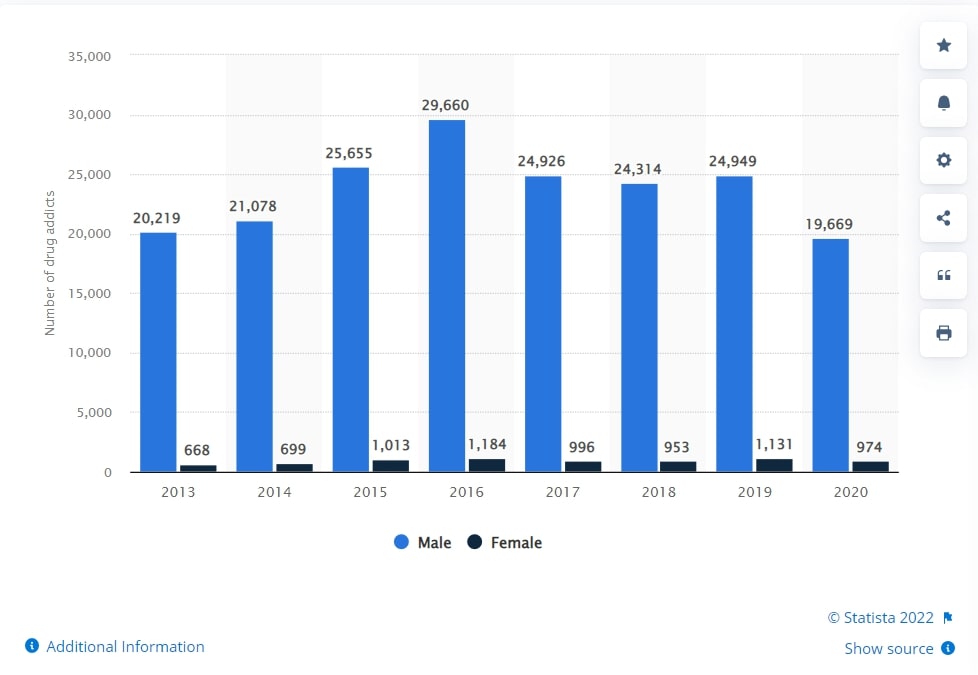 Approximately 19.7 thousand males, compared to 974 females, had at least one recorded drug offense in Malaysia in 2020. This occurred in spite of the strict restrictions that were in place prohibiting drug use and possession, including the death penalty for drug trafficking.
What are the Malaysian government and citizens doing to combat the usage and sales of drugs?
Public awareness and anti-drug campaigns are a strategy for informing the public, spreading messages, and using social media. It strives to educate students, adolescents, young people, families, communities, and society on Prevention, the risks, and the effects of drug usage.
Anti-drug awareness and campaigns require well-planned and comprehensive planning so that they can be understood and felt by all walks of life so that they rise up against drug abuse, and gain and maintain community support in the fight against dangerous drug abuse.
Anti-drug Campaigns in Malaysia
Inform the public about the risks of drug usage and its effects on health.
For people to continue protecting themselves and their families against drug addiction, society's attitudes and behaviors must change.
Obtain and keep the public's support as you join forces to fight drugs.
1. Anti-drug Awareness through Digital Media
Anti-drug campaigns are done online through the use of broadcast media on radio and television, either through public or private stations. It concentrates on listeners at the national and state levels by giving information and different steps to take in dealing with such problems.
Though social media is a big help in aiding the campaign against drug use, there's also a small disadvantage.
A person's exposure to drug and alcohol use in real-world situations is generally seen to have a considerably greater influence on that person's behavior, yet social media still plays a significant role in promoting harmful behaviors like substance misuse.
2. Anti-drug Awareness through Print Media
Print media campaigns are communication channels that use printed periodicals or other printed items. Posters, pamphlets, brochures, newspapers, magazines, books, and other campaign materials fall into a number of different categories.
Other media, including face-to-face, newspapers, magazines, and technological media utilize this content. Information about drugs, their effects, guidance and tips, rehabilitation programs, and other topics were among the messages spread.
3. Anti-drug Awareness through Outdoor Media and Commercial Establishments
Through LED signage and billboards, the outdoor media campaign communicates with both the local community and the hotspot area. 
The more varied campaign distribution to target groups and messages are more in the shape of reminders and actions, such as the AADK "hotline" for complaints and advising services, drug prevention recommendations, messages in the form of religion, and so on.
4.  Face-to-Face Campaigns
Face-to-face media campaigns are social interactions that are carried out directly through face-to-face communication. These interactions are more efficient and casual and allow for the sharing of a lot of information as well as fast feedback.
The campaign's strategy includes pamphlet distribution through walkabouts and interviews, as well as anti-drug exhibitions that might be at a set location or at different venues in a series of events.
5.  Imposing a Death Sentence
The death sentence is a mandatory punishment for drug dealers under Malaysian law. If you are detained with 200 grams of marijuana or 15 grams of heroin, you will be assumed to be a drug dealer by the law.
More specifically, 36 states use the same three-drug sequence for death penalty injections: potassium chloride to induce cardiac arrest quickly; sodium thiopental to render the inmate comatose, and pancuronium bromide to paralyze the condemned inmate's voluntary muscles.
Inmates found guilty of serious drug offenses were hanged by Malaysian authorities more than 120 times between 1983 and 1992. There were, on average, 15–16 executions each year between 1980 and 1996.
Fixed and mobile telephone lines have been given by the department for the convenience of its customers. These lines are monitored and managed at the PGH Operations Center.
Fixed Line : 1800-22-2235
Mobile/Whatsapp   :  019 – 6262233
How do Malaysians feel about former drug offenders?
According to a recent study by The Centre, just 6% of Malaysians are fully accepting of those who have drug addiction concerns, whether they are current or previous. This finding emphasizes the stigma associated with addiction.
The majority of respondents, around 55 to 57% have generally sympathetic views toward those who use prescription medicines, viewing drug addiction as a disease fueled by trauma. Because of this viewpoint, people tend to shy away from inhumane acts or punishments toward users.
Up to 62% of people surveyed believe it is critical to integrate those who were once dependent on controlled substances into society. No more than 20% of respondents agree that the death sentence should be applied for each significant drug offense involving major offenders.
To keep it short, the majority of respondents in this study are in favor of using non-capital punishments to address serious offenses including non-custodial sentences or even no punishment.