A Guide to Malaysia's Biggest Park: Taman Negara
Malaysia is famous for being a good tourist destination. With the number of UNESCO World Heritage Sites in the country, it is no surprise that this country is full of wonderful and breathtaking sights that you must visit.
In fact, one of the top natural attractions and destinations that people flock to is the biggest park in Malaysia and it is easy to see why you should also visit it.
What is the biggest park in Malaysia?
The biggest park in Malaysia is Taman Negara, which has an area of 4,343 km² (1,677 miles) and expands over three states: Pahang, Kelantan, and Terengganu.
Taman Negara is also one of the oldest rainforests in the world as it is estimated to be at least 130 million years old.
Visiting Taman Negara should surely be in your bucket list of things you should do with your family and friends in Malaysia, alongside going to the largest waterpark in the country.
If you are still thinking twice about going to Taman Negara, discover what is in store for you, and you might just be persuaded to explore this national park right away!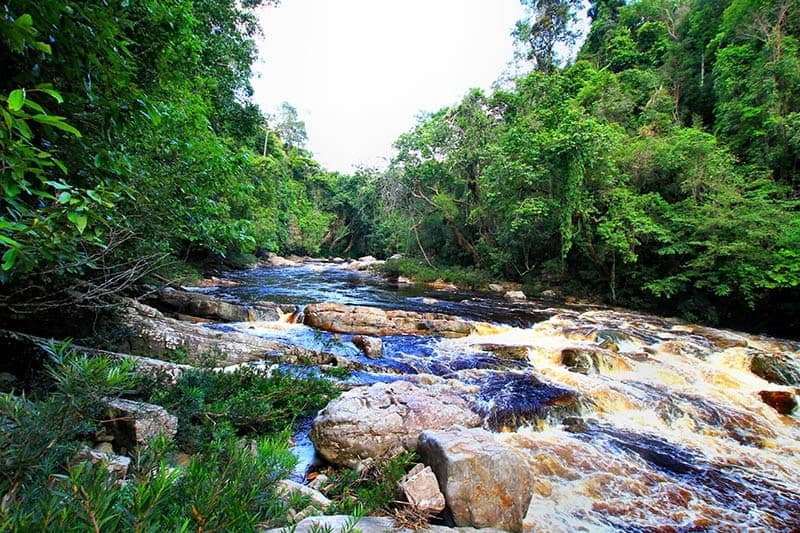 What You Need to Know About Taman Negara
Area
4,343 km² (1,677 miles)
Location
Kuala Tahan, Pahang, Malaysia
Weather conditions
Year-round: humid and hot weather

Mid-February to September: dry season

End of the year: monsoon season

Famous for
Canopy, caves, jungle, species of flora and fauna, aboriginal village
By now you might be asking, "Is Taman Negara worth visiting?" Here are some facts about this park that you should know and you might be able to answer the question yourself.
Aside from being the biggest park in Malaysia and one of the oldest rainforests in the world, Taman Negara is also one of the oldest landmasses in Peninsular Malaysia. In 1984, it was declared as an ASEAN Heritage Park.
Additionally, it is one of the most important parks in the country. Its significant contributions to tropical life and historical relevance cannot be ignored, especially since it is located in the heart of Peninsular Malaysia.
With the size of 4,343 km², this rainforest sanctuary is so massive that it stretches over three separate states in Malaysia. From Pahang, to Kelantan and to Terengganu, a day would not be enough to explore each corner of what Taman Negara offers.
As a matter of fact, it is quite spectacular that it deserves and lives up to its name. When translated from the Malay language, Taman Negara actually means "national park".
For more than 130 million years, it has served as a biodiversity hotspot. It is home to thousands of flora and fauna, most of which are rare and endangered. It is a sanctuary of jungle, rivers, and caves, with a green canopy protecting the park.
Some consider this rainforest to still be in an almost pristine state. Up to date, a great part of this vast park is still virgin, which means they remain untouched or uncovered, and are as raw as ever.
These are just some reasons why Taman Negara is a prominent haven for biologists, ecotourists, and travelers. Likewise, wildlife enthusiasts are sure to find something new every day when strolling this sprawling reserve.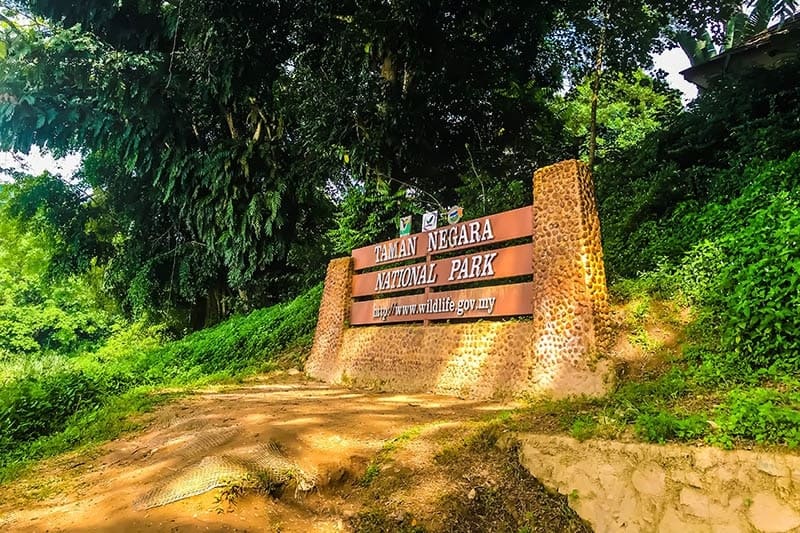 Even if the weather in Taman Negara is mostly humid even on good days, its breathtaking scenery is enough to make your journey here worthwhile.
Although Taman Negara is famous for its beauty, what many may not know yet is how it got its name. Initially, a portion of Taman Negara was established as Gunung Tahan Game Reserve in 1925.
Later on, it was named King George V National Park and was designated as a National Park by the British Administrators under Enactment 1939, in commemoration of King George V's installation in England.
Thus, it is the first national park proclaimed in Malaysia, and the first and oldest protected area in the country.
Finally, it was after the onset of independence in 1957 when the park was changed to Taman Negara and its property was expanded.
Entry to Taman Negara
If you are planning to take a trip to Taman Negara, you should also know that there are four entrances to Taman Negara: Kuala Tahan, Sungai Relau, Kuala Koh and Tanjung Mentong.
The most popular and commonly used entrance among them is Kuala Tahan as it is the main entrance to the park.
However, those who want to climb Mount Tahan usually enter through the Sungai Relau via Merapoh, which is the northwestern entrance to Taman Negara.
Meanwhile, Kuala Koh is the official entry to Taman Negara from Kelantan and Tanjung Mentong is an alternative entry to the park that is in the south of Lake Kenyir.
Depending on your choice of entry and goal, you can plot your trip and the route you should take accordingly when going to Taman Negara.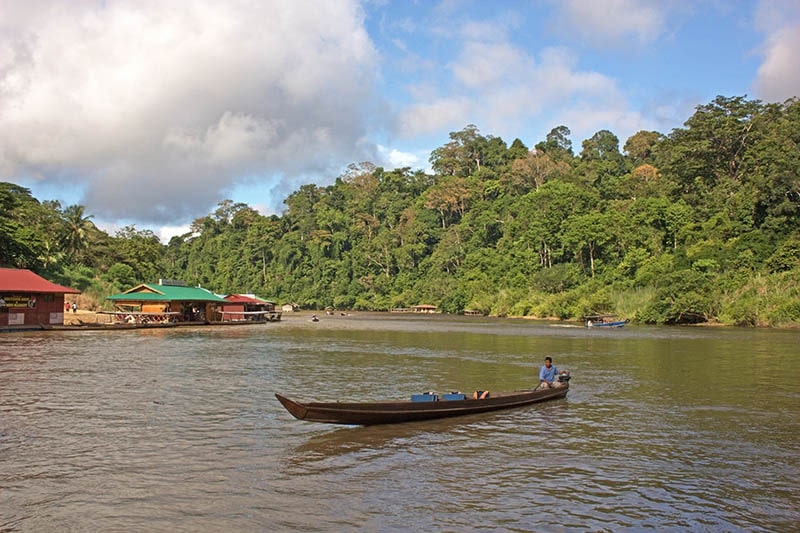 Cost of Entrance and Other Fees in Taman Negara
| | |
| --- | --- |
| Entrance cost | RM 1 |
| Boat fee to cross the river to and from the park entrance | RM 1 (each way) |
| Camera permit | RM 5 |
| Canopy walk entrance | RM 5 |
| Fishing permit | RM 10 |
It does not cost much to enjoy a day in Taman Negara. It is a guarantee that your experience inside this paradise is priceless.
As it happens, the fees you will have to pay are quite affordable and reasonable for what awaits you, starting with the admission fee. It costs only RM 1 to enter the park at both Kuala Tahan and Sungai Relau entrances.
Before entering Taman Negara, you need to pay for permits at the park headquarters upon arrival, aside from the entrance fee.
With an additional RM 5, you will be able to get a camera permit so you can take photos and videos inside Taman Negara.
In connection with the activities in Taman Negara, there is an admission fee of RM 5 to try the famous canopy walk, which you also have to pay at the entrance. If you want to experience fishing, the permit costs RM 10.
There is also a RM 1 fee on every boat ride when you cross the river to the entrance and back.
These are just small amounts compared to what you will be getting in return.
Likewise, you can also hire guides at the park headquarters although the fees vary. There are also organized tours from Kuala Lumpur which you can join and they usually cost hundreds of ringgits.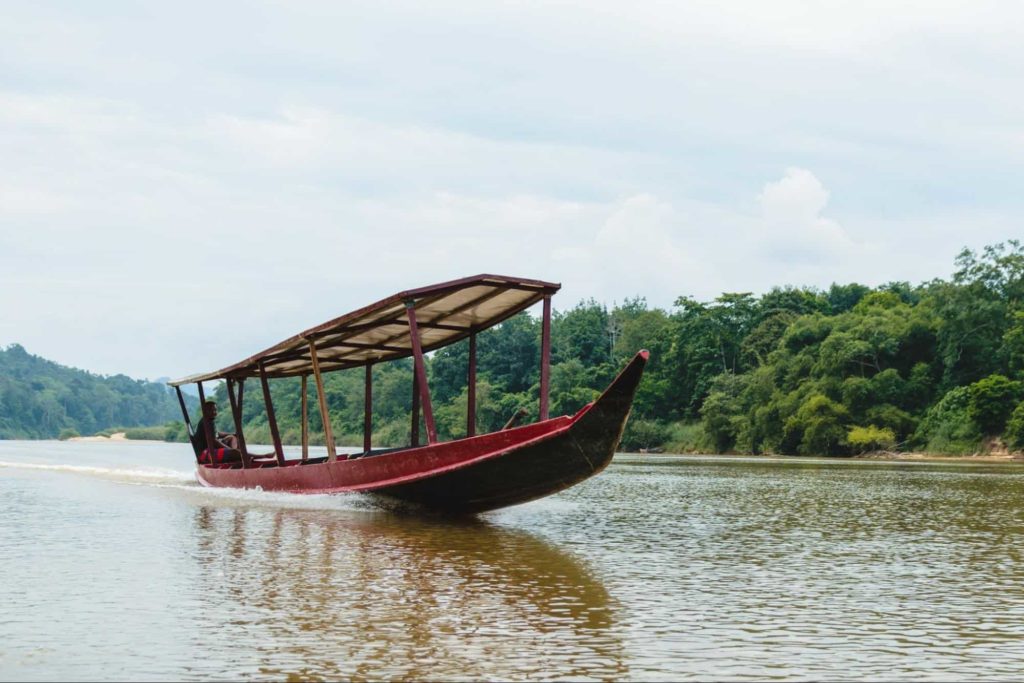 Why should you visit Taman Negara?
Taman Negara is a highly recommended must-see attraction for nature lovers. It is also known to be one of the greatest and top travel and ecotourism destinations in Malaysia because of its stunning scenery.
People who come to Tamara Negara will marvel at the picturesque and lush green scenery of this remarkable rainforest and they will be amazed by its unmatched flora and fauna, aside from the exhilarating activities you can do inside.
It is no secret that Taman Negara encompasses mountains, rivers, caves, jungle and forests sweeping across thousands of square meters. It serves as a dwelling to hundreds of species of trees, flowering plants, and even endangered animals you will not see anywhere else.
Taman Negara always assures each of its visitors of an unforgettable escapade, which would include a canopy walk, cave exploration, trekking, and wildlife viewing among others. They will leave the park wanting to go back more often.
How about after having a home date, why not take a trip to Taman Negara and immerse in nature on your next date, or even on your next solo or family trip?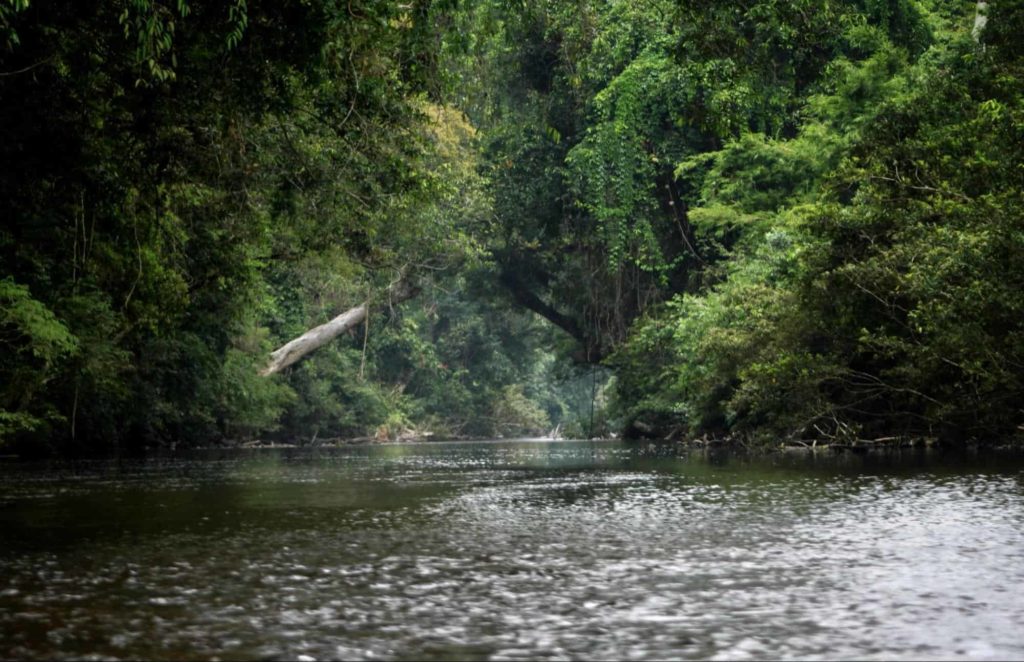 How do I get to Taman Negara from Kuala Lumpur?
| | |
| --- | --- |
| Transportation options | Bus, train, boat, taxi, private vehicle |
| Travel distance | 240 kilometers |
| Travel time | 3.5 to 8 hours, depending on transportation choice and traffic |
While Taman Negara is more accessible nowadays, it is much easier to reach it from Kuala Lumpur. As a matter of fact, it is the most recommended route and many visitors opt for when they take a trip down to Pahang to visit the biggest park in Malaysia.
For instance, it is harder to get to Taman Negara if you are coming directly from Penang which is why it is more advisable to plan a trip from Kuala Lumpur.
Just as there are different routes you can take to go to Taman Negara from Kuala Lumpur, there are also plenty of choices of transportation, such as buses, trains, and cars.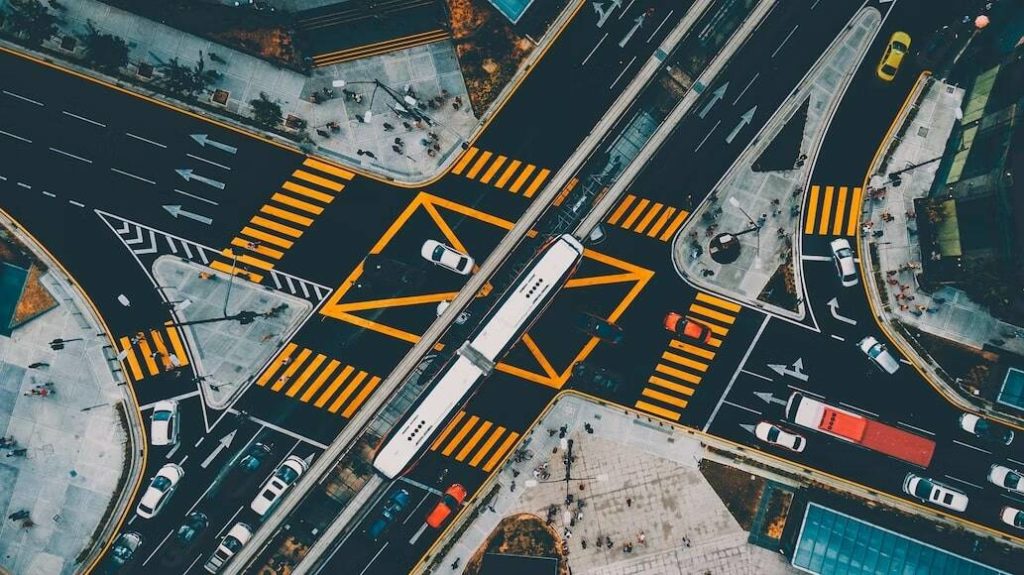 Although you can drive yourself to Taman Negara, using public transportation is the best choice if you are on a budget. However, this option is time consuming.
From Kuala Lumpur, the cheapest option when going to Taman Negara is by bus and train but these also take the longest. Meanwhile, the fastest option to get to Taman Negara is by taking a taxi or minivan, if you do not drive, but this is the most expensive choice.
Nevertheless, most of the time, most take a combination of buses, trains, and boats when traveling to Taman Negara from Kuala Lumpur. This involves multiple connections and legs of journey, but the trip is surely worth it.
The most suggested route to reach Taman Negara in Pahang is by going through the town of Jerantut which is just at the south of the park, outside the park boundaries in Pahang. Because of this, buses and tourist vans to Jerantut are available in various parts of Malaysia.
Here is how you can reach Taman Negara from Kuala Lumpur, depending on the transportation option of your choice:
By Bus
| | |
| --- | --- |
| Travel time: | 3.5 to 6 hours |
| Bus fares: | RM 22 to RM 95 |
| No. of operators: | 4 |
The first thing you should know when traveling by bus from Kuala Lumpur to Taman Negara is that there is no direct bus from the city to the said park. This is why one has to first reach Jerantut.
If you want to travel by bus from Kuala Lumpur, then first, take a bus to Jerantut in Pahang. This is the fastest and cheapest option to reach Taman Negara.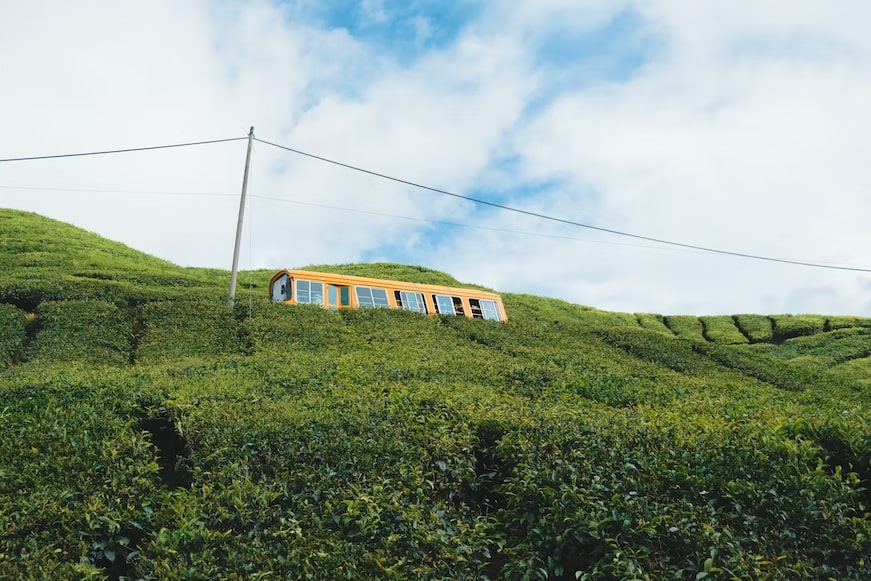 You can take a bus to Jerantut at the Titiwangsa's Parkeliling Bus Terminal. When you reach Jerantut, you have three options to reach Taman Negara.
First, you can catch a bus at the Jerantut Bus Terminal which will take you straight to Kuala Tahan. This trip is the cheapest and it will take only about an hour and a half. When you arrive at Kuala Tahan, you need to take a boat to reach the park entrance.
However, boat rides may not be available during low tides but tour guides are around to advise how you can cross the river.
The second option you have when you reach Jerantut is that you can take a bus to the Kuala Tembeling port, where you can ride a ferry to cross the river to reach Kuala Tahan.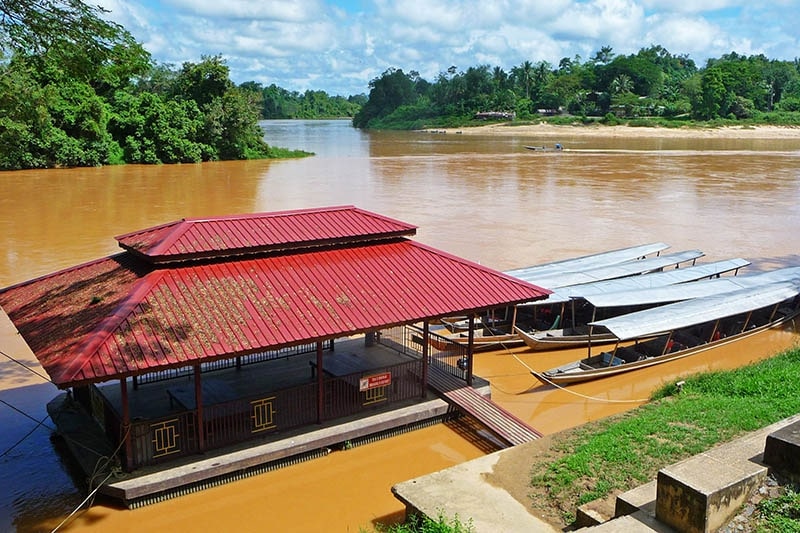 While the second choice might be appealing because it is a scenic route, choosing this means longer travel time because the ferry ride takes 2 to 3 hours, depending on the river's condition.
Finally, you can also opt to take a train to the northern entrance of the park, which is the Merapoh entrance.
By Train
| | |
| --- | --- |
| Travel time: | 5 to 9 hours |
| Train fare: | RM 31 |
| No. of operators: | 1 |
Another cheap option to reach Taman Negara is by taking the train from Kuala Lumpur. Since there is still no available direct route from Kuala Lumpur to Jerantut, you will need to transfer in Gemas, a town in Negeri Sembilan.
First, take the ETS train to Gemas from the KL Sentral and when you reach the Gemas Train Station, catch the intercity train to Jerantut.
When you reach Jerantut, you can choose whichever option as above mentioned to reach Taman Negara.
Taking a trip by train will take hours, making it the longest out of all the options. Likewise, you need to account for time for changeovers and stops you need to make.
By Taxi, Minivan, or Car
| | |
| --- | --- |
| Travel time: | 3 to 5 hours |
| Taxi fare: | RM 600 |
| Minivan fare: | RM 95 |
Perhaps the quickest and most convenient way to travel to Taman Negara is through a private vehicle, by driving yourself or by hailing a taxi, making it the best choice.
While this is hassle-free and you would not need to take multiple trips, taking the taxi is actually the most expensive option.
If you are traveling with a group, it might be more ideal to hire a minivan that will take you directly to the Kuala Tahan village, but the cost is about 4 times the price of 1 bus ticket.
In case you would want to drive by yourself to Taman Negara, you can follow the route from the Kuala Lumpur City Center to Jerantut, and then to Kuala Tahan.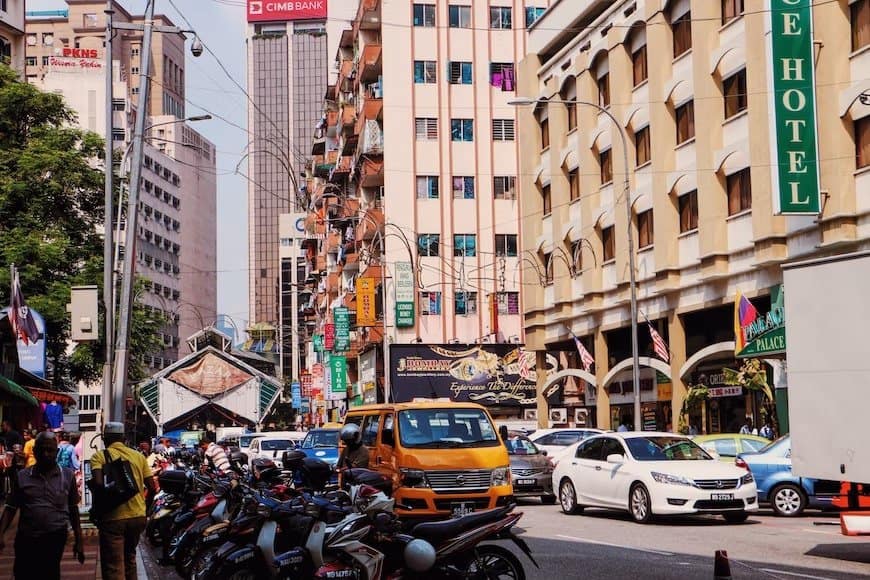 By Joining a Tour
| | |
| --- | --- |
| Duration: | 4 days and 3 nights |
| Tour rates: | RM 700 to RM 3,000 |
When you join a tour from Kuala Lumpur, then transportation to Taman Negara would not be an issue as it is usually already included in the package, so this is also another great option.
There are various travel agencies in Kuala Lumpur that offer van and boat tickets to Taman Negara, while day trips are also common.
Your journey will be much more comfortable as the trip will take you straight to Taman Negara. If you have the budget, joining a tour is more recommended than planning a trip by yourself.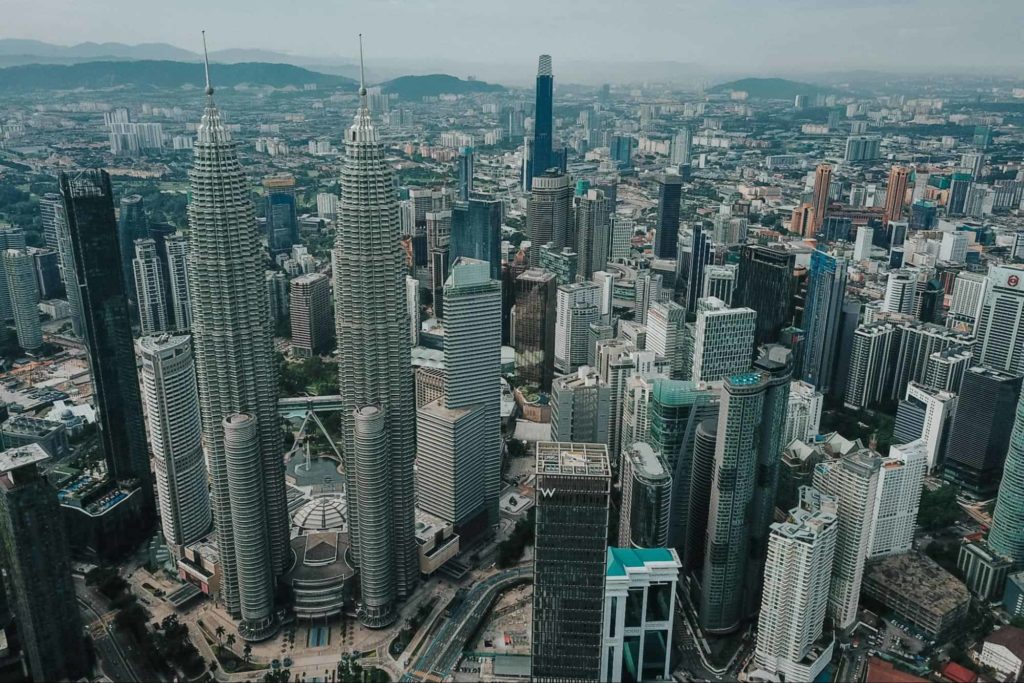 What can you find in Taman Negara?
There is much to see in Taman Negara, from jungles and forests, to landforms and bodies of water, to rock formations, and most especially wildlife and plants.
Aside from the famous canopy walk and mountains enveloped in Taman Negara, you can also find exotic, rare, and even endangered species of flora and fauna inside the biggest park in Malaysia.
The attractions and features of this ancient rainforest are truly just as diverse as Malaysia itself.
Park Features
Taman Negara is overflowing with rare and exquisite biodiversity and natural surroundings, so much so that it would take days to discover its every part and all species you could find.
Prepare yourself to be awestruck with the immense wonders that are waiting for you inside the biggest park in the country!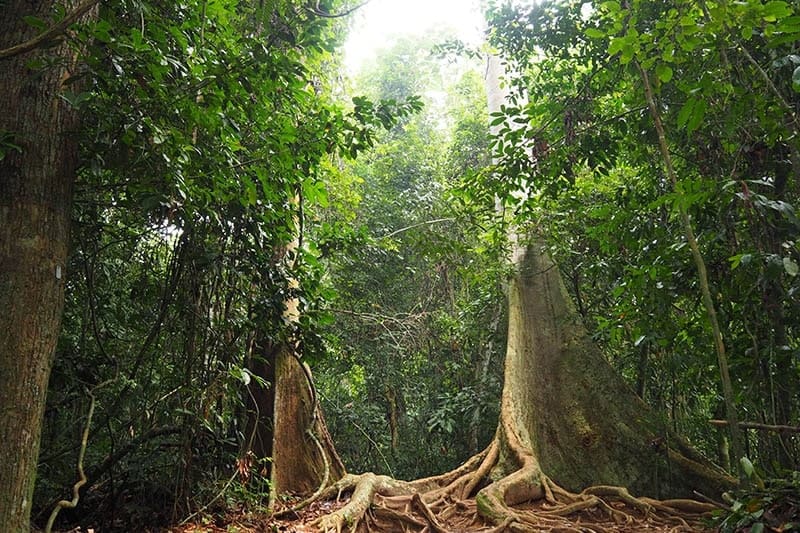 Flora and Fauna
The myriad of plants and wildlife you can find in Taman Negara include about 8,000 species of flowering plants and 185,000 species of fauna. Not to mention approximately 250 species of resident birds, more than 100 species of reptiles, amphibians, and fishes.
Its jungle and forests are home to the wild durian, edible fern, bamboos, and endemic palms to name a few.
The park also houses woody tree species like the buttressed tualang (Koompassia excelsa) which is famously known as the tallest tree in Southeast Asia, and Rafflesia which is the biggest flower in the world.
Likewise, the magnificent rainforest canopy that towers Taman Negara will take your breath away.
This rainforest is also rich in wildlife. You will be able to find here a great variation of monkeys like the macaque, hundreds of bird, reptile, and amphibian species, and even exotic insects.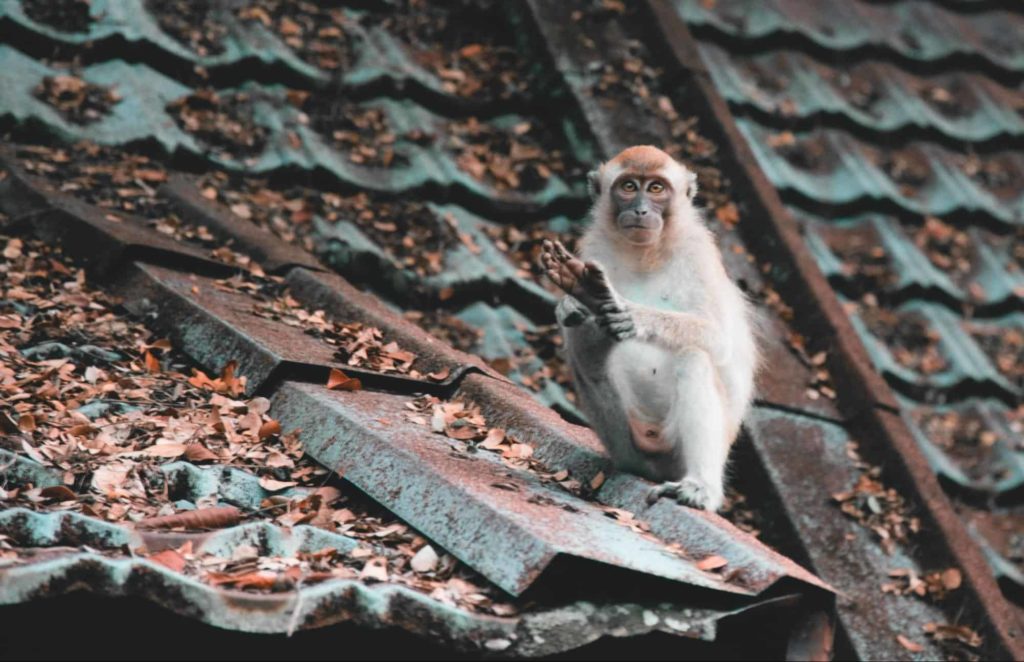 If you are lucky, you might even be able to see rhinos, buffalos, and elephants inside. These are in addition to the unique fauna in Taman Negara which are great argus pheasants, leopards, and sun bears.
There are also several endangered and rare creatures in Taman Negara like the Malayan tiger and Asian tapir which you might spot wandering.
Landforms and Bodies of Water
Taman Negara features pristine lowland and rainforest. It is not short of exquisite landforms and bodies of water.
In general, it is hilly and mountainous, and contains limestone caves and hills, as well as lowland dipterocarp, riparian, and heath forests, as well as rapid rivers.
There are also several caves which you can explore within this park. You will be able to see bats and racer snakes when you go on a cave exploration.
Different trails are also set inside Taman Negara which you can take if you want to submerge yourself deeply in the park.
Moreover, you can even find unique rock formations in different parts of Taman Negara, even in its caves.
These are just some reasons why mountain climbing, trekking, and boat rides are famous activities to do inside the park.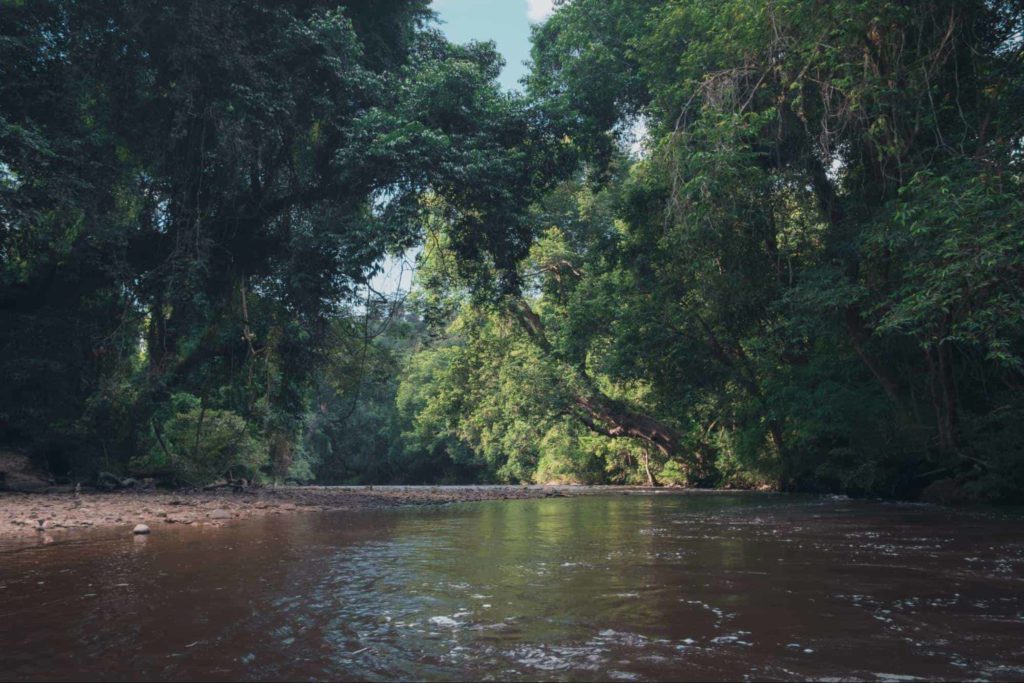 Notable and Travel-Worthy Attractions
As a popular tourist destination, Taman Negara is filled with must-see landmarks that locals and foreign tourists come to visit. These certainly make every trip to this natural wonderland unforgettable that you will want to extend your stay or return immediately.
Find out some of these extraordinary attractions that will make your trip worth it.
Canopy Walk Bridge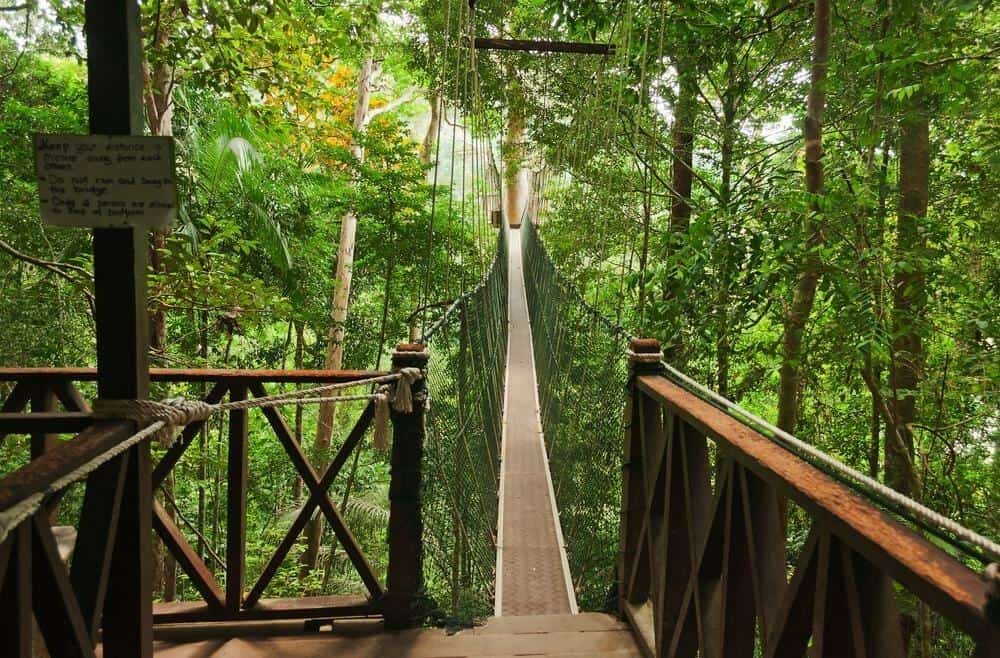 The main and most prominent attraction in Taman Negara, the canopy walk in this rainforest is one of the longest and most renowned in the world. It is 530 meters long and suspended 40 meters above ground.
Its narrow walkway is made of wood and strung by ropes with steel frames and cables that give strong support for safety.
As its suspension bridge is located between treetops, the canopy walk offers one of the best views of Taman Negara because it overlooks the park.
You can also spot wildlife from here, especially those living in high landscape such as birds, monkeys, and squirrels.
This walkway was originally established for research purposes but it gained popularity over time and became a favorite attraction among Taman Negara's many visitors.
Mount Tahan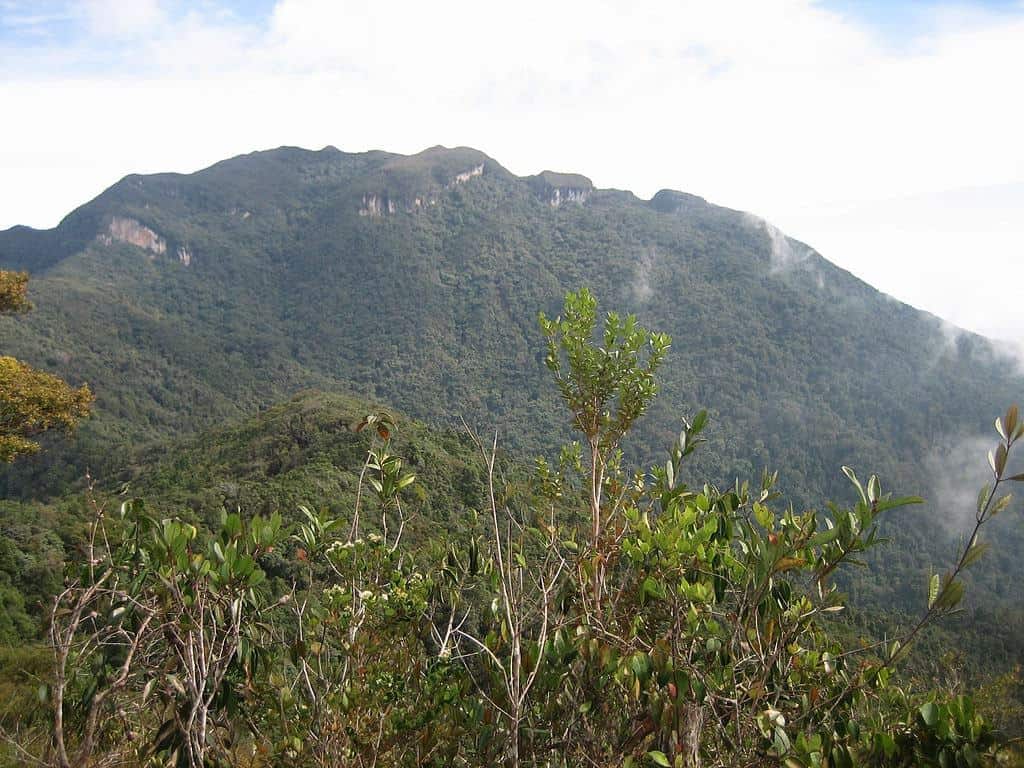 You can also find in Taman Negara the Mount Tahan, or commonly called Gunung Tahan, which is the highest mountain in the Peninsular Malaysia, with its height of 2,187 meters.
A lot of mountain climbing enthusiasts and mountaineers flock to Taman Negara to experience trekking in the trails of Mount Tahan.
The crystal-clear blue water from the waterfall that flows from Gunung Tahan is a bonus for those who travel to Taman Negara.
Gua Telinga and Gua Kepayang Besar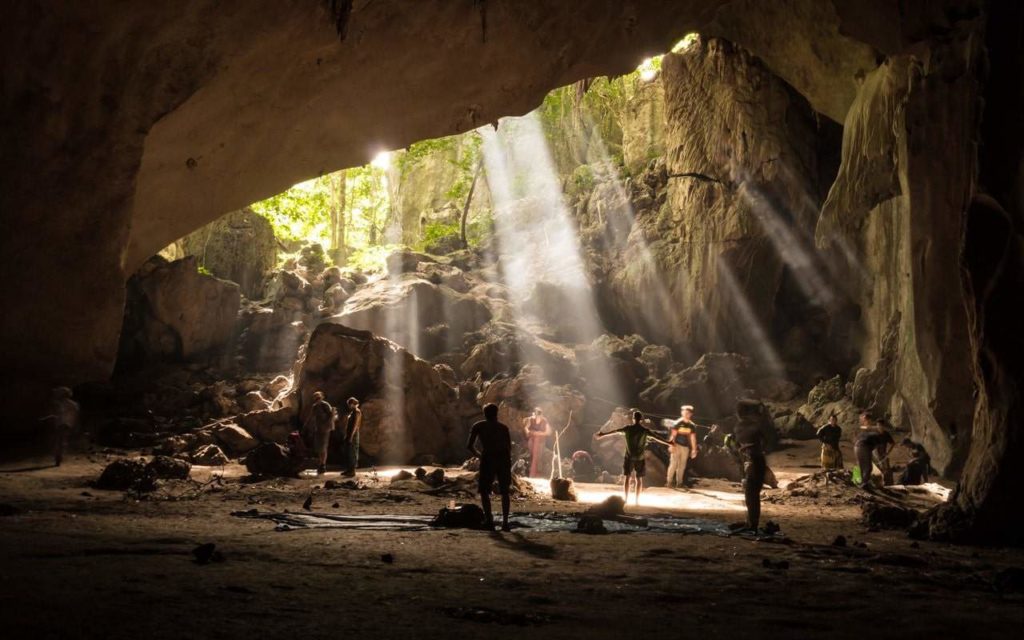 While Taman Negara has many caves that you can explore, Gua Telinga and Gua Kepayang Besar are 2 of the major caves in the park. These are also the most famous caves that visitors and tourists tour.
These marvelous caves offer an unforgettable experience because of the limestone structures and species you will find inside, especially for those who spend the night in one.
If you want to visit these caves in Taman Negara, it is best to check first with the park headquarters if they are open for exploration because there are times that they are closed for safety reasons.
Lata Berkoh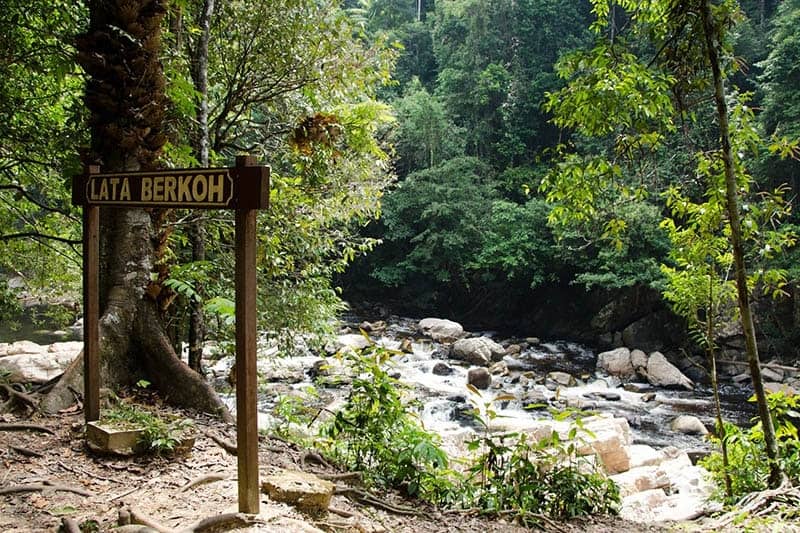 Composed of a series of cascades along the Tahan River, Lata Berkoh is another popular attraction among tourists who visit Taman Negara.
Most visitors take a boat cruise at Lata Berkoh. This is another spectacular way of exploring the park, as it offers a different view for any person who goes on a boat ride here. It also gives travelers an opportunity to take photos and spot freshwater fish during the ride.
Bukit Teresek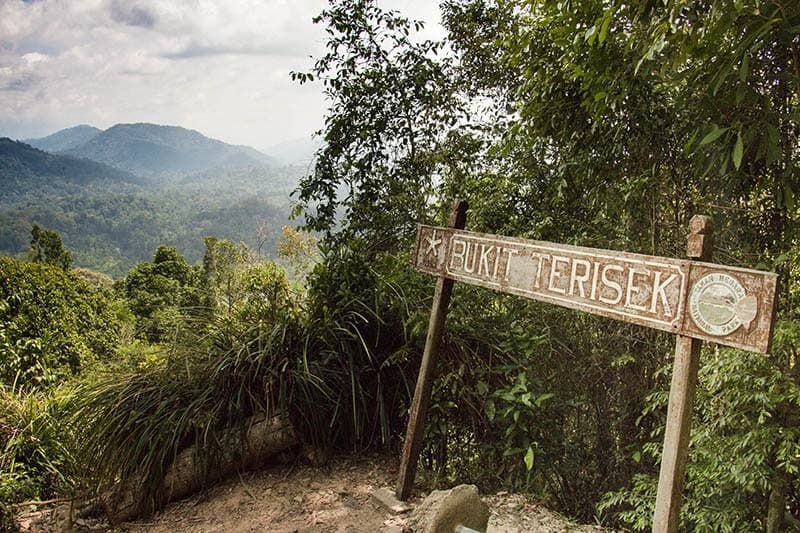 Bukit Teresek is a hill near the headquarters that is 334 meters high and overlooks the landscape of Taman Negara. Because of this, it is a famous viewpoint area where you can even see Gunung Tahan during a sunny day.
From Lata Berkoh, there is a boardwalk that will take you to Bukit Teresek. It is also accessible through the jungle trails connecting it to the canopy walk.
Orang Asli Village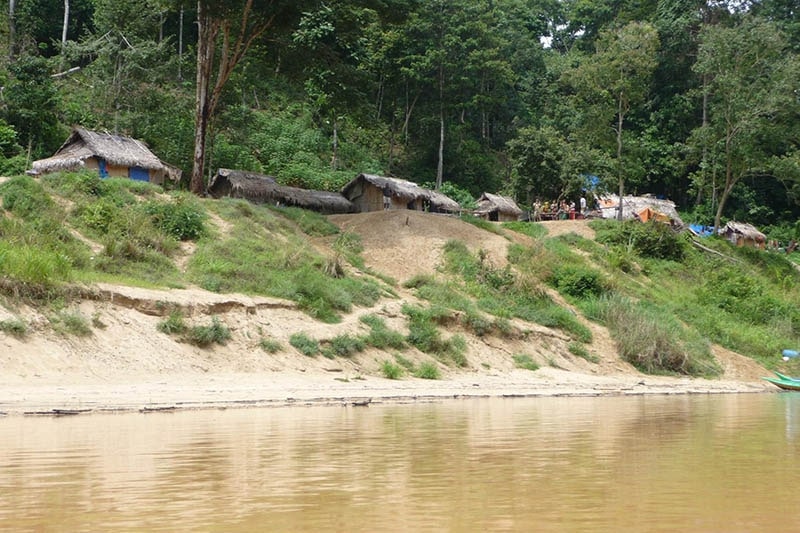 Tourists and visitors in Taman Negara also visit the Orang Asli village, where they will meet the Batek and Semokberi tribes who are very friendly folks. They are Aborigines who sustain a lifestyle far from modernization and derived from living in a rainforest.
Orang Asli are actually the original inhabitants of Malaysia and Taman Negara is also home to indigenous and endangered tribes in the country.
Travelers will learn from them how to hunt using bamboo, blowpipe darting, as well as how to make fire by using only rattan and small woods.
Kelah Sanctuary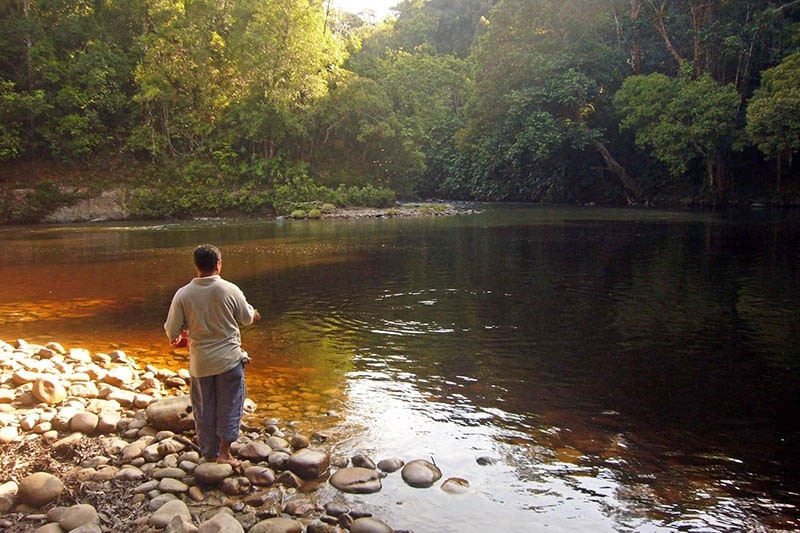 Although it is perhaps less famous than the other attractions in Taman Negara, Kelah Sanctuary is actually notable and travel-worthy.
This protected spot in the biggest park in Malaysia serves as a conservation for the Kelah fish or Malaysian mahseer, as it is also called, which is dubbed as the "King of Freshwater Fish" or "River King."
Located in Lubuk Tenor, the sanctuary is located 20 minutes along the river from Kuala Tahan.
Lubuk Simpon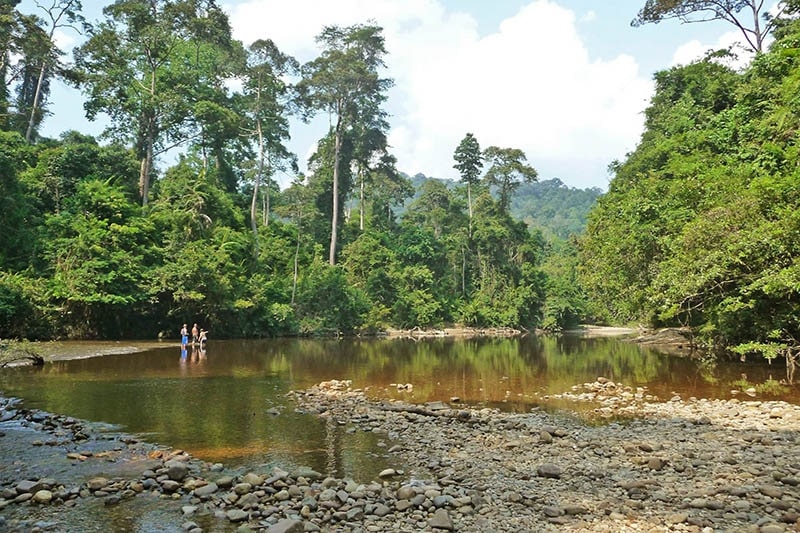 Lubuk Simpon is another must-visit attraction in Taman Negara. It is located about 20 minutes from the park headquarters and serves as a rest stop where travelers can cool down in its small pavilion.
Because it is surrounded by lush greenery, it became a famous natural swimming pool and picnic area within the park.
Do not be alarmed by the color of the water, as it is in fact clean. However, it is usually colored deep red or brown due to minerals and because of tannin percolating in the soil.
Activities and Things to Do in Taman Negara
After knowing what you will be able to find in Taman Negara, by now you probably have an idea of what you can do during your escapade. But do not fret as you will not run out of things to do in this paradise.
In fact, there are still a lot of fun activities that you can try inside and around the biggest park in Malaysia that have not been mentioned yet.
So, we made a list of things that you simply must do and activities which you will surely enjoy when you come down to Taman Negara. All you have to do is tick them off your list!
Take a stroll on the canopy walk.
The one activity that anyone should not miss in Taman Negara is to experience walking its canopy walkway because of the panoramic view of the national park. They say you have not fully experienced Taman Negara if you have not tried the canopy walk.
There are actually observation huts situated on the treetops where visitors can go on a wildlife and nature viewing.
The length of the canopy walk in Taman Negara is only fitting for the park's size because the walkway itself is one of the longest in the world.
This gives the visitors the opportunity to cover and be able to explore a good portion of the park, which is why it is an absolute must in your to-do list in Taman Negara.
Explore the Caves
When in Malaysia, it is a must to see the limestone caves. So, if you are up for an adventure, then you should definitely explore the caves in Taman Negara. There are various tours and trails you can take if you want to go on a cave exploration inside.
However, beware that the caves in the biggest park in Malaysia also serve as a home to bats and racer snakes, which may harm you if you are not gentle.
To add thrill in your trip, you can stay overnight in the caves and discover how the caves turn at night.
Tucked inside this park are some of the best and most popular caves in the country, which are Gua Kepayang Besar, Gua Telinga, and Gua Kepayang Kecil.
There is a unique rock formation shaped like an ear in Gua Telinga, which is why it is dubbed as the "Ear Cave". As of today, you can only hike the trail to this cave but you cannot enter it as it was closed down because of a rock collapse.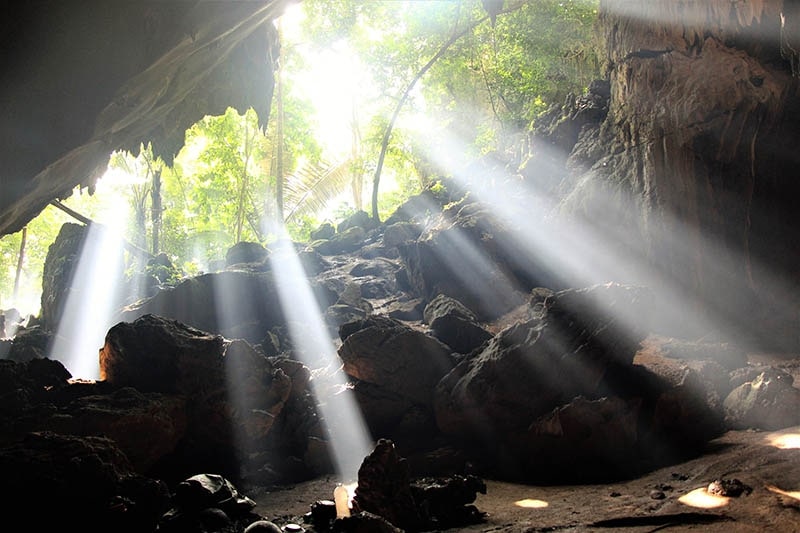 Climb Gunung Tahan
While it is a well recommended activity to take a hike at the Gunung Tahan, it is not for the weak-hearted. It is both mentally and physically exhausting to climb this mountain, so you need to be well-prepared before going.
In fact, when translated, Guhun Tahan means "Endurance Mountain", which is only suitable as it is the most challenging peak in the country and the most difficult trail in the park. It usually takes a full week to reach its summit.
Despite the humid weather conditions and the long, exhausting trek, it will be rewarding once you reach the end because of what awaits you at the top, and even along the way, such as rivers, mountain slopes, and jungles.
These will surely make your journey an unforgettable one even if the trip is arduous.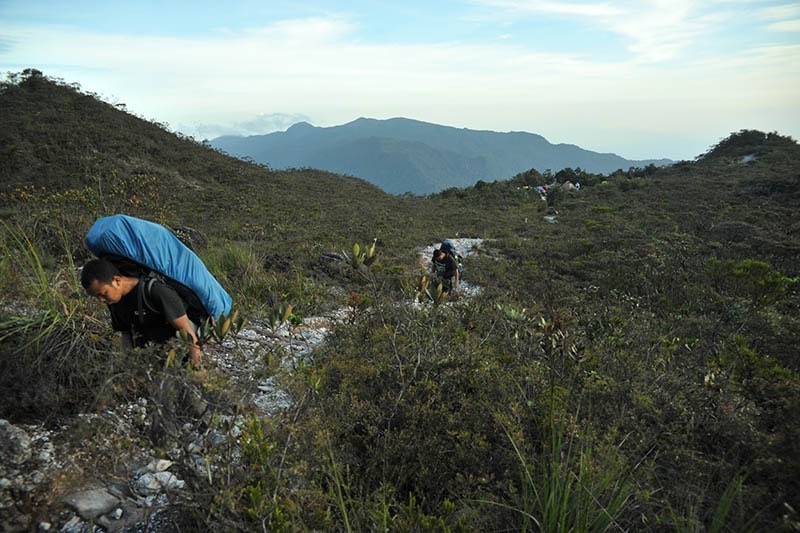 Take a Hike
Because of how massive Taman Negara is, there are numerous trails in different parts of the rainforest which travelers can hike. The length of these hikes vary.
You can take shorter hikes by yourself, while it is recommended to have a guide and join groups for the longer ones.
One that you should definitely try is the 5.5-mile route towards Lata Berkoh, a famous stretch of rapids in Taman Negara and quite a doable hike that takes 3 to 5 hours.
From there, you can take another trail to Bukit Teresek, a 334-meter-high hill that overlooks the park. The hike is approximately 2 kilometers and should take about 45 minutes.
The climb to reach the peak is relatively quick and easy because of the boardwalk set up. While the first part of the hike is easy because it is flat, the second part is the steepest and it is harder because of the uneven terrain.
The hike to Bukit Teresek is one of the most popular hikes in Taman Negara, known for the fascinating and spectacular view atop, including a sight of the Gunung Tahan and Gunung Perlis. Along the way, there is also a great bird watching spot.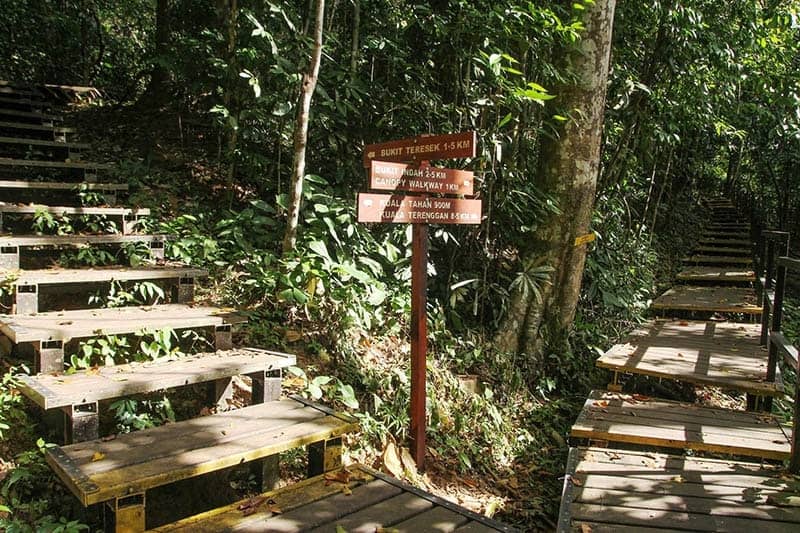 Trek the Jungles
As there is so much to explore in the vast lands of Taman Negara, it is inevitable to wander around by foot. In fact, jungle trekking is an activity you will not be able to avoid nor miss out on because Taman Negara has plenty of scenic hiking trails, especially in its jungles.
It is an exceptional experience you can try on your own or with a guide. The lengths and toughness of the trails inside Taman Negara vary for all types of hikers, whether you are a newbie or an experienced one.
There are well-marked trails you can take by yourself, but for longer and bigger trails, it is best to hire a guide for your safety and to know more about the wildlife you will see within its jungles. Additionally, longer treks will also require that you are reasonably fit and healthy
Aside from the famous hiking options like Gunung Tahan and Bukit Teresek or even the trail to the canopy walk, there are also lesser-known trails which will even take you deep into the jungles of the largest park in Malaysia.
Some of these will require great endurance and physical fitness because they are inner jungle treks.
For example, there is the Kuala Trenggan Trail which leads to the Kumbang Hide, and the Yong Trail which is flat and a bit shorter than the rest. You can also go on the Keniam Trail and Tenor Trail, which are multi-day hikes.
All of these trails are worth trying as they promise great views of Taman Negara and an incredible experience.
Go for a Swim
It is actually possible to swim in the waters in Taman Negara, especially after your hike and you are on your way out of the park.
Lubuk Simpon is a popular swimming spot inside the park itself, especially if you want to cool down after spending hours sweating in the jungle before you head out of Taman Negara. You can also just relax or have a picnic here, if you are not up for a swim.
However, be mindful of the underwater current in Lubuk Simpon as it could be strong. This is why it is recommended to stay near the shore if you are not much of a strong swimmer.
Aside from Lubuk Simpon, one can also take a dip in the crystal-clear waters at the water in Gunung Tahan.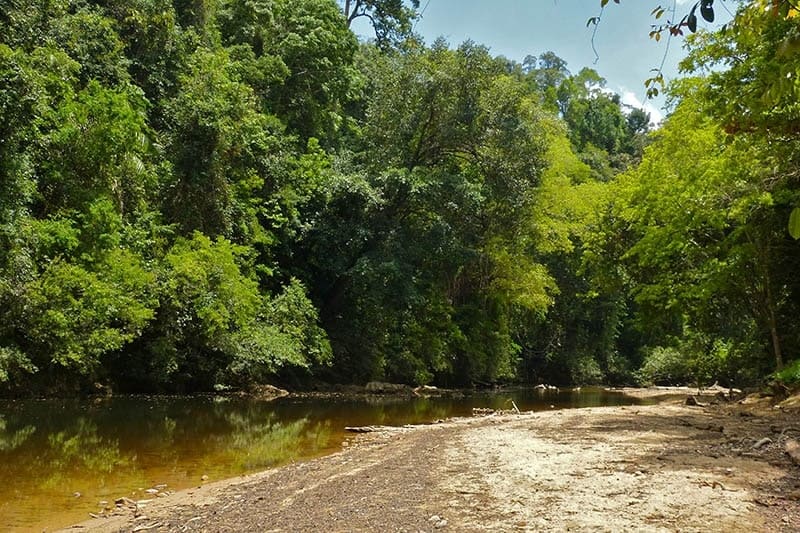 Go Rapid Shooting
Water rides in amusement parks are nothing compared to what you will experience when you go on a natural boat ride in the rapids in the Taman Negara, especially a ride through 7 sets of rocky rapids. This starts from Kuala Tahan up to Kuala Terengganu or vice versa.
It is more exciting and more adventurous, and it is the most exhilarating activity you can do in the park, which is why it is highly recommended for adrenaline seekers.
This is also a great way to check out wildlife and other stunning parts of the park. Plus, you will have the chance to shoot the rapids so you could take home with you photos of this thrilling experience.
A lot of tours offer this experience because it is a memorable experience for anyone who tries it.
As the ride will be shaky, you should follow the instructions of the guide and leave your electronic devices and other valuable items at the camp.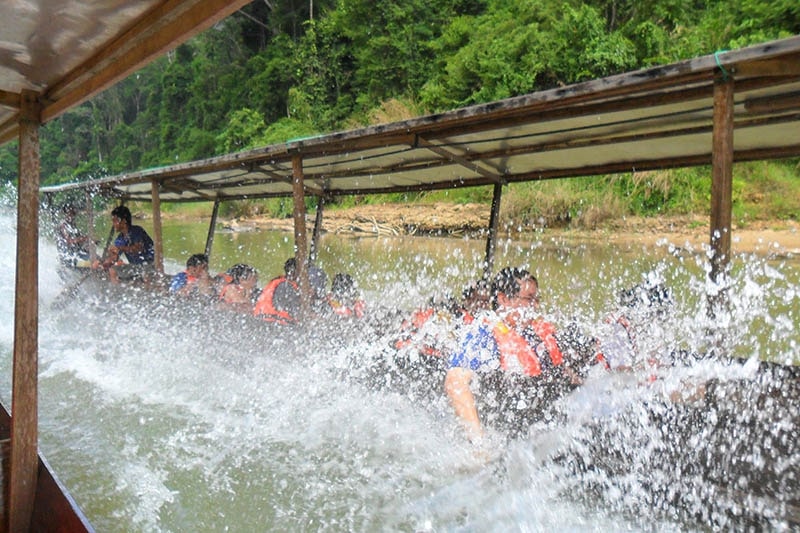 Ride a Boat Cruise
There are parts of Taman Negara which can be accessed through boat rides, which is why it is another great activity that will also make your trip memorable.
Firstly, one of the highlights of a trip to Taman Negara is the ride from Tembeling River to Kuala Tahan. It might take about 3 hours but it is still a fun ride because of the scenery.
If you are already in the park and you are not up to getting wet or to lose your camera during rapid shooting, another way to take photos while in the waters is by taking different boat cruise routes. These river cruises are all so scenic, you will want to try them all.
One particular that you should try is the canoe shuttle from Kuala Tahan to the attractions in the deep parts of Taman Negara. This route is especially splendid because of the trees that lean over the waters.
Another route you should take is the ride to Lata Berkoh. A lot of visitors try this out for photography because you are assured to take iconic photos of the park.
What is more is that you can also interact with the freshwater fishes you will find along the way.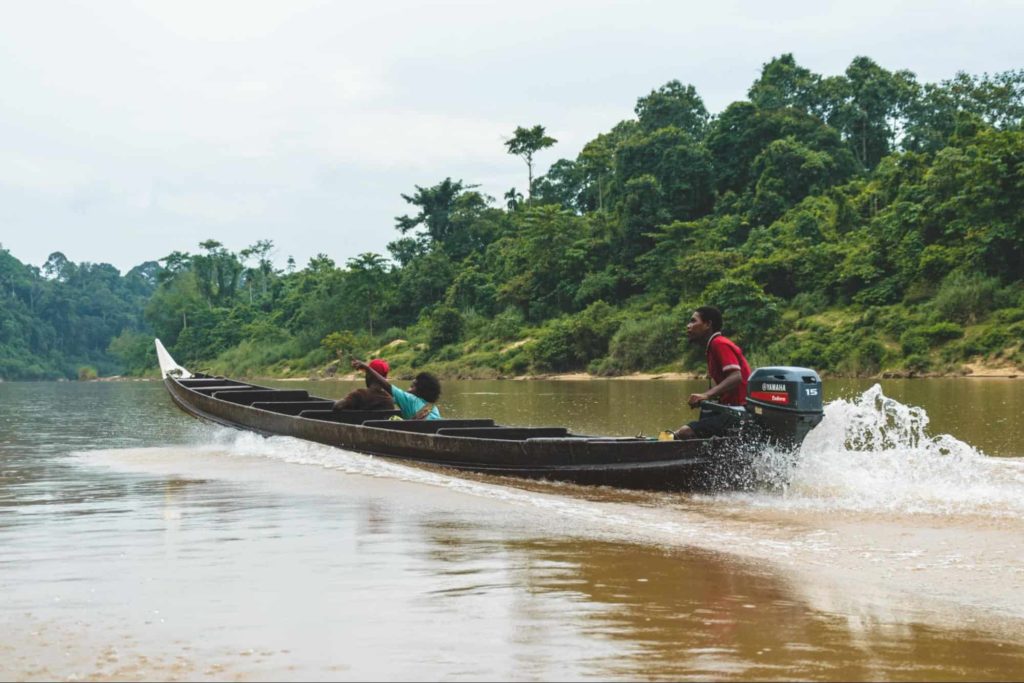 Feed the Fishes at Kelah Sanctuary
Kelah Sanctuary in Lubuk Tenor is located just 20 minutes from Kuala Tahan. Although it is a lesser explored attraction in Taman Negara, it has just as much to offer as the others.
It is a protected area that preserves Kelah fish, which are not only a delicacy to the locals, but also considered as valuable as it is dubbed the "King of Freshwater Fish".
Fishing is not allowed here as it is a sanctuary for the Kelah fish, but it is possible to purchase pellets which you can feed the fishes and you will be impressed with their speed as they scurry.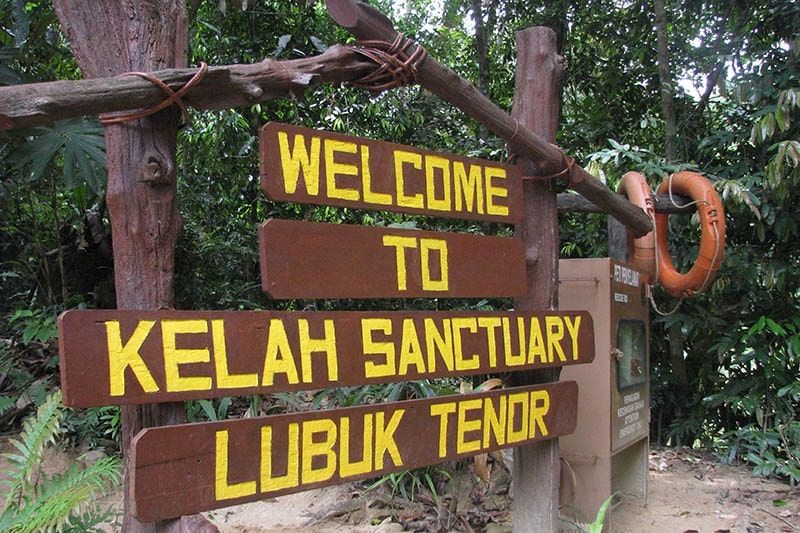 Go Fising on the Rivers
Aside from feeding and taking photos of fishes in Taman Negara, it is actually a brilliant fishing spot because of the several waterways that are coursing within it.
It will also be quite an experience because you get to be surrounded by the incredible lush views, making the fee worth it. However, be wary of the rules and regulations you need to follow when fishing in Taman Negara.
While you cannot go fishing just anywhere in Taman Negara, there are permitted areas for fishing where you will be able to catch different species of fishes.
There are 2 rivers where you can fish: Sungai Tembeling and Sungai Keniam. Other famous fishing spots are Rawa, Rincing, and Kuala Perkai, which are a few hours away by boat from Kuala Tahan.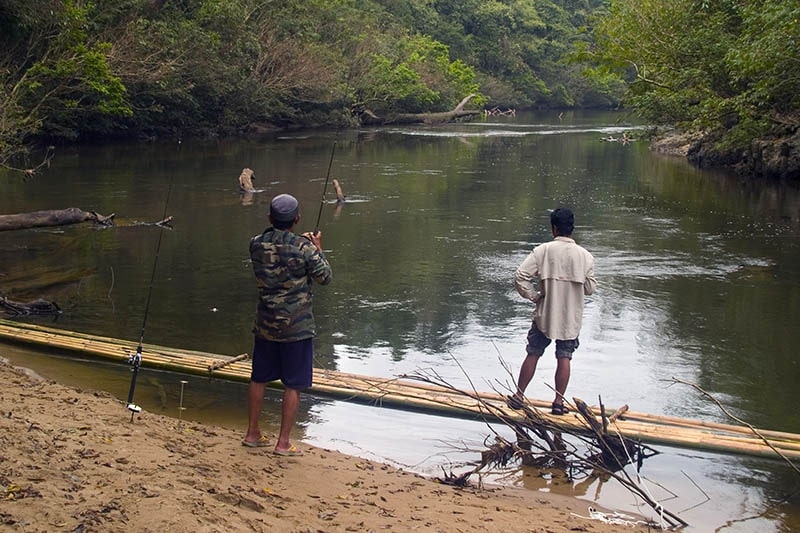 Look Out for Wildlife.
Thousands of animals and even insects live in Taman Negara. Sometimes, instead of searching for wildlife in the park, it will come find you. Even upon entrance to the park, you will already be welcomed by a variety of species.
Some of what you will be able to find are rhinoceros, elephants, leopards, sun bears. Additionally, macaques are regularly spotted inside, and with luck, you might find the endangered Asian tapir.
As Taman Negara is a rainforest, it is a natural habitat for free and wild animals so you have to be careful when you are around them and you cannot hamper their privacy.
This is why there are hides set up in different parts of the park by the authorities where travelers will be able to spot wildlife.
From Kuala Tahan, there are already plenty of hides accessible. The most famous and most visited hide is Bumbun Tahan which is just 15 minutes from the entrance of the park.
However, you will be able to see more wild and rare animals by going deeper into the jungles and even by staying in the hide overnight.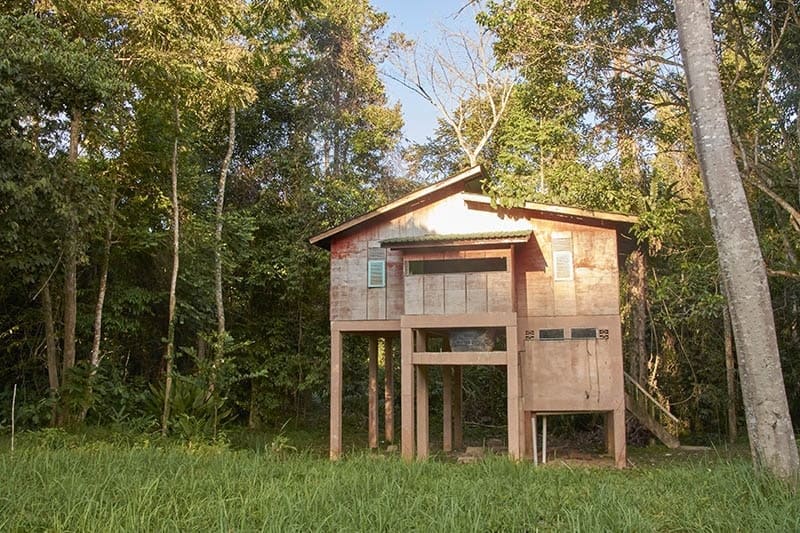 Go Birdwatching
Because of the hundreds of bird species inside Taman Negara, birdwatching itself is another distinct and famous activity in this rainforest.
To name a few of the bird species living in the park are Rhinoceros Hornbill, the Asian Fairy Bluebird, the Thick-billed Pigeon, the Yellow-vented Flowerpecker, and the Blue-winged Leafbird.
Moreover, you can also find birds here that are so rare that you cannot see them in other parts of Peninsular Malaysia. In fact, there are approximately 20 endangered birds nesting in Taman Negara.
While the most popular bird watching areas are Kuala Tahan and Kuala Terengganu, visitors of the park do not have to go deeply in the jungles to spot colorful birds.
Furthermore, while in the Tahan River or in Lata Berkoh, you will be able to witness birdlife such as the Masked Finfoot and the Rufous-collared Kingfisher. Along the hike to Bukit Teresek, you might see the Great Argus Pheasant and 6 other species of pheasants.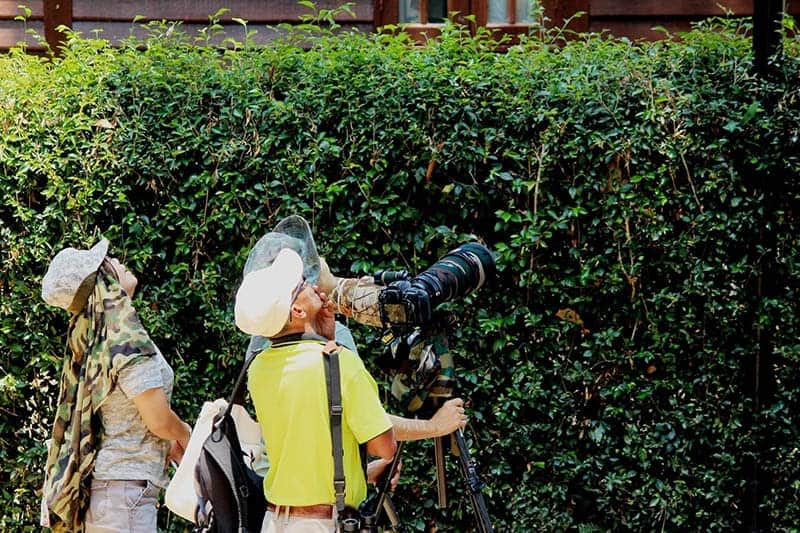 Tour the Four Steps Waterfall
A spectacular waterfall with an exquisite view, the Four Steps Waterfall is surely something you would not want to miss in Taman Negara especially if you are on the Gunung Tahan trail.
It lies east of Gunugn Gedong and Gunung Tahan and drops off Sungai Tahan, with the tributary of Ulu Tahan cascading to the mountainside.
Company tours often add this as a stopover and a lot of hikers take a detour to this waterfall, even if it is deep into the park and the trip might be difficult, but the tour is worth the effort.
However, because it is perhaps the toughest trail in Taman Negara, it is not recommended for amateur hikers.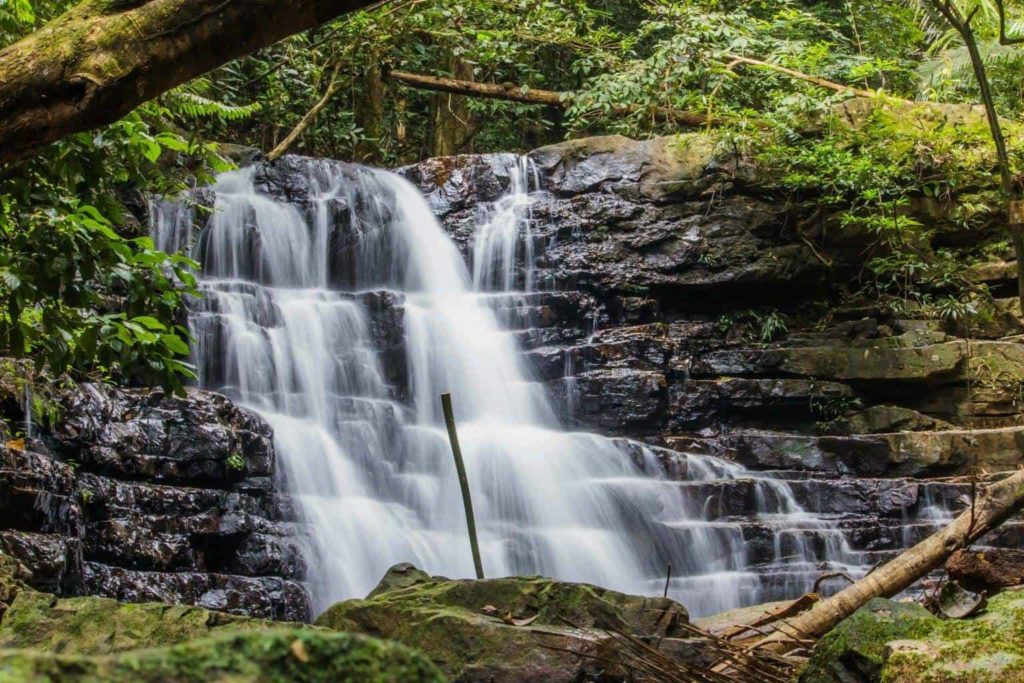 Learn from the Orang Asli
There are a number of skills you could learn from the Orang Asli, which is why you should also visit their village when you are in Taman Negara to learn their way of life.
You will find here two tribes which are very hospitable and gentle folk whose nomadic lifestyle has been unchanged by modernity.
They often teach visitors how to start a fire by using natural materials, how to shoot darts from a blowpipe, and how to hunt with bamboo.
If you plan on dropping by, you should be as respectful as they are, respect their privacy, and ask before taking photos. You may ask about their culture and heritage as well through the help of the guide and translator.
Go Walking in the Morning
The best way to explore Taman Negara is by walking on its soil early in the morning and late at night.
With an early morning walk in the jungle, you will be able to catch a glimpse of wildlife and exotic plants in the biggest park in Malaysia, including trees that are hundreds of years old.
Join a Night Tour
Meanwhile, during the night safari tours, the jungles become alive because exotic insects and animals come out.
Be sure to have a tour guide with you on these trips because in the morning walks, the guide will explain what you see and in the night safari tours, the guide will help you navigate the terrain and direct you where you can view wildlife.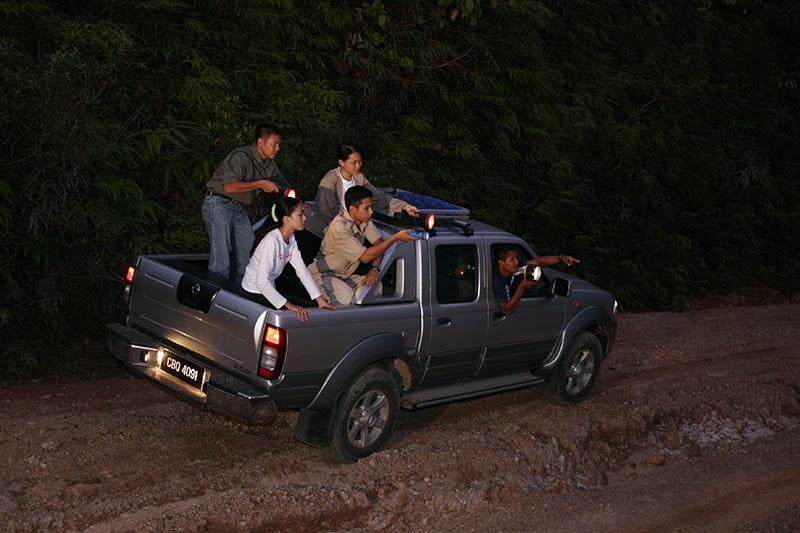 Camp Out in the Rainforest
For a full Taman Negara expedition, you might have to stay 3 or 4 nights, which means you need to set camp here.
It will give you an opportunity to have a complete immersion in the depths of this marvelous and huge rainforest. Additionally, it will allow you to try as many activities as you can within the boundaries of the biggest park in Malaysia.
Camping in Taman Negara will also enable you to get to the park much better, making your trip more memorable and exciting.
Having a guide with you in your journey will surely be a great help in traversing and finding your way in this rainforest.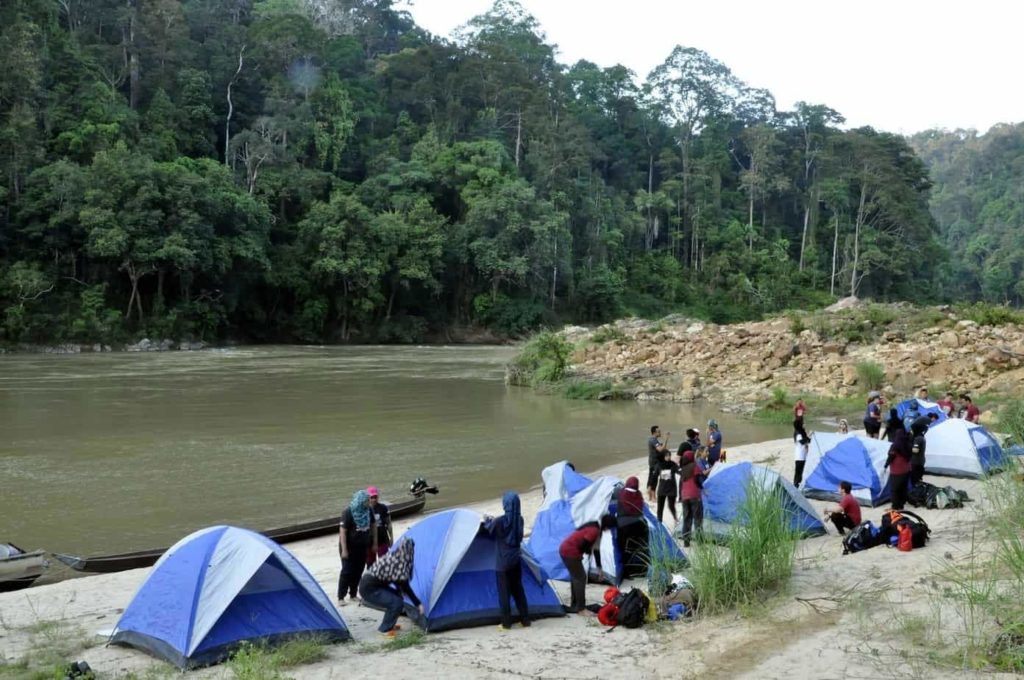 Have a Meal by the Riverside
The final activity you can tick off in your Taman Negara bucket list is to dine by the riverside, particularly by the Tembeling River where there are plenty of floating restaurants you could check out and try.
The meal itself is an adventure you should experience. Finish your Taman Negara trip by also exploring the local dishes of the country along the stunning view of the river and the park itself.
Moreover, you will get an extended Taman Negara experience because you might see flying hornbills and hear gibbons from the side of the river.
Things to Bring and Pack When Going to Taman Negara
It is important to be prepared for your expedition to Taman Negara because it is quite a long journey you will embark on.
There are a couple of things you should not miss when packing your bags for your trip, especially if you are also coming quite far from Pahang.
Here are some essential items that you should not forget to put in your travel bags that will help make your experience in Taman Negara safer.
Things you should not to forget
Cash (Malaysian Ringgit)

Binoculars

Mosquito repellent

Insect repellent

Important documents

Clothing
Hat or cap

Shoes

Boots

Comfortable clothing (preferably long pants and top with long sleeves)

Tall socks

Waterproof jacket

Swimming attire (if you are planning to swim)

For hiking/camping
Hiking equipment, if you have your own

Camping equipment, if you have your own

Flashlight/torchlight, candles, matches/lighter

Extra food and water

Food
Water

Snacks

Other items you should pack
Raincoat

Map and compass

First-aid kit

Dry bag (for electronic devices and important documents)

Bag to bring inside

Hygiene items

Sunscreen
Things You Should Not Forget
Here are some reminders you for items you should never forget to bring:
Prepare enough cash you can spend so you do not have to worry about ATM withdrawals or money exchange.
Do not forget to bring binoculars so you will get a good view of the park and the wildlife.
Bring enough mosquito repellent and insect repellent to prevent yourself from getting bitten by the different insects you will encounter.
Make sure you have important documents with you, like your passport or identification cards, especially if you are coming from abroad.
Clothing
Here are some suggestions about clothing you should bring and wear when in Taman Negara:
Because of the sunny weather, you should pack a cap or a hat with a wide brim for protection from sunlight. You can also use it in case there will be light rain.
You should wear sturdy, roomy, and breathable shoes in the national park because you will do a lot of walking and hiking, and you will also encounter slippery trails.
While you can rent boots in the park headquarters, you might also want to bring your own pair for hygiene purposes.
When in Taman Negara, it is important to wear comfortable clothing. It is recommended to wear long sleeves and pants especially because of leeches and to protect yourself from abrasions.
It is also advisable to wear long cotton socks for protection from leeches and insects.
Bring a waterproof jacket in case it gets cold or it rains during your hike in Taman Negara.
In case you are up for a swim, bring your swimwear. However, you should also be aware of local customs so it may not be best to bring revealing swimwear.
Bring extra sets of clothes so you can change if you will swim or stay overnight.
For Hiking and Camping
Aside from your change of clothes, you should also consider the following if you want to go for a hike or to camp out:
You will be able to rent hiking and camping equipment, including fishing equipment, but if you own them, you should bring them so you will not have to worry about their availability.
You will also need to bring a flashlight or torchlight, candles, and matches or lighter, so you will have a source of light especially at night.
Bringing enough food and water is a must if you plan on staying for days.
Food and Water
Even if you are only in Taman Negara for a day, you should bring inside drinking water and snacks because it is not recommended to drink from any water source or to eat jungle fruits.
You need to stay hydrated and strong while roaming around the biggest park in Malaysia, so bring enough supplies with you.
Other Items You Must Bring
Finally, to make your trip to and in Taman Negara hassle-free, you should also consider the following:
A raincoat or a poncho will surely come in handy if you want to shoot the rapids.
Make sure you bring a bag where you can put all your things, even if you are only carrying your drinking water and phone so your trip will be much easier.
Bring a waterproof bag and dry bag where you can put your electronic devices and important documents to keep them safe during boat rides or in case it will rain.
Because of the hot weather in Taman Negara, you might need to put on sunscreen for protection, so bring enough according to your needs.
If you are planning to stay for days in Taman Negara, you should consider bringing a map and compass for easier navigation, as well as a first-aid kit in case of emergency. Do not forget to pack your hygiene kit, too.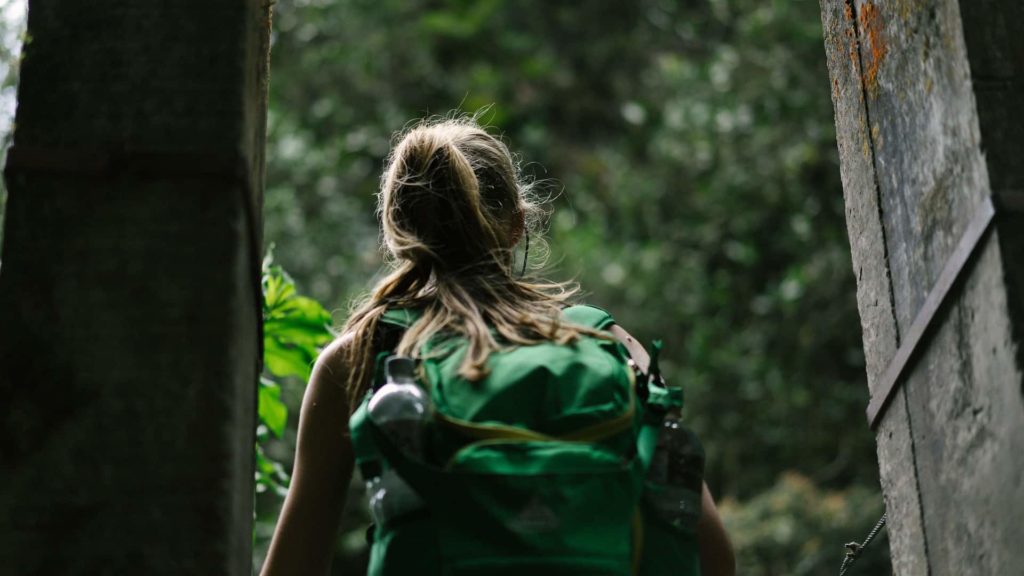 Where to Find Accommodations in Taman Negara
If you are going to Taman Negara, it is likely that you will stay in Kuala Tahan since the park's main entrance is located there so you will have easier access.
While accommodation options are limited compared to other destinations, there are still a couple of choices available for you to choose from, whether you are looking for a budget-friendly or fancy guesthouse.
Here are some great options if you are looking for accommodations in Taman Negara:
Budget Option: Tahan Guest House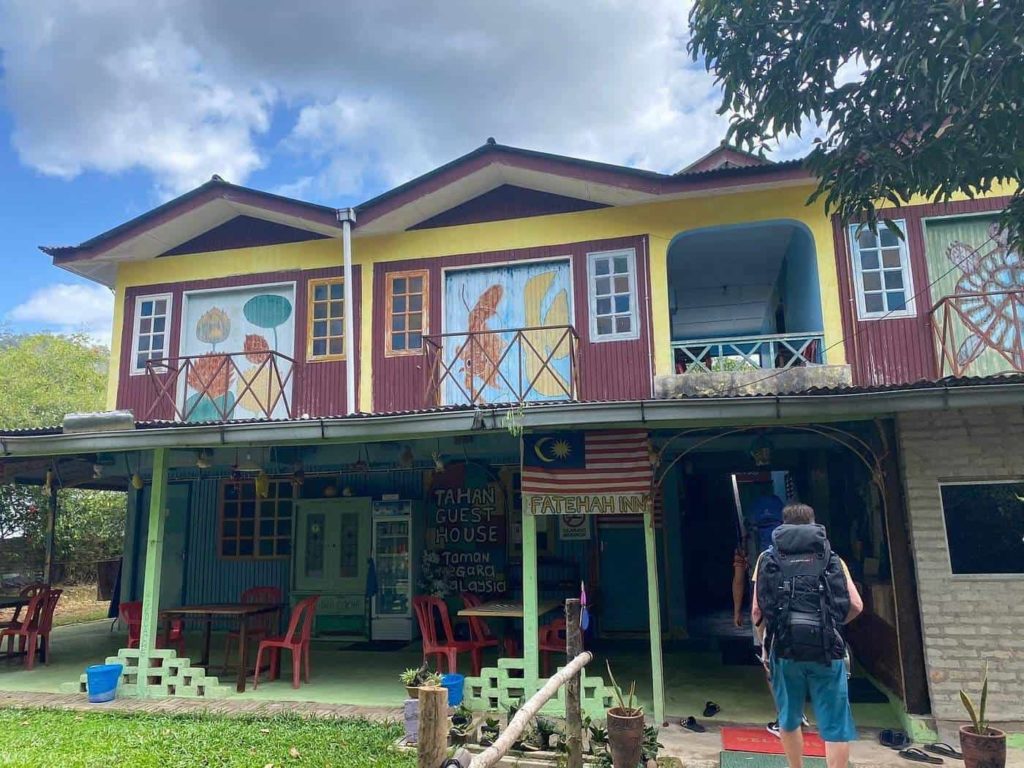 If you are looking for accommodations and you are on a budget, the best choice for you is Tahan Guest House where you can find the cheapest rooms in Kuala Tahan. Since there is no air conditioning here, it might get pretty humid in the rooms.
However, it is still a good bargain if you do not want to spend much.
Where you can book: Booking
Budget Option: Taman Negara River View Lodge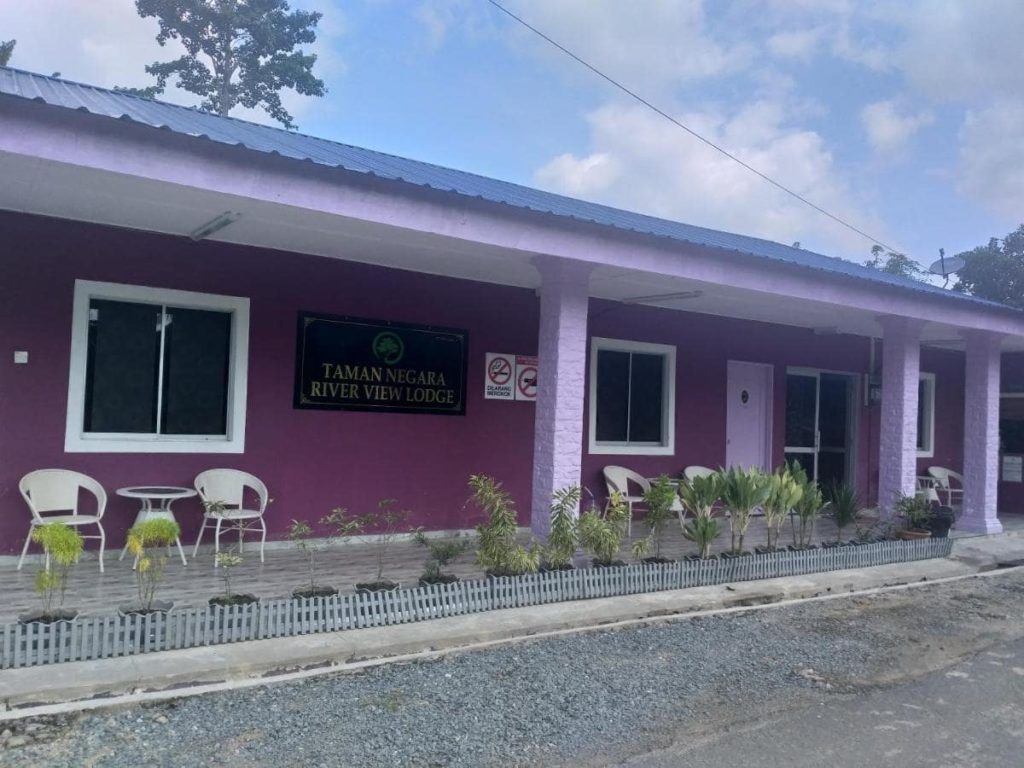 The rates at Taman Negara River View Lodge are a bit higher than other budget accommodations but they are relatively cheaper than other mid-range options.
As it is situated along the Tembeling River, you will enjoy a view of the river from the terrace of your room which is surrounded by lush greenery.
The rooms here also provide air conditioning, television with cable channels, and private bathrooms with hot shower facilities.
Where you can book: Booking
Mid-Range Option: Tebing Guest House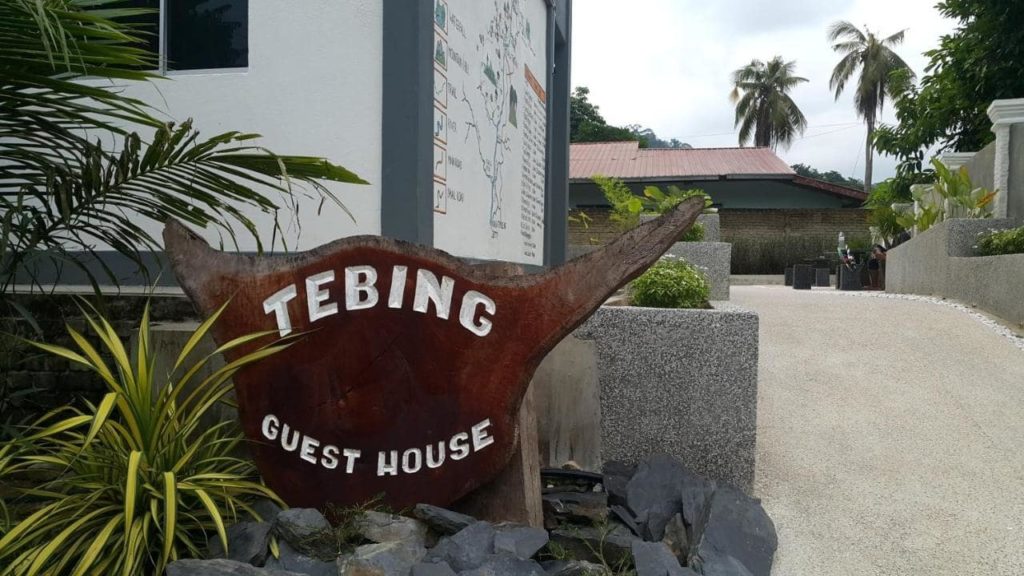 Accommodation in Tebing Guest House is priced slightly higher than budget accommodation, but it is worth the rates because of the comfort it provides.
They offer air-conditioned rooms, which are also relatively cleaner and newer than other cheaper guesthouses in the village. The rooms are also equipped with balconies and shower facilities, as well as free WiFi.
It is also located along the Tembeling River and therefore close to boat cruises, which means it is easy to access the entrance of Taman Negara from here.
Where you can book: Booking
Mid-Range Option: Balai Serama Guesthouse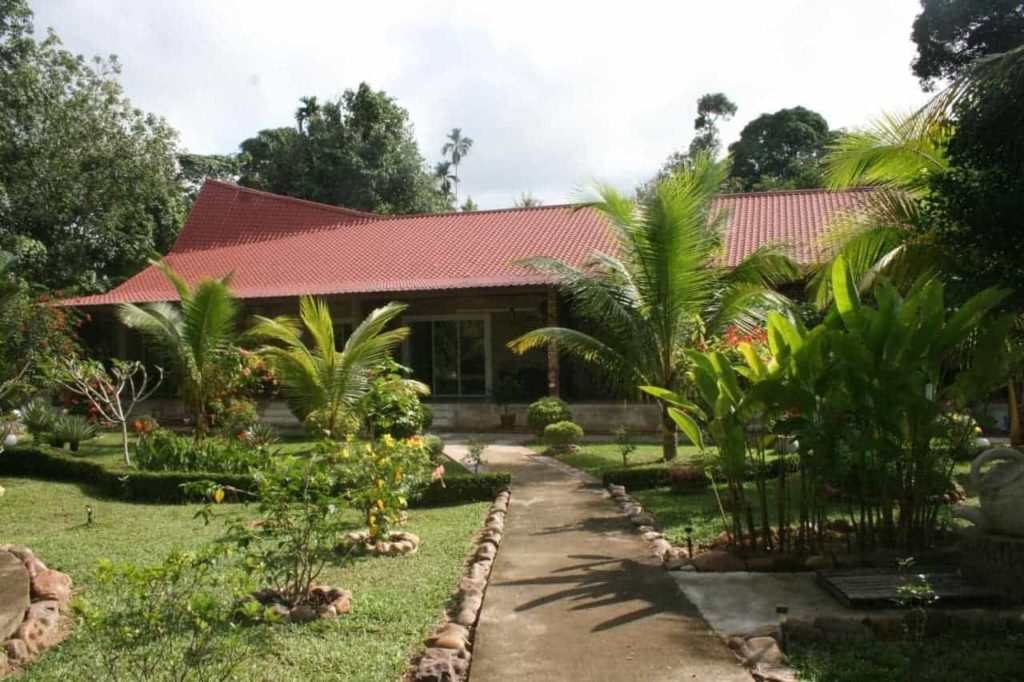 The Balai Serama Guesthouse offers a charming accommodation with great views of the Tembeling River as it sits on the riverbank.
Aside from their air-conditioned rooms, they also have an onsite restaurant that provides local cuisine, as well as lush green gardens where you can spend a relaxing afternoon.
Where you can book: Booking
Luxury Option: Mutiara Taman Negara Resort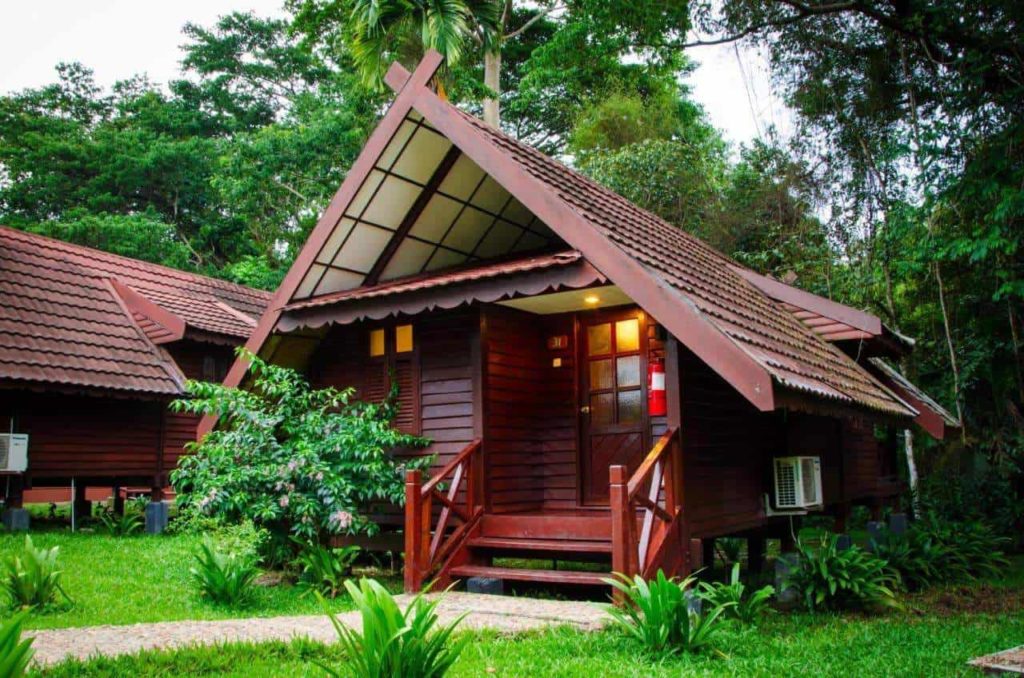 If you are not worried about spending more for accommodations and you are looking for a fancier option, then you should check-in at the Mutiara Taman Negara Resort.
It is located at the edge of the forest, near the borders of the biggest park in Malaysia, and just across the Tembeling River. There are three types of accommodations which you can choose from: bungalow, dormitory, or chalet.
Although it is a bit expensive, it is the best place to stay in Taman Negara. There are great, clean cabins on beautiful grounds here. A lot of rooms have amazing views of either the river or rainforest.
The rooms here have air conditioning, free WiFi access, and coffee makers. Additionally, there is a breakfast and dinner buffet in the Seri Mutiara Restaurant within its compound.
Where you can book: Booking
Helpful Tips for a Great Taman Negara Experience
There are other helpful tips you need to know prior to plotting and organizing your trip to Taman Negara which will also make your journey to the biggest park in Malaysia an amazing and hassle-free one.
The Best Time to Visit Taman Negara
Because Taman Negara is a rainforest, the weather there is humid and you will experience rainfall despite the month you visit.
The best time to visit the biggest park in Malaysia is from April to September, however this also means that you will be visiting Taman Negara during the dry season which is why it could get really hot.
But you might want to avoid July and August as these are the busiest months in the park because a lot of visitors flock to Taman Negara during these months.
Meanwhile, November to January means monsoon season so there will be high levels of precipitation that will bring flooding. This may also cause the closure of many trails and even the canopy walk, as well as cancellation of some activities. Trekking will also be harder.
You should carefully schedule your trip to Taman Negara so you would be able to try all the various activities inside and outside the park.
In addition, you should plan for a trip that will allow you to spend at least 4 or 5 days in Taman Negara to have enough time to tick off everything in your bucket list.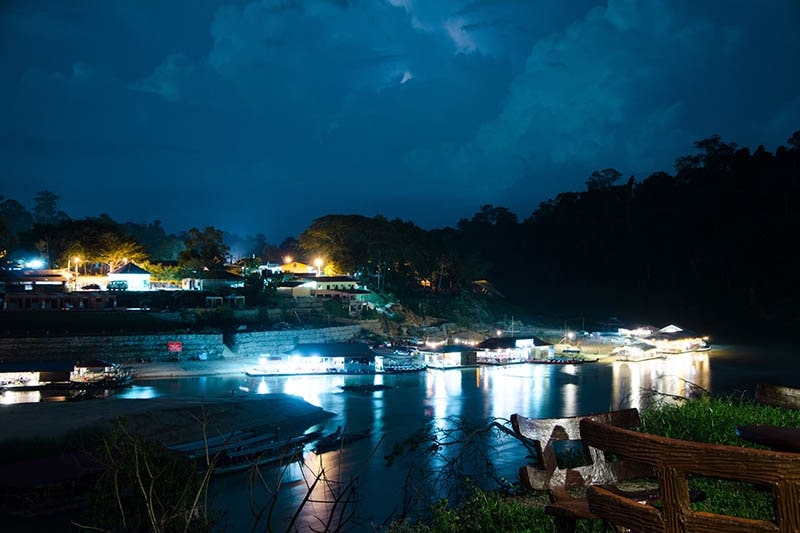 What to Do Before Going to Taman Negara
Before leaving for and arriving in Kuala Tahan, make sure that you have enough cash with you for your entire trip because there are no ATMs in the said area.
Prior to leaving your home, you should also learn how to deal with and remove leeches. If you are not an experienced hiker, you should also research how to prepare for the hikes in Taman Negara.
Additionally, days or weeks before your trip, you should also prepare yourself physically and strengthen your stamina for what you will experience in Taman Negara.
Prepare your travel bags and double check everything. Make sure you have enough mosquito or insect repellent with you, as well as sunscreen because it is quite expensive there.
Before entering Taman Negara, register in the park headquarters so people will know where you are. You should also notify your family and friends about your trip, and when you are planning to come home.
Reminders for When You are Inside Taman Negara
While in Taman Negara, there is no mobile and WiFi signal, so you cannot rely on the signal when you are inside. This is why it is better to get a map at the park entrance or to print out directions beforehand.
Moreover, you should also be prepared to layer up with a raincoat when you are inside Taman Negara because of the unpredictable weather.
If you are hiking on a trail, you should stick to the marked trails only; do not stray off. Also, choose a trail that you will be able to finish before it gets dark.
Although you should be on the lookout for the incredible flora and fauna, you should never keep your eye out of leeches as the park is filled with tons of them. It is hard to avoid them, but you can keep yourself protected by wearing appropriate clothing.
Furthermore, be mindful of the heritage of Taman Negara. Help in the preservation of the park by throwing out your trash properly.
Lastly, be respectful of the culture and customs of the people who live in Taman Negara.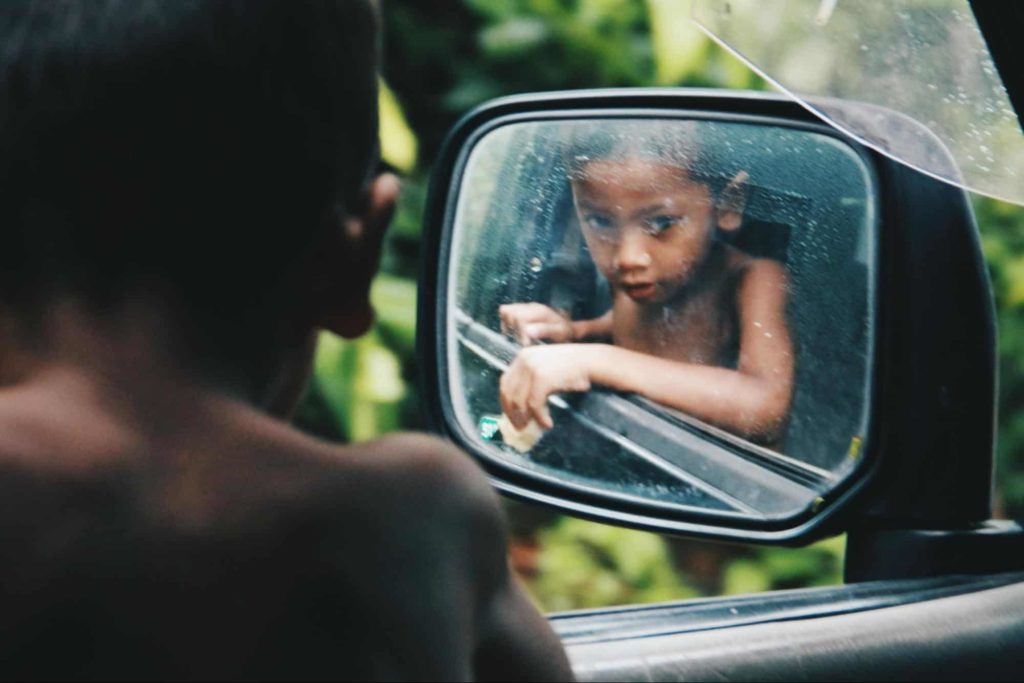 Final Thoughts About the Biggest Park in Malaysia
There is no doubt that there are tons of great and historic places and attractions that you can visit in Malaysia. Each one is an adventure that you will not be able to forget.
Your list of places to explore in the country should absolutely include Taman Negara, the biggest park in Malaysia and an ancient rainforest. It is a highly recommended attraction in Malaysia that you should not miss because of its beauty, culture, and history.
If you are wondering if Taman Negara is worth visiting, take a trip as soon as you can and let the park itself answer you. It is a place absolutely unlike any other.
From the greenery, to the wildlife, to the landscape and bodies of water, as well as numerous activities you can do in the park, you would not run out of activities to do. Spending only a day in Taman Negara would not suffice.
You will be able to bring home with you memories that will last you a lifetime. It is indeed one of the most special, most magical, and most spectacular places you could ever find.
So, plan your trip, prepare yourself, pack a bag, and head to Pahang and take a tour of Taman Negara to see for yourself what is in store for you. You will surely have a trip you will never forget.