Our Guide to Kuching's Fairy Cave
Fairy Cave is one of the best examples of why Malaysia is considered a premier spelunking spot. It's a shame that it's under-appreciated as a tourist attraction though, as it offers a lot of stunning views and magical moments to its visitors–that's where we come in.
In this ultimate guide, we're going to shine some well-deserved spotlight on Fairy Cave. From things to know, activities to do can do, essential tips to remember and more, we'll cover everything you need for a smooth and memorable trip–let's get started!
Time Zone
Standard Malaysia Time (GMT+8)
Best Time to Go
Fairy Cave is open six days a week (Tuesday to Sunday) from 9:00 AM to 4:00 PM so you'll have plenty of time to visit it. If you don't want your spelunking trip to be crowded, you may want to schedule your visit during weekdays.
One thing you should know though is that it's located in Kuching, which is known as one of the wettest areas in the country, averaging 279 days of rainfall. This being said, we'd recommend checking the weather forecast before booking a trip to the cave, as rain can be unpredictable.
If heavy rainfall occurs at any time during the day, authorities will shut down all visits to the cave, so be sure to keep that in mind. Our best advice would be to visit the cave during Kuching's "dry" season, which is from June to August, but take this with a grain of salt.
Things to Know
Currency: Malaysian Ringgit (Check the current exchange rate)
Language: Malay, English
Calling Code: +60
Address: 94000 Bau, Sarawak, Malaysia
Phone details: +60 13-803 5516
Opening hours: 
Monday: Closed
Tuesday to Friday (including public holidays): 9:00 AM to 4:00 PM
Last entry/cut-off time: 3:00 PM
Entrance fee:
Adults (18 to 59 years old): RM1
Children: Free
Foreigners
Adults (18 to 59 years old): RM5
Children: (6 to 17 years old): RM2
Children under six years old: Free
Shoe rental (if needed only): RM3
Parking: There is a huge parking lot located just outside the cave's entrance that's dedicated to visitors.
Difficulty: Moderate
Length: 500 metres
Time required to explore the cave: Around 2 hours
Tours: Tours are available and recommended. They'll cost you around RM100 and will give you the full Fairy Cave experience.
How to Get to Fairy Cave
Buses: The cheapest way to get to Fairy Cave from Kuching is by riding the bus. There's one specific bus that comes from Kuching that can drop you off directly at Bau.
Upon dropping off, however, you still have to walk a kilometre to get to Fairy Cave.
Taxis/e-hailing: If you're coming from Kuching, you can ride a taxi towards Fairy Cave. However, be prepared to pay a lot more as opposed to the aforementioned public transportation.
Alternatively, you can book a car through the ride-hailing app, Grab. This is a great option if you don't want to haggle for the fare as you normally would in a taxi ride.
Car or motorbike rental: If you want a more comfortable and controlled way of getting to Fairy Cave we recommend renting a car instead. This way, you won't have to worry about fares as you would with a taxi/grab ride, but you'll still have the pleasure of being in a car.
Alternatively, you can also rent a bike if you're flying solo for a faster and more scenic way to get to the caves. You don't have to worry about parking as well, as the cave has more than ample parking spots just outside its entrance.
Private tour: If you don't want to worry about travelling and you want everything to be taken care of, then you should book a private tour. These tours will provide you with lodgings as well as private shuttles that can pick you up and drop you off directly at the cave's entrance.
Fairy Cave Dos and Don'ts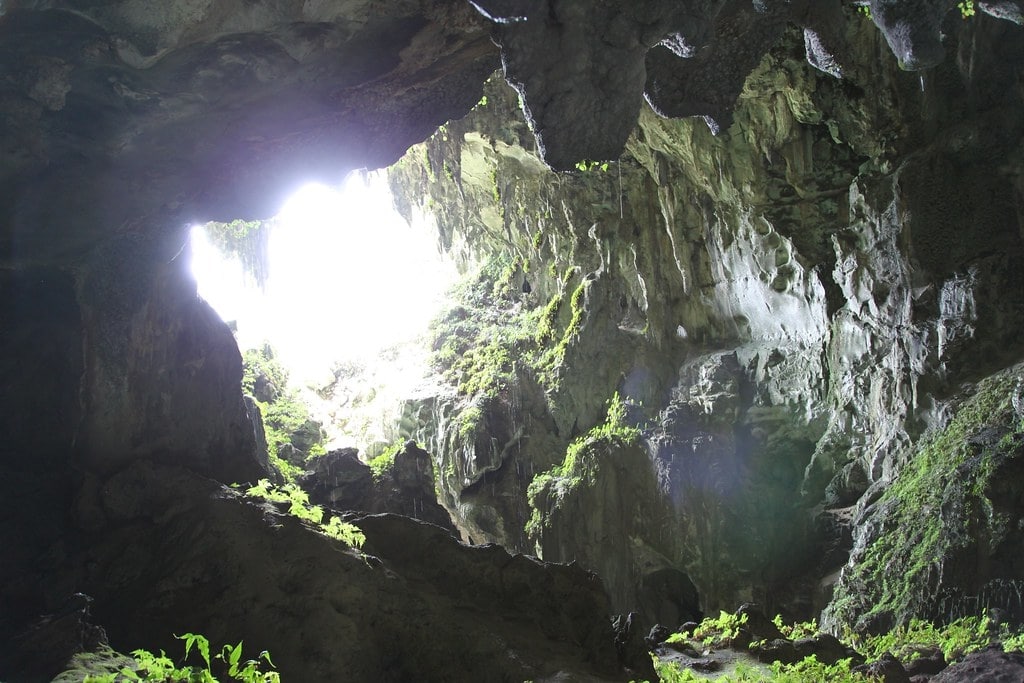 Do
Check the weather before visiting, as strong winds, heavy rains, thunderstorms and other severe weather conditions will cause authorities to close the cave.
Watch your head to protect yourself from falling debris.
Stay with your group and keep walking on the designated walkways.
Wear gloves, as handrails can be covered in bat excrement.
Relieve yourself before entering the caves, as the only toilets on the premises are the ones outside.
Bring cash, as you'll have to pay in cash for the entrance fee and gear.
Don't
Touch the cave walls, as this can damage the natural environment of the wildlife residing inside.
Forget to bring a torchlight, as the pathways you'll go through will be dim.
Litter, smoke and commit acts of vandalism.
Pack the wrong kind of shoes. If so, you can rent a pair of hiking shoes outside for just RM3.
Where to Stay near Fairy Cave in Kuching
Raia Hotel & Convention Centre Kuching
Address: No. 1 Lot 1586, Block 17, Jalan Lapangan Terbang, 93250 Kuching, Sarawak, Malaysia
Phone: +60 82-268 585
Pricing: $$-$$$
Book Now
Raia Hotel & Convention Centre is one of the best places to spend a night in Kuching and for several good reasons. For starters, the rooms they offer here are second to none, boasting simple yet elegant design and a complete set of amenities for a comfortable night's stay.
Aside from that, the hotel also features a variety of facilities that you'll have the pleasure of accessing during your stay. This includes their massive outdoor swimming pool, playground and restaurants, which serve delicious local and international dishes.
Grand Margherita Hotel
Address: Jalan Tunku Abdul Rahman, 93100 Kuching, Sarawak, Malaysia
Phone: +60 82-532 111
Pricing: $$-$$$
Book Now
If you want to experience a luxurious stay in Kuching, we recommend booking a room in the Grand Margherita Hotel. It offers spacious and premium rooms that are each fitted with all the amenities you need for a comfy and memorable stay, from hot water to plush beds and more.
It gets better once you step outside of your room though, as that's where you'll find the hotel's world-class facilities such as the swimming pool and gym. Aside from all that, you'll also have the pleasure of enjoying beautiful views of the Sarawak River throughout your stay.
The Waterfront Hotel
Address: 68, Jalan Tun Abang Haji Openg, 93000 Kuching, Sarawak, Malaysia
Phone: +60 82-227 227
Pricing: $$$
Book Now
To put it simply, it doesn't get better than The Waterfront Hotel. This five-star hotel is the best way to stay near Fairy Cave or in the entire city of Kuching, for that matter, and it's not hard to see why once you see its rooms.
Here, you can expect to be pampered with lavish rooms that come complete with premium amenities. Furthermore, you'll get the pleasure of dining at their fancy restaurant where you can eat all the food you want to your heart's content!
Imperial Riverbank Hotel Kuching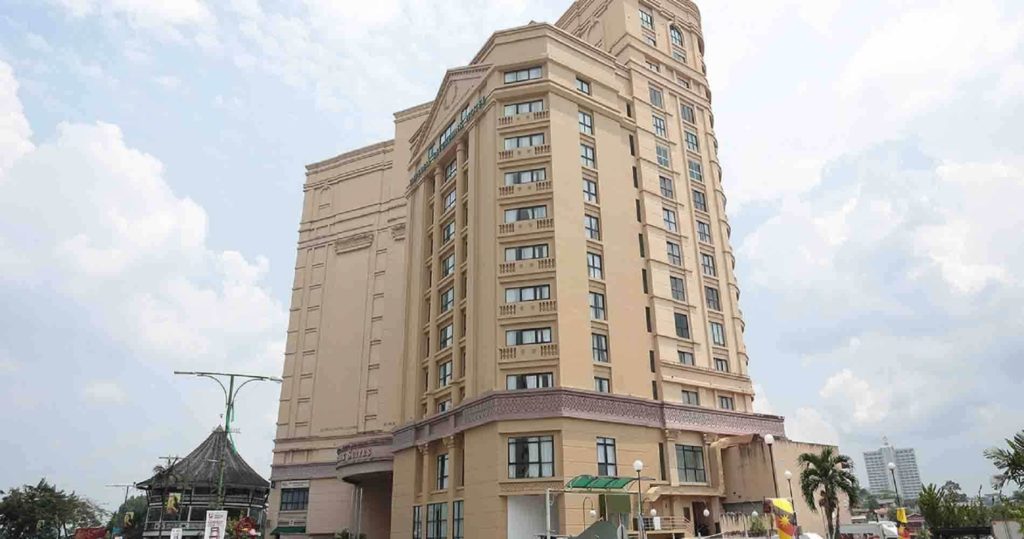 Address: Jalan Tunku Abdul Rahman, 93100 Kuching, Sarawak, Malaysia
Phone: +60 82-230 033
Pricing: $$
Book Now
If you're looking for a great mid-tier hotel, look no further than Imperial Riverbank Suites. It's a solid option that will treat you like royalty with its services, rooms and facilities without burning a hole in your pocket–sounds like a good deal, right?
Aside from the rooms, you'll also get access to their in-house restaurant, which is known to provide its guests with amazing gastronomic experiences. Once you step outside, you'll be surrounded by Kuching's finest stores and restaurants, as it's located in the heart of the city!
Pullman Kuching
Address: 1A, Jalan Mathies, 93100 Kuching, Sarawak, Malaysia
Phone: +60 82-222 888
Pricing: $$-$$$
Book Now
Pullman Kuching is another 5-star hotel we recommend in the heart of the City of Cats. Here, you'll get to stay lavishly by pampering yourself with the most premium amenities, rooms and facilities you could ask for in a hotel.
One of the biggest highlights here is the in-house restaurant, where guests can enjoy a fantastic buffet. Aside from that, the hotel also boasts an impressive swimming pool where kids and adults alike will get to enjoy their time splashing around the cold water.
Where to Eat near Fairy Cave and in Kuching
Fairy Tavern & Garden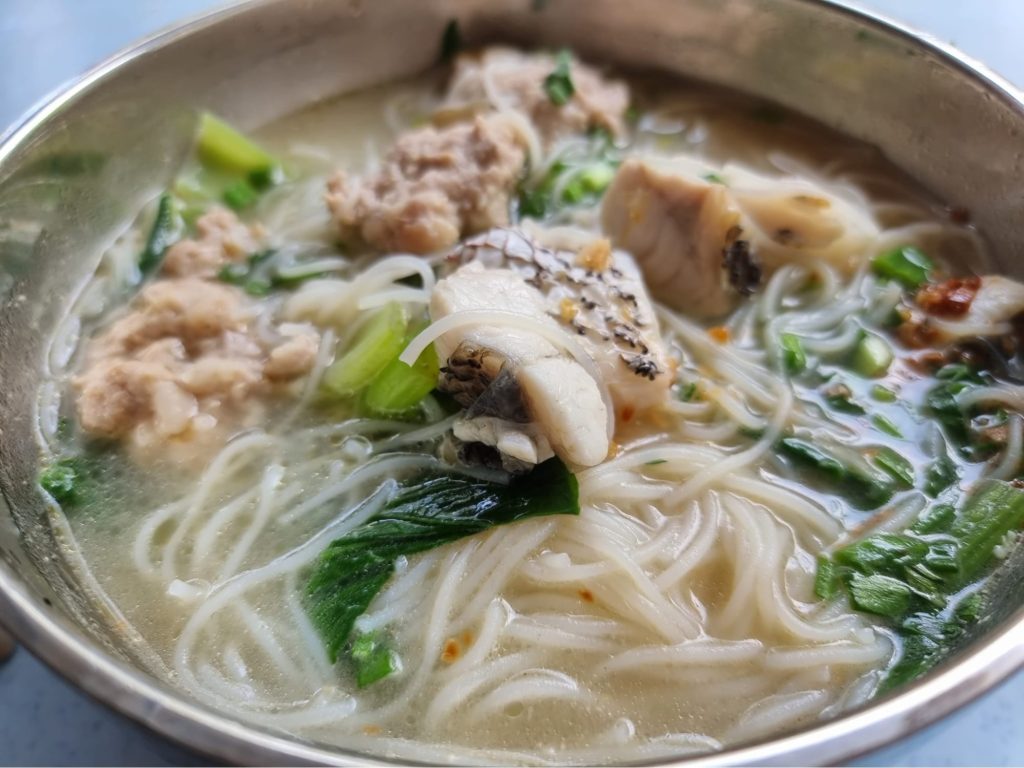 Address: No 2287 Jalan Bidi, Krokong Kampung Fairy, 94000 Bau, Sarawak, Malaysia
Phone: +60 1-2856 8807
Pricing: $
Website
Fairy Tavern & Garden is one of the nearest restaurants in Fairy Cave that we highly recommend. Thankfully this restaurant is close to the cave, as it serves filling dishes that are perfect for re-energizing your body after a tiring spelunking trip.
Dishes here range from local to international dishes such as noodles, fish and burgers. Also, they feature a bunch of cool drinks and desserts that serve as the perfect way to end a scrumptious meal here.
Lepau Restaurant
Address: 99, Jalan Ban Hock, 93100 Kuching, Sarawak, Malaysia
Phone: +60 1-2884 5383
Pricing: $-$$
Website
Lepau Restaurant is one of those places that you should try if you're looking to be immersed in the country's cuisine. From seafood to goreng, chicken and more, this restaurant will give you all the staples of a delicious Malaysian meal.
What's great about this place is that the prices are just right, especially considering how generous they are with their serving size. Plus, it also helps that the taste of these dishes isn't too shabby as well, giving you amazing value for your money.
Zinc Restaurant & Bar
Address: 38, Tabuan Rd, 93100 Kuching, Sarawak, Malaysia
Phone: +60 1-6350 0960
Pricing: $$$
Website
If you're looking for dishes that will be familiar to your taste, we recommend checking out Zinc Restaurant & Bar. Not only do they serve delicious dishes here but they also provide a classy and chill ambience for their visitors.
This place serves a wide array of all-time classics such as steaks, prawns, ribs, pizza, pasta and anything in between. Aside from that, you can also treat yourself to some refreshing cocktails if you're looking to experience Kuching's nightlife.
Ceylonese Restaurant Sdn Bhd
Address: 23 22, 23 22, Jalan Green Hill, 93100 Kuching, Sarawak, Malaysia
Phone: +60 14-697 3447
Pricing: $$
Website
Ceylonese Restaurant Sdn Bhd is the place to be for those times when you're craving Indian and Sri Lankan dishes. They serve a wide array of scrumptious dishes from these cuisines and the best part is that they're extremely cheap!
Anything from their menu is a solid choice, but if you want their best offering, we recommend ordering the cheese naan. This delicious bread is oozing with creamy cheese every time you pull it apart!
Portico Restaurant
Address: 17, Lorong Park Lane, 93300 Kuching, Sarawak, Malaysia
Phone: +60 1-2313 8046
Pricing: $$
Website
If you're looking for the ultimate Western dining experience, we recommend stopping by the Portico Restaurant in Kuching. This place is the ultimate meat lover's paradise, as they serve dishes such as steaks, burgers, ribs and more!
What we love about this place is that they're not afraid to give generous proportions, making it perfect for families and big groups. They also serve other dishes that are perfect for sharing such as pizza and pasta!
What to Do in Fairy Cave 
Uncover the story surrounding the cave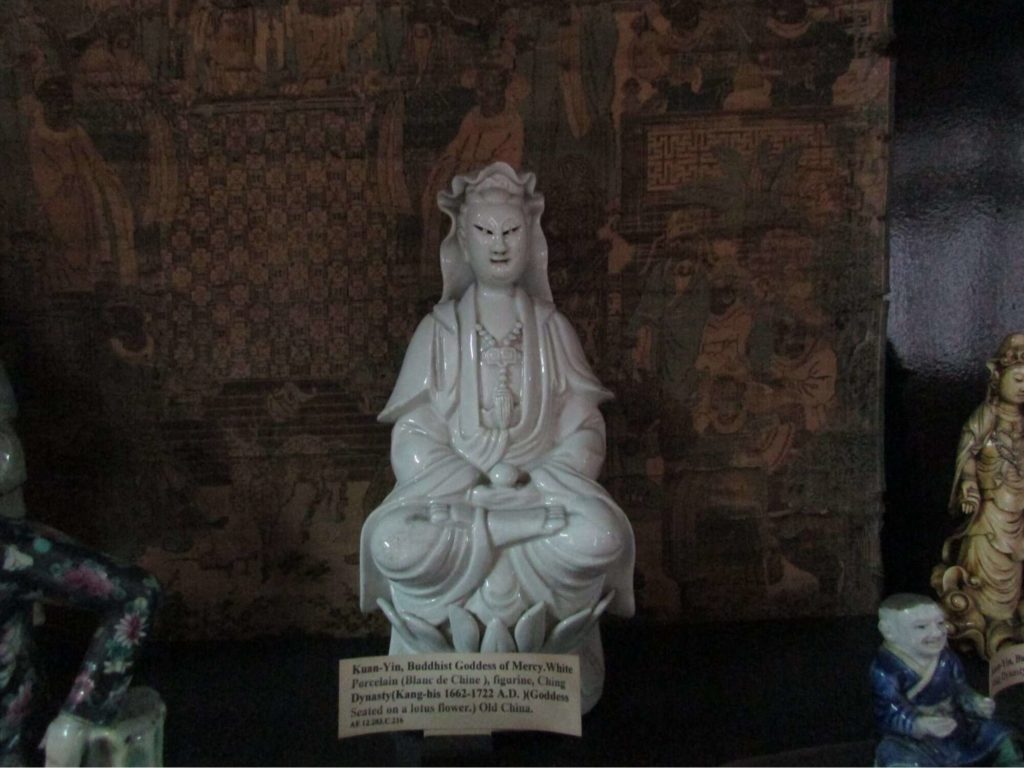 You won't have to go far to find out why this cave is called this way, as located at the entrance is the stalagmite formation that is said to resemble Kuan Yin. Also known as Guanyin, Kuan Yin is the goddess that's mostly associated with mercy and compassion.
This is also the reason why several Chinese devotees go to this cave, as this is where they offer their prayers to the deity.
Test your strength through rock climbing
If you're looking for something more challenging to do as opposed to just spelunking, you can test your skills through rock climbing! This activity is perfect for those who find Fairy Cave a bit too easy to explore, considering that it features dedicated walkways.
There are 8 different walls you can climb in Fairy Cave, each of which is certified by the IMCF (International Mountaineering and Climbing Federation). These walls will test your upper body strength as well as your body coordination so be sure to bring your A-game!
Capture memorable photos
Unfortunately, there are no souvenir shops that let you bring home a piece of the cave with you. What you can do, however, is bring a camera and snap memorable photos to forever immortalize your spelunking trip!
You can take photos of just about everything you find interesting from stalagmite formations to the bats and anything in between. If you're skilled enough, you can even take photos of the bats while they're sleeping, just be sure to turn the flash off to avoid disturbing their peace.
Discover the cave's flora and fauna
Aside from being a natural spectacle that you can explore up close, Fairy Cave also serves as a home for various flora and fauna. Most of the animals you'll find here include different species of both bats and snails.
As for the plants, you may encounter various rare orchids and palms inside as well as outside the cave so keep your eyes peeled! You can also learn more about the flora in this cave when you initially climb the five-storey staircase at the beginning of your spelunking adventure.
Climb the 5-storey staircase
Before you can enter Fairy Cave and enjoy the stunning views it offers, you must first climb a flight of stairs that's 5 storeys high. Think of it as a test to see if you're worthy to witness the sheer beauty of what you'll find inside the cave.
This will also test your cardio to make sure that you're ready for the spelunking adventure ahead of you. Don't worry though, as you'll be treated with majestic views as well as educational visual aids about the cave's flora and fauna on your way up.
Trails in Fairy Cave
Twilight Trail
The Twilight Trail is the first one you'll go through as soon as you enter the cave's entrance. It will take you around 30 minutes to complete it depending on your pace, as it covers a total length of 343 metres.
We don't encourage you to rush through this trail, as you'll encounter some challenges along the way such as narrow pathways and uneven ground levels. You also need to preserve your energy, as there will also be some vertical steel stairs along the way.
The Dark Cave Trail
The Dark Cave Trail is much more challenging because of its dimly-lit nature. Here, you'll be encouraged to turn on your torchlights and follow the reflectors pointing towards the correct route.
You'll find signs around this trail stating that it will only take you 15 minutes to complete it but you don't necessarily have to follow that. The 250-metre long pathway is unlit and rushing through it may cause accidents so take your time.
Gunung Kapor Summit Trail
Last but definitely not the least, is the Gunung Kapor Summit Trail, which is found just by the end of the Dark Cave Trail. This is the most difficult one out of the bunch, which is why a guide and permit are required beforehand.
It is well worth it though, as there's a summit platform located at the apex where you'll get to bask in magnificent views.
Apps to Download for a Trip to Fairy Caves
Travel Malaysia: A pocket travel guide to Malaysia
iOs | Android
Maps.me: Offline map of the world
iOs | Android
XE Currency App: Real-time currency exchange rate app
iOs | Android
Grab: Ride-hailing app of Southeast Asia
iOs | Android
Google Translate: word translation with offline capabilities
iOs | Android
CatchThatBus: Bus ticket booking app
iOs