A Guide to Chocolate Museum: Kuala Lumpur's Sweet Attraction
Several noteworthy museums can be found across the country, each providing you with some new learnings after you're done exploring them. One museum in particular that we can't recommend enough is the Chocolate Museum at Petaling Jaya.
This sweet attraction will teach you everything you want to learn about chocolates, from its history to how it's made and more! To make sure you get the most out of the nooks and crannies of these educational exhibits, we've created a guide just for you.
From what you can expect to where to stay and eat, here's everything you need to know!
Time Zone
Standard Malaysian Time (GMT+8)
Best Time to Go
Luckily, the Chocolate Museum is open daily (including holidays) from 10:00 AM to 5:00 PM, so you'll have plenty of time to visit its wonderful exhibits. This being said the best time to go would be during weekdays to avoid crowds since the museum features limited space.
If you have no time to visit but on weekends, we advise coming early. Also, if you're going to do walk-ins, make sure to get there before 3:30 PM, as that's the last time they'll allow admission into the establishment.
Weather-wise, you won't have to worry since the museum is completely covered. If you want to do some outdoor activities after visiting the Chocolate Museum, however, we'd recommend visiting during the dry season (May to September).
If you want your visit to be extra sweet, we recommend visiting on World Chocolate Day (July 7). During this time, the museum holds special deals on their entrance fees and packages so be sure to keep an eye out!
Things to Know
Address: 2, Jalan Teknologi 3/5, Kota Damansara, 47810 Petaling Jaya, Selangor, Malaysia
Phone details: +60 3-7490 4260
Opening hours: Opens daily (including holidays) from 10:00 AM to 5:00 PM
Entrance fee:
Museum 1.0: Free
Museum 2.0 (inclusive of Museum 1.0): RM5 for adults, RM3 for children/students (7 years and above), RM2 for preschool children (6 years and below), free for kids 3 years old and below/OKUs.
Advanced booking: If you're coming with groups consisting of 10 people or more, advanced booking is required. Otherwise, walk-ins are accepted!
First opened to the public: 2014
How to Get to Chocolate Museum
Trains: Thanks to the well-thought-of train system in Kuala Lumpur and Petaling Jaya, riding a train towards the Chocolate Museum is not a problem. The nearest train station you can drop off at is Kwasa Sentral MRT Station which is a couple of minutes away from the attraction itself.
Buses: The bus system is also fully operational in the vicinity of the Chocolate Museum so you won't have trouble with this public transportation. The bus station nearest to the attraction is Kompleks Muhibbah (Barat), which is passed by the T801 and T808 bus routes.
Taxis: Taxis are also everywhere in Petaling Jaya and Kuala Lumpur and they're great if you want to get dropped off at the Chocolate Museum itself. The price may vary depending on where you're coming from, but be sure to insist on using the taxi's metre.
Grab: If you prefer to be picked up from your current location and have a fixed fare for your ride, you can use Grab, the ride-hailing app. It's a convenient way of getting around the city, as you'll have the comfort of being in a vehicle without having the fear of being charged the wrong rate.
Car rental: If you feel more at ease with driving on your own and personalising your route, you can rent a car. Rental companies are available in Petaling Jaya, Kuala Lumpur and other cities in Malaysia that can provide you with a ride that fits your needs.
What to Do in the Chocolate Museum
Shop til you drop at the Chocolate Galleria
Of course, you can't leave a place like this without bringing home some chocolates with you. On your way out, make sure to stop by their store where you'll find a store that features one of the most impressive chocolate collections in the entire country.
Boasting over 100 brands, the store in the Chocolate Museum is the ultimate sweet tooth's paradise. Also, not only can you get this sweet treat in its bar form, but you'll also see it in different shapes and sizes–be sure to get as many as you can!
Bust myths and learn truths in the Health Benefits section
It may not seem like it at first, but several people have many misconceptions about chocolates, and if you're one of these individuals, you're in luck! The museum features a Health Benefits section where you can bust the myths about the health effects of chocolate on the human body.
What's great about this section is that it doesn't bore you with lectures and presentations, but instead takes you on an interactive journey. One way they keep things interesting is by letting visitors explore the human anatomy on an LED display to see the effect of chocolates.
Learn about the sweet history of chocolates
Since this is indeed a museum dedicated to everyone's favourite sweets, you can't miss out on learning about its history. The section dedicated to how it came about is called "Journey of Chocolates", where you'll find a detailed timeline that begins as early as 1500 BC.
Here, you can finally learn how your favourite bars of chocolate originated and how they were discovered through cocoa beans. Whether you're big on history or not, this detailed timeline will impress you with its details!
Be immersed in the Father of Chocolate section
The Father of Chocolate section is where you'll meet the pioneers of chocolate. More specifically, it highlights the Swiss individuals who have found a way to manufacture and develop chocolates to what they are when they arrive at the store.
Make your own chocolates
One of our favourite things about the Chocolate Museum is that they don't just flash visual aids at its guests, hoping to educate them in the process. Instead, they offer a more hands-on experience in the Chocolate Kitchen section.
Here, you'll have access to various state-of-the-art equipment and create chocolate from scratch! It comes with the usual tools and equipment such as whisks, bowls and mixers, but one that will impress you is its futuristic chocolate printer, which is exactly what it sounds like.
Find out how chocolates are made on a grand scale
If you want to see how chocolates transform from cocoa beans to the ones you see in stores, you have to stop by the Chocolates in the Industry section. Here, you'll see how chocolates are created on an industry scale so you'll get a better idea of how they're mass-produced!
Take photos of the chocolate Petronas Twin Towers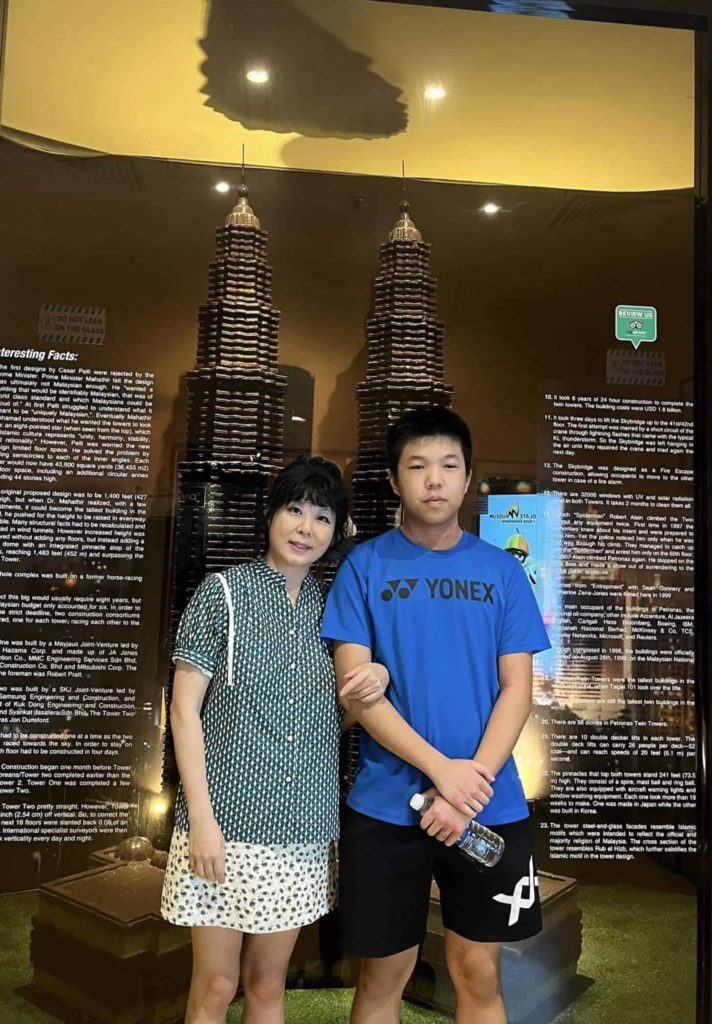 One of the highlights inside this museum is the huge Petronas Towers statue that's made entirely out of chocolate. What's more impressive about this structure is that it's intricately detailed down to the smallest window, making it somewhat of a realistic 1-to-1 scale.
It's enclosed in a glass so that guests can take photos in front of it without worrying about knocking it down. Furthermore, you can also amaze yourself with some fun facts about the tower that are written on the glass case.
Sample some freshly made chocolate
If you have a sweet tooth, you're in for a treat when you visit the Chocolate Museum. This is because, you'll get to treat yourself to some free samples here and there, especially in the chocolate kitchen where these treats are freshly made!
There's something about trying out a bunch of chocolates of different shapes and sizes that makes you feel like a kid again–and we're all for it! Just be sure to bring a bottle of water with you to rinse your palette and prevent your teeth from getting cavities!
Where to Stay Near Chocolate Museum
U3 Hotel
Address: 29B, Jalan Dinar G U3/G, Taman Subang Perdana,, Subang, 40150 Shah Alam, Selangor, Malaysia
Phone: +60 3-7840 0083
Pricing: $-$$
Book Now
U3 Hotel is a solid mid-tier option if you're looking for a cheap place to stay but don't want to compromise the quality. It features spacious rooms that are designed simply yet elegantly, with huge draping windows and fancy wall decors.
More importantly, these rooms come with comfortable beds, so you know that you're in for a good night's sleep. Outside of its rooms, one thing we wanted to highlight is its convenient location, as it's near to establishments such as restaurants, stores and even the airport.
H Boutique Hotel Xplorer Kota Damansara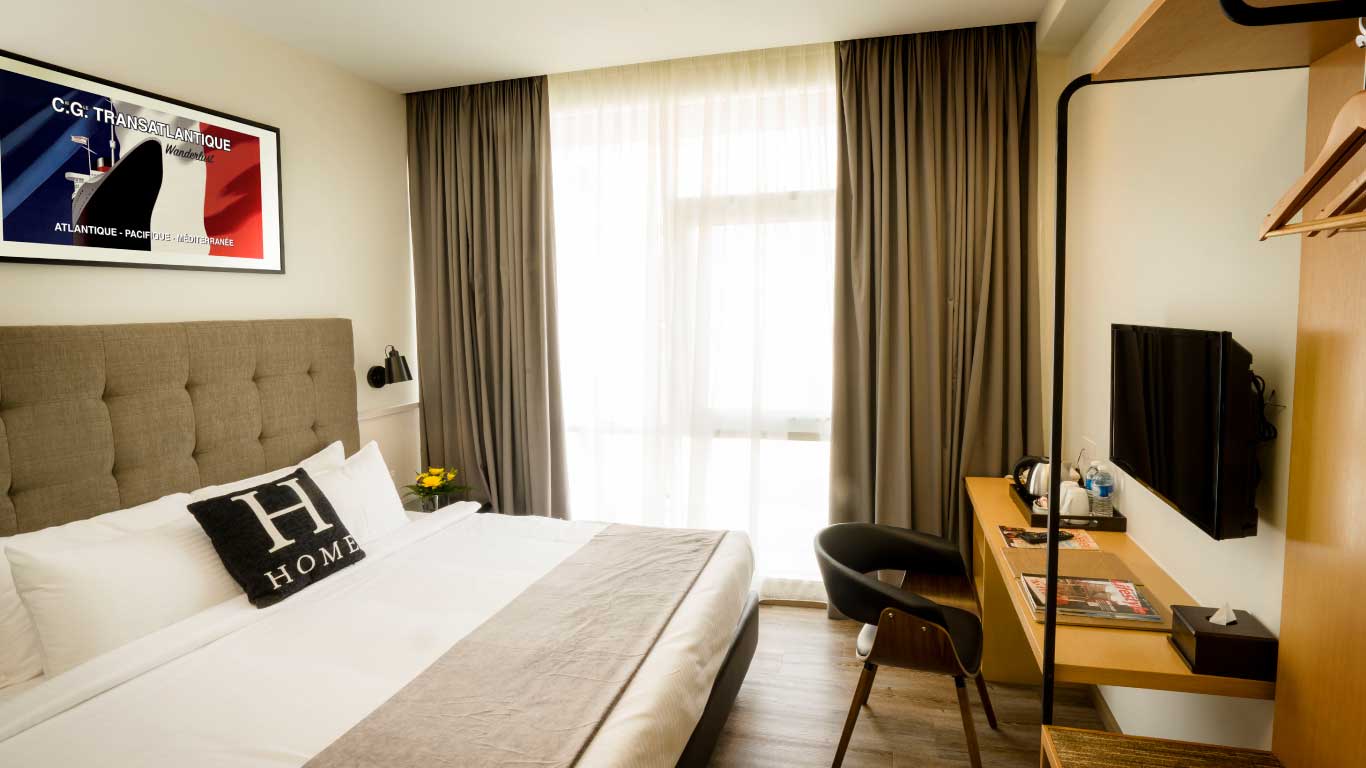 Address: No. 1-2, 1-3 & 1-3A Jalan PJU 5/10, Dataran Sunway, Kota Damansara, 47810 Petaling Jaya, Selangor, Malaysia
Phone: +60 3-7490 9188
Pricing: $-$$
Book Now
H Boutique Hotel is a neat accommodation option we recommend because of its cheap yet high-quality rooms. Designed modernly and fitted with essential amenities that you'll usually see in higher-tiered hotels, this establishment will give you the best value for your money.
There's not much to do inside the hotel itself, as there are little to no extra facilities on their premises. However, we have a feeling that you'll be spending just as much time outside because of the variety of establishments at your disposal including cafes and restaurants.
Qliq Damansara Hotel
Address: Empire Damansara, 2, Jalan PJU 8/8A, Damansara Perdana, 47820 Petaling Jaya, Selangor, Malaysia
Phone: +60 3-2106 1620
Pricing: $$-$$$
Book Now
If you're looking for a more hip and cool spot to stay in after your trip to the Chocolate Factory, we recommend checking out the Qliq Damansara Hotel. It's a more modern establishment that features colourful interiors and more importantly, spacious and comfortable rooms!
It's a 4-star hotel that requires a bit of travel time from the Chocolate Factory, but it's well worth it! Aside from featuring complete amenities, foodies can enjoy staying here because of its in-house restaurant called "Qitchen".
Royale Chulan Damansara
Address: 2A, Jln PJU 7/3, Mutiara Damansara, 47810 Petaling Jaya, Selangor, Malaysia
Phone: +60 3-7959 9000
Pricing: $$$
Book Now
If you're looking for a more luxurious type of stay, you have to do a bit of travelling, more specifically towards Damansara. This is where you'll find Royale Chulan, one of the city's premier hotels, where you can stay comfortably and be treated like royalty.
This hotel is worth highlighting because of its facilities, most notably its relaxing swimming pool and in-house restaurant. The latter is our favourite thing about Royale Chulan, as it offers one of the best buffet spreads we've seen in the country.
The Saujana Hotel Kuala Lumpur
Address: Jalan Lapangan Terbang Subang, Saujana, 40150 Shah Alam, Selangor, Malaysia
Phone: +60 3-7843 1234
Pricing: $$$
Book Now
The Saujana Hotel Kuala Lumpur is the nearest 5-star hotel we recommend if you're planning on staying lavishly in the area. It's a world-class establishment, filled with amazing rooms fitted with fancy amenities, spacious lobbies and of course, outstanding facilities!
This is a great option if you're looking to get away from stress, as it's equipped with a super cool spa where you can get pampered for hours on end. Aside from that, you can also enjoy its huge swimming pool and an impressive selection of restaurants where you can eat your favourite dishes!
Where to Eat near Chocolate Museum
Amigos Restaurant
Address: Persiaran Surian, Kota Damansara, 47810 Petaling Jaya, Selangor, Malaysia
Phone: +60 3-6150 6105
Pricing: $-$$
Website
If you want Persian food at its finest, we recommend stopping by Amigos Restaurant after your trip to the Chocolate Museum. This place will tantalise your tastebuds with an amazing combination of flavours, whether you want something sweet, savoury or anything in between.
What's great about this restaurant is that it serves long-time staples that anyone will be familiar with such as overloaded nachos, kebabs, burritos and more. Plus, it's worth mentioning that the serving size here is ridiculously generous, which is an instant A+ in our books.
Fat Tea Macanese Food
Address: LG05, Emerald Plaza North, Jalan PJU 8/3a, Damansara Perdana, 47820 Petaling Jaya, Selangor, Malaysia
Phone: +60 3-7733 1868
Pricing: $$
Website
Fat Tea is the perfect restaurant to try if you're craving Asian fusion food. Some of their recipes hail straight from places such as Portugal and Africa but don't be overwhelmed, as the dishes here aren't too exotic.
We heard that one of their best-sellers is the Portuguese ribs but honestly, you can't go wrong with any item from their menu. Furthermore, they also have a pretty impressive selection of desserts including the ondeh ondeh cake, key lime pie, brownies and more.
Arabica Restaurant
Address: G10-Cova Square, Jalan Teknologi, Kota Damansara, PJU 5, Taman Sains Selangor, 47810 Petaling Jaya, Selangor, Malaysia
Phone: +601160772422
Pricing: $$
Website
If all the sweet exhibits in the Chocolate Museum left you craving some savoury dishes, we recommend stopping by Arabica! This restaurant serves some of the best and most authentic Middle Eastern dishes in the area, and the best part is that the price range is just right.
This restaurant is also commendable for its impressive variety, which is always nice to have when trying out something new. You can easily order anything from their menu and won't regret it but if you want our advice, we recommend the classic chicken mandy fried rice with fries.
Nasi Pak Man
Address: 49-G, Jalan Sepah Puteri 5/1B, Kota Damansara, 47810 Petaling Jaya, Selangor, Malaysia
Phone: +60 3-6151 6738
Pricing: $
Website
Nasi Pak Man is a solid restaurant if you're visiting Malaysia for its diverse cuisine. Here, you'll find a wide array of local dishes made authentically from nasi lemak to laksa and more, and the best part is that they won't burn a hole in your pocket!
We do want to highlight their version of nasi lemak though, as we think it's one of the best in the entire state. The rice is cooked perfectly and gives off this fragrance that perfectly complements the other ingredients on the plate.
Little Yum Yum
Address: F-50-G, Jalan Teknologi 3/9, Kota Damansara, 47810 Petaling Jaya, Selangor, Malaysia
Phone: +60 16-200 8964
Pricing: $$
Website
Little Yum Yum is the perfect spot for those times when you just want to get your hands on some authentic Asian dishes. For a restaurant that has the word little on its name, this establishment features an impressive selection of cuisine such as Vietnamese and Thai.
This is also one of those restaurants where you'll feel satisfied after leaving its doors. We say this because their dishes are both hearty and tasty, so both your stomach and tastebuds will be in for a treat.
Nearby Attractions to Visit
Petronas Twin Towers
You've seen its chocolate version, now it's time to visit the real thing in person! The Petronas Towers is arguably Malaysia's most iconic attraction and it would be a shame to be this near to Kuala Lumpur City Centre and not visit it at least once.
You can simply admire these towers from afar or if you want, you can always visit them up close to take tons of photos. You can even climb the towers' observation deck, which also serves as a bridge, and admire the entire KL skyline from a different perspective.
Merdeka Square
The Merdeka Square is a park in Kuala Lumpur that we recommend you stop by at least once during your trip to the Chocolate Museum. Not only is it a place where you can chill and have a nice afternoon, but it's also a historical site where the first Malaysian flag was raised!
Thean Hou Temple
Another iconic thing to do for first-time visitors of KL is to visit the Thean Hou Temple. It's one of the largest and most significant temples not only in Malaysia but in the entire Southeast Asia as a whole.
It's a beautiful piece of architecture that serves as a place of worship for Buddhists. Meanwhile, if you want to make your trip extra special, you can visit during the Mid-Autumn Festival, which is one of the much-anticipated annual festivals in Malaysia.
Apps to Download for a Trip to the Chocolate Museum
Kuala Lumpur Metro Guide: A detailed guide on KL's railway system
Android
Grab: Ride-hailing app of Southeast Asia
iOs | Android
Google Translate: A handy translation app
iOs | Android
Maps.me: Offline map of the world
iOs | Android
CatchThatBus: Bus ticket booking app
iOs 
XE Currency App: Real-time currency exchange rate app
iOs | Android