An In-Depth Travel Guide to Gaharu Tea Valley
If you're looking for a perfect option for your next travel destination, you may want to consider Gaharu Tea Valley. This place spans multiple acres and is filled with different sub-attractions that open the door to different activities!
In this guide, we'll take a closer look at what you can do inside the valley as well as list down some great dining and accommodation options. This way, you can be confident that your trip to this amazing attraction will be smooth from start to finish!
Let's get started!
Time Zone
Malaysia (GMT+8)
Best Time to Go
It's great to visit Gaharu Tea Valley anytime because of the pleasant weather. However, if you want to avoid the crowd, we recommend going on Weekdays!
This way, you'll only have to be with a few other guests when you explore the attraction, and who knows, maybe you'll even have it to yourself!
Things to Know
Currency: Malaysian Ringgit (RM)
(Check the current exchange rate)
Language: Malay, English
Calling Code: +60
Entrance fee: Adults: RM10, children (aged 13 and above) – RM5, children below 13 – free.
How to Get to Gaharu Tea Valley
Bus: You can ride a bus going to Gopeng Bus Station or Ipoh. From there, you can just hail a taxi to Gaharu Tea Valley.
Private vehicle or taxi: Driving a rental car or riding a taxi is the fastest way to get to Gaharu Tea Valley, but you have to prepare for high prices.
Where to Stay in Gaharu Tea Valley
Symphony Suites Hotel
Address: Business Park, 41, Jalan Lapangan Symphony, Pusat Kesihatan Gunung Rapat, 31350 Ipoh, Perak, Malaysia
Phone: +60 5-312 2288
Pricing: $$-$$$
The Symphony Suites Hotel is one of the classiest establishments you can stay at when you're planning a trip to Gaharu Tea Valley. Although it's around a 30-minute drive away from the attraction, you'll still find this hotel quite convenient.
For starters, they offer a myriad of facilities such as their tea lounge, gymnasium, VIP holding room and more. It also helps that each guest will be provided with free wifi and parking on their premises for a more connected and convenient stay.
Their rooms aren't too shabby as well, as each one is beautifully decorated with a modern design. It also helps that some rooms feature an amazing view of the natural landscape that awaits outside.
M Boutique Station 18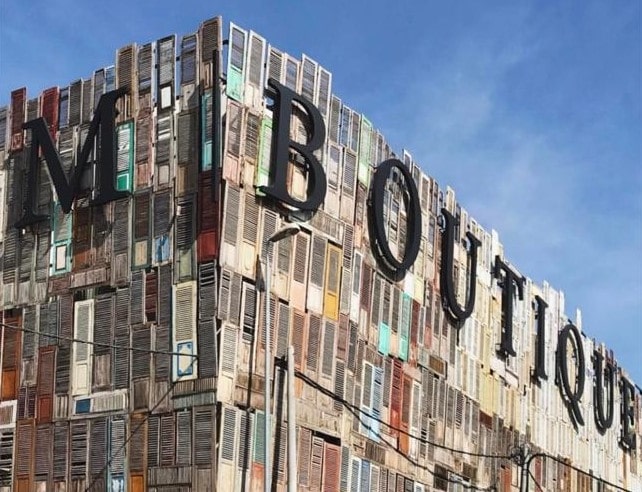 Address: 15 – 23 Jalan Pengkalan barat 35 Taman Pengkalan Jaya, Ipoh 31650 Malaysia
Phone: +60 5-321 1666
Pricing: $-$$
If you're looking to save some money during your stay, but don't want an establishment that cuts back on quality, we recommend M Boutique Station 18. Staying at this place may be cheap, but it will feel luxurious because of its premium rooms and world-class amenities.
This hotel's biggest selling factor, however, is its unique exterior design. From the outside, it looks like a bunch of old doors stacked on one another but once you enter it, you'll be greeted by its sleek and neat premises.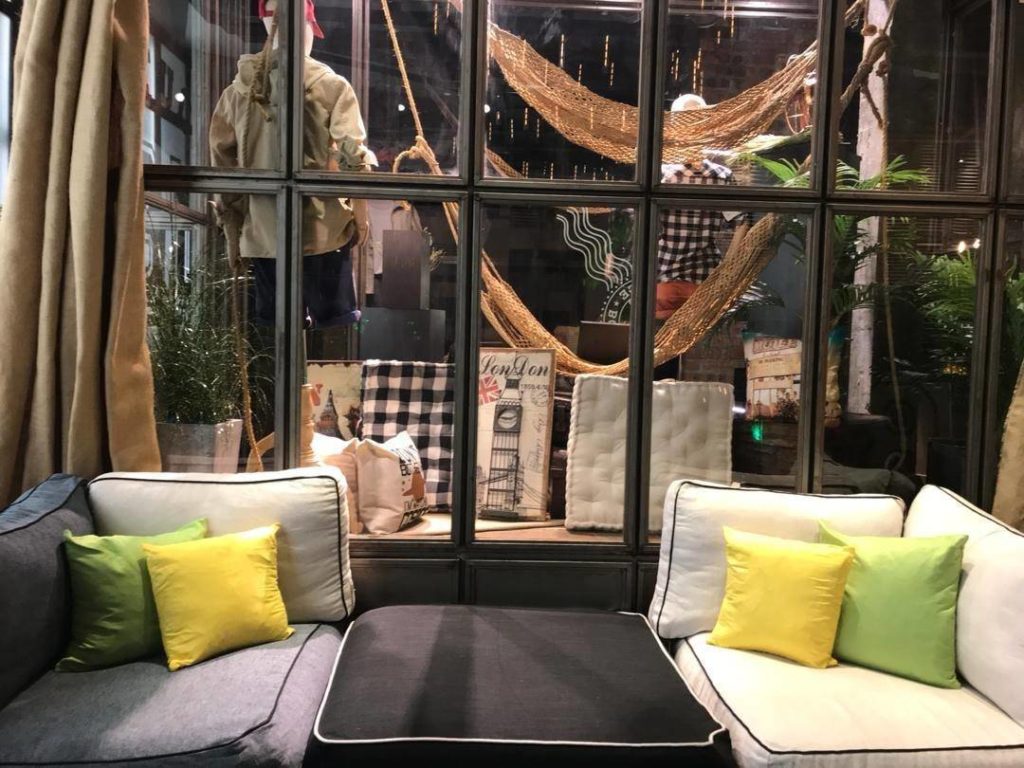 They also have an in-house store and cafe that will make you instantly fall in love with the establishment even more. More specifically, we loved spending time in their cafe because of their delicious offerings and cosy atmosphere.
The rooms are worth mentioning as well, as the ones we've stayed in so far are highly comfortable and spacious. We were impressed to see how big and comfy these rooms were, as we weren't expecting much based on the price.
Merton Hotel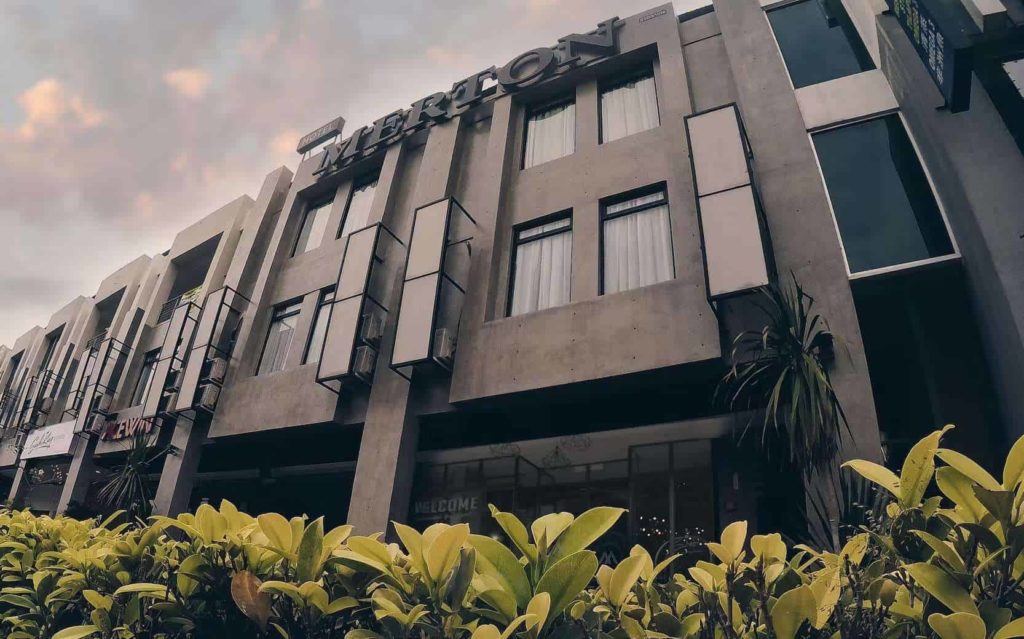 Address: 25, Jln Lapangan Symphony, Symphony Business Park, 31350 Ipoh, Perak, Malaysia
Phone: +60 5-318 2887
Pricing: $$
A great accommodation we recommend if you want to stay somewhere that's only half an hour away from Gaharu Tea Valley is the Merton Hotel. This establishment isn't only close to the star attraction but it's also nearby other points of interest such as museums and parks.
We also love their rooms, as each one is fitted with everything we wanted for a comfortable weekend getaway. Not only did we get to sleep under a cool breeze thanks to the air conditioning, but we also got to enjoy a nice and cosy ambience.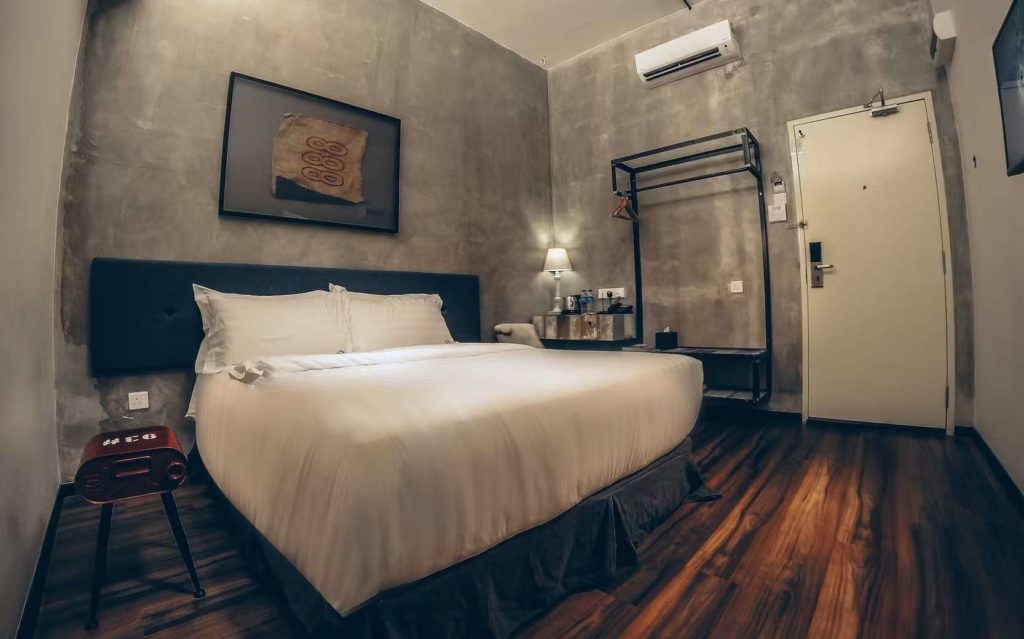 Design-wise, they're not so bad as well! We appreciate the minimalist and rustic vibes that it featured, as it made us feel like we were staying at a rugged yet high-maintenance warehouse in the middle of Ipoh.
Aside from our rooms, we also got to chill in their cafe, which served plenty of coffee and non-coffee beverages. It was a great place to pass the time while waiting for our tour because it treated us to a fantastic view of the outside thanks to its large windows.
Adeline Villa & Rest House
Address: No 5 & 5A,, Jalan Taman Bertuah, 31600 Gopeng, Perak, Malaysia
Phone: +60 5-359 2833
Pricing: $$
One of the closest accommodations to the Gaharu Tea Valley is this chill spot called Adeline Villa & Rest House. It's nestled in Jalan Taman Bertuah, which is about 8 minutes away from the acres of Gaharu Tea Valley.
This is also a great option If you want to stay somewhere that features a more homey atmosphere as opposed to the luxuriousness of hotels. It's equipped with a rest house and a villa that are both perfect for acting as a second home for you and your loved ones.
The place also comes with a pool where you and your family can take a dip before or after your visit to the valley. It's well-maintained and spacious enough to have a bunch of people enjoy its clean water simultaneously.
We love staying here because it keeps us in touch with nature unlike staying at a hotel, which somewhat breaks this type of connection. Trust us, nothing beats being surrounded by nature while you're staying in a comfortable rest house villa such as this!
1969 Business Suites
Address: 2, Jalan Lapangan Siber 9, Bandar Cyber, 31350 Ipoh, Perak, Malaysia
Phone: +60 5-313 1969
Pricing: $$
Want to travel back in time and see how they lived during the olden days? The best thing you can do to experience this is to stay at 1969 Business Suites and trust us, it's going to be worth it!
The place is decorated tastefully, featuring a myriad of classic yet timeless pieces such as wall-mounted lights and huge draping curtains. Aside from its design, however, we also enjoyed the overall comfort we were treated to during our stay here.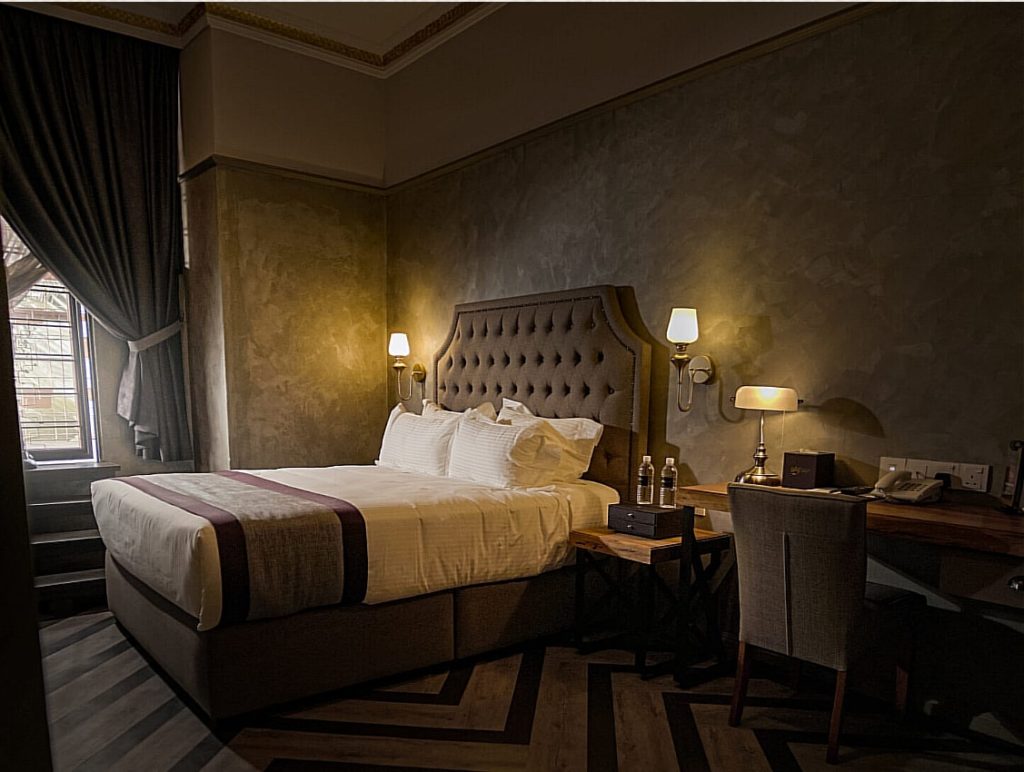 This may be because of the amazing, kind and helpful staff members that greeted us the moment we entered their doors. We didn't hesitate to ask for help at all because of how approachable each of them was!
Travel time from here to Gaharu Tea Valley is a little over 30 minutes, but don't worry because it's also nearby other attractions. During our weekend getaway in this hotel, we stopped by Fantasy House Trick Art and Gunung Lang Recreational Park.
Where to Eat in Gaharu Tea Valley
Fei Kee Restaurant Gopeng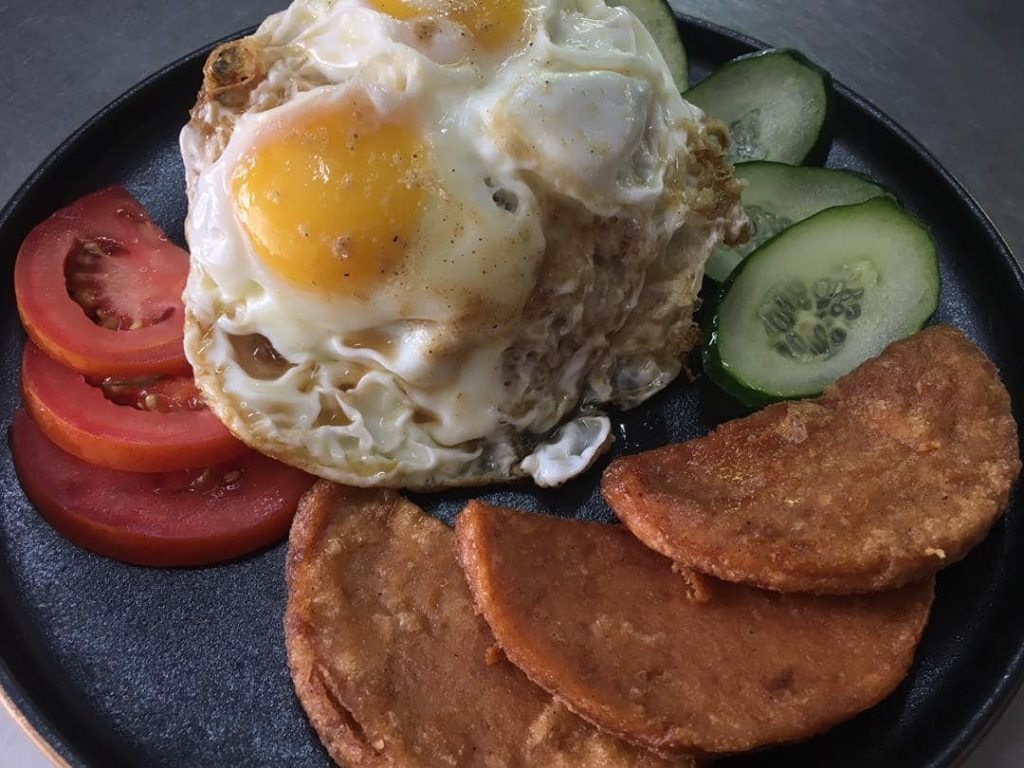 Address: 15, Taman Gopeng Baru, 31600 Gopeng, Perak, Malaysia
Phone: +33 1 40 15 92 54
Pricing: $
Located in Taman Gopeng Baru is this nice little spot called Fei Kee Restaurant. It serves a variety of local favourites that are sure to satisfy both your hunger and taste buds to get you back on the road in no time.
Our favourite out of the bunch, however, is their curry fish head and nasi lemak–two staples of Malaysian cuisine. We recommend these dishes because of how flavourful they are and the proportions that they're served in.
Heritage Town Cafe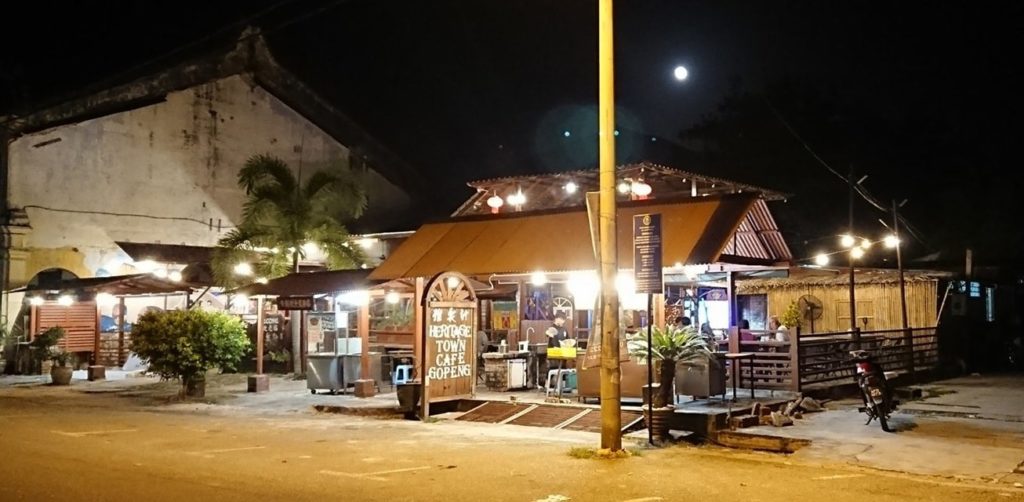 Address: 104 Jalan Tasik, Gopeng, Malaysia
Phone: +60 11-1501 6631
Pricing: $$
Heritage Town Cafe is a great spot to visit If you're looking for a cosy place where you can chill with your loved ones. They serve an assortment of freshly-brewed coffee, tea and quick bites that will accompany you during a nice sunny day here at Gopeng.
What we love about this place is that aside from the usual brunch items you see in cafes, they also offer Chinese dishes. This is an important factor we consider, as it means that we don't have to head to different restaurants to satisfy our individual cravings as a group.
Gopeng Antique Kopitiam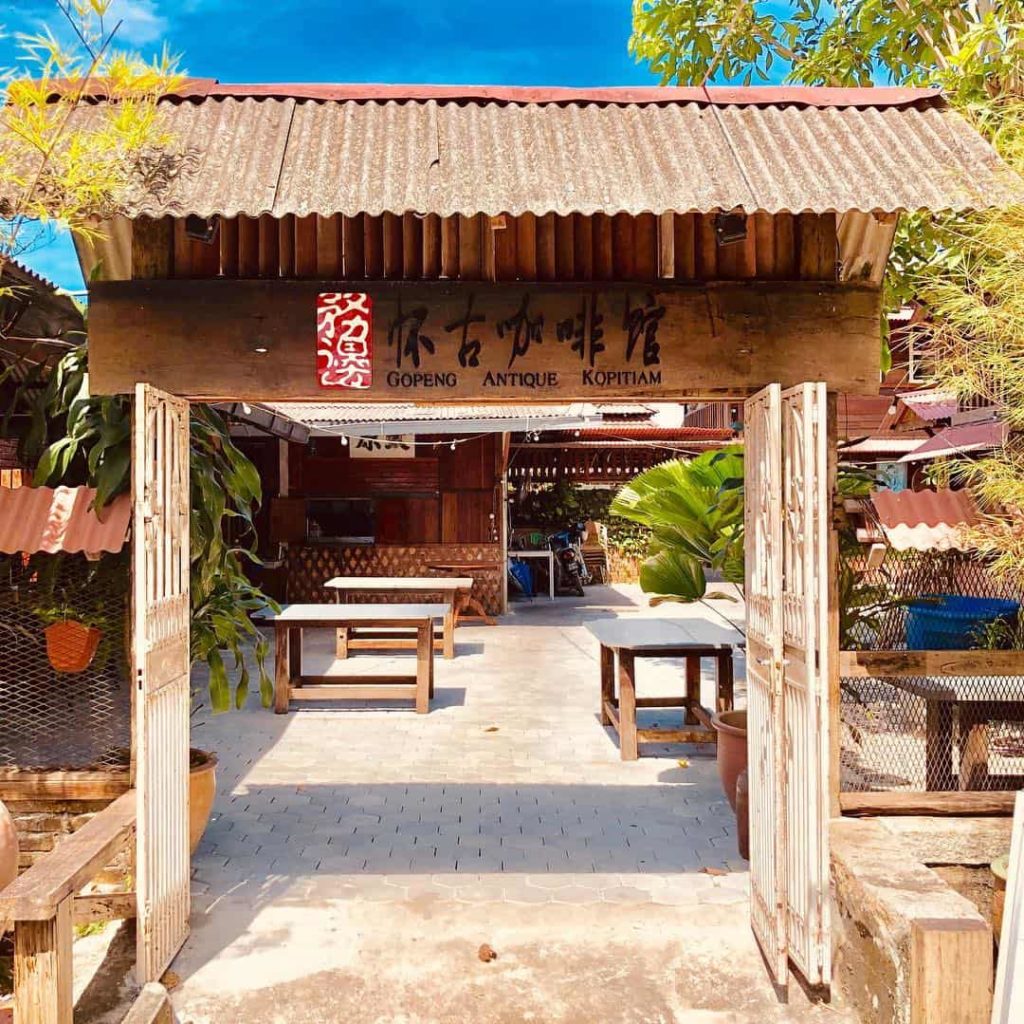 Address: 3, Jln Pasar, Pekan Gopeng, 31600 Gopeng, Perak, Malaysia
Phone: +60 5-359 3559
Pricing: $$
If you're looking for a restaurant that can also double as an attraction, we recommend checking out Gopeng Antique Kopitiam. This place definitely lives up to its name, as its antiqueness is one of its main selling factors.
The vintage look and atmosphere of the interior make for a great background for your Instagram-worthy pictures. This pairs perfectly with its wooden interior, which makes the place extra cosy.
Their offerings aren't too bad as well, as they serve a myriad of local delicacies. Among all of these, however, our favourites are the smoked duck, chicken chop and fried kuey teow.
What to Do in Gaharu Tea Valley
Take a photo at the Great Wall of Gopeng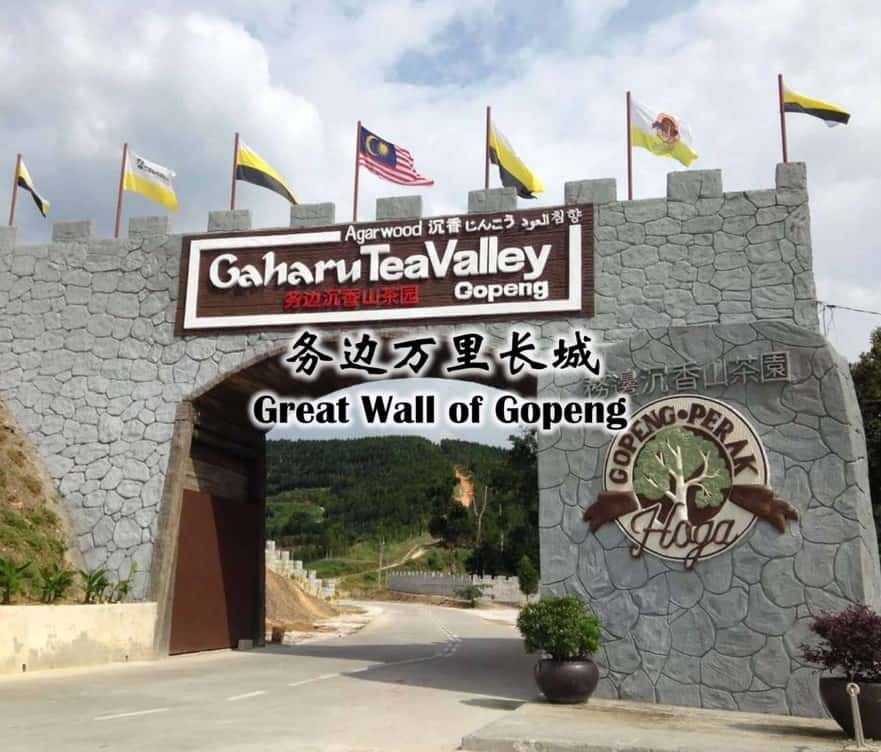 As soon as you arrive in Gaharu Tea Valley, you'll be greeted with the massive Great Wall of Gopeng. Although it's not as big as China's Great Wall, it's still quite huge, standing at three metres wide and 6-feet wide.
Another similarity that this great wall has with its inspiration is that it was built to fend off unwanted trespassers. Instead of enemy forces, however, the Great Wall of Gopeng keeps wild animals at bay, thus protecting the acres of Agarwood trees it houses.
Aside from that function, however, this great wall can also be a great place to take photos for visitors of the valley. It only gets better when you climb it though, as you'll be presented with an amazing view of the valley as well as its surrounding area.
See how it all started in HOGA Time Tunnel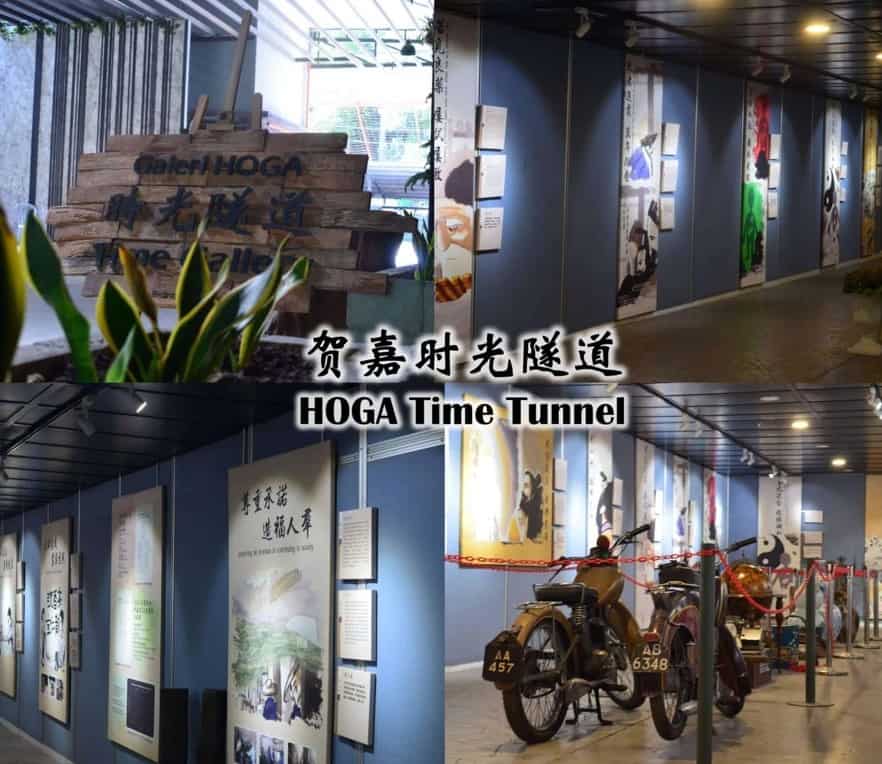 If you want to see how this magnificent valley came to be, check out the HOGA Time Tunnel. It features an in-depth timeline of the events that would eventually lead to the creation of Gaharu Tea Village.
The timeline is posted on the walls, and each one features an image and a brief description of what's happening in it. We think this is a neat way to learn all about the attraction as it keeps us engaged throughout the experience.
Moreover, we also love the vintage artefacts found here. Our favourite is the collection of retro motorcycles, of which we've taken a lot of photos.
Have a drink at the HOGA Hilltop View and Cafe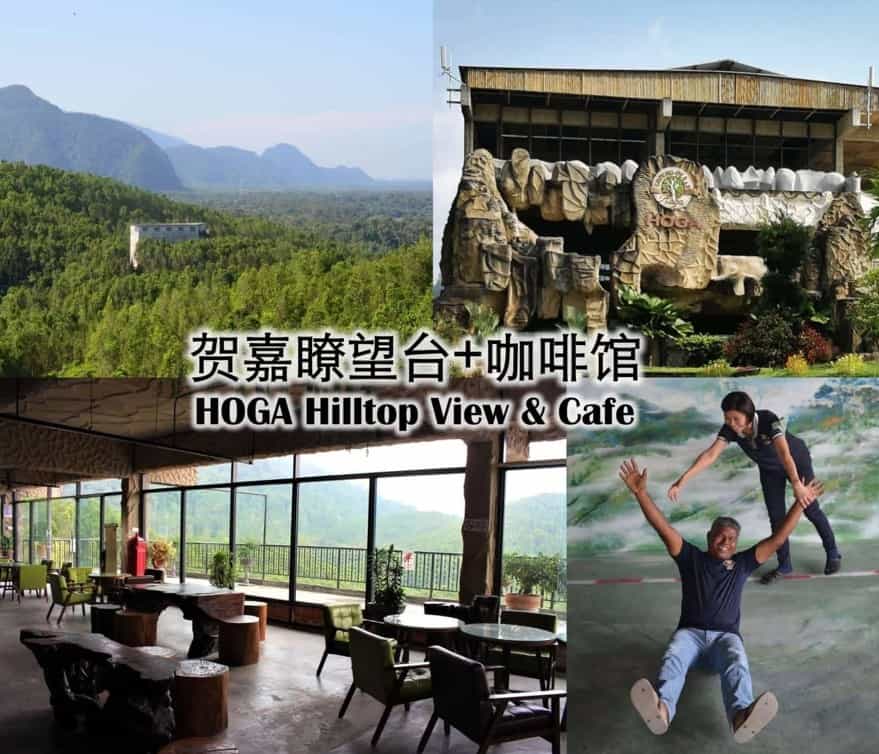 After exploring the massive valley, what we love to do is slow down time and chill at the HOGA Hilltop View & Cafe. We loved our experience in this nice and cosy spot because we enjoyed what their menu had to offer.
We appreciate how they served both coffee and non-coffee drinks, as it allowed us to have a wider choice. Aside from that, they also serve a plethora of quick bites that gave us the quick boost of energy we needed to get back on track.
As for its ambience, it's simply unmatched. The surrounding panoramic views of the countless acres of trees simply beats any cafe in the city, and it's not even close!
It's a one-of-a-kind experience to be drinking some good cup of joe this high up from the ground, and it's only made more surreal by this view. Make sure to check it out during your visit to the valley!
Buy local goods and get a quick bite at Hoga Outlet & Deli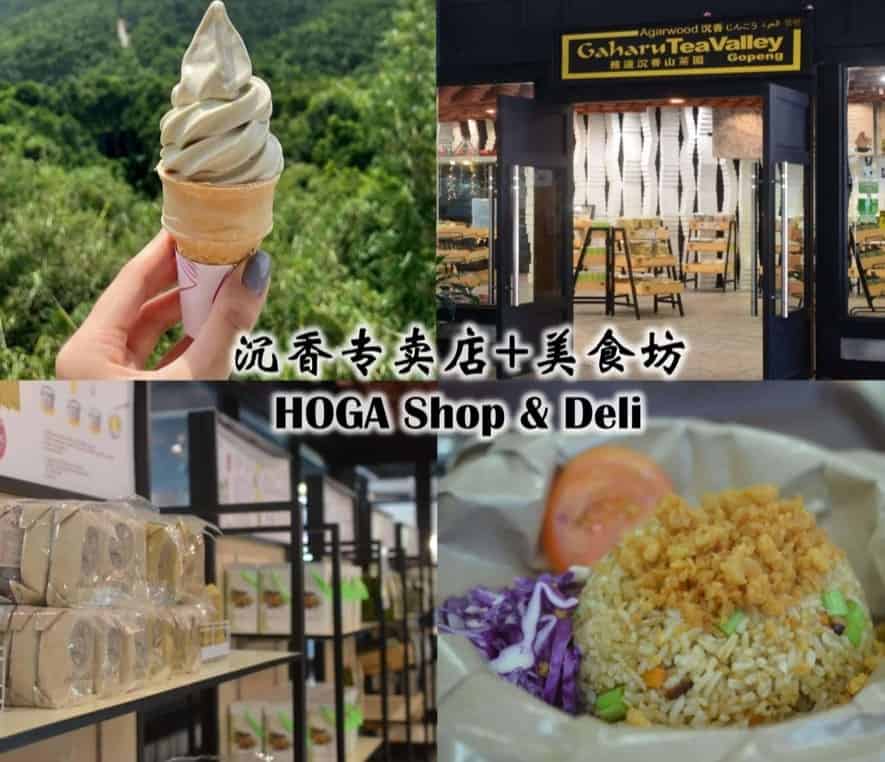 Of course, you can't leave without buying something to remember your trip by. That's why on your last moments in the valley, we recommend stopping by the HOGA Shop & Deli to buy some of its local produce.
There's no better place to get tea that you can bring home than here, as they're going to be as fresh as they come. We do recommend getting the HOGA Agarwood Tea, as we think it's their best product out of them all.
You can also choose from a selection of healthy products made by HOGA themselves, so make sure to check them out if you're turning a new leaf.
Meanwhile, if you're not looking to buy any souvenirs, we still recommend stopping by for their quick bites! One snack that the kids will surely love is the HOGA ice cream, which isn't only delicious but healthy as well thanks to it being made out of 100% natural ingredients.
Explore the Tree Hugging Park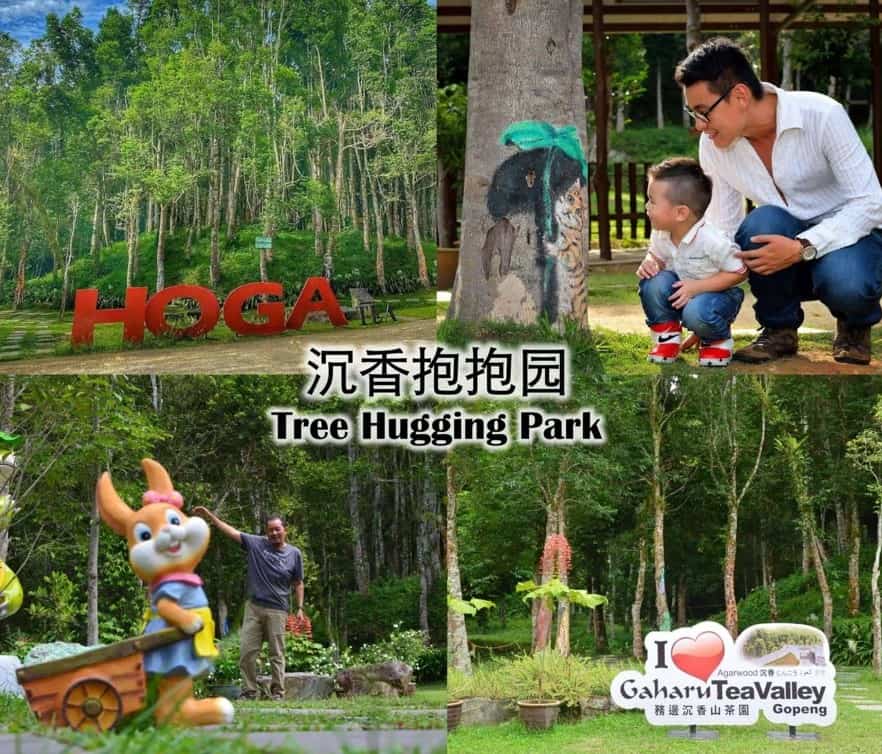 One thing we love about Gaharu Tea Valley is that you can easily get lost in its breathtaking views. If you want to see what we mean, check out Tree Hugging Park, where you'll be surrounded by countless Agarwood trees.
You may be wondering why the park is called this way, and it's quite simple actually. It is scientifically proven that hugging Agarwood trees will make you feel calmer, thus spreading good vibes all over your body!
Also, breathing in the unspoilt air is such a surreal experience, especially if you're like us who mostly roam the city. We took our sweet time to destress our bodies completely, and we recommend you do the same since there isn't any kind of time limit enforced in the park.
We also noticed how the park itself is somewhat designed to cater to kids. This is because some trees are painted with different designs while statuettes of various animals can be found across the park.
Lastly, kids are also allowed to feed the fish and tortoises here, but don't be shy! Adults can also join in on the fun as well.
Fall in love with the Lover's Park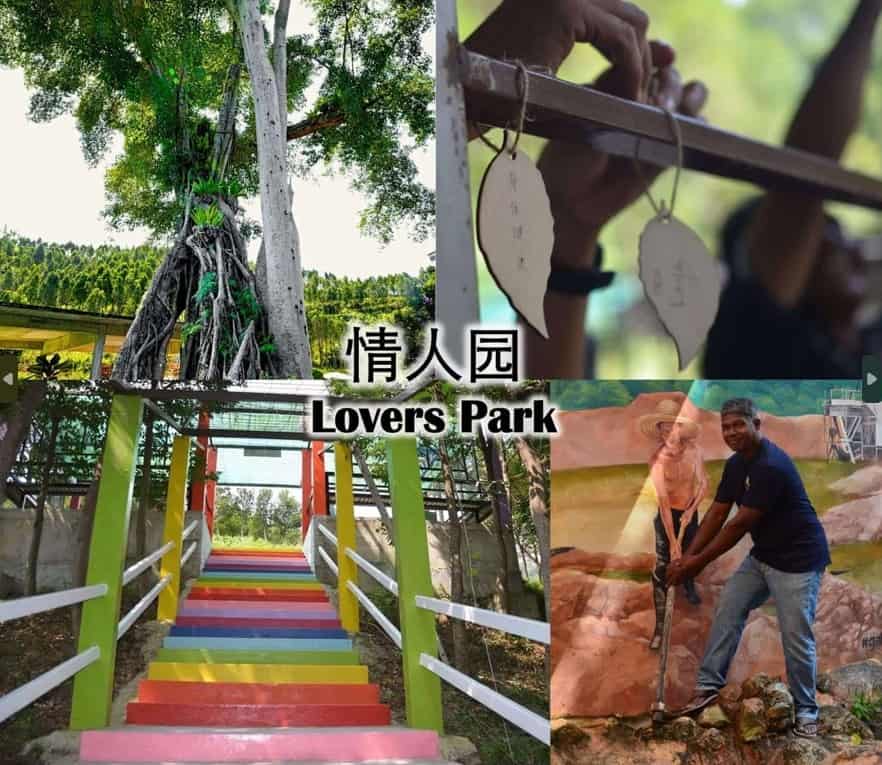 Another park you can visit in Gaharu Tea Valley is Lover's Park, and there's actually a cute reason why it's called this way. It's named after the inseparable pair of trees found inside, which locals later dubbed "Lover Trees".
These two trees are believed to have been around for centuries, and during the process of growing, they became intertwined with one another. Today, they look like they're hugging each other, and the theme of love carried over to the entire park itself.
This makes it a must-visit for couples who're looking to go somewhere special, regardless of the occasion! Plus, the tickets for entering the valley as a whole aren't that expensive, so it's a great cheap date idea too!
Which Nearby Attractions to Visit in Gaharu Tea Valley
Lost World of Tambun Theme Park
Want to engage in an adrenaline-filled activity on your visit to Gaharu Tea Valley? Then we recommend stopping by Lost World of Tambun Theme Park while you're in Ipoh!
This place isn't for the faint of heart, especially the water slides that will take you to different twists and turns! However, the beauty of this attraction is that it's able to cater to different kinds of people by offering a myriad of sub-attractions.
For instance, if you're looking for a more laid-back experience in this theme park, you can go ahead and explore its zoo. Here, you can admire different species of animals, as they go on about their day–a real treat, whether you're into wildlife or not.
To take your relaxation even further, you can also head to its hot springs where you and your loved ones can take a breather. This variety of offerings makes it one of the best destinations for family-friendly activities in Malaysia.
Gopeng Museum
Ever wondered what it would be like to unearth a time capsule? Well, that's exactly what it feels like when you visit the Gopeng Museum!
What's different about this museum is that instead of having historic artefacts, it features ancient tools and equipment to preserve the ways of the olden days. That's why you'll find things here such as typewriters, gramophones, old-school video players and more.
We love this because it's always interesting to see how people did things their way back in the day. If you have kids, try bringing them here and have them figure out what these tools are for because some of their answers will be priceless!
Gua Tempurung Outdoor Camp
As someone who loves the great outdoors, one of our favourite places to visit nearby Gaharu Tea Valley is Gua Tempurung Outdoor Camp. This is because this outdoor camp fully immerses us in nature by offering different packages such as kayaking, cave exploring and camping.
To be honest, we aren't that much of a fan of tight spaces, but their cave exploration package is accessible because of their expert guides. We never feel like we're straying away from the right path, which eases our mind thus helping us enjoy the experience even more.
Plus, we also get to take the adventure up a notch by spending a night under the starry skies inside our tents. They'll provide the tents to be used while the site itself will be on their premises, so you won't have to worry about anything going wrong.
Kellie's Castle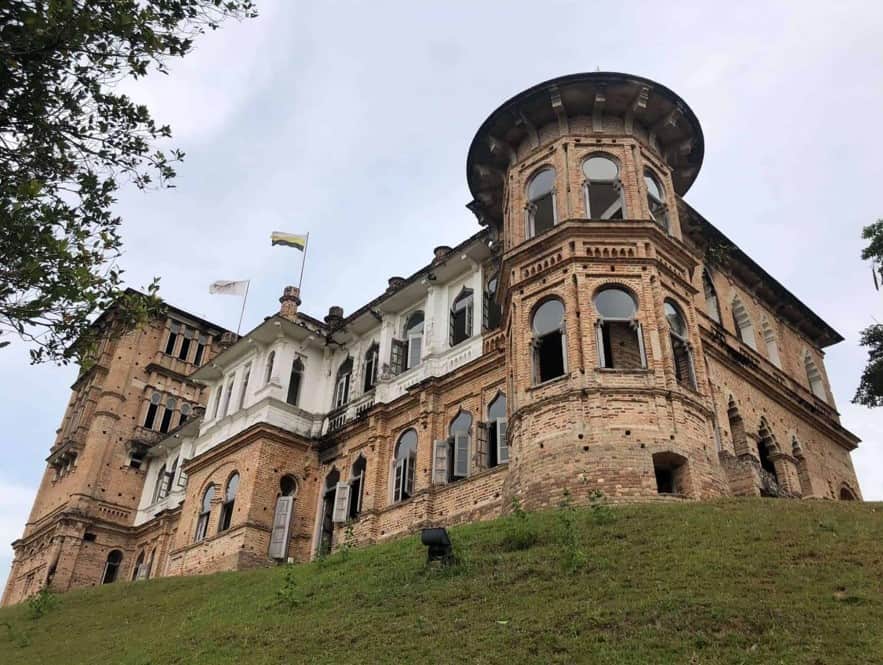 Just 20 minutes away from Gaharu Tea Valley is a beautifully-built structure that we encourage you to visit called Kellie's Castle. What makes it even more picturesque is that it sits atop a green hill.
However, what's beautiful on the outside holds a not-so-pretty story on the inside. Long story short, a Scotsman who's also the namesake of the place, William Kellie-Smith experienced various ups and downs throughout his stay here in Malaysia.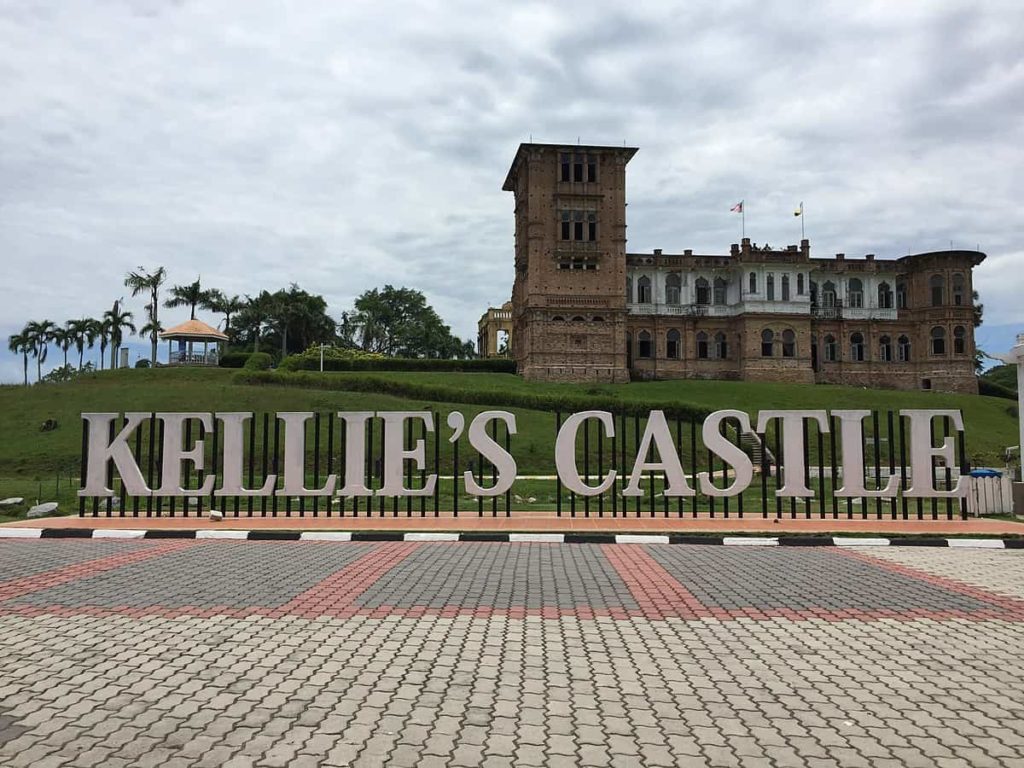 He originally had the house built for his family, but following his demise, construction was halted and his family understandably didn't want to return to Malaysia. The beautiful home was then left to be abandoned in the middle of a natural landscape, turning into the attraction today.
Panglima Lane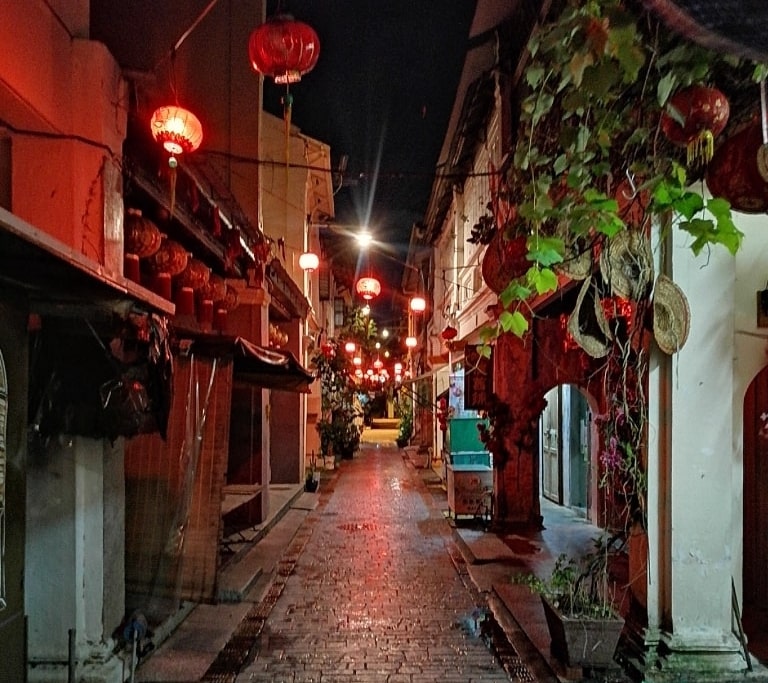 One place we recommend that offers various picture-taking opportunities and local delicacies is Panglima Lane. Roaming these streets will make you feel like you've been transported into the last century, with its two-storey buildings and brick roads.
This vintage look makes it a great place to take Instagram-worthy photos that you can share on your social media accounts. On top of that, this lane is filled to the brim with various stalls that offer different kinds of treats such as pan noodles, squatted bean curd, red bean ice and more.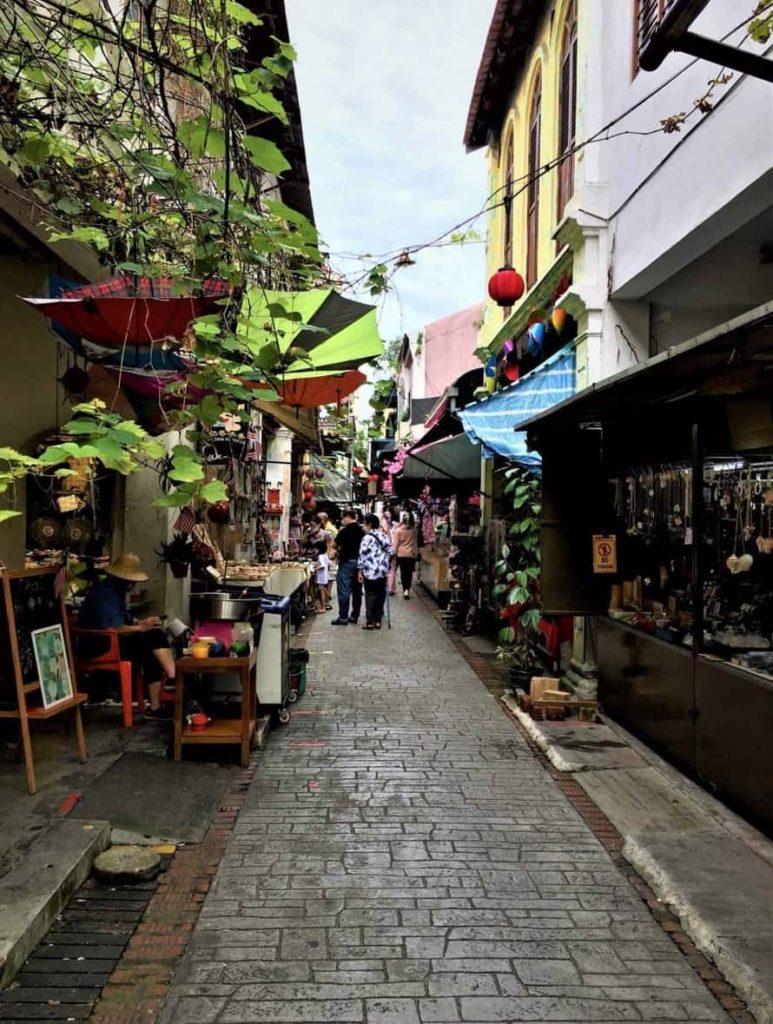 Lastly, you can also find a small yet bustling night market here where you can find amazing souvenirs that you can only find in Malaysia.
Qing Xin Ling Leisure and Cultural Village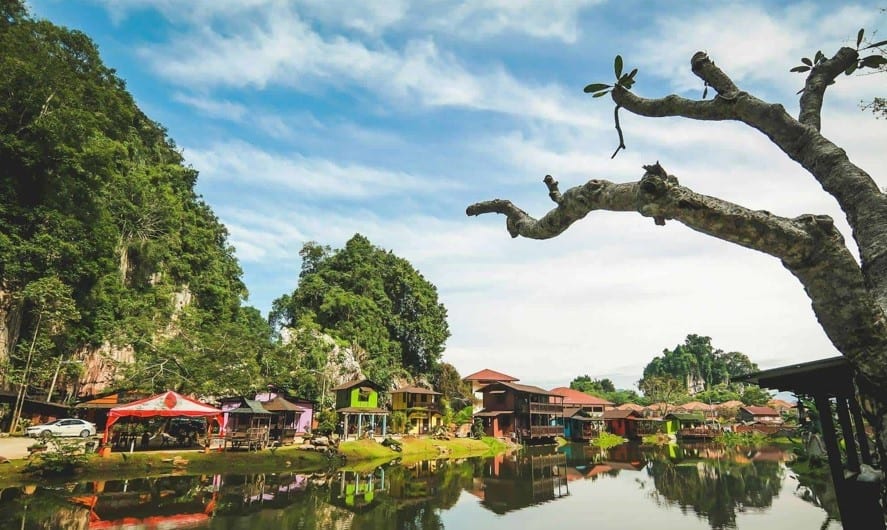 If you're willing to travel for about 30 minutes from Gaharu Tea Village, we suggest checking out Qing Xin Ling Leisure and Cultural Village. It's a must-visit for anyone who's looking to escape the bustling streets of the city with hopes of experiencing utmost relaxation.
We loved our experience in this cultural village because of its serene location. It's located by a lakeside and is surrounded by massive cliffs, providing us with a full 360-degree view of nothing but picturesque landscapes.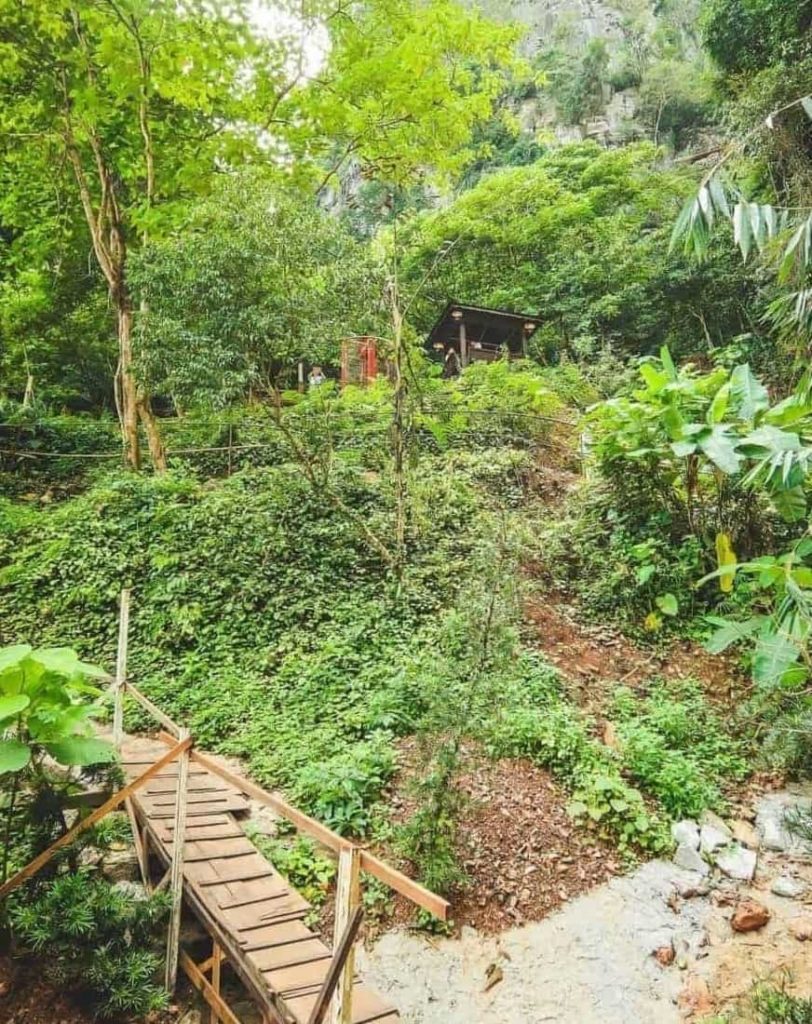 Aside from being such a spectacle, we also appreciated the activities that it offered such as cycling and hiking. We tried both and it's safe to say that the hiking trails are beginner-friendly and not like those found in places such as Royal Belum Park.
If you can't get enough of the cosy and serene vibes of this village, you can stay overnight as well! You can check out their official Facebook page to see the updated room rates they have in the village.
Apps to Download for a Trip to Gaharu Tea Valley
Grab: Ride-hailing app of Southeast Asia
iOs | Android
Google Translate: A handy translation app
iOs | Android
Maps.me: Offline map of the world
iOs | Android
CatchThatBus: Bus ticket booking app
iOs 
XE Currency App: Real-time currency exchange rate app
iOs | Android
I'm filtering the content inside the main loop