Bukit Gasing Trail: A Detailed Guide
Malaysia doesn't fall short on its fun and exciting outdoor activities thanks to its abundance of natural landscapes. You'll find these spots almost everywhere in the country!
One particular spot is the Bukit Gasing Trail, a premier hiking spot nestled between Kuala Lumpur and Petaling Jaya. This makes it a perfect destination for quick getaways from the capital and overall, a great attraction to visit for adrenaline junkies and nature lovers alike. 
If you're planning on visiting this hiking spot soon, check out our guide below to learn everything you need from what to expect, where to stay and dine, plus tips we gathered throughout our years of hiking in the area!
Time Zone
Standard Malaysia Time (GMT+8)
Best Time to Go
The best time to visit Bukit Gasing Hiking Trail may depend on your idea of a perfect hiking experience. For instance, if you want to enjoy a peaceful and quiet trek, we would advise scheduling your hike on weekdays, as this is when most people are busy with their work.
Meanwhile, the weekends are when these trails are at their liveliest state, and it's a great time to visit if you appreciate this kind of environment. However, do prepare yourself for the crowdedness that you'll encounter during your hike if you choose to visit during these two days.
As for the weather, Bukit Gasing is pleasant to visit all year long except for the monsoon season (October to January).
Things to Know
Currency: Malaysian Ringgit
(Check the current exchange rate)
Language: Bahasa Malaysia, English
Calling Code: +60
Location: 51D, Jalan 5/4i, Bukit Gasing, 46000 Petaling Jaya, Selangor, Malaysia
Parking: A parking area can be found at the main entrance but we think this is insufficient compared to the amount of visitors the attraction gets. This is why you'll find cars parked on the roadside most of the time, which is illegal so please refrain from doing this!
You'll find another parking spot located not more than a hundred metres from the main entrance.
Entrances: Bukit Gasing Hiking Trail has five entrances in total, and each one is spread apart throughout the whole park. These are:
Entrance fee: Free
Opening hours: Always open
Overall duration to explore: One and a half hours or more.
Difficulty: Easy to Intermediate
Points of Interest in Bukit Gasing:
Suspension Bridge
The Abandoned House
The Peak of the Hill
The Border of Kuala Lumpur and Petaling Jaya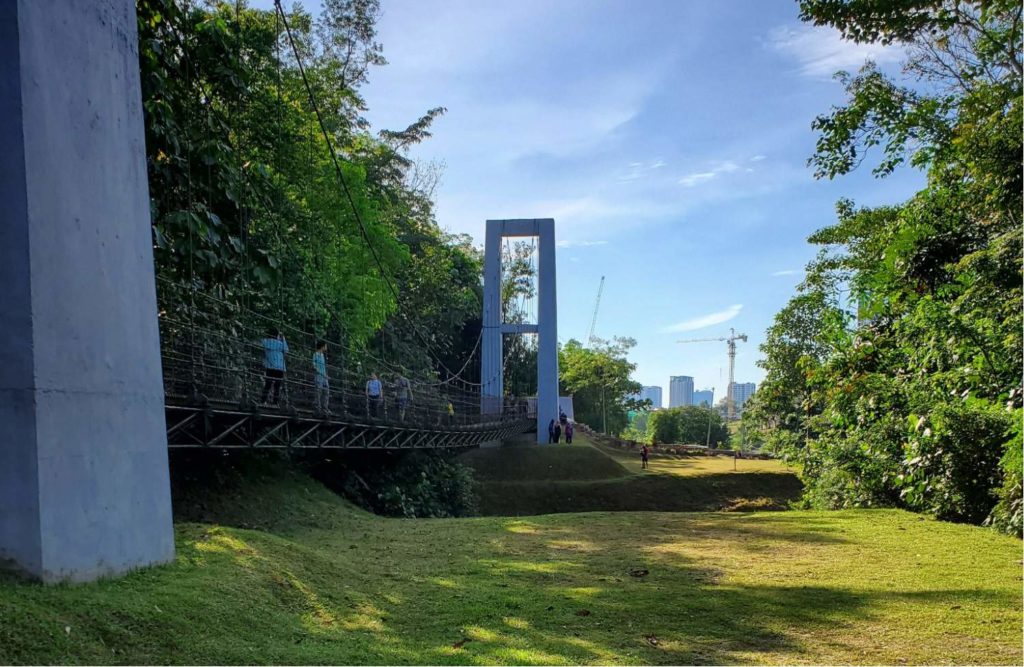 Bukit Gasing Hiking Tips
Be careful of monkeys when you're near the Hindu temple, as they can be a bit aggressive at times. They're also known to be handsy with your belongings so be sure to keep them safe inside your bag!
Avoid hiking during the monsoon season, as this will make the hiking trails much more challenging when they become slippery and muddy.
Come early if you don't want to encounter tons of other people during your hike. We recommend going on weekdays or heading there as early as 6:30 a.m. if you're visiting on weekends.
As much as possible, go out the main entrance after your trip. This is because it's here where you'll find facilities where you can wash off any dirt or mud from your feet before going back to your car.
There are many mosquitos along the trails, so bring a mosquito repellent so you can always reapply.
Download the trail map here before you even visit the hiking site.
There are no other toilets in the park aside from the one found near the main entrance so make sure to do your business before starting your hike!
How to Get to Bukit Gasing Hiking Trail
Trains: The train system will come in handy when visiting Bukit Gasing Hiking Trail. To get here, you must ride a train heading to Pantai Dalam. From there, you can ride a cab, book a grab or simply walk towards the hiking trail.
Buses: KL and PJ have great bus networks that stop at various points of interest in the two major cities. To get to Bukit Gasing Hiking Trail, you have to ride a bus going to Jalan Gasing, as it's the nearest station to the hiking trail.
From there, it's only around a four-minute walk, which is great, as it lets you warm up before hiking!
Taxis: Since the hiking trail is located between two major cities, you won't have trouble finding taxis to hail. Be sure to insist on using the metre though as some drivers take advantage of tourists!
Grab: Grab is a great alternative to taxis if you don't want to argue with the fare. It already presents you with a fixed fare before you book a ride, and it's much more convenient.
Rental car: If you want to be in charge of your own route and prefer to have the comfort and privacy of a car, there are good rental companies in KL and PJ. Keep in mind though that the prices may vary depending on the model of the car and the duration of the rent.
Top Hiking Trails to Try
Bukit Gasing Loop
| Difficulty | Length | Estimated completion time |
| --- | --- | --- |
| Beginner - Moderate | Approximately 3.9 km | Around one and a half hour |
Bukit Gasing Loop is one of the most famous hiking trails in the forest park, which is why you can expect to encounter a lot of other hikers during your walks. What's great about this trail is that it covers a lot of ground, as it circles the entire area in a loop, hence its name.
We can say that it's a moderately challenging hiking trail because it consists of both open trails and steps. Furthermore, it gives you numerous paths to choose from so it's easy to veer away from the trail so be sure to always stick with your group or check the trail map when in doubt.
Bukit Gasing – Fence Trail Loop
| Difficulty | Length | Estimated completion time |
| --- | --- | --- |
| Moderate | Approximately 3.5 km | Around one hour and 24 minutes |
If you're feeling a bit more adventurous, we recommend trying out the Fence Trail Loop. It's a mixture of steps and jungle routes that will take you to beautiful sights such as streams and serene forests, making it one of the most scenic trails in the park.
The main highlight of this trail, however, is the famous suspension bridge that you'll have to pass through to complete the trail. It's more than just a bridge, however, as it's a must to take a photo while crossing it to forever commemorate your trip to this forest park.
Abu Bakar Loop
| Difficulty | Length | Estimated completion time |
| --- | --- | --- |
| Moderate - Difficult | Approximately 4.7 km | Around one hour and 41 minutes |
Abu Bakar is one of the longest trails in Bukit Gasing, spanning approximately 4.7 km, which means that you need to have good cardio to complete it. Fortunately, you'll come across stools and shelters so you can take a breather every once in a while.
Fortunately, this length is made up for by the beautiful scenery you'll be treated to while you're walking. Aside from the tall trees and small hills, you may come across some majestic animals such as monkeys and colourful birds.
Bukit Gisang – Sivan Temple Trail
| Difficulty | Length | Estimated completion time |
| --- | --- | --- |
| Beginner - Moderate | Approximately 1.9 km | Around 46 minutes |
If you're bringing kids with you, we recommend taking the Sivan Temple Trail, as it's one of the more beginner-friendly out of the bunch. Furthermore, it's a nice and lovely scenic route where you'll be able to spot some wild animals and beautiful natural landscapes.
One of the biggest highlights of this trail is the titular Sivan Temple, where you may find monkeys swinging across trees. The best spot here, however, is the Liana Steps viewpoint where you'll get to enjoy a full panoramic view of the surrounding nature.
Bukit Gasing – Extended Loop
| Difficulty | Length | Estimated completion time |
| --- | --- | --- |
| Difficult | Approximately 5.8 km | Around 2 hours and 6 minutes |
The Extended Loop is the toughest trail in the forest park because of its sheer length. If you look at the bright side, however, this means that you'll have more sights to see and exhilarating experiences to enjoy!
This trail will take you to different twists and turns while surrounding you with towering trees all throughout your journey. It's not all trees though, as you'll also get to spot several fauna and flora species, making the trip extra enjoyable.
Where to Stay near Bukit Gasing Hiking Trail
VE Hotel & Residence
Address: 8, Jalan Kerinchi, Bangsar South, 59200 Kuala Lumpur, Wilayah Persekutuan Kuala Lumpur, Malaysia
Phone: +60 3-2246 2888
Pricing: $$
If you're looking for a classy hotel that doesn't feature prices that will burn a hole in your pocket, we recommend you check out VE Hotel & Residence. Some of our favourite things about this hotel are its sauna, swimming pool and exquisite selection of restaurants.
The prices here aren't too expensive but they're not cheap either and fortunately, the cost is made up for by their high-quality rooms. Each one is fitted with must-have amenities such as flat-screen TVs, free Wi-Fi, hot water, lockboxes and more!
The Pearl Kuala Lumpur Hotel
Address: 5th Mile, Jln Klang Lama, 58000 Kuala Lumpur, Malaysia
Phone: +60 3-7983 1111
Pricing: $$$
The Pearl Kuala Lumpur Hotel is one of the more luxurious places you can stay near Bukit Gasing Hiking Trail. It's a 4-star hotel so you can expect to be treated to premium rooms alongside facilities and amenities that feel just as lavish.
For starters, the rooms here are extremely spacious and each one features simple yet elegant interior designs, with some even having beautiful views of the skyline. Outside these rooms, you'll get to enjoy facilities such as swimming pools, restaurants and a fitness centre.
Hilton Petaling Jaya
Address: 2, Jalan Barat, Pjs 52, 46200 Petaling Jaya, Selangor, Malaysia
Phone: +60 3-7955 9122
Pricing: $$$
Simply put, there's nothing better than staying at one of Hilton's hotels and for several good reasons. Personally, we love this particular branch because of its amazing selection of restaurants where guests can spoil themselves with local and international dishes.
Another thing you can expect from Hilton hotels is their rooms, which are second to none when it comes to design and functionality. This being said, we recommend staying here if you want to get a good night's sleep after spending an entire day hiking at Bukit Gasing.
Komune Living
Address: 20, Jln Kerinchi Kiri 3, Kampung Kerinchi, 59200 Kuala Lumpur, Wilayah Persekutuan Kuala Lumpur, Malaysia
Phone: +60 3-2742 5788
Pricing: $
If you're looking for a budget-friendly hotel, then you should check out Kommune Living in Bangsar, KL. It may be cheap compared to other lodging options within the same area but don't be fooled, as the quality is up to par with the big-name hotels out there!
The rooms you'll get to book here are simple, but they do the job of providing you with a nice comfortable stay. With huge beds and plush sheets, you'll get to sleep like a baby in this hotel after exploring the twists and turns of Bukit Gasing Hiking Trail.
Imperial Regency Suites & Hotel Bangsar
Address: Tower D, Bangsar Trade Centre (Formerly Known as, Jalan Pantai Baru, 59200 Kuala Lumpur, Federal Territory of Kuala Lumpur, Malaysia
Phone: +60 3-2201 5888
Pricing: $$
Imperial Regency Suites & Hotel Bangsar is a great option if you're not looking to spend too much but still want to experience a somewhat luxurious stay. It's a mid-tier hotel that features amazing rooms that can serve as your second home during your stay near Bukit Gasing.
Aside from the hotel itself, what we love about this establishment is its strategic location. Not only is it a short walk away from Bukit Gasing but it's also located near essential establishments such as stores, restaurants and even a shopping mall!
Where to Eat Nearby Bukit Gasing Hiking Trail
Lotus Family Restaurant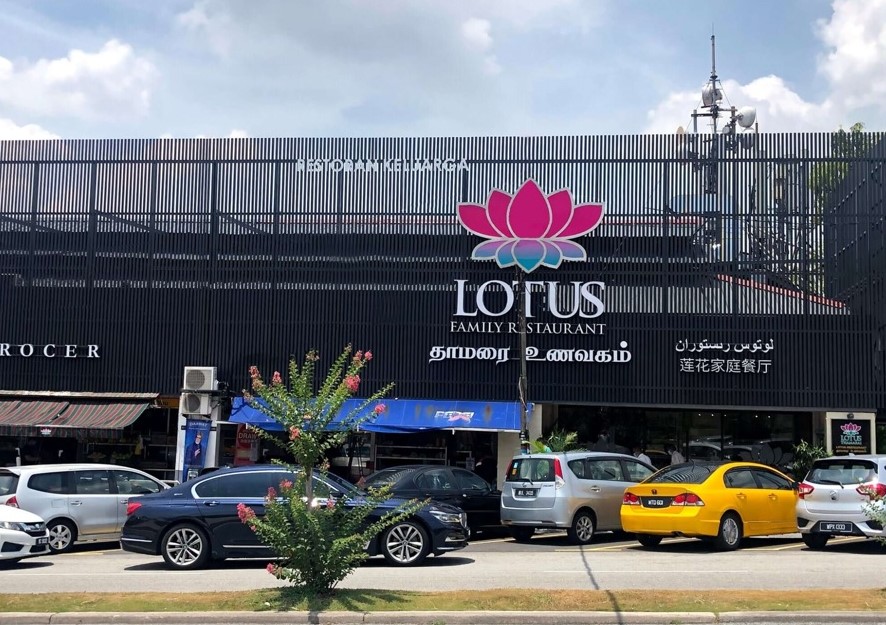 Address: 15, Jalan Gasing, Seksyen 6, 46000 Petaling Jaya, Selangor, Malaysia
Phone: +60 3-7782 8795
Pricing: $-$$
If you don't know where to eat but want to treat yourself to something that will fill your stomach, Lotus Family Restaurant is a solid choice. It's an amazing Indian restaurant that serves all-time classics such as curry, banana leaf meals and more!
What we love about this restaurant is that it treats you from entree to dessert. After feasting on their savoury meat and spicy curry, you can end your meal on a sweet note by ordering their cookies and other sweet desserts.
Lara's Spice Kitchen
Address: 274, Jalan 5/51, Taman Petaling, 46000 Petaling Jaya, Selangor, Malaysia
Phone: +60 12-833 9334
Pricing: $-$$
Indian cuisine is big here in Petaling Jaya and Lara's Spice Kitchen is the perfect place to find out why. From authentic banana leaf rice to curry and more, their menu serves just about every staple from this colourful cuisine, and the best part is that they don't cost a fortune!
You can't go wrong with anything from their kitchen but if you want our advice, we recommend ordering the salted fish curry. It features the perfect balance of saltiness and tanginess and it's not too spicy, which is just how we like it.
Five Cafe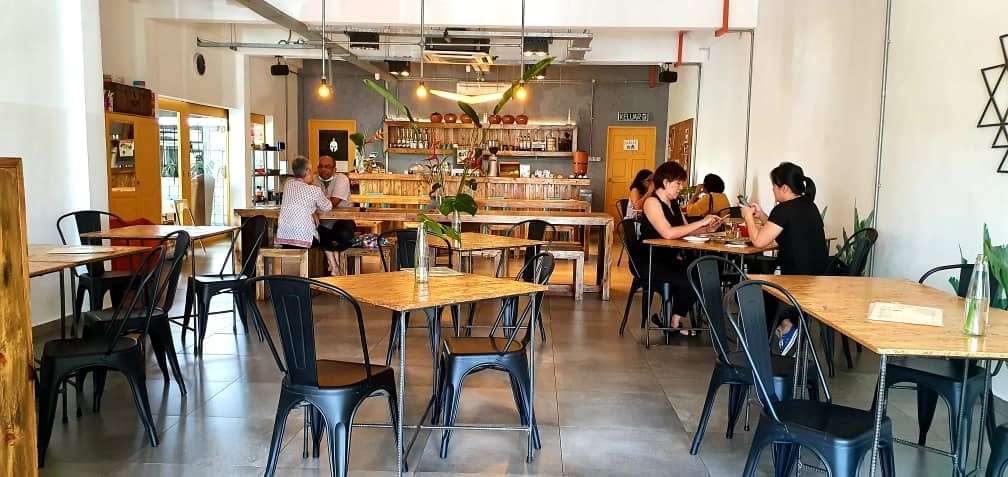 Address: 357D, Jalan 5/57, Section 5, 46000 Petaling Jaya, Selangor, Malaysia
Phone: +60 3-7772 5476
Pricing: $$
If you're looking to sip on some high-quality cup of joe before proceeding with your morning hike, you can stop by Five Cafe. It's relatively near the hiking trails and they serve an impressive selection of coffee and non-coffee drinks.
Aside from their beverage collection, they also serve some good grub that can boost your energy before or after your hike. They serve meals such as nasi lemak, English breakfast, granola bowls and more.
Khan's Indian Cuisine
Address: No.8, Level 1, The Sphere No.1, Avenue 1, Jalan Kerinchi, Bangsar South, 59000 Kuala Lumpur, Malaysia
Phone: +60-3977 94998
Pricing: $$$
If you want to experience a more luxurious dining experience while you're in the area, stop by Khan's Indian Cuisine in The Sphere. It's one of the most famous Indian restaurants in the country and for good reason so be sure to not miss out on the opportunity of dining here.
This place is one of those rare instances where your eyes will be just as satisfied as your tastebuds because of the beautiful ambience of the restaurant. Plus, it also helps that you'll get to be treated like royalty as you're served the different dishes they have from their kitchen.
STREAT Thai
Address: Unit G-3, Level, G, Nexus, 7, Jalan Kerinchi, Bangsar South, 59200 Kuala Lumpur, Wilayah Persekutuan Kuala Lumpur, Malaysia
Phone: +60-1 2718 0128
Pricing: $$
STREAT Thai is a famous chain in Malaysia and as you may have gleaned from its name, it's famous for serving authentic Thai dishes. This place is a must-visit, whether you're familiar with Thai cuisine or not because of the quality of each of their offerings.
Whether you're eating lunch, breakfast or dinner, this restaurant will have something on its menu that will pique your attention. If you don't know what to order, we recommend trying the tom yam chicken, as it's the safest option in our opinion.
Apps to Download for a Trip to Bukit Gasing Trail
Komoot: Route planner/trail map provider
AllTrails: Route-planner/trail map provider
Grab: Ride-hailing app of Southeast Asia
Google Translate: A handy translation app
XE Currency App: Real-time currency exchange rate app