Gaming Chair vs Office Chair: Which is Better?
In general, both gaming and office chairs are comfortable to sit on for long hours and give excellent support to the neck, back, and arms.
That makes them ideal choices to have at your home or office. But which one of them is better  for a particular someone?
We answer these questions and share useful information in this simple guide here. If you're ready, let's begin!
Difference Between a Gaming and Office Chair
The main difference between an office and a gaming chair lies in their design and features. Let's juxtapose their characteristics so we can compare them easily.
Although each chair is different, we will regard the key design elements of most gaming and office chairs, as outlined below:
| Gaming Chair Design | Office Chair Design |
| --- | --- |
| Bucket seat Raised front lip seat Fixed headrest Detachable head and lumbar pillow Winged backrest High level of back recline Flexible and adjustable armrests Usually comes in bright colours | Adjustable headrest Wingless backrest Waterfall-shaped seat edge Flat seat pan Back recline (low, medium, and high) Fixed or adjustable lumbar support Height-adjustable armrests |
Having listed them, let's compare gaming and office chair designs based on comfort, flexibility, aesthetics, and price.
Comfort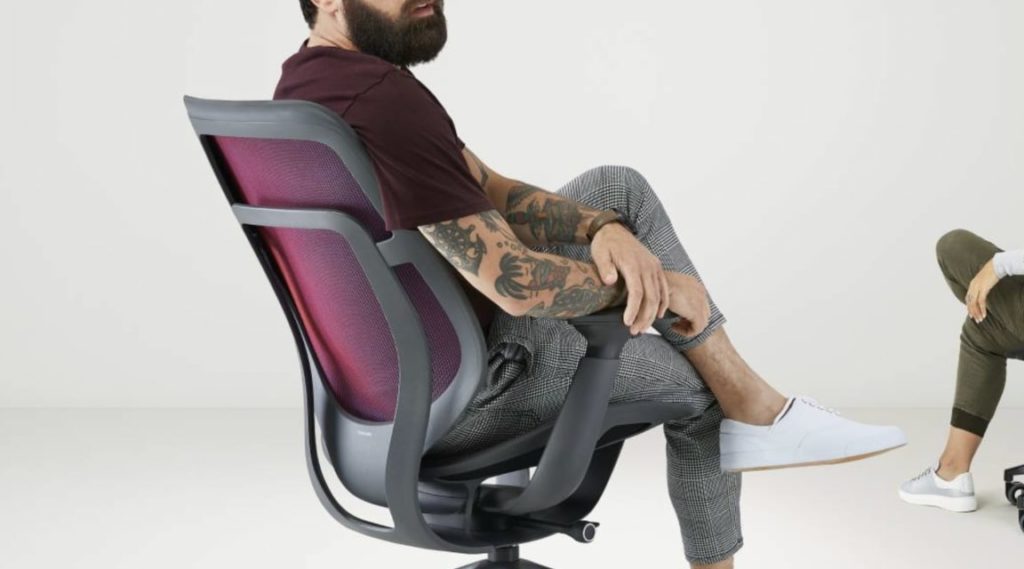 The type of seat differs in a gaming and office chair. Gaming chairs adopt a bucket seat while office chairs have a waterfall edge design.
Now, if you're wondering what bucket seats are. These are seats that are simply raised on the sides, kind of like those you see on racing car seats.
Its function is simple: it prevents the driver from moving about when he shifts his weight left or right while racing.
In using a gaming chair, however, you don't really move in your seat, so the purpose of this is to only give you the illusion that you're driving in a real car while playing racing games like Gran Turismo or Forza Horizon 5.
In contrast, the waterfall seat edge of office chairs is designed to reduce pressure buildup at the back of your thighs. The correct position in sitting is having your knees bent 90° with your foot flat on the floor, so this feature is important if you're sitting for the whole day.
As for the winged backrest of gaming chairs, this may provide a sense of back comfort to some people. Some, though, with larger backs find these chairs to only be more of a hindrance than a help.
Some office chair models also come with lumbar support—a feature that's present in many gaming chairs. Both could also have a neck support, although gaming chairs feature an adjustable one, and thus can be more ergonomic, as opposed to fixed neck support of office chairs.
Flexibility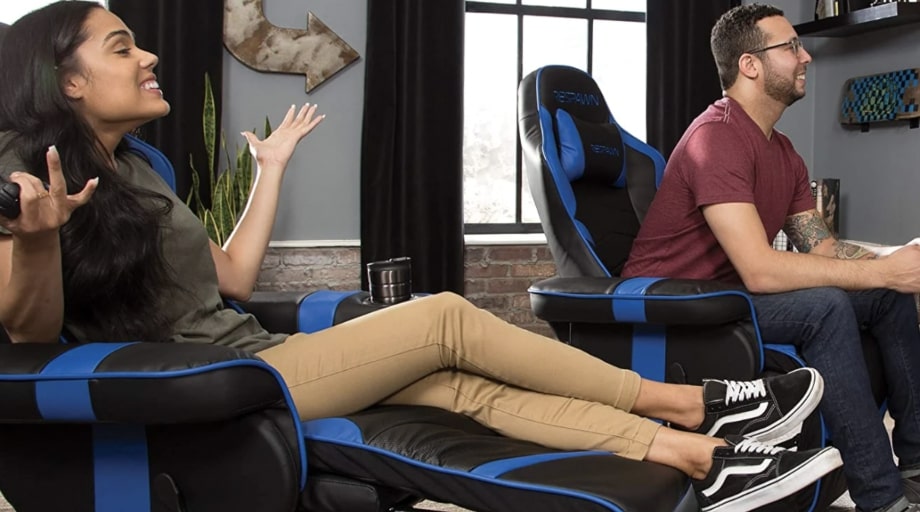 Since avid online gamers change their positions now and then, gaming chairs feature a higher level of adjustability for the back recline and armrests than office chairs.
This lets them adjust to the setting that's most comfortable to them, whether they desire to play lazily, rest and relax their tired eyes, or eat a snack with their legs crossed.
Whereas, office chairs let you adjust the chair's recline in only three simple settings: low, medium, and high. You may not be able to go all the way back and put up your feet on the table like with gaming chairs.
Aesthetics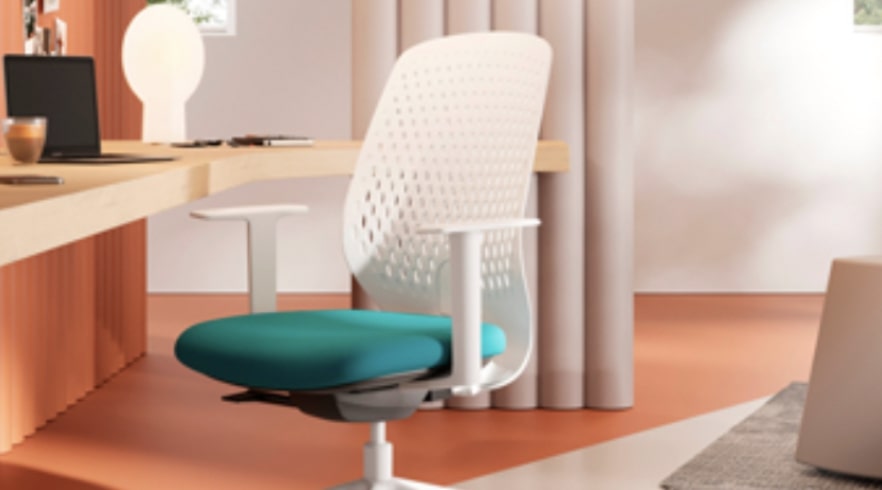 Once you get the comfort and customisation features down, chair aesthetics is a no-brainer. For this, you simply pick one that matches your preference and the decor of your space.
Office chairs, of course, are more fit for workplaces or coworking spaces, whilst gaming chairs are ideal to be used in internet cafes and homes, because of their striking colours. 
The former mostly come in black or dark blue, whereas gaming chairs come in red, orange, green, and blue, suggesting the idea of fun, excitement, and competition.
Cost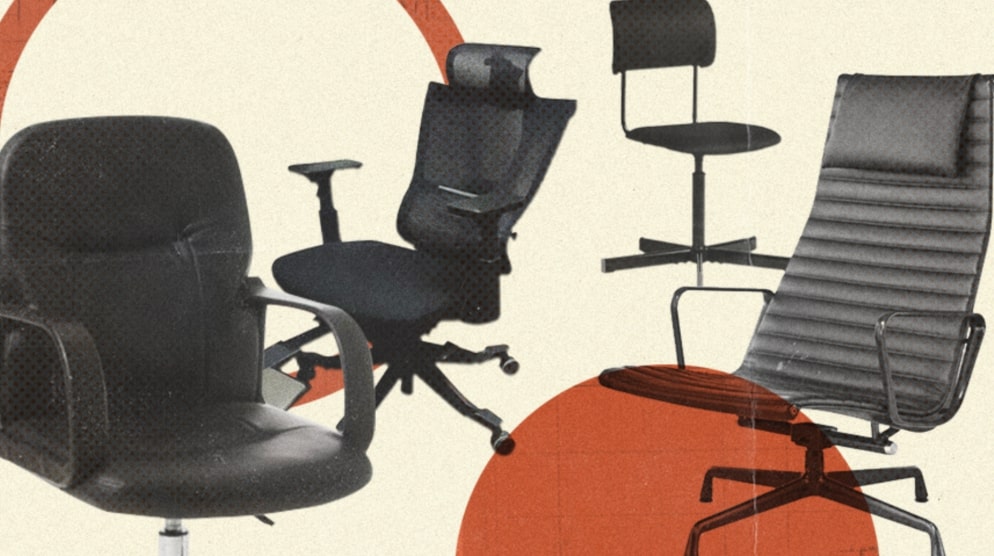 Chairs for gaming and office come in different price points. In Shopee Malaysia, the former sell from RM30 to RM400, and the latter RM50 to RM600 depending on the seller or supplier.
Pound for pound, gaming chairs cost more than office chairs due to typically having more ergonomic features and adjustability. It follows from this if you want the most comfortable chair at a fair price, a gaming chair might be for you.
Also, the higher the price, the more you'll get out of the features, but it's not always like that. So look around to find the best chair for your budget and needs, as there's bound to be one given the many ergonomic and stylish chairs on offer online.
Should You Get a Gaming or Office Chair?
| Chair Type | Pros | Cons |
| --- | --- | --- |
| Gaming Chair | Comfortable and game-ready Striking colours Wide range of ergonomic features Flexible customisation options | More expensive than office chairs May feel small for bigger people due to the winged backrest |
| Office Chair | Sturdy and relaxing Typically gives great support to the neck, back, shoulders, and thighs More affordable than gaming chairs Tons of models and designs on offer | Armrests and back recline aren't that versatile Less support features |
For us, office chairs top gaming chairs in terms of ergonomics. They often have a breathable mesh construction on the upper and mid sections to keep you cool, as well as a waterfall-edge seat, a sturdy back, and ample recline settings to keep your back in a natural and relaxed position all day.
What they seem to lack in design features which gaming chairs have—lumbar support, rotatable armrests, high level of recline, and the whole shebang—they can have also, but you would probably have to pay a higher price for it.
And office chairs aren't also restricted to the tall, cumbersome design of gaming chairs. Furthermore, the latter's winged backrest and raised sides only serve to limit the sitter's movement unlike with an office chair.
Other Related Articles