13 of the Most Famous Malaysian Arts and Crafts 
The best way to commemorate your memorable trip to Malaysia is to bring a little piece of it with you. Fortunately for you, the country doesn't fall short on local goods that perfectly showcase the talent, creativity and culture of the Malays.
If you're looking for the best souvenirs you can buy in Malaysia or you simply want to know more about our culture, we've got you covered! Here's an overview of the different traditional arts and crafts here in the country:
Batik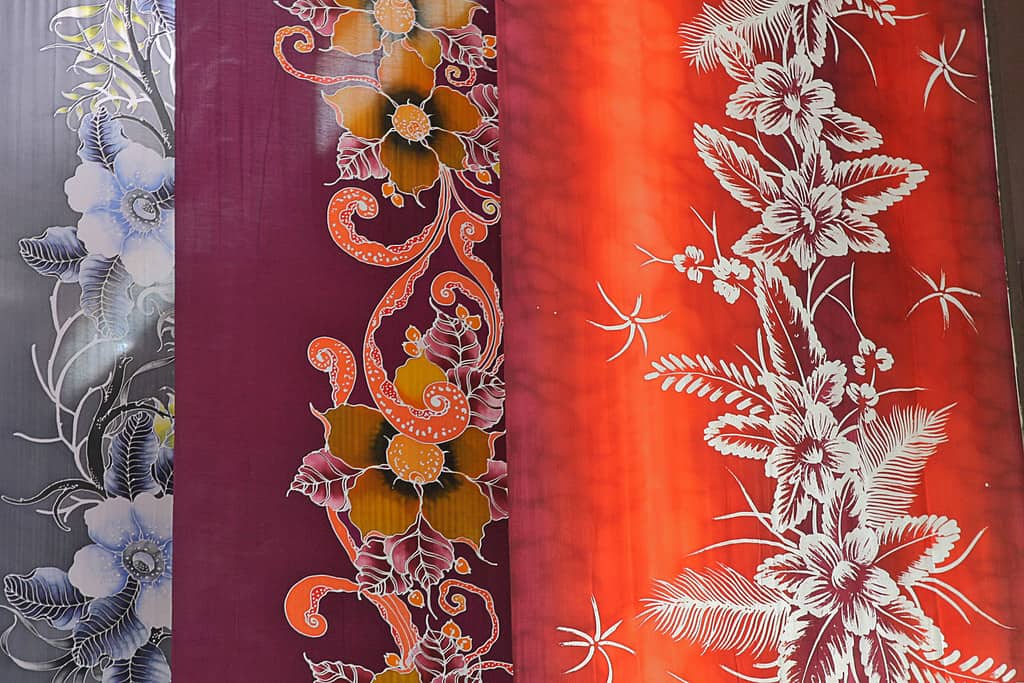 If you want to bring something home with you that dates back to the earliest days of the country, we recommend getting batik fabrics. Batik is an old art form that turns a typical white cloth into something vibrant and beautiful using wax-resist dyeing techniques.
You'll immediately know a batik fabric when you see one thanks to its colourful illustrations of flowers and leaves. This isn't just a design choice too, as makers of this craft avoid depicting humans and animals in their designs since it's against Islam norms.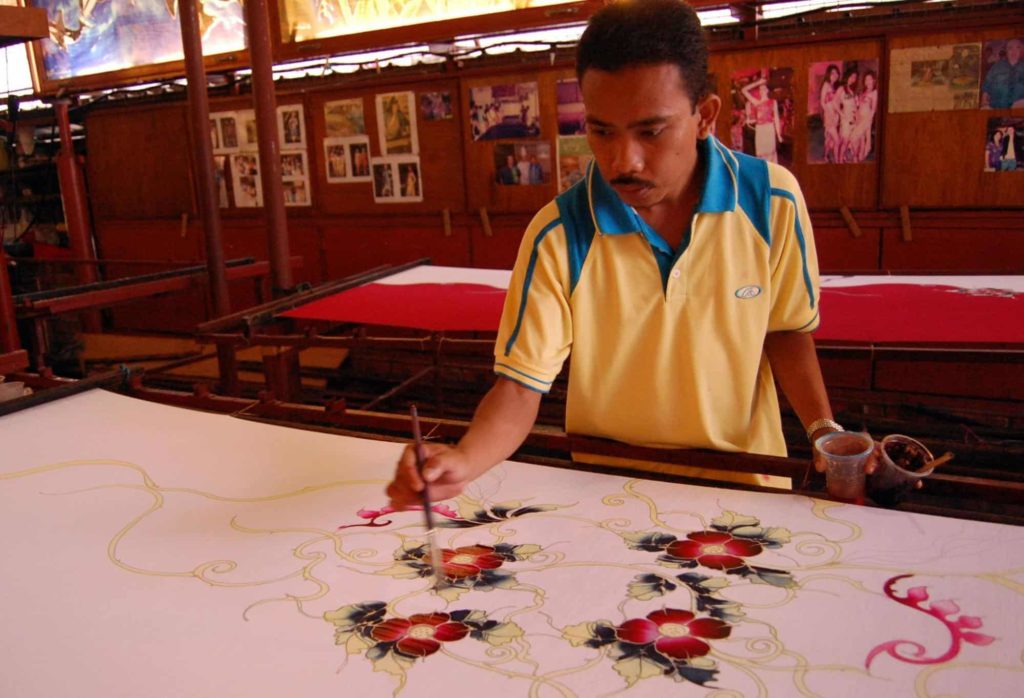 The great thing about batik fabrics is that they can come in different forms. For instance, if you want something that you could wear on special occasions, you can buy batik scarves and other pieces of clothing.
Meanwhile, if you want something that you can use to decorate your home, you can purchase batik pillowcases. Overall, they're great ways to spice up an overall boring design, and we recommend them to anyone who's looking to bring more colour into their lives.
Pewter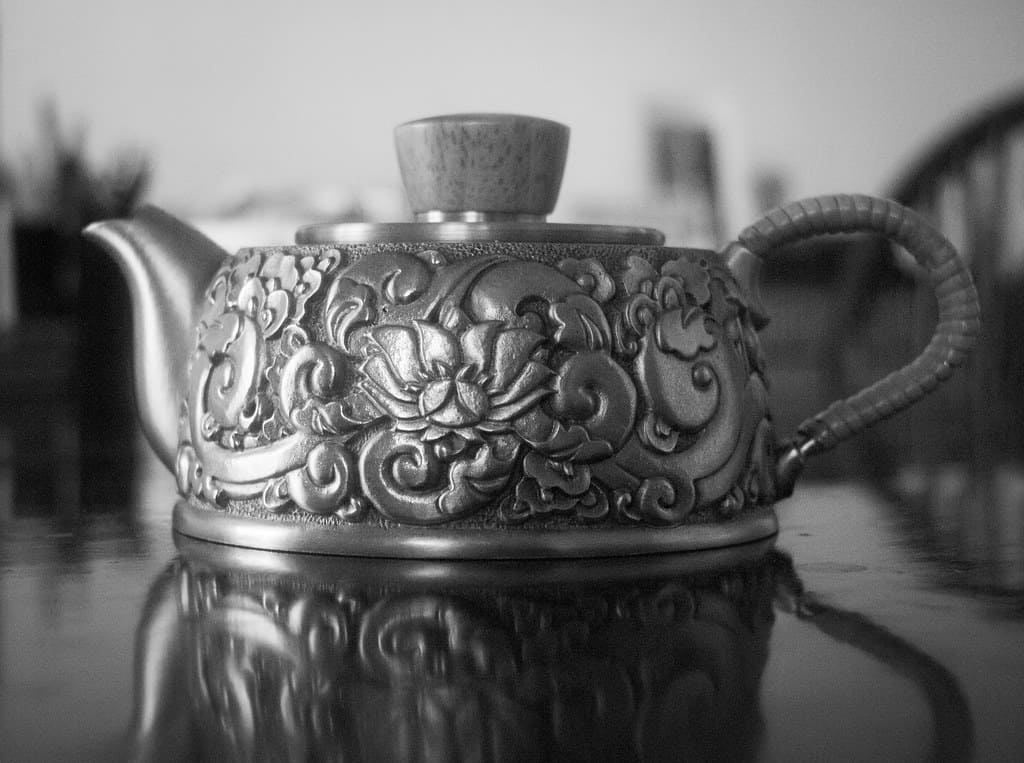 One of the most common materials that you'll find in the country is pewter, a type of malleable alloy. If you've spent some time in the country, you've stumbled upon this material once or twice since it's used to make everyday objects such as tableware, keychains and more.
You'll immediately spot products made out of pewter from a mile away because of how shiny they are. This kind of shininess is what makes them popular among locals and tourists alike because it makes everyday items look more glamorous.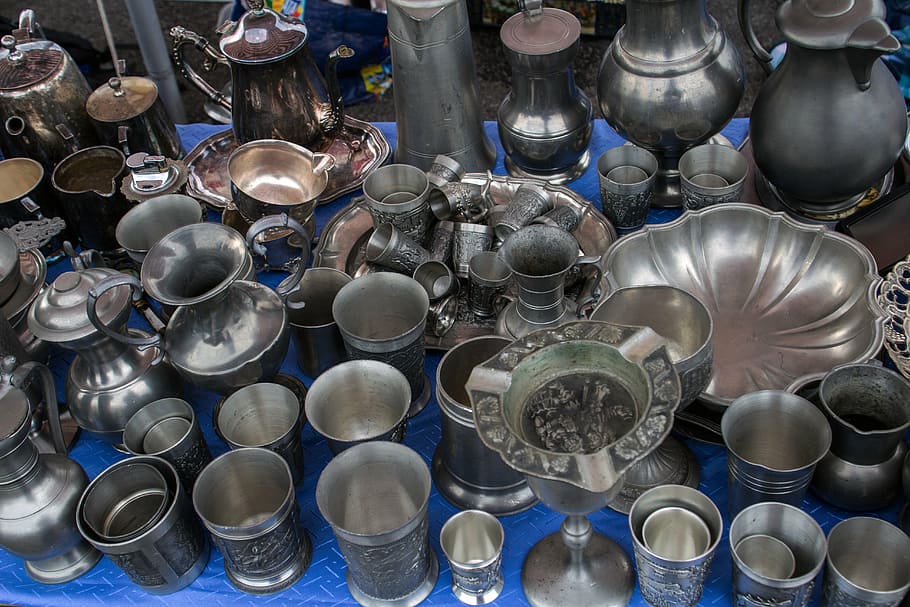 If you're looking for a smaller souvenir, you can also get pewter keychains that you can attach to your bags! Plus, the best part is that these won't be your typical keychain, as they'll be more durable and shiny.
Earthenware and Ceramics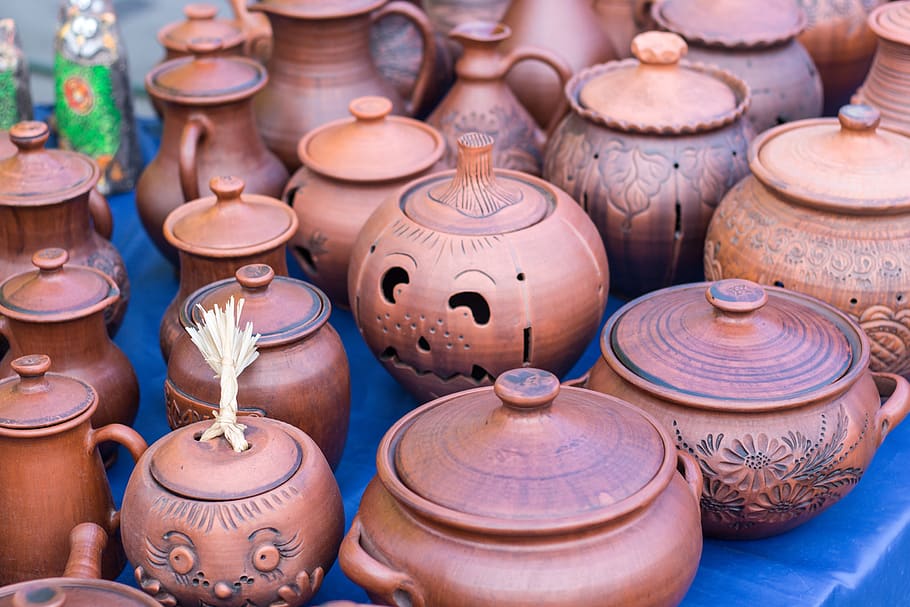 One of the best ways locals show their artistic abilities is through pottery. This is why you'll find countless earthenware and ceramics across different markets in the country such as Chinatown, Petaling Street and Bukit Bintang.
From pots to vases, kitchenware and other decorative sculptures, this local craft is one of the most varied products you can bring home. We also love how each piece of this craft is painstakingly designed down to the most minute details.
Some of these products aren't just great for displaying as well! A great example of this is the belanga which you can bring home to create different kinds of curries thanks to how it's designed to distribute heat evenly.
Songket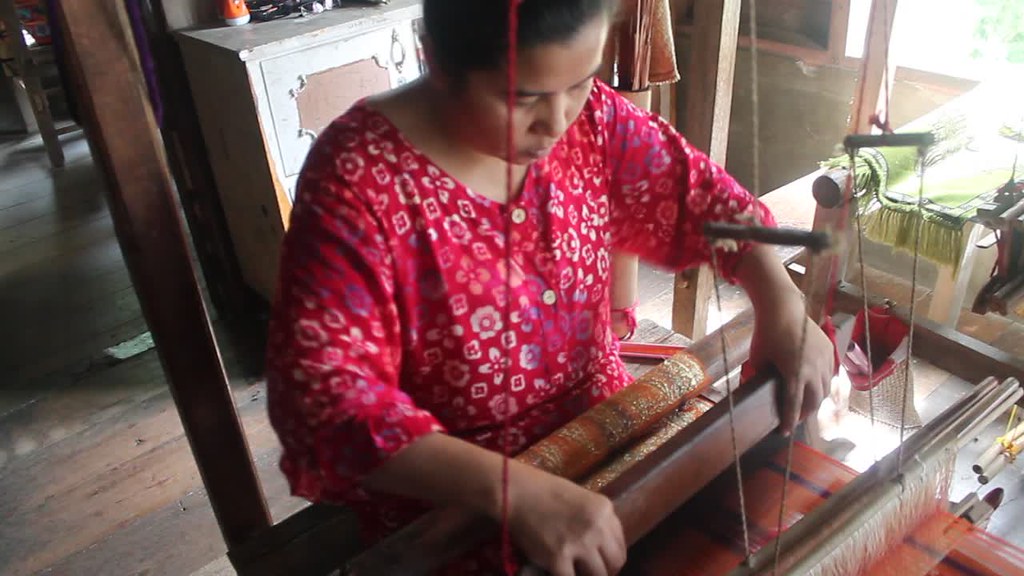 Another fabric-type craft that's associated with the Malay culture is songket. Much-like batik, these are also handcrafted fabrics only this time, they're created using traditional weakening techniques.
To distinguish it from batik, look for shiny gold and silver threads, as these can only be found in songket products. These shiny threads along with other colours are intricately woven by experts in this craft to create pieces of clothing used in special celebrations.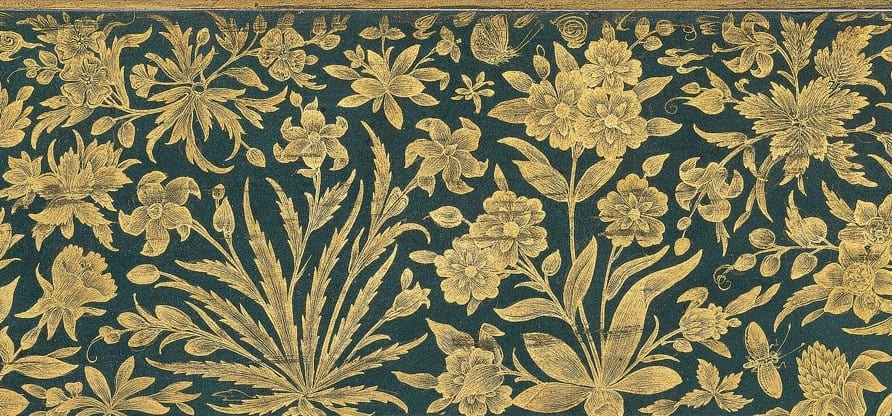 Moreover, you can also find this technique being used to create other products such as handbags and wallets.
Keris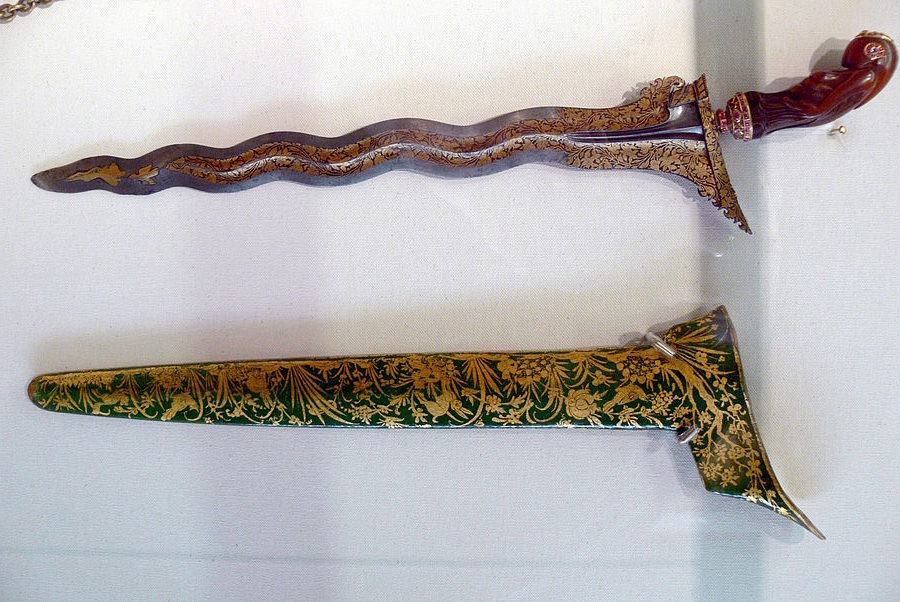 A great metallic handcraft that won't only make for a good display, but a great story too is the keris. Also known as kris, this is an asymmetrical dagger whose origins can be traced back to as early as 875 AD–imagine having that in your living room right?'
Taking a closer look at these daggers along with their sheaths will make you appreciate the craftsmanship even more. From the tiny carvings to the handle of the blade and more, these metallic handcrafts are the epitome of attention to detail.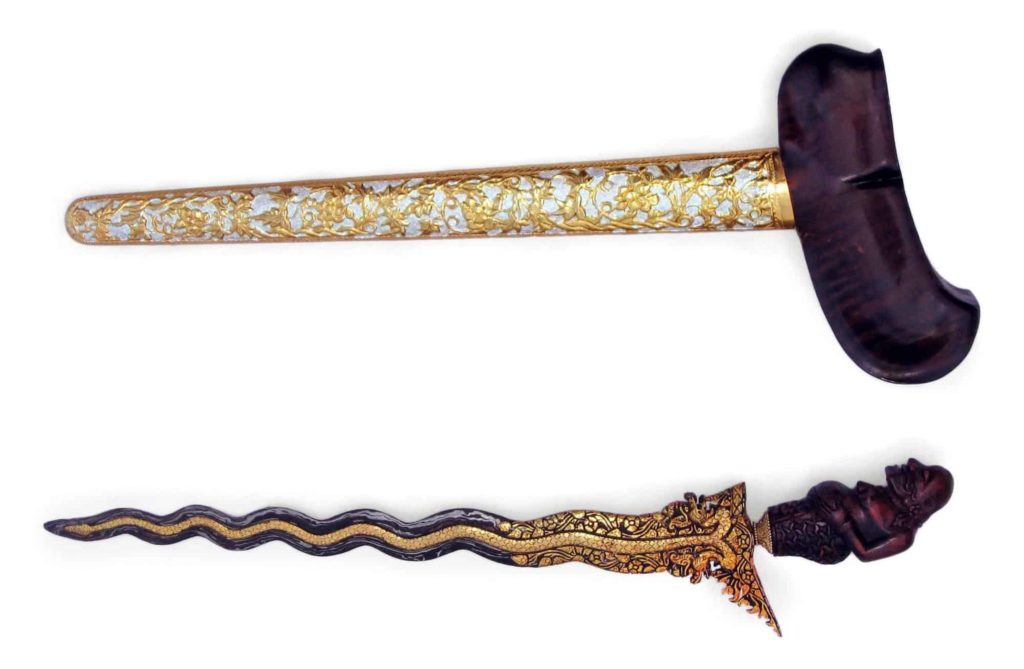 Aside from being such a marvel to look at, we Malays also believe that this piece of art holds some sort of magic, more particularly, luck. Although there's no proof of this, we love having it around because of this belief, especially during special ceremonies.
Wood Handicrafts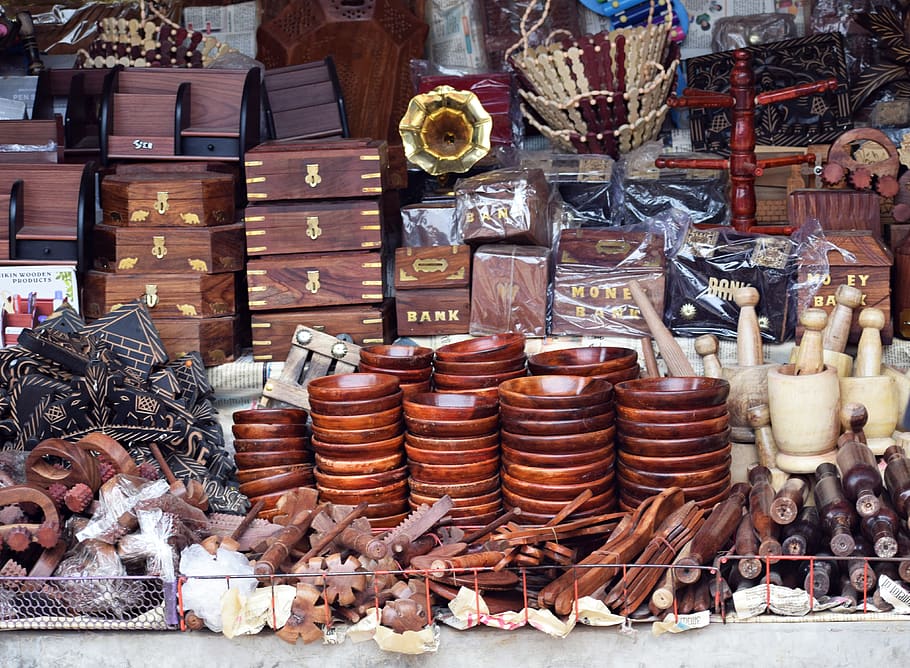 Take a stroll on one of KL's night markets and you're bound to find different wood handicrafts. With this widely available material, artisans can create different products such as pots, utensils and canes, all of which you can use and display at the same time.
If you're looking for something that can be a conversation starter or a statement piece for your living room, you're in luck as well! This is because several wooden structures depict various mythical creatures.
Plus, you won't have to worry about these products' durability, as they're made from wood gathered from mangrove trees. Furthermore, the expert woodcraft skills of Kayan locals will ensure that your newly-purchased souvenir will last several years.
Kites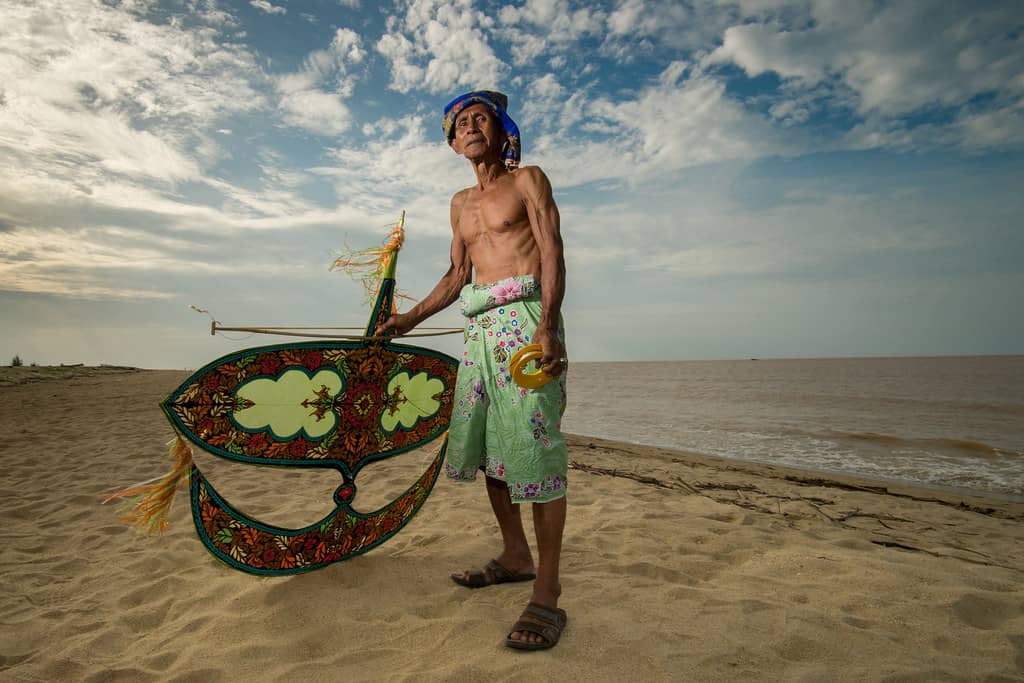 One of the most colourful artisan products made here in Malaysia is kites. Also known as "wau" the Malaysian kite is a bit different from what you're accustomed to in other countries.
These kites come in different sizes and colours, all of which are loud and attention-grabbing. As for their shape, the most common variations are the moon and cat kites, which is why you'll find them being sold across the country.
Creating these kites is no joke, as it takes skills and years of practice. This reason and the beautiful designs, is why we recommend it as a souvenir since it proves that they aren't your normal kites.
On a side note, you can also fly kites in parks that allow these sorts of activities. So, if you're looking for a cheap yet fun date idea, consider buying one of these beautiful kites and flying them around the city!
Peranakan shoes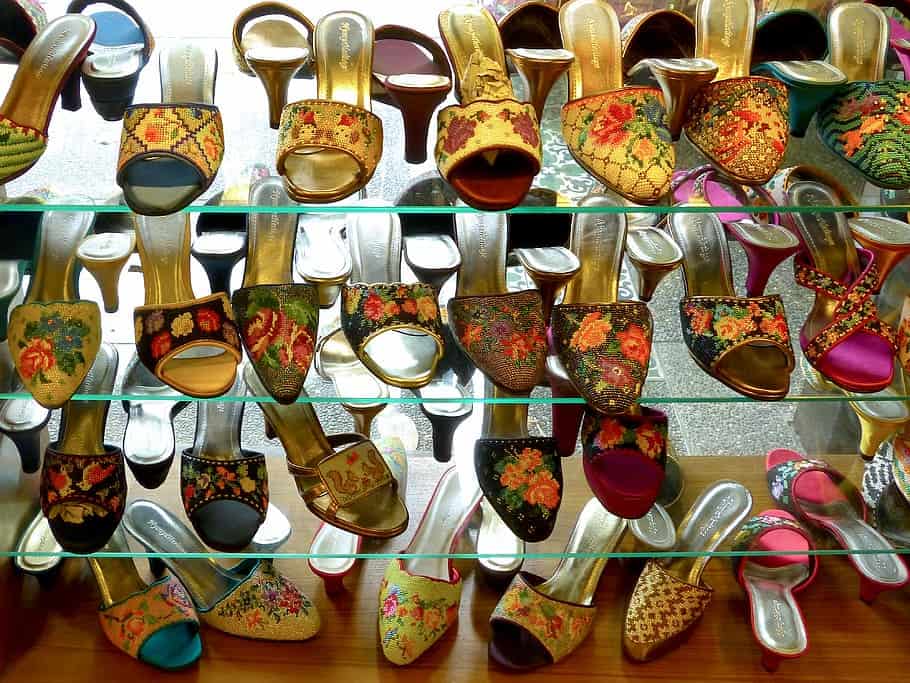 As you browse the shelves of countless markets in Malaysia, you'll notice that they often feature embroidered products. One particular product of this craft that tourists keep coming back for is Peranakan shoes.
It's not hard to see why these shoes are beloved by visitors because of their cute and colourful appearance. This is achieved by painstakingly embroidering different-coloured threads to create a nice and vibrant design, which is impressive, to say the least!
Tekat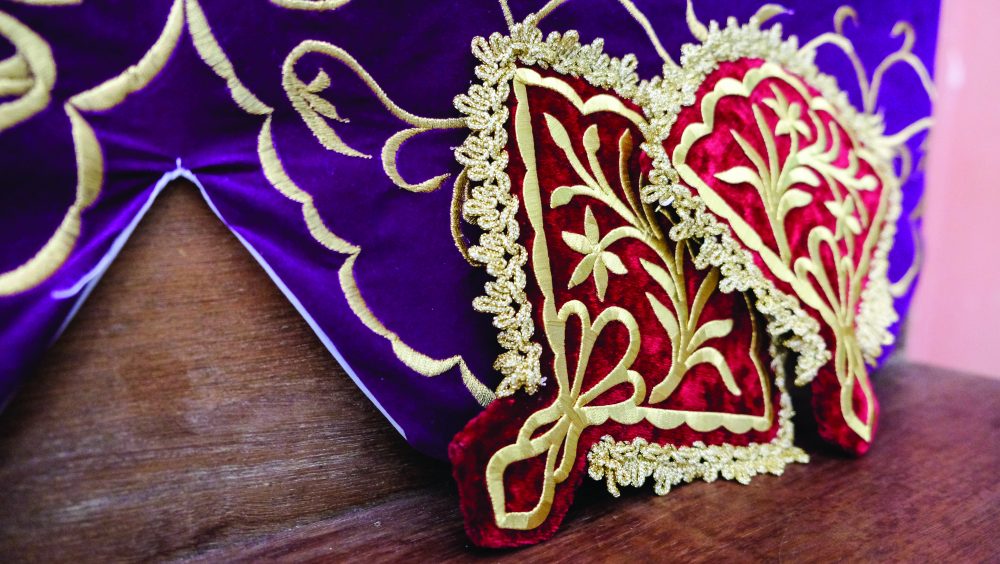 Another embroidered local product that you'll often find in the markets of Malaysia is tekat. As you're walking through the streets, this craft will immediately catch your eye because of its use of bright gold thread.
This thread is overlaid on top of a solid-coloured piece of cloth like maroon to make it stand out even more. Personally, we think this is a great piece to remember the country by as it offers elegance, especially with its beautiful floral designs.
Tekat can be used in various items such as bedspreads, fans and shoes to add more stylish points. Furthermore, it can also be part of your interior design by buying them as pillowcases!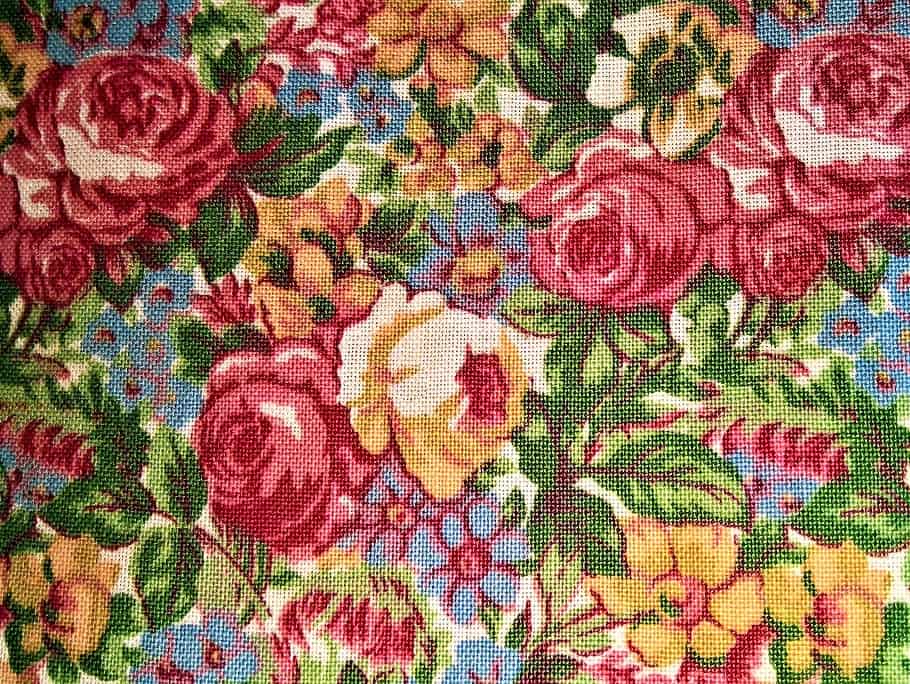 Some experts say that it takes them a whopping 3 whole months just to finish a design for a single slipper. Plus, what makes these products more impressive is that no two designs are the same, giving you a chance to bring home a pair of shoes that only you will have.
Rattan Handicrafts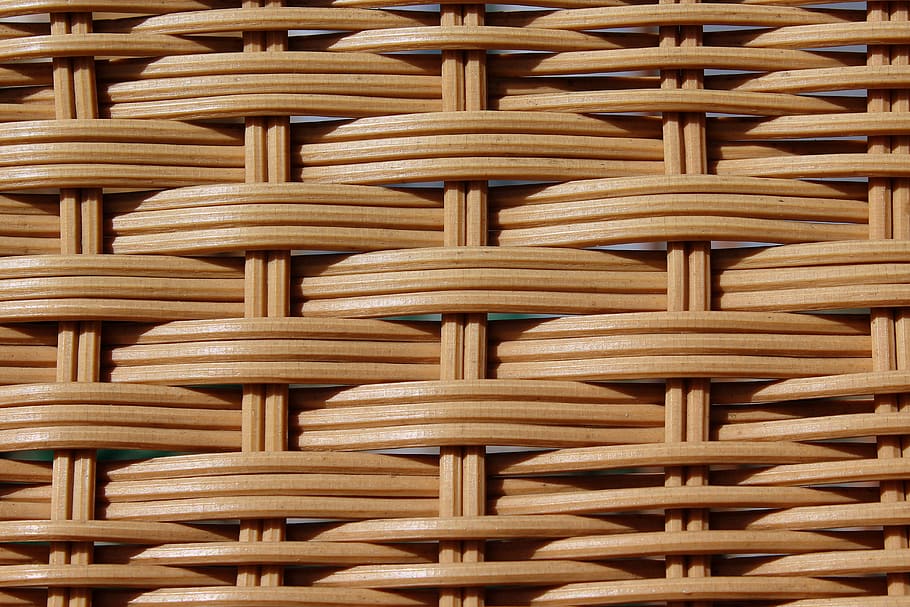 Another material that's commonly used in making handicrafts in Malaysia is rattan. This is why you'll find various products that are made from this material such as furniture and accessories across Chinatown and other street markets.
Rattan is instantly recognisable because of its texture but did you know that its unique look isn't the only reason why it's used? This material is highly durable and can last a long time, making its products essentially timeproof.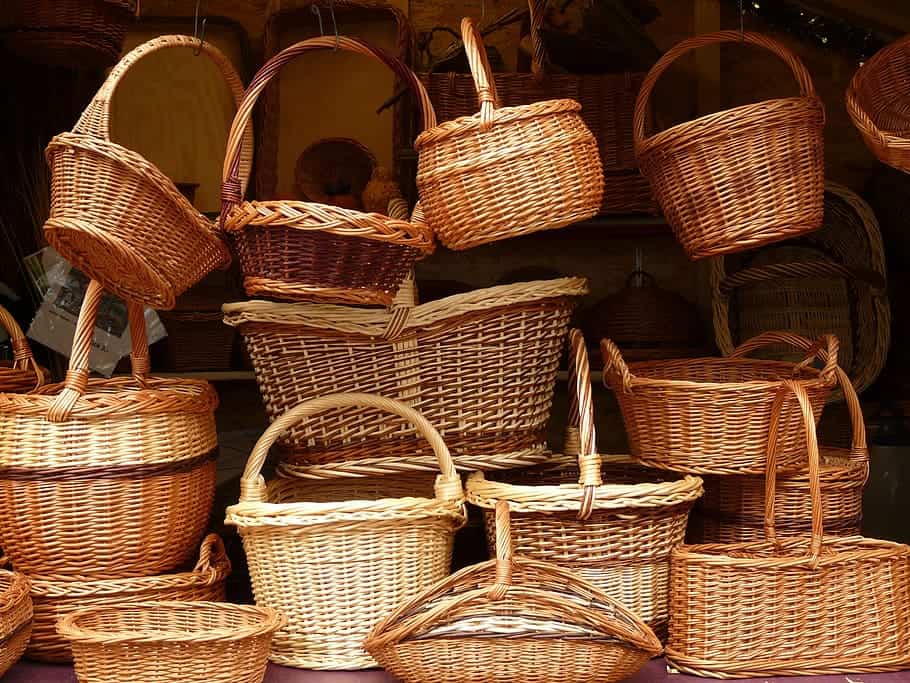 You can choose from a myriad of rattan products in Malaysia such as baskets, bags, table mats, chairs and more. Regardless of which one you choose, however, you can rest assured that you'll be getting the best quality possible.
Beaded Accessories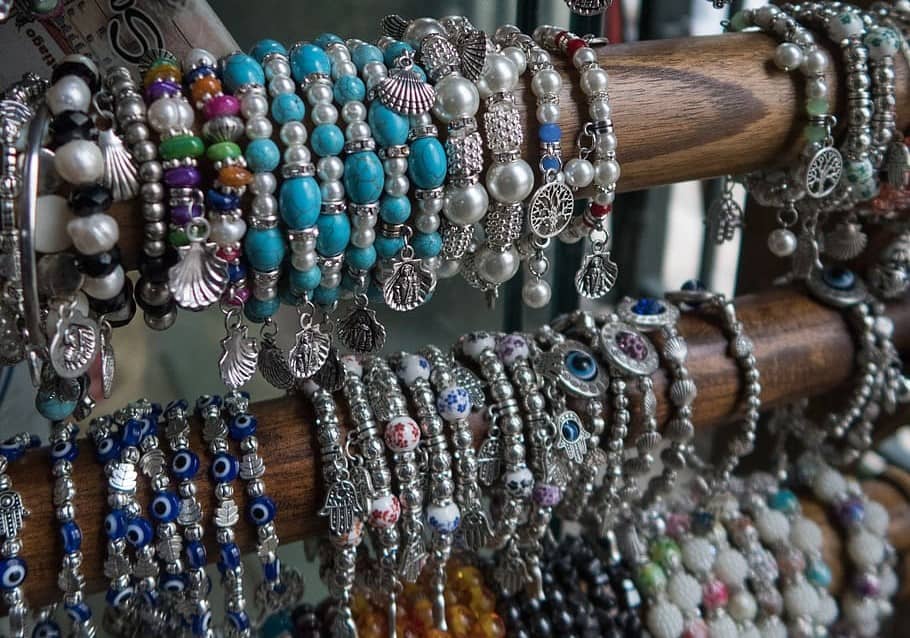 A great way that Malaysians showcase their creativity is by creating beaded accessories. This can either come in the form of necklaces, bracelets or anklets, and it's up to you to choose which one catches your eye the most.
These accessories are made out of colourful stones and beads of different shapes and sizes, creating a beautiful and unique combination. In some stores, they even let you customise your own beaded accessories to give you more creative freedom!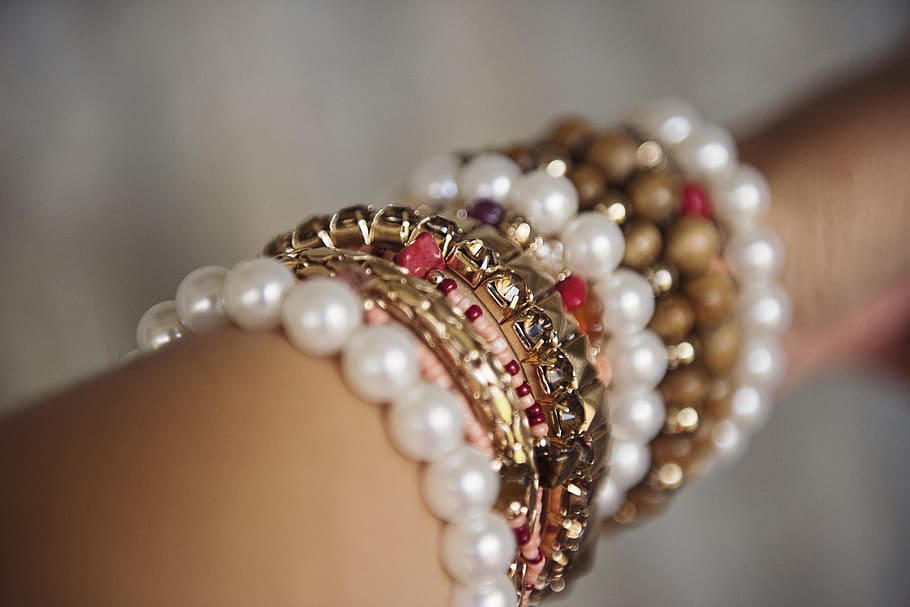 If you're the person you're buying the souvenir for is someone who often loses small knick-knacks, we recommend highly recommend these. Not only will these be hard to lose since they'll be wearing them, but they're also fashionable as well!
Furthermore, you can even find beaded handbags during one of your hunts! This way, you can get something that's both functional and stylish at the same time.
Sape 
One Malaysian craft that doubles as an instrument is the sape. This boat-shaped string instrument is a traditional Malaysian lute, and it's a great piece to admire just because of its rich history and iconic look.
The reason why you may want to have this displayed in your home is the pure craftsmanship shown in creating them. You may or may not know how to play it, but admiring the precise carvings of this instrument is an experience in itself.
Pua Kumbu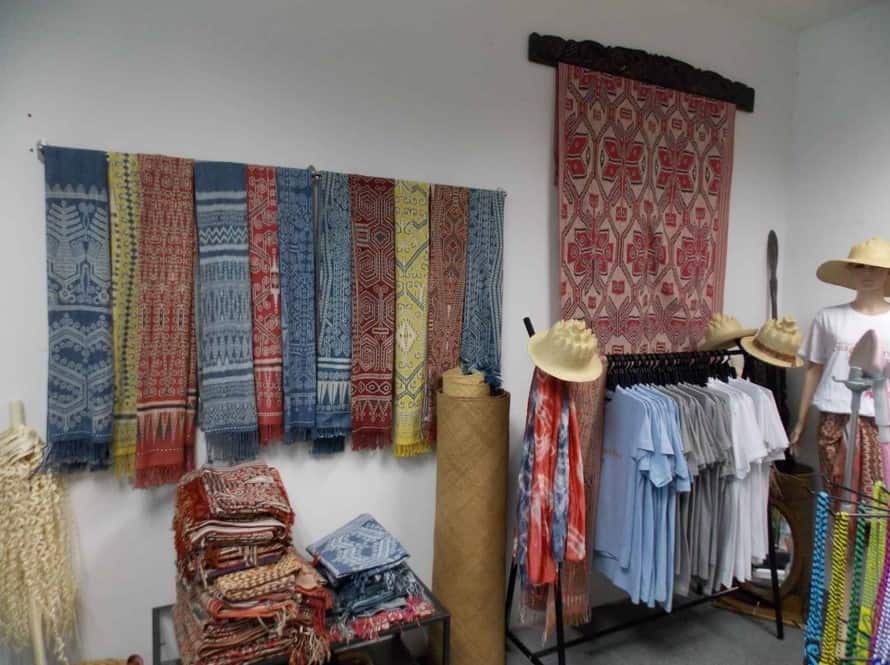 Another cloth that can serve as the piece of the country you'll bring home with you is pua kumbu. Much like the other two fabric-based crafts on this list, this local product is multi-coloured, making it a great piece to add life to your interior.
What we're most impressed with about this local product is that all the materials used to create it are sourced from the rainforest. This includes the cloth and the dye used to make its patterns and colours.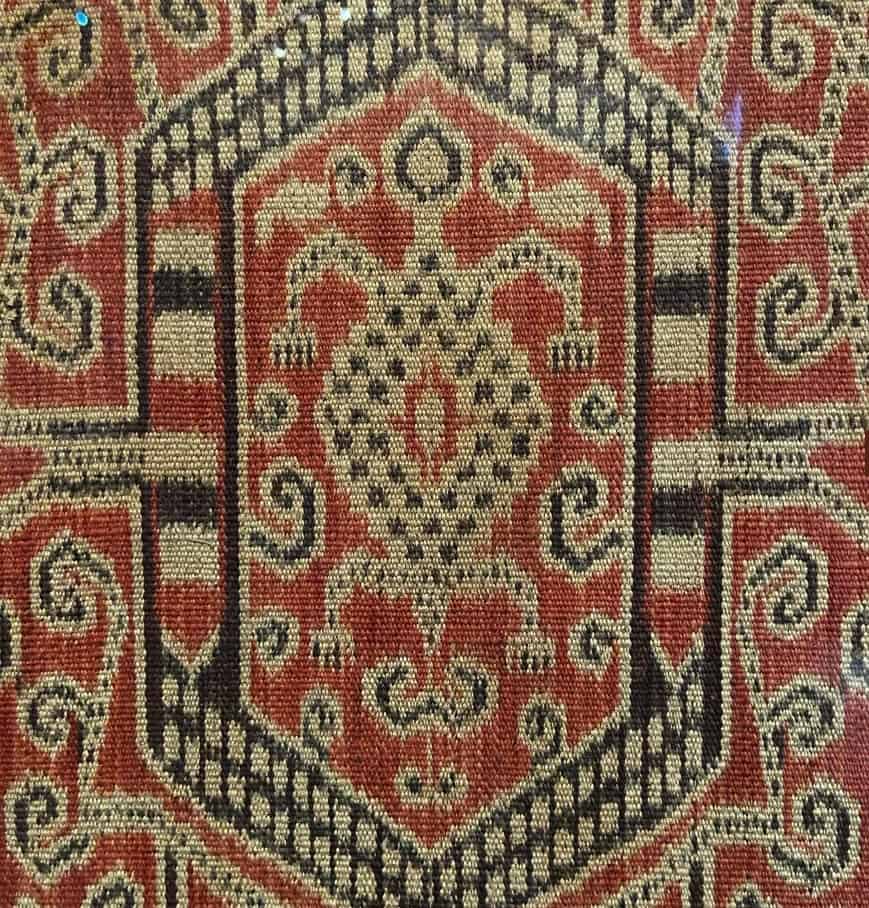 Speaking of patterns, we also love how each design of these fabrics tells a story, more specifically those that are about spiritual and ritual powers. Furthermore, these patterns here are so intricate that it would take the makers up to two months just to finish a piece.
Lastly, aside from being a piece of decor for your home, women can also use this as a piece of clothing! Keep in mind, however, that these beautiful pieces of cloth are considered sacred by the Iban people.