What You Need to Know When Driving a Malaysian Car to Singapore
Seeing as Malaysia and Singapore are geographically close to each other, it makes sense that there are connections between the two countries. These connections make travelling to and from each country convenient and easy.
There are about 350,000 to 450,000 people who cross the Malaysia-Singapore border daily. This number consists of both Malaysians and Singaporeans. However, can Malaysians actually drive their car from Malaysia to Singapore?
Driving a Malaysian-registered car into Singapore is allowed as long as you meet the requirements. These include a valid Autopass card with an email of approval from the Land Transport Authority (LTA), road tax for the vehicle, and valid insurance.
Who can drive from Malaysia to Singapore?
Any Malaysian citizen with a car registered in Malaysia can drive to Singapore. This includes Malaysians who just want to explore Singapore as well as those who hold a Singapore Work Pass.
Malaysians who do not live in Singapore but hold a Work Pass can drive to Singapore, provided that the car they are using is registered to them. Their vehicle must be kept or used outside Singapore for 6 hours or more every day.
Aside from those specific requirements for Malaysians with a Singapore Work Pass, both types of visitors share other conditions that need to be met. We'll get into that below so keep reading!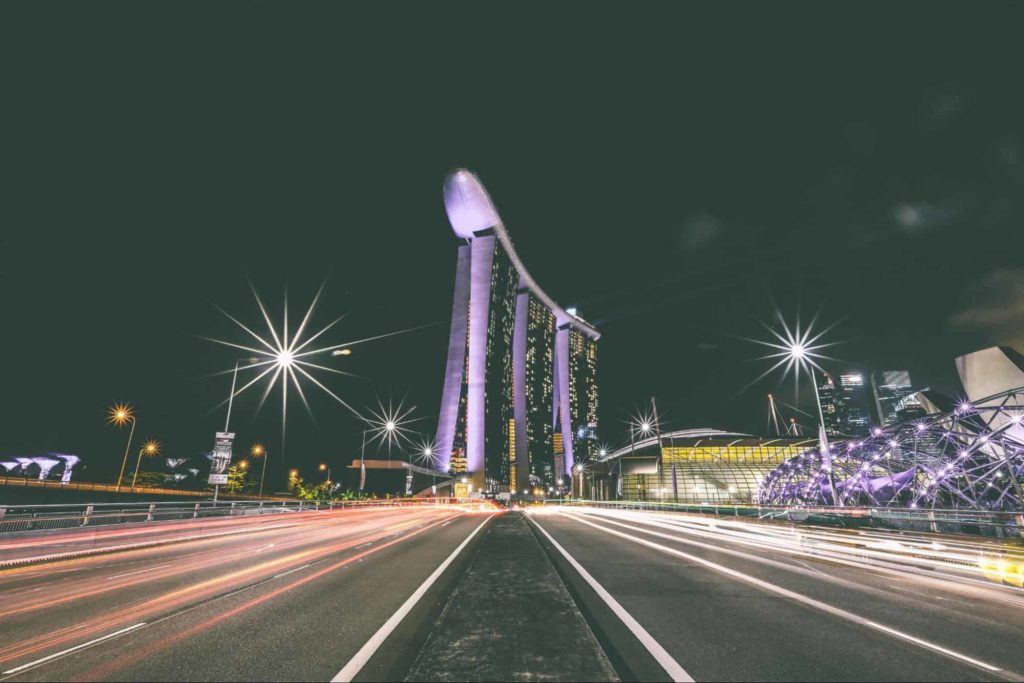 What do you need to prepare before driving to Singapore?
Before driving to Singapore from Malaysia, we've found that there are certain requirements for each Malaysian visitor. The following conditions that we discuss are prerequisites to actually getting to drive to Singapore.
1. Autopass Card
Having an Autopass Card is one of the major requirements for land travel from Malaysia to Singapore. It is a stored-value card that has two purposes: first is that it can be used to pay entry, exit, and toll fees; second is to record your vehicle's entry into Singapore.
The Autopass Card also acts as a non-transferable electronic Vehicle Entry Permit for all foreign vehicles that enter Singapore. When you get your card, you should also receive an approval email from the LTA.
When you apply for an Autopass Card, it is automatically tied to your vehicle. You should apply for this at least 2 weeks before your trip, so that you may collect it before you need to drive to Singapore.
Getting an Autopass Card costs S$10 but take note that this amount is only valid for a one-day trip. If you need to stay in Singapore for longer, you can top up your card with the NETS App, cash, credit cards, or even debit cards.
2. Vehicle Road Tax
Another important condition for travelling to Singapore via car is vehicle road tax. Every vehicle registered in Singapore has a valid road tax so it only makes sense that any foreign-registered vehicle entering the country has that as well.
Road tax is one of the things that make it legal for a car to drive on public roads. Any Malaysian-registered vehicle needs to have road tax that is valid for a year and is renewed on a yearly basis.
The details of your vehicle road tax are also stored on your Autopass Card. With that, make sure that you have renewed your road tax weeks in advance before applying for an Autopass Card. This will make the entire process much smoother.
3. Valid Certificate of Insurance
Lastly, you will need valid insurance for the vehicle that you will use to cross to Singapore. Your insurance needs to come with third-party coverage if you are considered responsible for damages to another person or their vehicle.
Even if you aren't driving to Singapore, it's best to have some form of vehicle insurance.
In addition to covering any liabilities, the best car insurances and motorcycle insurances in Malaysia also have a ton of perks that can come in handy. Having a handy dash cam in your vehicle can also be an added level of protection for you.
As with the road tax, your insurance details will also be stored on your Autopass Card. If you need to update anything insurance-related, you can update your details online or in person at the LTA office in either the Tuas Checkpoint or the Woodlands Causeway. 
Aside from everything that we discussed above, you will also need to settle any outstanding fines for your vehicle. Singapore's AXS website will give you all the details you need– and you can even pay your fines online!
Here's a checklist of what you need to prepare when going from Malaysia to Singapore:
| | Requirements |
| --- | --- |
| ✔ | Autopass Card |
| ✔ | Land Transport Authority Approval Email |
| ✔ | Vehicle Road Tax |
| ✔ | Valid Certificate of Insurance |
| ✔ | Settle outstanding fines |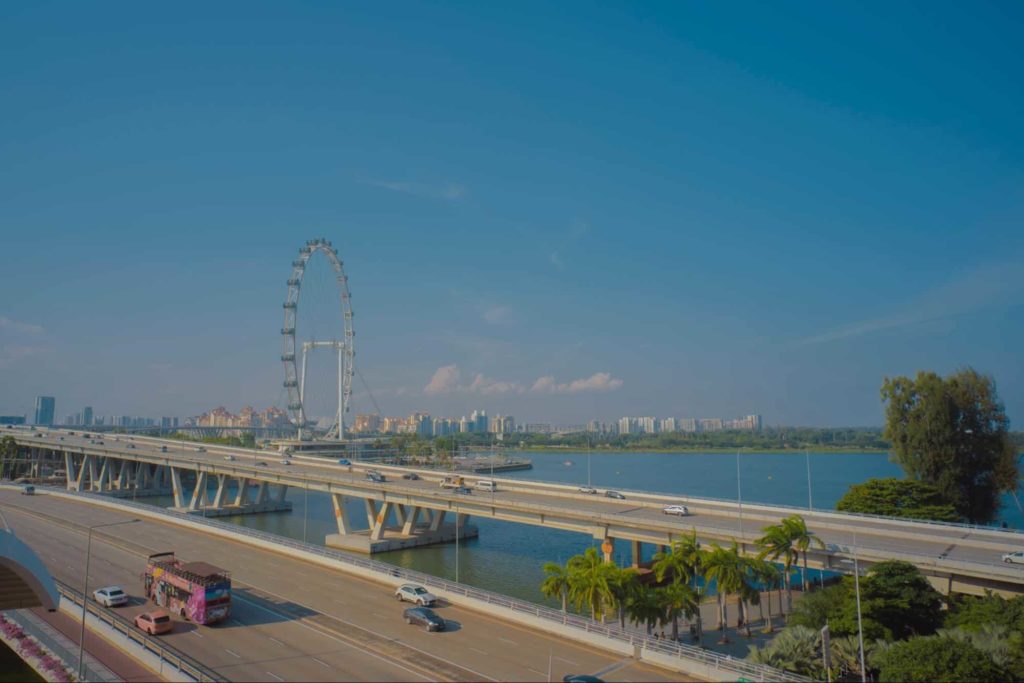 Things to Take Note of When Driving from Malaysia to Singapore
Now that we've covered the basic requirements for driving from Malaysia to Singapore, we'll get into discussing more details that you should know for a smooth and fun trip to Singapore!
| | Things to Take Note of |
| --- | --- |
| ✔ | Entry and Exit Fees |
| ✔ | Electronic Road Pricing (ERP) in Singapore |
| ✔ | Allowed Length of Stay in Singapore |
Entry and Exit Fees
When driving to Singapore, there will be fees that you will need to pay for your entry into and exit from the country.
As you enter through either the Woodlands or the Tuas Checkpoint, you must have your Autopass Card ready. This is because you will be inserting your card into the immigration booth's card reader to validate your entry into Singapore.
The entry and exit fees that you need to pay will be automatically deducted from your Autopass Card as you exit Singapore. It is important that you have enough balance on your card to pay these fees, as well as other fees that you may have.
You can refer to the table below on the standard entry and exit fees that you need to pay when driving to Singapore from Malaysia. For motorcycles, there are no entry and exit fees.
Take note that Singaporean authorities may change some of the fees when needed.
| | Woodlands Causeway | Tuas Checkpoint | |
| --- | --- | --- | --- |
| | ALL DAY | PEAK HOURS | OFF-PEAK HOURS |
| Entry Tolls for Cars | - | S$2.10 | S$1.10 |
| Exit Tolls for Cars | S$0.80 | | |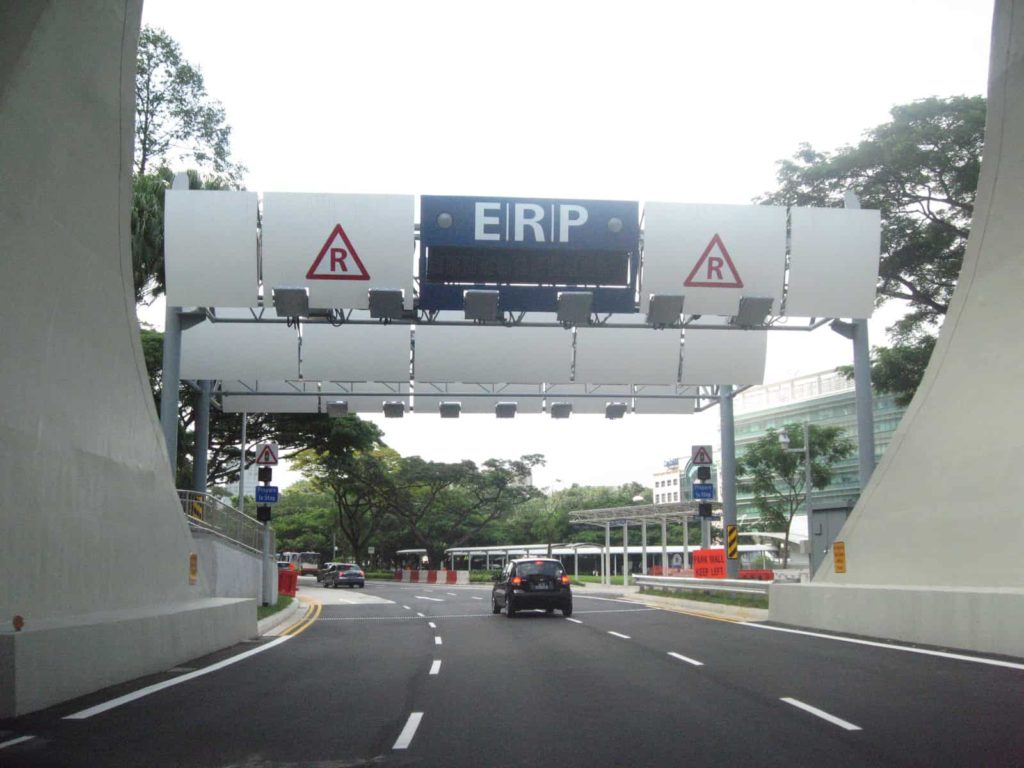 Electronic Road Pricing (ERP) in Singapore
Electronic Road Pricing (ERP) is a road management system in Singapore. This helps alleviate traffic congestion at certain points on the road. When you drive around in Singapore, you'll probably see many ERP gantries all throughout.
Since you'll be driving your Malaysia-registered car into Singapore, you can opt to pay a fixed fee of S$5 to use ERP-priced roads during their hours of operation. This fee is fixed, no matter how many times you pass through the ERP gantries.
Another option for paying ERP charges is to get an In-vehicle Unit (IU). For Malaysia-registered motorcycles, this is the only ERP payment option possible.
An IU can be permanently installed in your vehicle at any IU service centre that is authorised by the LTA. For the temporary IU option, you can rent it for S$5.15 a day for 2 days up to 2 weeks.
You can also rent a temporary IU for S$5.15 for 2 days up until 2 weeks. This option also requires you to pay with a refundable deposit of S$124.65.
For using an IU, you will need a stored-value card like the NETS FlashPay CEPAS Card, NETS CashCard, or the EZ-Link CEPAS Card.
What is the allowed length of stay in Singapore?
Malaysian visitors can stay in Singapore for up to 14 days, with an option to extend the stay for a maximum of 5 days. This period starts as soon as you enter the country and use your Autopass Card to validate your entry.
The given period of your allowed time in Singapore is because your Autopass Card, which also serves as your Vehicle Entry Permit (VEP), is valid for 14 days from the date you enter Singapore.
If you want to extend your stay for social reasons, you can get an appointment here at the LTA's Customer Service Centre at 10 Sin Ming Drive, Singapore 575701. You'll just need to bring your Autopass Card, your Certificate of Insurance, and your vehicle.
FAQs about Driving a Malaysian Car to Singapore