5 Best Services for Wood Decking in Malaysia
Almost all dream homes have a wood deck to extend the space at home, have a weekend hangout place, or class up the pool for family and friends.
If you've decided to build one, you would soon have to find a reliable wood decking company in Malaysia, and we can help you with that through this top list.
But before that, we'll explore the average cost of installing a wooden deck at your abode. This way, you'll have an idea of how much you need to pay and the factors that can affect the price.
The Average Cost of Wood Decking in Malaysia
Building a deck is more often costly than not, so you have to carefully plan it. You can start by thinking about the end design and features you want your deck to have, for example.
On average, wood deck installation in Malaysia costs around RM17,000 to RM46,500. Each square foot typically costs between RM40 and RM70 per square foot, inclusive of materials and labour.
Note that the standard sizes for decks are 14 x 20 or 16 x 20 feet. To get your money's worth, you should maximise the deck's space and ensure it fits the people and furniture that will be on it.
Other factors that can affect the deck are the design and materials used, in addition to the contractor you hired.
The materials you can use for wood decks can be solid wood or composite. Of course, the higher the quality of the wood material, the higher the price.
Generally speaking, composite wood is pricier than hardwood due to its natural properties, such as it doesn't spoil or rot no matter how long you have it and is eco-friendly.
However, you can save up big in costs by doing DIY. With this, you'll need to get approvals and permits from governing bodies and expend time and effort in completing the building project.
The Best Wood Decking Services in Malaysia
To know whether or not they truly belong in this list, we rated each company according to these criteria:
With that in mind, we now give you the leading services for wood decking in Malaysia!
1) Get a Floor

Test
Info
PRODUCTS
Laminate flooring

Vinyl flooring

Composite wood ceiling

Composite wood decking

WEBSITE
http://www.kkfloor2u.com.my/
ADDRESS
60G, Jalan Suria Puchong, 1, Puchong Gateway, 47100 Puchong, Selangor, Malaysia
CONTACT DETAILS
+6012-3262829 (Ivan)

+6012-2899798 (Celine Chew)

+6017-2972829 (Syamimi)

OPERATING HOURS
Monday - Friday: 9:00 AM - 6:00 PM

Saturday: 10:00 AM - 4:30 PM

Sunday: closed
| | |
| --- | --- |
| Parameters | Rating |
| Deck Building Results | ★★★★☆ (4/5) |
| Product Range | ★★★★☆ (4/5) |
| Professionalism | ★★★★★ (5/5) |
| Customer Service | ★★★★☆ (4/5) |
| Value for Money | ★★★★★ (5/5) |
Get a Floor is a flooring supplier and installer based in Puchong, Selangor. It was formed in 2008 and boasts having a skilful and friendly team as well as premium-quality products.
Partnered with leading suppliers, it offers elegant, sophisticated, and durable laminate flooring, vinyl flooring, composite wood decking, and composite wood ceiling for all types of properties.
In particular, they use Boisdeck and Avant-Deck's products and accessories for house, garden, and swimming pool decks. Bamboo and eco-friendly deck variants are available.
The great thing is that composite wood decking mimics the look and grain texture of real wood. Moreover, maintaining it won't be as much work as the latter.
Also, composite wood is more affordable than natural wood, although it's less durable as it can sag under its weight if the installation has not been properly done.
Even if you have no idea of what kind of deck to get, their knowledgeable and dedicated team can listen to your needs and suggest the most suitable option based on your budget and needs.
By the way, many clients left positive reviews about their products and services, including the installation. However, there were some complaints regarding their after-sale and warranty services.
So, if you'd like to enquire or have found a decking product online from them you like, you can simply give their CS a ring.
Specialises in composite wood decking
Partnered with leading suppliers
Eco-friendly and bamboo decking available
Fair prices
Gives a manufacturer's warranty
Offers special sales
Closed on Sunday and public holidays 
Do not have solid wood material
Customer Reviews
Amazing material and workmanship
"I love the material I chose (Avantdeck @ Boisdeck) and the results of workmanship is super amazing! So neat and precise, it's perfect! From the beginning until completion, I dealt with Ms. Celine. She's very attentive, considerate and informative. I'm very comfortable with her. If you're interested with their services, look out for Ms. Celine!" -Nurul Afiqah
Incredible and helpful service
"Their service very good, help me to chose design, recommend suitable colour, fast installation. Just great, highly recommended." -Xuan
2) Hengwood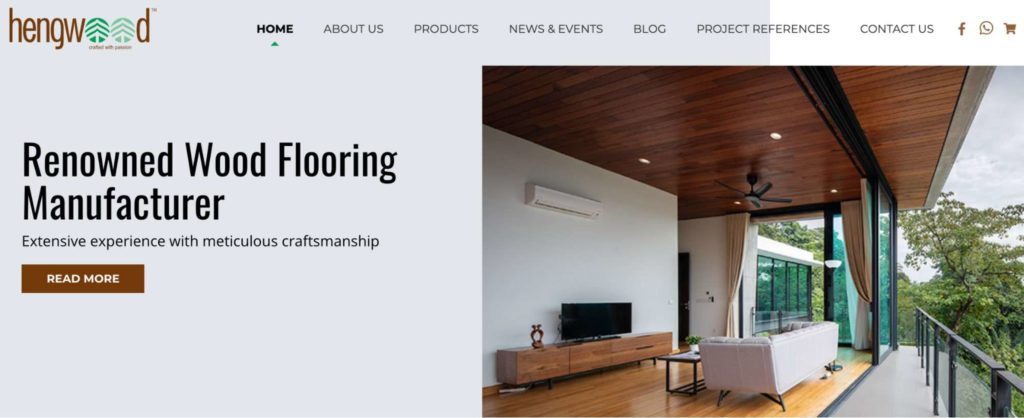 Test
Info
PRODUCTS
Ceiling & panel

Decking

Flooring

Staircase

Table slab

WEBSITE
https://www.hengwood.com/
ADDRESS
No. 8, Jalan TIAJ 2/1, Taman Industri Alam Jaya, 42300 Bandar Puncak Alam, Selangor Darul Ehsan, Malaysia
CONTACT DETAILS
+603-6038 3987
OPERATING HOURS
Monday - Friday: 8:30 AM - 6:00 PM

Saturday - Sunday: 8:30 AM - 1:00 PM
| | |
| --- | --- |
| Parameters | Rating |
| Deck Building Results | ★★★★★ (5/5) |
| Product Range | ★★★★★ (5/5) |
| Professionalism | ★★★★★ (5/5) |
| Customer Service | ★★★★★ (5/5) |
| Value for Money | ★★★★★ (5/5) |
If you're planning to install solid wood decking at your home, one of the companies we highly recommend is Hengwood.
It has garnered over 20 years of experience in the flooring industry. Its prestigious clients include the University of Petronas, Ecopark, Grand Medini, Sunrise, and Gamuda, to name several.
Certainly one of the best wood decking services in Malaysia, they were given the Golden Bull Award in 2010 and the Golden Eagle Award in 2014 for their sales performance and sustainable practices.
Whether you want to build a deck, staircase, flooring, table slab, or ceiling, the team at Hengwood provides a wide variety of top-quality product choices.
For decking, they offer Belian, Chengal, Merbau, and Giam. Each of them has its own colour and texture but all of them are durable and most have high termite resistance.
Compared to other companies, Hengwood provides exceptional service and value for money, according to the reviews. Thus, if you want your deck installed well, they are a great choice!
In saying that they bring exceptional service, you can ask them any questions and they can answer them and give sound and honest advice as to the best decking material to use for your property.
To start your wood decking journey, you can first browse their product range, which has tabs for each decking type, allowing for easy comparison. Also, they have a reliable FAQs page to make working with them simpler and more efficient.
Wood flooring manufacturer
Informative website
Award-winning company
Open every day
Seems to not offer any discounts
Guarantee not mentioned online
Customer Reviews
Excellent experience with Hengwood
"I had excellent experience with Hengwood, totally satisfied with their services and follow up.. Worth for price ! " -Regina Kong
Competitive and fair pricing
"It was a pleasant experience dealing with the friendly staff here and the prices offered are competitive and reasonable. Would recommend Hengwood to my friends and business contacts." -Ai Nin Tan
3) EAZY Wood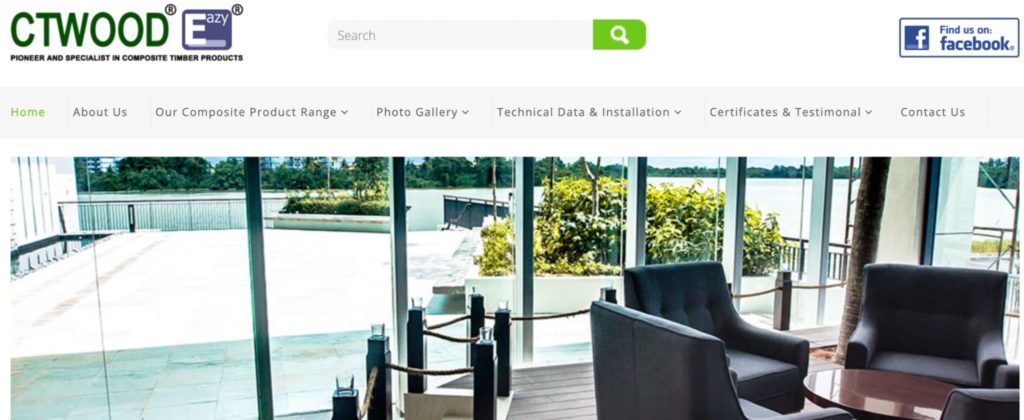 Test
Info
PRODUCTS
Fluted panel

Bamboo decking

Outdoor decking

Ceiling strips, wall panelling, and external wall cladding

S.P.C. floor

Picket fence

DIY deck tiles

WEBSITE
http://easywood.com.my/
ADDRESS
EAZY Wood Sdn Bhd

4, Jln BP 5/8, Bandar Bukit Puchong, 47100 Puchong, Selangor, Malaysia




EAZY Wood Sdn Bhd (Penang)

No 6 & 8, Lorong Iks Bukit Tengah, Taman Iks Bukit Tengah 14000 Bukit Mertajam, Pulau Pinang, Malaysia (in front of Volkswagen showroom)

CONTACT DETAILS
Selangor: +603-8060 0392

Penang: 012-4883050 / 012-4010488

OPERATING HOURS
Monday - Friday: 8:30 AM - 6:00 PM

Saturday: 8:30 AM - 12:30 PM

Sunday & public holidays: closed
| | |
| --- | --- |
| Parameters | Rating |
| Deck Building Results | ★★★★☆ (4/5) |
| Product Range | ★★★☆☆ (3/5) |
| Professionalism | ★★★★☆ (4/5) |
| Customer Service | ★★★★☆ (4/5) |
| Value for Money | ★★★★☆ (4/5) |
Established in 2004, EAZY Wood is a licensed and certified deck and floor builder. It is SIRIM and SGS-accredited, proving that its high-quality products are gentle to the environment.
Not only does it serve the Malaysian market now, but it also exports to other countries worldwide, such as Singapore, Indonesia, the Philippines, France, Italy, Germany, Holland, and many more.
They find composite wood to be more practical than real wood with its host of benefits. Thus, year after year, they continually design and produce composites that lean towards a more natural timber look.
To this end, it offers a wide range of WPC and bamboo decking in varying rates, colour finishes, and sizes. These can complement commercial or residential properties and add value to them.
WPC decking is termite-resistant and flame retardant, whereas bamboo decking is very eco-friendly in that it can absorb four times the carbon dioxide amount that hardwood can absorb, resulting in less impact on the planet.
Your deck can also be custom-made to your specifications. If you want to leave a square space for planting a tree in, add some steps or handrails, this company can help you.
So far, most homeowners liked the final result of EAZY Wood's decking in terms of appearance and features, whereas some had a minor issue with it.
Specialises in composite deck timber
SIRIM and SGS-accredited
Wide product range
Eco-friendly materials
No hardwood decking
No discounts mentioned
Doesn't offer ceiling products
Closed on Sundays and public holidays
Customer Reviews
House looks wonderful with the new deck
"Nice product. It's water resistance and durable. It makes my house look grand and yes pretty as well. 😘😘I like it so much.Thumb up👍👍 People who like this type of design can try it up. Recommended." -Carolle
Natural and realistic WPC
"Great team to deal with, Mr Lance and Mr Wan is very professional, efficient and extremely helpful. Their premium embossed decking systems looks so natural and realistic. Glad I chose them and highly recommended." -Lings Nathalie
4) Netwood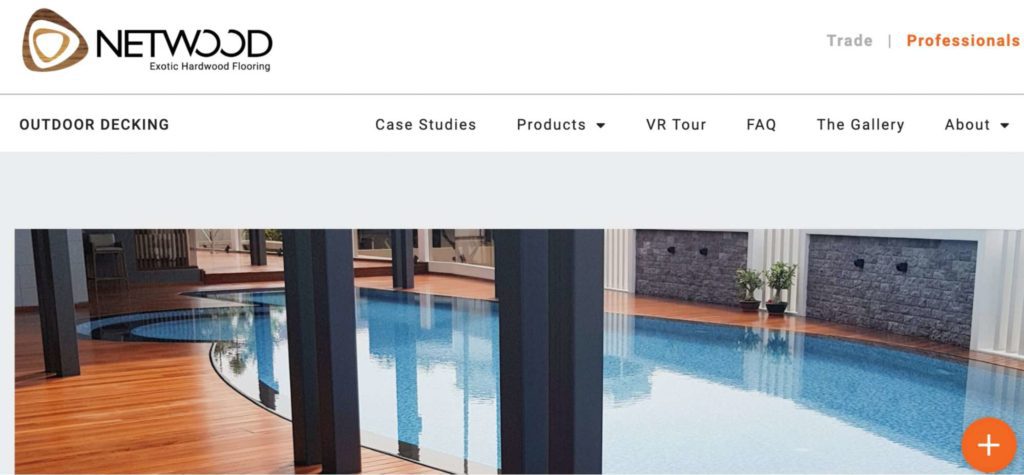 Test
Info
PRODUCTS
Indoor flooring

Outdoor decking

Protective varnish

WEBSITE
https://www.netwood.com.my/professional/
ADDRESS
No. 20, Jalan PJU 3/40, Sunway Damansara, 47810 Petaling Jaya, Selangor, Malaysia
CONTACT DETAILS
+60 3-7885 0115
OPERATING HOURS
Monday - Friday: 9:00 AM - 5:00 PM

Saturday - Sunday: closed
| | |
| --- | --- |
| Parameters | Rating |
| Deck Building Results | ★★★★★ (5/5) |
| Product Range | ★★★★★ (5/5) |
| Professionalism | ★★★★★ (5/5) |
| Customer Service | ★★★★☆ (4/5) |
| Value for Money | ★★★★☆ (4/5) |
If you are a discerning homeowner, you might want decking that's exquisite, natural, and sturdy. And there are plenty of that in Netwood's natural wood decking range.
Their catalogue is made up of exotic hardwood decking of different species. These are sourced from all around the world, including Europe, North America, South America, and Asia.
One highlight is their gold and red-brown Brazilian Teak decking. It's known for its fantastic durability, weather resistance, and termite resistance—great for busy areas and outdoor decks.
Another is the Balau wood with complementary light and dark shades and fine, discrete textures. The Malaysian Timber Council has tested this material and can confirm that it's one of the most durable hardwoods out there.
But, the most durable local hardwood as named by the same organisation is Chengal. It is sometimes called a railway sleeper (tracks on which trains speed by), aptly named, for its superb resilience, weathering abilities, and termite resistance.
About their prices, they were a bit high for some clients. Another con is that they're open only on weekdays, preventing others to call them for assistance to get their deck project finished.
From consultation to deck building, they have a team that can handle everything for you. Installing a deck can be complex but they can provide guidance and advice so that you can pick the right one.
And from their numerous positive customer feedback and wide range of services, we think it's safe to say that Netwood is among the best services for wood decking in Malaysia.
Offers exotic hardwood decking
Extremely durable materials
Has online portfolio/VR gallery
Gives great value for money
Relatively high price
Minimum order of 100 m2
Doesn't offer ceiling and panel products
Closed on the weekends
5) GRM Composite Wood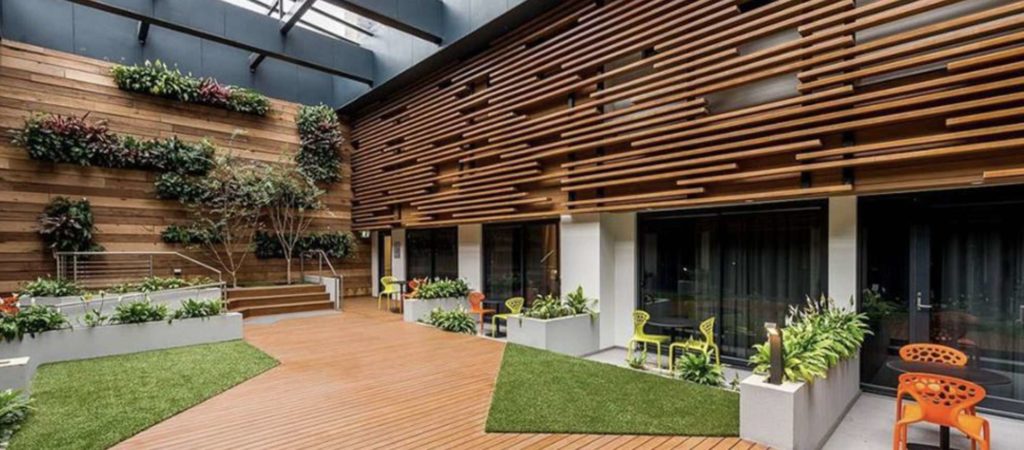 Test
Info
PRODUCTS

Composite Wood Products




Accessories

Ceiling

Column panel

Decking

Door system

Facade

Fencing

Flooring

Half log indoor

Half log outdoor

Handrail

Louvers

Railing

Roof

Side 4 side indoor

Side 4 side outdoor

Skirting

Staircase

Wall panel (indoor & outdoor)

WEBSITE
https://grmmalaysia.com/
ADDRESS
No.3, Jalan TPP 1/1a, Taman Perindustrian Puchong, 47100 Puchong, Selangor, Malaysia
CONTACT DETAILS
+60 3-8068 4690
OPERATING HOURS
Monday - Friday: 9:00 AM - 5:30 PM

Saturday: 9:00 AM - 1:00 PM

Sunday: closed
| | |
| --- | --- |
| Parameters | Rating |
| Deck Building Results | ★★★★☆ (4/5) |
| Product Range | ★★★★★ (5/5) |
| Professionalism | ★★★★★ (5/5) |
| Customer Service | ★★★★★ (5/5) |
| Value for Money | ★★★★☆ (4/5) |
Whether you're having a deck built by a pro or doing it yourself, you can get in touch with GRM Composite Wood. They also offer green-certified, warrantied artificial wood deck materials.
They have an enormous range of deck, wall, ceiling, and floor supplies and accessories, making them a one-stop-shop for building a dream deck for your home or workplace.
Their products can be an investment that will stay with you for many years. Besides being green, their composite wood material can resist storms, fires, and insects—even harsh ones.
For the DIY'ers at heart, you'll be happy to know that they offer spare components and can also make a custom deck base for you. They aim to make the parts easy to install and maintain for clients.
Additionally, their composite wood products are freely paintable and recyclable. This allows you to design however you want it, which results in lower overall costs, and possibly a more satisfying result.
Not to worry if their products turn out to be flawed, because each one of them is backed by a warranty, as we said earlier. If you find a flaw with their product, you need to inform their staff and they can sort you out promptly.
What's also great about them is they can take on both local and international jobs. They have worked on projects as near as Malaysia to as far as Australia, including other Southeast Asian countries, so even if you live far from the city, they can probably handle your deck project.
Plus, you can take a peek at their online gallery for inspiration and samples of how you want your deck to look like and with what features afterwards.
GRM Composite Wood is open from Monday to Saturday from 9:00 AM. You can start discussing your project with them, conveniently, as they're reachable by call, email, and WhatsApp.
Offers DIY deck solutions
Eco-friendly composite wood products
Full array of decking and accessories
Can work on both far and near in Malaysia
Reachable via WhatsApp
Gives a warranty
No discounts mentioned
Closed on Sundays
FAQs about the Top Services for Wood Decking in Malaysia
---
And that concludes our list of the best wood decking services in Malaysia! If you have any thoughts or questions about them, feel free to message us and we'll get back to you in a bit.
Besides that, have you bought from one of these companies before? You might want to share with us your experience as we'd be happy to hear them.
Related Articles about Wood Decking in Malaysia