10 Clinics for the Best Wisdom Teeth Removal in Malaysia
Featured Image Source: Jonathan Borba via Unsplash
Pain caused by impacted teeth is unbearable, but the thought of having to undergo wisdom teeth extraction could be daunting. Luckily, clinics for the best wisdom teeth removal in Malaysia have expert yet gentle dentists who use the latest technology for a less painful experience.
Don't know where to go for your wisdom teeth extraction? Below is a list of clinics that have the best wisdom teeth removal in Malaysia.
1. Dentalpro, Dental Specialist Centre

Since its establishment in 2003, Dentalpro has built a world-class dental facility and has inspired other Malaysian dental groups to strive for their best. This clinic for the best wisdom teeth removal in Malaysia has all the latest dental equipment, plus wheelchair-friendly amenities.
Their greatness isn't just in their gadgets either. Dentalpro's team of specialists provides comprehensive dental services, including wisdom tooth extraction.
Because dental procedures can be daunting, the ambience of the clinic is especially designed to be relaxing. You can enjoy a cup of tea while reading a magazine before heading to your appointment.
Meanwhile, the procedure itself is done by an oral surgeon specialist with the patient is under local anaesthesia. They will receive utmost care, with pre- and post-treatment medications to minimize discomfort.
Dentalpro is a high-capacity clinic so there is no waitlist on any treatment you need. This attests that they want their client to have a stress-free dental experience with them.
Highlights
World-class dental facility
Latest equipment, wheelchair-friendly
Team of specialists
Comprehensive dental services
Relaxing ambience
Pre- and post-treatment medication
No waitlist
Customer Reviews
May Issa, a client from the United Kingdom, said:
"I am in love with my new smile… Dr Syed and his team are absolute best. Their professionality is above and beyond."
2.  Smile Avenue Dental Group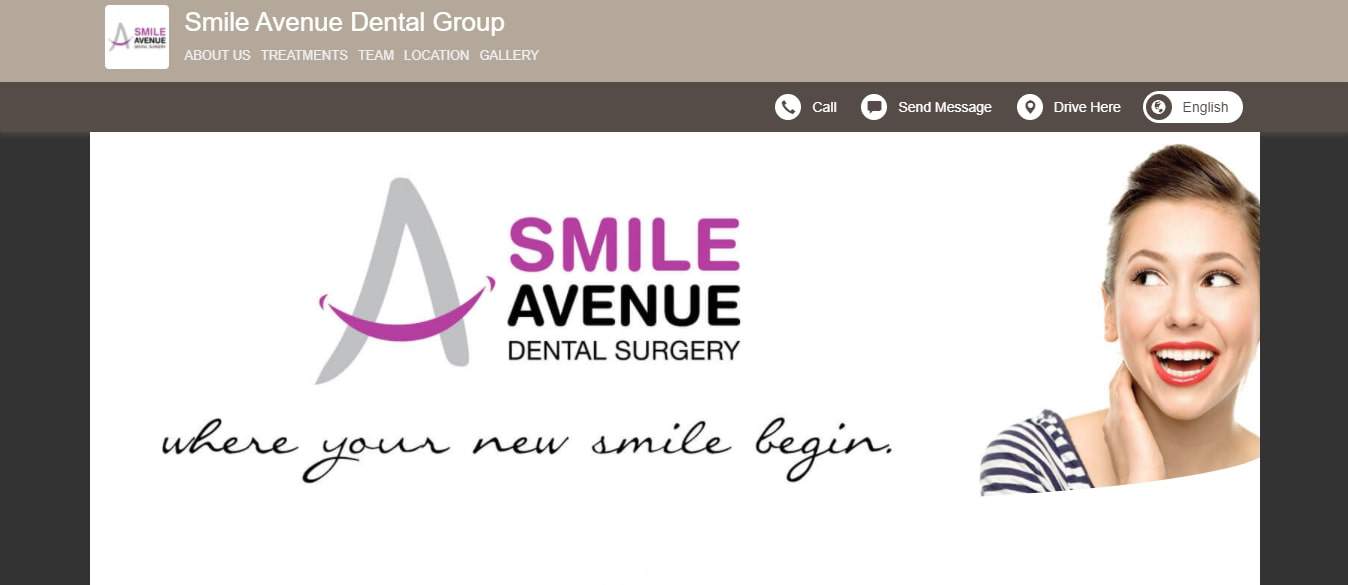 BEST FOR:
PRODUCTS:
https://www.smileavenuemalaysia.com/
WEBSITE:
https://www.smileavenuemalaysia.com/
ADDRESS:
A4-UG1-6, Level UG1, Block A4, 1 Jalan Dutamas 1

Solaris Dutamas, Publika

50480 Kuala Lumpur

Kuala Lumpur, Malaysia; or

Unit G-01 Wisma Averis Tower 2 Avenue 5

Bangsar South No. 8, Jalan Kerinchi

59200 Kuala Lumpur

Kuala Lumpur, Malaysia

CONTACT DETAILS:
(Publika) +603 2857 0869;

+6019 343 2328;

(Bangsar South) +603 2711 4638;

+6010 238 1298

OPERATING HOURS:
Mon to Thurs 9:00am-7:00pm

Fri to Sat 10:00am-5:00pm
Smile Avenue Dental Group has two of the best clinics for wisdom teeth removal in Malaysia located at Publika and at Bangsar South. Since 2013, they have provided a wide range of high-quality dental services to Malaysians.
What powers this top-notch service is their team of well-respected dentists. A selection of great dental practitioners also means clients have more choices for the right dentist to do their treatment.
These dentists make sure patients have a good understanding of the treatment process before they proceed. Before wisdom tooth removal, for instance, patients go through an x-ray for diagnosis, then they are given clear advice on the procedure and the pricing.
Highlights
Publika and Bangsar South clinics
Well-respected dentists
Choice of dentist for your treatment
Clear advice on procedure and pricing
Customer Reviews
A satisfied client left a positive review of this dental group for the best wisdom teeth removal in Malaysia
"Just did my wisdom tooth extraction, tooth filling. Good dentist with professional skill and up-to-date equipment. Started with x-ray to diagnose my teeth and advise what to do next with the pricing."
3.  Livingwell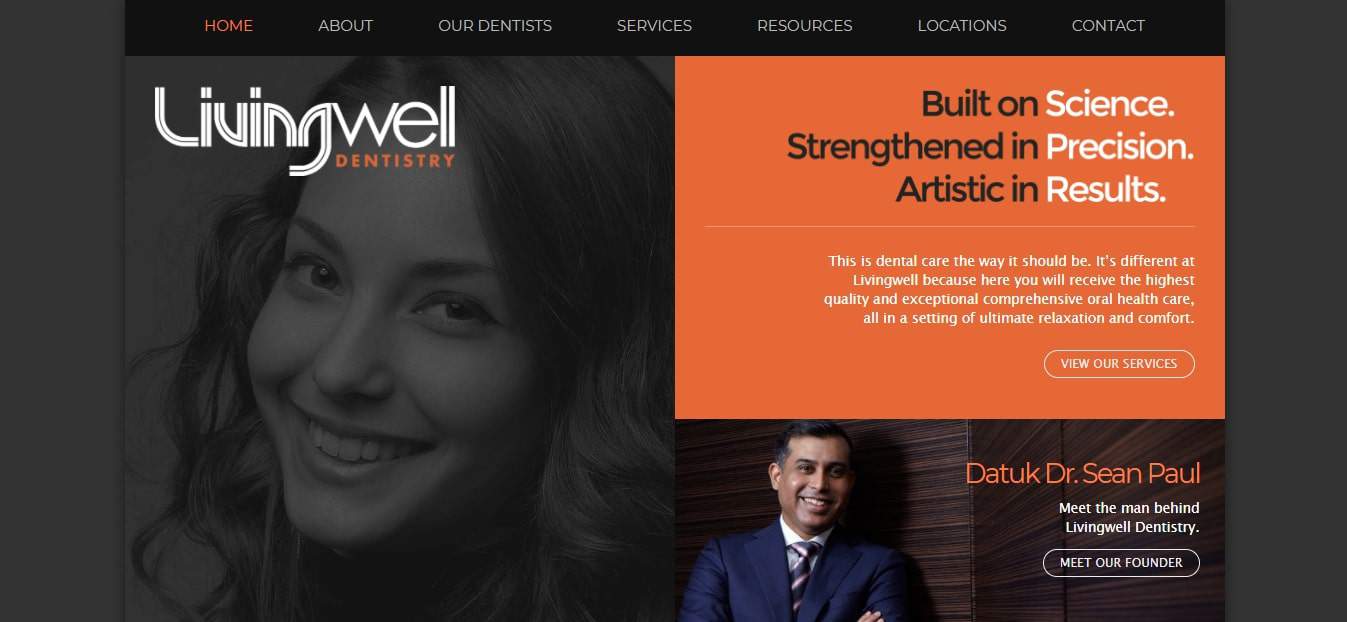 Truly one of the clinics for the best wisdom teeth removal in Malaysia, Livingwell boasts its combination of advanced dental technology and a team of globally-competent dentists who care greatly about their profession and their patients.
To give clients the most accurate diagnosis, they use 3D CT Scans to check oral anatomy. They also employ painless dentistry using the latest technology as much as possible to alleviate their patients' fears.
On top of these, Livingwell provides gentle, personalised dental care that accommodates even children, the elderly, individuals with special needs, and even just patients who are anxious or require special medical attention.
Putting their service before profit, they offer flexible payment plans available upon request through debit or credit card.
Highlights
Advanced technology and competent dentists
3D CT Scans to check oral anatomy
Painless dentistry
Personalised dental care that accommodates special care
Flexible payment plans
4.  Sparkle Care Dental Clinic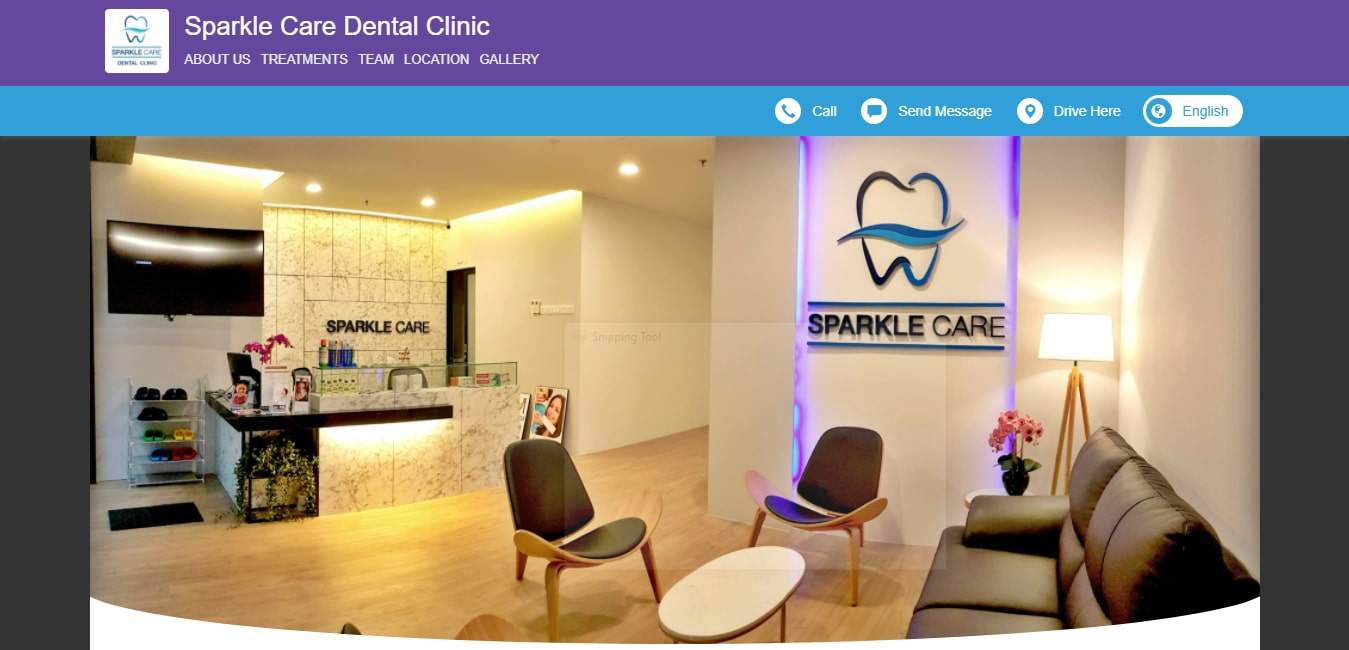 Although located in the upscale Desa Park City area, this clinic for the best wisdom teeth removal in Malaysia, Sparkle Care Dental Clinic, offers affordable and reliable dental services.
While providing high-quality treatments, they assure comfort and convenience for their diverse clientele. Most of their amenities are also disabled-friendly and accessible by wheelchair.
Furthermore, there is wifi access in the clinic and they have a spacious waiting area/lounge and a children's nursery, restaurants, and cafes nearby.
In order to serve an even wider variety of patients, there are Malay, Cantonese, Mandarin, Hokkien, English, and Russian speakers in the team.
Various payment methods, such as cash, credit cards, Boost, and GrabPay, are also available for your convenience.
Highlights
Affordable
Most facilities are disabled-friendly
Wifi access, spacious lounge
Nearby children's nursery, restaurants, and cafes
Malay, Cantonese, Mandarin, Hokkien, English, and Russian speakers
Variety of payment methods
5.  Metro Perdana Dental Clinic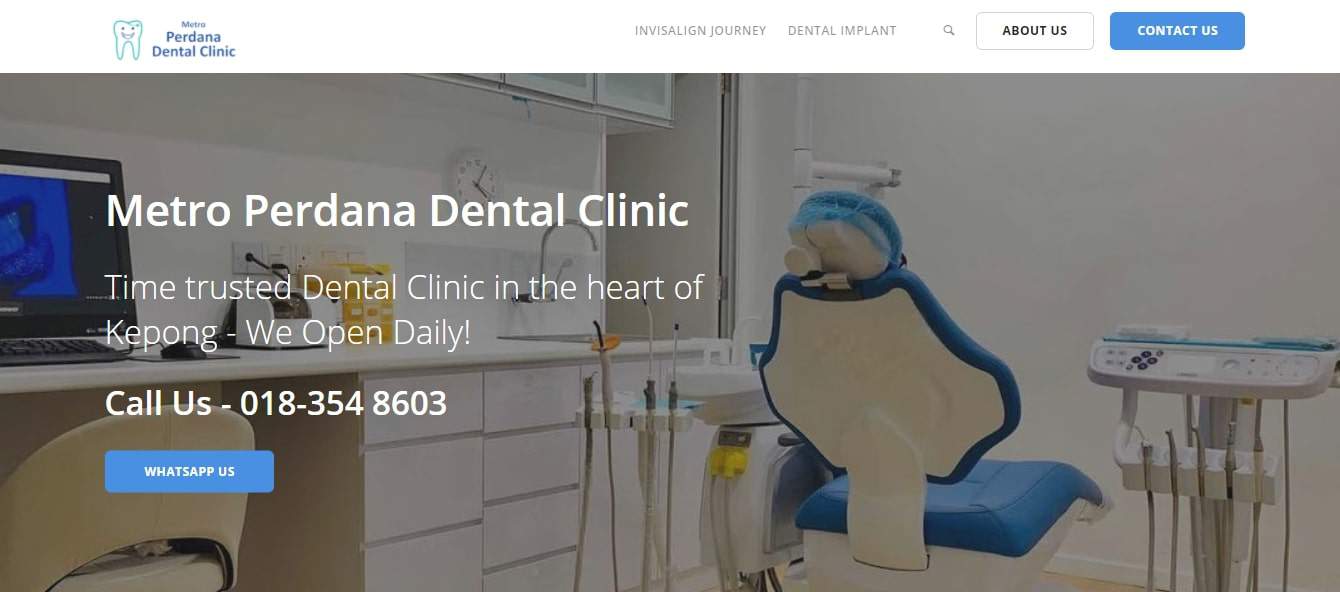 Its efforts to accommodate every kind of client as well as provide them the finest-quality dental services is what makes Metro Perdana Dental Clinic one of the best clinics for wisdom teeth removal in Malaysia.
They take pride in their friendly and gentle dentists who can provide any treatment to any member of your family without making them feel uncomfortable. They extend quality, expert patient care to all age groups from consultation to recovery.
Their excellent service goes even beyond the execution of the treatments as they educate their patients regarding proper home-care methods to help them improve their oral health.
Furthermore, this clinic for the best wisdom teeth removal in Malaysia goes to great lengths to address its patients' dental needs. It is open until late night to accommodate clients who find little to no time in the morning for dental appointments.
Highlights
Friendly, gentle dentists
Quality, expert patient care to all age groups
Assistance from consultation to recovery
Advice on proper home-care methods
Open until late night
Customer Reviews
Kartsyeng Ng, their previous patient, said:
"Dr. Goh is a very diligent and caring dentist.
I did not feel that I was being rushed into doing the procedure, instead he took his time and explained to me in detail what was my problem and how he will do the treatment.
He called up a few hours later after my surgery to check on me, which touched me. He felt more like a friend than a dentist."
6.  Tan Dental Surgery Klang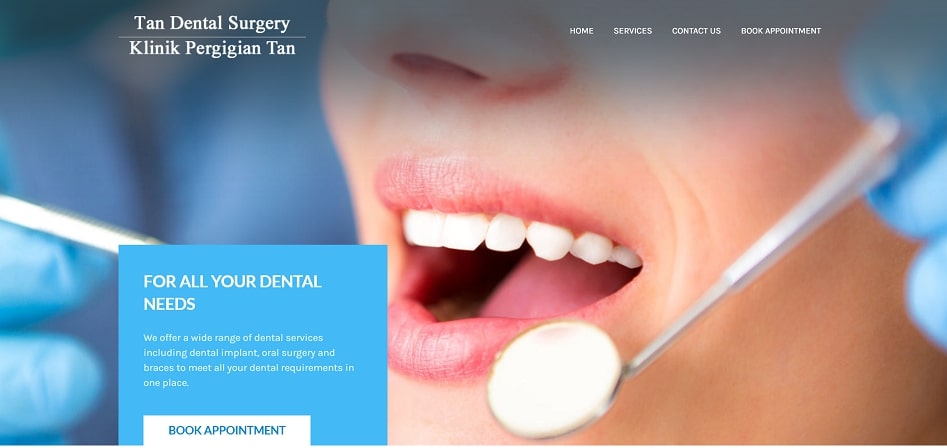 Tan Dental Surgery Klang offers a wide range of dental services to suit your needs. They have dental services including dental implant, oral surgery and braces to meet all your dental requirements in one place.
Their highly trained and skilled Dentists are here to consult with you before any procedure. No matter what your dental needs, feel free to give them a call and make an appointment!
Highlights
Dental Implant
Braces/Orthodontics
Teeth Whitening
Customer Reviews
Here's what some of their past patients have to say:
"Went to the clinic for scaling. The doctor was very friendly and helpful. She explained all the procedures thoroughly and was very meticulous when doing the procedure. Pain-free procedure and very decently price."

"Dentist is very professional with friendly staff too. Price is reasonable and affordable. Overall, exceeded my expectations."

7.  Arteestic Dental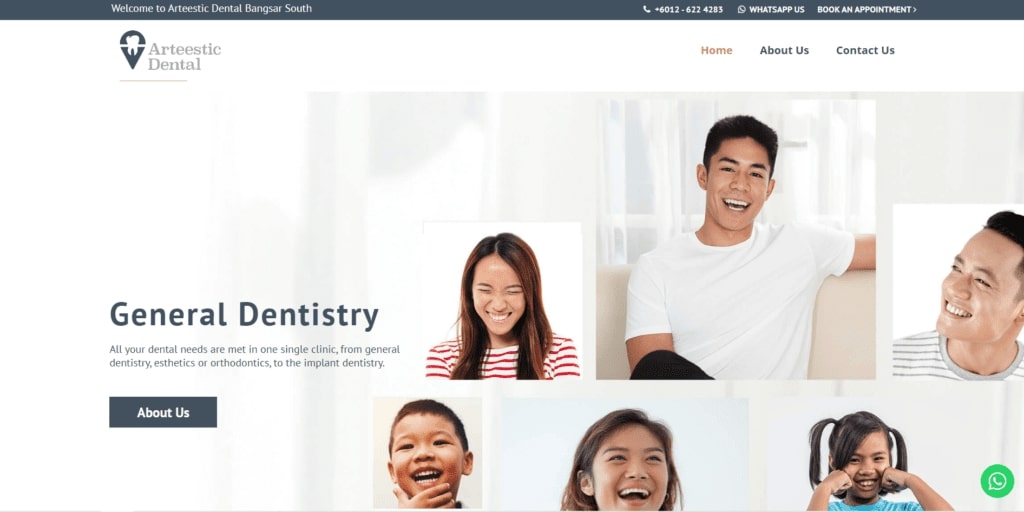 BEST FOR:
Relatively pain-free treatments
PRODUCTS:
https://www.arteesticdental.com/
WEBSITE:
https://www.arteesticdental.com/
ADDRESS:
Unit UG-8, Upper Ground Floor Vertical Business Suites, Avenue 3, Bangsar South, 59200 Kuala Lumpur, Malaysia
CONTACT DETAILS:
Call: +6012 – 622 4283
WhatsApp: +6012 622 4283
OPERATING HOURS:
Monday to Friday: 10am to 8pm
Saturday : 10am to 5pm
Sunday. : Closed
Arteestic Dental was founded in Kuala Lumpur, Malaysia in 2016 by Dr Arthur Lai and Dr Tee Tzi Mun. The name "Art-tee-stic" is derived from our founders' name Arthur and Tee as we believe that excellence dentistry comes with an artistic touch.
At Arteestic Dental, they offer comprehensive range of dental treatment for all ages with a special interest in creating confident smile for you. They always strive to provide a pristine and calm dental environment, for you to have a relaxing and comfortable experience in our dental clinic.
Visit them today and feel the difference!
Highlights
Clinic was planned in detail
From the equipment layout to the tools used, everything was chosen and done with the patients in mind
Equipped with state-of-the-art technology
Customer Reviews
Here's what their past patients have to say about them:
"My experience at Arteestic Dental has been great! Professional lady dentist with a caring heart. Detailed dental checkup and Dr. Tee is very gentle when doing Airflow Spa & scaling and filling for my teeth… without any doubt I can say that she is definitely the BEST dentist in town! ???"

Here's another one:
"Very much good service. Very kind staff and dentist also nice and gentle. Recommend this for anyone any day for their dental checkups and healings."

8. CK Dental Clinic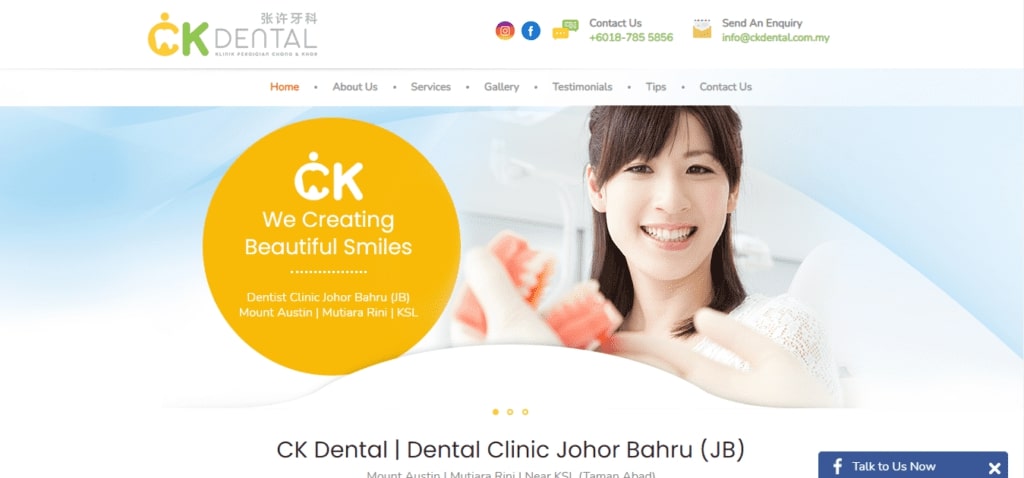 BEST FOR:

Dental Services

PRODUCTS:
http://www.ckdental.com.my/usr/pagesub.aspx?pgid=4
WEBSITE:
http://www.ckdental.com.my/usr/page.aspx?pgid=2
ADDRESS:
Mutiara Rini, Skudai

No. 45A, Jalan Mutiara ½, Taman Mutiara Mas, 81300 Skudai, Johor Darul Takzim.

Mount Austin, Johor Bahru

No. 32, Jalan Austin Heights 8/9, Taman Mount Austin, 81100 Johor Bahru, Johor Darul Takzim.

Taman Abad, Johor Bahru (Near to KSL)

No. 320, Jalan Dato Sulaiman, Taman Abad, 80250 Johor Bahru.

CONTACT DETAILS:
018-7885876 Mutiara Rini, Skudai

018-7855856 Mount Austin, Johor Bahru

018-7853468 Taman Abad, Johor Bahru (Near to KSL)

OPERATING HOURS:

Mon-Fri 9:30AM-7:00PM

Sat-Sun 9:30AM-5:30PM
CK Dental Clinic has three branches: Scientax Mutiara Mas Skudai (Mutiara Rini), Taman Mount Austin (Austin Height), and Taman Abad (Near KSL). Their doctors are professional dentists who are highly accommodating. Their attentive staff will guide you during your entire time in their clinic. 
They aim to provide high quality dental services for their clients making it painless as much as possible. To witness their relaxing environment and good service, visit one of their branches now.
Visit their social media accounts:
Highlights
Friendly and accommodating staff

Professional

Comfortable environment
Customer Reviews
Here's a review from one of CK Dental Clinic's clients:
"Dr. was very informative and accommodative throughout the whole adjustment treatment, give you a sense of security that you are in a good hands. The staff were very friendly and helpful. Due to extended border lockdown, I was not able to visit the clinic to get a new pair of retainers, so I had to ask for their favor to ship the new retainers to Sg, fortunately they were very kind enough to help out, really appreciate their help and effort." – Liau Chzee Hao
"Professional Dr and Friendly Nurse which makes me become their regular customer. Highly recommend if you have any problems with your teeth" – Esreen Ng
"I'm very satisfied with CK DENTAL, The service is fast and efficient with the good outcome produced that I've never tried in any others dental before. I like the clean and cold embience environment here with the nice and sweet staffs working in the front line to serve the customer." – Jazzlyn Wong
9. TAG Dental Clinic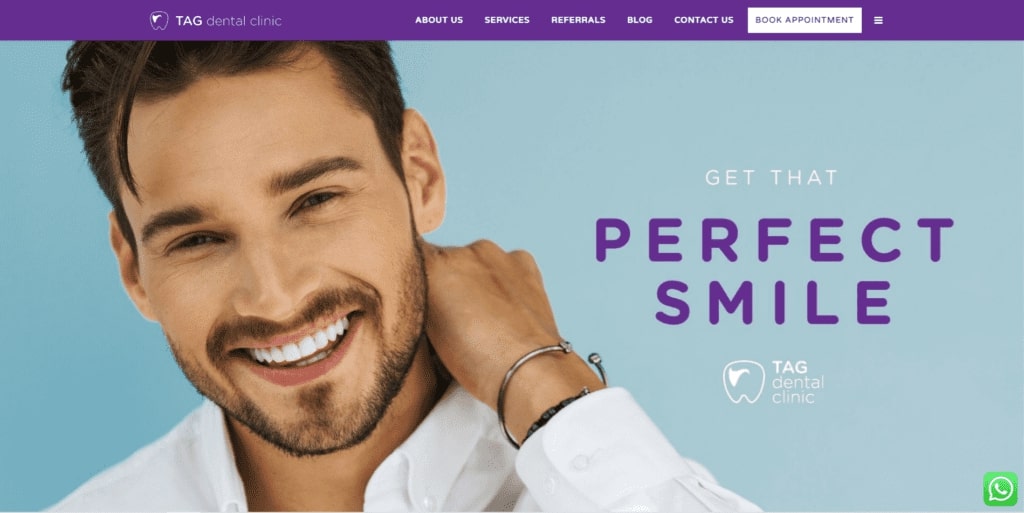 BEST FOR:

Dental Services

PRODUCTS:
https://tagdental.my/services/
WEBSITE:
https://tagdental.my/
ADDRESS:
Suite 20-17, Austin 18 Versatile Business Suites, Jalan Austin Perdana 3, Taman Austin Perdana 81100 Johor Bahru.
CONTACT DETAILS:
Contact us: +607-212 1216

Whatsapp: +6011-1111 0660

Email: [email protected]

OPERATING HOURS:
Contact for more details
At TAG Dental, they place a high priority on the welfare of their patients and they never rush procedures. They aim to be pain-free and use the best equipment in town to put any pain to rest. While TAG Dental is based in Johor Bahru, they serve patients from both Malaysia and Singapore and strive to be the dental clinic of choice when it comes to providing a reassuring experience. They would love to sit down with you and put to ease any concerns you might have about your teeth.
They are an aesthetic dental clinic providing services in the areas of orthodontics, surgery, implants and veneers. With their state-of-the-art laser technology, patients can experience a far less painful and invasive process at our clinic, ensuring minimal discomfort for a stress-free visit anytime.
Highlights
State-of-the-art dental clinic
High tech digital x-ray
Customer Reviews
Here are reviews from TAG Dental Clinic's clients:
"Had severe toothache, went to another clinic earlier on same day but doc didnt dare to extract my wisdom tooth and another culprit tooth. Decided to go to this clinic and Doctor Mei was in charge. She patiently perform the extraction, and was calm although it is very hard to take out my teeth, as the condition was quite bad. Kudos to Dr Mei and her assistant. She was very friendly and explained to me thoroughly throughout the process. Recommended for those in emergency situation."

"After years of not visiting a dentist, went for scaling and polishing today. The staff was friendly and Dr Mabel was skillful and gentle. It was a very good first experience and I would definitely come back for my regular dental visits."
10. Klinik Gigi Dentist3™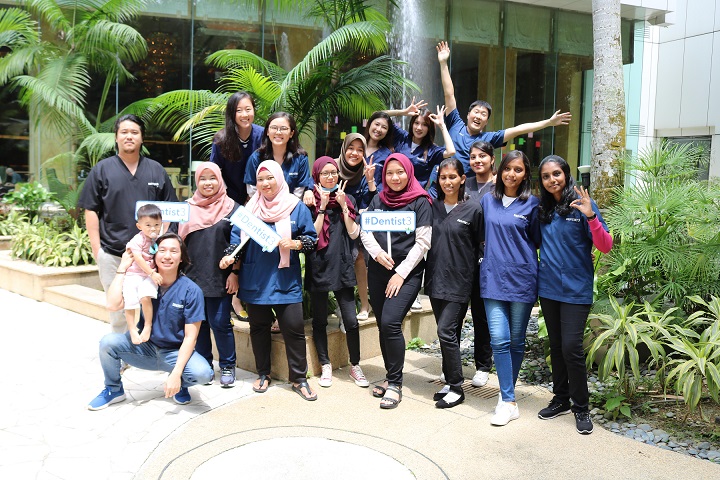 Klinik Gigi Dentist3 is all for providing dental services of the best quality at affordable rates. They always make certain to stay grounded to their core principles to ensure satisfaction.
They are committed to treating every client with utmost care. They are willing to cross an extra mile just to satisfy their need and for them not to feel any kind of discomfort especially during dental procedures.
Highlights
Professional polishing session

Exceptional care

Best rates
Customer Reviews
Here's a review from one of Klinik Gigi Dentist3 clients:
"Have pain in my lower front teeth and been consulted a dentist nearby my home for three times, and the problem not solved. Until I was about losing my hope in dentists, someone introduced this dental clinic and dentist to me, so I give myself a try. Indeed Dr Sharon she is very good, she immediately saw the possibility of root cause of my lower front teeth pain and get it solved, then monitoring. Her skills were highly professional and when she performed deep scaling to me, she ensured me have NO pain during the process. The staffs were friendly too ~ and the price is reasonable and economical. Would like to continuous my visit with this dental clinic moving forward."
Here's another one:
"I honestly can't believe this. My scaling treatment really went smoothly and it didn't hurt at all!! Y'all who scares of dental clinic should say no more. Unbelievably worth it with affordable price!!!"
With these reliable dental practitioners that provide the best wisdom teeth removal in Malaysia, you no longer need to worry about getting a minor dental surgery.
If you also happen to be looking for a clinic for the best dental implants, you can ask the clinics mentioned above. Or,  if you live in Kuala Lumpur, you can also check out our list of clinics for the best dental implants in Kuala Lumpur.