The 7 Best Waste Management Companies in Malaysia
One of the best things we can do for our planet is to implement proper waste management whether it's at our homes or our places of work. Homes and businesses all around Malaysia have been taking proactive steps in doing so and one of the ways they do this is by hiring a waste management company.
Judging by the fact that you're here, you were probably tasked with looking for a waste management company. You've come to the perfect place because we've compiled a list of the best waste management companies in Malaysia for you to read!
What Factors Affect Waste Management Service Costs in Malaysia?
While we can't give you a definite answer on how much waste management services are in Malaysia, we can give you a quick idea of what the factors that affect waste management rates are!
The company you hire
Just like with any kind of service, the rates largely differ between companies. This is because different companies charge differently based on things like labor costs and the materials they use.
This is why it's important to call up numerous companies first and try and get quotes before immediately settling with one company. It'll save you money in the long run and there's no harm in asking for that free quote even if it isn't specified on their website.
Type of waste
Another major factor is what kind of waste you're disposing of. Of course, if you are asking for waste disposal services for your home, it wouldn't be the same cost as if you were asking for services for your industrial business.
Waste disposals for medical waste, industrial waste, and the like are higher than those for communities and homes.
Amount of waste
This is probably the determining factor for the cost of the services you avail of for obvious reasons. The more waste you dispose of, the higher the rate becomes because then they'd need to utilize larger vehicles and probably need more manpower.
Best Waste Management in Malaysia
Now let's look at the waste management companies themselves, shall we?
1. Ega Group – Recycling Specialist
| | |
| --- | --- |
| SERVICES | Waste collection, Waste recycling, Waste management |
| WEBSITE | https://egagroupint.com/ |
| ADDRESS | Factory Lot 29 Jalan Permata 1/1,, Arab Malaysian Industrial Park, 71800 Nilai, Negeri Sembilan, Malaysia |
| CONTACT DETAILS | +60 12-631 6467 |
| OPERATING HOURS | Mon-Fri 8:00 am – 5:00 pm |
Ega Group is an advanced recycling company that aims to produce and improve the technology used to aid in proper waste management all around the world.
They collect, transport, and manage waste disposals safely and efficiently so you don't have to worry about anything. You can also avail yourself of their scheduled waste disposal services easily on their website.
They recycle ferrous and non-ferrous scrap, steel scrap, copper scrap, and the like. One of the ways they recycle is by turning the used materials into new materials and products that are actually useful.
They also do precious metal recovery, sand mining, and product composite.
They offer next-day services, which greatly benefit those who are in need of immediate disposals. Additionally, they're perfect for companies that prioritize secrecy because they install customized crushing equipment for waste disposals.
Offer next day disposal services
Utilizes crushing equipment
Can recycle metal waste
Closed on weekends
No indicated price matrix
Focuses mostly on metal waste recycling
2. Vision Waste Disposal Sdn Bhd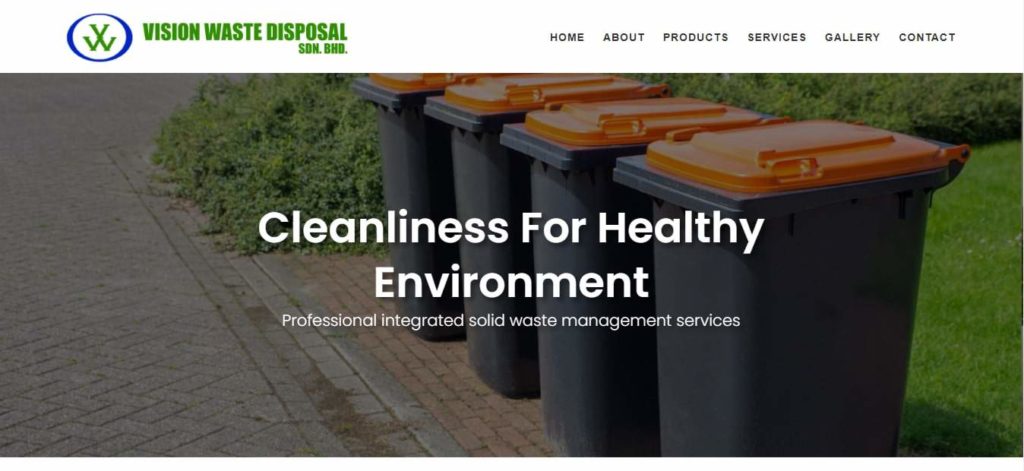 SERVICES
Tree cutting services, Recycling services, Portable toilet and rental, Waste disposal, General work and cleaning services
WEBSITE
https://www.visionwaste.com.my/
ADDRESS
19, Jalan Serendah 26/41, Hicom Industrial Estate, 40400 Shah Alam, Selangor, Malaysia
CONTACT DETAILS
+60 3-5103 7055
OPERATING HOURS
Mon-Fri 8:30 am – 5:30 pm
Sat 8:30 am – 5:30 pm
For the past 12 years, Vision Waste Disposal Sdn. Bhd. has been servicing companies all over Malaysia as a professional solid waste management service company and a licensed recycle program.
Vision Waste Disposal's main focus is their recycling program wherein they recycle things like timber, all kinds of oil, plastic, and food waste. They also offer cleaning services for homes, offices, factories, buildings, and the like.
Here are the specific waste disposal services they offer: trash collection, desludging and repair of septic tanks, drain cleaning, and buying scrap and recyclable items (paper, iron, steel paper, etc.).
They also offer ironwork and fencing and transportation of heavy goods such as machinery or safety boxes. A few of their products are walkie-talkies, roller shutters, garbage bins, and recycling bins.
Offers cleaning services
Offer desludging of septic tanks
Offers garbage bins and roller shutters for your business
Services entire Malaysia
Multiple clients have issues with customer service
Closed on Sundays
Customer Reviews
Vision Waste Disposal has made a lot of customers happy and here's proof:
"very efficent and fast move service" -Vivid
"Very fast, and reasonable price. Excellent job and service , delicate team with professional service" -Lakesh
3. GarGeon Sdn. Bhd.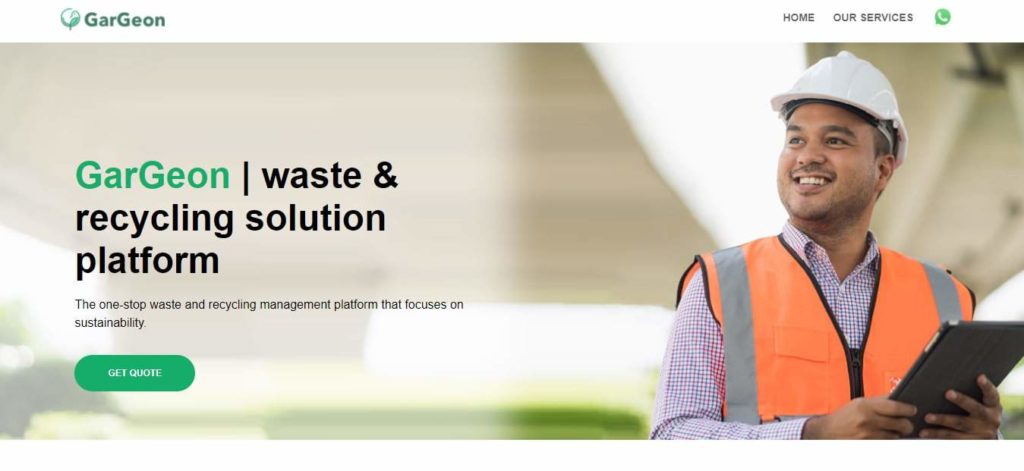 | | |
| --- | --- |
| SERVICES | Dumpster rental, recycling collection, Recurring waste collection |
| WEBSITE | https://gargeon.com/ |
| ADDRESS | Anchor 5, Mall of Medini, 4, Lebuh Medini Utara, 79200 Nusajaya, Johor, Malaysia |
| CONTACT DETAILS | +60 16-468 4282 |
| OPERATING HOURS | Daily 8:00 am – 6:00 pm |
GarGeon calls itself the one-stop solution for waste and recycling management.
It prides itself in being a company that seeks to put sustainability at the forefront of its jobs. They do this by using data analytics to help you figure out how your business runs and how you can achieve cost-saving habits in your business in terms of waste.
With this in mind, they have three more top guarantees: safe disposal, pickups within 24 hours, and customer prioritization. Their safe disposal is guaranteed because they work with licensed garbage disposal operations.
You can request waste pickups from them as soon as 24 hours after you call and set an appointment. This is in line with their customer prioritization where they make sure that you, as their customer, get the best service you need.
One of the other ways they show this is by taking into account your waste disposal methods and helping you figure out how you can benefit your business. This is done by finding the inefficiencies of your business and trying to avoid them.
Now, let's talk a bit more about their services.
Their recurring waste collection is scheduled to pick your trash up weekly depending on your schedule and their recycling collection is open to both small-scale recycling to large-scale projects.
They also offer dumpster rentals. They deliver and pick up these dumpsters to any location when you need them and remove them as soon as you need them removed as well.
Open daily
Offers dumpster rentals
Pickups within 24 hours
Guaranteed safe disposals
No mention of rates
Only services Johor area at the moment
4. J K Gill Waste PLT (JKG)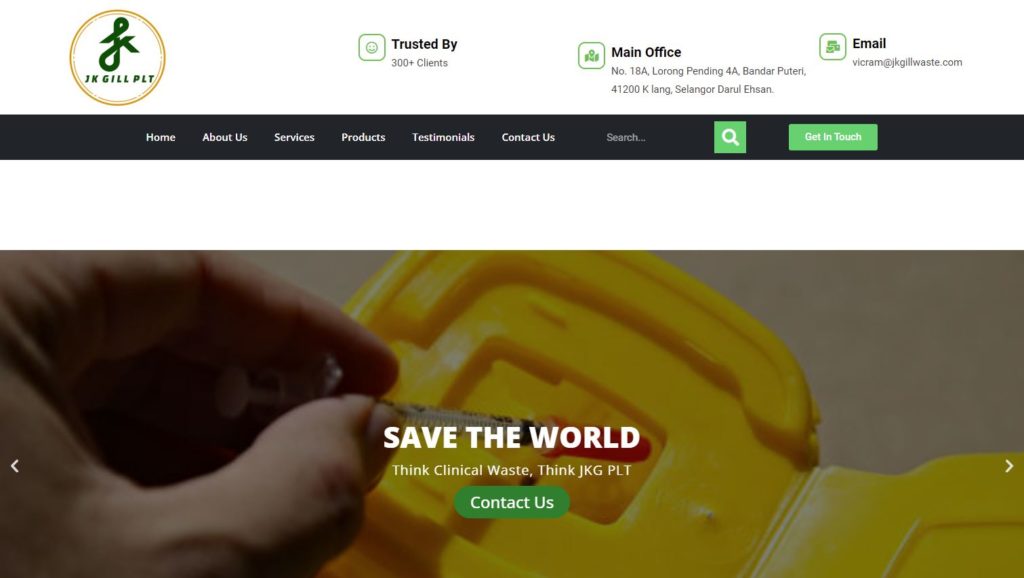 SERVICES
Medical waste collection
WEBSITE
https://www.jkgillwaste.com/
ADDRESS
No 20, Lorong Pending 4A, Bandar Puteri, 41200 Klang, Selangor Darul Ehsan
CONTACT DETAILS
+603-3884 7383
OPERATING HOURS
Mon-Fri 9:00 am – 5:30 pm
Sat 9:00 am – 1:00 pm
Now, this next company is more of a specialized one. JK Gill Waste PLT is a company that focuses mainly on the collection of medical waste.
These wastes include drugs, pharmaceutical products, needles, swabs/dressings, and even excretions. Because of this, they have no choice but to ensure they provide quality waste disposal that's both safe and efficient.
Based on reviews, all of their clients seem pretty satisfied with the services they deliver. Their usual customers are dental clinics, maternity clinics, medical clinics, dialysis centers, and private clinics so you know they're serious about what they say.
They also supply waste bins (5/10/20 liters), yellow biohazard eco-friendly plastic bags, and cable ties for the safe disposal of these wastes until their services are requested.
When you purchase these products from them, they give you in-depth instructions on what can and can't be disposed of in these products.
Offers 24/7 services
Offers emergency cleaning services
Offers eco-friendly products
Supplies waste bins
Only for medical waste
Does not service entire hospitals
No mention of rates
Customer Reviews
JK Gill Waste deals with hazardous waste so, if you hire them, you'll definitely expect only the best from them. Thankfully, these reviews from customers should put your mind at ease:
"Great Quality in Disposal Management! Awesome Customer Service! Systematic organisational Values! Will always recommend to choose JK Gill Clinical Waste Management!" -Arvin
"Very Good Pickup and Monthly Disposal Service to my Clinic." -Boot Up Clinic
5. Big Tree Waste Disposal Sdn Bhd
| | |
| --- | --- |
| SERVICES | Domestic waste disposal, Industrial waste disposal, Municipal solid waste disposal, Construction and demolition debris disposal, etc. |
| WEBSITE | http://www.bigtreewaste.com/ |
| ADDRESS | Off, 22-1, Jalan Balakong, Taman Kasturi, 43200 Cheras, Selangor, Malaysia |
| CONTACT DETAILS | +60 3-9076 8333 |
| OPERATING HOURS | Mon-Sat 9:00 am – 6:00 pm |
Since its opening in 1991, Big Tree Waste Disposal Sdn. Bhd. has specialized in waste disposal services and waste collection. They provide these services to homes, communities, and businesses all around the country.
Their environment-friendly and quick approach towards waste management is achieved through their large connection to other collection and disposal operations.
The types of waste they dispose of are industrial, domestic, non-hazardous, municipal solid waste, construction and demolition debris, and large volume environmental soils.
With this in mind, they offer all sorts of garbage trucks and garbage bins to match the type of disposal you require. They have 2 footer, 4 footer, and 18 footer garbage trucks.
Their rates depend on the type of industry you are in and the type of truck you'll be hiring based on the amount of waste you have. Their rates range from RM 180-RM450.
Their garbage bins are RORO bins, Constructions bins, portable compactor and leach bin, and plastic bins for hotel or home usage.
They also offer tree cutting services and building and bulky waste cleaning!
Offers multiple disposal truck sizes
Price matrix available
Offers different kinds of garbage bins
Wide range of waste disposal services
Closed on Sundays
Doesn't offer cleaning services
6. VN Green Global
| | |
| --- | --- |
| SERVICES | Pickup & Disposal, Collection, and Medical Waste disposal |
| WEBSITE | http://www.vngreenglobal.com |
| ADDRESS | Lot 4A, Jalan Salung 33/26, Shah Alam Technology Park, 40400 Shah Alam, Selangor |
| CONTACT DETAILS | +012-777 3052 |
| OPERATING HOURS | Monday – Friday, 8:00 AM – 6 PM |
If you're looking for a partner that handles clinical waste management, then look no further way from VN Green Global. They offer complete waste management with the experience, technology, and infrastructure to ensure that treating biological and other clinical waste complies with state and federal legislation, licensing, and code of practice regulations.
They offer services and products related to clinical waste management, including pickup and disposal, collection, and medical waste disposal in the servicing area. They provide this service to industries like clinics, dialysis centers, medical, dental, and veterinary clinics.
The products they offer are both cost-effective and high-quality. The products are exclusively for biohazardous waste, such as sharp bins, yellow biohazard bags, cable ties, and wheelie bins. They are beneficial in the medical industry because they are specifically made to handle biohazardous waste, which can be hard to find.
Get yourself a partner that helps you do all the dirty work so you can focus on the important stuff. We highly recommend VN Green Global; they are one of the leading companies when it comes to clinical waste management in Malaysia.
Compliance training for employees
State-of-the-art equipment in clinical waste transportation and disposal.
Friendly and approachable personnel
7. CWM Group Sdn Bhd
| | |
| --- | --- |
| SERVICES | Water engineering, sewage treatment, solid waste management, and drainage solutions. |
| WEBSITE | https://www.cwm.com.my/home/index.php |
| ADDRESS | Lot 12, (16/, Shah Alam, Shah Alam, Malaysia, Persiaran Kemajuan, Seksyen 16, 40200 Shah Alam, Selangor, Malaysia |
| CONTACT DETAILS | +60 3-5510 7800 |
| OPERATING HOURS | Monday – Friday, 8:30 AM – 5:30 PM |
If you're looking for a waste management company that has years of experience and with a good track record, then look no further way from CWM Group SDN Bhd. They offer several services including water engineering, sewage treatment, solid waste management, and drainage solutions.
Established in 1986, they specialize in utilities and environmental solutions. Their ideal is to share knowledge and expertise in order to provide innovative solutions and experienced management to their clients.
Among the services they offer we particularly liked their solid waste management service because they provide safe and sanitary methods, as part of their environmentally friendly policy. They do it by collecting, recycling, and disposing of various types of waste efficiently.
We highly recommend CWM Group Sdn Bhd for their great customer communication and great rates. They also have 35 years of experience. However, they are closed on the weekends so it is important to free up some of your time on the weekdays. 
Environmentally friendly
Great customer communication
35 years in service
FAQs about Waste Management in Malaysia
---
Proper waste management is an important part of our daily lives. Being environmentally friendly shouldn't just be limited to the things we use but also the things we no longer use.
We hope this article on the best waste management companies in Malaysia helped you. Feel free to reach out to us if you have any companies you'd like to recommend!
Also, if you're in need of a good cleaning service, check out our article on the best cleaning services in Malaysia!