Photo Credit: The Home Depot
By Aisya binti Ahmad
If you are constructing a new home or renovating your current office, then changing your flooring is definitely one of the best choices you can make. That is why we prepared a list of the best vinyl flooring companies in Malaysia to help you!
Aside from being beautiful, vinyl floorings are durable and stand up well to heavy traffic. Hopefully, by the end of this article, you've come to a conclusion on which business you want to work with for your own flooring.
1.  Headline / Mach9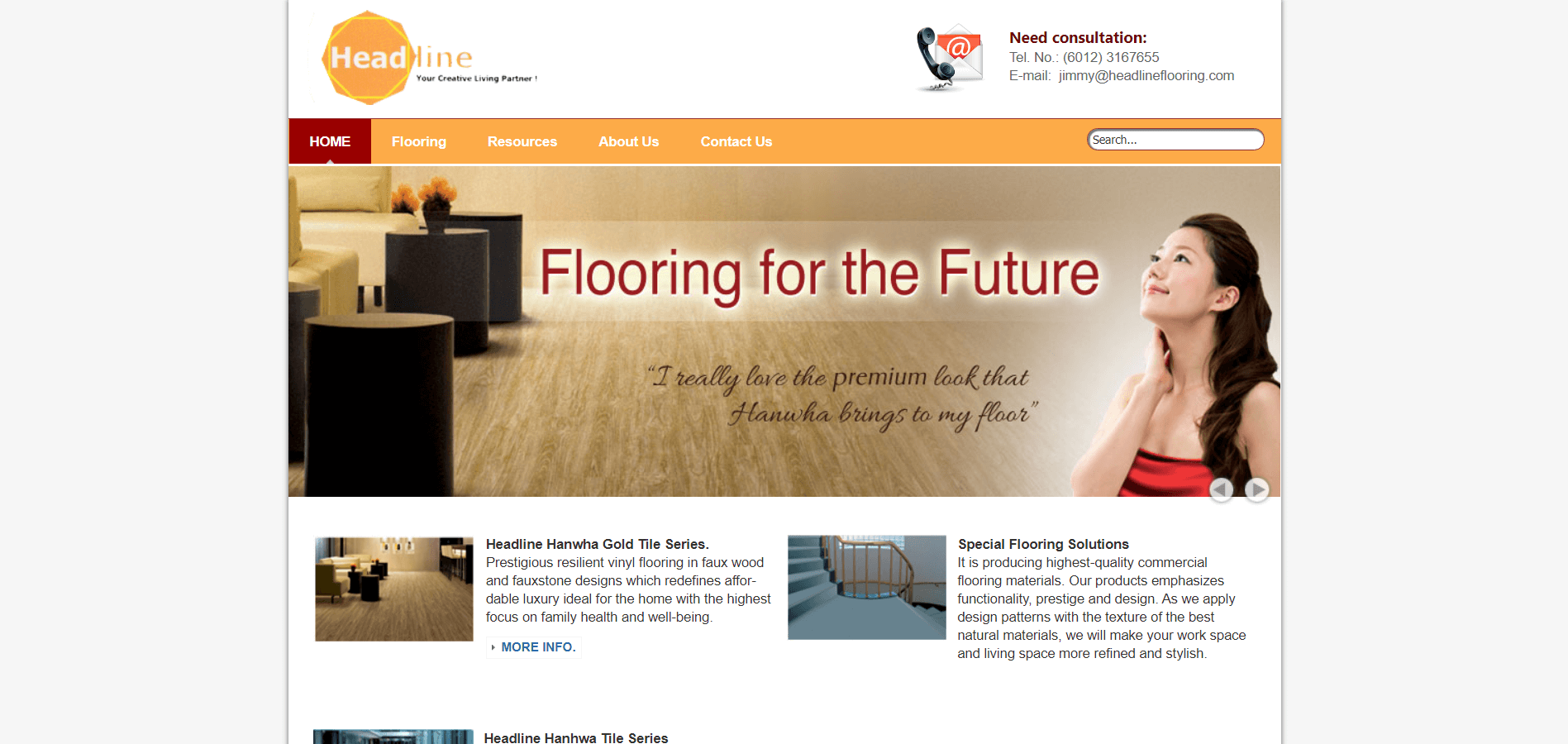 BEST FOR 
Vinyl sheets with a variety of colors and designs
PRODUCTS
Headline / Mach9 products
WEBSITE
Headline / Mach9
ADDRESS
25, Jalan Metro Perdana Barat 6,

Sri Edaran Industrial Park, Kepong,

52100, Kuala Lumpur, Malaysia

CONTACT DETAILS
(6012) 3167655 |

[email protected]

OPERATING HOURS
N/A
Headline / Mach9 is one of the most reliable vinyl flooring companies in Malaysia. Their team works hard to bring the breath of creative living into the designs of your homes or business premises.
They are a partner distributor of world class building materials manufactured by Hanwha L&C of Korea. Trust that the products they offer have been researched and developed extensively to deliver value and quality without compromising their beauty and design.
Highlights
Product innovation
Eco-friendly
Hassle-free transactions
Customer Reviews
Various customers have left them glowing remarks on Google. Here is one of them that we've found:
"Reasonable price/good service."
-Van sewa Kl pj
2.  Synchrowood.com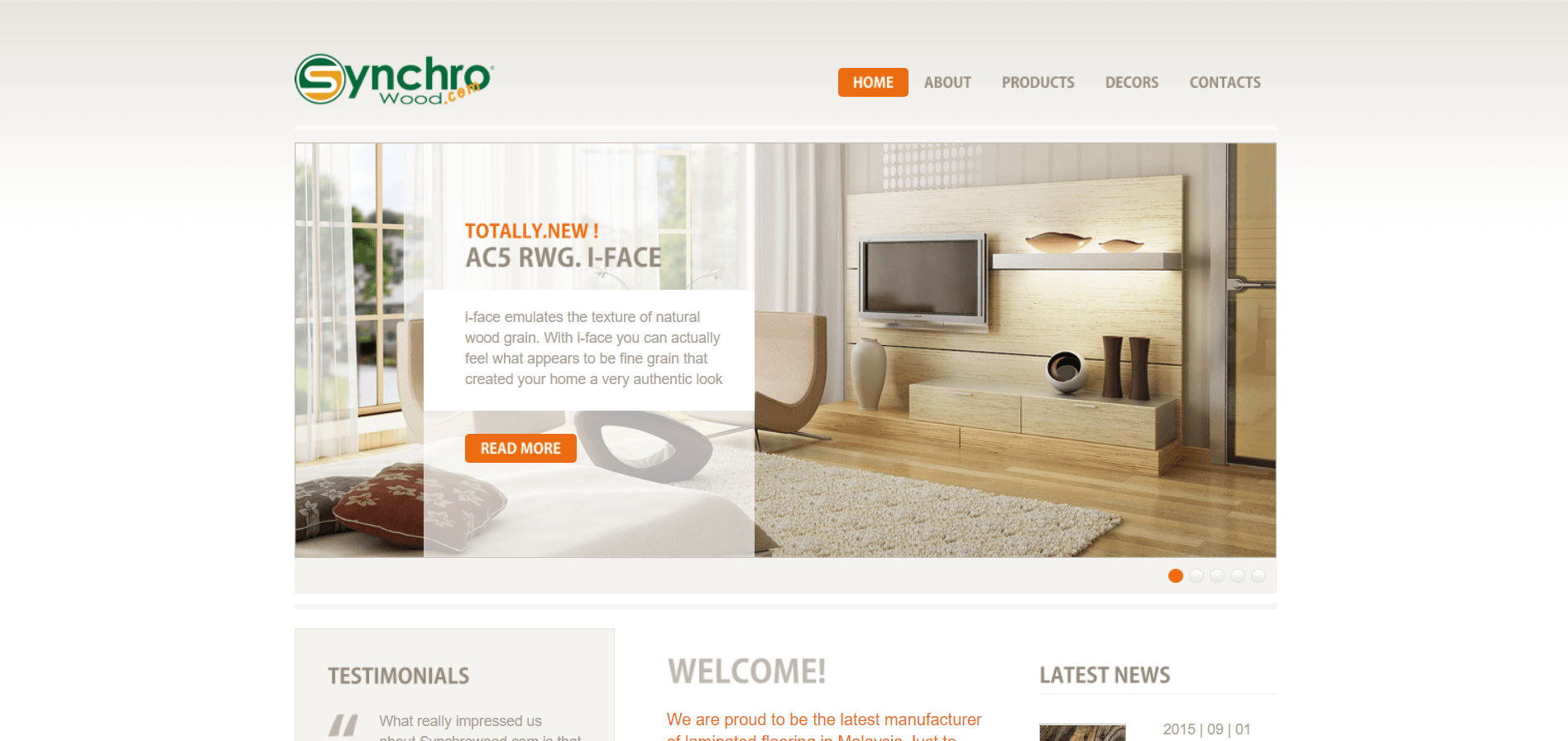 BEST FOR 
Natural wood-based products
PRODUCTS
Synchrowood.com products
WEBSITE
Synchrowood.com
ADDRESS
Demak Laut Industrial Park

93050 Kuching, Sarawak

Malaysia

CONTACT DETAILS
+60 82 439 901
OPERATING HOURS
Monday to Friday: 08:00 AM to 05:30 PM
Saturday: 08:00 AM to 12:00 PM
As one of the most trusted vinyl flooring companies in Malaysia, Synchrowood.com is dedicated to meeting and exceeding your expectations. They make sure that all their products are in great condition through strict quality control.
They only use high-quality materials so that everything they produce is durable and long-lasting.
Highlights
Certified by the EPH Institute of Wood Technology in Germany and Singapore Environment Council
Flooring that can match the decor of any room
Customer Reviews
Over the years, Synchrowood.com has proudly served various customers. One of them even gave them the following commendation:
"What really impressed us about Synchrowood.com is that this factory is ever ready to customize our texture design and flexibility in color matching according to our desires."
-Mr. Lim, Marketing Director
3.  Floor Culture Holdings Sdn Bhd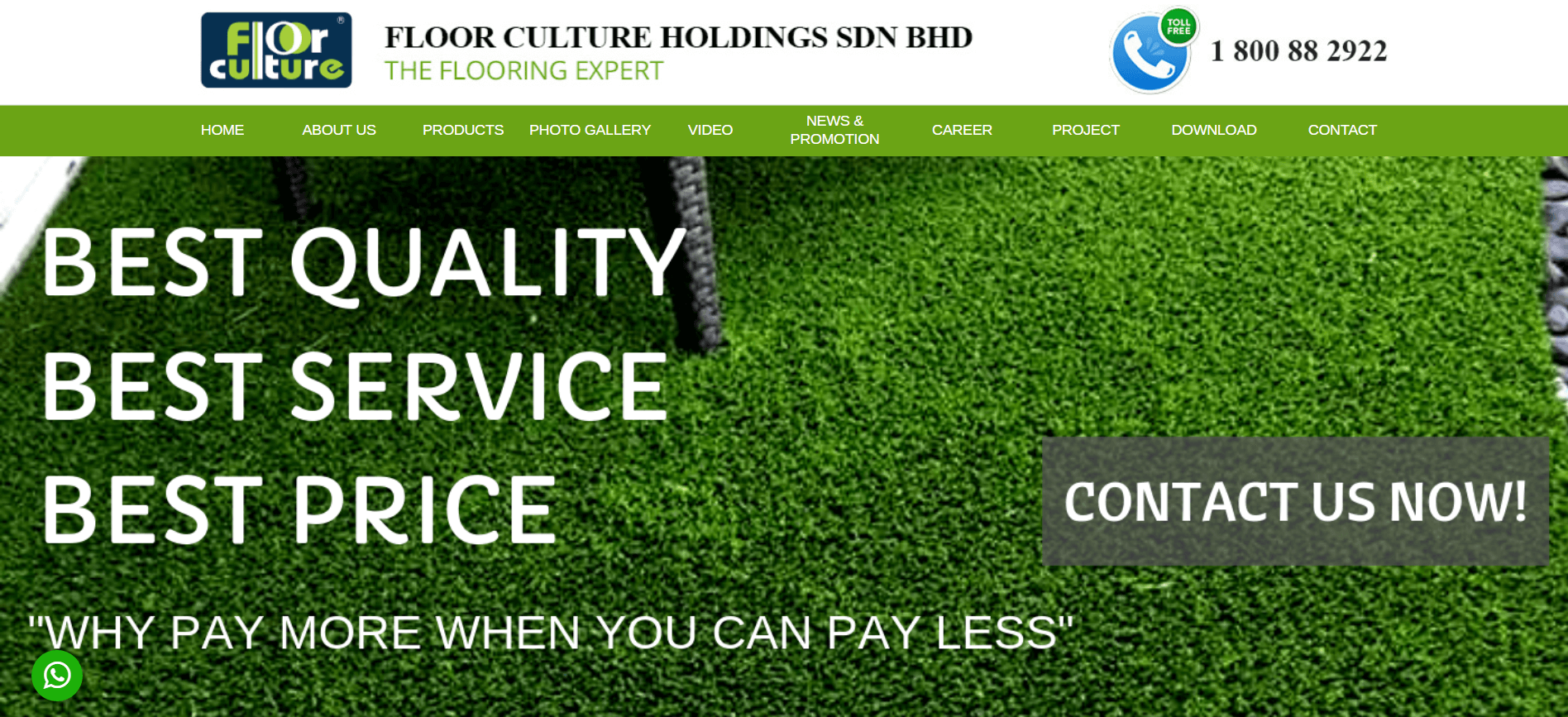 Enhance the look of any room with the help of Floor Culture Holdings Sdn Bhd. As one of the most popular vinyl flooring companies in Malaysia, they make sure to provide their clients with a wide selection of products to choose from.
Trust them to offer comprehensive solutions for your next big interior flooring project.
Highlights
New technology, designs, and installation techniques
Cost-efficient
Environmentally friendly
Customer Reviews
Some people have taken to Google so that the world could know how great Floor Culture Holdings Sdn Bhd is. Here are some reviews:
"From my home to Amber Chia Academy, Floor Culture is in my everyday life! Great product quality & amazing services, do check them out!
Thank you Floor Culture for making my Home and Academy looks stylish and easy to maintain.
🌟🌟🌟🌟🌟"
-Amber Chia
"Very good service and high quality laminate flooring with affordable price. The flooring installed very neat and tidy.. Very very recommended. Floor Culture is the best! Good Job!"
-Fif 120
4.  DynaLoc Flooring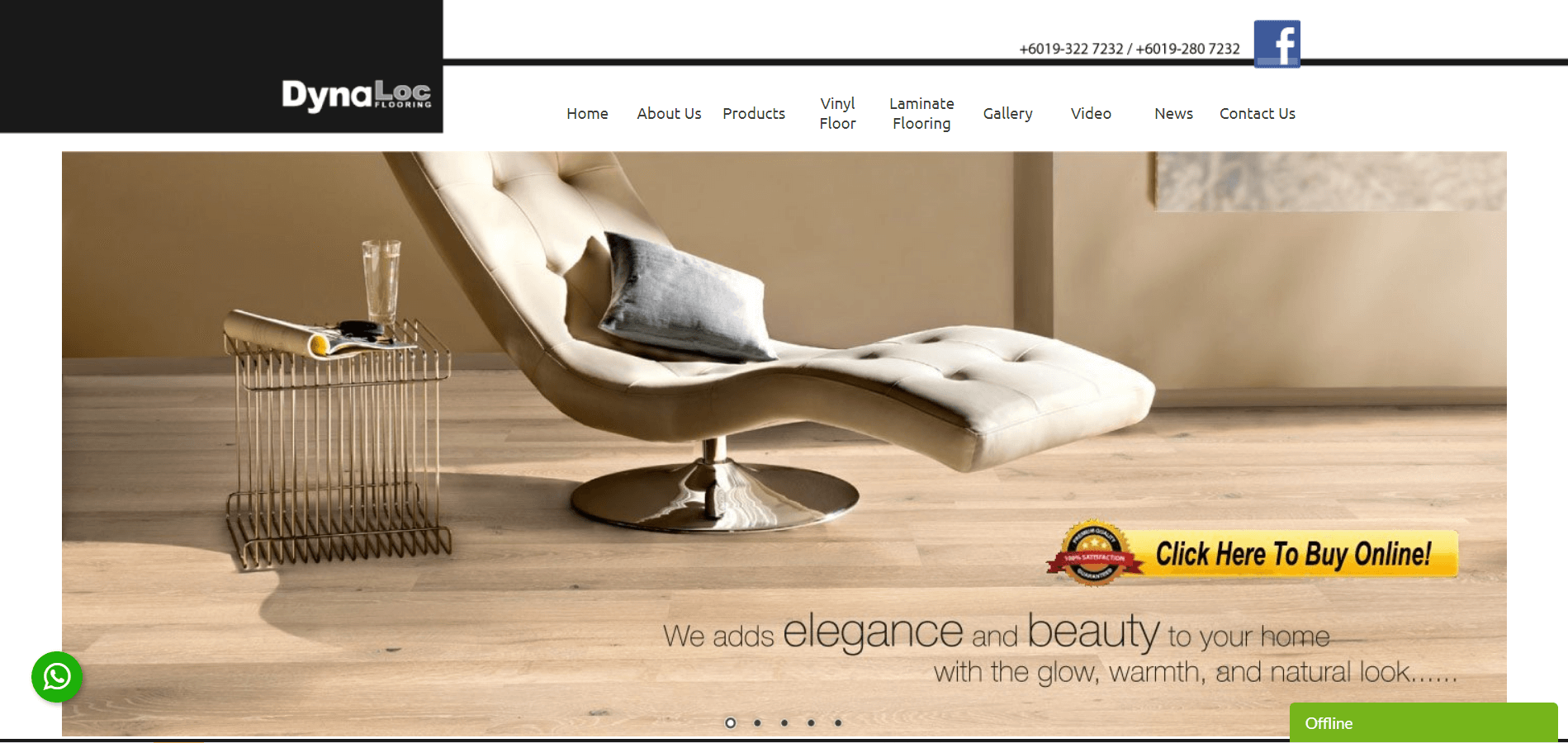 BEST FOR 
Great flooring at reasonable rates
PRODUCTS
DynaLoc Flooring products
WEBSITE
DynaLoc Flooring
ADDRESS
16 & 18, Jalan Utama 2/34,
Taman Perindustrian Puchong Utama, 47140 Puchong,
Selangor, Malaysia.
CONTACT DETAILS

[email protected]

|

[email protected]

|  +603-8061 8130
OPERATING HOURS
Add a touch of elegance and beauty with the help of DynaLoc Flooring. They are one of the best vinyl flooring companies in Malaysia that offer a wide range of products.
Their team understands that each of their clients' needs and preferences are different. This is why they listen to you attentively to help you find the perfect flooring for your home.
Highlights
Durable and easy to maintain flooring
Friendly team
Skilled installation
Customer Reviews
It is clear that DynaLoc Flooring has created a positive reputation for themselves due to their superb service. Read through the comments people have left them on Google:
"Dynaloc s/b supplier of laminate flooring product  a trustful relationship activity involved in maintaining things in good working order implying responsibility provide care for all clients , provide the mean of subsistence great stuff work willingly providing assistance to serving a useful function contributing to the fullfillment of a need an anticipated outcome that is intended to guide your planed action recommended by kenny customer careline"
-Kenny Quah
"Great staff. Very friendly."
-Mud MJ
5.  FLOOR DEPOT
BEST FOR 
A wide selection of flooring products
PRODUCTS
FLOOR DEPOT products
WEBSITE
FLOOR DEPOT
ADDRESS
No 92 & 94, Jalan Puteri 5/5,

Bandar Puteri Puchong, 47100,

Puchong, Selangor.

Malaysia

CONTACT DETAILS
1800-88-7585
OPERATING HOURS
N/A
FLOOR DEPOT is one of the most trusted vinyl flooring companies in Malaysia. With more than two decades of experience, their team has definitely seen it all and can help you look for the perfect flooring for any room.
They also take great pride in creating Malaysia's first online flooring shopping platform and mobile application.
Highlights
Keen attention to detail
Delivering excellent results
Customer Reviews
FLOOR DEPOT is recommended by their clients for their quality products and excellent customer service. One satisfied customer wrote about their experience with the company:
"Floor depot supplier and install laminate solid wood , vinyl  a hard fibrous lignified or artificial characterized by vital process consisting of segment held togather by jiont and with combination of matching colour give rapid expression  a qualities that give pleasure to the senses , an outstanding example of it kind , being different in some paticular way without permanently losing one of it's former characteristic essences concrete pavement recommend by @kennyccap fb"
-Kenny Quah
6. Zen Flooring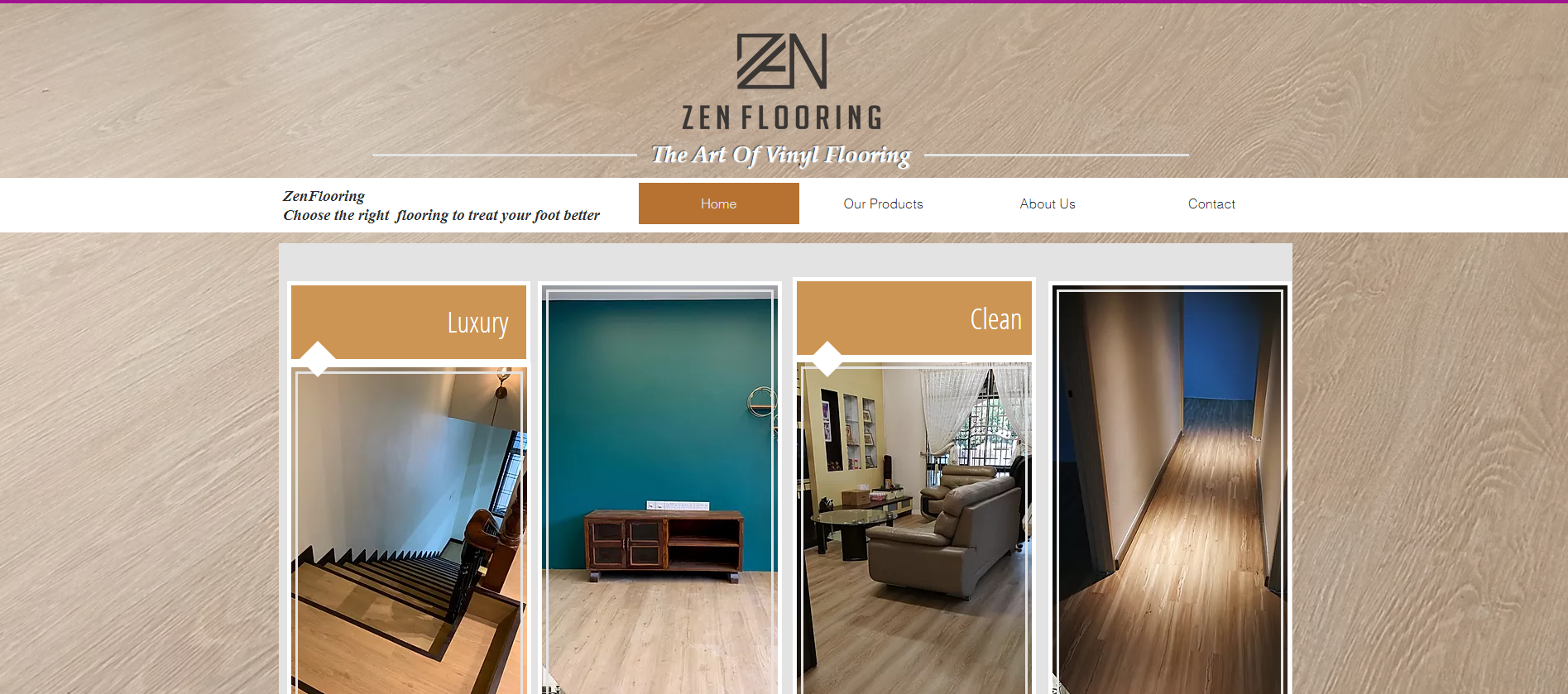 Photo Credit: Zen Flooring Website
BEST FOR 
Superb flooring services
PRODUCTS
Zen Flooring products
WEBSITE
Zen Flooring
ADDRESS
4421A,Jalan Thalatha,

Kampung Ungku Mohsin,

Tampoi, Johor,Malaysia

CONTACT DETAILS
+6014-6160805
OPERATING HOURS
N/A
Zen Flooring  was founded in 2013 Steven Hng Wen Hau. Their company started with designing and manufacturing sofas and gradually expanded after a few years.
Currently, their company is known for their excellent workmanship and amazing vinyl flooring services.
Highlights
Finishes each project within budget and on time
Dedicated to meeting and exceeding your needs
Customer Reviews
Zen Flooring is recommended by their clients for their quality products and excellent customer service. Various customers have commended them and have left them positive reviews on Google.
7. Floor Master Resources Sdn Bhd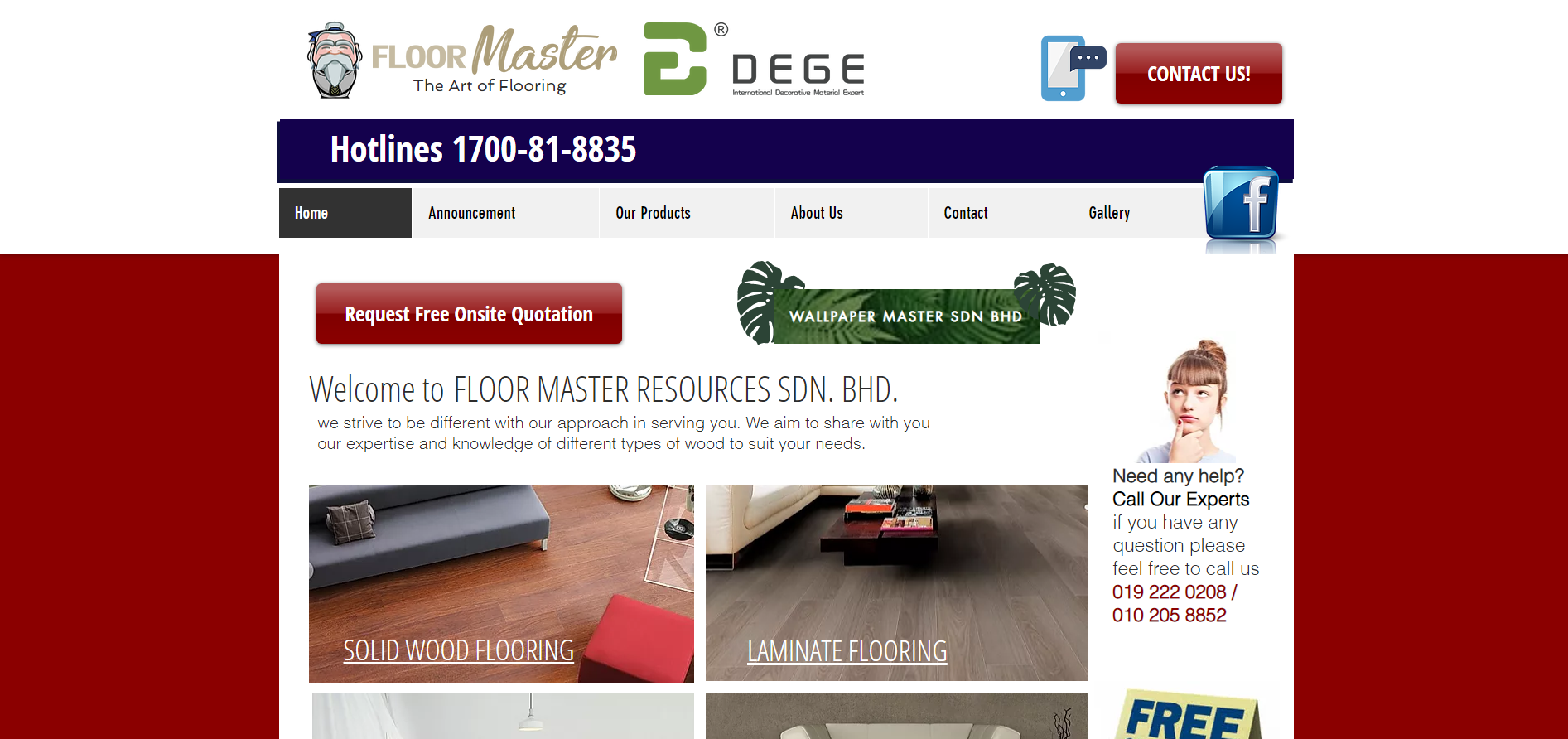 Photo Credit: Floor Master Resources Sdn Bhd Website
Floor Master Resources Sdn Bhd strives to take a different approach when serving their clients. In every project, they aim to share their expertise and knowledge about the different types of wood that may suit your needs.
Know that each of the integrated flooring and surface solutions they offer caters to a very specific customer need.
Highlights
Member of Business Network Internation-Klang Elite Chaptern and Malaysia Wood Moulding & Joinery Council
Broad product portfolio
Customer Reviews
Floor Master Resources Sdn Bhd is loved and trusted by many people. In fact, various customers have commended them and have left them positive reviews on Google:
"Excellent service and worth of money to spend. Satisfy with my floor renovation which reach near my expectation. Servicing during weekend is added advantage as i work during weekdays. Besides, they are so willing to take an extra mile and pay a visit even its after working hour when i have some queries and inquiry on my house renovation .
Would recommend friend and family."
"Fantastic experience! After the job was done, my balcony looks even nicer than how we imagined."

No home or office space is complete without the perfect flooring to match the theme and decor of your rooms. Have vinyl floor covering installed today and increase your property's value!
And if you've worked with any of the companies on this list, make sure to leave a comment down below. We definitely want to hear all about your experience with the best vinyl flooring companies in Malaysia.
While you're at it, make sure that your property is free of any pests. Read through our list of the companies for the best pest control in Penang, for example.