The 5 Best Video Editing Software in Malaysia
Featured Image Source: Jakob Owens via Unsplash
Want to produce a video presentation or clip of some sort? You should look for the best video editing software in Malaysia to help you compile your memories into one amazing video.
Don't know where to start? We got you covered. With this list of the best video editing services in Malaysia, you will be editing your clips in no time, even if you're just a beginner.
1.  Lumen5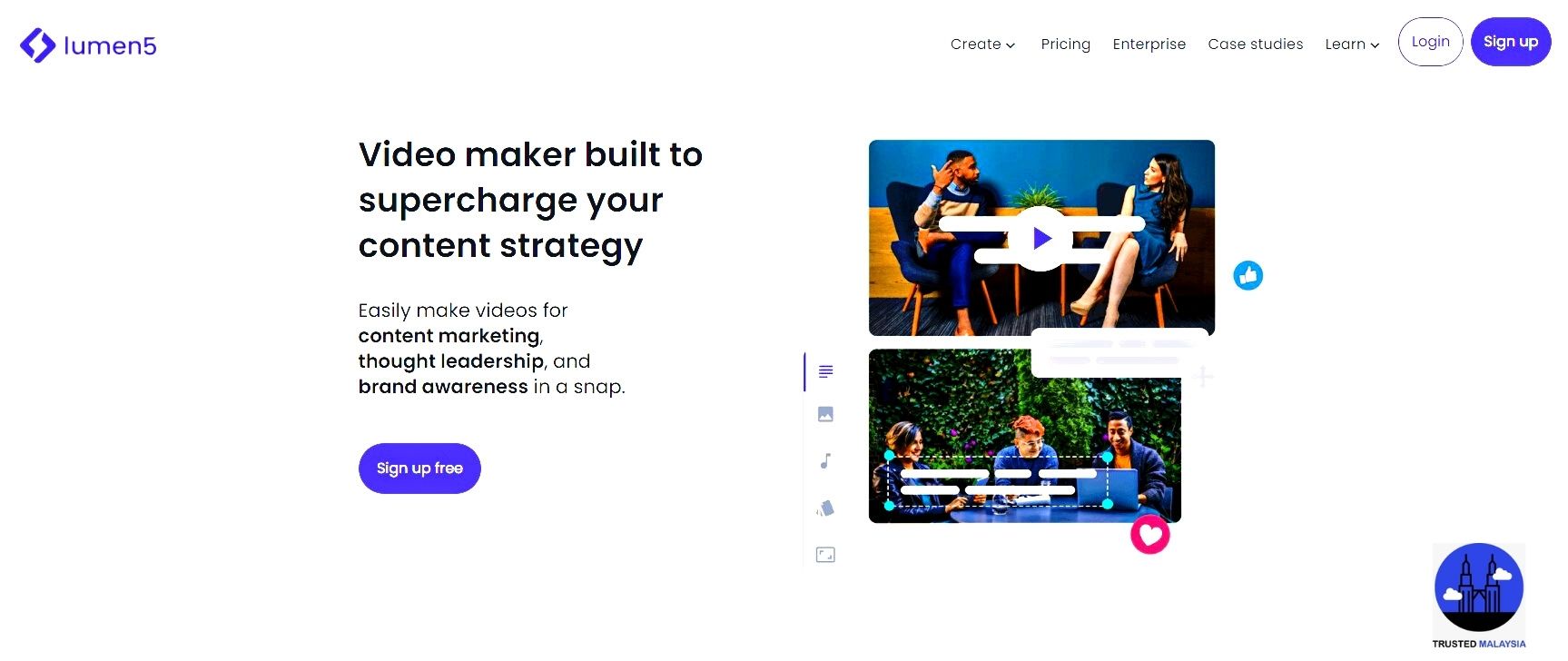 Lumen5 is video-editing software that is easy to learn and use even for video-editing beginners, thanks to its simple drag and drop interface. Its ease makes work quick, so you'll have your video ready in a few minutes.
What enables this is its AI-powered technology that helps you arrange your ideas, gives you access to music and visuals that enhance your video, and fits all of your content into a layout— from maintaining text to the length of the scene, positioning the text, and more.
This best video editing software in Malaysia is perfect for businesses or even just people who want their social media posts to be far from the usual.
You can personalise your videos and choose from a wide array of themes, colors, fonts, and more using Lumen5's brand presets and even insert your logo at the end or keep it throughout your video.
To keep up with the ever-changing social media landscape, Lumen5 even allows video resolutions of 480p, 720p, or 1080p, and a 16:9 landscape format, 1:1 square format or 9:16 vertical format for your social platforms.
Highlights
Easy to use even for beginners
Drag and drop
AI-powered technology
Access to music and visual library
Addresses branding needs
480p, 720p, or 1080p resolutions
Various formats to fit social media platforms
Customer Reviews
Drew Sykes, social media director of the NC State University, said:
"I love how easy it is to use Lumen5 and how much time it saves my team and me. I'm always happy with the results, knowing our video content will resonate with our audiences. I also love that it empowers us to be more creative."
2.  Adobe Premiere Pro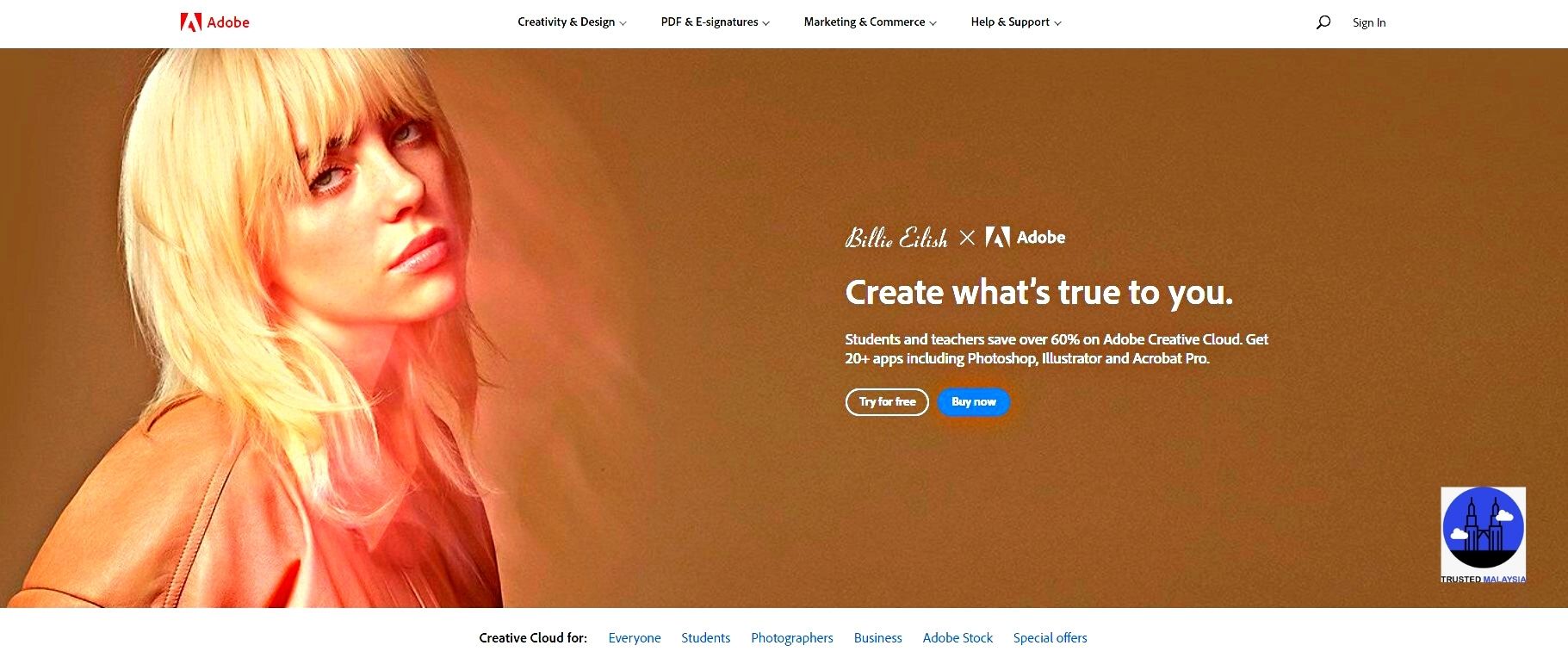 Adobe Premiere Pro is the current industry-leading video editing software for web, television, and film. It has long been the go-to editing application for many, but it continues to enhance its features to remain relevant in today's world.
For instance, the new Adobe Sensei feature's automated tools make for a more efficient workflow, keeping you focused on your editing work and helping you finish it quicker.
On the other hand, beginner editors will love Adobe Premiere Rush, an inclusion of Premier Pro, which is an all-in-one desktop and mobile app for creating videos and sharing them online.
To access this best video-editing software in Malaysia and its exciting new offerings, you just need to have a Creative Cloud membership.
Highlights
Current industry-leading video editing software
Used for web, television
Constantly improving features
Adobe Sensei for efficient workflow
Adobe Premiere Rush for beginners
Creative Cloud for access to updates
3.  Final Cut Pro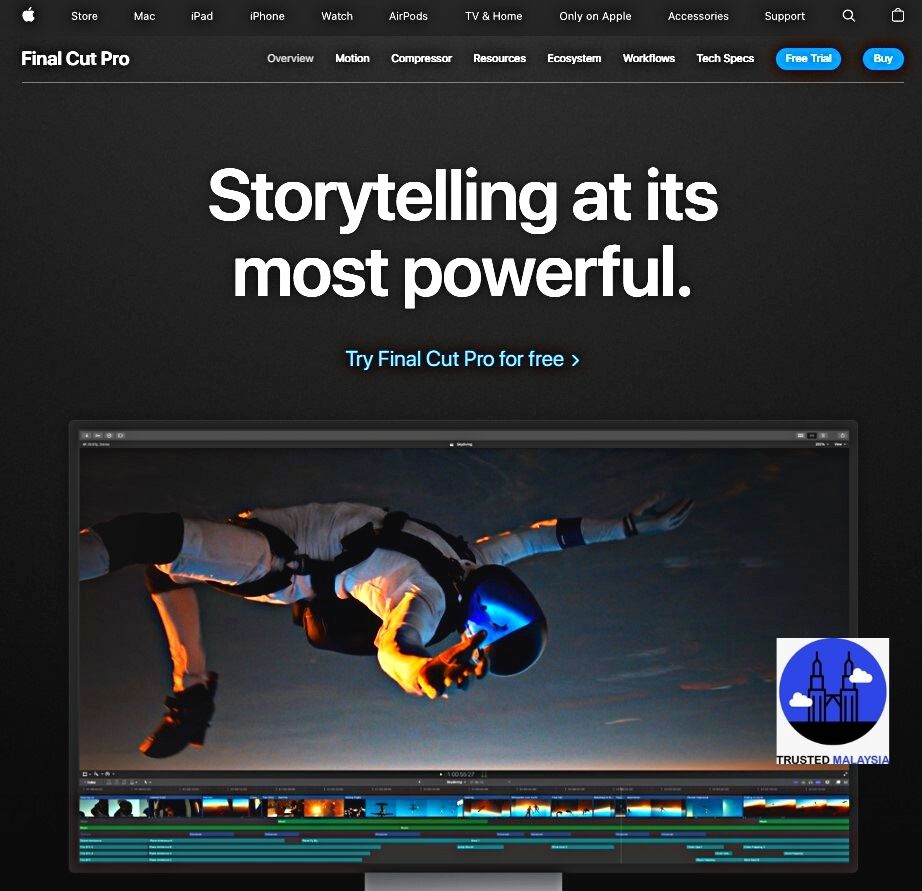 Apple's Final Cut Pro lets you work at a maximum, making your video-editing experience easier, faster, and unlike any other.
Its Metal engine allows users to take on complex projects, applying larger frame sizes, higher frame rates, and more effects at unbelievable speeds. Having to wait ages for real-time effects, rendering, and exporting is not at all an issue!
From start to finish, this best video-editing software in Malaysia has you covered. Its Magnetic Timeline allows you to trim and move clips without problems so you can easily experiment with your ideas.
In addition, Final Cut Pro also has cutting-edge multicam editing. It allows you to view videos of different formats, frame sizes, and frame rates in multiple angles.
For a more seamless output, the Angle Editor lets you move, trim, color grade, and add effects to the clips.
These are only a few of Final Cut Pro's impressive video-editing features. If you're planning on taking your video-editing a step further, it is also suitable for editing 360° videos and has a VR headset playback
Highlights
Larger frame sizes, higher frame rates, and more effects
Unbelievable speed
Fast rendering, and exporting
Trim and move clips easily
Cutting-edge multicam editing
Can edit 360° videos with a VR headset playback
4.  Corel Videostudio Pro 2020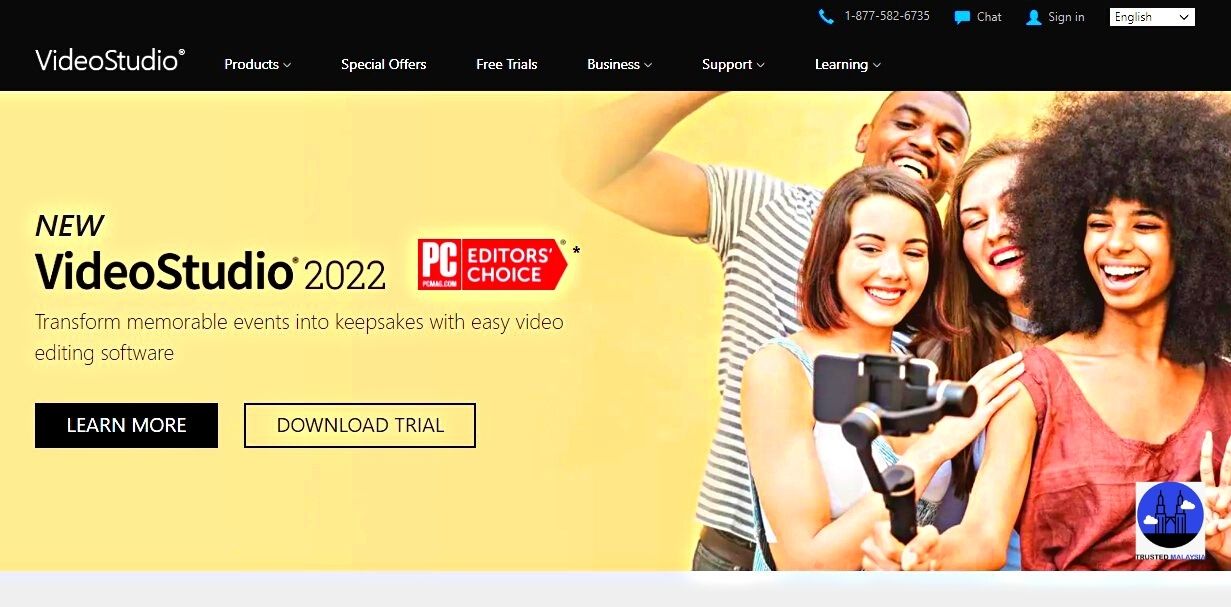 Capture your best moments and compile them into a video with one of the best video editing software in Malaysia, the Corel Videostudio Pro 2020. It promises breakthrough creative features while maintaining its ease of use.
For starters, Corel Videostudio Pro 2020 has all the basic tools you need in editing videos. You can crop, trim, rotate, or change your video's aspect ratio without a hitch.
There are also over 1500 filters and effects so you can personalise your video as much as you want.
If you'd like to impart strong emotions in your videos, you can also use its color correction feature as well as its new LUT profiles, which give your video a more advanced and cinematic effect.
Corel Videostudio Pro 2020 has you covered even in the audio-editing aspect. It has a wide selection of sound effects and royalty-free music in its library as well as a voiceover recording feature.
With these features and more, this best video editing software in Malaysia can be used by beginners and experienced video editors alike.
Highlights
Easy to use
Creative features
Basic tools
1500+ filters and effects
Color correction and LUT profiles for a cinematic output
Extensive library of SFX and royalty-free music
For both beginners and experts
Customer Reviews
Thomas Adler, a Corel Videostudio Pro 2020 user, shared:
"I enjoy the amazing power of this great software, and even after years of use I'm still learning about helpful features and possibilities. The most powerful and yet affordable video-editing software on the market!"
5.  Filmora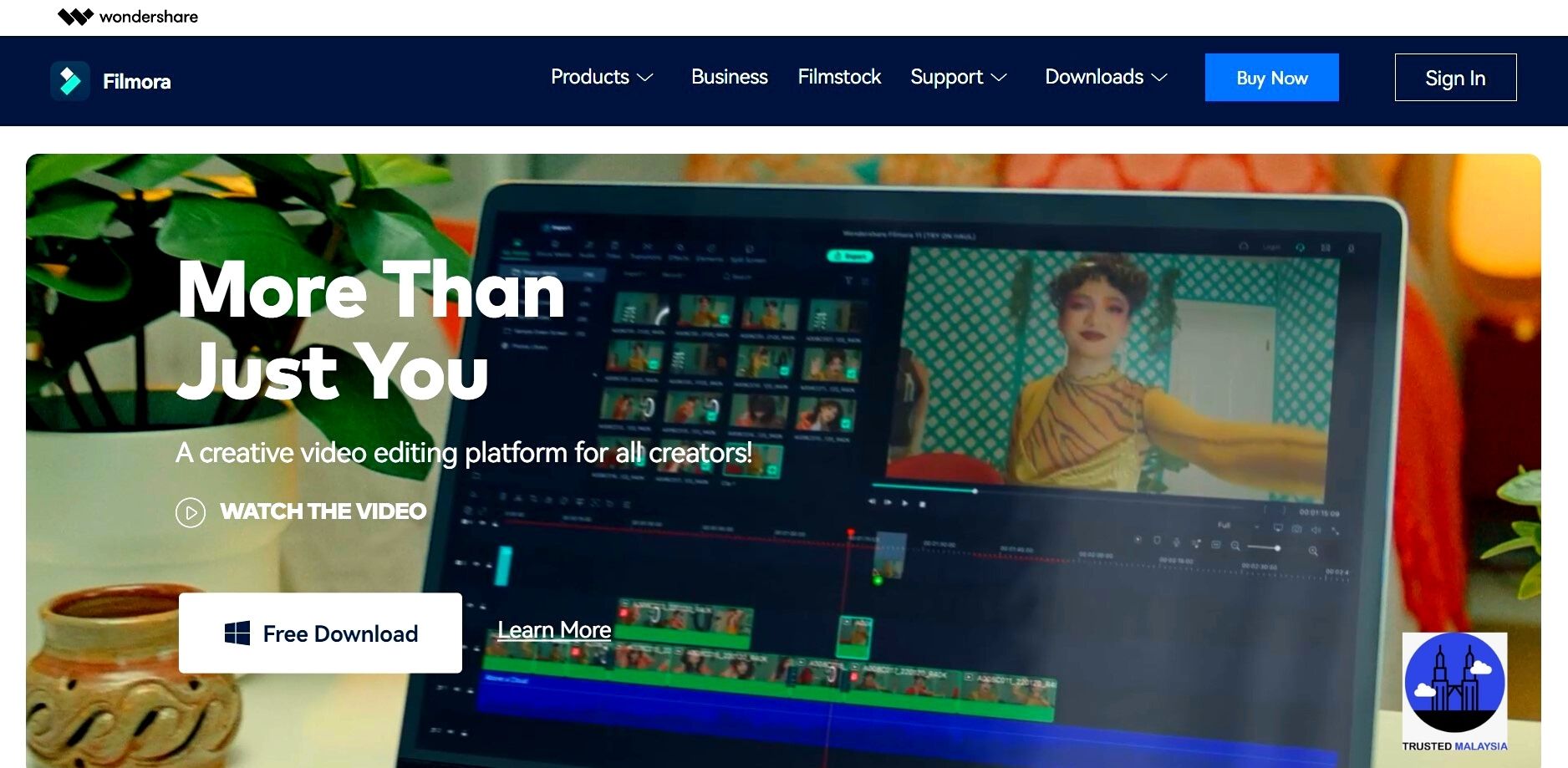 If you're looking for an alternative to Windows Movie Maker and iMovie, Filmora may be the best video editing software for you. It has a simple drag and drop interface, similar to the aforementioned applications, but has even more powerful editing tools!
Besides the usual cutting, moving, adding of texts, music, and transitions, it also further enhances videos with over 800 effects. As for its advanced video editing features, there is video stabilization, color tuning, green screen, audio mixer, audio equalizer, and more.
Looks pretty simple, right? But what makes Filmora one of the best editing software in Malaysia is its 3D Lut feature that lets you use a color grading preset inspired by a popular film. With just one click, your work will look like that of your favorite director's!
On top of that, you can optimise your videos to achieve perfect compatibility with your chosen device and instantly upload your video clips on the Internet or burn them into DVDs to give as gifts.
Highlights
Alternative to Windows Movie Maker & iMovie
Simple drag and drop interface,
Powerful editing tools
Over 800 effects
Advanced video editing features
Color grading presets inspired by popular movies
Videos optimised for your devices
Were you able to find the best editing software in Malaysia in this article? Let us know in the comments!
Looking to play your edited video at a special event? Here's a list of the best providers for digital signage solutions in Malaysia so you're sure your work of art will be seen by everyone in the audience.