The 10 Best Options for Tutors in Malaysia
Education is one of the passports to finding a high-paying and enjoyable job. In turn, this can help lead a student to a good future with a stable income and a loving and beautiful family.
Exams and lessons seem to get harder and harder as a student goes on. But, there's nothing to be ashamed of if they somehow find it hard to catch up on the subjects they have right now.
As such, we collated a list of the best tutors in Malaysia here for you. They all have talented teachers and effective online platforms by which your child can hone their knowledge and skills to perform outstandingly in the academic field.
How Much Does Hiring a Tutor Cost in Malaysia?
Tutoring can be conducted either at home or online. Some students find that they learn better with one-to-one home tuition, whilst others prefer online courses for greater convenience.
The tuition fee will depend mainly on the tutor's experience and qualifications. Other factors that can affect the price are the curriculum, location, class size, and student requirements.
You can pay for the tutoring service on an hourly basis or by package. Also, kindly look below for the rates of tutors of different experience levels against the qualifications students may need.
Note that the rates below may vary from the actual prices. In other words, this data is only for guiding purposes to help you estimate the total you'd have to spend for a tutor in Malaysia.
| Qualification | Standard Tutors | Specialist Tutors | Premium Tutors |
| --- | --- | --- | --- |
| Kindergarten | RM20 - 40/hour | RM30 - 50/hour | RM40 - 60/hour |
| Standard 1-3 | RM25 - 40/hour | RM30 - 45/hour | RM50 - 60/hour |
| Standard 4-5 | RM30 - 46/hour | RM31 - 55/hour | RM41 - 61/hour |
| PMR | RM35 - 50/hour | RM38 - 64/hour | RM46 - 80/hour |
| UPSR | RM32 - 52/hour | RM35 - 60/hour | RM46 - 76/hour |
| STPM | RM41 - 75/hour | RM45 - 75/hour | RM50 - 90/hour |
| SPM | RM37 - 65/hour | RM40 - 70/hour | RM47 - 85/hour |
| Cambridge IGCSE | RM40 - 60/hour | RM60 - 80/hour | RM80 - 100/hour |
The Best Options for Tutors in Malaysia
Knowing that a great tutor is important for your child, we set out to pick each company that meets certain standards, which are the following:
If you're ready, we now present to you our roundup for today!
1) Eric Home Tuition
| Test | Info |
| --- | --- |
| SERVICES | Home tuition |
| | Online tuition |
| PRICING | Additional student for a primary subject: RM10 |
| | Additional student for a secondary subject: RM20 |
| | To know their other rates, kindly enquire with them. |
| WEBSITE | https://erichometuition.com/ |
| ADDRESS | Tropicana Gardens, 47810 Petaling Jaya, Selangor, Malaysia |
| CONTACT DETAILS | +60 12-685 2869 |
| OPERATING HOURS | Open 24/7 |
Having been in business for more than 18 years, Eric Home Tuition teaches students from pre-school to pre-college levels in their homes in some parts of Malaysia or online nationwide.
It has a database with an enormous number of teachers numbering 32,800+ to date. They at least have a college diploma or degree and a minimum of two years' experience in tutoring.
Once you've chosen a qualified tutor online, the tutor service staff can immediately arrange a schedule for you and the tutor no longer than a day.
You can get a free trial from them, although it lasts for only a short fifteen minutes, instead of an hour or an hour and a half when most tutoring ends.
There are also absolutely no commitments and contracts with them. That means that you can cancel anytime if you feel the tutor isn't suitable for you to achieve your academic goals.
Furthermore, you don't have to pay a lump sum or a deposit before the tutoring starts. When the tutoring ends after four weeks or a month, that's the time that you have to pay the tutor.
You can use cash, cheque, or bank transfer to do that. However, if the tutor asks for an advance payment, you'd have to notify the staff about this and they can handle it for you.
So, if you want to ace the exams or quizzes for UPSR, PT3, SPM, IGCSE, A-Level, and Pre-U subjects, then Eric Home Tuition can be a great option. However, note that they don't offer TOEFL tutoring, which you may need if you're planning to enrol in an international school.
Specialises in one-to-one home teaching
Prompt tutor arrangement
Vast number of home tutors
Malaysia-wide coverage
Accepts cash, cheque, and bank transfer
Online free trial only lasts for 15 minutes
Doesn't teach for a TOEFL exam
Doesn't accept credit cards
Customer Reviews
Excellent tutors and communication
"I've been working with Eric Home Tuition for almost two decades now. Although I've started with many other agents, I feel Eric Home Tuition bridges both the tutors and the clients pretty well and definitely best at his communication. Dealing with clients always so easy with Eric around. Thank you for the professionalism, keep it up! Do enroll you child here, you'll never regret! 😁👍" -Nandha Karmegam
Very honest and reliable tutor
"I have been with Eric Home Tuition for the past 14 years. It's a great pleasure working together with him. Eric is very honest and reliable person. He is very professional in bringing parents and tutors together to meet their needs. It's an excellent platform for parents to get tutors in very trustable and effective way. "ERIC HOME TUITION" is highly and strongly recommended. ⭐⭐⭐⭐⭐ for Eric 👍" -Gloria Kawri
2) VBest Study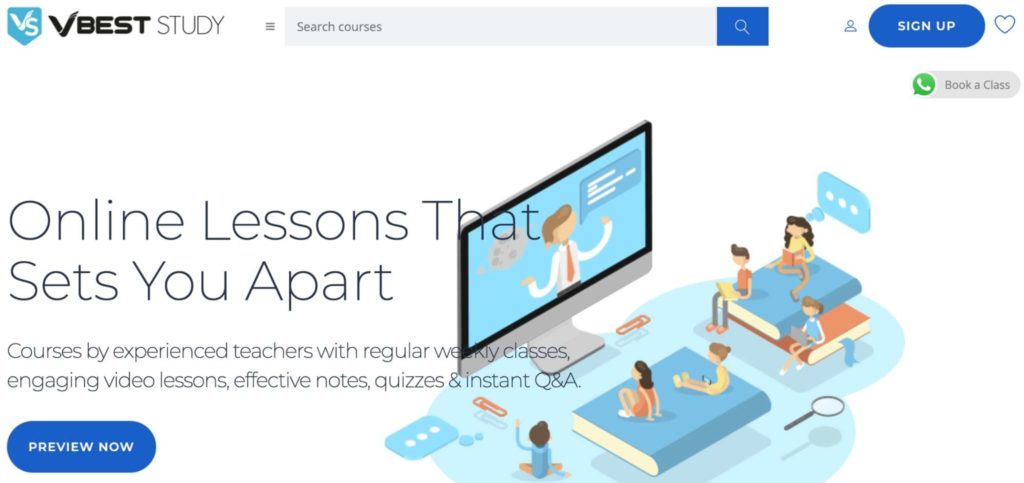 | Test | Info |
| --- | --- |
| SERVICES | Online courses tutoring |
| PRICING | Rookie: RM200 |
| | Pro: RM600 |
| | Premium: RM1,000 |
| WEBSITE | https://online.vbest.edu.my/ |
| ADDRESS | 8-3 Jalan Medan Putra 4 Medan Putra Business Centre, Bandar Menjalara, 52200 Kuala Lumpur, Malaysia |
| CONTACT DETAILS | +60 12-693 2896 |
| | [email protected] |
| OPERATING HOURS | Open every day from 10:00 AM - 10:00 PM |
For engaging and fun online classes with other like-minded students, you should go for VBest Study. It's an online platform based in Kuala Lumpur with lots of positive feedback from clients.
Their classes are held every week at a given time and day allowing you to attend them regularly without conflicting with other things you have to do.
As opposed to other tutoring centres, they are generous in giving the student resources. For instance, they have 24/7 video lessons, reliable notes, and quizzes to test your knowledge.
We also like that they offer a live Q & A portion after the discussion. With this, you can ask questions relevant to the topic that aren't made clear or perhaps add your insight or thoughts about it.
By the way, their teachers are highly qualified and respected as proven by their diplomas and certificates. They are the ones that can make sure to shed some light on the subject you're having trouble with.
They have membership plans you can get that give you more value for money. These include Rookie, Pro, and Premium, complete with weekly classes, instant Q & A, and a progress tracker.
To book a class, you can reach the tutoring centre via WhatsApp. Shortly thereafter, the team will get back to you to set up a schedule for you.
They don't offer a free trial to students, but if you don't like the tutor and don't want to continue, you can get your money back given that you inform them within 24 hours.
For us, what this tutoring centre only lacks is home tuition services. We're not sure, though, if they offer one-to-one services as most lessons are taught with many students at one time.
Engaging and fun classes
Offers membership plans
WhatsApp class booking
Unlimited access to notes and quizzes
24/7 video lessons
24-hour money-back guarantee
No one-to-one video courses
No home tutoring service
Customer Reviews
Makes hard subjects more enjoyable to learn
"very recommended!! all the teachers are very friendly and easy-going. they make it more enjoyable to learn especially all those killer subjects " -Nadia Zainan
Helped the student score an A within a month and a half
"Ivan is a 5 star tutor. He was helpful and accommodating, and helped my homeschooled son get from a C to an A* in 1.5 months. My son had another tutor before Ivan, and he was struggling to understand the syllabus. I contacted VBest for assistance and Ivan stepped in to navigate my son through his Physics. We are very grateful for his help, and would highly recommend VBest." -Lim Cheng
3) Tutopiya Live Online Tuition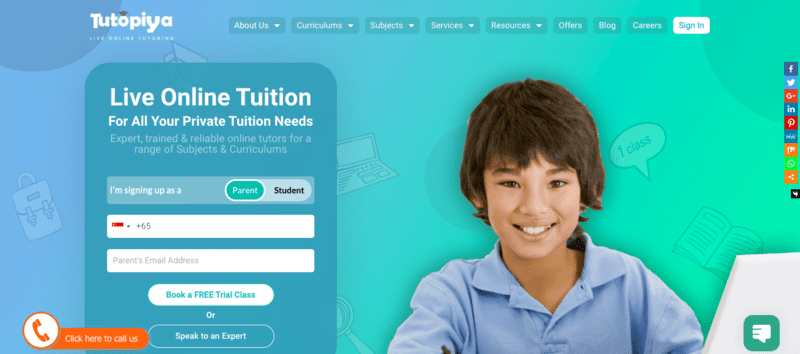 SERVICES
One-on-one live online tutoring
PRICING
Contact for more details
WEBSITE
https://www.tutopiya.com/
ADDRESS
22 Changi Business Park Central 2, #02-08, Singapore, 486032
CONTACT DETAILS
(+65) 69788459


[email protected]

OPERATING HOURS
Contact for more details
Tutopiya provides live one-to-one personalised tuition for Grades 1-12 on a broad range of subjects and curricula, such as IB, IGCSE, International AS & A Level, SAT, IELTS, ACT, and languages (Chinese, French, English, Spanish).
What's more is you're sure to receive quality service as its tutors are experienced, internationally qualified and thoroughly screened.
We like that they offer a convenient and quick process—you only need to sign-up, provide your requirements and join a class. All in under 12 hours!
Another great thing is that lessons are recorded, so it's easy to refer back to. It also has its own student-tutor resource portal and even an Online Tuition App if you need to study on the go.
However, it's important to note that if your little one is more of a hands-on learner and need a teacher to physically guide them, it may be better to look for a tutor that offers in-house or face-to-face classes.
Given all of these, we think that this is a great option as it offers both convenience and quality for you and your child!
Tuition for a broad range of subjects and curricula
Certified subject-specialist tutors
Easy and quick sign-up process
Operating hours unavailable
Pricing unavailable
Customer Reviews
"Very user-friendly and hi-tech learning platform and well-versed tutors."
"I have enrolled my daughter with Tutopiya for 4 subjects who's currently in her Year 11 IGCSE. The tutors are dedicated, experienced, takes time to explain well in a simple manner and my daughter has improved her scores. The entire customer service support team is superb and replying messages late at night and assisting in schedule changes or tutor change which I did once, special mention to Ms.Anne the Customer Support Manager who has been very helpful from the beginning. My daughter enjoys the tuition class and I would recommend Tutopiya to any parent looking for teaching support."
4) TWINS Education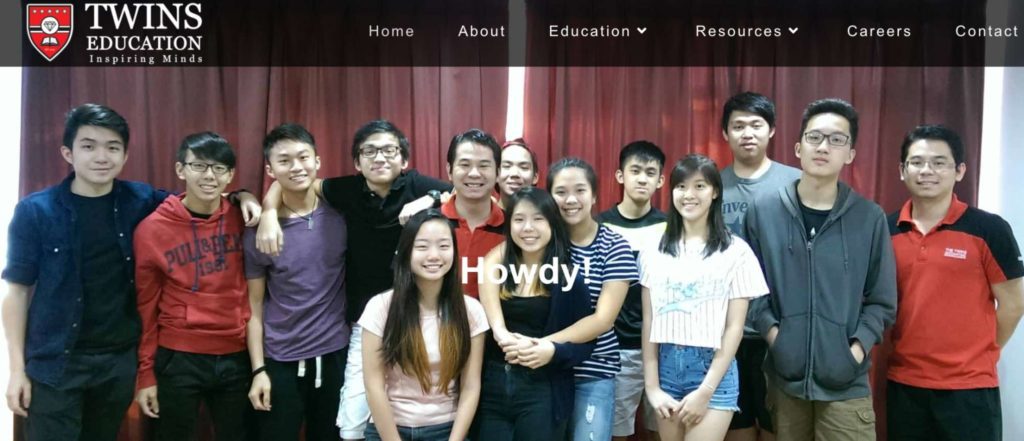 | Test | Info |
| --- | --- |
| SERVICES | IGCSE tuition lessons |
| | A-Level study courses |
| | IELTS preparation courses |
| | After-school enrichment programme |
| PRICING | Kindly enquire with them for rates |
| WEBSITE | https://www.twinseducation.com/ |
| ADDRESS | USJ Branch |
| | 18, Jalan USJ 9/5n, Subang Business Centre, 47620 Subang Jaya, Selangor, Malaysia |
| | Kota Damansara Branch |
| | 22, Jalan PJU 5/7 Dataran Sunway, Kota Damansara, 47810 Petaling Jaya, Selangor, Malaysia |
| CONTACT DETAILS | USJ branch: 012-915 0613/018-872 9632 |
| | Kota Damansara branch: 012-315 6103/018-872 9632 |
| OPERATING HOURS | Monday to Friday: 5:30 PM - 10:00 PM |
| | Saturday: 9:00 AM - 2:30 PM |
| | Sunday: closed |
Formed in 2014, TWINS Education has been teaching offline and online IGCSE courses to students. It includes a wide range of subjects like accounting, economics, math, social science, chemistry, and so forth.
For people who want to broaden their knowledge by studying abroad, they also offer IELTS preparation courses as well, such as IELTS General Training and IELTS Academic.
Besides that, they have enrichment programmes, which are more affordable learning options. These are seminars and workshops conducted regularly focusing on four main areas of personal development, business entrepreneurship, property investment, and stock investment.
So what makes them one of the best tutors in Malaysia? Their statistics show that over 80 per cent of students got straight A's and 100 per cent achieved a minimum of 5 credits in the tests.
They have two TWINS Education branches you can enrol your child in. The first is in USJ in Subang Jaya whilst the other is in Kota Damansara.
On their website, you can download IGCSE exam papers and ebooks for free. This is one of the perks that they have so you can do a mock test by yourself before the testing date.
And, according to students and clients, the teachers have been great and friendly to have. They helped them to learn what's needed, understand the subject better, and gave tips on scoring high on the exam.
As you can see, TWINS Education belongs to our list of the leading tuition centres in Malaysia out there. You can certainly catch up or stay ahead of the important subjects with them.
If you are interested, you can simply fill in their contact form and submit it. Or better yet, you can give them a call if you prefer, from Mondays to Saturdays.
Specialises in IGCSE tuition
Offers home and online tutoring
Conducts enrichment programmes
Two branches to choose from
Fewer curricula compared to other tutor centres
Closed on Sundays
Customer Reviews
Kind, helpful, and professional teachers
"I was having tuition for physics, chemistry, biology, mathematics and English there for 5 months. The teachers all are kind and helpful, especially Mr Lee, he is very professional and good at explaining! For Bio, Miss Brenda is very kind, she does help me plenty and she raise my passion for learning biology more! Physic teacher, Mr Nigel always help me to solve my physic problems by using a way that I can easy understand! High rated given and very recommended this tuition center!" -Kimberly Tan
Very patient and knowledgeable tutors
"Should have sent my daughters here much earlier.. Tutors are very patient, knowledgeable, and experienced. Recommended." -Chew Siew Eng
5) Pusat Tuisyen Teliti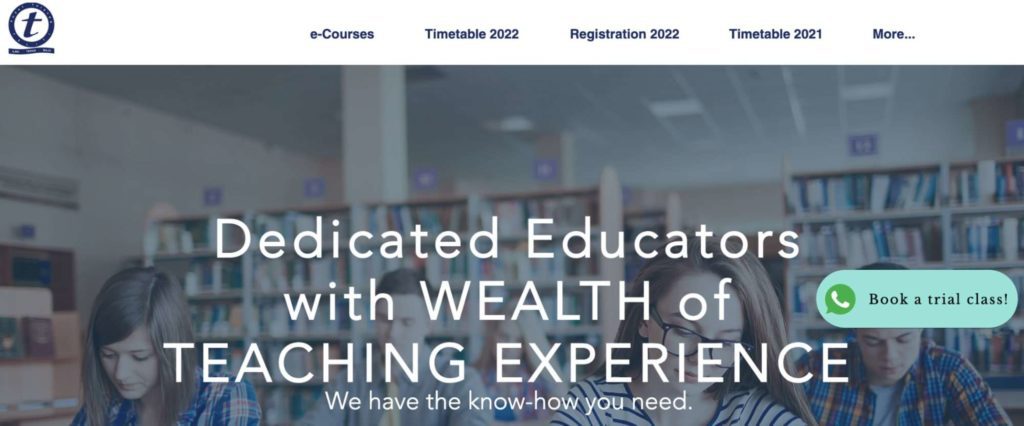 | Test | Info |
| --- | --- |
| SERVICES | Live one-to-one classes, Online live group classes, Pre-recorded classes |
| PRICING | A-Level or IGCSE - Physical: RM135 | Online: RM120 |
| | Package Deals - 2 subjects or more: RM7.50 per subject | 3 subjects or more: RM15 per subject |
| | Form 1 - 3 - Physical: RM85 | Online: RM75 |
| | Package Deals - 2 subjects or more: RM5 per subject | 3 subjects or more: RM10 per subject |
| | Form 4 - 5 - Physical: RM85 *For Cambridge English & Penulisan: RM105 | Online: RM75 *For Cambridge English & Penulisan: RM95 |
| | Package Deals - 2 subjects or more: RM5 per subject | 3 subjects or more: RM10 per subject |
| | SPM - Physical: RM85 *For Sejarah: RM170 *For Cambridge English & Penulisan: RM105 | Online: RM75 *For Sejarah: RM150 *For Cambridge English & Penulisan: RM95 |
| | Package Deals - 2 subjects or more: RM5 per subject | 3 subjects or more: RM10 per subject |
| | Primary UPSR - Math, science, Bahasa Melayu & English: RM85 | Cambridge English: RM105 | Cambridge English (online): RM95 |
| | Package Deals - 2 subjects or more: RM5 per subject | 3 subjects or more: RM10 per subject *Math and science are considered as two subjects |
| | Private classes: RM600 - RM1,200 per month |
| WEBSITE | https://www.teliti.edu.my/ |
| ADDRESS | 25, Jalan SS 22/11, Damansara Jaya, 47400 Petaling Jaya, Selangor, Malaysia |
| CONTACT DETAILS | +60 17-665 2982 |
| OPERATING HOURS | Monday - Friday: 10:00 AM - 6:00 PM |
| | Saturday: 9:00 AM - 6:00 PM |
| | Sunday: 10:00 AM - 6:00 PM |
In 2008, Pusat Tuisyen Teliti was started by Mr Terry Tee as an afterschool tutorial centre to help young students develop a love for learning and perform excellently on their academics.
They achieved a milestone in 2012 when over a hundred of its students got an A+ on their exams. The centre's first subject here was mathematics taught by the owner, and fast forward to today, it currently covers 15 subjects and has 900+ active students.
It offers a full range of courses including A-Level, IGCSE, Forms 1 to 3, Forms 4 to 5, SPM, and Primary UPSR. You can register for their physical or online classes in your chosen schedule on the website.
Unlike with other tutor centres, you can opt for one-to-one, small group, or pre-recorded classes. Their highlights are their dedicated educators and curated notes and supplementary materials to aid the student in learning faster about the subject.
They believe that practice makes perfect and that's why they also give self-made tests. These serve to test students' critical-thinking, problem-solving, and higher-order thinking skills, which can be close to the test that they'll be taking.
More importantly, all of their resources, such as for IGCSE, A-Level, or UPSR, are updated, which, if studied, raises the student's chances of getting a high score come testing day.
Now, regarding the payment, they aren't that flexible because they require you to enrol and pay before the first class begins. Also, they can only take cash, cheque, and interbank payment, which means you can't use credit cards.
However, they offer a free trial class by which you can determine whether their tutoring service suits you. And if you have any questions, the team is available for live chat during business hours.
Their solid track record of student testing success prove that they're one of the top tutors in Malaysia. Hence, we are very confident to recommend this company to all young students who need expert academic advice and assistance.
Physical and online classes available
Lots of courses taught
Trial class available
Updated resource material
Live chat support
Accepts cash, cheque, and interbank payments
Doesn't take credit cards
Payment must be made before classes start
No money-back guarantee
Customer Reviews
Helped me secure A's for math and add math
"Teacher Terry is truly an amazing maths and add maths teacher! His patience in guiding students and light-hearted jokes made the classes all that much better. With great explanations of concepts and thorough practices for every topic, Teacher Terry helped me secure A*s for both maths and add maths. Thank you Teacher Terry!" -Sandra Ong
Patient, fun, and goofy teacher
"I only had a few months before the IGCSE Extended Math paper when I sought for Teacher Damian's help. I was scoring only a C back then and was so worried but, with his help I managed to score an A*! He's a very patient teacher, and doesn't fail to help his students as much as possible for them to excel in Math. He's also quite a fun & goofy teacher. If he says you are extraordinary, you are a miracle." -Charmaine Koh
6) Sifu Tutor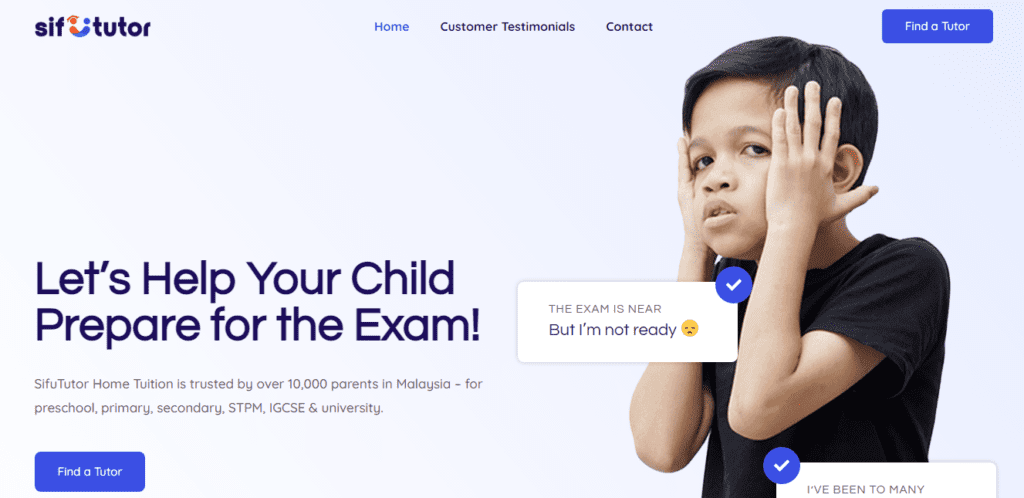 Sifu Tutor is a tutorial center in Malaysia that has been offering its services since 2017. With over 700 positive reviews and a 5-star rating on their services, they have since then become a renowned tutoring company trusted by over 10,000 parents for their child's tutorial needs.
Comprised of over 5,000 trained and vetted tutors, they are all with adequate fields of expertise such as teachers and Ph.D. students among others in the teaching profession. Specializing in 1-on-1 Home tutorials for students, they do, however, have limited choices for group tutorials.
They also feature a proactive feedback system for parents so that they can stay updated regarding the performance of their child during the said sessions. The students themselves are also immersed in an equally proactive Q&A session for every lesson that they teach which is very ideal for timid and mild-mannered students.
While their price range is not straightforwardly presented, the company will help parents find the best tutor for their level of understanding and area of residence for their convenience all in one mobile application.
Highly flexible tutoring
Offers student analysis
Proactive approach
Highly experienced and certified teachers
Does not accommodate group tutoring
Closed on weekends
Customer Reviews
Here are some reviews from their clients:
"I like my son's tutor. He is a very firm person and nice at the same time. My son had shown some improvement in his spelling. So thankful for the tutor." – Haslinda
"Good communication between teacher and student. Helping out also in other subjects. An excellent and dedicated teacher to us especially to the student." – Dr. Azlina
7) Tutormifzal.com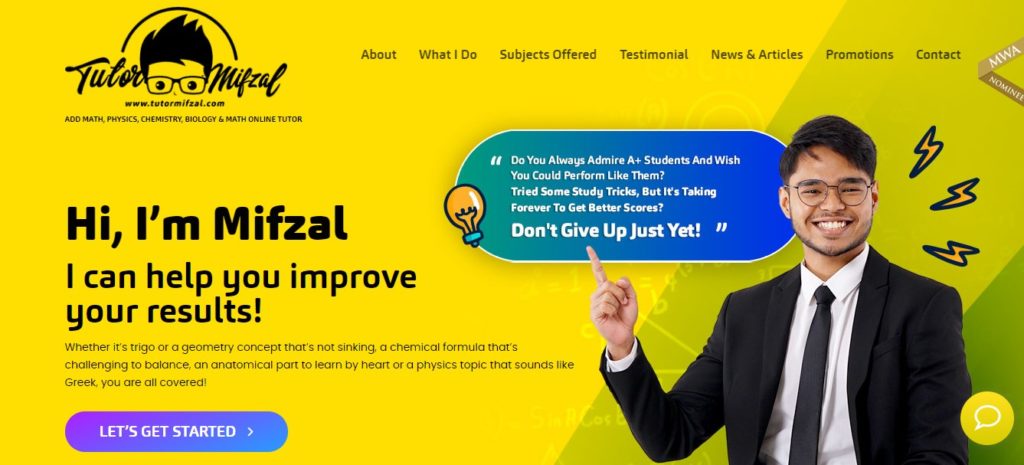 SERVICES
One-on-One Tutoring
Online Classroom Tutoring
Intensive Online Workshop
Intensive and Interactive Seminars
PRICING
One on One Online Tutoring: From RM50 per hour (Min 2 hours per session)
Online Classroom: From RM60 (4 classes per month)
WEBSITE
https://tutormifzal.com/
ADDRESS
Malaysia
CONTACT DETAILS
WhatsApp Number: +60193849300
WhatsApp Link: https://wa.me/message/37VO3AG5VVVCE1
Telegram: https://t.me/tutormifzal
Email: [email protected]
OPERATING HOURS
Open every day from 8.00am – 11.30pm
Not all students like either Science (Physics, Biology and Chemistry) or Math (Additional Mathematics and Mathematics), but with Tutormifzal.com you will get to see the beauty of these subjects and grasp all the concepts thoroughly. Tutor Mifzal is the recipient of University Malaya's Top 20 Life Science Foundation Awards with 9A+ SPM, 4.00 CGPA, and 10A PT3.
The platform has received the PEEAM 2021 Outstanding Virtual Learning Award and has appeared in Astro and been featured in number of newspapers article.
Unlike others, their customised Coursework Modules are simple and made easy for student to understand. Nonetheless, it will still be challenging to the tutees so that they can prepare for the exam exhaustively
What we love about them is how the content of their modules is colourfully handwritten so that students can relate personally to the notes and the personal experiences of the tutors. Aside from this, they have highlighted the important sections that they think the students need to emphasize.
If you want to further improve your grades and make learning more interesting, do not hesitate to enroll with them in any one or even all of the subjects that they are offering.
All modules are available in Bahasa Melayu & English.
Step-by-step math calculations
Accessible modules
Pricing is not available online for Workshop and Interactive Seminars
Customer Reviews
Here are some reviews from the parents and students:
"Mifzal, you are very professional. I am very impressed with how you are able to articulate the whole thing in respect to tutorship. Being an academician myself, what you are doing – is only seen in top performing educators and not the masses" – Dr Natalya Rudina
"Tutor Mifzal is really good at teaching, very easy to understand and relate to. Would join future workshops for other subjects." – Aisya Myra Bt Aznan
"Thank you Sir Mifzal! Had a blast learning with you!"
"THANK YOU SIR MIFZAL! It was worth the time"
8) ACE Education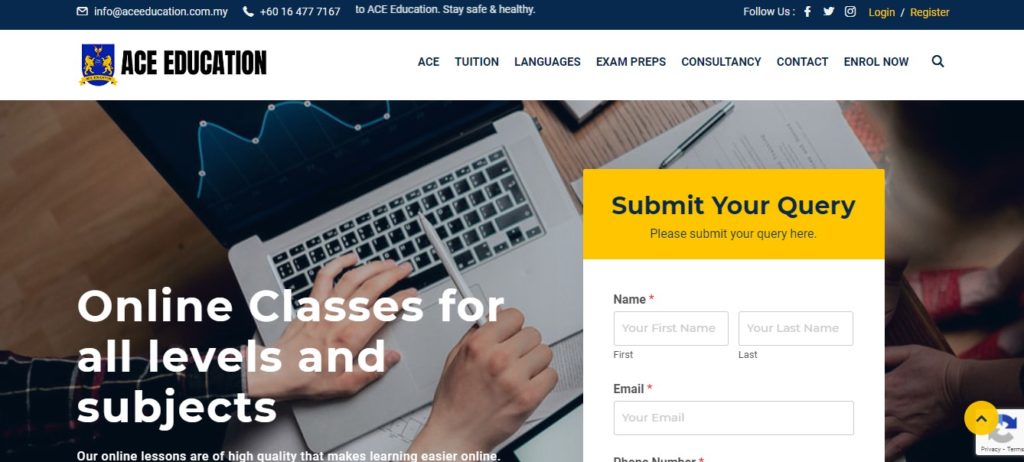 SERVICES
Primary Tuition (KS1&2)
Secondary Tuition (KS3)
IGCSE Tuition
A-Level Tuition
IB Tuition
CIMP Tuition
Homeschooling
Home Tuition
Online Tuition
English Tuition
Maths Tuition
PRICING
https://aceeducation.com.my/pricing/
WEBSITE
http://www.aceeducation.com.my/
ADDRESS
Suite D-05-08, Block D, Plaza Mont Kiara No2, Jalan Kiara, Mont Kiara, 50480, Kuala Lumpur.
CONTACT DETAILS

[email protected]


+60364196834 / 35
+6016477716
OPERATING HOURS
Contact for more information
Comparing ACE Education to the other tutorial centers on this list, they are one of those that does not only offer specific subjects. They also have IB tuition, CIMP tuition, homeschooling, and home tuition.
What makes them stand out in the industry is how wide the languages they offer are. They have Bahasa Malaya, English, French, German, Italian, Japanese, Korean, Mandarin, and Spanish.
Unlike other centers, their teachers are for all range of subjects and levels for all different syllabus. What's even better is that their teachers are locals and from different countries as well.
Now, if you are preparing for an exam, they can also help you. IF you are going to take the ACT, AP, or even GED, their expert tutors will help you refresh all the information you don't even know you have!
Affordable rates
Extensive range of services
Operating hours are not mentioned
Customer Reviews
Here are some reviews from his students:
"The lesson with Ms. Sadi went very well and thank you for recommending her. Both Lauren and I are very happy with her knowledge, teaching style, and level of enthusiasm!" – Ms. Paula (Parent)
"ACE Education has helped my daughter in preparing for the personal statement and UK ollege admission for Arts. Highly recommended their services." – Patricia (UK Admission)
9) Online GCSE Class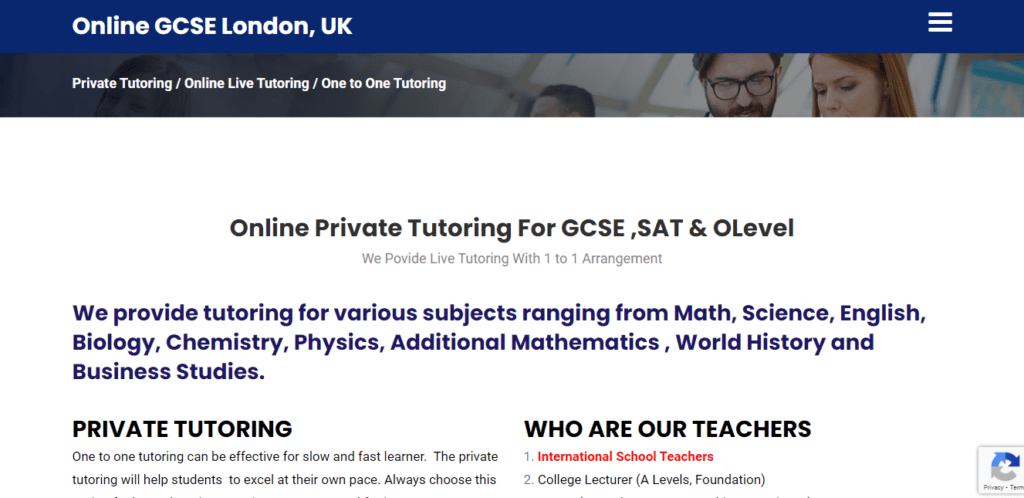 | | |
| --- | --- |
| SERVICES | IGCSE, GCSE , SAT and Singapore Math |
| PRICING | Tutorial fees ranges from GBP 200 – GBP 500 per subject and per month. |
| WEBSITE | https://privatetuitionclass.com/ |
| ADDRESS | Tanjung Bunga, Penang |
| CONTACT DETAILS | +60124594388 / |
| OPERATING HOURS | |
Online GCSE Class is an enterprise that offers a wide range of online classes for a variety of purposes such as mock exam assessments, intensive revision and travelling overseas among others. For around 8 years already, they have aided over 300 students worldwide with their online classes as they are able to employ native English-speaking tutors from UK and US.
They are ideal for students who are trying online tutoring since they also offer a free 30-minute trial class to get a feel of their approach. Each session lasts for only an hour and includes a qualified teacher for each so it will not take that much space out of the client's day.
Their normal classes have a registration fee, but they do offer a 50% discount for the first month fees to have packages that are more budget-friendly and affordable for students. Furthermore, they can provide clients with a consultant to pair the student and teachers while also evaluating where to start in class.
Price ranges are readily available at their website along with a wide array of testimonials and case studies that will greatly help first-time clients decide on availing their services.
What's great about them is that they are currently in collaboration with Skorminda Tutorial Centre, Penang, Cardes Education Centre, Melbourne Australia, Eagle Education Ltd, Manchester UK, Phoenix Arizona, USA, Johannesburg Owl Education, South Africa, and Lasso IGCSE & GCSE , East Timor
With them, students across the world can still attend their online classes. Regardless of where you are, they are able to assist your studies.
Certified teachers
Discounts for new tutees
Comprehensive packages
Extensive Digital Library
Usage of Savemyexams to drill IGCSE, GCSE., EDEXCEL, O Level and SAT 
24 hours learning experience
We assign classwork and parents can monitor the progress of the child 
Monthly report and feedback system
Operating hours unavailable
10) TUTOROO Pte Ltd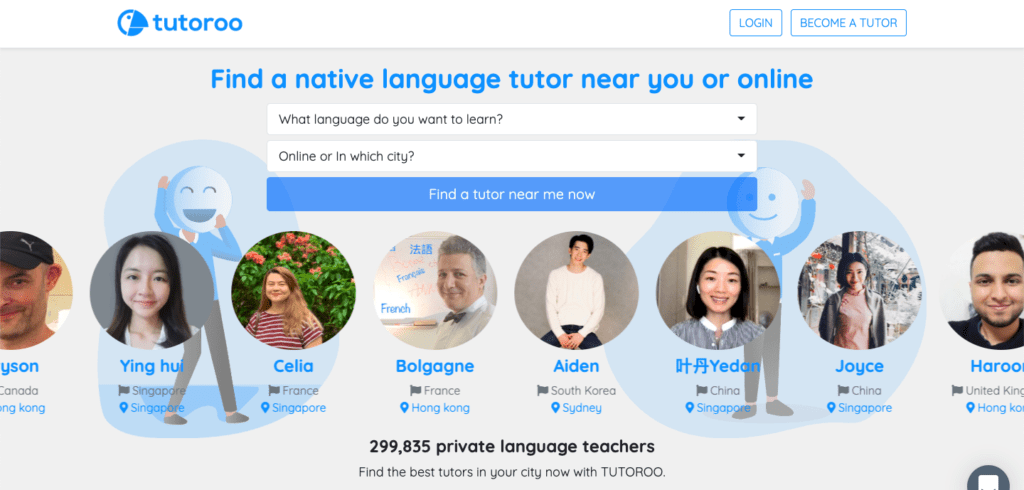 TUTOROO is a teaching platform that allows students to be linked up to potential language tutors.
What we like about them is the convenience they offer. They will be the ones to coordinate and facilitate the whole recruitment process, and will help students find the perfect option for them.
Plus, they also have a large database of tutors from around the world so students have a lot to choose from.
What's more is that their tutors are all native speakers of the language they teach.
We think it's great because they eliminate any registration or agency costs, making it so much more affordable.
However, if you're looking for tutors for specific subjects like math, English and the like, this may not be the best option for you since they only cover languages.
Wide range of language classes
Large tutor database from around the world
Operating hours unavailable
Limited information on website
FAQs about the Leading Tutors in Malaysia
---
And that's it for now for the top options for tutors in Malaysia! If you've tried one of these tutoring centres before, feel free to tell us your experience by messaging us.
Furthermore, you can let us know if you have any questions or comments about our list, and we will check them out first thing.
Related Articles about Tutors in Malaysia