The 5 Best Maid Agencies in Kuala Lumpur
Featured Image Source: Shutterstock
Doing chores and maintaining the cleanliness of your home requires a lot of time and energy. But with the help of the best maid agencies in Kuala Lumpur, you don't have to stress out over cleaning anymore!
Hiring a maid is a good idea to keep the load off your shoulders, which allows you to focus on other important things on your plate. We've rounded up a list of maid agencies who will guarantee you and your family are well taken care of.
So now, without further ado, check out our list of the best maid agencies in Kuala Lumpur below!
1.  Global Ace Maid Agency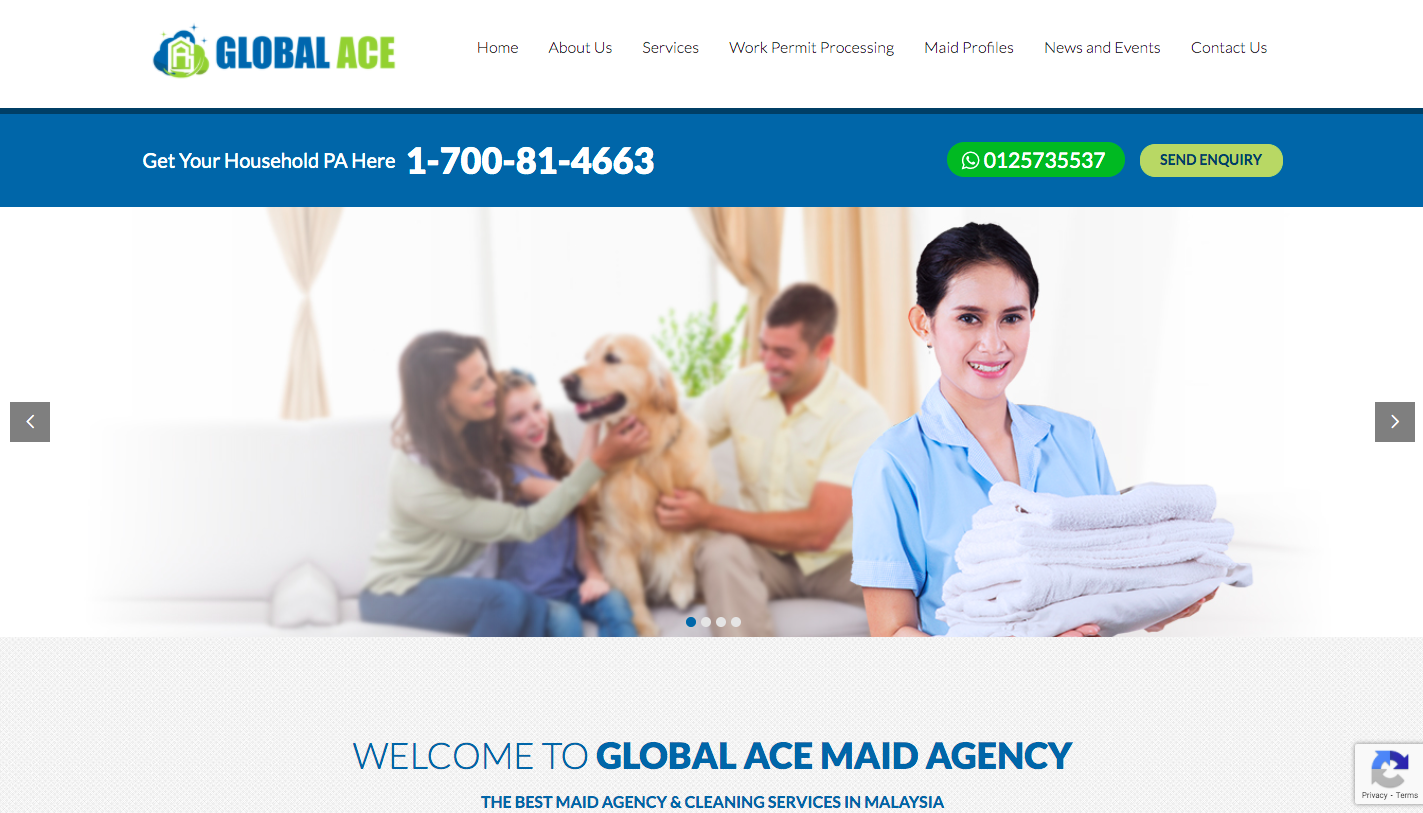 BEST FOR 
Maids from the Philippines and Indonesia
PRODUCTS

Contract Domestic Helpers

Temporary Maid Services

Cleaning Services

Direct hiring of your own foreign domestic helper to work in Malaysia

Application & Cancellation of Work Permits 

Salary Remittance

Purchasing of Insurance / Registration of SOCSO 

Arrangement of Medical Check-up (FOMEMA) 

Passports  Renewal

Home Leave Processing for Embassy Endorsement 

Booking & Purchasing of Airline Tickets

Transportation Services for Domestic Helpers

Lodging/Accommodation of Domestic Helpers

WEBSITE
https://www.globalace.com.my/
ADDRESS

No.63A, Jalan SS21/60, Damansara Utama, 47400 Petaling Jaya, Selangor

CONTACT DETAILS
Headquarters: 1-700-81-4663
Whatsapp: (012) 573 5537 & (012) 577 5537
Email:

[email protected]



Puchong Branch: (012) 357 5537

KL Branch: (012) 257 5537
OPERATING HOURS
Monday to Friday: 10:00am – 7:00pm


Saturday: 10:00am – 3:00pm
Global Ace is an employment agency that aims to provide residents of Malaysia with quality domestic helpers. Likewise, residents can contact the agency if they need regular or one time cleaning services (only available for PJ area). 
 Global Ace is registered with the Human Resources Ministry and the Immigration Department, and they provide well trained Indonesian and Filipino domestic helpers. They help to facilitate the entire process of hiring the domestic helpers of your choice – where you can conduct interviews from the comfort of your own home or you may at your convenience, (choice)  to interview at the agency's headquarter or its branches as well. 
 Besides, the agency can also assist you with application or cancellation of work permits, purchasing of insurance, registration of SOCSO, salary remittance, to book online tickets for your helper, and etc.
 What we like best about this agency is the variety of their services that suit different needs of clients – from full-time domestic maids (2 years contract), temporary maids that can be hired on a weekly or monthly basis to hourly cleaning services. 
 Global Ace offers its services all across Malaysia, although they primarily focus on houses located around Selangor and Kuala Lumpur. With fast processing times, their professional services have earned them a solid reputation as one of the top local agencies. 
So whether you want a full-time domestic helper, a temporary live-in maid, a weekly cleaning service or a one-time cleaner, Global Ace has got it covered. They can provide you an extra pair of helpful hands with all of your household chores to enable you to focus on other responsibilities.
Highlights
Hires only from Indonesia and the Philippines

Can coordinate entire application process of work permit with all relevant authorities

Offers part-time and regular cleaning services

Registered with Human Resources Ministry and the Immigration Departments
Customer Reviews
Let's take a look at what their clients have to say:
"I have taken 2 Indonesian domestic helpers in the course of 4 years. Now the 3rd for another 2 years. All have completed their contracts. Global Ace Agency is very professional and dealing with difficult situations. They provide counselling to helpers and motivate them to work well. As a customer, I felt supported any time even after sales services…Highly recommended for domestic helper provider." – Nicole Chin
"Sally and her staffs are attentive and helpful! I got my first helper from them and she had worked 4.5 years with us!" – Hongyin Yew
"I've taken 3 maids from this agency over 4 years and 2 of them are still with me. Am very glad to say they provide quality maids, that even the maids themselves say this agent treat them very good. Management is helpful and very efficient with reminders, on medical check-up renewals, etc. !" – Esther Chang
2.  Philimore Maids Agency
Philimore Maids Agency has been serving as an employment firm for maids, workers, and recruitment and placement since 1991.
They are an award-winning company with around 80 employees to assist with all your needs. They even provide a training ground for maids to learn all household activities.
In addition, Philimore Maids Agency is one of the best maid agencies in Kuala Lumpur because of their dedication to enhancing the industry. They've even successfully put up centres across Asia!
Highlights
New maid
Transfer maid
Local placement
Customer Reviews
Philimore Maids Agency is recommended by their clients for their friendly staff, customer-focused services, and skillful maids.
Some clients shared their reviews:
"The reason that I have been taking maids from Philimore since 4 years ago because I feel comfortable with the service rendered by the Maids Consultant."
"For the past 6 years, Philimore Maids Consultant is able to meet my requirements on the maids application and services."
3.  Agensi Pekerjaan Venture Provision (APVP)
Agensi Pekerjaan Venture Provision (APVP) is a licensed recruitment agency that offers quality and commendable house maid services.
They offer foreign maids who can be screened and trained in their training centre before they're ready to be sent to Malaysia.
Other than that, APVP is one of the best maid agencies in Kuala Lumpur because they ensure their maids are adept when it comes to housekeeping, cooking, infant care, child care, and elderly and disabled care.
Highlights
Hiring of domestic helper / housemaid from source country
Hiring of foreign worker from source country
Provided home visit consultation services
4.  Asia Maid
Asia Maid is a recruitment agency that delivers quality maid and foreign worker solutions. They prioritise building connections and relationships with their clients to ensure the standards of their services.
The company guarantees that all their maids are selected and trained beforehand to ensure their capabilities, which is what makes them one of the best maid agencies in Kuala Lumpur
Other than that, Asia Maid makes sure to provide all the necessary documents and legal files of their employees so as not to create unnecessary problems for both parties.
Highlights
Free maid delivery
Free courier service
Free counseling service
5.  Agensi Pekerjaan Reliable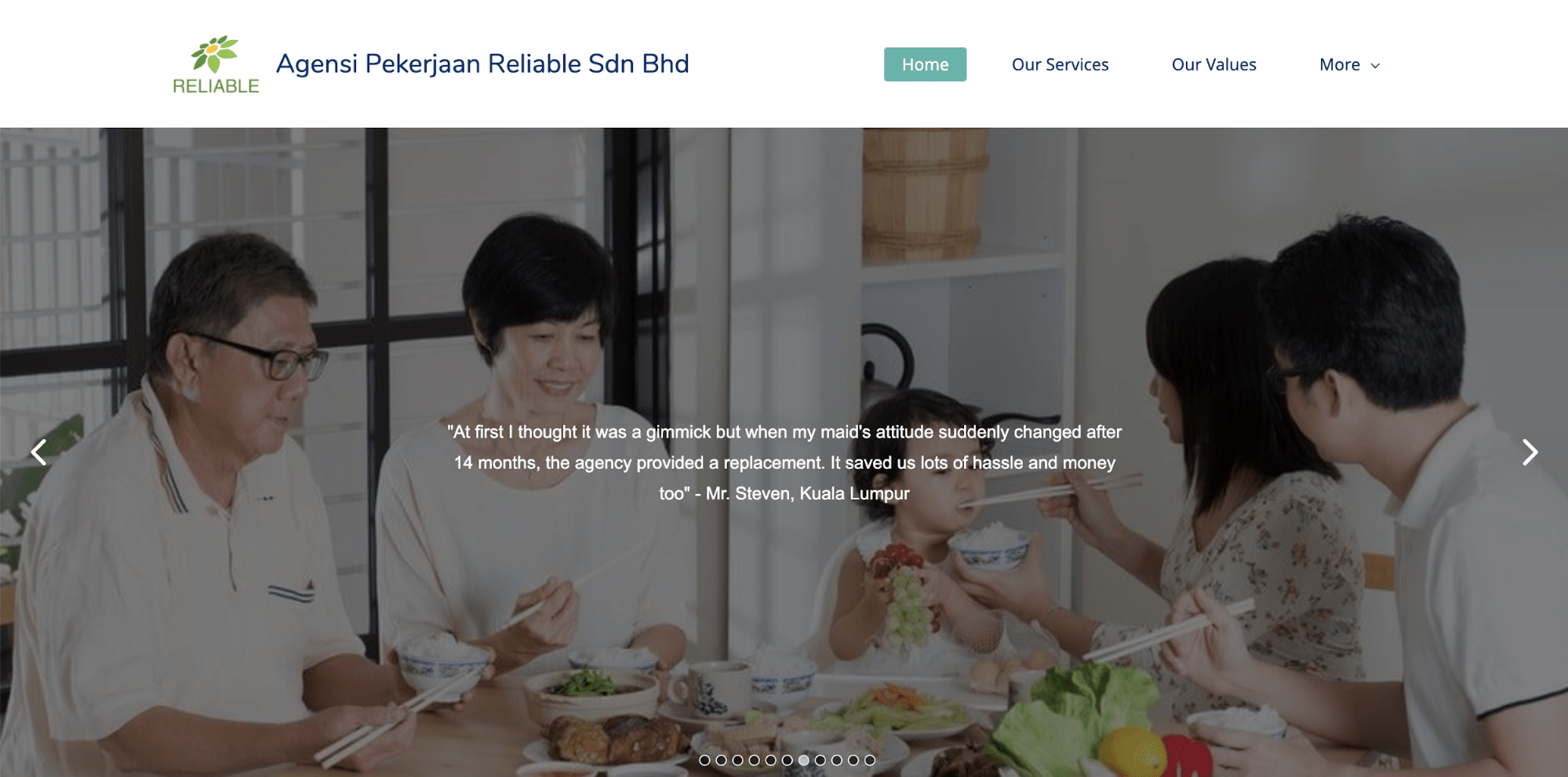 Agensi Pekerjaan Reliable is a licensed manpower agency for domestic helper solutions. They're one of the best maid agencies in Kuala Lumpur because of their personalised services.
With the company's experience in human resources and labor law, they have an advantage when it comes to handling a team of competent employees.
Moreover, Agensi Pekerjaan Reliable also makes sure to provide special services in the form of consultations and legal and expert advice for both the employer and the employees.
Highlights
Domestic helper
Replacement services
Official documents
6.  Agensi Pekerjaan Ryuji
Agensi Pekerjaan Ryuji is a company recognised for delivering quality manpower consultancy solutions to the region of Malaysia.
The licensed company is dedicated to offering solutions to establishments like factories, restaurants, construction, and engineering. Thanks to their capable workers, they get to provide budget-friendly services to satisfy their customers.
Because of their ability to provide recruitment and replacement opportunities for domestic helpers all over Asia, Agensi Pekerjaan Ryuji is one of the best maid agencies in Kuala Lumpur.
Highlights
Employer services
Foreign housemaid services
Foreign labor services
Job seeker
Whether you're in need of a temporary maid or a long-term maid to take care of your home, with the list we've provided above we guarantee you'll be able to find one that's perfect for you.
If you have any suggestions or comments, please don't hesitate to reach us and let us know about it. We would love to hear from you!
In addition, if you're looking for more options to choose from, check out our list of the best maid agencies in Malaysia to best cater to your needs, wherever your location in Malaysia may be.