The 7 Best Travel Insurance in Malaysia
No matter how well we prepare for a trip, certain unforeseen incidents can happen. This is when we need the help of the best travel insurance in Malaysia.
Nowadays, the benefits or coverage of most travel insurance companies are more extensive than ever. Some travel insurance companies now give coverage for hijacking and even terrorism.
Anyway, we'll give you some advice on how to pick a good insurance company or plan. After that, we'll list the companies with the best travel insurance in Malaysia.
Tips for Choosing an Insurer/Plan
Because there is a myriad of travel insurance companies and plans, choosing the one that best matches your travel experience and itinerary can be daunting. Here are a few quick tips:
Read the fine print.
Most of us are guilty of skipping this part only because the words are too small. But most of the pertinent details and clauses are explained in the fine print — so don't skip it.
Read what it covers.
Because insurance policies are not created equal, you should compare them. A look at the contract should show if a certain policy covers trip cancellations, baggage and personal items, emergency medical insurance, and even death insurance.
Do take note if there are any add-ons as well.
Read and ask what it does NOT cover.
Yes, some of the conditions that travel insurance does not cover are in the fine print. But do your own research as well by asking your agent so that you know exactly what you're getting.
For example, some travel insurance companies do not give coverage for pregnant women. Some would not cover your medical expenses for pandemic diseases.
So it really pays to both read and ask for full information.
The Companies for the Best Travel Insurance in Malaysia
Now let's pack our bags and get ready for the best #travelgoals of your life with some of the best travel insurance in Malaysia.
1.   Allianz Travel & Flight Insurance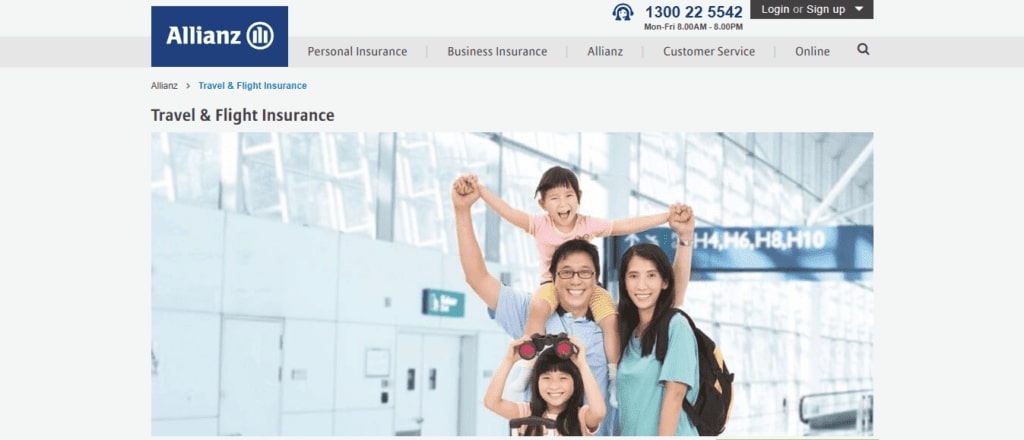 PRODUCT 
Allianz Travel Insurance
COVERAGE
●     Overseas and domestic travels for your family

●     Accidental death and permanent disablement

●     Medical expenses

●     Travel or luggage delay

●     Emergency medical evacuation and repatriation programme

OTHER PRODUCTS
Allianz Flight Care
WEBSITE
https://www.allianz.com.my/travel
ADDRESS
Allianz Arena, Ground Floor, Block 2A, Plaza Sentral, Jalan Stesen Sentral 5, Kuala Lumpur Sentral, 50470 Kuala Lumpur, Malaysia
CONTACT DETAILS
Click here for the contact details.
OPERATING HOURS
Monday – Friday 8:00 AM 8:00 PM
Allianz is an easy name to turn to in the world of insurance. As an established and multi-awarded insurance company, it has raised the bar for the coverage and benefits travel insurance can give.
Allianz is pretty straightforward with its offerings. Two of them are Allianz Travel Insurance and Allianz Flight Care, which you can apply for online.
We prefer the Allianz Travel Insurance to Alliance Flight Care, as the former gives more comprehensive coverage, both in the international and domestic levels.
Aside from the usual coverage that most regular insurance companies offer, Allianz takes it a step further by giving you coverage on (as morbid as it may sound) funeral expenses, mortal remains repatriation, hijacking, terrorism, and on a lighter side — pet hotel, and sports activities like mountaineering.
2.   AXA SmartTraveller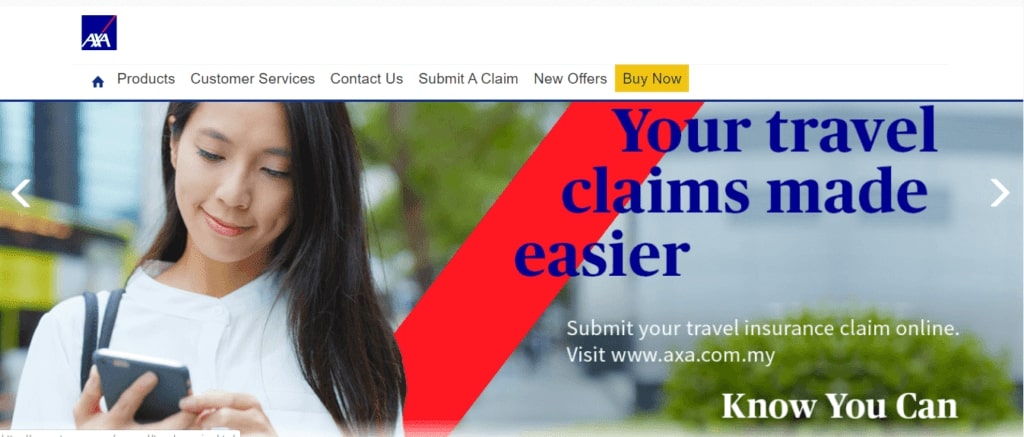 PRODUCT 
SmartTraveller
COVERAGE
●     High medical coverage when overseas

●     Travel inconveniences

●     Fast claim status update

●     Trip cancellation

●     Emergency medical evacuation

●     Single and annual unlimited trips available

WEBSITE
https://www.axa.com.my/travel-and-personal-accident
CONTACT DETAILS
Click here for the contact details.
OPERATING HOURS
Click here for the operating hours.
 AXA is another established and well-awarded name that sits well with us. It gives us overseas travel protection and a personal accident plan.
AXA's SmartTraveller plan even lets us travel with confidence. Both the family and individual plans can protect you on single or annual international trips.
If you do a single trip, you might want to check out AXA's SmartTraveller for single trips where you can choose VIP, Classic Plans, and Family Plans with a maximum cover period of 190 days.
We like that Smart Traveller goes beyond the basic coverage in travel insurance. When you avail this plan, you'll also get the benefit of using alternative medicine like Chinese medicine, osteopath, chiropractor, and the like.
If you're a parent, you'd be interested to know that the Smart Traveller includes coverage for child education as a result of the accidental death of an insured person who has children.
What's more, AXA's Smart Traveller even gives you the benefit of ransom payment as a result of kidnapping and hostage!
One of the additional benefits that SmartTraveller annual plan has is protection for your golf equipment and replacement traveller. This insurance gives you coverage of up to 95 days.
The AXA SmartTraveller can be purchased online at your convenience. Extensive coverage and varied plans make AXA's SmartTraveller insurance worth looking into.
3.   Etiqa Takaful

PRODUCT 
TripCare 360 Takaful
COVERAGE
●     25% rebate when you apply online

●     Cashless medical care

●     Coverage for loss and valuables

●     Add-ons for adventurous activities

●     Cash-back when you make no claims for the annual plan

OTHER PRODUCTS
TripCare 360 Insurance, Travel Ezy Insurance, and i-Travel Ezy Takaful
WEBSITE
https://www.etiqa.com.my/v2/travel-insurance-takaful
ADDRESS
Click here for the address of the branches.
CONTACT DETAILS
Click here for the contact details.

Whatsapp: +603 2780-4677 | www.eti.qa/whatsapp

OPERATING HOURS
Click here for the operating hours of the branches.
We bring to you another established insurance provider in Malaysia—Etiqa—with its Etiqa Takaful.
We like that it gives us four kinds of travel insurance plans. But among the four, we like the TripCare 360 Takaful, which is also a popular choice.
First off, who doesn't love rebates? We love that TripCare 360 Takaful gives us a 25% rebate — a distinct feature that sets it apart from competitors.
It also has a cashless medical benefit that lets you be admitted to a hospital without payment. All you need are the Guarantee Letters (GL) and a call to its 24/7 hotline.
Next, you'll get paid up to RM5,000.00 for baggage loss and damage, theft of personal money, and travel documents. You can send a claim via Whatsapp too.
And because flight delays are unavoidable, you also get RM100.00 for a two-hour flight delay even without a submitted claim.
On top of those key benefits mentioned, you also get terrorism coverage with this plan.
If you want to find out how much you'll spend on your travel takaful, the site comes with a free calculator for your convenience.
Customer Reviews
These clients are all praise for Etiqa coming to their rescue during disappointing times. Submitting a claim was so prompt, seamless, and easy that they got the payment within a day's time.
"I submitted a claim under my travel insurance policy with documents in the morning and to my absolute amazement the claim was paid in the afternoon. In all my years in dealing with insurance companies I have never encountered such efficiency in dealing with claims and I thank the staff of Etiqa involved in processing my claim. Etiqa should be the insurance of choice for everyone"
"It was such an unpleasant experience when I lost my purse due to theft in Halstatt, Austria last December. However, travel insurance from Etiqa definitely came to the rescue. Upon submission the report to Customer Experience Department of Dataran Maybank, they processed the claim promptly and I received the insured amount ie rm1500 within a few days. What an excellent experience! I subscribed to the same plan for my recent Edinburgh getaway and will definitely subscribe again for my next escapade."
4.   Tokio Marine Explorer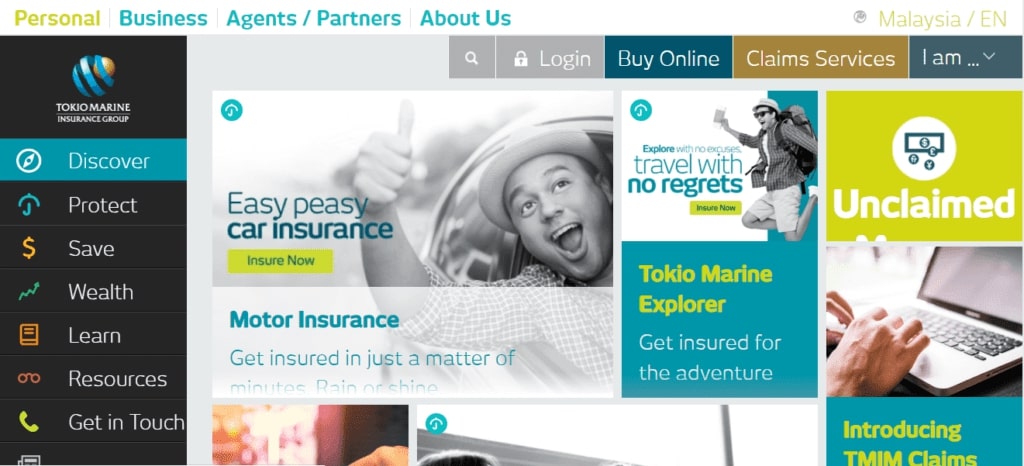 We like a no-fuss kind of trip and that includes easy-to-get and understand travel insurance, which we found in Tokio Marine Explorer.
The Tokio Marine Explorer comes in individual and family plans. Like the other travel insurance companies on this list it covers hijacking, kidnapping, terrorism, and alternative medicine under medical benefits.
But what we like as an additional benefit is its lifestyle coverage for home care, golf cover, trauma counselling, and so much more.
For those who are into extreme sports, you might want to get the additional premium for extreme activities too.
5.   Tune Protect Travel Easy

PRODUCT 
Tune Protect Travel Easy
COVERAGE
●     Medical-related

●     Personal accident

●     Travel inconvenience

●     24/7 worldwide travel assistance

WEBSITE
https://www.tuneprotect.com/products/travel-easy-insurance/
ADDRESS
Level 8, Wisma Tune, 19 Lorong Dungun, Damansara Heights,50490 Kuala Lumpur, Malaysia
CONTACT DETAILS
Customer Service Hotline: 1-800- 88-5753

24/7 Emergency Assistance: 1-800-22-8863 | 03 7841-5788
Yes, we're one with Tune Protect in thinking that travelling should be easy. That's why we think that Tune Protect Travel Easy is one of the best travel insurance options we can get in Malaysia.
First off, Tune Protect Travel Easy divides its premium rates for international travel according to regions. It also offers domestic plans for travel within Malaysia.
One of the features that we like about Tune Project Travel Easy is that you can be covered under one policy even if you're traveling to multiple countries within the same trip.
And for expectant mums, Tune Protect Travel Easy has you covered as well — but not the complications that may arise during your pregnancy whilst travelling.
One of the downsides we see with Tune Protect Travel Easy is that it doesn't give coverage for pandemic or epidemic diseases you may acquire during your travel, though.
Furthermore, unlike other travel insurance offerings, Tune Protect Travel Easy does not cover any medical bills you will incur while on travel abroad. You'll have to shoulder them first then seek reimbursement afterwards.
But on the whole, the basic coverage and protection that Tune Protect Travel Easy lets you still have worry-free and easy travel.
6.   Z-Travel Insurance (International)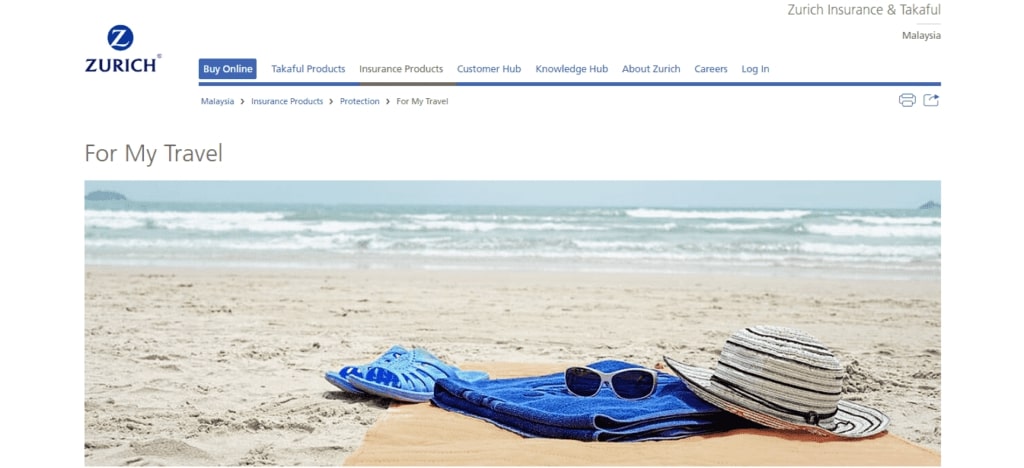 PRODUCT 
Z-Travel Insurance (International)

Z-Travel Takaful (International)

COVERAGE
●     24-hour emergency medical assistance benefits

●     Rental car excess

●     Protection for amateur sports (scuba diving, winter sports, bungee jumping, etc.)

●     Cover acts of terrorism

●     Home care benefits

●     Automatic extension of period of insurance up to 30 days

WEBSITE
https://www.zurich.com.my/en/insurance-products/protection/for-my-travel
ADDRESS
Click here for the head office and branches.
CONTACT DETAILS
Click here for all contact details.
Established names like Zurich assure a well-thought out and extensive coverage of travel insurance benefits. Let's take a look at the Z-Travel Insurance (International).
Unlike other regular travel insurance plans, one of the benefits that we like with Z-Travel Insurance is that you're covered for a follow-up treatment in Malaysia after your trip, along with alternative medicine coverage.
Another great feature of Z-Travel Insurance is that the amount you'll pay is divided according to your geographical area and plan — silver, gold, or diamond. This lets us choose which most matches our plans and budget.
Z-Travel Insurance also comes in a Takaful package.
7.   SOMPO Travel Plus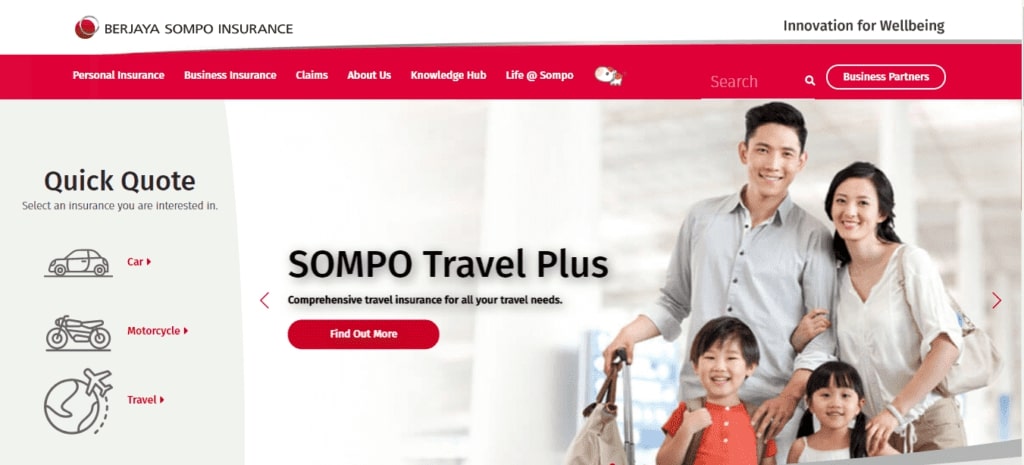 PRODUCT 
SOMPO Travel Plus
COVERAGE
●     Personal accident coverage

●     Unlimited reimbursement

●     Comprehensive coverage, including natural disasters

●     Travel reroute (add-on benefit)

WEBSITE
https://www.berjayasompo.com.my/product/sompo-travel-plus
ADDRESS
Level 36, Menara Bangkok Bank, 105, Jalan Ampang, 50450 Kuala Lumpur, Malaysia
CONTACT DETAILS
Tel: +603 2170-7300

Fax: +603 2170-4800
SOMPO Travel Plus caps of our list of the best travel insurance in Malaysia. This travel insurance covers travel abroad and within Malaysia.
SOMPO's insurance comes in two kinds: Elite and Basic. The Basic type covers only accidental death, medical expenses, compassionate visitation care and benefit, medical treatment in Malaysia, child care, and emergency medical evacuation.
We suggest that you get its Elite package because it gives you the whole nine yards of benefits, which includes hijacking coverage, repatriation, and hospital allowance, to name a few.
Overall, if you're looking for peace of mind when traveling, SOMPO Travel Plus gives you the boost you need. As such, it just might have the best travel insurance in Malaysia for you.
Getting the ideal travel insurance plan can reward you not only with peace of mind and assurance in your travel, it gives you that added buffer just in case things don't go as you planned.
Which of the travel insurance providers on this list have you availed of? Please share with us how they worked out for you and what you liked about them.
If travelling is your first love in life, by the way, you might also want to check out our piece on the Best Travel Agencies in Malaysia.
____________________________________________________________________________
*Header Image via Zurich