The 5 Best Toners for Combination Skin in Malaysia
Though it's not bad to have combination skin, it can negatively affect a person's appearance and confidence—especially when you have to work in the office or go out on a date.
Depending on the person's skin condition, they could have an uneven skin tone, oily forehead, clogged pores, dry lines and wrinkles, or a mix of these.
Thankfully, you don't have to bear them any longer with the best toners for combination skin in Malaysia! We listed them here to help you find the one that can restore your skin's natural balance.
The Best Toners for Combination Skin in Malaysia
Before coming up with our own list, we carefully examined each product according to the following factors:
Now that you've seen them, let's now proceed to our list of the top toners for combination skin in Malaysia!
1) Breylee Rose Water Toner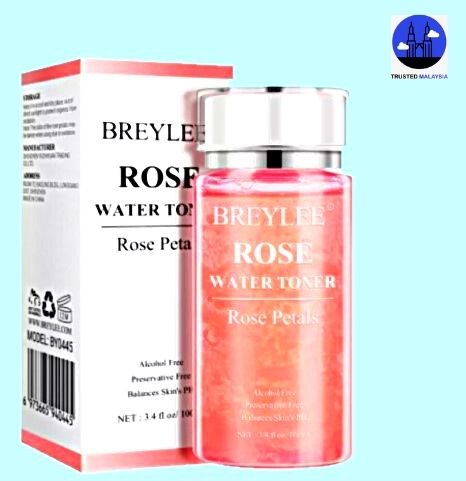 Price: RM23.51
| Test | Info |
| --- | --- |
| Key ingredients | Rosa rugosa flower extract, rose petal, nicotinamide, hyaluronic acid |
| Effects | Balances skin's pH, replenishes skin moisture, brightens and smoothens skin |
| Scent | Dewy roses |
| Size | 200ml |
If you worry about the kind of toner you'll put on your face, you can just go for the Breylee Rose Water Toner. It is free from alcohol and preservatives to give low to no irritability to your skin.
It's made for those with combination skin given its natural ingredients including rose and plant extracts. The rose-infused toner serves to hydrate, nourish, and even out your skin as you use it.
The key ingredients that define the facial toner are rosa rugosa flower extract, rose petals, nicotinamide, and hyaluronic acid.
You can actually see the pink rose petals immersed in the toner bottle. The visible, fresh rose petals are distilled and extracted, transferring the soothing, cleansing, and balancing properties to the toner.
Furthermore, nicotinamide can help whiten your complexion and hyaluronic acid aids in moisturising the skin. As buyers can attest to, the toner gives an instant moisturising effect.
Of course, given the natural process, unlike other facial toners for combination skin, a fragrant rosy dewy scent will touch your face and waft to the close surroundings. However, some people found this scent too strong.
What's more, it can be applied on the face in three ways: as a toner, wet application, and DIY compressed face mask, whichever you prefer.
In a nutshell, the Breylee Rose Water Toner is an excellent skin moisturiser and pH balancer that can make you look glowing when you go out. But once again, not everyone finds it suitable for their skins and its scent may be too strong for them as well.
Excellent moisturiser
Brightens and smoothens complexion
Fragrant smell
Alcohol and preservative-free
Free from animal tests
May not be suited for those with sensitive skin
Some find the rose scent too strong
Customer Reviews
Very gentle and fragrant toner
"I love using this product because I like knowing that I am not using an alcoholic or harsh, chemical laden product on my face. Instead I am getting properties from a plant. It's very gentle and I love the scent." -Belva Williams
Removed noticeable pores and brightened the skin
"I've been using for about a week now and absolutely love it! I have super picky skin. Normally if I throw anything else into my simple skin routine I will have breakouts, but this surprised me. My skin loves it and it's made me pores way less noticeable while also giving me a little glow. If you're on the fence, hop off and buy it :)" -Leslie Wyers
2) Garnier Light Complete Dew Toner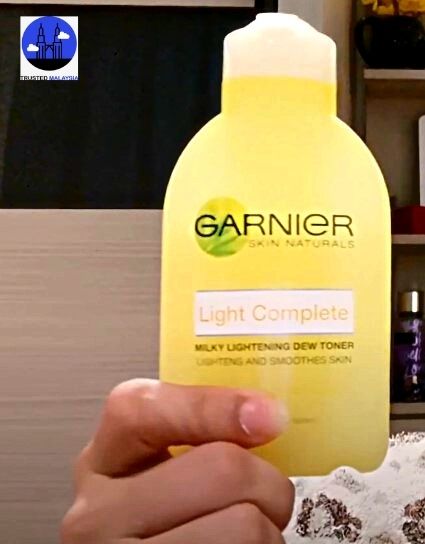 Price: RM15.80
| Test | Info |
| --- | --- |
| Key ingredients | Pure lemon essence |
| Effects | Makes the skin smoother, softer, and more even |
| Scent | Lemon |
| Size | 150ml |
The Garnier Light Complete Dew Toner is best for people with dry and oily skin in certain areas of the face as it can make them softer and more evened out.
Its bright yellow colour suggests that it has a lemon or citrus scent. You may have guessed right since it has a wonderful lemon scent that won't irritate you or the other people you run into.
Instead of being in transparent water form like most facial toners, this one sports a creamy and thick texture that may make you think it feels sticky and heavy on the face. But, surprisingly, it doesn't.
When you put it on your face, you'll find that it can remove the oily parts of your face, but only for a few hours. Additionally, it doesn't help as much in reducing large skin pores and whitening the skin.
On the flip side, it can cleanse the pores well and effectively prevent acne breakouts. This results in a more radiant face that adds to your confidence level when you're out of the house.
To use it, you simply squeeze a small amount of the toner onto a cotton pad and apply it to your face. Remember to avoid contact with the contour of the eye as this will irritate it.
So, we highly recommend Garnier's lemon dew toner for those with oily and sensitive skin and a small budget.
Affordable
Refreshing lemon scent
Effective in remedying oily faces
Has smoothening and softening effect
Easy to carry on your travels
Also protects from UV rays
No pore shrinking effect
No whitening effect
Not alcohol-free
Customer Reviews
Face felt smooth and hydrated immediately
"Lightweight and dewy milky texture. Definitely a different kind of lotion from the usual clear toners. Face felt smooth and hydrated immediately after application. Smells good too." -a Lazada buyer
Did not experience skin irritations with the lemon essence
"I have extremely oily and sensitive skin and lemon on my skin always felt itchy and stinging but since I did not experience any such irritations with the Garnier Light Scrub which shares the same Pure Lemon Essence I decided to go ahead with the Lightening Dew." -one blog commenter
3) Simple Kind-to-Skin Soothing Facial Toner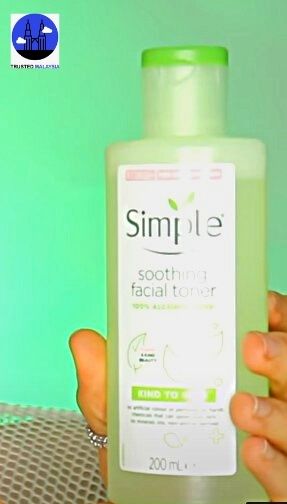 Price: RM16.75
| Test | Info |
| --- | --- |
| Key ingredients | Chamomile, witch hazel, allantoin, pro-vitamin B5 |
| Effects | Tightens pores; soothes, softens, and protects skin |
| Scent | Fresh and apple-like |
| Size | 200ml |
Formulated with witch hazel and chamomile, the Simple Facial Toner can soften and soothe dry and rough skin, while tightening the pores to reduce facial oil formation.
Other main ingredients are Pro-vitamin B5 and Allantoin. Both of these are active agents that are responsible for making the skin soft, smooth, and luminous.
This makes the herb-extract product tailor-made for those who are prone to acne and have combined oily and dry skin.
There's no need to worry about your sensitive skin too. This toner is completely free from alcohol, paraben, and phthalate so chances are your skin won't be upset upon contact with it.
So far, users have had a great experience using this toner because they saw visible improvements on their skin. However, the Simple Facial Toner may not be suitable for other people due to the plant-based ingredients.
Besides that, we bet that you'll be excited to hear that this toner is cruelty-free as certified by PETA, and eco-friendly as the whole bottle from head to base is made from recycled consumer plastic.
On top of that, it has a jolly-good price and ample 200ml size, giving you value for money. For these reasons, we picked them as one of the top toners for combination skin in Malaysia!
Doesn't upset the skin
Suitable for acne-prone skin
Alcohol and paraben-free
PETA-certified cruelty-free toner
Bottle is made from 100% recycled plastic
Some people aren't suited to plant-derived toners
May be too watery for some
Customer Reviews
Best toner for acne-prone and sensitive skin
"Best toner for acne prone and sensitive skin ❤ sometimes after washing your face at night, you notice that there are new bumps/rashes on your face, apply this toner in 2 days, the bumps disappear..if you are diligent, make 7 layers of skin, it will be smoother and smoother. This way really work for me, but not sure for others, but still worth to try." -one Shopee user
Ordinary effect and not fragrant
"Yeay, the toner has arrived, I really like using this simple toner because it's not very fragrant, it's normal, but the effect is okay, the skin isn't easy to get acne, it's because the toner on the face is important to restore our pH value to normal, thank you so much, there's time to repeat again, may there be sustenance🥰" -another buyer
4) Naturie Hatomugi Skin Toner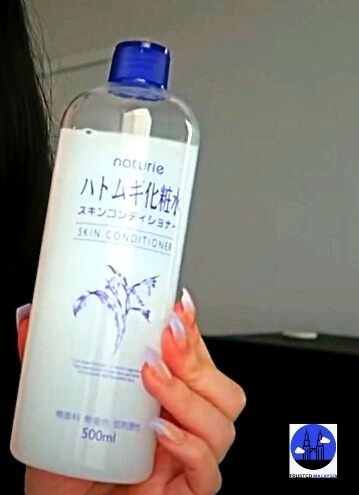 Price: RM23.00
| Test | Info |
| --- | --- |
| Key ingredients | Job's tears (hatomugi), vitamin C |
| Effects | Reduces acne breakouts, moisturises the skin, soothes sunburned skin |
| Scent | Scentless |
| Size | 500ml |
The Naturie Hatomugi Skin Toner is a versatile toner or skin lotion from Japan. It's made from the hatomugi plant (a.k.a. job's tears) to provide deep soothing hydration to the skin.
Its leading ingredient is vitamin C which prevents skin inflammation, defends against cell damage, and slows down ageing.
With a watery texture, it feels light and cool when applied to the skin, and not to mention that it gets absorbed easily. Moreover, it doesn't have any fragrance that can be all too bothersome.
It can also superbly balance the pH level of your skin to keep it healthy, young, and beautiful. And yes, it's very suitable for people with combination, dry, and blemished skin, as buyers can attest to.
It can be applied daily after rinsing your face to moisturise the skin, as a mask where you layer several cotton pads on your face to let the fluid into your skin, and also to soothe painful sunburns.
Now, for its cons, the product is made with parabens (propylparaben and methylparaben) and alcohol. This means that other people's skin may react to the toner with Hatomugi extract.
By and large, the Naturie Hatomugi Skin Toner has antioxidant and healthy ingredients to greatly benefit the skin. As a bonus, it doesn't feel uncomfortable and sticky but is relaxing and gentle to put on the skin.
Made from deeply hydrating Hatomugi extract
Great for dry, combination, and blemished skin
Has no fragrance
Light and non-sticky lotion
Absorbs quickly into the skin
Not alcohol-free
Contains parabens
Customer Reviews
Moisturising and scentless toner
"My face doesn't feel sticky after use it. Make my face moist and doesn't really have smell, recommended for dry face." -one Shopee buyer
Makes skin fairer over time
"2023 expiry~
Seller is super sweet and responsive 🌸
Will def repeat!
This is sooooo good. The cheapest toner ever, hands down ❤ It's pH around 5-6+. Makes your skin fairer too with super consistent usage 💜 Put in it spray bottle and spray away~~
Thanks seller!" -another customer
5) Innisfree Blueberry Rebalancing Skin Toner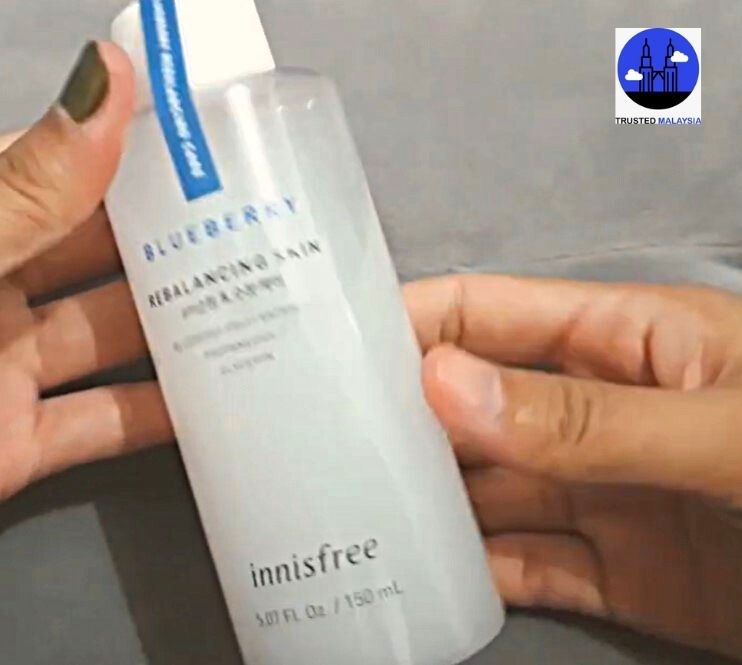 Price: RM39
| Test | Info |
| --- | --- |
| Key ingredients | Blueberries |
| Effects | Balances oil and water on the face, hydrates the face to a great extent |
| Scent | A bit citrusy scent |
| Size | 150ml |
If you have combination skin, the Blueberry Rebalancing Skin Toner can work like a charm. Its blueberry extract benefits owners with its moisturising and anti-inflammatory properties.
Blueberries are extremely healthy and nutritious. The antioxidants in blueberries keep the face, neck, arms, and body firm and elastic, making you look your best every time.
The toner comes with a refreshing scent, although some owners describe it as smelling more orangey or citrusy than blueberries.
However, all of them would agree about the hydrating power of the toner and how easily it is absorbed into the skin.
In addition, the company claims that they used irritation-free and fresh ingredients, which won't harm the skin. Thus far, we have yet to see any negative feedback about its formula and whether or not they produce any side effects.
Now, one notable feature of the toner is its pH level of 5.5, which gives users balanced skincare. Basically, it helps to keep your skin healthy and control your face oil and water ratio.
For just 150ml, the product costs a bit higher, but if that means making your skin glow and balanced, it's definitely worth it.
Also, applying the toner is very easy. You can either pour it onto a cotton pad and gently wipe your skin surfaces, or you can take a small amount and tap on your face and neck with your hands so it can be absorbed.
Excellent hydrating effect
Has blueberry essence
Suitable for all skin types
Alcohol-free
Provides balanced skincare
Relatively high price
Ingredients not shown online
More of an orange scent rather than blueberries
Customer Reviews
Good and did not irritate dry skin
"Items received 4 days after purchase. this toner is good for dry skin and cheaper compare to other range's toner. smells good and did not irritate skin." -one Shopee buyer
Very refreshing and citrusy lotion
"The coating is very refreshing, not greasy, and smells more like oranges than blueberries. The price of this blueberry series is really good." -a user on the Innisfree site
What to Consider When Buying a Combination Skin Toner
There is a multitude of skin toner products on the market. But since this article is about combination skin toners, we will solely focus on that for this buying guide.
So, here are the things you need to consider when getting a toner for combination skin:
1) Ingredients
For best results on your skin, the ingredient list of the toner should include antioxidants, moisture retainers, and light exfoliants. Let's take a look at each of them in detail below.
Antioxidants – These protect against skin damage caused by free radicals, which is why they are very important. Look for toners with antioxidants such as vitamin A, C, E, and green tea.
Moisture Retainers – These strengthen the skin barrier thereby helping to retain the skin's moisture. Fatty acids, ceramides, and hyaluronic acid can do this for your skin.
Light Exfoliants – This helps to clear away the oil of your skin by removing its dead surface layers. Amino fruit acids, lactic acid, and glycolic acids are great exfoliators that don't irritate the skin.
2) Fragrances
You will encounter toners with fragrances produced from its list of ingredients. While this makes the toner fragrant and exciting to use, it can irritate those that have more sensitive skin.
As for people with combination skin, some flavoured toners are fine to use. But if you want to be 100% safe, you can just opt for one that's fragrance-free—without essential oils or plant extracts.
3) Alcohol-Free
Experts advise that those with combination skin should use alcohol-free toners. This is because those that contain alcohol (as the primary ingredient) can be harsh to the person's skin.
However, some toners use alcohol to dissolve other ingredients. So if the product only contains a small amount of alcohol, a toner can still be safe and good to use.
4) Size
Before you buy, you should also gauge how much you will need. A toner is used every day morning and night, along with your serum, sunscreen, and the like.
If after using it, you notice your skin becoming irritated or dry, you can reduce your toner use to once a day.
You can find toner sizes from 100 to 400ml online. You can just buy one to try it out, and if you like it, you can purchase one again the next time.
5) Price
Toners can cost anywhere from RM10 to RM200 depending on the brand and size. Good-quality toners that cleanse and moisturise the skin should start at RM10.
Some are higher-priced but they already come in a set including a toner, serum, cleanser, and whitening cream. Given that you need them, you can save up big by buying the whole pack.
Keep in mind that price is only secondary while the toner's ingredients and suitability are primary. After all, we want our skins to look and feel fantastic by using a reliable and safe product.
FAQs about the Top Combination Skin Toners in Malaysia
---
And that concludes our list of the best toners for combination skin in Malaysia! If you have any questions about them, just message us, and we'll be assisting you as soon as we can.
Have you tried one of our chosen products here before? If so, you can share with us your experience—as we enjoy hearing from our readers and you might be able to help someone too.
Related Articles about Toners for Combination Skin