The 8 Best Options for Terrace House Renovation in Malaysia
Featured Image Source from Pinterest
If you wish to renovate your terrace home to keep up with the times, you're on the right page, as we're listing the best options for terrace house renovation in Malaysia here today.
But before we show our recommendations to you, we'll tackle how much people typically spend on these projects. Doing so will help you plan your budget and requirements and pick from our list along the way.
If you're ready, let's start the discussion!
How Much Does Terrace House Renovation Cost in Malaysia?
Renovating a terrace house can cost around RM50,000 to RM400,000. The main price factor is the size of the home with regard to the number of bedrooms, bathrooms, car spaces, kitchens, and the like.
Other factors that will play a role include the current house condition, design, construction difficulty, labour, and furnishings. Painting and extension works will also add to the total cost.
Also, here's a table that shows the price estimates of revamping different types of terrace houses as per House Renovations Malaysia.
| | |
| --- | --- |
| House Type | Renovation Cost |
| Single-story terrace | RM50,000 – RM250,000 |
| Double-story terrace | RM80,000 – RM300,000 |
| Semi-detachment | RM100,000 – RM400,000 |
| Bungalow | From RM250,000 |
The Best Terrace House Renovation Options in Malaysia
With that in mind, allow us to now present to you our very best options for terrace house renovation in Malaysia!
1) ATAP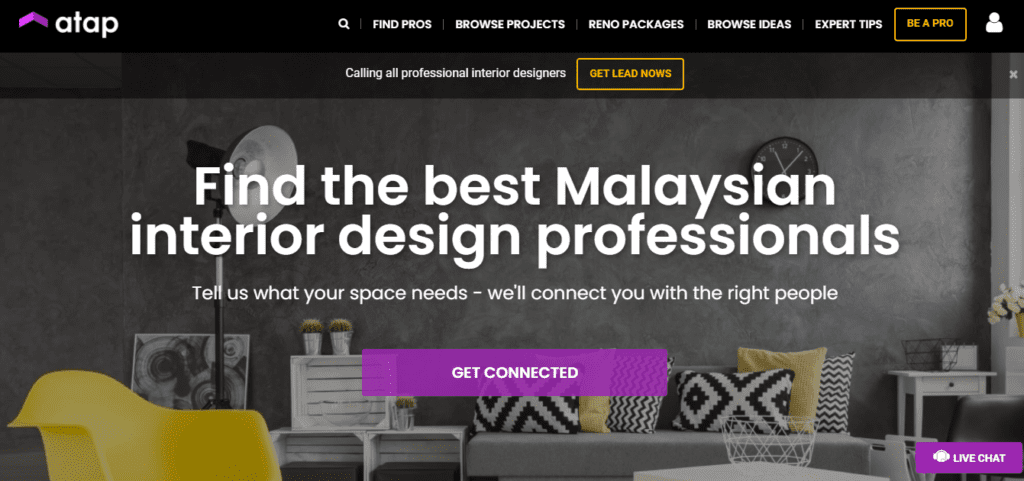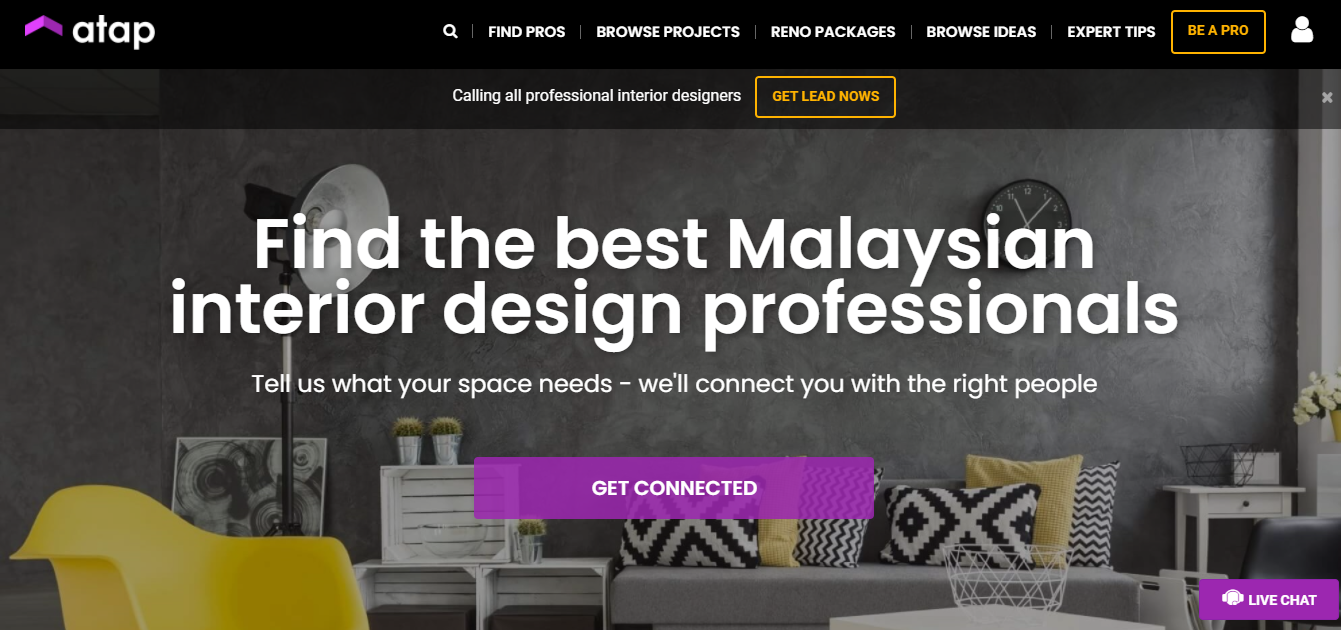 Designing interiors so that they have the Scandinavian style is no easy feat. You have to take into account various things, such as the colors, shape of the tables, structures of the chairs, and more.
This is where ATAP can help you. They are an interior design and renovation consultation service that can help you look for a professional who can decorate your home so that it is characterized by minimalism, simplicity, and functionality– all the factors that are found in Scandinavian interior design.
Unlike other companies, when you work with them, you can expect that they will take into account your various insights when providing you with a list you can choose from. This includes what your property type, size, and location is as well as your budget and preferred interior style.
We definitely recommend them if you want to figure out how to make the best out of your space!
Offers free quotes
Wide range of interior designers to pick from
Prompt services
Contact number is not available
2) House Renovations Malaysia

Established over a decade ago, House Renovations Malaysia is a full-service construction and renovation firm serving its clientele within Selangor and Kuala Lumpur.
It specialises in terrace house renovation, bathroom renovation, kitchen renovation, car porch extension, plaster ceiling task, plumbing work, electrical work, SPC flooring, among others.
From council applications to finishing touches, they can handle it for you. Throughout the service, a project manager will ensure everything goes smoothly to finish the project on time and within your budget.
Safety is their top priority for employees and clients alongside workmanship quality. As such, they only employ builders who are qualified, experienced, and safety-trained.
To date, the company has completed numerous successful projects, which is one of the reasons why clients trust them.
You can easily request a free on-site quote with them online or by email. Although they don't have a phone number stated, you can expect a fast and prompt response from them.
Also, unlike other builders, they keep their prices transparent, listing all expenses from the start and promising clients no hidden charges. You can view their terrace house renovation estimates on their website.
Therefore, if you want to transform your shabby terrace house into a modern living environment inside and out, House Renovations Malaysia is an awesome choice!
One-stop terrace home construction firm
Works within clients' allotted budget
Easy-request quote online
Transparent pricing
No contact number indicated
No mention of service guarantees
3) Quality Design Build

SERVICES
Terrace, bungalow & commercial building design and construction
Renovation works
Civil & infrastructure works
WEBSITE
https://www.qdbventures.com
ADDRESS
No. 69-2, Jalan Temenggung 19/9, Seksyen 9 Bandar Mahkota Cheras, 43200 Cheras, Selangor, Malaysia
CONTACT DETAILS
+603-9076 7341
+6019-236 2343


[email protected]
Another of the top terrace house renovation firms in Malaysia, Quality Design Build has been constructing bungalows and public infrastructures for over 17 years! Regardless of the size of work, their licenced contractors can handle it for you.
They specialise in high-end designs that will add value and curbside appeal to your terrace home. As a result, prices here naturally cost higher compared to our other featured companies.
Behind every successful project is a dedicated team with assigned responsibilities. This is how they are able to work with a singular goal in mind—to satisfy the client through their work.
For instance, they have an engineer to plan designs and supervise workers, a project manager to ensure the work is completed on time, and a quantity surveyor to ensure the project never goes beyond the client's resources.
Moreover, the company doesn't just serve clients across the Klang Valley but the entire country. Wherever your terrace home is in Malaysia, they have got you covered.
And so, if you want a picture-perfect and top-quality terrace home, we strongly recommend getting Quality Design Build!
You can reach their CS team from Monday to Friday between 9.00 AM and 6.00 PM. They are ready to answer any questions you may have and can book a date for an on-site quote.
Award-winning builder
Extensive background in civil engineering
Can do both big and small works alike
Malaysia-wide coverage
Premium rates
No guarantees mentioned on their site
4) AW Builders

SERVICES
Wall and floor finish work
Ceiling finishes work
Steel and aluminium work
Electrical work
Piping work
Admin and wet work
WEBSITE
https://www.awbuildersmalaysia.biz
ADDRESS
Jalan AU 2c/1, Au 2, 54200 Kuala Lumpur, Selangor, Malaysia
CONTACT DETAILS
+60 13-635 5193


[email protected]
AW Builders is a Kuala Lumpur-based renovation contractor that was founded in July 2017. It carries out residential, commercial, and industrial projects irrespective of size and complexity.
It has many certified craftsmen that handle architecture, plastering, flooring, plumbing, electrical jobs, steel and aluminium works, interior and exterior painting, and more.
Even though the company is relatively new in the business, clients have spoken highly of it. They say that they perform solid work from top to bottom whilst offering a reasonable and honest price.
Unlike others, they don't have an instant quote system online. However, they live chat support for any questions or enquiries you'd like to make.
By the way, if you want to know how much their services cost without getting a quote, click their Masterpieces tab. There, you will see a catalogue of their services and rates just to know what to expect in terms of cost.
They've completed a lot of projects to date for homes, shop lots, and commercial properties. From the looks of their photos, the finished works look amazing as well as done neatly and tidily.
AW Builders can assist with terrace house projects in Kuala Lumpur, Selangor, and Negeri Sembilan. You can call or email the contractor to discuss your building plans or get a bid.
And with great reviews among clients, we think that it's safe to say they're one of the best terrace house renovation options in the country.
Can take on renovation works of all sizes and complexity
Live chat support available
Fair and transparent rates
Don't have an instant quote system
No guarantees mentioned on their site
Doesn't build new terrace houses
Customer Reviews
The business garnered a 4.9/5 star rating on Google. Most clients raved about their stunning work results and cost-effective prices.
One reviewer noted this on Google:
"The quality of work is superb with the reasonable price that everyone can afford it."
Even if the below review is about a store room office expansion, you can get a glimpse of how the contractors work, especially if you're getting them to renovate your terrace house."
Also Chanel wrote her feedback of their service:
"Amirul and his team exceeded my expectations. I custom built a store room cum office as an expansion for my business and they nailed it.
One of the best Project Managers I've worked with- responsive, on time, honest, accommodating and experienced. The experience is key as he was able to advise on a strong variety of options (material, method etc) available to me and my specific needs.
The results were spectacular. Definitely recommended."
5) LittleAnts Studio

Whether you need to renovate an aged or modern terrace house, you can rely on LittleAnts Studio. As you'll see in a bit, it's another of the best terrace house renovation choices in Malaysia.
Its contractors are licensed with the CIDB and work to the rigorous quality standards of Qlassic and Conquas. They have a team of builders, architects, decorators, painters, plumbers, and electricians to get the job done for you.
Most clients hire them to renovate their homes to be simple and modern. If you are tight on the budget, they can come up with an alternate solution without dropping the quality, for example, a TV on a classy standalone table instead of being mounted to a costly feature wall.
In the exterior section of a terrace house, they can replace the pronged gates into one sleek glass pane auto-gate, louver windows into easy-view large windows, and take out the hindrances to allow for space, privacy, and sunlight. They can renovate just a part of your home or entirely.
The contractor follows a 6-step process when renovating or remodeling your home. These are Appointment > Site Visit > Proposal & Quotation > Confirmation > Start Work > Handover & Inspection, where they will lead you around the house to show you the finished work and entertain your questions or needs.
This helps them to put things on schedule, achieve goals, keep within budget, and complete the project as promised.
And the best part: they provide clients with complete guarantees for quality, price, delivery, and communication—leading the renovation industry in Kuala Lumpur and Selangor.
For us, their only drawback is that they don't show any price estimates online, although they will inform you of them when you get them to inspect the house.
Suited for simple and modern interiors
CIDB-registered contractor
Reliable appointment system
Guaranteed work and delivery
Estimate rates aren't given online
Doesn't have a live chat support
Customer Reviews
The company provides a versatile solution to house renovations and related works. Here are some client reviews of the contractor on Google:
Sam, one reviewer, wrote this of the builder:
"Renovated my 30 years old landed house with extension of kitchen and car porch. Replaced all my old water piping and rewired all wiring. Absolutely amazing contractors in doing A to Z from designing to final delivery of the house. Hassle and worry free! Highly recommended!!!"
Also, another satisfied client named ChinWee shared this:
"Professional and manage to propose good idea to owners."
6) JK Renovate

SERVICES
Bedroom renovation
Bathroom & toilet renovation
Car porch extension
Electrical wiring
Plaster ceiling
Floor tiling
WEBSITE
https://www.jkrenovate.com/
ADDRESS
15, Jalan PJU3/23B, Avenue 23, Sunway Damansara, 47810, PJ, Malaysia
CONTACT DETAILS
016-299-2222


[email protected]
Need to remodel your terrace house's interior particularly the kitchen, bedroom, or toilet? If you do, you can leave it to the team at JK Renovate!
Since their foundation in 2006, they've completed over a hundred projects for residential and commercial clients in Klang Valley, Malaysia. You can take advantage of this lengthy experience to create your dream home.
They offer bathroom renovation, bedroom renovation, kitchen renovation & extension, car porch extension, ceiling plastering, floor tiling, and electrical wiring, making them a one-stop shop service.
As opposed to other companies we listed, their team numbers only at fifteen. So they're good only for small and mid-size building works, especially for land houses and condominiums.
Each of the contractors is licenced, knowledgeable, and skilled in their trades. They aim to satisfy their clients by working to their requirements and budgets.
That's why they provide a month-long warranty for their workmanship. Should anything go wrong (which is very unlikely), they would resolve the problem in your terrace house at no extra cost.
No matter how old or tired-looking your terrace house is, the team can give it a facelift so it will be just as you want. As one of the best terrace house renovation options in Malaysia, they possess the skills, equipment, and values to do that.
Specialises in interior renovation
Certified and experienced contractors
Offers a free 30-day workmanship warranty
Can only take on small or mid-size building works
No live chat support
Customer Reviews
While one person complained about the price, the remaining clients wrote that the team was very professional, clearly explained what they were doing, and also gave a spectacular result.
Let's hear Larry's review on Google:
"The renovation team did a really great job in my mom's home last week. They considered our needs and worked like professionals. I will definitely call them again when I need renovation work. Jorcelyn is very friendly and easy to deal with her during our discussion…"
Furthermore, Halley shared her experience with them:
"I was very happy with our kitchen remodeling with JKRenovate. They addressed all the issues while they were working with us. Excellent customer service. Indeed, they're a professional company."
7) Hin Construction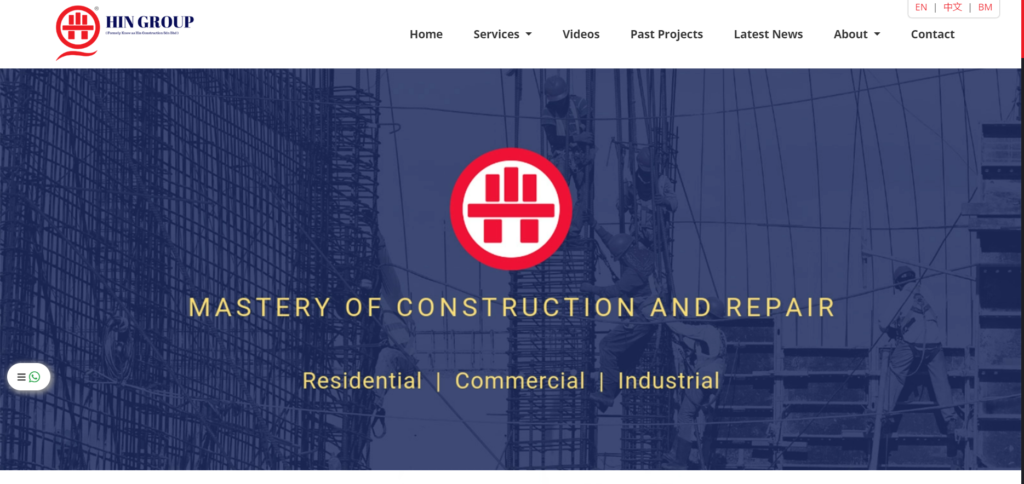 SERVICES
COVID-19 Sanitation & Disinfection Service
Home & Building Maintenance Specialist
Construction Metal Work Specialist
Electric :-Residentials & Commercials
Home & Factory Renovation Specialist
Local Plumber:- Commercials & Residentials
Stop Leak Waterproofing Specialist
Wall Decoration With Cotton Wall
WEBSITE
https://www.hinconstruction.com.my
ADDRESS
33, Jalan 1/5, Seksyen 1, Bandar Teknologi Kajang, 43500 Semenyih, Selangor, Malaysia
CONTACT DETAILS
+60 16-219 3181
OPERATING HOURS
Monday – Saturday: 8AM – 6PM
Hin Construction is a company that provides its clients with a wide variety of construction services for all sorts of buildings – may this residential or industrial in nature ever since their founding back in 1968.
With over 15 years in the industry, we like that they are experienced in all stages of the job wherein clients can be assured that the level of practical advice that they are able to give and workmanship are all personalized with the needs of the client.
Furthermore, clients can also easily customize their intended services to fit their preferences, vision, and budget for an overall smooth and well-coordinated all throughout.
Note though that packages of their services aren't readily available on their website to which interested clients may need to inquire further for a more accurate breakdown of fees.
Nonetheless, with their accommodating and knowledgeable team of professionals on the job, excellent service value and quality, customized take on their services, we highly recommend interested clients to check them out.
Highly functional designs and services
Transparent and honest quotes offered
Excellent communication skills employed
Packages of their services aren't readily available
Customer Reviews
Here are some reviews from their clients:
"Great service by Hin construction! The work is professional with reasonable price.All work done by in frame for install new direct water piping to my property! All of them are easy to communicate and clean work with good hand. Highly recommended for this company!"
"Good experience with William and his team. The person-in-charge of my house renovation, Jamunes is a good responsive person. All jobs status will update to me when I check with her. I'm quite satisfied with their work. Truly recommend to contact them for your house minor and major repair/renovate job."
8) MID Servicing Sdn. Bhd
SERVICES
Home Construction, Interior Designing, Plumbing, Handyman, Electrical and Wiring, and more
WEBSITE
https://midservices.co/
ADDRESS
A-13-02, Tropicana Avenue, No. 12, Persiaran Tropicana, Tropicana Golf & Country Resort, PJU 3, 47410 Petaling Jaya, Selangor
CONTACT DETAILS

[email protected]

| +60 16-228 5569
OPERATING HOURS
Contact for more information
MID Servicing Sdn. Bhd is an application that trains and connects freelance technicians to consumers.
We like their idea of having a platform to make it easy for consumers to hire technicians to repair and service appliances and the like.
This app makes it easy for anyone to look for someoe to do a job they need done, especially for homes.
One of the many services available is home construction. Here you can find someone to help you with home renovations.
There's someone who can help whether you need assistance with planning and development, to maintenance, and everything in between.
What we like is that you can book services anytime, anywhere through their platform.
What's great is that all their technicians are certified, trained and experts in their craft whether they're in-house or freelance.
If you're worried about pricing, we find that they price their services reasonably so it's not much to worry about.
Efficient platform
Certified, trained and expert technicians
Variety of services available
Reasonable pricing
Mainly a platform to find a technician instead of a company specializing in home construction
Customer Reviews
Here are some reviews from their clients:
"Engaged their service for plaster ceiling & flooring works which was completed to my schedule. Price is reasonable. Keep up the good works."
FAQs about the Top Options for Terrace House Renovation in Malaysia
---
And that's it for now with our top options for terrace house renovation in Malaysia. Their teams are at your service to make your terrace house shine in style and intrigue.
Do you have any questions or comments about our picks? If you have one, please send us a line and we'll get back to you in a flash.
Other than that, if you need to tastefully redecorate your semi home, you can have a look at our top interior designers for semi-detachment homes in Malaysia too!