16 Most Popular Malaysian Streetfoods You Should Try
Malaysia is home to countless savoury and sweet street food that tourists and locals simply can't get enough of. Served in the busiest night markets and humble hawker stalls, these dishes may be cheap, but they don't fall short of quality and quantity.
If you're looking to know more about these tasty delicacies, here are the most popular street foods that perfectly capture Malaysia's cuisine:
Nasi Lemak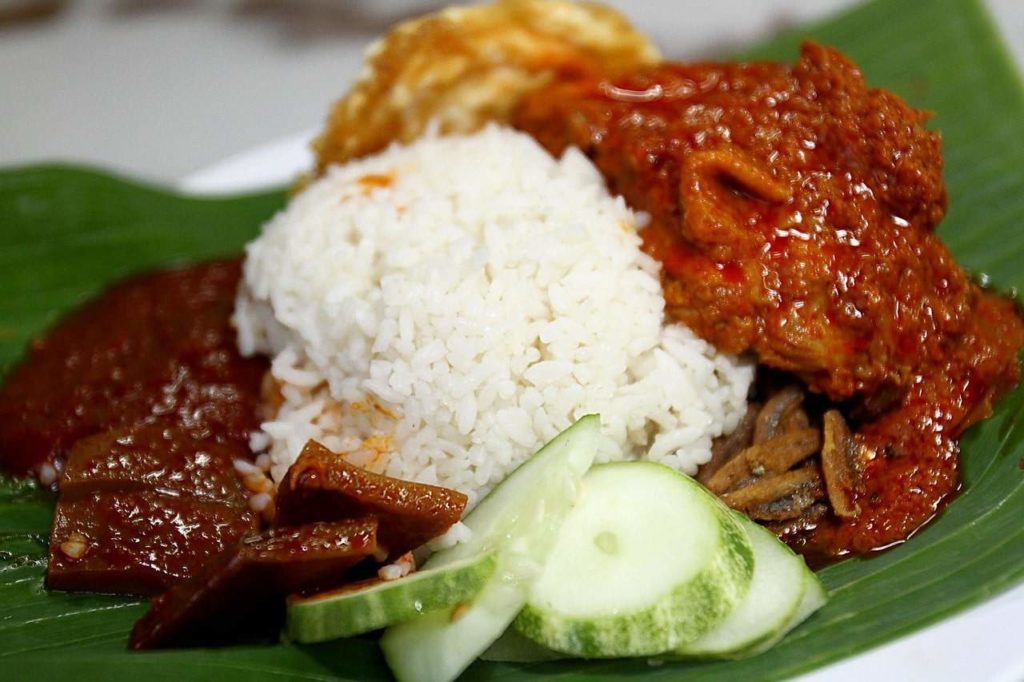 If you want to hit two birds with one stone, we recommend starting with nasi lemak. This dish isn't only one of the most famous street foods you'll find in countless night markets—it's also Malaysia's national dish!
Aside from its significance in Malaysian culture, nasi lemak is a solid all-around dish that's great to eat all day long. Essentially, it consists of a cup of fragrant rice, surrounded by a bunch of local ingredients that won't only satisfy your tastebuds but your hunger as well.
Depending on where you're eating it, the ingredients used to pair with the cup of rice may vary. However, the most common ones that you'll find include fried chicken, eggs, sambal, cucumbers, anchovies, peanuts and more.
This messy stack of ingredients is then served in a banana leaf to add more fragrance and some extra flair to its presentation.
Char Kway Teow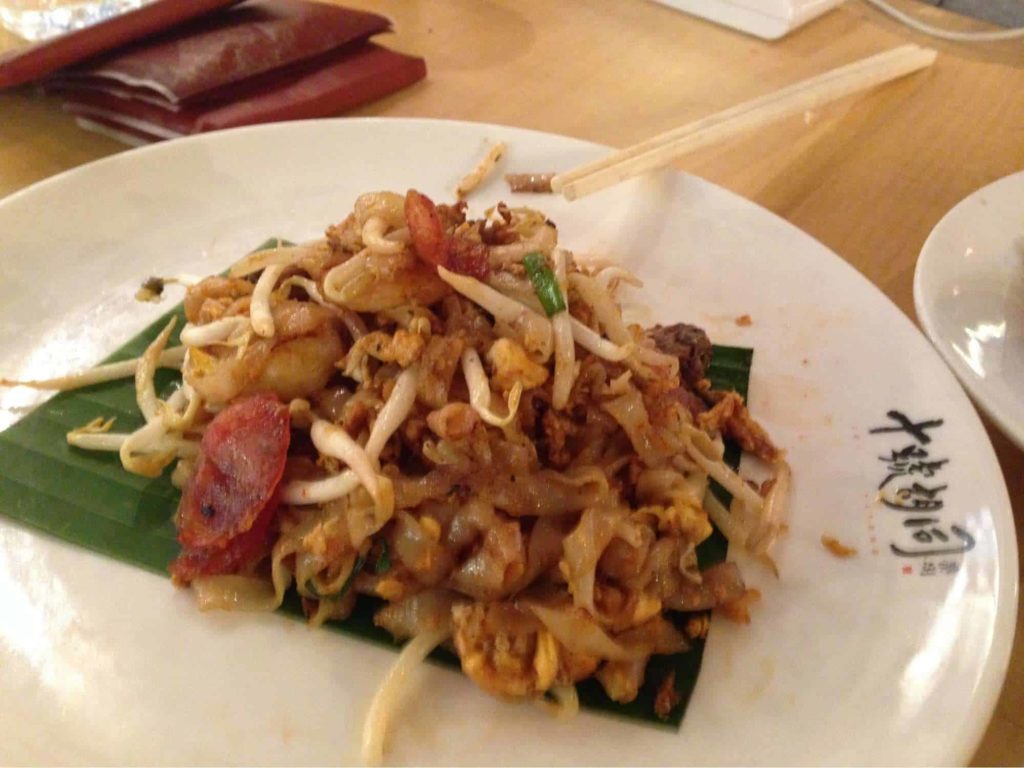 Char kway teow is another staple dish that we recommend you try at least once during your trip to Malaysia. We have a feeling that you won't miss it though, as it's widely served across different restaurants and hawker stalls in KL and other areas.
Taking inspiration from Chinese cuisine, char kway teow is essentially stir-fried noodles—but with a twist! This version features a smoky aftertaste that can be attributed to its time on the grill along with some crispy pork lard.
This lard makes the noodles taste extra meaty, which goes perfectly with the soy sauce seasoning. To top it all off, ingredients such as bean sprouts, spring onions, Chinese sausages and eggs are added to the mix.
These ingredients form together to create an amazing combination of flavours and textures that further elevates this dish to another level. What's more impressive is that this dish is offered at a cheap price, so you won't have to worry about breaking the bank just to try it!
Satay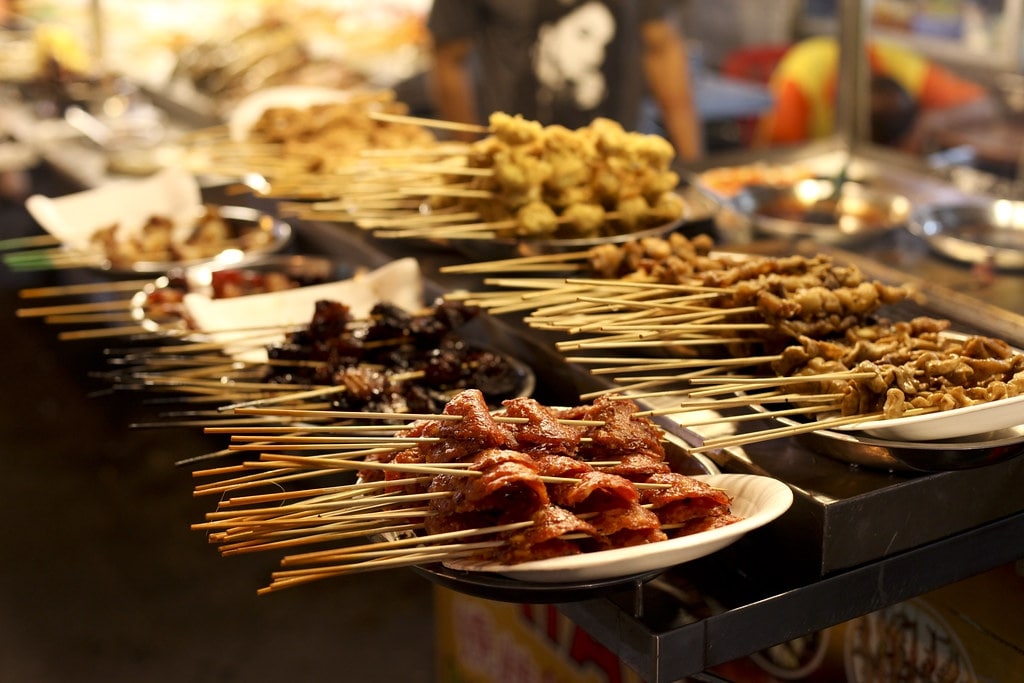 When you roam the streets of Petaling, Chinatown or any other night market in Malaysia, you'll certainly come across satay. It's a famous street food in the country that's beloved by anyone who's ever tried it because of its simplicity and amazing smokey flavour.
In a nutshell, satays are skewered pieces of meat that are grilled over charcoal. Also, these pieces of meat are brushed with the vendors' secret peanut sauce, which pairs perfectly with the charred and smokey taste.
What's great about this dish is it gives you variety in terms of the meat being used so that you won't have to break your diet and discipline.
For instance, if you're avoiding pork, you can choose to have beef or chicken. Furthermore, if you're avoiding meat altogether, you'll be pleased to know that some stalls also offer tofu satays!
Regardless of which kind of meat you choose, however, you'll be treating yourself to something delicious.
Lok-lok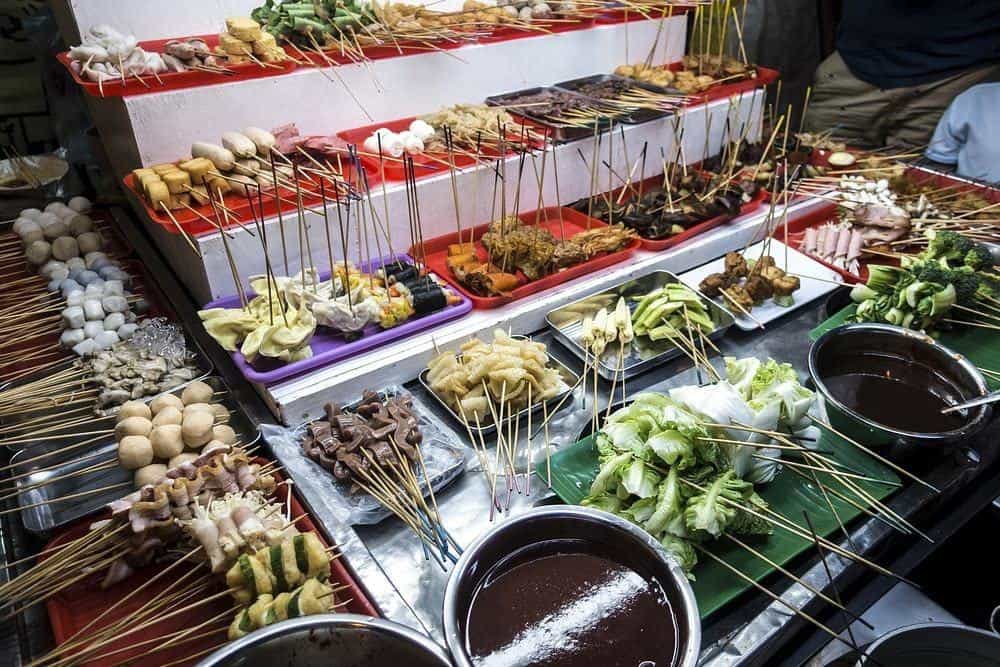 Sticking to the theme of skewered ingredients, lok-lok is another common street food that you'll find in the streets of Malaysia. Literally translating to "dip-dip", this local delicacy entices you to dip your desired skewered meat and vegetables into different kinds of sauces and broths.
Think of it as your usual hot pot, but this time, it's a much more budget-friendly version. Don't be fooled by its cheap price tag though as this street food features the same kind of quality that you'll find in restaurants.
The most usual skewered ingredients you'll find in stalls that offer this street food include fish balls, sausages, vegetables, seafood and more. This is great because you won't be forced into eating a specific kind of meat if you're not into all of them.
The main highlights of this experience, however,  are the different sauces and broths. Choose carefully though as these can alter the flavour of your skewered ingredient greatly!
Rojak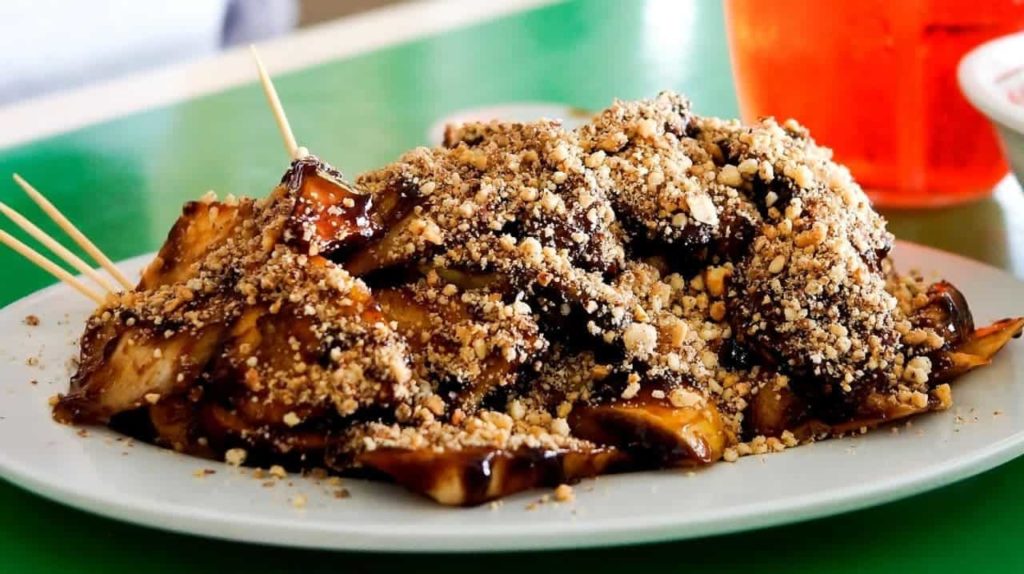 If you're looking for something slightly sweet that isn't your typical ice cream, cake or whatnot, we recommend trying rojak. This treat consists of various sliced fruits, vegetables and nuts that have been drenched in a variety of sauces.
The sauce contains all the flavour, in our opinion, and it's what makes this dish unique. It features a combination of sweet, sour and spicy, which can all be attributed to its ingredients which include chilli paste, sugar and lime.
It's worth noting though that there is another version of rojak that's more commonly found in Muslim Indian establishments. This variation replaces the sweet flavour with something more savoury by featuring ingredients such as tofu slices, sausages, potatoes and more.
Just like its more fruity counterpart, however, this version is also drenched in a sweet and spicy sauce.
Otak-otak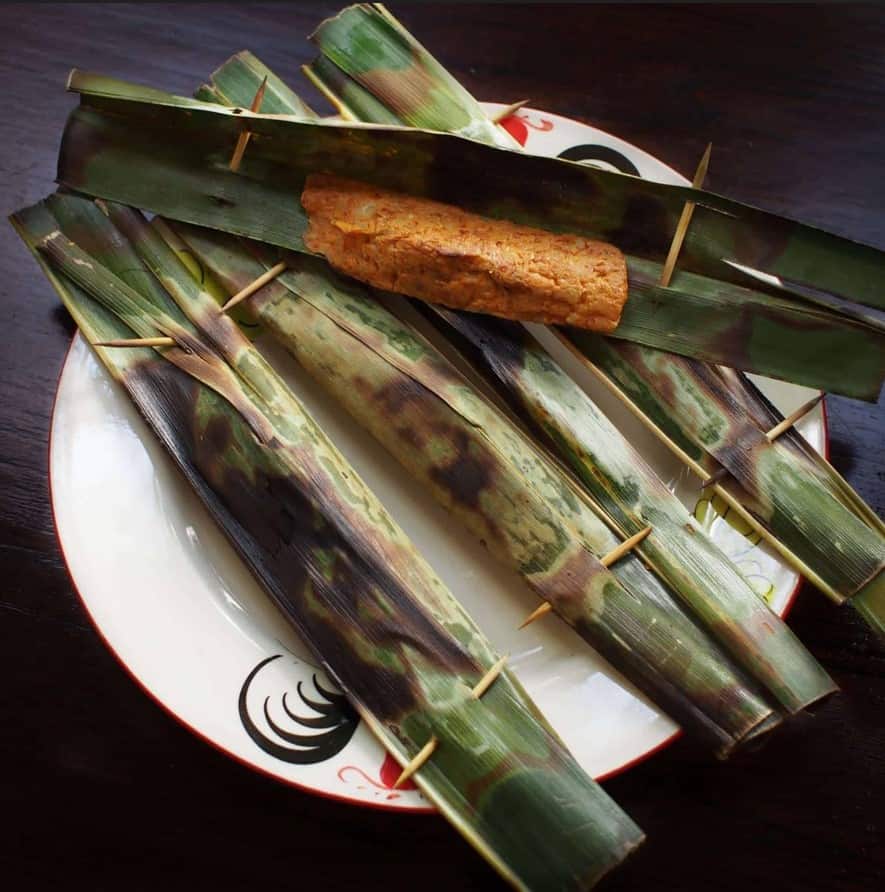 Otak-otak is a well-known street food in Southeast Asia, more particularly in countries like Malaysia and Indonesia. The best way to describe this dish is that it's grilled fish cake, and that's exactly what you'll get when you buy it from various stalls across the country.
The fish cake itself is worth highlighting because of its distinct spicy and coconut-y taste. It also features a reddish-orange colour because Malaysia's version of this dish uses ingredients such as turmeric powder and chilli.
Once the paste is formed and the fish cake is created, it will then be wrapped inside a banana leaf before throwing on the grill. If you want our word for it, we recommend eating it as soon as it's fresh off the grill, so that it would still be hot. 
Hokkien Mee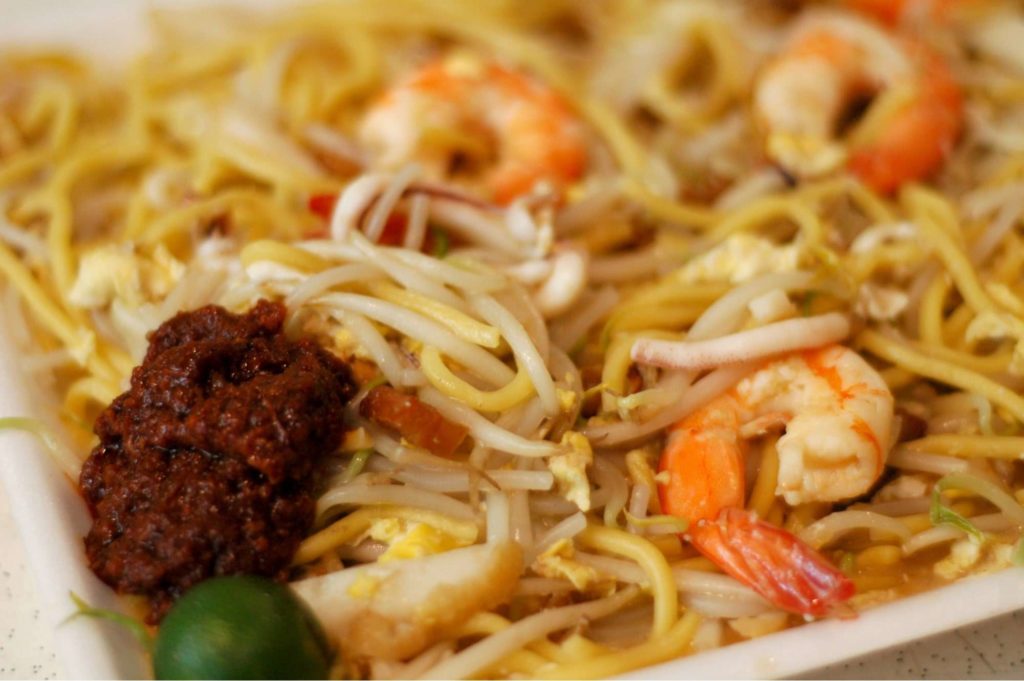 Another noodle-based street food that you'll commonly come across in Malaysia is hokkien mee. This dish is instantly recognisable by its two kinds of appearances: dark brown and bright yellow.
The dark brown version of this dish can commonly be found on the streets of Penang. This appearance can be attributed to its heavy use of soy sauce, which perfectly blends with other ingredients such as prawns and pork lard.
Meanwhile, the bright orange hokkien mee can be found in Kuala Lumpur, where it also features prawns and other ingredients. Regardless of which version you try though, you can expect some delicious flavours and interesting textures.
Aside from prawns, you'll also find other goodies scattered within these thick noodles. This includes cabbages, pork chunks and fish cakes.
Ramly Burger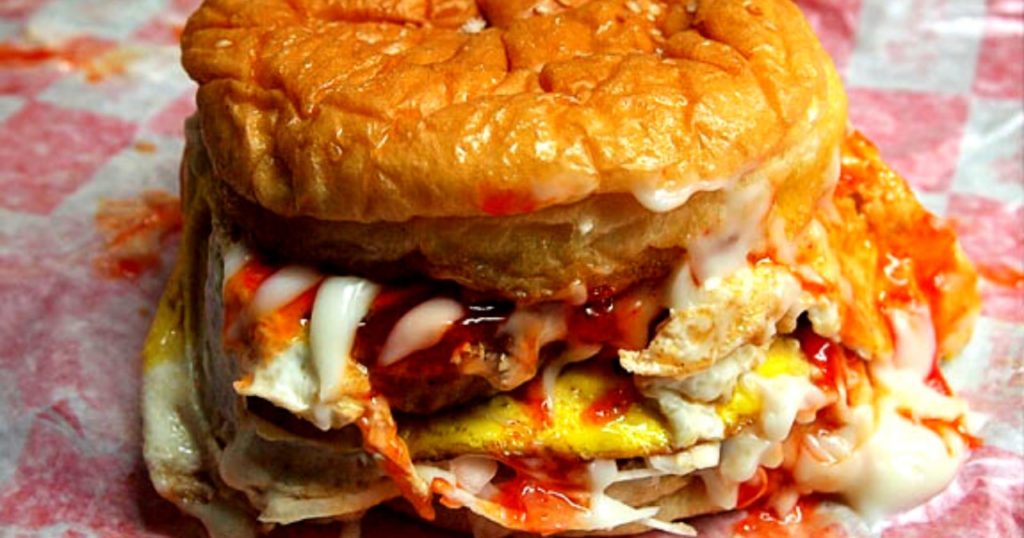 If you're looking for something that would be a bit familiar to your tastebuds, we recommend Malaysia's most famous sandwich, the Ramly Burger. This street food is served across various stalls, and it's a staple for anyone who's looking to learn more about the country's cuisine.
This burger is named after the company that creates its patty, Ramly, which is also the largest halal frozen and fast-food processing company.
What's great about this particular burger is that its vendors allow customizability. For instance, you can have it with cheese, lettuce, eggs and more, all for a cheap price that can be afforded by many.
If you want to try it for yourself, don't worry because it's impossible to miss its countless stalls across the country. You'll immediately recognise it by the Ramly logo too.
Economy Rice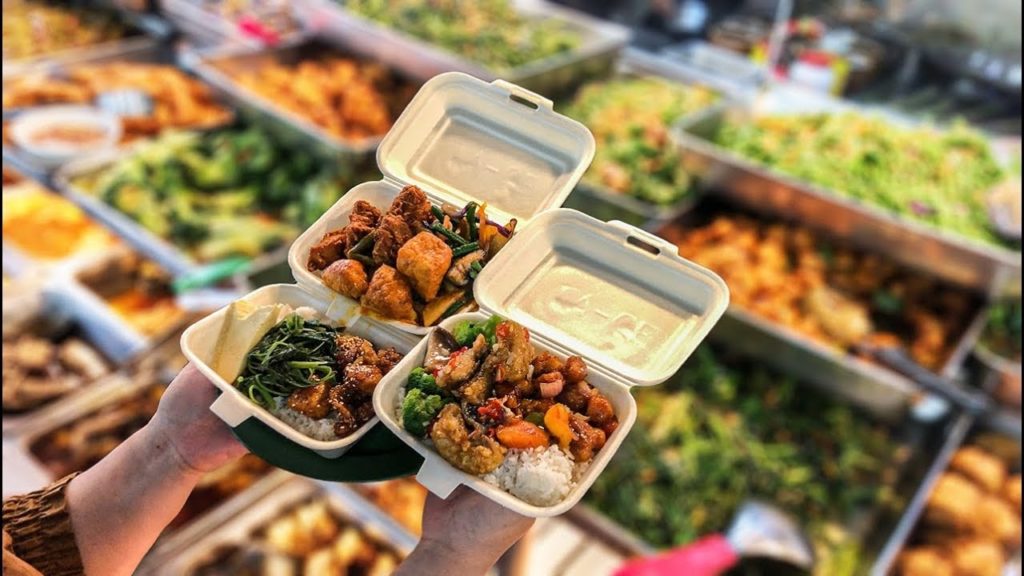 If you're on an extra tight budget but you want something that will fill your tummy, we recommend trying economy rice. As you may have guessed from its name, this is one of the cheapest meals you can get, but don't worry because you'll still be treated to a delicious dish.
Economy rice is usually found in hawker stalls, and it's never just a single item. Usually, they'll have various food items in metal trays that have boiling water below them to keep them warm throughout the day.
The food items displayed here include meat, vegetables and of course, rice. It's then up to you to create your personal meal combination using the different ones displayed on the trays, pretty simple, right?
Roti Canai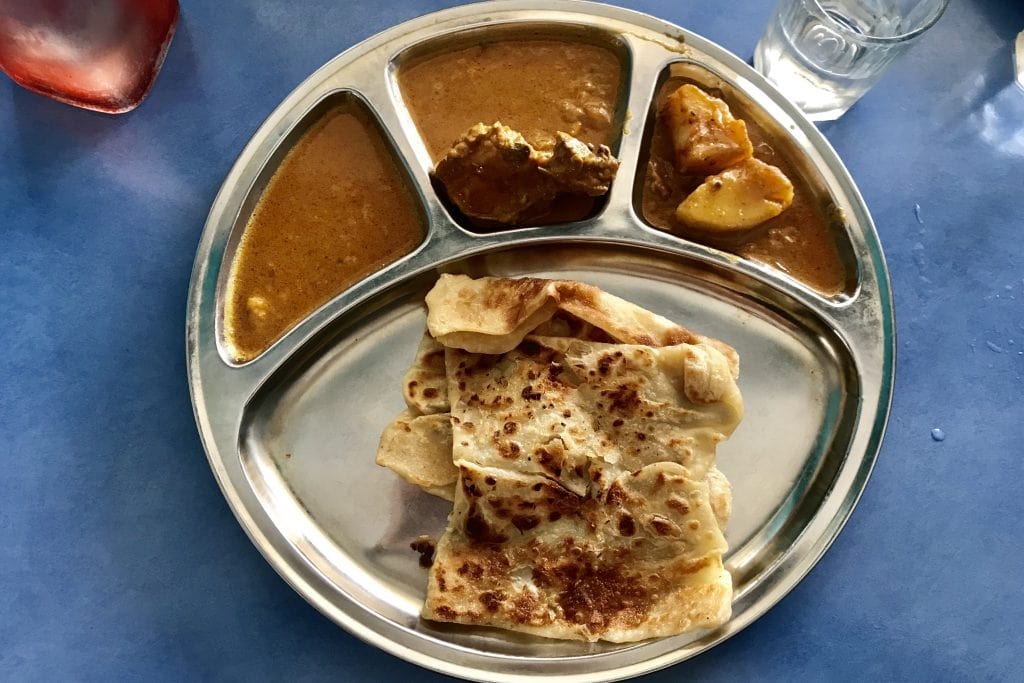 Since India is one of Malaysia's sources of influence when it comes to our cuisine, it's not unusual to find roti canai in countless establishments. Not only that, but it's also one of the most famous street foods here.
Roti canai is a form of flatbread that's often served alongside sauces and curries. They're mostly known for their flaky yet soft texture, which goes perfectly well with the aforementioned dipping options.
The great thing about this particular street food is that it's highly versatile. This is because it can be accompanied by either something sweet or something savoury.
For instance, if you want something that can satisfy your sweet tooth, we recommend going for the malty mili roti canai. Meanwhile, you can get roti canai alongside some delicious bowls of curry if you want something more savoury.
Vadai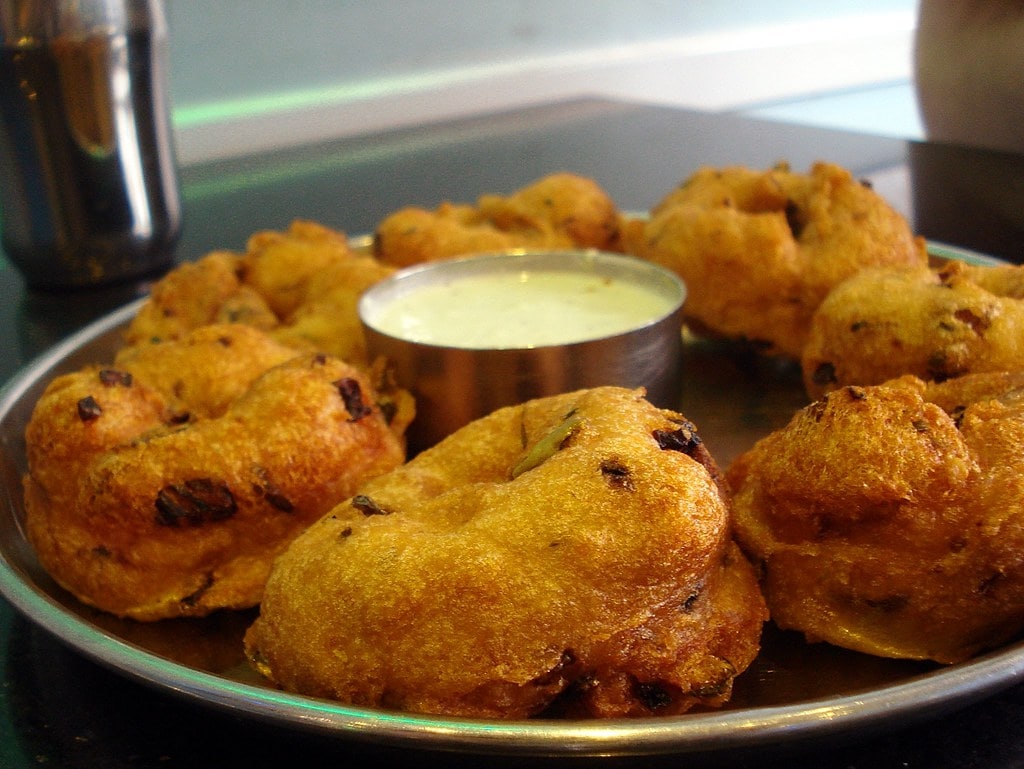 Another delicious treat that came from India's cuisine is this bite-sized snack called vadai or vada. At first glance, this Malaysian street food may look like your typical mini fried doughnuts, but you'll be surprised at how different it tastes!
Much like the pastry that it looks like, this dish is composed of deep-fried dough. What makes it different is the batter's ingredients which include spiced black lentils, dhal, onion, curry leaves and dried onions.
There are also disc-shaped vadai which feature chickpeas to create a different taste and texture. Both versions are great to try, especially if you're looking to explore some other dishes from India's vast cuisine.
Lastly, you can also choose to have this dish crispy or soft. Then to top it all off, they're served alongside sauces that complement the doughy and savoury doughnuts and discs.
Chee Cheong Fun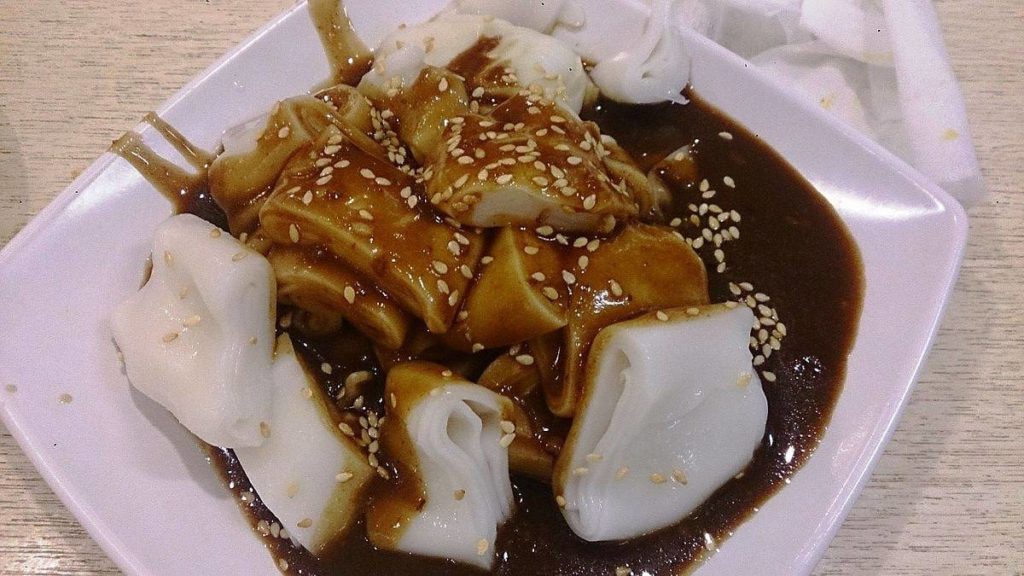 Hailing straight from China, chee cheong fun is a beloved dish by tourists and locals alike here in Malaysia. Its simple yet flavourful components make it a timeless street food that isn't hard to love once you get a taste of it.
Chee cheong fun is composed of steamed rice noodles that have been filled with different kinds of ingredients. The most common fillings you'll see include beef, pork, shrimp and mushroom, but you can't go wrong with some simple sesame seeds and scallops.
One of its main highlights, however, is the sauce, which is this mysterious dark concoction. Thankfully, its taste is far from mysterious, as it's something that you'll instantly be familiar with.
The noodles are great too, as they feature this silky smooth texture. It's great for housing the different fillings it can contain, as it doesn't break easily and also, it does an amazing job of absorbing the delicious sauce.
Teh Tarik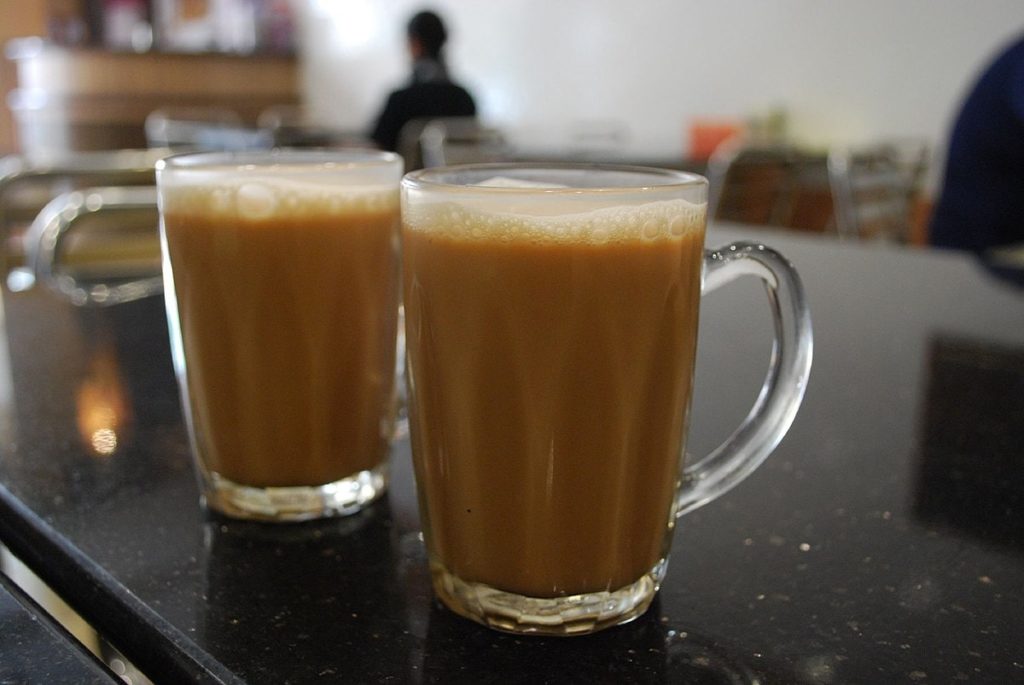 Arguably the most famous beverage that you'll find being served across countless hawker stalls in Malaysia is teh tarik. This brownish drink may look like your typical cup of coffee at first, but it's actually tea!
You'll immediately notice how it differs from other tea when you see its extra frothy texture, and you won't be wrong! The way it develops this form is by pouring it constantly from one cup to another, which over time makes the tea thicker.
Taste-wise, it features a bittersweet flavour that lingers in your mouth long after you take a sip, much like your typical milk tea. Furthermore, you can also increase the sweetness level to your liking by asking for more evaporated milk.
You can either order this drink in its cold or hot version. Both are great, but we recommend the hot one, especially during those cold rainy days that we get here in Malaysia.
Chicken Rice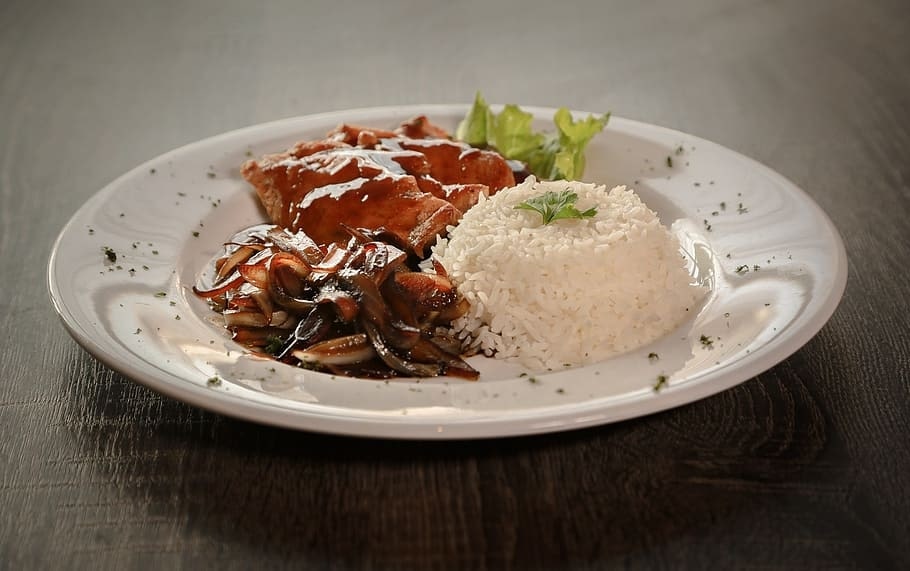 Sometimes, the best street food is the one that everyone is all-too-familiar with. Chicken rice features an impeccable combination that never gets old, whether you're an adult or a child.
Out of all the street foods we've listed here, chicken rice is probably the healthiest one you can try. Both of these ingredients consist of various nutrients that can help you develop a healthier body, more specifically, protein.
This particular dish is a great breakfast option, as it will give you your much-needed boost to start the day. Plus, it's not always that you can have fried chicken for breakfast, so better take advantage of the opportunity while you're at it!
To make things less bland, vendors will serve this combination alongside accompaniments such as peanuts, soy sauce, chilli and more.
Asam Laksa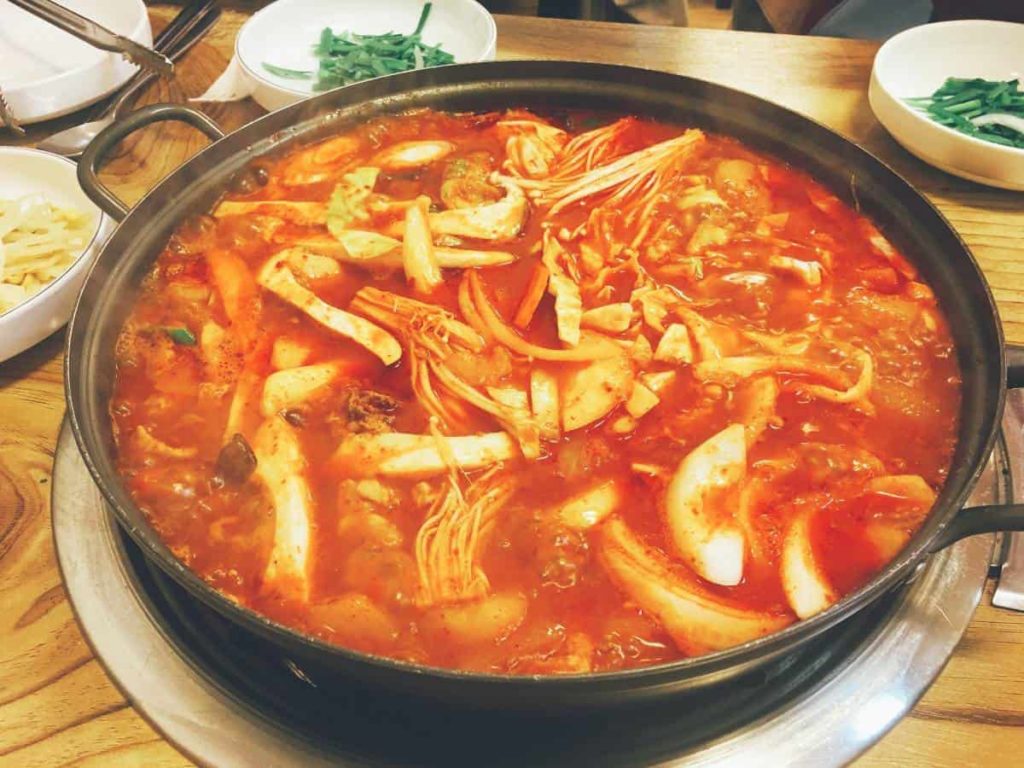 Another noodle-based street food we recommend you check out is asam laksa. Also known as Penang laksa, this version of the noodle dish features an amazing fish broth that will leave you sweating because of its spice levels.
Aside from its spicy flavour, you'll also taste sourness and tanginess with this dish, which is perfectly absorbed by each noodle in the bowl. Furthermore, you'll also find other goodies swimming in this broth, such as prawns, mackerels and more.
To make things more flavourful, you can also choose to top your bowl of noodles with green onion, chilli paste, cucumber and pineapple. The result is a one-of-a-kind soup that explodes with flavour upon every bite.
Ais Kacang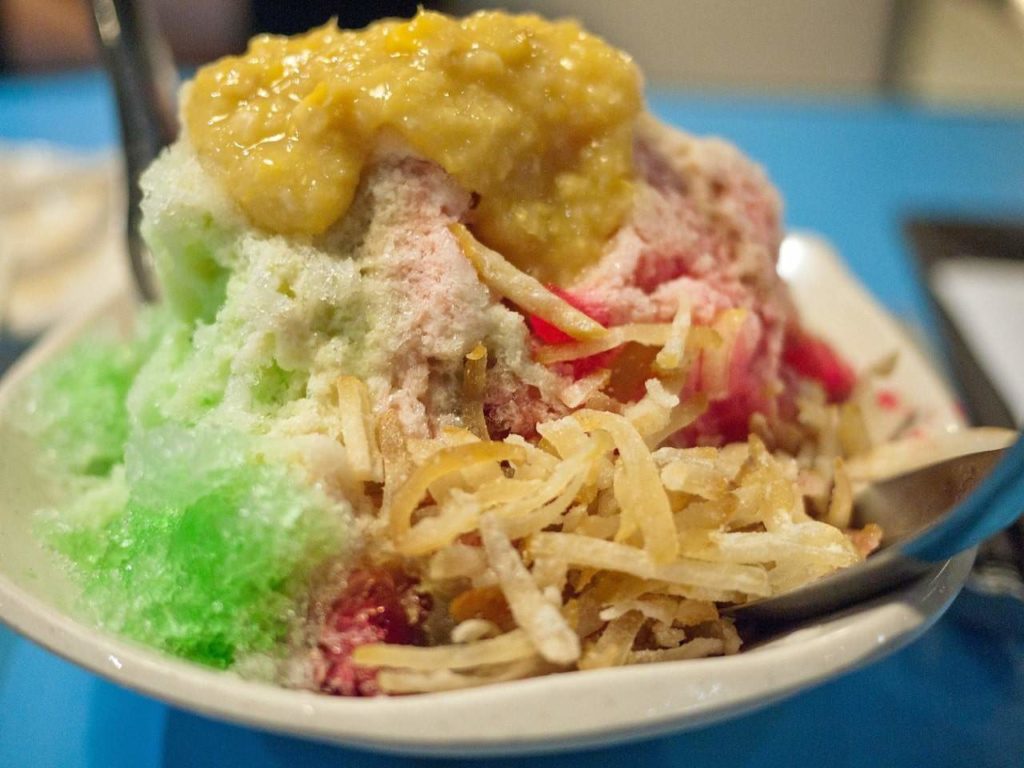 One of the best street foods to eat during a hot and humid day in Malaysia is ais kacang. This dessert won't only satisfy your sweet tooth—it will also provide you with the refreshment you need while you're walking around in the streets!
This dish centres around shaved ice that have been drizzled with fresh milk–think snow cone, but with more flair and flavour. What makes it special is the different ingredients that it's topped with such as red beans, jelly, syrup and more.
These ingredients create a wonderful combination of textures and flavours that are simply absent in other desserts. Plus, depending on the place you're getting it from, this dessert can also come with a scoop of ice cream! 
Ice Cendol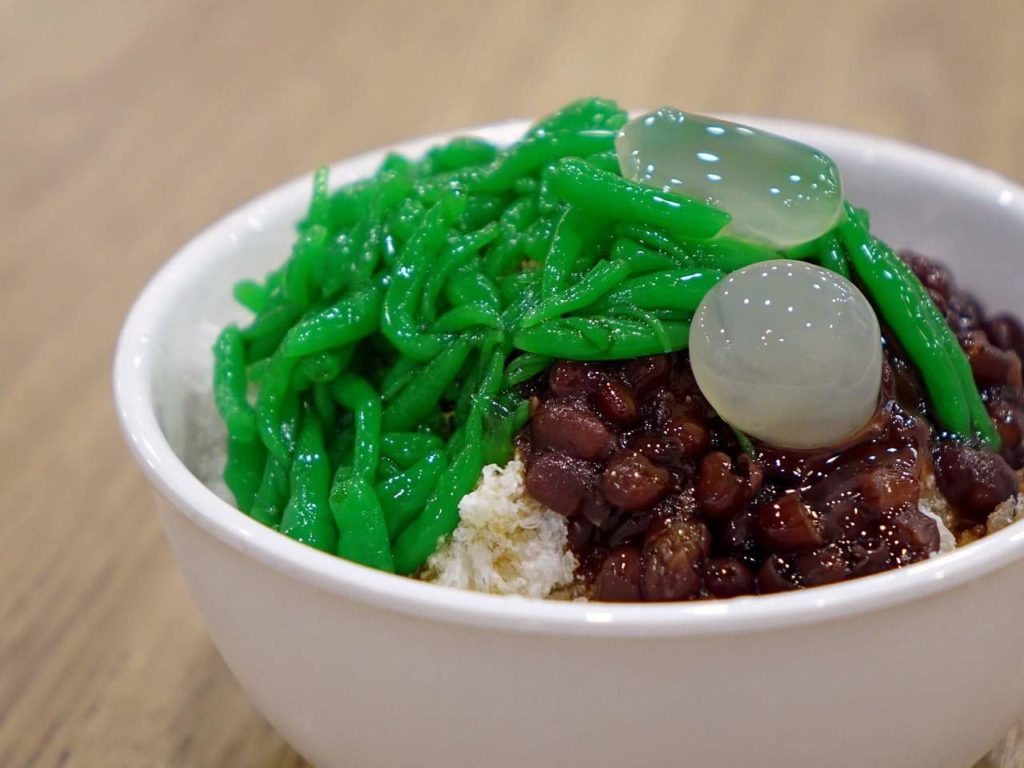 Moving on to another cold treat that you'll find in the streets of Malaysia, ice cendol is similar yet still different from ais kacang.
We say this because even though it also centres around shaved ice topped with different ingredients, it's an entirely different dish, taste and flavour-wise.
The main factor that sets it apart from ais kacang is its iconic green noodles pandan noodles, which are made out of pandan. These squiggly strands are put on top of the shaved ice along with some coconut milk and palm sugar to create a sweet flavour.
In some stalls, they'll throw in some creamed corn and jackfruit into the mix to add another layer of flavour and texture. If you're feeling a bit adventurous, you can find a place that uses durian as a topping.
This fruit features an extremely pungent smell, but once you get past that, you'll be treated to pure sweetness.
Other Resources on Malaysian Dishes