6 Best Short-Term Home Rentals in Malaysia
Featured Image Source: Andrea Davis via Unsplash
Your choice of accommodation could sometimes make or break your entire vacation. Luckily for those planning a visit to Malaysia, there are trustworthy sites available to direct you to the best short-term home rentals in Malaysia.
Whatever you're looking for in your temporary home, one of these sites below will surely be able to link you to a space that best suits your travel accommodation needs.
1.  Sublet

No more of those long hours of laborious searching and hours stuck in traffic as well as having to go to awkward meetings.
With Sublet's colossal, global marketplace of rental properties, anyone's definition of the best short-term home rental in Malaysia will surely be met in just a few clicks.
Have pets or need a roommate to share the bills with? No worries. Sublet.com has a complete, updated database of every kind of rental to cater to various living situations.
Simply use Sublet's comprehensive searching tools to input everything you're looking for in a home, scroll through their listings, and contact the owner of your prospective home away from home!
To top that off, this site for the best-short term home rentals in Malaysia has a dedicated support team you can reach out to 24/7 via phone or email.
Highlights
Global marketplace of rental properties
Complete, updated database
Various living preferences
Easy to use
24/7 customer service
Customer Reviews
Jeromey, one of the people Sublet.com has help connect to a home shared:
"Thanks for your wonderful service. We found a tenant within two days. The hard part was deciding which share to take!"
2.  AllTheRooms

Tired of searching site after site for the best short-term home rental in Malaysia? AllTheRooms has your back.
At AllTheRooms, you can find 5,000 of Malaysia's finest rental properties available on Priceline, Agoda, Airbnb, and more.
Not only that, each of these temporary homes is unique, so thrifty or extravagant travellers and everyone in between can find their perfect place.
It could be a vacation rental home, home stay, hostel, or others, but one thing's for sure — your choice from the best short-term home rentals in Malaysia are curated for your comfort and convenience.
Highlights
Search Priceline, Agoda, Airbnb and more in one site
Unique homes
Fits any budget and lifestyle
Vacation rentals, home stays, hostels, etc.
3.  Expedia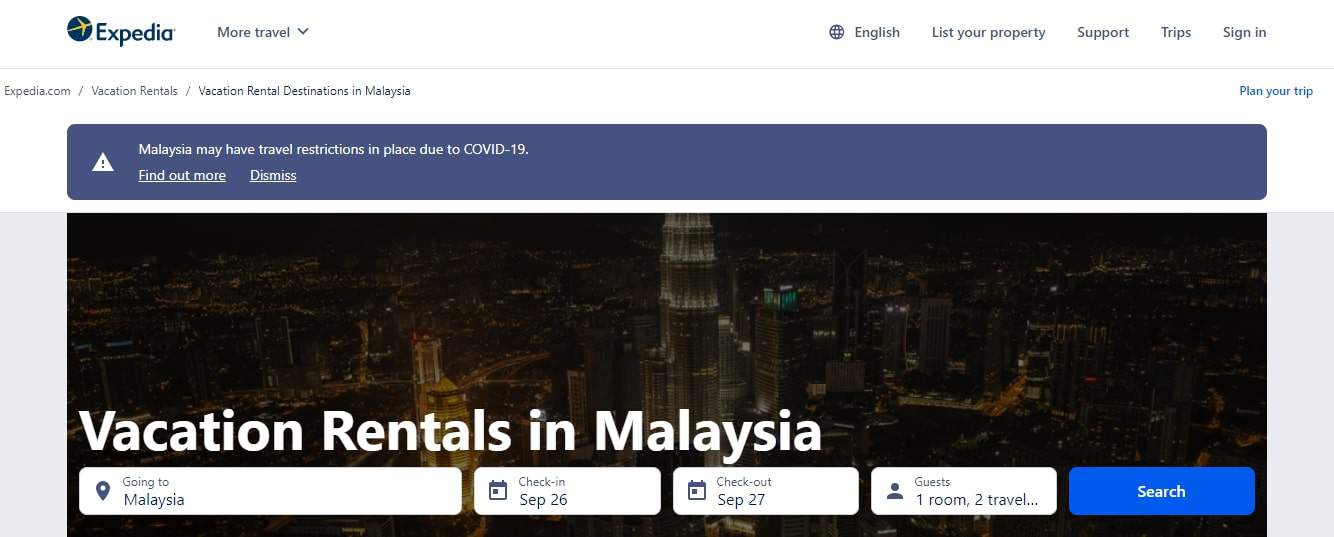 Following their purpose to bring the world within reach, Expedia is not only a booking site for accommodations, but flights, cruises, cars, and even activities. You can even save costs with the packages and deals they offer.
Searching for the best short-term home rental in Malaysia through Expedia can be done through one of 3 easy ways. You could view their featured rentals, use a map to get a place from your desired neighborhood, or enter your travel dates to find available accommodations.
Furthermore, Expedia also boasts a wide range of rental properties, such as apartments, condos, hostels, villas, cottages, cabins, capsule hotels, and more.
Highlights
All-in-one travel booking site
Packages and deals
Easy to use
Wide range of rental properties such as condos, cabins, etc.
4.  Vrbo

Since its founding in 1995, Vrbo has mastered providing the most outstanding accommodation booking services.
With the goal to enable people to spend more quality time with their loved ones, Vrbo's impressive range of rentals in Malaysia ensures that there is everything for every friend or family member.
With over 4,000 vacation rental listings, you'll be sure to find the best short-term home rental in Malaysia that has the amenities your travel companions will enjoy.
Their listings are also found in diverse locations so you can choose to live near popular tourist attractions, shopping centres, or even the beach.
With the perfect home at an ideal location, Vrbo almost has it all covered. All you need to do is explore their site, book your accommodations, and enjoy your time.
Highlights
Founded 1995
Amenities travel companions will enjoy
Diverse locations in Malaysia
Near tourist attractions, shopping centres, or beaches
5.  Home Stay

Who would most definitely provide the best short-term home rental in Malaysia than a homegrown company?
Local home rental booking company Home Stay by Widebed's vision is simple — to be the preferred short-stay brand in Asia. To do this, they put a special emphasis on prioritizing their clients' happiness.
They go beyond world-class hospitality services and mesmerizing architecture and interiors.
They give their clients travel accommodations that address the lack of warmth, authentic interaction, and understanding of local culture that is an issue in bigger hospitality service establishments.
Keeping their service with a local and personal touch, Home Stay's strength is certainly in providing the best short-term home rentals in Malaysia, its very own turf.
Highlights
Homegrown company
Prioritizes clients' happiness
Showcases warmth, authentic interaction, and understanding of local culture
Customer Reviews
Alex, a guest who used Home Stay in looking for the best short-term home rental in Malaysia was more than satisfied with his choice.
"Exactly as described and very accurate pictures.
 I had such a perfect stay, was exactly what I was looking for, comfortable, clean, quiet, easy, close to public transport, nice breakfast place across the road, 711 downstairs, the pool was amazing, good for tanning and swimming and the views.
Would definitely come back in the future."
6. Likibu

Likibu helps you compare all the available location rentals in Malaysia. If you're looking for somewhere to stay, they are your best bet as they have at least 10,329 rentals listed on their website.
If you are looking for an accommodation in Kuala Lumpur, George Town, Johor Bahru, or Shah Alam, they can definitely help you. Regardless if you're looking for a one-bedroom Airbnb or a family-sized house with a pool, they have a wide range of choices for you to choose from.
Their website is also easy to use as all you have to do is use their filter to include your preferences. Perhaps one of the cons here is that you may have a hard time reserving a place if the homeowner does not check their account regularly.
Highlights
Various of properties to choose from
Can easily within your budget
Were you able to find the best short-term home rental in Malaysia through any of the sites in this list? Let us know in the comments.
Decided to save on accommodation costs on your trip to Malaysia? Check out our list of the best hostels in Kuala Lumpur.