5 Suppliers for the Best Security Doors in Malaysia
Featured Image Source: Freepik
No matter how hard you try, you can never stop break-ins from happening— they just do. But you can reinforce your home with the best security doors in Malaysia.
High-quality security doors in Malaysia are readily available and are specifically made to stop intruders from breaching your home. But before you decide on buying a security door, there are a few things that you should consider.
Why You Need a Security Door
Unlike a regular door, security doors are made with high-grade materials and locking mechanisms that are very durable. They also have specific designs that make them impervious to common door-breaking tactics that thieves use to break into homes.
There are Malaysian-made security doors that offer different levels of protection and style. But if you want the best one, you need to consider the following door specifications:
Material
Security doors are commonly built with steel, aluminium, or metal alloy. Steel doors are more durable than aluminium and metal alloy which makes them the best choice for optimal security. On the other hand, aluminium doors are rust-proof and easier to maintain.
Door Types
The most common types of security doors you'll find are swing doors that you can get in single-door or double-door designs. There are also other types of doors like sliding doors, folding doors, grille doors, and mesh doors.
Paint
Security doors can either have a paint or powder coating finishing. Paint offers more color options while powder coating is more resistant to weather damages.
Best Security Doors in Malaysia
Now that you know more about security doors, it's time to pick the best one for your home or office. To help you with your search, we've prepared a list of suppliers for the best security doors in Malaysia.
We've highlighted the different door types and features that you can use for both residential and business establishments. Without further ado, here are the best suppliers of top-quality security doors in Malaysia.
1. YSE Industries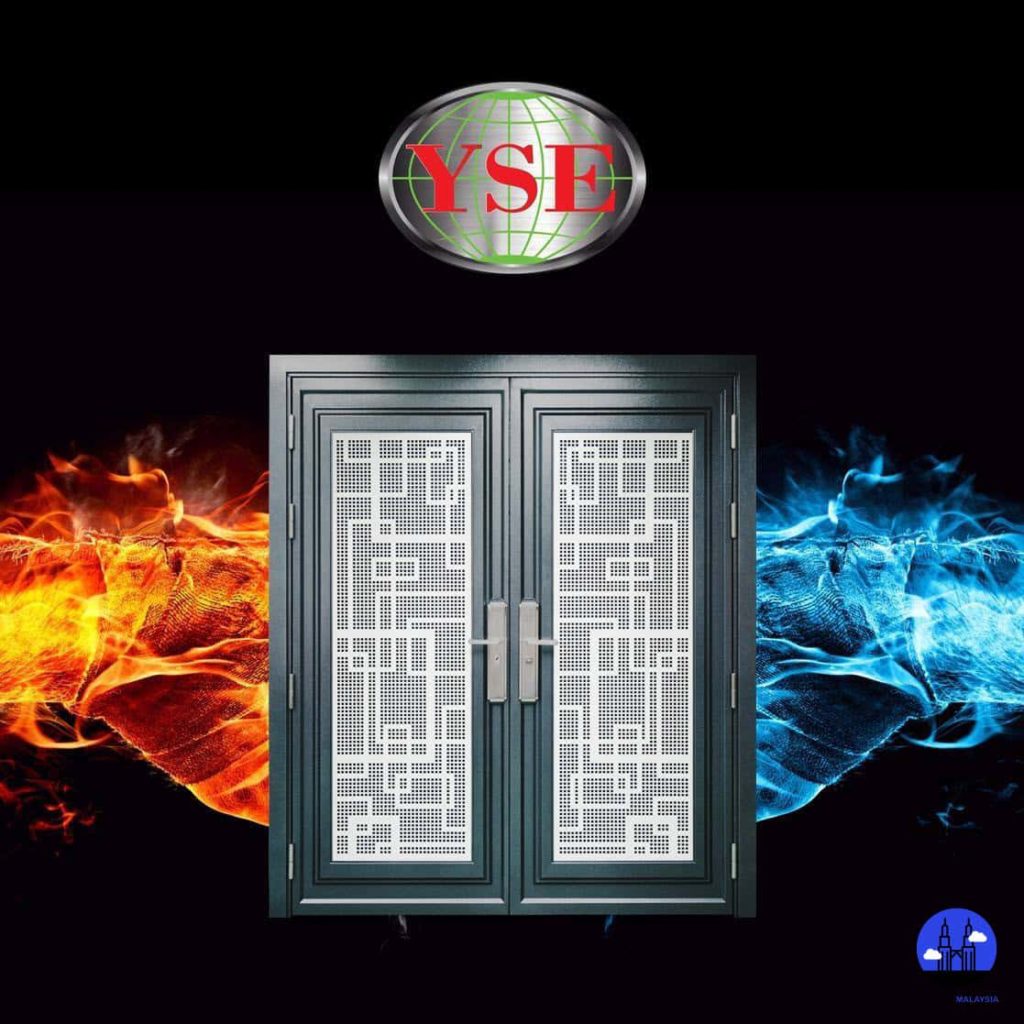 WEBSITES
securitydoor.com, Facebook, Youtube
ADDRESS
No. 14, Jalan Utarid U5/16, Seksyen U5, 40150 Shah Alam, Selangor, Malaysia
DOOR SIZES
3 ½, x 7, 5 x 7 ½, 6 x 7 ½
CONTACT INFORMATION
Email:

[email protected]


Contact Numbers: +603-7847 2292, +6012-381 7247, +6016-9711 518
YSE Industries is a company that has manufactured, distributed, and supplied security doors in Malaysia since 2011. They offer a wide range of top-quality doors that are built to protect homes and offices from break-ins.
They have three types of security doors that offer different levels of durability and design. For a simple design, their Classic Series comes in a variety of colors that can suit your room's interior.
On the other hand, their Elegant Series offers more intricate designs that can make your house look more elegant. Their security doors also come in three different dimensions so you can pick the best size for your space.
With their size selections, color options, and high-quality doors, SYE Industries is a great choice for your home or office security.
You can request an instant quote on their website
Award-winning company
Limited door sizes
Limited to swing doors
2. New Edge Safety Door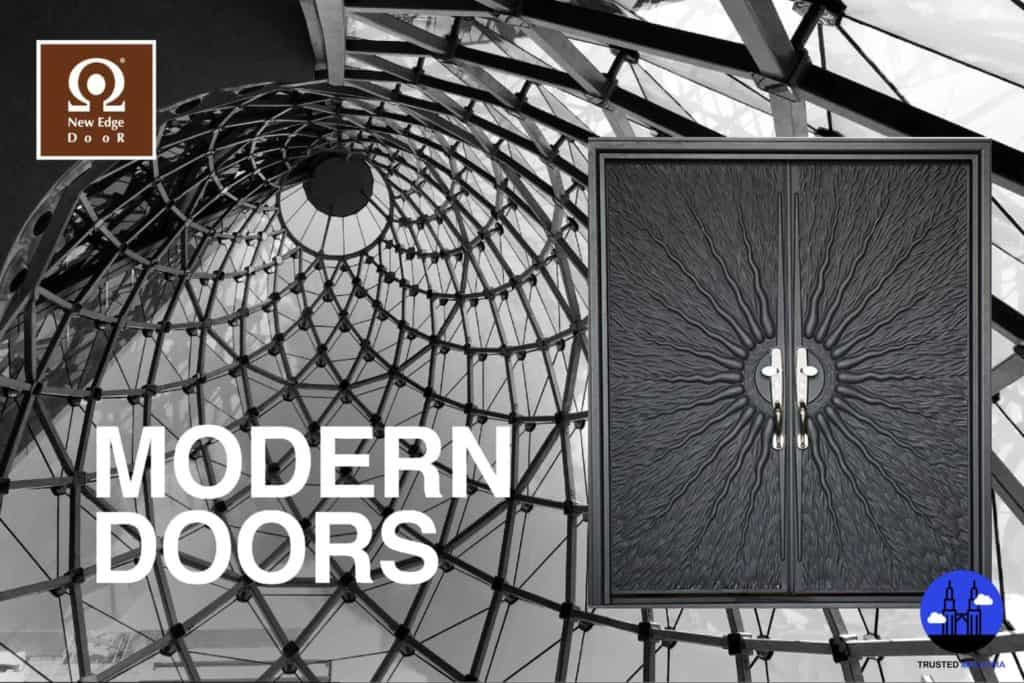 WEBSITES
newedge.com, Facebook
ADDRESS
No. 67,Ground floor, Jalan OP 1/2. Pusat Perdagangan One Puchong, 47160 Off Jalan Puchong, Selangor.
DOOR SIZES
3 x 7, 5 x 7, 6 x 7
CONTACT INFORMATION
Email:

[email protected]


Contact Numbers: +603-8082 6863, +60 16-771 8325
With over 25 years of experience, New Edge Safety Door is a trusted brand that provides top-quality security doors in Malaysia. They provide pre-built and custom doors to meet your security needs and complement your space's interior design.
Their Nature Series offers single and double-door designs that come in a variety of floral patterns and earthy color tones. You can use their doors to reinforce different areas like your main entrance, rooms, kitchen, and office.
They make their doors with rust-free zinc plates and high-grade steel grills so you get a durable and weather-proof product. With their anti-theft designs, these security doors are guaranteed to keep thieves out of your home.
If you want something that truly stands out, you should check out their European Series collection. They have some of the most uniquely designed double-doors that will impress your visitors.
Easy to locate with 38 showrooms
Weather-proof coating
Include delivery and installation
3. Window Elements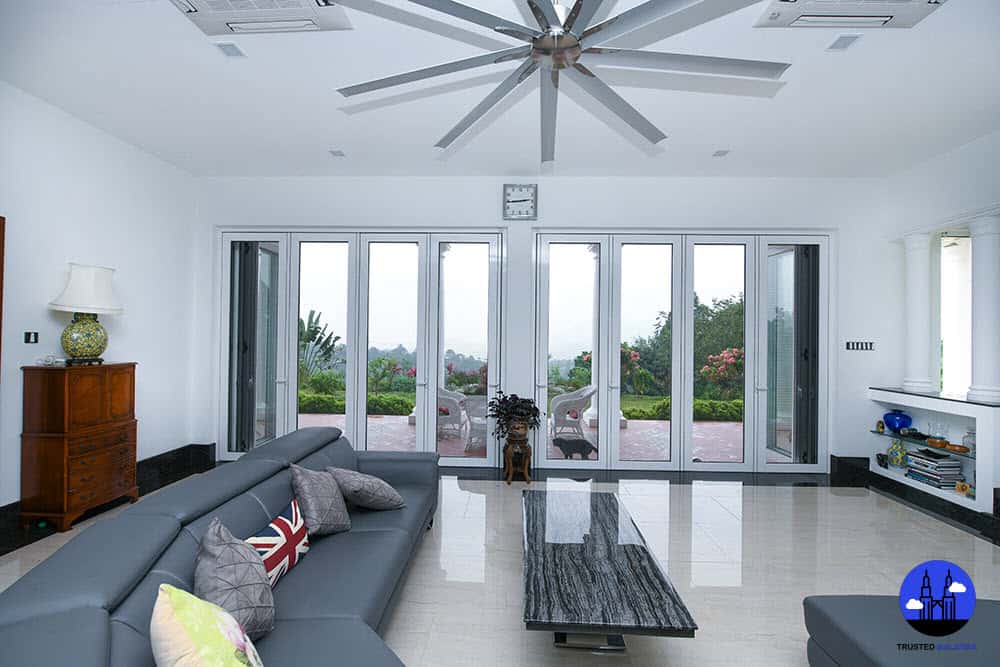 WEBSITES
window-elements.com, Facebook
ADDRESS
Lot 830A, Jalan Khalifah Zakaria 2, Kampung Baru Sungai Buloh, 47000 Sungai Buloh, Selangor, Malaysia.
DOOR TYPES
Sliding, folding, swing, slide/swing doors
CONTACT INFORMATION
Email:

[email protected]

,

[email protected]


Contact Numbers: +603-6151 2932, +6012-431 2932 (Customer Care), +603-6150 2933 (Fax)
Window Elements has over 20 years of experience in providing security doors and windows for residences in Malaysia. They specialize in manufacturing modern-styled doors that add security and style to residences.
Aside from their traditional swing doors, Window Elements offers unique options like high-quality sliding and folding doors. Their ArxTech doors provide the protection, functionality, and stylistic appeal that works great for villas, bungalows, and studios.
Their doors and windows are built with multi-locking systems and concealed hinges to prevent home break-ins. You also have the option to choose a wood grain finishing on our door for an elegant and earthy aesthetic.
With all things considered, Window Elements has unique designs that don't often see in security doors. This makes them a perfect choice if you're very keen on the overall aesthetics of your home.
Award-winning company
Unique and customizable door types
Security door and window services
Easy step-by-step guide for quote
Limited to aluminium products
Customer Review
One of their customers, Ben, Tmn Sri Manja, wrote this review:
"Just got my sliding door done and the final delivery is truly amazing! I have been searching high and low for months dragging my feet across multiple exhibitions – finally decided to have Sean help me out! He listens to my needs for security, functionality and aesthetics, without unnecessary up selling. He also follows up diligently on the installation and visited my house a few times just to ensure it is done perfectly. Thank you Window Elements and Sean for the amazing service! Definitely will recommend for a hassle-free experience"
4. Top Security Door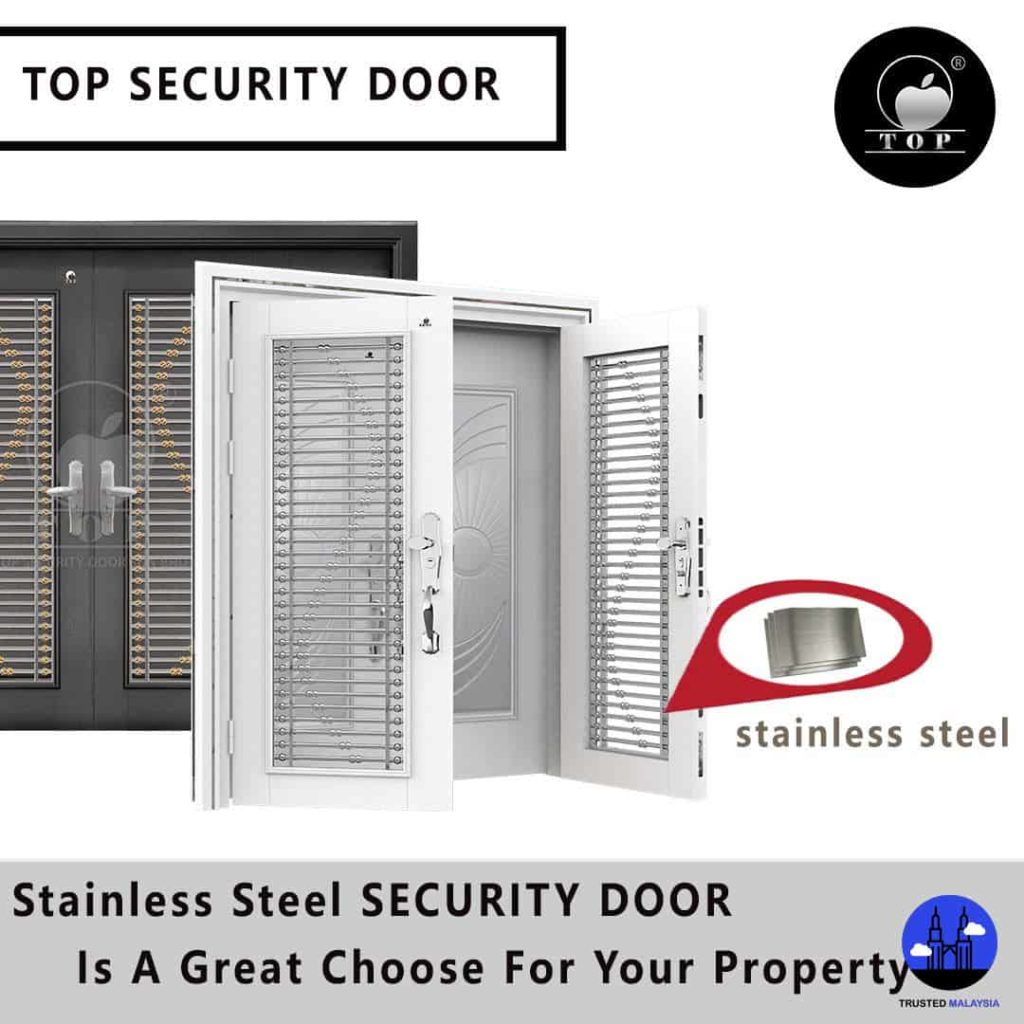 WEBSITES
topsecuritydoor.com, Facebook
ADDRESS
Lot 26575, Jalan Sg Puloh, Off Jalan Kapar, 42100 Klang Selangor
DOOR SIZES
3 x 7, 3.5 x 7, 5 x 7.5, 6 x 7.5, 9 x 7.5
CONTACT INFORMATION
Email:

[email protected]


Contact Numbers: +603-6734 9133, +6016-716 9085
As a company that started in 2008, Top Security Doors aims to provide quality products at affordable prices. With over 200 authorized distributors throughout Malaysia, they provide security doors for both residential and commercial buildings.
Their Deluxe and Premium Series offer double-door designs made with multi-locking mechanisms and durable grille designs. As a result, their doors will keep you safe and add an element of style to your space.
If security is your top priority, their Stainless Steel Series doors won't disappoint. With their thick steel frames and reinforced grilles, these doors will intimidate anyone who plans to break into your home.
All in all, Top Security Door offers security doors that will keep your homes, office, or shops safe from break-ins. If you're looking for functional and affordable security doors in Malaysia, you should give them a call.
A wide selection of door sizes and designs
Offers products for residential and commercial buildings
Limited to double and single-door types
5. Renex Steel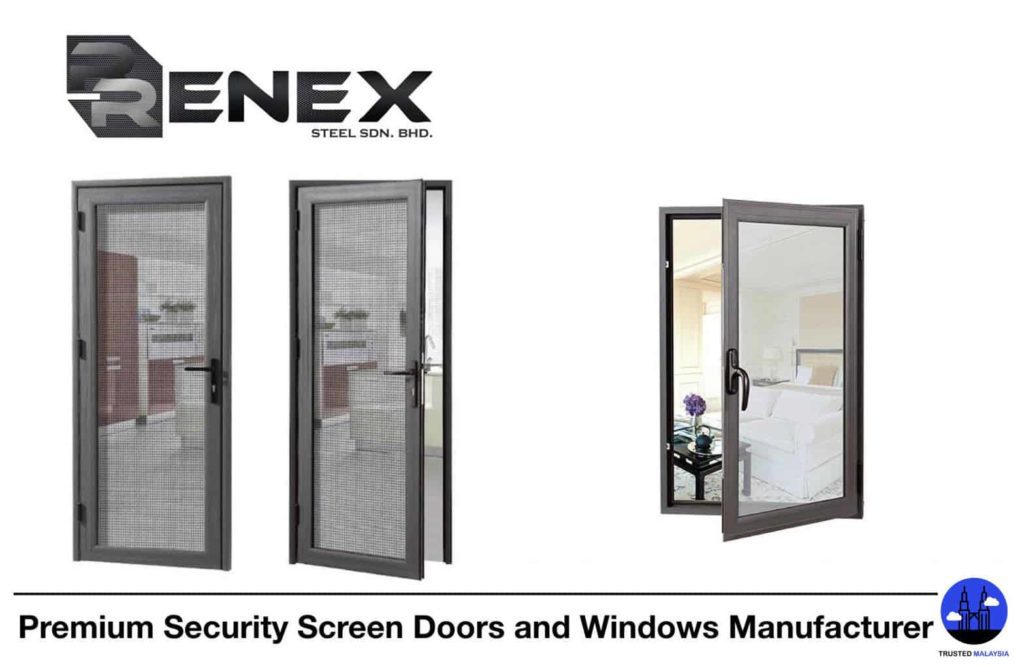 WEBSITES
renexsteel.com, Facebook
ADDRESS
9-G, Jalan LGSB 1/3, Pusat Komersial LGSB, Off Jalan Hospital, Sungai Buloh, 47000, Petaling Jaya, Selangor, Malaysia.
DOOR TYPES
Single swing, double swing, sliding, three-panel sliding, four-panel sliding, folding doors
CONTACT INFORMATION
Email:

[email protected]


Contact Numbers: +6017-820 2205
Established in 2018, Renex Steel is a company that provides high-quality security doors with a little twist. They specialize in providing screen doors that offer theft-protection and air ventilation that's ideal for the Malaysian weather.
Unlike your regular screen doors, their products are made with high-grade stainless steel mesh that can withstand weapons and impacts. Coupled with anti-theft doorknobs, these doors will keep your homes safe and comfortable with their breathable mesh design.
If you want something more secure, they have an aluminium grille design that's built to offer more protection. Aside from its solid build and multi-point locking design, its aluminium mesh will still keep your home mosquito-free all day.
With their security screen doors, this company offers solutions for families who want more security without feeling enclosed in their homes. Contact Renex Steel now and give your family the safety and comfort that they deserve.
Unique security mesh doors
Designs offer ventilation and view
Site measurement and free quotation in Klang Valley
Limited to mesh and grille doors
Mesh doors aren't as durable as solid doors
FAQs About the Best Security Doors in Malaysia
---
With all things considered, top-quality security doors in Malaysia are readily available for your home or office. The only thing you need to consider is the type of door that has the functionalities and design that suits your location.
Did this article help you choose a supplier for the best security doors in Malaysia? You can share your thoughts by sending us a message.
Aside from having security doors, the overall design of your building can affect the security and quality of your space. If you're still in the planning stages of your dream building, you should check out the best construction companies in Malaysia.