15 Best Payroll Software in Malaysia
Featured Image Source: Etienne Boulanger via Unsplash
Growing a company while managing its many aspects can be stressful. Thankfully, with the help of the best payroll software in Malaysia, your employees' payroll can be done in just a few clicks.
Don't know where to start with payroll software? Below is a list of the best payroll software in Malaysia you should definitely consider.
1. BrioHR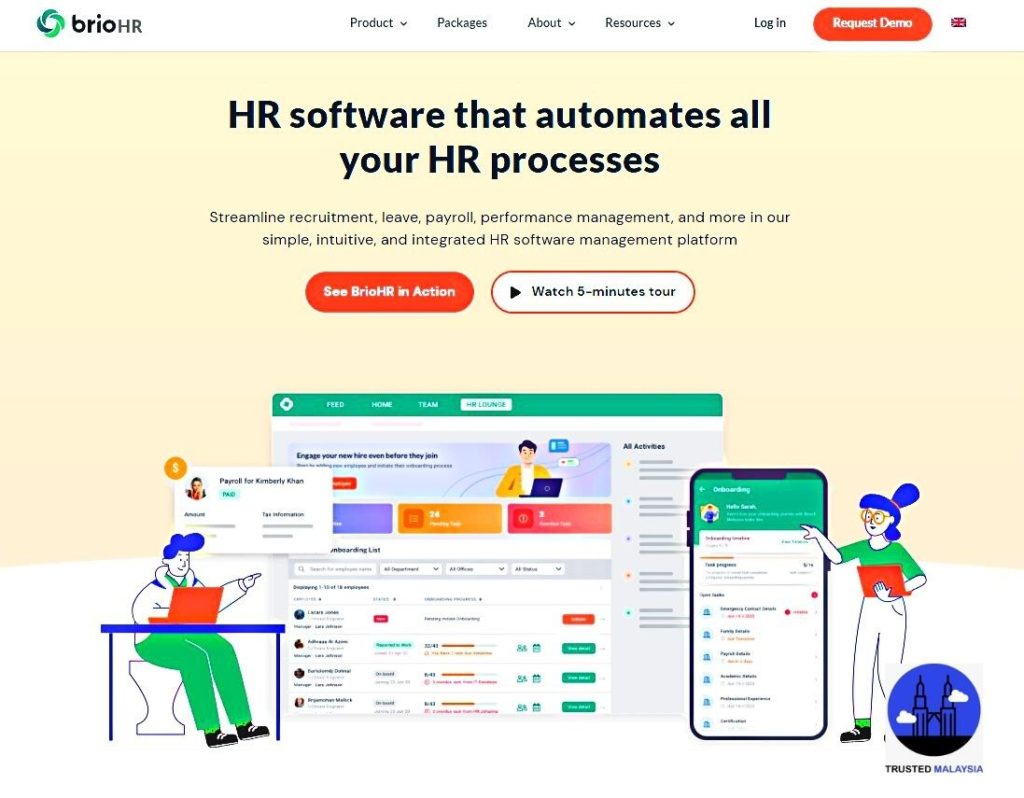 BrioHR is the modern system HR managers need to be efficient and engage your employees today and in the future. Their user-friendly system is flexible and can easily adapt to your own processes and HR practices, in just a few clicks
Many of the reviews online share that they are are a partner and definitely more than a vendor. This shows how they take the effort to go the extra mile in getting their clients' HR matters resolved.
From Talent acquisition to HR Administration to Performance management, trust that their integrated platform instantly turns HR into a powerful strategic partner. Their product can help record leaves and time-offs, digital employee files, reports and analytics, expense claimes, and more.
When you work with them, you can expect your dedicated implementation manager to handle everything for you and answer all your questions.
Highlights
Unique user-interface that makes things easy
Highly and easily customizable
First-class customer support
Extensive modules
Compliant with Malaysian bank and statutory regulations
Mobile App ready
Highly secure environment
2. Employment Hero
Employment Hero is an all-in-one HR and payroll software, with over 80,000 businesses and 750,000 employees worldwide utilizing this cloud-based platform. By automating payroll processes, Employment Hero Payroll helps SMEs save time on manual, administrative work whilst also reducing the risk of human error.
You'll never lose timesheets or leave requests again, with everything securely stored digitally on the platform. From dynamic rostering to shift management, timesheets and attendance, there are plenty of features that help business owners save more and energy.
IRBM verified to make compliance easy with streamlined, auto-calculations of each employee's MTD requirements, you'll never have to struggle with payroll processes again. You'll also get access to payroll reports of each pay run, giving you full transparency around your payroll activity so you can focus on more strategic work.
Payroll doesn't have to be difficult. Discover a smarter and easier way to pay your people by processing, finalizing, and publishing your payroll is just a few clicks with Employment Hero. Created by payroll specialists to improve a company's efficiency and productivity, you can save on expenses and resources by taking your business to the next level with digital transformation.
Overall, with a comprehensive and user-friendly system, we highly recommend them to business owners who want an easier, fuss-free payroll process by leveraging automation. Besides payroll, it's also an end-to-end people management platform that covers every aspect of the employee lifecycle, from recruitment and onboarding to engagement, productivity and success.
If you're looking for a platform that covers all your business needs, Employment Hero is the way to go.
Highlights
Accommodates small to medium companies

All-in-one HR and payroll software
Wide range of features
Automated payroll and reports
IRBM verified
Streamlined MTD calculations
User-friendly interface
Mobile app available
Facilitates employee self-service
Dynamic rostering for easy time and attendance
Customer Reviews
Here are some reviews from their clients:
"Employment Hero Payroll has cut our payroll down by a third now that we no longer have to input data from individual timesheets." – Naomi Coleman
"Before Employment Hero, everything was on paper. Now it takes half the time to do everything." – Katri Tormanen
3. AutoCount Cloud Accounting
If you're looking for a payroll software that is secure and can be integrated with local banks' electronic payments, then AutoCount Cloud Accounting software is for you. It is compliant with the latest statutory regulations of EPF, SOCSO, PCB, EIS, and HRDF.
You and the company employees can rest assured with your data because the software is hosting their payroll in Microsoft Azure, which is one of the world's highly secure platforms. They also have two-step authentication on your log-in that gives additional security protection to your account. 
The first thing we found great about this software is the Employee Self-Service Portal or ESS. It is a portal wherein employees can inquire to apply for leave, apply for claims, get their own copy of the monthly payslip, EA form and so much more, making all those tedious works easier for HR.
In a nutshell, AutoCount Cloud-based payroll software is a feature-rich platform combining both Payroll & HR modules, including Payroll management, leave management, e-Claim, e-time attendance, and other HR admin. tools.
We highly recommend their software. It is secure, user-friendly, and can even integrate with AutoCount accounting.
Highlights
Compliant with Malaysian bank and statutory regulations
Combination of Payroll, HR, E-leave, E-time attendance
Secured cloud environment through Microsoft Azure
Customization to fit your company calculation needs, be it Allowance / Deduction / OT
All informative dashboard at one glance
Automated payroll and reports
Mobile Apps availability
Customer Reviews
"AutoCount Payroll System really helped me in saving my time. In just one click of a button, it does all of the salary, leaves, EPF, SOCSO accurately in no time!" – BS Bathing Sdn Bhd
4. HR2eazy
To minimise your manual workload and focus on your company's growth, the user-friendly yet secure HR2eazy is the best payroll software in Malaysia. It is easy to navigate, helping you do your payroll- and HR-related tasks in just a few clicks.
It can be used to prepare multiple payrolls, with a comprehensive report that contains overtimes, unpaids, allowances, and deductions. There is also a salary reconciliation report to help you keep track of your finances and file your taxes right.
Further easing your payroll concerns, this best payroll software in Malaysia is guaranteed to be compliant with bank advice as well as Malaysian statutory regulations. It also provides an online payslip and forms EA and E for transparency.
Furthermore, this best payroll software in Malaysia is equipped with a mobile sign-in so your employees can log into work anytime, anywhere. Meanwhile, employers are able to see where the sign-in happened in Google Maps.
Highlights
Easy to navigate
Secure
Comprehensive reports
Compliant with bank advice and statutory regulations
Mobile sign-in for employees
Employers can see where sign-in was done
Customer Reviews
Jessye, HR manager of the company SNSoft, said:
"HR2eazy system is kind of a very flexible system that could customise based on client needs. All the modules are not just focus on payroll processing but also others element in Human Resources area such as recruitment, e-leave, e-claim and so on."
5. Sage
Streamline your payroll process with the help of one of the best payroll software in Malaysia from Sage. With their superb payroll system, you will be able to minimise your HR team while maintaining employee satisfaction and keeping your employees' data secure.
This accurate payroll software is also known to help small to large companies avoid penalties from filing incorrect taxes. Plus, it has reliable software updates that can assure your firm's compliance with the latest employment and tax legislation.
This best payroll software in Malaysia is so convenient that you can pay your employees from anywhere, anytime. The best part is, you can get these impressive features from Sage at an affordable price.
Highlights
Keeps employees' data secure
Accurate
Reliable software updates
Updates you of new employment and tax legislation
Pay your employees anywhere, anytime
Affordable
6. PayrollPanda
PayrollPanda is one of the best payroll software in Malaysia for its ease of use. With its user-friendly interface, you can run your company's payroll on the go without having to do any training.
It can do virtually everything you require from payroll software and more. It automatically generates payroll, payslips, and forms as well as payroll summary and other reports.
On top of these, it also handles the processing of bulk payments to employees and statutory bodies.
However, perhaps the most convenient feature of this best payroll software in Malaysia is the employee self-service where staff can apply for leaves, check their leave allocation, and view their payslips themselves.
This also comes with a leave management feature where employers can approve leaves with the click of a button. With this best payroll software in Malaysia, you can manage your payroll securely, anytime and anywhere.
Highlights
User-friendly interface
No need for training
Can process bulk payments to employees and statutory bodies
Employee self-service feature
Quick and easy leave management
Manage payroll anytime, anywhere
Customer Reviews
This best payroll software in Malaysia has received many good reviews from its users. Wasim Islam, director of the Chiropractic Specialty Center, said:
"Fantastic idea. Fantastic product. Previously had to go to multiple offices monthly to make statutory payment."
Another client, Director Jobby Cheong of Jetwork Technology Sdn Bhd, reviewed:
"Does not need much technical knowledge to setup the tool, which I can setup within a day and start using it. The support is helpful and quick."
7. BOSS Solutions
BOSS eliminates the need for manual calculations, all while ensuring that the company always complies with Malaysia's statutory laws.
This best payroll software in Malaysia can handle multiple company transactions at a time. Having different types of payment modes for your employees is not a problem as it can calculate hourly, daily, and monthly salaries.
Users can further customise the computation for allowance, overtime, and shift calculation with a built-in formula builder. You can also define your company's payslip format to show all the information you deem important.
On top of these, the software generates detailed reports employees can easily go over for better people management.
With this best payroll software in Malaysia, employees can also log in conveniently using a mobile attendance app. For employers, on the other hand, it allows a real-time HR system for monitoring.
Highlights
Multiple transactions at a time
Can calculate hourly, daily, and monthly salary
Built-in formula builder
Customise company payslip
Mobile attendance app for employees
Real-time HR system
8. Ramco
Ramco is considered the best payroll software in Malaysia and other parts of the world. It won the Best Payroll Software award, trusted by Fortune 500 and multinational corporations across Asia, Australia, Middle East, Africa, United Kingdom, and more.
Despite being global, it offers compliance with local statutory regulations. At the same time, while it is quick to use and has a simple user experience, it strives to stay ahead of other payroll software.
With Ramco, users can view payroll and workforce information on mobile, tablet, and desktop. They also boast an innovative facial recognition- and voice-based user interface powered by Google Assistant and Alexa, where one can check their payroll through voice without having to log into the software.
Highlights
Best Payroll Software
Trusted by Fortune 500 and multinational corporations worldwide
Follows local statutory laws
Simple user experience
Accessible through mobile, tablet, and desktop
Facial recognition- and voice-based user interface
9. Netiquette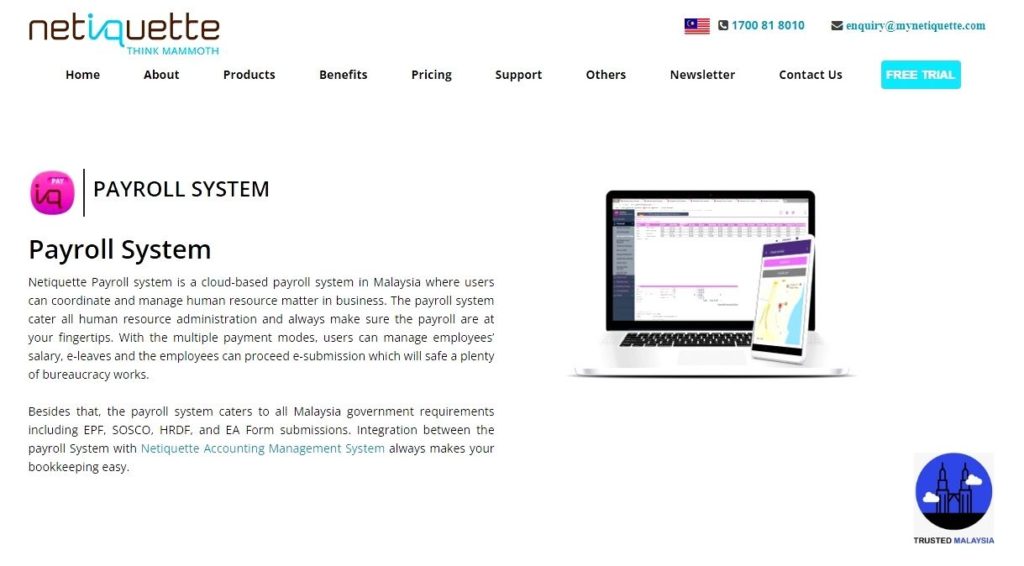 Turnt to Netiquette for Accounting, Inventory, GST compliance cloud solutions that is designed for small and medium businesses. Netiquette's payroll system is a cloud-based payroll system in Malaysia where users can coordinate and manage human resource matter in business.
The payroll system caters to all human resource administration and always makes sure that the payroll are at your fingertips. With its multiple payment modes, users can manage employees' salary, e-leaves and the employees can proceed e-submission which will safe a plenty of bureaucracy works.
Highlights
Cash Saving
Reliability
Increase productivity
Reporting
10. People HCM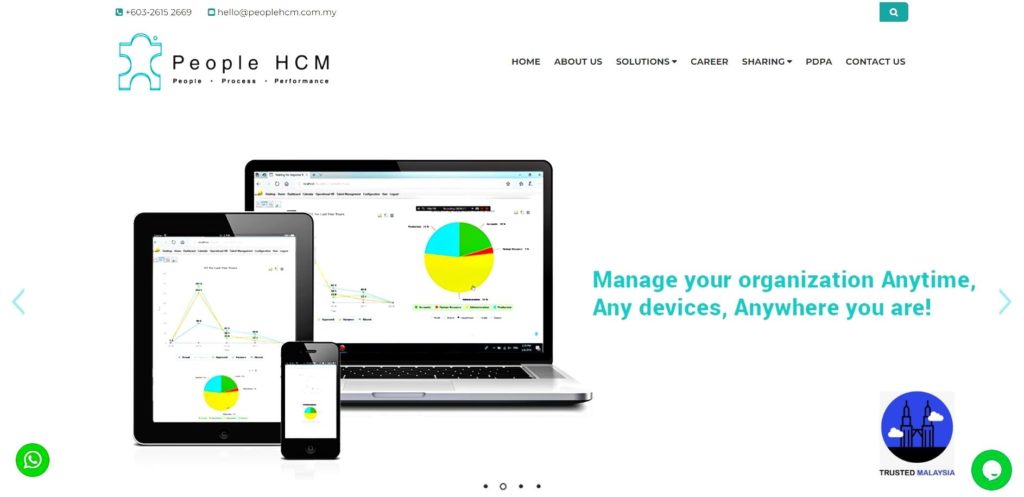 People HCM provides innovative and leading Human Resource solutions and services that is engineered to give your organization the competitive edge. They are the vision of a professional team with a wealth of experience in transforming human capital into the vital key that drives an organizations success.
Coming together, they seek to leverage their skills and understanding of contemporary HR management practices to provide their clients the effective solutions and services.
Collectively, their professionals at PeopleHCM have more than 20 years' experience in HR and Operation software development, project implementation as well as helpdesk support. Their experiences are gathered from having productive worked with >700+ distinguished companies.
Highlights
30+ modules in single platform (Operational HR+ Talent Management + Business Analytics) Reliability
Track records with Fortune500 Clients & multinational corporations
Payroll Audit Advisory to meet accuracy and compliance
Easy & Powerful end user Business Intelligent Tool
Interactive Management Trend Dashboard
11. Actpay Payroll Software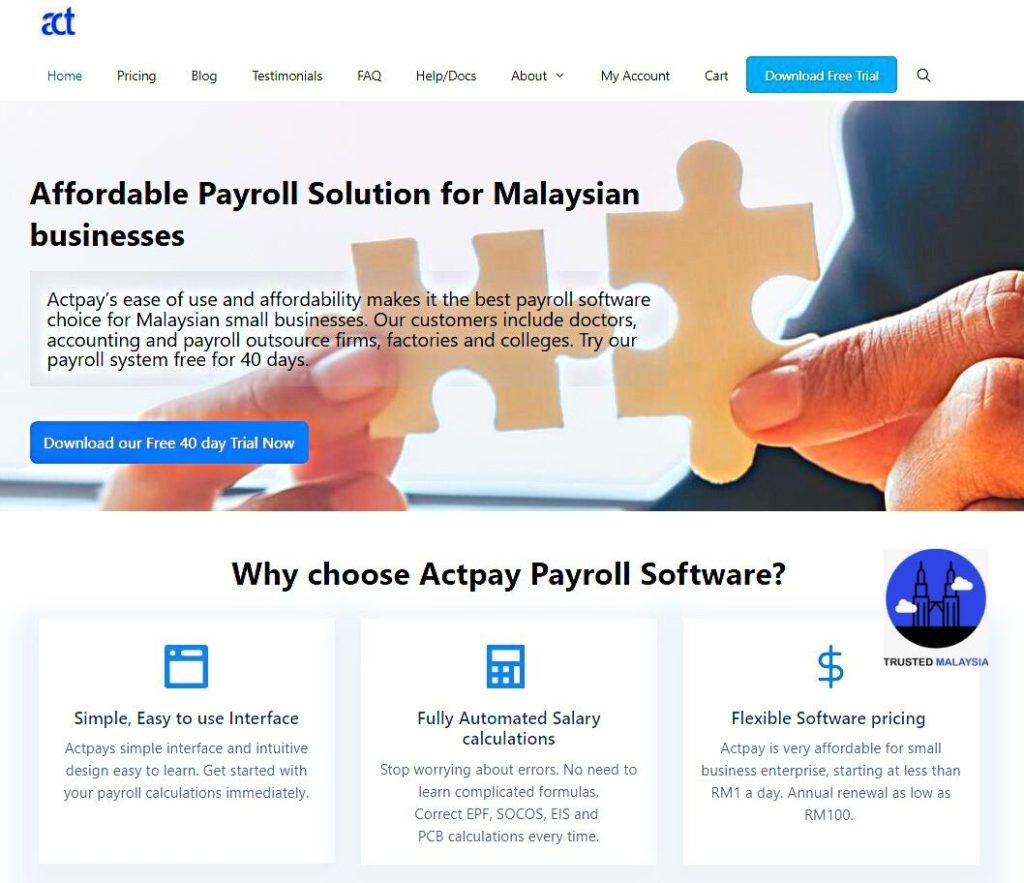 Applied Computer Technologies is a software company whose personnel have been in the industry since 1986. Actpay's design is a result of years of complex customized payroll software development for multiple industries.
Actpay is written specifically for Malaysian SMEs to simplify and speed up monthly payroll calculations, submissions and reporting processes. Although easy to use, Actpay payroll software has a comprehensive set of features. Customers include doctors, accountants, factories and colleges. Handle up to 400 payroll staff at a very affordable price.
Actpay's simple interface and intuitive design will get you started with your payroll calculations immediately. The main reason for this simplicity is the Actpay Monthly Screen. All calculations and data can be viewed on one screen, making it easier for data entry and corrections.
Actpay is approved by LHDN. Get 100% correct PCB calculations every time. Actpay includes a special feature that allows you to verify PCB calculations using the LHDN online PCB calculator.
Highlights
Affordable Payroll Software with no hidden costs. As low as RM1 per day
Excellent Free Online Chat Support. Chat response within seconds. No long wait times.
Easy to Use. 70% of customers manage to use Actpay without any training.
Secure Offline payroll software. No Internet connection needed.
All data and reports can be exported to PDF and Excel for further processing
12. Talenox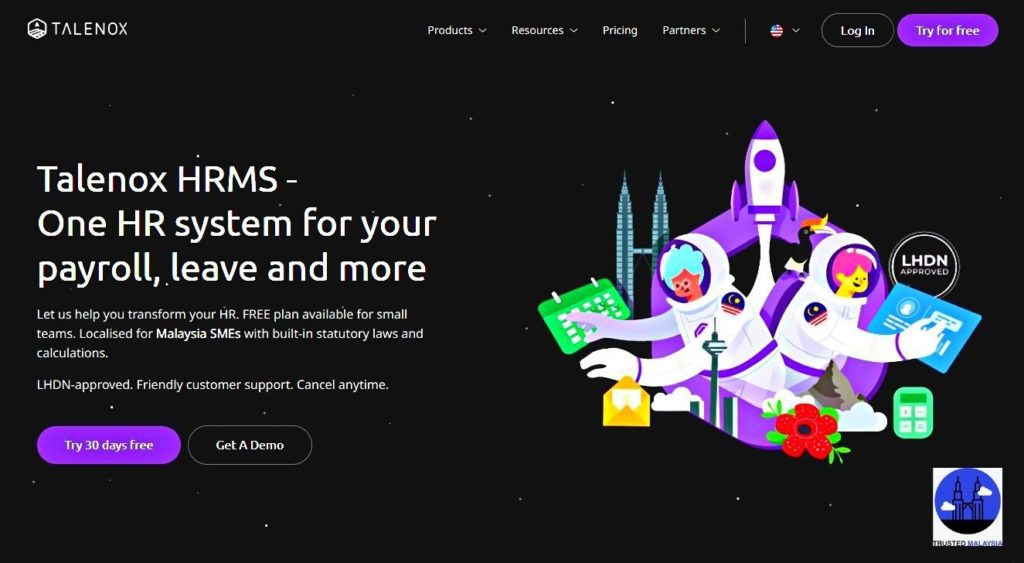 Use Talenox to manage staff profiles, payroll, and leave. Talenox is designed to be so user-friendly that non-HR professionals can use it right away. It is also always updated with the latest Employment Act and statutory regulations.
With their help, you can run your payroll online and generate monthly pay records punctually. Your employees can view their payslips online anywhere, anytime.
Highlights
One central dashboard
Easy for newbies
Compliance comes first
Self-sufficient HR
13. Swingvy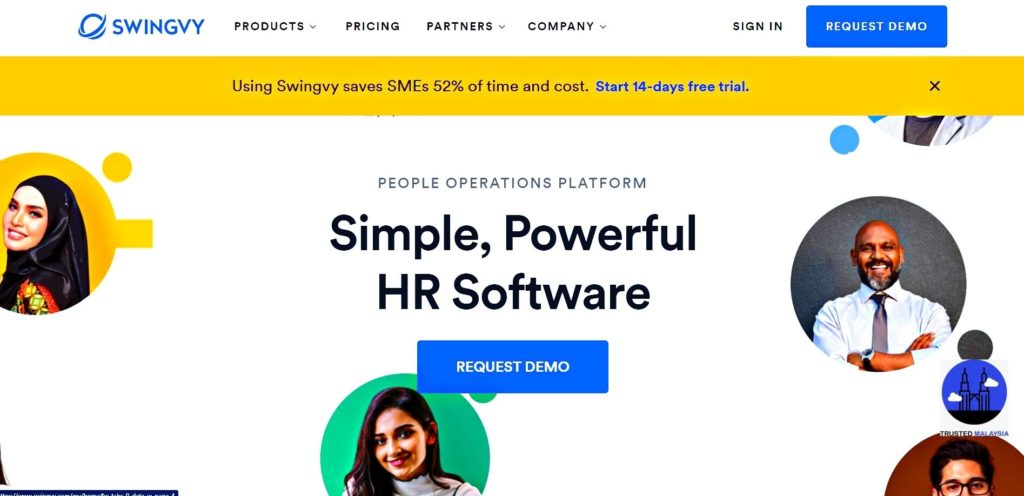 Swingvy is a modern all-in-one HR, payroll, and benefits platform for small and mid-sized businesses. By seamlessly connecting all HR information — employee data, payroll, claims, leave and benefits — Swingvy automates administrative HR work enabling SMEs to improve their people management, and remain compliant with local statutory regulations.
Samsung-backed HR software Swingvy was founded by three South-Koreans Jin Choeh, Hyojun Lee, Jahun Koo and a Malaysian, Tho Kit Hoong in late 2016 with a mission to create a workplace where work empowers people.
Certified and approved by LHDN, Swingvy comes with a mobile app, which means you can easily access anything that needs to be checked and approved on the go!
Additionally, Swingvy's all-in-one People Operations Platform is trusted by over 9,000 companies, and has offices in Kuala Lumpur, Singapore, Taipei and Seoul.
Highlights
LHDN approved payroll software with local bank integration
Claims, leave management and payroll tools integrated into HR software
Supports integrations Google Calendar, Xero etc
Time & Attendance mobile app with GPS tracker
Free onboarding migration for the first time
HRDF claimable training
No-hidden pricing, pay for what you use starting from RM8.50/employee/month*
Customer Reviews
Here's what some people have to say about them:
"Swingvy HR platform took care of the tedious HR tasks and gave us the freedom to focus on other parts of our business." -CK Chang, Founder of OXWHITE
14. Lightman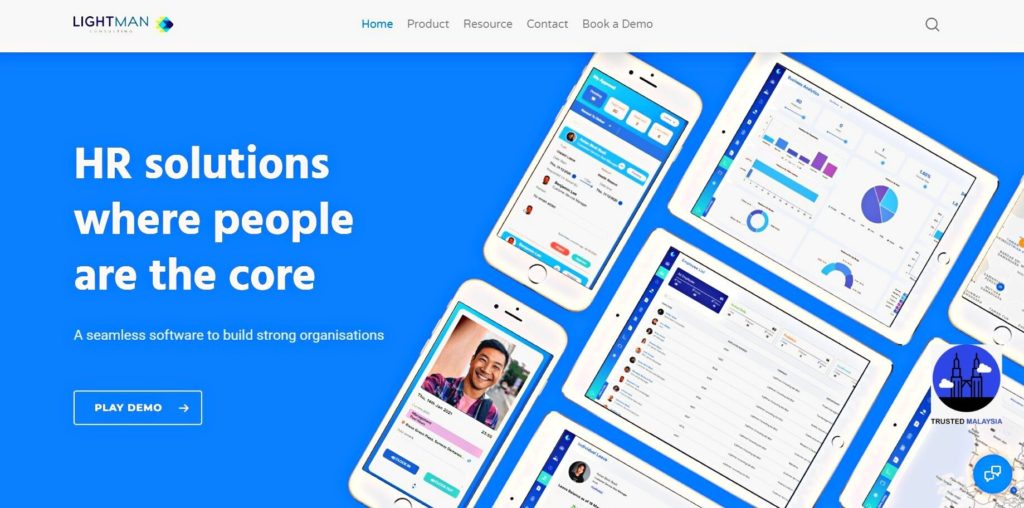 Lightman has helped organizations in all industries achieve extraordinary success. Whether you're a midsize organization or a large enterprise, they offer various systems to give deeper insight into your business.
With their help, you can take total control over defining pay items and their statutory behaviors in payroll calculations, leveraging the advance formula builder. You can also manage your payroll centrally for multiple companies.
Their payroll management system also has country specific statutory compliance for South Asia and South East Asian region with automatic updates upon policy revisions. Supported countries include Singapore, Malaysia, Brunei, Thailand, Myanmar, Cambodia, Sri Lanka, Bangladesh, Pakistan, and Maldives.
Lastly, with their help you can take data driven decisions by analyzing past pay data by leveraging HCM custom reporting tools. Lightman Payroll currently supports Singapore, Malaysia, Thailand, Brunei, Myanmar, Cambodia, Sri Lanka, Bangladesh, Pakistan, and Maldives Payroll statutory requirements.
Highlights
Centralized Multi-Company Payroll Administration
Advance Payroll Formula Builder
Country Specific Statutory Compliance
GIRO and eSubmissions
Analyze your Payment Data
Strong Support For South East Asian Territories
15. Frontier-Ehr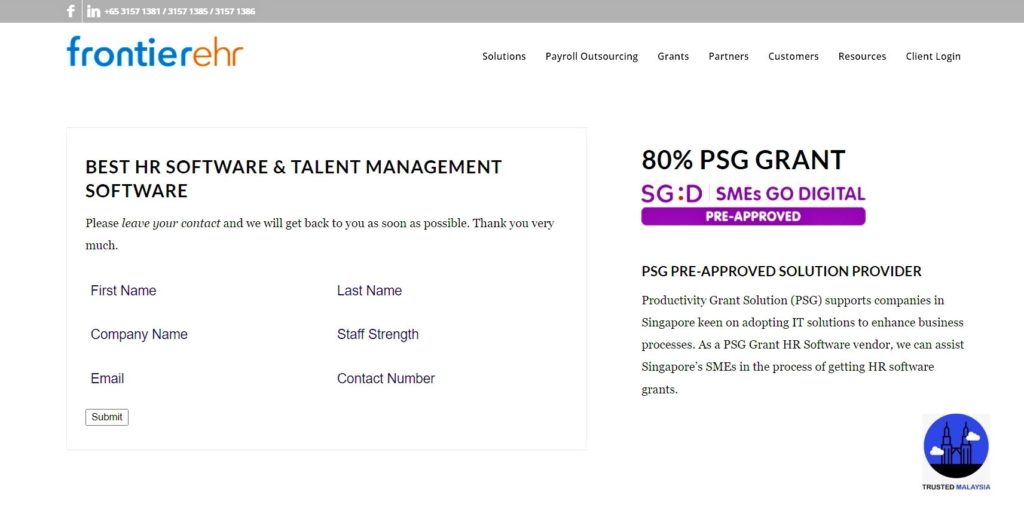 Frontier-Ehr has served 100,000 users and 1000 organizations in over 30 countries. Some of these customers are 7Eleven, The Coffee Bean & Tea Leaf, Under Armour, Volkswagen, EPSON, Mitsubishi Electric, and more. These companies can give you more than enough reasons why you can trust Frontier-Ehr.
They are the only company that has award-winning and affordable solutions that support common HR processes, managing essential employee information, as well as developing and engaging your employees. Their operational growth is unlike other companies because it has been self-sustained, funded organically, and without any external injection of cash.
In comparison to other patrolling companies, they offer 14 solutions that can help you track and manage your employee's data. The five categories here are HRMS System, Talent Management, Workforce Management, Survey Management, and Travel Management Systems.
In talking about Payrolling, their company suggests using the Payroll Outsourcing System. They believe that this is the best strategy that can help you achieve operational gains and cost-saving since you can create value through their support functions.
People prefer to contact them when in need of this service because they can immediately free up your time give you guidance regarding this matter. Frontier-Ehr is not your usual company, their dedicated in-house specialists will ensure compliance at every level with their in-depth understanding of the complexities of the payroll functions, labor laws, taxation laws, leave application, and various enactments.
Highlights
Deliver integrity and reliable payroll services.
Frontier Outsourcing covers regional payroll outsourcing services for Singapore, Malaysia, Indonesia, Thailand, Hong Kong, Philippines and Vietnam for big and small employers.
Vigilantly monitor and maintain their security standards
16. Tricor Orisoft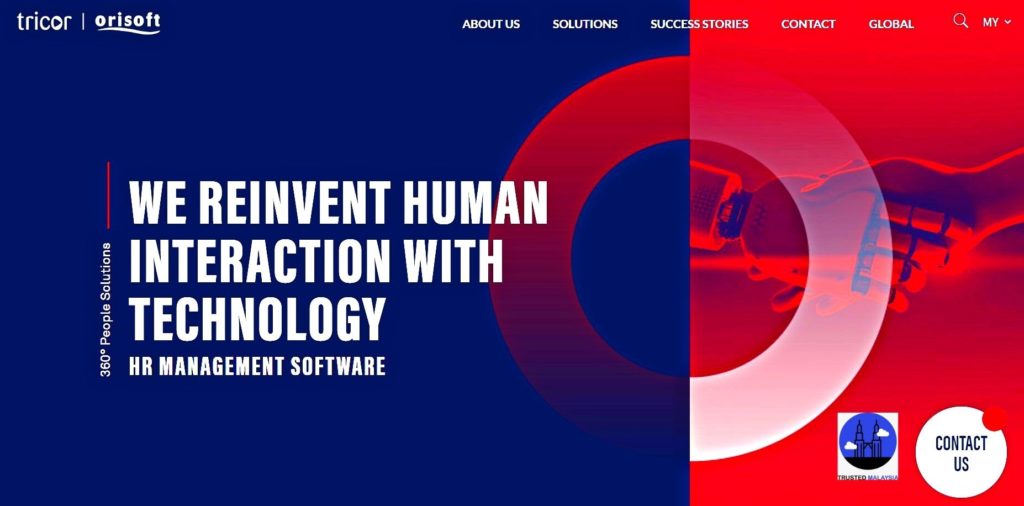 Tricor Orisoft is a company that specializes in Human Management software services such as payroll management, HR mobile apps, geo-attendance apps among others. They currently have physical branches in Malaysia, Thailand, and Bangkok while they also provide online support for clients residing in Indonesia.
Established way back in 1987, the company is one of the leading figures in Asia for business expansion specialist field who are have had popular successful clients such as Panasonic and Zalora. The company strives to nurture and grow its clients by providing up-to-date training to empower each employee to transform the business for success.
We recommend this company to businesses looking for world-class quality human resource management and recruitment as they are backed with innovative people-centric solutions to human resource problems. They also offer a diverse portfolio of local and international enterprises which proves their experience and expertise in the field.
The company has also experience serving small businesses with a small group of employees to that of big enterprises that have over 50,000 employees as well. Clients are sure to be accommodated due to having 2,800 staff strength and 47 offices in 21 markets which makes them a good all-rounder HR management company.
Highlights
Experienced and professional staff
Wide array of services and offices
Comprehensive and innovative solutions
High staff strength
High availability in markets
Customer Reviews
Here are some reviews of some of their clients:
"Politic free and Management do take good care of staffs welfare and benefits." – Petaling Jaya
"You can gain a lot of human resource knowledge, e.g. Tax calculation, EPF, etc… for Malaysia and other countries." – Damansara Utama
With one of these best payroll software in Malaysia, you will surely be able to focus more on growing your company and free yourself from the drudgery of payroll calculation and management.
If you think it would be better to outsource your company's payroll, however, you can also check out our list of the best payroll services in Malaysia.