The 5 Best Eye Specialist Clinics in Kuala Lumpur
By Amber Yeoh
When it comes to our health, we always want to have the best doctor giving us the best treatment. What makes our eye health any different?
Kuala Lumpur has a lot of great eye doctors but, of course, you need help finding the best and we can help you with that. Keep on reading to learn everything you need to know before choosing the right doctor for you and your eyes!
How Much Do Eye Specialist Services Cost in Kuala Lumpur?
How much eye specialist services cost depends greatly on the severity of your issue and the charges at the clinic you choose. So that you have an idea of how it'll cost you, here's a list of the average cost of common eye specialist services:
| | |
| --- | --- |
| Service | Average Cost |
| Refractive lens exchange | RM 3,600 – RM 3,900 |
| Lasik surgery | RM 3,000 |
| Cataract surgery | RM 3,600 – RM 3,900 |
Best Eye Specialists in Kuala Lumpur
Check out this list of the best eye specialists in Kuala Lumpur to make sure you get the best treatment available to you!
1.   Optimax Eye Specialist Centre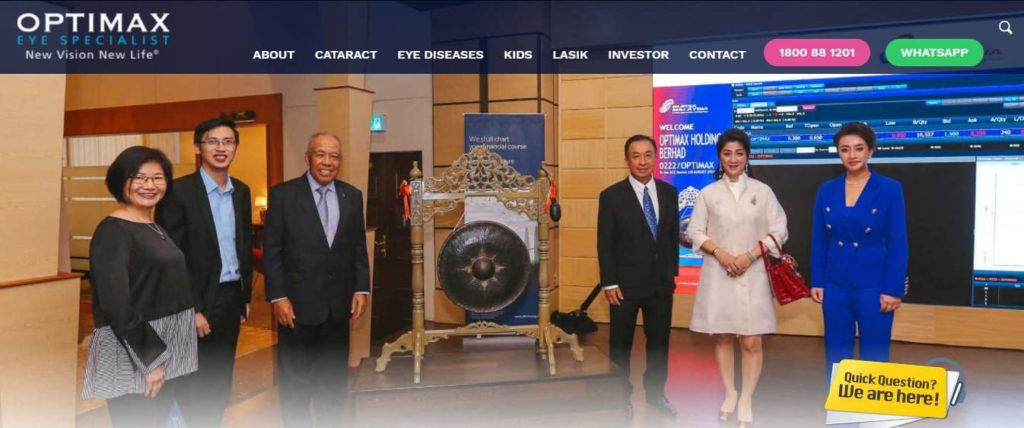 SERVICES
No-blade cataract surgery, RLE, Eye diseases, Kids eye treatments, Lasik
WEBSITE
https://www.optimax2u.com/
ADDRESS
Bangunan Ahp, 2, Jalan Tun Mohd Fuad 3, Taman Tun Dr Ismail, 60000 Kuala Lumpur, Wilayah Persekutuan Kuala Lumpur, Malaysia
CONTACT DETAILS
+60 3-6419 2525
OPERATING HOURS
Daily
9:00 am – 6:00 pm
Optimax Eye Specialist Centre is an award-winning eye specialist centre for both administrative and clinical accomplishments. Ever since their establishment in 1995, they've worked with 300,000 patients which is what made them a pretty known eye care center in South East Asia.
They have 12 ophthalmologists in this branch alone, which gives you a pretty wide range of talented doctors.
For appointments, they require you to bring your NRIC or your passport for registration purposes. They also require you to bring a pair of sunglasses.
For their cataract treatment, they offer no-blade cataract surgery (FLACS) as well as refractive lens exchange (RLE). They also offer treatments for eye diseases such as glaucoma, diabetic eye disease, conjunctivitis, cornea disease, and much more.
By the way, if you're someone who travels a lot, you could really benefit from choosing Optimax as your home eye specialist centre. They're partnered up with Enrich, the Malaysian Airlines, to be able to give you great deals.
You may use your Enrich Points to avail of services and treatments at a few of Optimax's branches. Also, you get free eye examinations worth RM360 if you complete a Lasik treatment.
Speaking of payments, one of the best things about Optimax is its flexible payment scheme. For BCA cardholders, they offer installment plans and easy payment methods that range from 12-36 months with 0% interest.
Some of their partner banks are Maybank, Affinbank, RHB, American Express, and OCBC. Click here for the full list of local banks!
Multiple locations around Kuala Lumpur
Flexible payment schemes
Good deals for those who travel regularly with Enrich
Expensive rates according to reviews
Multiple reviews about agitated doctors
Customer Reviews
Here are a few reviews left by patients of Optimax:
"Located inside AHP building. Staffs are friendly and knowledgeable. They explained slowly and never rush in their explanation. Doctors are also friendly. Price is affordable. Brought friend for LASIK and they have good packages. Drinks are also available in waiting lobby." -Jia
"Bought my toddler for eye examination because of squint eye. Orthopist Sweet Wei and all assistants we met are very friendly and patience. They make my toddler felt comfy with all eye tests and even eye drop! There are toys to keep her entertaining. My toddler is now keep asking when can we revisit again. Thank you for being so prof and I highly recommend to other parents." -Sandra
2.   Vista Eye Specialist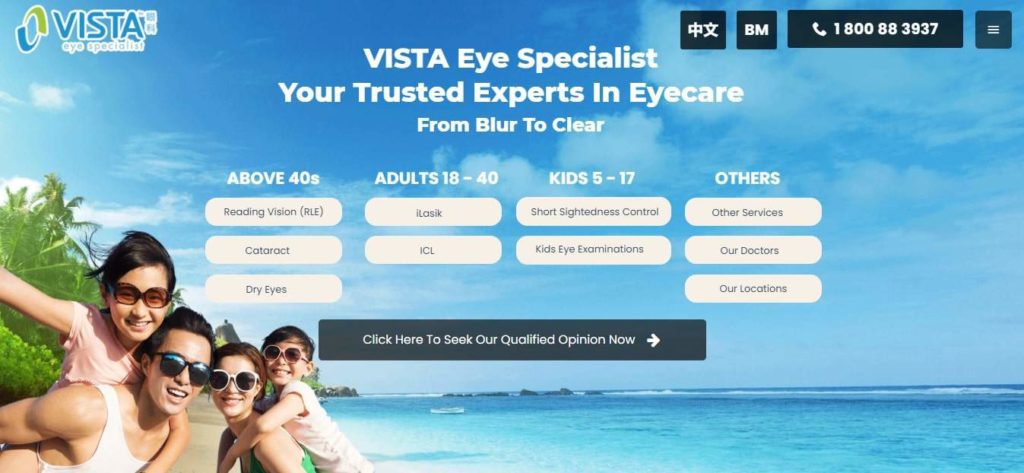 SERVICES
Refractive lens exchange, No-blade cataract, Dry eyes, iLasik, Implantable contact lens, Short-sightedness control, Eye examinations, Glaucoma screening, Diabetic eye disease, etc.
WEBSITE
https://www.vista.com.my/
ADDRESS
No.7, Jalan Prima 1, Metro Prima, 52100 Kuala Lumpur, Wilayah Persekutuan Kuala Lumpur, Malaysia
CONTACT DETAILS
 +60 1-800-88-3937
OPERATING HOURS
Tues-Sat
9:00 am – 6:00 pm

Sun
10:00 am – 5:00 pm
Since its opening in 1999, Vista Eye Specialist has cared for over 290,000 patients and has been awarded multiple clinical awards for their patient care and service.
They only FDA-approved technologies and treatments for any patient to ensure that they provide safe and effective treatments.
If you want to know all about the procedures they offer, there are downloadable brochures on their website about most of their services listed above.
The services they offer are specifically divided on their website according to the age of the patient. This doesn't mean that those are the only ages to be treated with those issues but those are the most common issues faced by those age ranges.
For example, those above 40 are more prone to needing RLE, Cataract treatments, and Dry eye treatments. Those 17-40-year-old for ICL and iLasik and 5-17 year old for short-sightedness control.
The only rates they specified are the dry eye diagnostic tests which start at RM 298 and the cataract surgery prices which start at RM 4,998.
Vista Eye Specialist has locations all around Malaysia from Kuala Lumpur to Kepung. They have 10 in total so you can avail of their services even if you're not in Kuala Lumpur.
Online booking
Only uses FDA-approved technology and treatments
Multiple offices around Malaysia
Expensive services
After check-up reports cost a fee
Customer Reviews
Here are a couple of reviews left y SL and Nayli about their experience with Vista Eye Specialist:
"This is first time went for the eye examination. The staffs are friendly and helpful. Dr Calvin gave a details explanation regarding my eyes health. Recommended to bring friends and family members for details checking." -SL
"Came here for eye examination. The staffs are friendly and helpful. I'm satisfied and happy with how Dr Calvin treat me and he give me clear explanation regarding my eye health. Recommended to anyone who wants to do their annual eye examination. Can bring all your family members here 👍🏻" -Nayli
3.   Pentai Hospital Cheras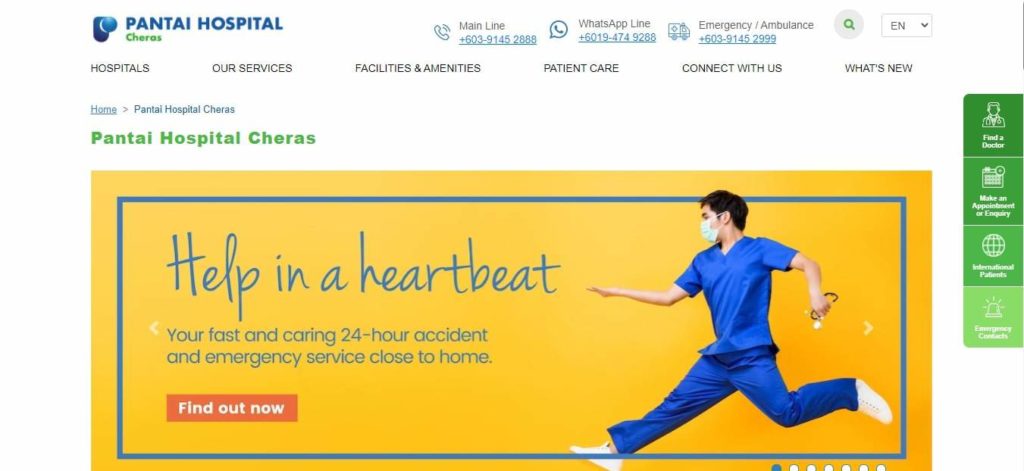 SERVICES
Glaucoma treatment, Cataract surgery, Corneal disease treatment, LASIK Surgery, Retinal disorder treatment, Eyelid surgery, Pediatric eye treatments
WEBSITE
https://www.pantai.com.my/cheras/doctor/opthalmology/dr-chong-kheng-yaw
ADDRESS
Suite 33, 3rd Floor 1 , jalan 1/96a Taman cheras makmur Cheras, 56100 Kuala Lumpur, Malaysia
CONTACT DETAILS
+60 3-9145 2956
OPERATING HOURS
Mon-Sat
8:00 am – 5:00 pm
Pantai Hospital Cheras houses amazing doctors that offer a wide range of services and specialties, one being ophthalmology.
They have three ophthalmologists; Dr. Chong, Dr. Ching, and Dr. Wong. You may choose which doctor you want by booking an appointment with them here.
Pantai Hospital offers two online services: eHealth Chat and eHealth video consultations that you can also book online. For eHealth chats, these are free 10-minute conversations regarding your general wellness or advice.
For eHealth video consultations, these are 30-minute calls (either voice or video) with your selected doctor. In the event that you're prescribed any medication by your doctor, you can either have it delivered to your home or pick them up at the hospital.
Note that Dr. Chong is the only one who you can select for eHealth consultations in the Ophthalmology department.
Pantai Hospital Cheras is a panel hospital for most major insurance companies like AIA, Prudential, Great Eastern, Etiqa, and many more. For those who pay their medical bill with CIMB Bank or Maybank Credit Cards, you may enjoy up to 36 months of installment with 0% interest.
Online booking
Panel hospital for most major insurance companies
Free online chat consultation
Online video consultations available
Only by appointment
Only one doctor available for online consultations
4.   KL Eye Specialist Centre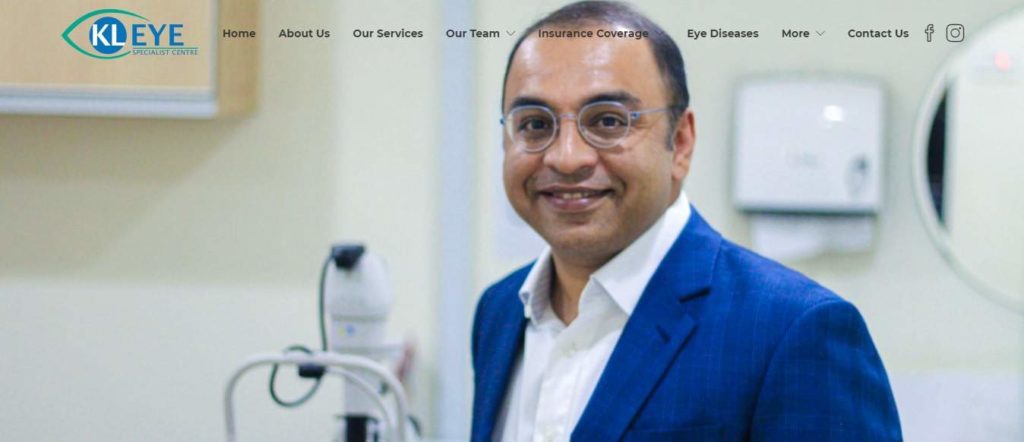 SERVICES
General ophthalmologic examination, Power checking, Cataract extraction and intraocular lens implant, Cornea disease management, Computer vision syndrome management, Ocuplastics, Vitreous and retinal disease management, Myopia control management, Diabetic eye disease management, Children's lazy eye and squint assessment, Eye imaging, Detailed consultation and patient education
WEBSITE
https://kleyecentre.com.my/
ADDRESS
73, 73-1, 75, 1, Jalan Metro Perdana Barat 1, Taman Usahawan Kepong, 52100 Kuala Lumpur, Malaysia
CONTACT DETAILS
+60 3-6250 0077
OPERATING HOURS
Daily
9:00 am – 5:00 pm
KL Eye Specialist Centre is an eye specialist centre located in Kepong, Kuala Lumpur.
Along with the latest equipment in eye care, they have a team of medical staff ready to help you treat or manage any eye issues. Their medical staff includes 4 resident ophthalmologists, 4 optometrists, eye-trained nurses, and an orthoptist.
They speak multiple languages which makes them accessible to a variety of different patients. These languages are mainly English, Malay, and Cantonese.
They don't specify how much any of their services cost on their website but reviews from patients note that it's a pretty expensive clinic to get your treatments at.
However, KL Eye Specialist Centre does regularly conduct free general eye screenings and sometimes offers free surgeries during large-scale ophthalmology events.
They also have a long list of insurance partners for cashless transactions. If you want to see the full list, you can check it out here.
For patients who are under insurance provided by their company, all you have to do is call KL Eye Specialist Centre and ask whether or not you need a Referral Letter to avail of your covered treatment.
Online booking
Regularly conducts free general eye screenings
Offers free eye surgeries during large-scale ophthalmology events
Multiple ophthalmologists
Does not accept walk-in patients past 3:00 pm
Pricey services
Customer Reviews
Here are a few reviews left by patients at KL Eye Specialist:
"First of all…. let me thanks KL Eye Specialist Doctors + staffs for giving my husband the best treatment since last year June '20 till today…. as I bring my husband for following check-up today and come across of this review column….This eye centre (kepong area) is so unique cos their Doctors + staffs know multiple languages even they are different in skin colour…. ha ha ha ha….. just love the way they are….. keep it up KL Eye Specialist Centre and stay safe + happy working…." -Eu
"I had eye problem and found KL Eye Specialist Centre through Google. I went to the centre, Dr. Manoj and his team gave excellent treatment to me. They were very polite, helpful, provides guidance precisely and endless support to me during the treatment. It was right choice to visit KL Eye Specialist Centre for my eye problem." -Devandra
5.   Pusat Pakar Mata EYECARE Specialist Eye Centre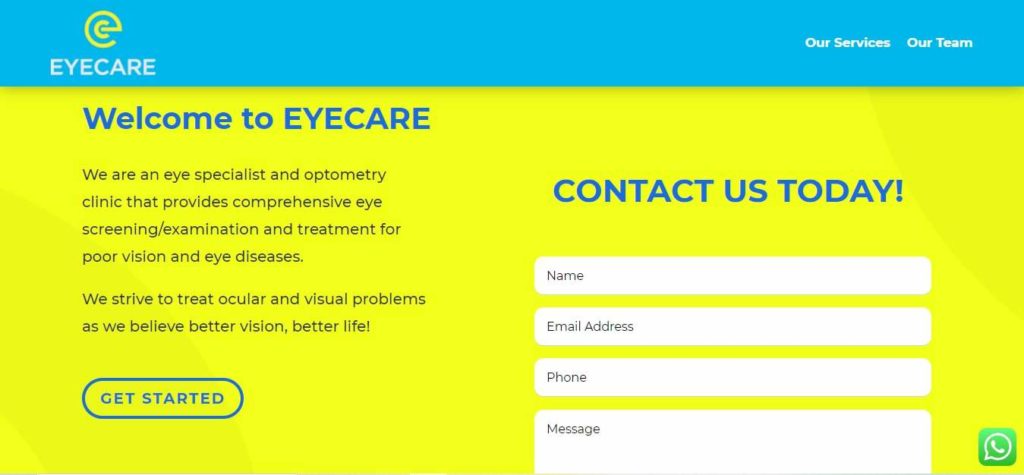 SERVICES
Eye screening, Cataract surgery, Refractment assessment, ICL, Uveitis treatment, Macular degeneration treatment,
WEBSITE
https://www.eyecare.my/
ADDRESS
G-17, 18 & 19, Residensi PV21 No. 6, Jalan Usahawan 2, Off, Jalan Genting Kelang, 53200 Kuala Lumpur, Wilayah Persekutuan Kuala Lumpur, Malaysia
CONTACT DETAILS
+60 3-4141 9231
OPERATING HOURS
Sun-Mon
9:00 am – 5:00 pm

Wed-Sat
9:00 am – 5:00 pm
Pusat Pakar Mata EYECARE Specialist Eye Centre is an optometry and eye specialist clinic in Kuala Lumpur.
They provide all the general screenings and treatments for eye issues or eye diseases at an affordable price. Their general eye screening services are priced at only RM 75 and run from 9 am to 12nn every day, except on Tuesdays and Sundays.
The main thing that patients who visit EYECARE appreciate is how thoroughly they explain the issue with their eyes and the aftercare that must be done. Most of the reviews are from parents who brought their kids in, so they're highly recommended to try out if you're looking for a family eye specialist.
They have 3D stereograms in the waiting rooms where your kid can check their eyes for fun while waiting for your turn.
Be sure to book an appointment with them before going on over there!
Open on weekends
Highly recommended for kids
Discounted general eye screening service cost on specific days
Doesn't offer No-Blade Cataract Surgery
Only one ophthalmologist
Customer Reviews
Here are a few reviews from patients of EYECARE:
"The staff are kind, attentive to my child. We are relaxed with the whole process of getting our son assessed by the optometrist. She and the team are excellent! Such patience and kindness when handling my child and genuine concern to help improve my child's eye condition. I can see the sincerity in their work. Will recommend to parents who have any concerns with their young child's eye health. Price: For the advise, attention and consultation given, I think they are the best." -Nada
"Dr Hazlita is a very professional doctor, she explained everything very patiently and precisely. The nurses are also very friendly and polite. Good service here, will definitely recommend!" -Whitney
FAQs about Ophthalmologists in Kuala Lumpur
---
That concludes our list of the best eye specialist clinics in Kuala Lumpur! Entrusting the care of our eyes is a pretty scary thing but these doctors and clinics will take good care of you.
If ever it was, please don't hesitate to leave us a message about your experience at the clinic. We'd also love to hear about any clinic recommendations you may have for us!
Now, if you ever find yourself in Penang, check out our article on the best eye specialists in Penang!