The 5 Best Outdoor Water Filters in Malaysia
A water filter is a prerequisite for a property to have clean and sanitary water. It works to remove dirt, chlorine, rust, lead, and other contaminants on the water from the tank or well.
For this, you will need to install both an indoor and outdoor water filter. However, we will be solely focusing on the best outdoor water filters in this article.
So we've listed them here for you after careful thought. We also included a buyer's guide and FAQ section to assist you in picking the best one to use that aligns with your needs and budget.
The Best Outdoor Water Filters in Malaysia
Before choosing the products here, we subjected them to our criteria test to confirm that they were truly one of the top outdoor water filters in Malaysia. Kindly look below to see them:
And now that you've seen them, we present to you our best options of outdoor water filters!
1) Waterman Outdoor Sand Water Filter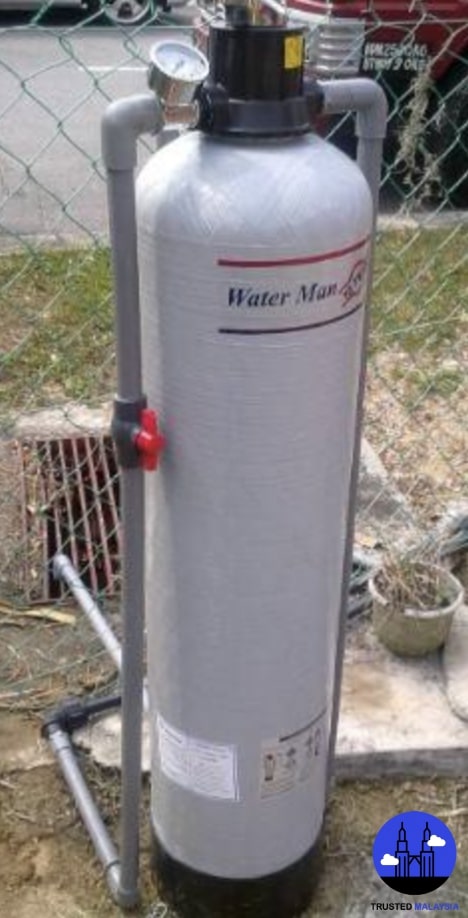 Price: RM185 – RM210
| Test | Info |
| --- | --- |
| Model & size | FRP01044 / 25.4 x 111.76cm |
| Flow rate | 45l/min |
| Max pressure | 120psi |
| Filtration media | 6-Layer Filtration |
| | Anthracite, Activated carbon, Zeolite plus - Australia Fine sand, Gravel sand, Coarse gravel sand |
| | 7-Layer Filtration |
| | Bio ball, Anthracite, Activated carbon, Zeolite plus - Australia Fine sand, Gravel sand, Coarse gravel sand |
Given its affordable rate and excellent filtration process, Waterman's Outdoor Sand Water Filter (FRP01044) is one of the best outdoor water filters in Malaysia on the market!
Firstly, this can have a 6 or 7-layer filtration media depending on your choice. And with a high flow rate of 45 litres/minute, your water supply will be strong yet potable and clean around the house.
Among the filtering agents of the six-layered water filter from top to bottom are: anthracite, activated carbon, Zeolite Plus, fine sand, gravel sand, and coarse gravel sand.
As for the seven-layered one, it has bio ball as its first filter layer, which reduces carcinogens in the water such as heavy metals and chloroform. But, choosing this variation will cost you a bit more.
Next, this water filter meets the high standards of the World Health Organization (WHO) for safer and clearer drinking water. Hence, you won't have to worry about the health of yourself and your family.
Thirdly, some of the benefits of using this water filter include cleaner and softer water resulting in more efficient washing of dishes, cutlery, clothes, and others; and it can extend the life of your water dispenser and heater because the toxic chemicals won't damage the piping attached to them.
And lastly, the product comes with a solid 10-year tank warranty. This may come in handy in case it is accidentally damaged or leaks—which some users have reported—which can be repaired or replaced for you at no extra cost.
International standards certified product
High water flow rate
Has active carbon media to eliminate bacteria and protozoa
Doesn't need monthly cartridge replacement
6 and 7-layer variants available
10-year warranty
Its size can be bigger for some homes
May have leakage issues
Customer Reviews
Affordably priced and works well
"Already tested and very good, the water is even cooler, cheap and fast, keep up the good work seller." -Shopee buyer
Working as expected and easy to install
"Very good seller. All chat replied. Answer all my question.
Delivery went well within 2 days. Frp working as expected.
Doing self installation, save few hundreds rm. Price among the cheapest."
5 star to all." -another Shopee buyer
2) Aquaman Outdoor Water Filter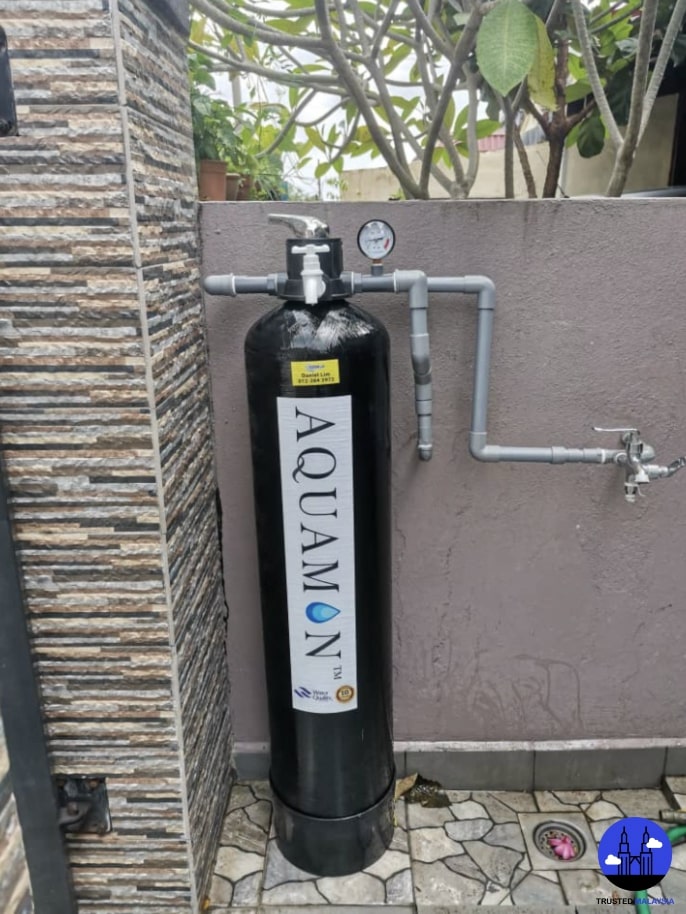 Price: RM179.90 – RM269.90
| Test | Info |
| --- | --- |
| Model & size | FRP935 (grey): 22.86 x 88.9cm |
| | FRP942 (grey or black): 22.9 X 1.07cm |
| | FRP1044 (grey or black): 25.4 x 111.76cm |
| | SS1042 (stainless steel): 25.4 X 1.07cm |
| Flow rate | 33l/min |
| Max pressure | 150psi |
| Filtration media | Multi-Stage Filtration |
| | Anthracite, Zeolite, Plus Silica Sand (0.45mm), Silica Sand (1.2mm), Silica Sand (2.4mm) |
Aquaman Outdoor Water Filter is a reliable water filter suitable for homes, shops, hotels, and factories. It is available in a variety of designs, colours, and sizes to fit your water requirements.
This water filter is made of poly fibreglass, giving it style and durability. Whereas, the classy stainless steel tank is also strong but can rust and corrode over time, especially if it isn't maintained.
Also, stainless steel outdoor water filters have a higher price point than their polyester-fibreglass counterparts.
You can keep your water at home free from hazardous chemicals and water appliances and kitchen utensils undamaged with clean water as it has undergone a 5-step filtration process with the product.
The filtration process begins with the water going through anthracite. Anthracite is hard coal that traps the sediments and removes fine colloidal impurities, iron, and manganese.
Following this, water passes through Zeolite Plus to purify it of ammonia, heavy metals, and suspended particles, and then through three layers of silica sand in increasing sizes to remove fine sediments, mud, dirt, viruses, and other floating solids.
Now, the drawback of this product is the installation is harder to do. You would need to get someone to install it which will add to your expenses.
As such, for a dependable and stylish outdoor water filter with good water pressure that gives you value for your money, we highly recommend getting this product!
Great for home, hospitality, and factory settings
Made of durable poly-fibreglass
Food-grade poly-glass inner shell
Various models, styles, and sizes offered
10-year leak and rust warranty, 1-year control valve warranty
Relatively less flow rate
Installation is harder to do compared with other products
Customer Reviews
House water pressure increased significantly
"My old filter was really old so I guess there is a lot of dirt stuck inside. After I got my old one replaced with this, my house water pressure increased significantly. The installation service seems reliable and I'm satisfied! Thank you." -Shopee buyer
Small size but definitely value for money
"Product arrived as advertised. Installation by Mr Ng done swiftly without any issues. Should have got a bigger one; but maybe after 5 years will change. Definitely Value for Money." -Chek Fong
3) 3M Outdoor Water Filter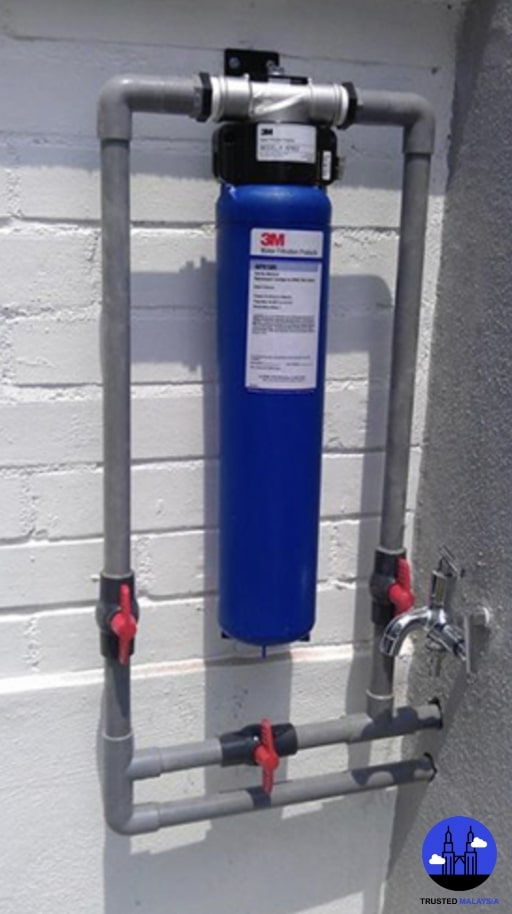 Price: RM1,148.00
| Test | Info |
| --- | --- |
| Model & size | AP902 / 63.70 x 11.43cm (H x D) |
| Flow rate | 75.7l/min |
| Max pressure | 24.95 - 125.02psi |
| Filtration media | Single-stage filtration system |
Having a premium price, the 3M Outdoor Water Filter can outperform others on this list with its impressive functions and features. It comes from the widely known and trusted Minnesota brand 3M.
The slim blue water filter and its components are tested and approved by NSF and FDA to ensure effective and safe water filtration at residential, commercial, and industrial properties.
With its stainless steel head and die-cast zinc lock hatch, it can be installed with great ease and speed. That is also since the needed installation fittings are already on the product itself.
It packs a giant 75.5 litres per minute flow rate and a max pressure level between 25 and 125psi where it won't diminish your current water pressure level, as many users can attest to.
The X-factor of this water filter is instead of having to go through multiple levels of filtration, it only needs a big one. Within its non-woven filtering media, it does everything in just one step to get rid of sediments, rust, sand, and microorganisms.
The result is crystal clear and potable water year-round. And should you need to replace the cartridge, it's effortless to take out or attach thanks to the Sanitary Quick Change (SQC) system.
As we mentioned, the product is expensive and getting someone to install it will cost you more. But, as far as we know, these two things are its only downsides, given the filtering quality you'll be receiving.
With fantastic design and performance, simple installation, and a single filtration process, we are very pleased to have 3M Outdoor Water Filter on our list of the top outdoor water filters in Malaysia!
Space-conserving design
NSF and FDA-compliant product
Non-woven pleat filtration media
Easy cartridge replacement
Installation fittings inclusive
Premium price
No other variants available
4) Waterborn W-10 Outdoor Water Filter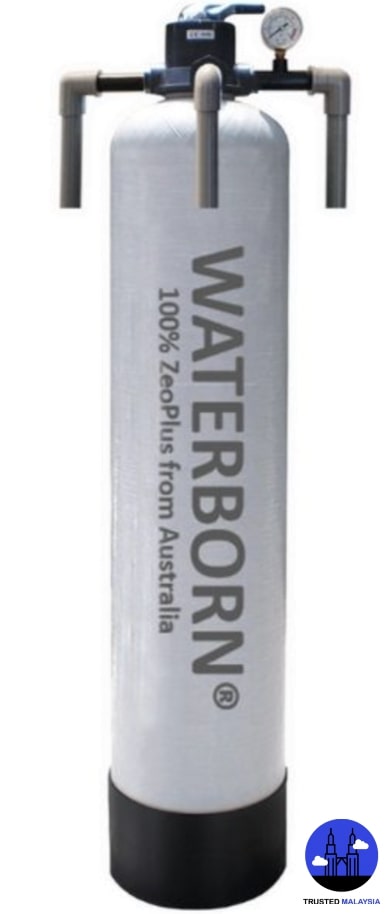 Price: RM899
| Test | Info |
| --- | --- |
| Model & size | W-10 / 25 x 120cm |
| Flow rate | 33l/min |
| Filtration media | Dual filtration system |
| | 100% Zeoplus |
The Waterborn W-10 outdoor water filter uses only ZeoPlus in its dual filtration system to separate ammonia that can cause skin and eye irritations and remove chlorine taste and smell.
To achieve that, ZeoPlus first traps the larger particulates between the grain and filter media. Next, the grain's inherent microporous structure and uneven surfaces serve to trap the minute particles, so they can be separated from the water—hence the term 'dual filtration.'
The tank's body is made of fibreglass so it can withstand stresses, heat, and shocks to last for many years. And to back this up, manufacturers give it a warranty of up to ten years and a year for the multi-port valve (MPV).
Note, however, that this outdoor water filter requires to be backwashed every two weeks, unlike other products. In turn, this ensures that you get clean and clear water throughout the property.
For its costly price, it can be a bit disappointing to know that it has a lower water flow rate of 33 litres per minute compared to those in the high-end range.
Apart from that, remember that the filtering media will need to be replaced after approximately ten years. As a result, you'll have to pay a moderate amount for that service.
On the whole, although the Waterborn W10 water filter is higher-priced, it is a solid and effective unit that can keep your water clean, appliances more long-lasting, and clothing and utensils free from stains.
Durable fibreglass body
Dual filtration system using ZeoPlus
Filters out ammonia that causes skin and eye irritations
Doesn't affect the water pressure
10-year body warranty, 1-year control valve
High price point
Has to be backwashed every two weeks
Customer Reviews
Clear water, solved skin problems
"Was quickly contacted by customer service, Steve. Delivery was reasonably fast. Water appeared murky due to bubbles. Installation contractor Foo came again to try to fix the issue. Problem is resolved after a few days. Good and responsive customer support. Water is now clear and skin is not itchy from shower anymore." -Lazada shopper
Very clean water after a few week's use
"after few weeks usage, water very clean and no more Chroline smell…when brush teeth, u will feel want to swallow cos water is like natural and no chemical." K. Wong
5) AMGO Ultra Outdoor Water Filter

Price: RM319.88
| Test | Info |
| --- | --- |
| Model & size | 17 x 97cm |
| Flow rate | 66.67l/min |
| Filtration media | Ultra filtration (0.01 microns) |
If you want to block the most minute contaminants to your water resource, then the AMGO UF Outdoor Water Filter may be for you.
Its distinct feature is its ability to filter up to 0.01 microns of silt, sand, and impurities, along with bacteria and viruses—99.99 per cent of them.
It has a tough 304 stainless steel exterior casing that's sturdy and long-lasting. It can also be set up horizontally or vertically in your home or commercial premises to conserve space.
Its flow rate is pretty good at 66 litres per minute. With this fast rate, purified water at home can run continuously so you can go about your daily routine smoothly and efficiently.
Having passed the standards set by NSF and FDA, you can trust and use this water filter with sheer peace of mind. As clients can attest to, the water will be so clean that you can drink from it safely.
Cleaning this water filter is easy thanks to its backwash function. Aside from that, it is very low-maintenance which can help reduce the cost of calling in a water filter professional.
The only blemishes of this product are the relatively high rates and the need to change the filter every two years because it can get very dirty over the course of using it.
304 stainless steel body
0.01-micron filtration
Removes 99.99% of bacteria, viruses, and impurities from the water
NSF and FDA-compliant water filter
Easy cleaning process
Can be installed vertically or horizontally
Relatively higher priced
Filter has to be changed every two years
Customer Reviews
Filter working as expected with easy backwashing
"Received and filter working well.. so far so good. Back wash is easy. Recommended" -Lazada buyer
Easy to clean and correctly described size
"the size is as described packing is very good and its easy to clean i just buy a auto timer and it auto clean it by itself save my time." -Candy S
How to Choose an Outdoor Water Filter
Shopping for a water filter? Here are the essential factors you need to consider to ensure you find the ideal one for your home or business property:
1) Flow Rate
An outdoor water filter can greatly affect the water flow rate at your home. With it, the water goes through a special filter to separate the pollutants from it, which can result in a weaker water supply.
Hence, it's vital to find an outdoor water filter product with a good flow rate—about 33 to 45 litres per minute, at least. Larger models designed for a bigger household should be able to pump out more water.
Although if you aren't sure, you can ask a qualified plumber, and they can tell you what should be your minimum flow rate when you buy an outdoor water filter.
2) Filtration Media
An outdoor water filter is composed of many layers where the dirty water is filtered increasingly at every stage until it becomes wholly clean.
What makes the filtering process possible are grains that in a way clean the water. Typically, a tank includes anthracite, zeolite, fine sand, gravel sand, and coarse gravel—each of them doing their own work.
You can find five, six, or even seven-layered filtration media in an outdoor water tank. However, it's not the filter layer number that you should only look to, but also the quality and reputation of the product.
3) Tests and Certifications
It's hard to know whether the manufacturer's claims are true. For this reason, you have to rely on tests and certifications of water treatment or food industry authorities like the Food and Drug Administration (FDA) and the National Sanitation Foundation (NSF).
If you can see their seal on the product, you are generally safe in choosing that water filter product. However, be careful of scammers and inauthentic products sold online.
One thing you can do is to read the customer reviews, read independent reviews, and enquire with the seller if you need some or any clarification about the product.
4) Durability
The durability of the outdoor water filter is crucial for it to last long. Thus, we suggest picking either reinforced fibreglass or stainless steel tank models.
Comparing the two materials side by side, fibreglass far surpasses stainless steel in terms of durability and shock resistance so you should certainly get that if you want a resilient outdoor water filter.
That said, some people may prefer stainless steel for its neutral and sleek appearance to fit their home's backdrop. But fibreglass filter tanks are also available in different cool colours too.
5) Size
The regular size of an outdoor filter is 25.4 x 111.76cm (10 x 44"), with the former being the diameter and the latter its height. You can also find smaller sizes than this, which are made for smaller homes with their smaller filtering capacity or flow rate.
To know the right size to buy, you have to assess your water requirements and family size at home. Doing that should point you in the right direction.
6) Warranty
When buying an outdoor water filter, be sure that it comes with a warranty. The standard for the tank or body is up to 10 years wherein if it sustains damage or starts leaking suddenly, you can have it replaced or repaired without paying more.
As for the control valve, the one that you can switch to filter, rinse, and backwash modes, usually has a 1-year warranty only.
FAQs about the Top Outdoor Water Filters in Malaysia
---
And that finishes our top list of outdoor water filters in Malaysia. These can filter the water thoroughly for you to use and drink and are easy to maintain as well!
If you have any questions or thoughts about our picks, kindly let us know, and we will reply to your message in a jiffy.
Related Articles about Outdoor Water Filters