The 5 Best Moisturizers for Oily Skin in Malaysia
Oily skin makes you look greasy and uncomfortable when going out. And worse, that has the effect of bringing your confidence level down in front of your friends or workmates.
Fortunately, we've listed the best moisturizers for oily skin in Malaysia here for you. These can hydrate your skin in an instant whilst also helping to reduce the oiliness and noticeable pores on your face.
Now, there's a myriad of products you can find out there. And if you are unsure of what to get for this skin condition, then you may check out our buying guide first in the lower part of the article before exploring our list.
The Best Moisturizers for Oily Skin in Malaysia
We first rated our top picks in different aspects before deciding to feature them here. Here are the factors we considered:
So, with that in mind, we now present to you our list of the best moisturizers for oily skin in Malaysia!
1) Kiehl's Ultra Facial Oil-Free Gel Moisturizer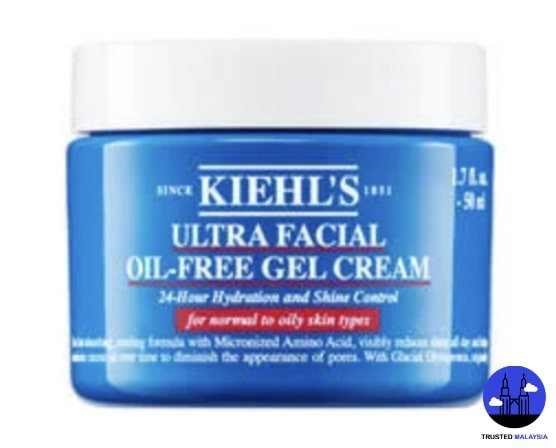 Price: RM82 – 255
| Test | Info |
| --- | --- |
| Suitable for | Oily and normal skin types |
| Key ingredients | Glacial glycoprotein |
| | Micronized amino acid |
| | Glycerin |
| Benefits | 24-hour shine-free hydration, quickly absorbs into the skin, cool and soft on the face, doesn't clog facial pores |
| Capacity | 28, 50, 125ml |
The Kiehl's skincare brand was established way back in 1851. Given this, it's no wonder that it has developed one of the best and most effective moisturizers for oily skin in Malaysia!
Kiehl's Ultra Facial Oil-Free Gel Cream Moisturizer is suitable for people with oily and normal skin. It is non-comedogenic meaning it moisturizes the skin well and doesn't clog up the pores which can cause breakouts.
The product, formulated with renewable glacial glycoprotein, helps maintain the moisture and oil balance on the face, resulting in less facial oil and shine.
Paired with micronised amino acids and glycerin, the skin moisturizer can also control sebum production, minimise visible pores, whilst helping the skin to stay hydrated and soft when you go out.
The gel is light, soft, and cool to apply to the face. Furthermore, it contains no fragrance, dye, and harmful paraben, as well as alcohol, which can dry your face too much.
Aside from the eco-friendly glacial glycoprotein, up to 30% of the product's packaging is made from recycled plastic. So, by buying Kiehl's Ultra Facial Gel Cream, you are also doing your bit for the planet!
Although it sells for an expensive price, this is helpful for people with moderately to excessively oily skin, thanks to its healthy and reliable ingredients. Plus, it makes you look your best almost instantly because it seeps into the skin easily and is easy to apply.
Non-comedogenic facial moisturizer
Mattifying gel
Soft and cool on the face
Mineral oil, alcohol, fragrance, and paraben-free
Up to 30% recycled plastic packaging
28-day guarantee
Expensive product
May not be suitable for some people
Customer Reviews
Makes my face feel so soft and hydrated
"Im always skeptical when it comes to trying products that claim oil control my face gets so oily specially in the summer and humidity make my face look so nasty. I received this at the perfect time now that we are hitting triple digits and i was able to put this to the test. Im in love with this product! It makes my face feel so soft and hydrated without the oiliness! It also controls the shine. I wear this before i put my makeup on and it feels so nice! I definitely recommend this product for all my oily sisters!" -Rubi
No issues with breakouts
"I am so happy to have another amazing oil free gel cream to use on my combination skin type. I only have two that I trust and now the Kiehl's Ultra Facial Oil-Free Gel Cream is my go to every morning for light hydration that is not tacky or sticky. It works well under my makeup and never leaves my skin feeling heavy or greasy. That is a welcomed fact with my skin type. I have no issues with breakouts since adding this into my AM routine. I love it and will repurchase before I run out because it is a beauty bag must have for lightweight hydration. I am so happy to have received this complimentary of BzzAgent." -one user from Kiehl's website
2) Cetaphil Daily Facial Moisturizer SPF15

Price: RM62.03
| Test | Info |
| --- | --- |
| Suitable for | All skin types |
| Key ingredients | Tocopheryl acetate |
| | Glycerin |
| | Octocrylene |
| | Butyl methoxydibenzoylmethane |
| Benefits | Smooths, hydrates, and protects the skin, protects from ultraviolet rays |
| Capacity | 118ml |
Cetaphil Daily Facial Moisturizer SPF15 is a dual-action lotion providing lasting hydrating effects and moderate UV protection. Thus, you won't have to apply a separate sunblock after the moisturizer.
The catch with this product is its suitability for all skin types, whether you have oily, dry, irritated, or combination skin. It's also non-comedogenic so your face won't have blocked pores and an oily surface.
Even if you have some acne on your face, its fragrance-free property can help reduce any irritations and redness that may remain after the spots have gone.
However, it's important to note that while most users were happy with the moisturizer and experienced no harsh reactions, some experienced stinging probably due to the powerful sunscreen formula.
With regard to its ingredients, it contains tocopheryl acetate (or simply vitamin E acetate), which is an antioxidant. It's known for promoting healthy skin, reducing skin inflammation and age-related eye disorder, to name a few.
Glycerin is another great ingredient that it has for drawing moisture into the skin and retaining it sans the heavy and oily feel.
Lastly, applying the Cetaphil cream is very simple, which involves only taking a small amount on your hands and gently rubbing it onto the face every day. It's definitely a great choice if you're out of the house often!
Suitable for all skin types
Long-lasting face hydration
Non-comedogenic moisturizer
Lightweight and non-greasy
Has UVA/UVB protection
Fragrance-free
Not suitable for people sensitive to sunscreen
Higher-priced product
3) Aiken Tea Tree Oil Moisturizer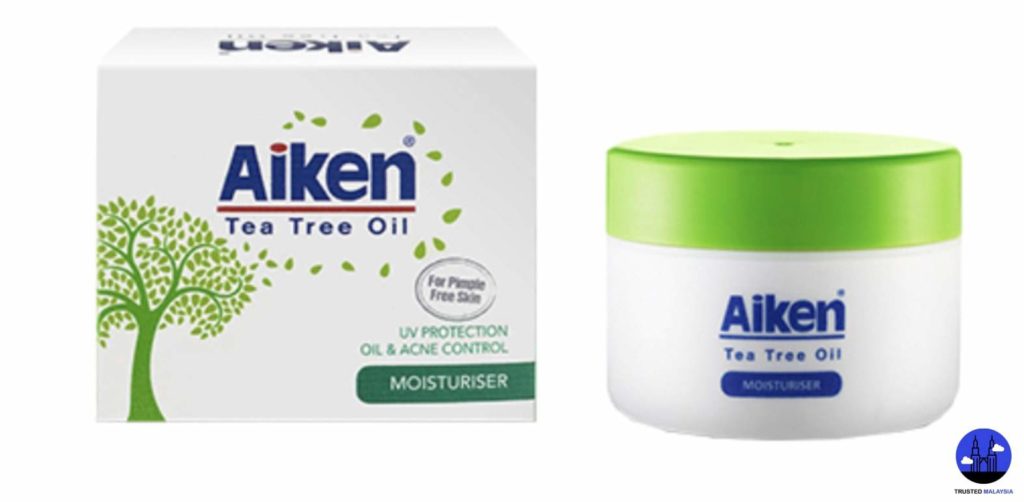 Price: RM12.57
| Test | Info |
| --- | --- |
| Suitable for | Oily and combination skin |
| Key ingredients | Melaleuca Alternifolia (tea tree leaf oil) |
| | Glycyrrhiza (liquorice) root extract |
| | Glycerin |
| | Allantoin |
| | Bisabolol |
| | Biosaccharide Gum-1 |
| | Ethylhexyl Methoxycinnamate |
| Benefits | Removes excess oil; controls shine and refines pores; soothes and hydrates skin; prevents breakouts |
| Capacity | 75ml |
Aiken Tea Tree Oil Moisturizer is designed for individuals with pimples or normally oily and combination skin. It's a budget moisturizer option that won't hurt your wallet.
Its key active ingredient is tea tree leaf oil, which is a powerful antioxidant. This can reduce dryness and oil, thus preventing breakouts, and making your skin look radiant and beautiful.
While most people can use the tea tree moisturizer daily, it can irritate the skin of some and even cause rash or contact dermatitis.
Tea tree oil is complemented by liquorice root extract, known to be skin-healthy, as it mitigates swelling and irritation, indeed making it perfect for people who want to get rid of their acne.
As clients can attest to, the water-based solution feels comfortable and soothing to the skin. On top of that, it absorbs quickly into the skin which allows you to see fast hydrating effects.
As a bonus, the Aiken Tea Tree Oil contains 0% alcohol and paraben. It also has no mineral oil in the gel as well, which doesn't create a protective barrier on the skin and hence clogged pores are out of the question.
Mind you, some products with mineral oil work just as it's supposed to, but others work the other way around by blocking the pores. So, as you can see, not having mineral oil may not be a bad thing at all.
Other than that, the size comes in a generous 75 mL for a good price. And for better skin results, you may also want to get Aiken's Tea Tree toner and facial cleanser, though the moisturizer alone can deal with slippery and oily skin.
Affordable price
Light and smooth water-based moisturizer
Comfortable and hydrating to the skin
Controls shine and refines pores
Prevents new pimples
Alcohol, paraben, and mineral oil-free
Not suitable for people sensitive to tea tree extract
Can have a strong scent
Not oil-free
Customer Reviews
Resolves acne after about two months
"Seller took 3 days to ship but that's okay I am in no rush. Products are authentic & really do what they claimed. Smell pleasantly heaven. Absorb great. This moisturizer resolves acne after about 2 months using alongside Simple toner. Cheap but very impressive. Gonna stick to this until forever. 🌈💝🦸🥳" -Lazada buyer
Didn't irritate the skin and worth buying
"thankyouuuuuu ive tried and it doesnt irritated my skin and mosturized my skin well worth buying! skin type: combination." -one Shopee user
4) Neutrogena Hydro Boost Water Gel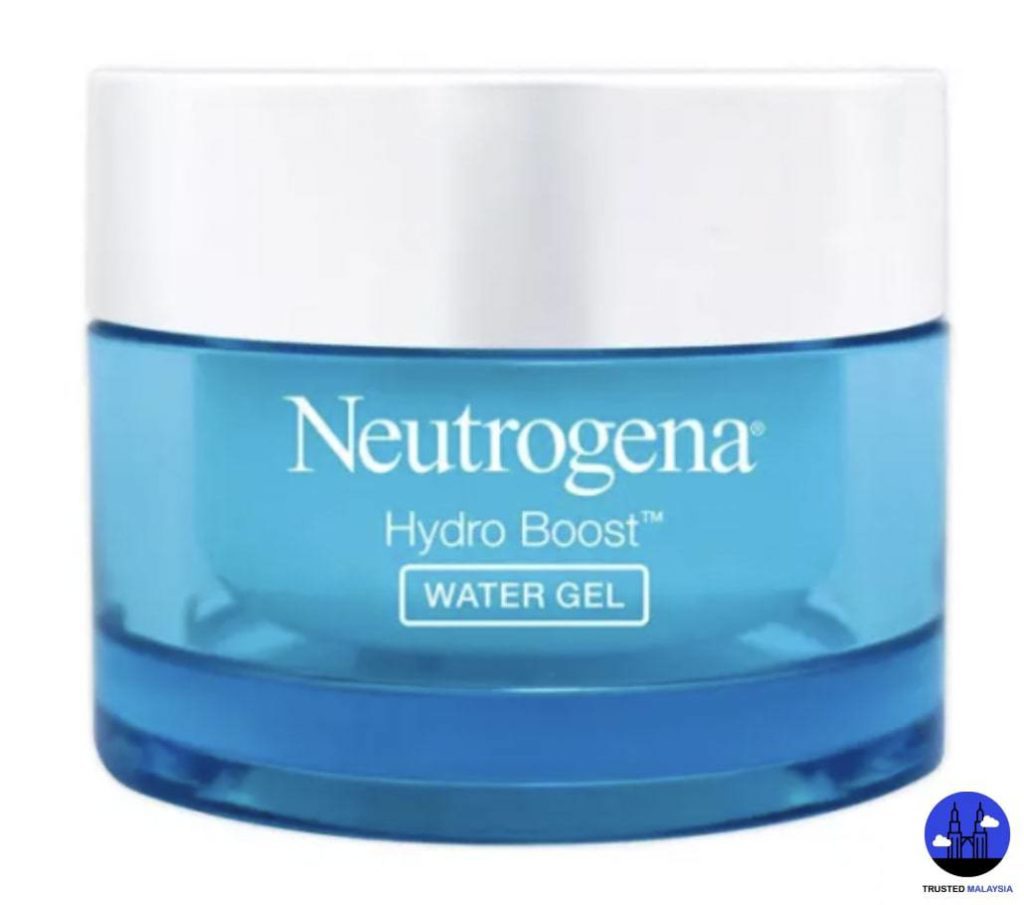 Price: RM62.91
| Test | Info |
| --- | --- |
| Suitable for | Oily skin |
| Key ingredients | Purified hyaluronic acid |
| | Antioxidant olive extract |
| | Kiwi yeast technology and moisture sensing technology |
| Benefits | Hydrates the skin from within and externally, provides a skin barrier, oil-free, doesn't clog the pores, produces skin's natural hyaluronic acid |
| Capacity | 50ml |
If you have been struggling with very oily skin when you're free or working, you can bid goodbye to that discomfort with this Neutrogena Hydro Boost Water Gel.
Being a water-based cream, it absorbs nicely and easily into the skin. You only have to apply it evenly and then massage gently on your face and neck.
Using their patented prebiotic Kiwi yeast technology, the formula can facilitate the production of hyaluronic acid to draw in and retain moisture in and out the skin so your face will look fresh and balanced.
Impressively, when applied, this can keep your face hydrated for 72 hours straight, besting out other products on this list thanks to its ingenious and unique formula.
Before going out, this moisturizer is good enough to be used as a makeup primer as well. And you can therefore look your best no matter how thick you'd want to put powder or cream on your face.
Furthermore, dermatological tests can prove that this thing can form a protective skin barrier against drier skin chemically activated by the harsh outside elements.
That said, the cream can feel thick and heavy for some people, especially if the weather is hot and humid. Other than that, most people seem to be very satisfied with this product.
And with that, we strongly believe the Neutrogena Hydro Boost Water Gel is among the top moisturizers for oily skin in Malaysia. It just comes at a high price tag, though!
Non-comedogenic and oil-free moisturizer
Water-based gel for easy skin absorption
Can serve as a makeup primer
Hydrates skin inside and out for 72 hours
Facilitates hyaluronic acid production
Forms a strong skin barrier
Higher-priced product
May feel heavy on the skin
Customer Reviews
Excellent hydrating properties
"excellent hydrating properties. suitable to be used as night cream. i find that the texture is a bit heavy for daytime use, maybe its just very hot and humid now." -Lazada buyer
Skin felt soft and moist after using the product
"Item received. In love with this moisturizer. Your skin will fell soft & moist. Cheaper compare to watson and guardian. Thanks 🙏🏻 😊" -Shopee customer
5) Olay Regenerist Whip UV Cream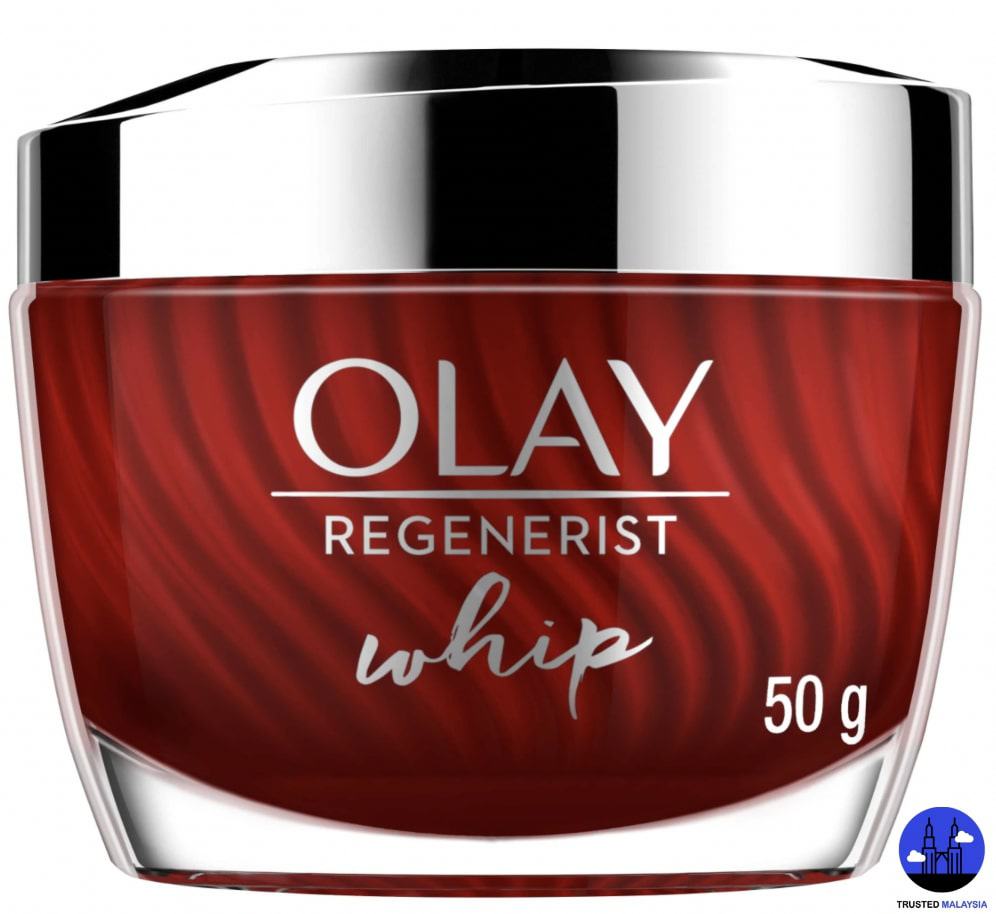 Price: RM97.90
| Test | Info |
| --- | --- |
| Suitable for | Oily and aged skin |
| Key ingredients | Vitamin B3 (niacinamide) |
| | Hyaluronic acid |
| | Amino peptide |
| Benefits | Improves elasticity and firm skin, diminishes fine lines and wrinkles, changes from cream to liquid upon skin contact, quickly absorbs into skin |
| Capacity | 50ml |
The Olay Regenerist Whip differs from other moisturizers on this list in that it's made for seniors. It can soothingly hydrate their faces whilst diminishing facial fine lines and wrinkles.
It has a perfect combination of ingredients that help it to be hydrating and air-light.
First is its vitamin B3 or niacinamide which has heaps of skin benefits, including hydrating the skin, improving firmness and elasticity, minimising pores, and managing overproduction of oil.
Second, it has hyaluronic acid that keeps the skin moisturised without the heavy texture for a wonderful and shine-free look!
And the third ingredient, working in unison with the other two, is amino-peptide complex II which keeps the face smooth, soft, and glowing.
The cool part is that the moisturizer features an Active Rush technology that turns the cream into a liquid to deliver all the healthy ingredients in a purified and lightweight gel.
Despite how good the product ingredients and features sound, some users weren't completely satisfied with the moisturizer, sharing that they felt the cream to be thick and didn't moisturize.
To sharpshoot another con, the Regenerist Whip doesn't seem to fit women who apply makeup every day. When the cream is rubbed onto the face, it can be hard to top it with a foundation.
Aside from that, you may have already noticed that its price is premium for just a 50ml jar. If you are not good with the price, there are more products you can find out there to look younger.
Overall, we included this in our list of the best moisturizers for oily skin in Malaysia because we observed that many people got great results from it, in terms of a hydrated and less greasy appearance.
Ideal for oily and ageing skin
Can give a hydrated and shine-free look
Light and smooth texture
Reduces fine lines and wrinkles
Quickly absorbs into the skin
SPF30 sun protection
Expensive price
Not suitable as a makeup primer
Complaints about not moisturizing and feeling thick
Customer Reviews
Dewy and velvet-like moisturizer
"The whip cream is great!!! It has a honey like texture and melt into your skin right after you apply it on your skin. The skin has a dewy and velvet like feeling. I have used many expensive face creams but Olay Generist wWhip cream has Better effects and easily beat them. But I don't know why it is so expensive at Walgreens, I bought my jar with 44 dollars. why? The Olay online is much cheaper. I discovered after I bought my jar at Walgreen." -buyer from the website
Diminishes fine lines and not sticky
"I started using this product 3 months ago and noticed that my fine lines are diminishing. I tried other product before and this is the one that I can't do without. It's not sticky either and have a great subtle smell.I am 63 years old and wants to keep my skin looking young and found the product." -Grammi
What to Look for in a Moisturizer for Oily Skin
Shopping for a moisturizer? To find the best moisturizer for your oily skin, here are the things you need to look for:
1. Non-Comedogenic
It's easy to find a moisturizer in the drugstore or online that's non-comedogenic. It's advertised right on the front of the product's packaging.
Now, a non-comedogenic moisturizer means that it won't gunk up the pores to leave the face oily or exacerbate acne. And as such, it can also curb the formation of tiny blackheads and whiteheads.
Besides looking at the packaging only, we advise checking the ingredient label. Some examples of non-comedogenic ingredients are mineral oil and jojoba.
Note that depending on the formulation, mineral oil may or may not clog the pores. Again, if you aren't sure, look for the comedogenic label on the moisturizer package or bottle.
2. Oil-Free Options
The next thing that you should ascertain in a moisturizer is whether it is oil-free or not. Practically speaking, using one with oil in its formula can only make oily skin worse.
For that reason, you should nix coconut oil since it can drastically clog up pores, which isn't at all suitable for oily skin.
In a nutshell, both oil-free and non-comedogenic moisturizers serve to prevent clogged pores and are recommended by all leading dermatologists.
3. Light Moisturizing Ingredients
As the name suggests, light moisturizing ingredients soothes and hydrates the skin without feeling hot and heavy. These also help in attracting water into the skin and keeping it there to nourish the skin.
So, in this respect, you should look for ingredients like glycerin, hyaluronic acid, ceramides, dimethicone, shea butter, or petrolatum in the moisturizer.
4. Fragrance, Alcohol, and Paraben-Free Options
Also important are moisturizers without fragrances and dyes. These won't trigger irritations, allergies, or inflammation on the skin, which are conditions that can worsen acne.
Furthermore, you can rule out moisturizers with alcohol because they can overly dry the face or skin.
Also, avoid products with parabens as they are a group of harmful preservatives used widely in skincare and medicinal goods. They can disrupt hormone production, which can lead to reproductive issues and breast cancer.
FAQs about the Top Moisturizers for Oily Skin in Malaysia
---
And there you have it for the best moisturizers for oily skin in Malaysia! If you have any questions or comments about them, kindly message us and we'll get right back to you.
Have you used any of the products we listed here before? Feel free to share with us your experience as we'd love to know about it.
Related Articles about Moisturizers for Oily Skin