The 5 Best Outdoor Food Courts in Kuala Lumpur
Whenever we can't decide where to eat in Kuala Lumpur, our compromise is to dine at one of its outdoor food courts.
Fortunately, the capital houses several of these one-stop food hubs, each of which offers a myriad of restaurants and stalls. All of this while being able to sit outside and experience an authentic Malaysian dining experience.
We've listed our top picks for the best outdoor food courts in Kuala Lumpur below and highlighted some of their highs and lows. Check them out to help you find your next food crawl destination!
How We Picked the Best Outdoor Foodcourts in Kuala Lumpur
To narrow down our choices for the best foodcourts in Kuala Lumpur, we've graded each one we found based on the following criteria:
1. Kantin Mini Kampung Baru (KMKB)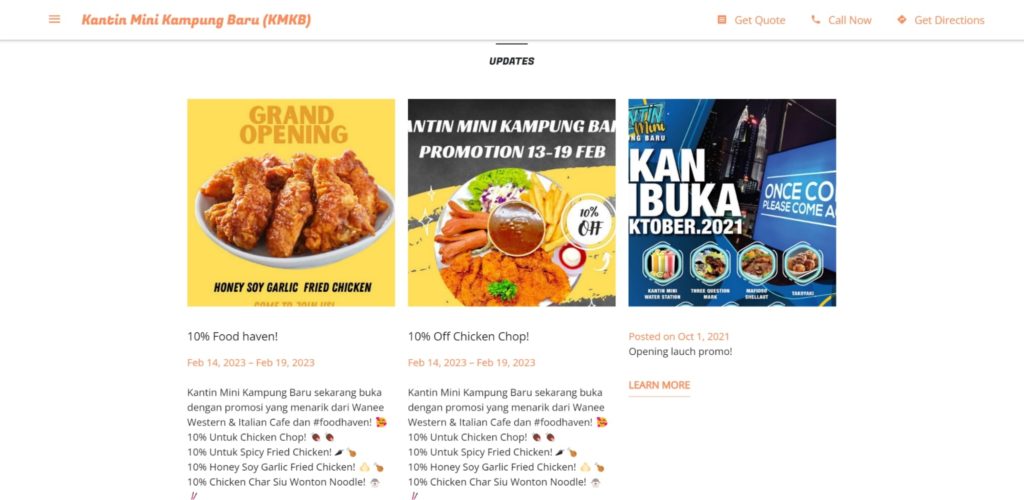 | Test | Info |
| --- | --- |
| PRODUCTS | Chicken, pizza, tom yam, nasi lemak |
| WEBSITE | https://kantin-mini-kampung-baru-kmkb.business.site |
| ADDRESS | Jln Datok Abdul Malik, Kampung Baru, 50300 Kuala Lumpur, Wilayah Persekutuan Kuala Lumpur, Malaysia |
| CONTACT DETAILS | Phone: 017-229 7886 |
| OPERATING HOURS | Opens every day from 5:00 AM to 3:00 AM |
| | |
| --- | --- |
| Criteria | Ratings |
| Food | ★★★★☆ (4/5) |
| Variety | ★★★★★ (5/5) |
| Taste | ★★★★☆ (4/5) |
| Affordability | ★★★★☆ (4/5) |
| Ambience | ★★★★★ (5/5) |
| Design | ★★★★★ (5/5) |
| Cleanliness | ★★★★★ (5/5) |
| Location | ★★★★★ (5/5) |
The city centre is a great place to go on food crawls because of the sheer variety of dishes found here. Among all its food courts, the Kantin Mini Kampung Baru is what we think is the most varied one.
It features over 20 stalls that offer dishes from different cuisines such as Malay, American and more. However, one of our favourite dishes to order here is the all-time classic nasi lemak, as it's our ultimate comfort food.
They also serve quite a variety of drinks and desserts that helps balance out the savoury dishes they offer. We personally love the mango float and has been a go-to for us every time we visit here.
Ambience-wise, this outdoor food court is a treat for the eyes, as we got to enjoy views of the skylines at the Kuala Lumpur City Centre. Also, here's a fun tip: if you want to make your dining experience extra beautiful, go here at night when towers and buildings are beautifully lit up!
However, we felt that the place itself could use some improvement in the cleanliness area. This is because we noticed that some tables aren't cleaned immediately after customers leave which attracts flies.
Another thing we noticed was that some of the dishes being served here were a tad overpriced, which can rub people the wrong way.
Overall, Kantin is a nice and chill place to hang out and enjoy a couple of delicious dishes and drinks with your loved ones. It has a great ambience thanks to the live music and of course, the view of KLCC.
Widely varied stalls
Beautiful views of the KLCC skyscrapers including the Petronas Twin Towers
Highly-accessible location
Cleanliness could use some improving
Some dishes are overpriced
Customer Reviews
Spectacular view
"Great place to hang out with your friends and family. In terms of the food we had, they're reasonably priced and the portion was just nice. The mayo served with the fries kinda taste garlicky which is rare, the fries were not fully fried but we can still eat them, the drinks were too sweet for my liking but overall it was still okay, the pizza pan was soft (rare) and of course nasi lemak, tasty as usual! The whole point of our visit to this place is the spectacular view" —Amira J., Google Reviews
Nice Place To Hangout
"This is one of the places in KL to hang out and eat. Free but limited parking. Busking performance starting at 9.30 pm. Nice and variety of food. Weekend night, very crowded, and there's also a preloved market that sells clothes, toys, rare items." —sarel206, Tripadvisor
2. LaPARK Foodtrucks

| Test | Info |
| --- | --- |
| PRODUCTS | Nasi goreng, Korean fried chicken, char kway teow, fried mee goreng |
| WEBSITE | https://www.facebook.com/laparkfoodtrucks/ |
| ADDRESS | Jalan Conlay, Kuala Lumpur, 50450 Kuala Lumpur, Wilayah Persekutuan Kuala Lumpur, Malaysia |
| CONTACT DETAILS | |
| OPERATING HOURS | Opens every day from 5:00 PM to 12:00 AM |
| | |
| --- | --- |
| Criteria | Ratings |
| Food | ★★★★★ (5/5) |
| Variety | ★★★★★ (5/5) |
| Taste | ★★★★★ (5/5) |
| Affordability | ★★★★☆ (4/5) |
| Ambience | ★★★★★ (5/5) |
| Design | ★★★★★ (5/5) |
| Cleanliness | ★★★★☆ (4/5) |
| Location | ★★★★★ (5/5) |
Over the past couple of years, food trucks have been appearing and providing delicious dishes across the country. One spot where you can find these treat-giving motorised trailers is at LaPARK Foodtrucks in Kuala Lumpur.
One of the things we love about this specific outdoor food court is its location. It's easily accessible, as it's a 4-minute walk away from The Pavilion, a famous shopping centre in the capital.
We could sit here and highlight our usual orders but we wanted to share some of the dishes that surprised us the most. A prime example of this is the creative wraps of a food truck called "Let's Roll It".
This restaurant takes something you'd never think of putting in a wrap but does it spectacularly anyway. When we looked at their menu, we saw that they offered rolls with fruit fillings such as strawberry and kiwi but then they also offered ones that use ramen, beef, shrimp and more.
If we were to change something about this food court, it would be its operating hours. We wish it would stay open a bit later after midnight for those late-night food crawls after a night out with friends.
Moreover, some food trucks tend to charge more compared to others. However, we're confident to say that the prices they're charging are reasonable based on the serving and quality of the food itself.
Other than that, we enjoy dining here at LaPARK Foodtrucks because of the variety of unique and classic dishes they offer. Plus, the place itself is clean and spacious which are two of the most important things we look for in a food court.
Wide variety of food trucks offering different kinds of dishes
Spacious area
Chill vibe
4-minute walk away from The Pavilion Mall
Some food trucks are pricier
Slightly limited operating hours
Customer Reviews
No regrets
"📍LaPARK Foodtruck, KL
Directly opposite Pullman KLCC (which was where we were staying), we 'terpaksa' visit these food-trucks. With colourful lights, and bustling with patrons, it was really a fun-filled sight!
The cuisine options available were lovely!
🍚D'Pulau Nasi Goreng – This was my favourite of all. The chefs cook with a large wok and really there is 'wok hei'. I asked for Nasi Goreng Cina, extra 'pedas'. The Nasi Goreng clearly had a slightly burnt taste (which made it delicious), and it was SPICY. Really really delicious. I also ordered an extra 'Telur Dadar'.
There's Kelantanese food, Hot dogs, Otak-Otak, and a large array of drink stalls – mango smoothies, dragon-fruit smoothies and lovely Thai Teas.
No regrets at all for us to visit these food trucks. Delicious and fun atmosphere!" —Docs On Vacay, Google Reviews
Lots of food trucks
"A new place to chill and have your late supper of variety of menus from lots of food trucks .. the place is clean and has lots of seating areas. Food ranges from local dishes to western and Asians – Korean crispy chickens… they even have otak otak from Johor.." —idris jaafar, Google Reviews
3. Warong Che Senah

| Test | Info |
| --- | --- |
| PRODUCTS | Asian cuisine |
| WEBSITE | https://www.facebook.com/WarongCheSenah13/ |
| ADDRESS | No.53, Jalan Raja Mahadi, Jalan Raja Abdullah, Kampung Baru, Kuala Lumpur, Malaysia |
| CONTACT DETAILS | PHONE: +60 19-271 9913 |
| OPERATING HOURS | Tues-Thurs: 4:30 PM to 1:30 PM |
| | |
| --- | --- |
| Criteria | Ratings |
| Food | ★★★★★ (5/5) |
| Variety | ★★★★★ (5/5) |
| Taste | ★★★★★ (5/5) |
| Affordability | ★★★★★ (5/5) |
| Ambience | ★★★★☆ (4/5) |
| Design | ★★★★☆ (4/5) |
| Cleanliness | ★★★★☆ (4/5) |
| Location | ★★★★★ (5/5) |
One spot that never fails to satisfy our cravings for Asian food is Warong Che Senah. This outdoor food court is easily the number one place to get Malay, Thai and other Southeast Asia dishes for two reasons: variety and authenticity.
This food court is well-known for being equipped with restaurants that know what they're doing in terms of cooking all-time classics. There are tons of different choices here but one we recommend the most is the hot pot.
Nothing beats the experience of cooking our own soup and submerging different kinds of meat in it to create delicious flavours. We'd always break a sweat being in front of the hot pot but thankfully, this food court features an open layout that provides great ventilation.
As for its ambience, this place is lively with its loud music and busy scene. It's a famous hang-out spot in KL so expect to see it packed, especially at night when things can get a bit rowdy.
We also love hanging out here because of the unmatched views of Kuala Lumpur. That's why we choose to sit in the upper seating area as much as possible, as it doesn't have a roof which provides us with a clear view of the bustling capital.
The only problem we have with this food court is that it's only open for three days (Tues-Thurs) making it extremely limited. This can be frustrating, especially for busy people like us, as we'd have to schedule our visit within this limited time frame.
Amazing views of KL
Affordable food
Authentic dining experience
Only open for three days (Tues-Thurs)
Paid parking
Customer Reviews
Many food options
"Overall food taste: good! They have quite a lot of small stalls, so each representative from the stalls will come to you and present the menu, so you can expect so many menus on the table and hygiene-wise – a bit not nice.
They have many food options- from rice, soups, western, cendol, shellouts.
Place: the ambience is nice, and very spacious (but crowded as well)
Waiting time: fast
Price: normal to inexpensive
Payment method: cash & online transfer (only a few got QR payment)
Parking/other amenities: need to find outside parking, a bit more concern about safety."—Miralalalol, Google Reviews
Enjoyable experience
"Good place but better come earlier so you get a seat, also it has a bit unique concept of which once you set you will be given multiple menus which not for the SAME restaurant/owner, it is for multiple restaurants therefore if you are a group it will be good to choose based on your taste, otherwise select one menu that belongs to a particular restaurant.
The view is considered good and nice, choose the roof view where you can see the twin towers and KL Tower and the main street. You will feel very local when you find yourself almost the only expat but it is an enjoyable experience." —Amr Mahmoud, Google Reviews
4. Tapak Urban Street Dining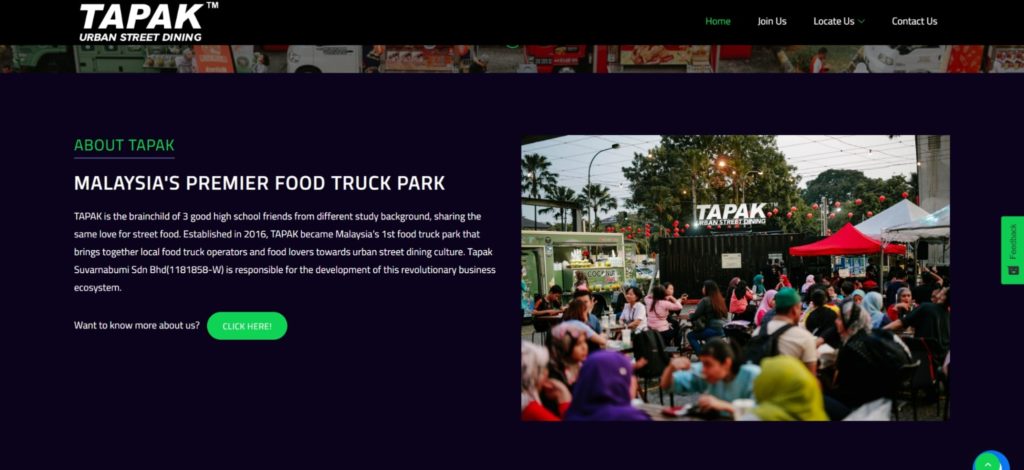 | Test | Info |
| --- | --- |
| PRODUCTS | Satay, shrimp, noodles, lemonade, chicken wings, nachos, sugarcane juice, coconut juice |
| WEBSITE | https://www.ilovetapak.com |
| ADDRESS | Persiaran Hampshire, off, Jalan Ampang, Hampshire Park, 50450 Kuala Lumpur, Malaysia |
| CONTACT DETAILS | PHONE: +60 16-554 7670 |
| OPERATING HOURS | Opens every day from 5:00 PM to 12:00 AM |
| | |
| --- | --- |
| Criteria | Ratings |
| Food | ★★★★☆ (4/5) |
| Variety | ★★★★★ (5/5) |
| Taste | ★★★★☆ (4/5) |
| Affordability | ★★★★★ (5/5) |
| Ambience | ★★★★★ (5/5) |
| Design | ★★★★★ (5/5) |
| Cleanliness | ★★★★★ (5/5) |
| Location | ★★★★★ (5/5) |
One of the most famous outdoor food courts in Kuala Lumpur that we kept hearing about was Tapak Urban Street Dining. We decided to check it out for ourselves to see what the hype was about and boy, were we in for a treat!
Right off the bat, our impression of this place was that it was modern. It wasn't your typical outdoor food courts affixed with small stalls and hole-in-the-wall eateries.
In the place of these stalls are food trucks that offer different kinds of unique and delicious dishes that we had the pleasure of trying. We were a bit overwhelmed by the choices so we decided to go for something safe, which is chicken wings, but not just any chicken wings!
The ones we got were marinated with classic buffalo sauce and drizzled with this delicious cheddar cheese sauce that we couldn't get enough of. To top it all off, they sprinkled everything with black sesame seeds adding more texture and flavour to the whole mix.
We also found this truck that offered grilled oysters with melted cheese on top. Of course, we had to try them and it was the best decision we ever made.
These two weren't the only dishes we ordered and there's a reason why they're the only ones we've highlighted. That's because some of the offerings in the other food trucks are a bit of a hit or a miss, which is why you have to be careful when choosing which dish to order.
Other than that, we enjoyed our time here at Tapak Urban Street Dining. The prices were reasonable, the ambience was chill and the dishes were worth trying.
It's also worth noting that there's a barbershop on their premises which is something that you'll only find in Tapak. We haven't personally tried getting our hair cut here but it does seem classy from what we see from the outside.
Wide variety of unique dishes
Modern look
Spacious area
Reasonable prices
Some dishes aren't that good
Customer Reviews
Delightful culinary adventure
"Tapak Urban Street Dining offers a delightful culinary adventure, with a diverse range of mouth-watering street food options. The lively atmosphere and friendly vendors make this a must-visit spot for foodies and locals alike. Highly recommended for an authentic Malaysian experience!" —Zachary Rose, Google Reviews
Caring and friendly staff
"Great market full of stalls with all types of food, the prices are moderate to inexpensive with all types of different cuisine. Perfect for a quick bite or to meet some friends, some food quality is below average but there are some quite good. They have live music shows daily and the market is only operating at night time. It is 5 minute walk from Suria KLCC or from Avenue K a lot of shops around also, during weekdays you can find a place to sit easily but on weekends it is harder to but usually is constantly rotating. Definitely worth the visit, especially for the vibe."—Catarina Alves, Google Reviews
5. Kepong Food Court

| Test | Info |
| --- | --- |
| PRODUCTS | Steam fish, crab, chicken rice, sandwich, burger |
| WEBSITE | https://www.facebook.com/Kepongfoodcourt/ |
| ADDRESS | Taman Usahawan, 52100 Kuala Lumpur, Federal Territory of Kuala Lumpur, Malaysia |
| CONTACT DETAILS | PHONE: +60 16-349 9929 |
| OPERATING HOURS | Opens every day from 7:00 AM to 2:00 AM |
| | |
| --- | --- |
| Criteria | Ratings |
| Food | ★★★★☆ (4/5) |
| Variety | ★★★★★ (5/5) |
| Taste | ★★★★☆ (4/5) |
| Affordability | ★★★★★ (5/5) |
| Ambience | ★★★★☆ (4/5) |
| Design | ★★★★☆ (4/5) |
| Cleanliness | ★★★★☆ (4/5) |
| Location | ★★★★☆ (4/5) |
A hidden gem tucked away in Taman Usahawan is a spot that offers various dishes at an affordable price called, Kepong Food Court. We've been here quite a few times and we've always thought that this place is perfect for foodies who don't want to break the bank.
Technically, Kepong Food Court isn't entirely an outdoor food court, but it does feature an open set-up and outside seating. Plus, we couldn't bear to create a list of the best food courts in the city without including this establishment because of its wide variety of delicious offerings!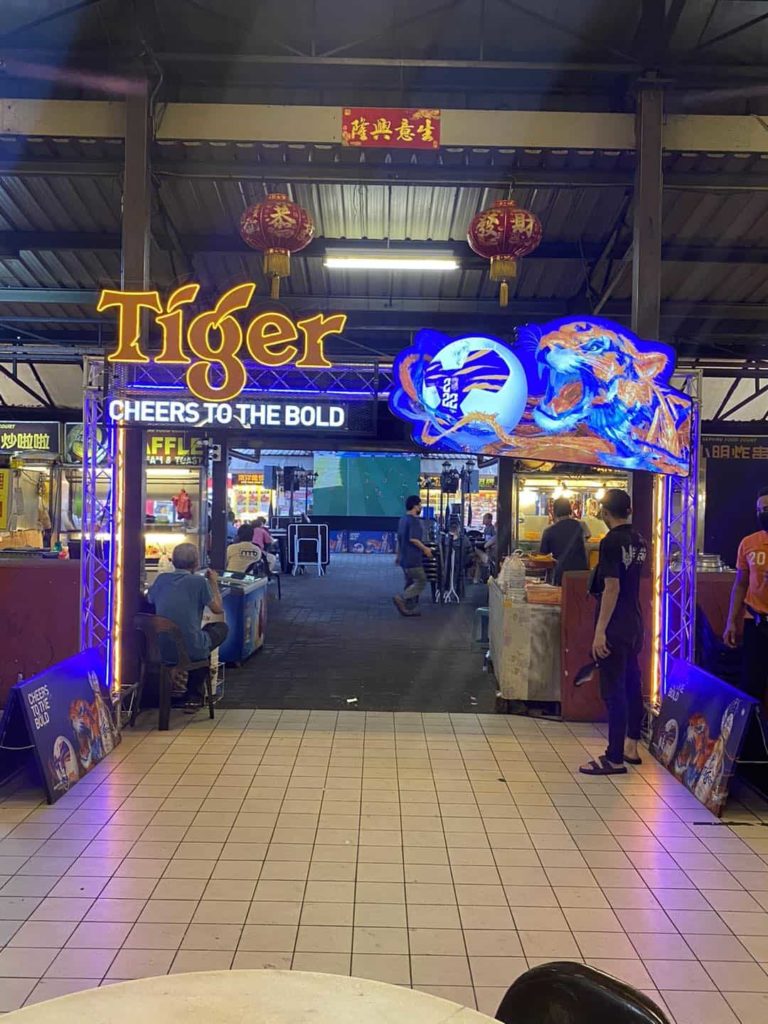 Among all their offerings, however, we love the fried crab the most. From our understanding, these crabs are caught on the same day, which makes them as fresh as they come.
This dish was only made better by its sweet and tangy sauce which blended perfectly with the flavourful and tender crab meat. Plus, the best part about it is that the stall doesn't charge as much as what a restaurant would typically charge for a dish like this.
What made this dish our favourite was the sauce. It had this perfect balance between sweet and tangy which blended well with the flavourful tender crab meat.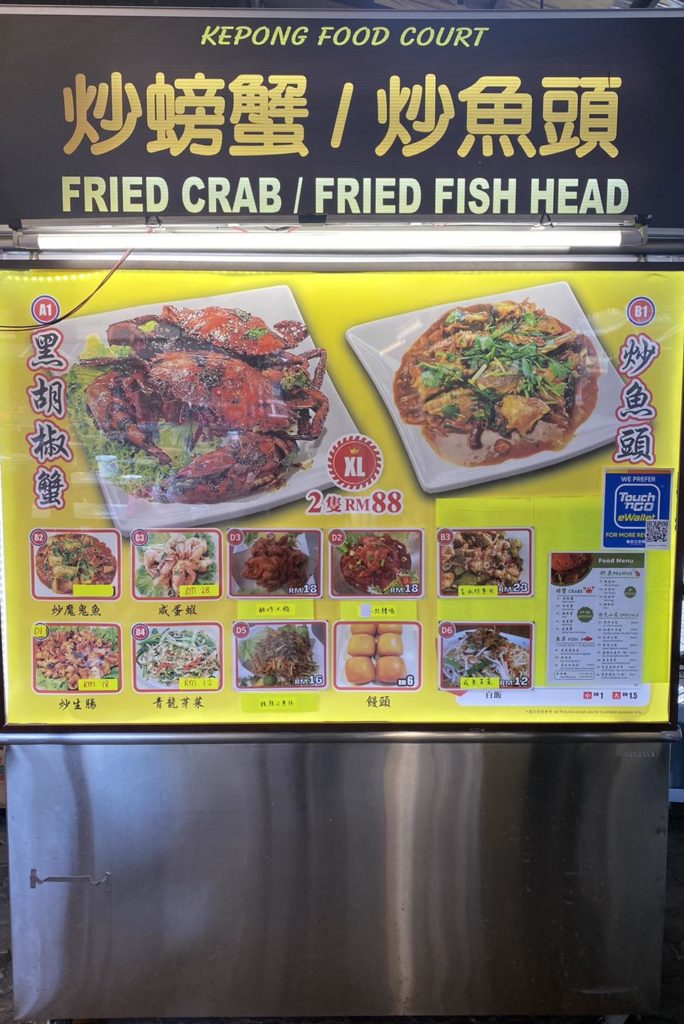 Where we felt the place could improve was with its ambience as it didn't offer much in terms of design. Then again, this type of no-frills ambience is what some would consider the most authentic way to try some of the street food offered here.
Personally, we agree that this is the authentic way to eat street food, but still, we felt that it could use some improvements. Nonetheless, we love going to this place for its cheap and delicious food.
Affordable prices
Open set-up
Variety of dishes
Customer Reviews
Many choices
"One of the most successful food courts, packed even at late night. Competition between every single stall to strive better benefits the consumer. Many choices of food, dessert and drinks."—Food Dict, Google Reviews
So good and delicious
"WIR? YES. Their quality food has improved significantly (only the food I have tasted). Worth coming in, for during the times when you really don't know what to eat but wants to be spoiled with abundant of choices.
Their kambing sate RM1.50, is so good and delicious. There's a stall that is called "Japanese Spicy Grilled Fish next to the entrance, the pari was fresh and its not too oily and packed with a lot of flavours." —Jillian Lau. Google Reviews
FAQs about the Best Food Courts in Kuala Lumpur
More Resources on Restaurants in Kuala Lumpur
---