13 Best Outdoor Activities in Gopeng for Thrill-Seekers
Near the southern capital of Malaysia lies a tranquil town called Gopeng. If you're looking for thrill-seeking outdoor activities for your vacation, you shouldn't miss a trip to this exciting place, with beautiful scenery and different river paths and landscapes.
Gopeng is a town in Kampar District, near Ipoh, known to have a lot of outdoor activities since it has a lot of water rafting and caving opportunities. It is, without a doubt, the go-to location for anyone to jump, swim, trek, and float into an adventure.
When you set out on these thrilling excursions in Gopeng, be prepared to paddle with all your might as you conquer the Kampar River on a white water rafting activity that you can enjoy with your family or take in the natural beauty of Ipoh.
Below, you'll find activities and places you can visit and be immersed in during your stay in Gopeng!
1. Experience the Gopeng White Water Rafting and Caving exploration.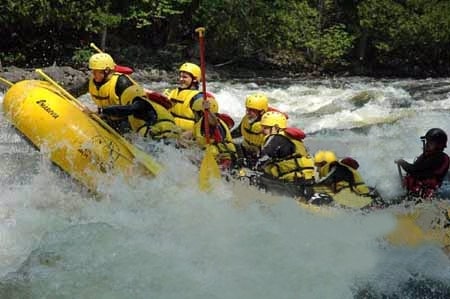 | | |
| --- | --- |
| Address | Razak House, Jln Sungai Itek, 31600 Gopeng, Perak, Malaysia |
| Contact Details | +60 19-662 2929 |
| Budget | RM 100 |
| Activities | Water Rafting & cave exploration |
Since it's one of the primary attractions of the town, white water rafting on the Kampar River is the go-to for both locals and tourists. With this, you may navigate the river, and with thrilling bends and turns, it will surely give you an adrenaline rush.
As you navigate between strong currents and huge boulders, paddle as hard as you can and you might even get flung into the sea. Additionally, you can choose to have your tour videotaped so that you can bring amazing movies and photographs home.
Highly commended for their detail-oriented and accommodating staff, the Kampar White Water Rafting Adventure has exceeded the expectation of its customers throughout the years. Families and adrenaline-hungry people are the main patrons of this activity.
2. Visit Kellie's Castle in Gopeng.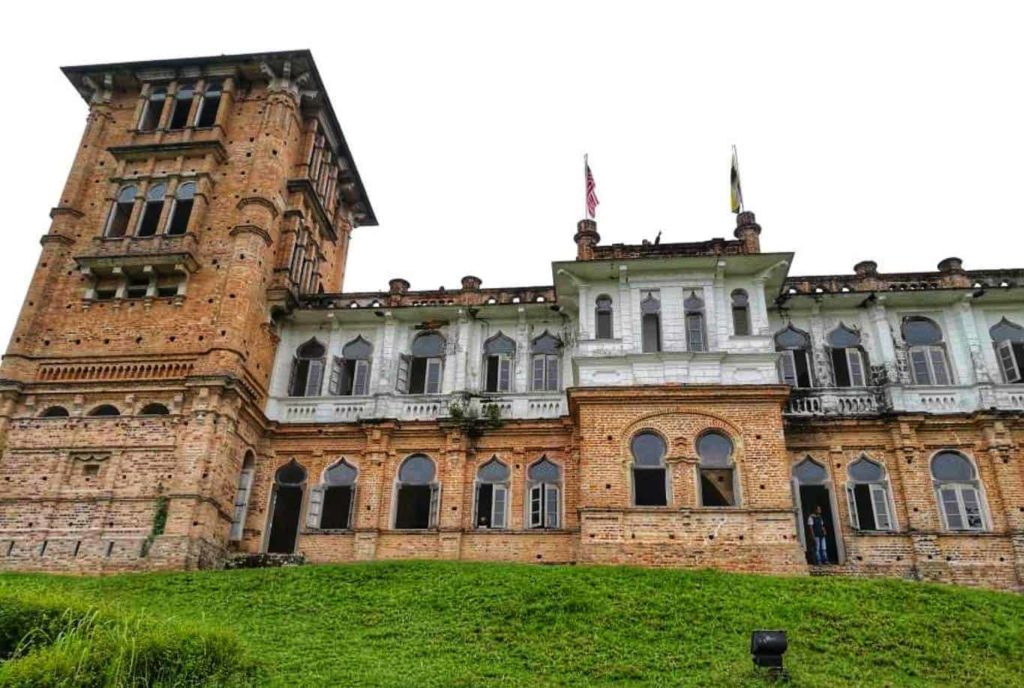 Address
Batu Gajah, Perak, Malaysia
Contact Details
+60 5-365 3381
Budget
Foreigner Adults: RM10

Foreigner Children: RM9

Malaysian Adults: RM5

Malaysian Seniors: RM4

Malaysian Children: RM3

Activities
Sight-seeing, foods & drinks
Located in Batu Gajah, Kinta District, Perak, Malaysia, Kellie's Castle is a well-known castle in Malaysia. The Scottish planter William Kellie-Smith was the man behind the incomplete home with some saying it was a present for his wife or his kid.
Smith's death in 1926 prevented the mansion from being completed after construction started in 1915. Secret tunnels, 14 rooms, and an elevator shaft are scattered across the castle which makes it such a unique activity to do in Gopeng.
For the majority of visitors, the remains of Kellie's Castle against the beautiful landscape make for a superb picturesque destination. Some claim that this abandoned house is haunted but whatever it is, this landmark continues to be a fascinating part of Gopeng.
3. Explore the home of 500 plant species.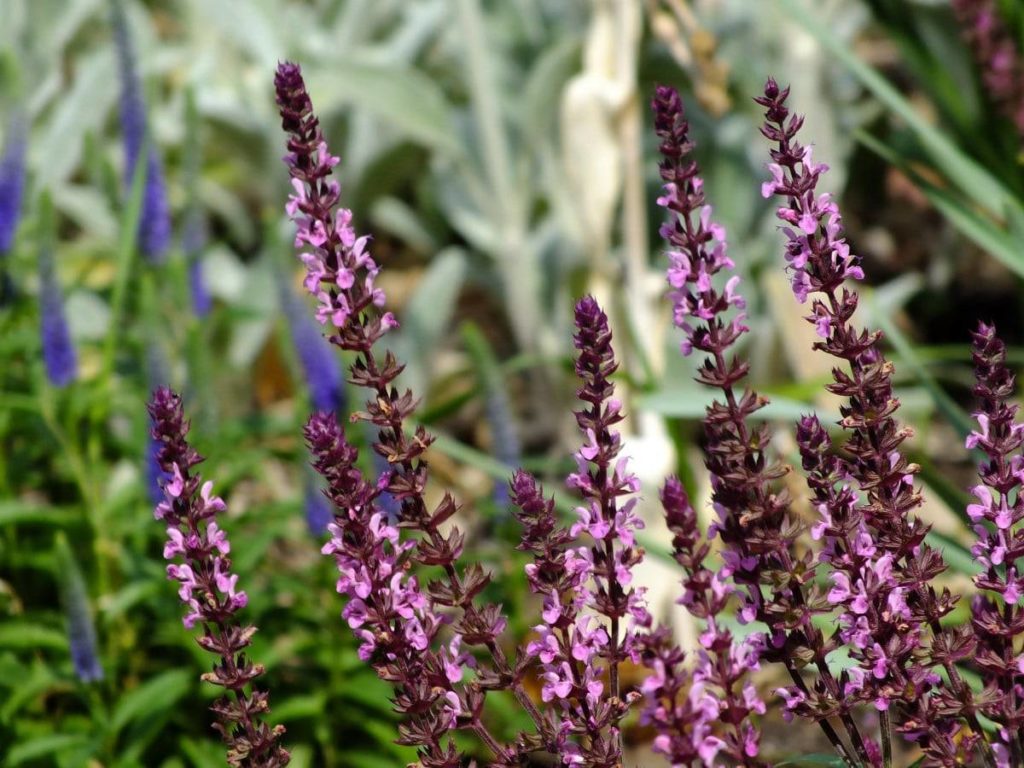 Address
Batu 1, Jalan Simpang Pulai, Kg. Kepayang, Perak Batu Gajah, 31300 Gopeng, Perak, Malaysia
Contact Details
+605-2426176 (Perak State Agricultural Department)

+605-5478170 (Kinta District Agricultural Office)

Budget
RM2: Malaysian adult

RM1: Malaysian child

Activities
Sight-seeing of various local herbs and plants
Iin the community of Kampung Kepayang, is where you'll find the Perak Herb Garden. More than 500 types of plants, many of which have therapeutic, cosmetic, and medicinal uses, may be found in the garden, which spans 50 acres.
In addition to serving as a reference for herbal plants, this Herb Garden is also available for group vacations or fishing activities at very affordable day prices. There are guided tours available where guides will go into depth about the plants and their distinct uses.
There are eight herb gardens and a nursery, each with its own distinctive qualities located in Perak Herb Garden. Heritage herbs, medical herbs, aromatic herbs, ulam/salad herbs, and cosmetic herbs are some herbs you'll find in the gardens.
4. Visit Heritage Town Cafe.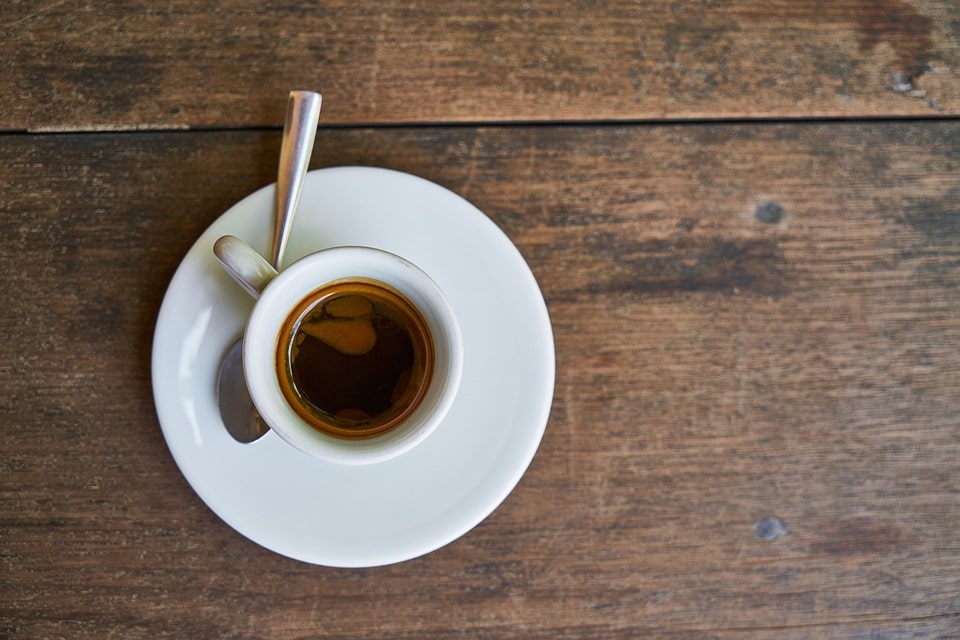 | | |
| --- | --- |
| Address | 104, Jalan Tasik, Pekan Gopeng, 31600 Gopeng, Perak, Malaysia |
| Contact Details | +60 18-950 6866 |
| Budget | RM 6 - RM 60 |
| Activities | Sight-seeing, Food, drinks |
This café, which is directly across from the High Street Kopitiam, lights up in the evening, creating the ideal ambiance for a night out to eat. Given that it was designed with a retro aesthetic in mind, this restaurant is perfect for snapping pictures.
In Gopeng, the Heritage Town Café is a laid-back hangout that serves regional specialties and Asian food. The boutique café has a distinctive setting and a small-town charm.
Their famous Hainanese Chicken Chop, Roasted Fish with Banana Leaf, Yam and Pork dish, Lamb Cutlets, and Sotong Paku-Pakis are dishes you must try.
5. Drink coffee and go shopping at Gopeng Antique Kopitiam.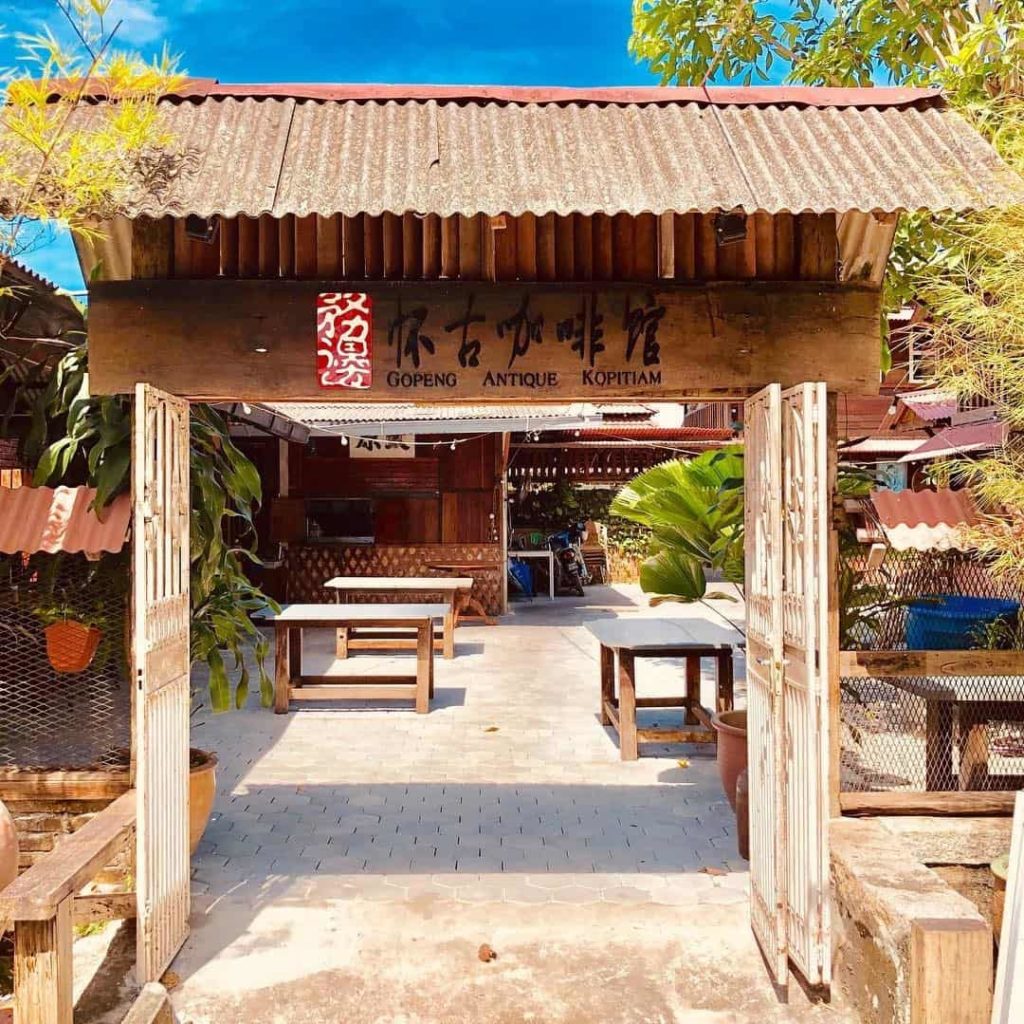 | | |
| --- | --- |
| Address | 3, Jln Pasar, Pekan Gopeng, 31600 Gopeng, Perak, Malaysia |
| Contact Details | +60 5-359 3559 |
| Budget | RM 5 - RM 50 |
| Activities | Sight-seeing, Food, drinks |
Gopeng Antique Kopitiam, a coffee shop, restaurant, and event venue with an antique motif is known for its rich history and culture. Since opening in 2015, it has earned a reputation as one of the region's must-see attractions among travelers to Gopeng.
Gopeng Antique Kopitiam is one of many pre-war shops that were renovated into antique-style coffee cafes. With wooden walls and charming furnishings like marble-topped tables and vintage chairs, the coffee shop is a throwback to the past.
The décor of Gopeng Antique Kopitiam is attractive and transportive, taking you back in time to a time when things were very different. Alongside the rich history the coffee shop has, it's also a great place to take pictures and have a relaxing time with your family.
6. Visit the infamous market street of Gopeng.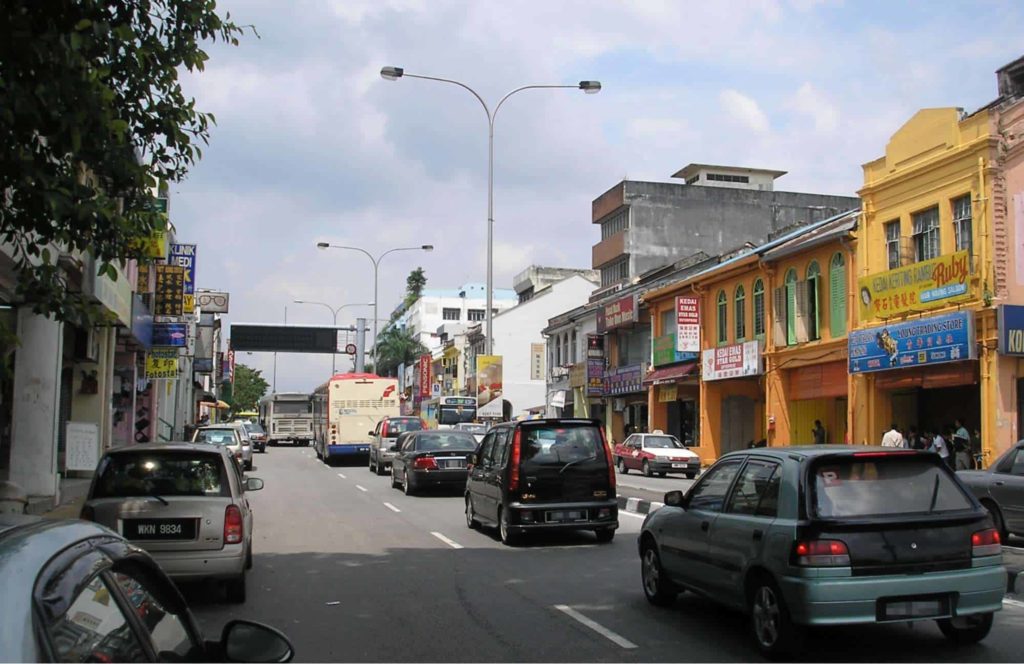 | | |
| --- | --- |
| Address | Jalan Tasik31600 Gopeng, Perak, Malaysia |
| Budget | RM 5 - RM 100 |
| Activities | Sight-seeing, Food, drinks, souvenir shopping |
The historic town center of Gopeng town, which formerly housed the theater and the old market, is made up of these three cobblestone streets. You may still see the ruins of an old town if you take a stroll around the streets near the Gopeng Museum
There are still some pre-war structures here, despite the fact that a fire in 1186 destroyed the majority of the area's original shophouses.
In Pudu, Jalan Pasar and Jalan Tasek are two of Gopeng's busiest streets. The Pudu wet market, one of the biggest in the Gopeng, is also well-known in the area as a favorite place to shop for electrical goods.
This chain of stalls and vendors is a great way to immerse in Gopeng's culture for tourists and locals as well as it offers a wide array of items and food to choose from.
7. The Gopeng Museum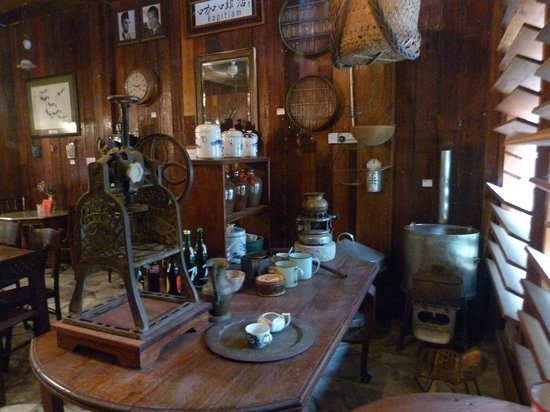 | | |
| --- | --- |
| Address | 47-49, Jln Eu Kong, Pekan Gopeng, 31600 Gopeng, Perak, Malaysia |
| Contact Details | +60 19-669 5443 |
| Budget | Free |
| Activities | Artistic, cultural, and historical exhibits |
Through its exhibition, the Gopeng Museum depicts the story of Gopeng during its heyday as a tin mining town. Throughout the century, the elder generation of town residents used approximately 300 antiques that are now housed here.
About 300 antiquities that were used by the older population in the town about 150 years ago are on show in the museum.
Visitors to the museum can observe the equipment that was once used to process tin and rubber, fitting for its history as a former tin mining region and the primary rubber (plantation) in the Kinta Valley.
Old-fashioned sewing machines, watches, clocks, radios, gas lamps, typewriters, cameras, and equipment for processing tin and rubber are just a few of the objects you'll encounter. The history and culture of this small town are neatly displayed there.
8. Have a drink at Gopeng's Tea Valley.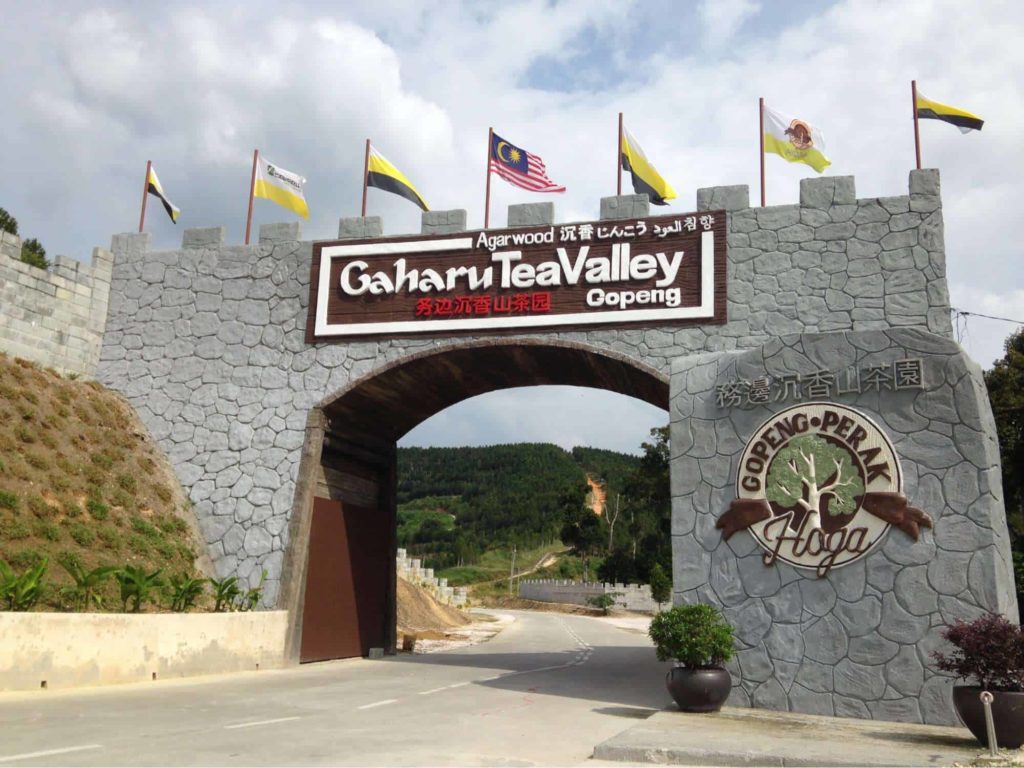 | | |
| --- | --- |
| Address | Jalan Sungai Itek, 31600 Gopeng, Perak, Malaysia |
| Contact Details | +60 5-351 1999 |
| Budget | RM 20 - RM 500 |
| Activities | Sightseeing, tea products, herbal products |
Gaharu Tea Valley is an agarwood plantation just outside Gopeng, Perak, and has become an agro-tourism destination. The 200,000 endangered trees are kept safe from invaders and wild animals by the Great Wall of Gopeng, which surrounds the area.
This 300-acre valley contains more than 200,000 organically grown trees of all ages, and is assisting in the preservation of the aquilaria species. Although the project started about 20 years ago, the news has just recently been made accessible to the public.
The Hilltop Viewing Stage, Lover's Park, and Tree Hugging Park are the main attractions in this area. They provide views over the plantation and the Titiwangsa range, respectively (where you can hug trees with adorable illustrations).
For visitors, the Gaharu seedlings and goods like tea, cookies, quick noodles, and scent oils are also available which make great souvenirs or treats.
9. Look around the Gopeng heritage house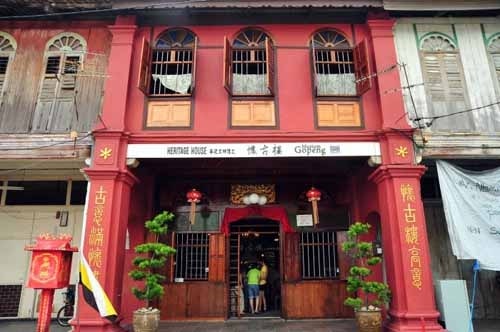 | | |
| --- | --- |
| Address | Jalan Sungai Itek, 31600 Gopeng, Perak, Malaysia |
| Contact Details | +60 5-351 1999 |
| Budget | RM 20 - RM 500 |
| Activities | Sightseeing, tea products, herbal products |
Through the countless antiques, vintage furnishings, and calligraphy paintings on show at the Heritage House Muzium Gopeng, a visitor will be able to recreate the straightforward yet sparkling lifestyles of the residents of Gopeng some 125 years ago.
There are 13 historic shophouses along Jalan Sungai Itek, one of which is a pink Baba Nyonya home that depicts historical events. You'll find a barbershop, Kopitiam, and other local scenes under one roof, which has been maintained throughout the years.
The Gopeng Heritage House is definitely worth a visit if you're looking for something unique. Old furniture, calligraphy paintings, and antiques abound, showcasing the lives of Gopeng's middle class during the 20th century is surely a breath of fresh air.
10. Go on a hike at Bukit Batu Putih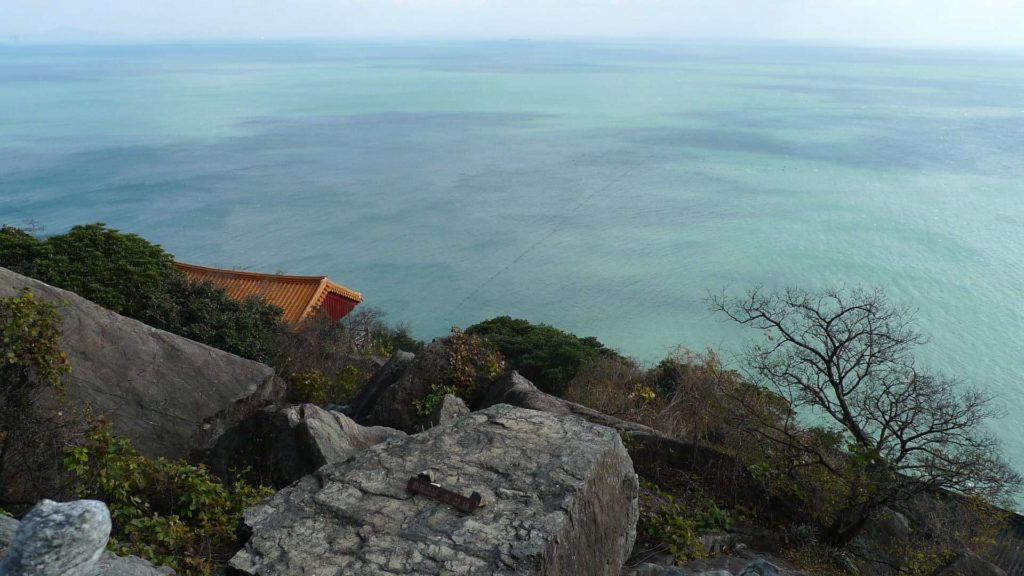 | | |
| --- | --- |
| Address | Puncak Bukit Batu Putih, Tanjung Tuan, Malaysia |
| Contact Details | +60 11-3929 2993 |
| Budget | Admission: RM1 |
| Activities | Sightseeing, trekking, hiking |
Going on a hike at Bukit Batu Putih is for hikers who enjoy the rush of completing as many trails as possible. The trek up Bukit Batu Putih is straightforward with a few difficulties.
In general, hikers need around 1.5 hours to travel there and return, stopping at 2 picturesque locations to soak in the views of Gopeng.
Regardless of whether you take the beach or the forest route, it is technically in Melaka and is situated on the outskirts of Port Dickson in Negeri Sembilan.
The rocky path that gives Bukit Batu Putih its name, is not difficult or particularly long to climb. This rough fissure is 5 meters up from the forest trail approach and is a little difficult to descend, but you can use a rope to rappel your way down.
11. Go underground in the Gua Kandu cave.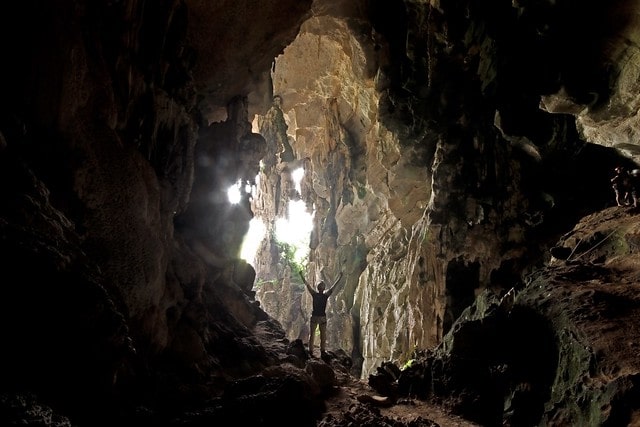 | | |
| --- | --- |
| Address | Jln Dato' Marzuki, Kampung Gunung Panjang, 31600 Gopeng, Perak, Malaysia |
| Budget | 75 RM |
| Activities | Cave exploration, sightseeing, trekking, hiking |
Gua Kandu, a multi-leveled and multi-chambered cave, is situated inside one of the several karst outcrops around the Kinta Valley and is perfect for advanced caving activity. It is situated close to the more well-known Tempurung Cave.
Gua Kandu is Peninsular Malaysia's seventh-longest cave, measuring 1100 meters in length. The Malaysian Nature Society listed it as one of Kinta's top ten karst conservation sites.
Even for tourists, Gua Kandu is a well-known destination for caving excursions. Numerous unearthly wonders can be seen there, such as limestone curtain stalactites that shimmer in the light, rocks that have the appearance of living things, and artifacts.
The Lion's Head is one of the well-known formations you will encounter. It features graffiti from its time as a communist guerilla refuge, like many other caves in Kinta Valley; search for the red star.
12. Go on a waterfall exploration at Ulu Geruntum.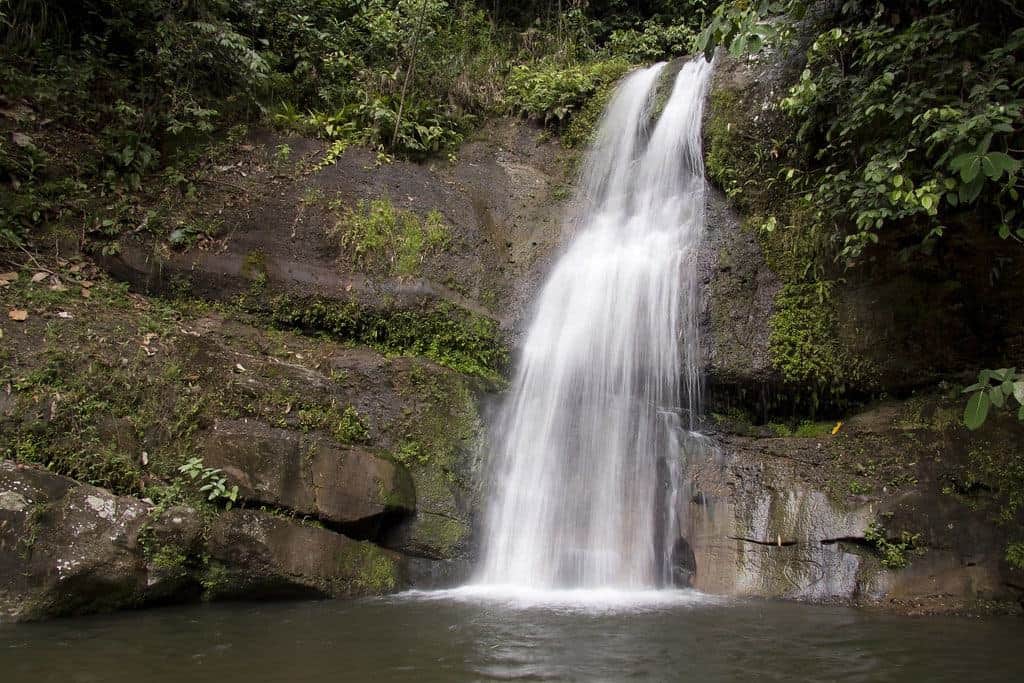 | | |
| --- | --- |
| Address | 31600 Gopeng, Perak, Malaysia |
| Budget | RM 130 - 300 |
| Activities | Waterfall Abseiling, sightseeing, trekking, hiking |
Travel to Ulu Geruntum for a thrilling experience at a stunning waterfall. With guides and equipment included, this 3.5-hour excursion departing from Gopeng is perfect for individuals with a high level of physical fitness and a desire for adventure.
If you've never heard of abseiling, it's an activity in which you rappel down a peak while carrying a double rope around your body like firefighters do. At first, it seems terrifying, but there are experts who can assist you, and eventually let you do it on your own.
Your activity day begins with a meeting point at Gopeng Town, after which you will be transported for 30 minutes over a winding asphalt rural road to Ulu Geruntum. Our knowledgeable guides will deliver a quick safety briefing once there.
13. Go underground at Gua Tempurung.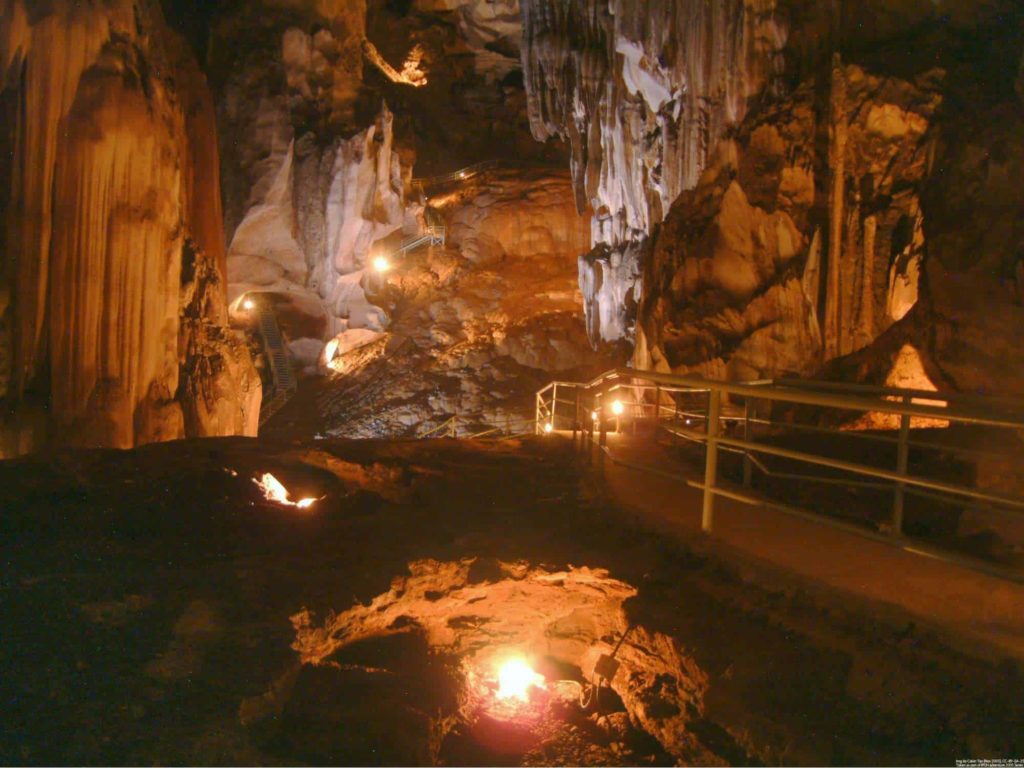 | | |
| --- | --- |
| Address | Pusat Pelancongan Gua Tempurung,, 31600 Gopeng, Perak, Malaysia |
| Budget | RM 10 - RM 30 |
| Activities | Cave exploration, sightseeing, trekking, hiking |
In Gopeng, Perak, Malaysia, there is a cave called Gua Tempurung which is well-liked by caving aficionados or spelunkers. It is one of Peninsula Malaysia's longest caves, measuring around 3 kilometers long.
The most spectacular of the many gorgeous limestone caverns in Perak is Gua Tempurung. It has a collection of stalactites and stalagmites in 5 caverns and is thought to be 400 million years old.
A variety of tunnels and different paths with varying lengths and levels of difficulty are available, and part of it has been transformed into a show cave with electric lighting and walkways. The hill's 1.6 km long river channel is a beautiful river cave.
This is the perfect activity for those who find the adventure, thrill, and sense of accomplishment that comes from conquering obstacles and going on adventures compelling enough to think of caving as a leisure activity.
FAQs about Outdoor Activities in Gopeng