The 5 Best Mosquito Repellents in Malaysia
Protection is always better than cure, especially when it comes to protecting you and your family from stinging mosquitoes. To strengthen your defense, we present you with the best mosquito repellents in Malaysia that you can buy right away!
Your family's safety from diseases brought by mosquitoes is what we kept in mind when looking for the right products. From babies to avoid, we have a recommendation for everyone.
The Best Mosquito Repellents in Malaysia
Check out our top picks for the best mosquito repellents in Malaysia for rainy days indoors or even daily trips outdoors!
1. Gramps Repellent Bye Bye Nyamuk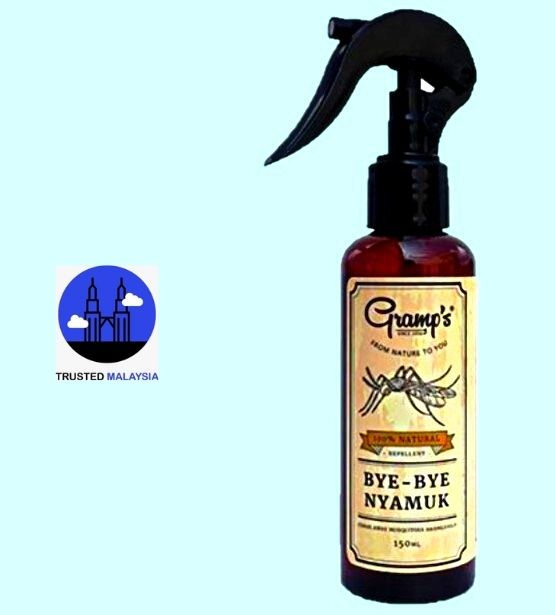 Price: RM 21.90
| | |
| --- | --- |
| CONTENT SIZE | 150ml |
| PROTECTION PERIOD | Up to 12 hours |
| SKIN TYPE | Normal skin |
| USAGE | Furniture spray, direct skin application |
| MAIN INGREDIENTS | Catnip, Cinnamon, Geranium, Thyme, Clove, Lemongrass, Peppermint, Cedar |
The Gramps Repellent Bye Bye Nyamuk is a powerful mosquito repellent that's safe for pets and babies. It comes in a spray bottle which makes it easy to spray around your home or your skin.
This repellent is made from a water-based concoction of 100% natural different herbs and spices including thyme, clove, lemongrass, catnip, and more. All the ingredients used in the making of this were designed to block mosquito's senses to keep them away from you and your family.
We'd also like to note how it keeps you protected for up to 12 hours. This is a lot longer than most mosquito repellents on the market.
You can spray it anywhere around your home, apply it on your skin, or even use it as aromatherapy. The best ratio for aromatherapy use is a ratio 2:10 repellent to water in your diffuser.
Now, the spray nozzle makes it a bit bulky which could be an issue when bringing it out and about. You may have to change it or transfer it to a different container for travel-use.
Since it's all-natural, it doesn't leave any sticky residue on the skin which we think is a great bonus to the protection it provides. However, this also comes with its downsides since it has no chemicals that could possibly be used to cling to the skin despite sweating.
Non-toxic
100% all-natural
Multi-purpose use
Lasts up to 12 hours
Safe for babies and pets
Not sweat-resistant
Spray nozzle makes it bulky
Customer Reviews
Here are a couple of reviews left by users of Gramp's Bye Bye Namuk:
"The product is a good product. I will buy it again." -Nik
"Pharmacist introduce me to this brand as nyamuk always bite and buzz around me when trying to sleep, it has a calming scent which I love and so far not bitten yet🤞🏻🤞🏻" -V
"I use this a lot. i always take it with me, and spray on me all over. and also my children. this thing works. the children like the smell." -ST
2. Bio-D Denguard Plus Mosquito Repellent Spray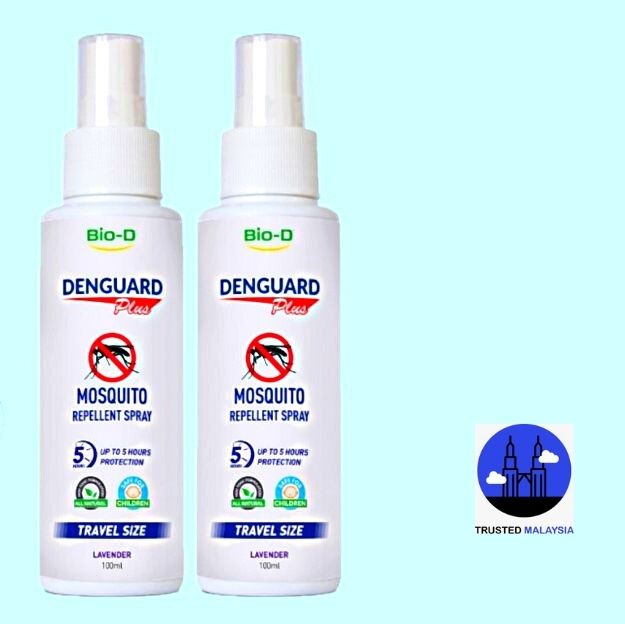 Price: RM 17.90
| | |
| --- | --- |
| CONTENT SIZE | 100ml x 2 |
| PROTECTION PERIOD | Up to 5 hours |
| SKIN TYPE | Normal, Dry, Oily skin |
| USAGE | Clothing spray, Direct skin spray |
| MAIN INGREDIENTS | EGX-101 |
Bio-D Denguard Plus Mosquito Repellent Spray is a 100% toxic-free repellent that's safe for children and those with sensitive skin. Its main ingredient used to keep those mosquitoes away is EGX 101.
This ingredient is used to repel dengue and Zika-carrying mosquitoes and is derived from the wild tomato plant. It also keeps you safe from other insects like bed bugs.
A lot of users have commented on how pleasant the scent of this repellent is. So if you're into lavender scents, you'll also really enjoy this.
It also goes on your skin smoothly since it's pretty absorbent and lasts up to 5 hours on your skin. Be sure to apply it liberally and reapply often especially if you're spending the day outdoors.
Speaking of outdoors, one thing we really like about this repellent is its convenient shape and size which makes it easy to carry around no matter where you go.
100% toxic-free
Multi-purpose use
Convenient shape and size
Protects against different kinds of insects
Not sweat-resistant
Not suitable as a home spray
Customer Reviews
Here are a few customer thoughts on this mosquito repellent:
"Thank you fast delivery a must have for now dengue season. Smells nice" -Z
"Very good product.. Good packaging and very fast delivery.. 👍🏻" -H
3. Buds Mozzie Clear Lotion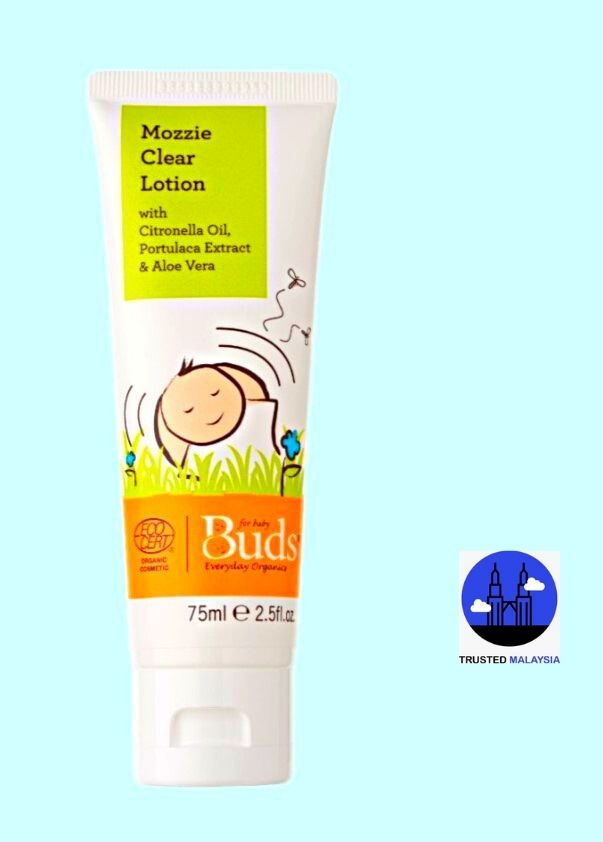 Price: RM 43.90
| | |
| --- | --- |
| CONTENT SIZE | 75ml |
| PROTECTION PERIOD | As needed |
| SKIN TYPE | Delicate baby skin |
| USAGE | Direct skin application |
| MAIN INGREDIENTS | Citronella oil, Aloe Vera, Shea butter, Olive leaf extract |
Bubs Mozzie Clear Lotion is an all-organic mosquito repellent lotion that's perfect for kids. It was designed with babies' delicate skin in mind.
The main ingredient it uses is citronella oil that is known to be gentle and a great mosquito repellent. Its other ingredients are shea butter, aloe vera, jojoba & sunflower oils for skin nourishment and moisturization.
It also uses olive oil leaf extract which is known to be rich in antioxidants. This makes it good to apply on mosquito bites for faster healing since it prevents inflammation and irritation.
Due to its all-natural ingredients, you'll have to reapply this product on your baby as needed, like if they sweat or get some water on their skin. We think this is a small price to pay for how ideal it is for babies, though.
Keep in mind that you can use it too! A lot of parents use this as well so just because we're saying it's best for babies doesn't mean it doesn't work great on children and adults.
100% natural
Best for babies
Helps heal mosquito bites
Moisturizes and nourishes skin
Not sweat-resistant
Can only be used on skin
Customer Reviews
Check out these reviews on Bubs Mozzie Clear Lotion:
"Good quality / texture" -I
"Value for money" -C
"Super effective. My lo was completely protected while I, despite using adult insect repellant was feasted on. Not only effective on mozzies, it protected my lo from sandflies at the beach. Highly recommended. Have switched to this for adults as well." –Stefanie
4. Pureen Rekito Mosquito Repellent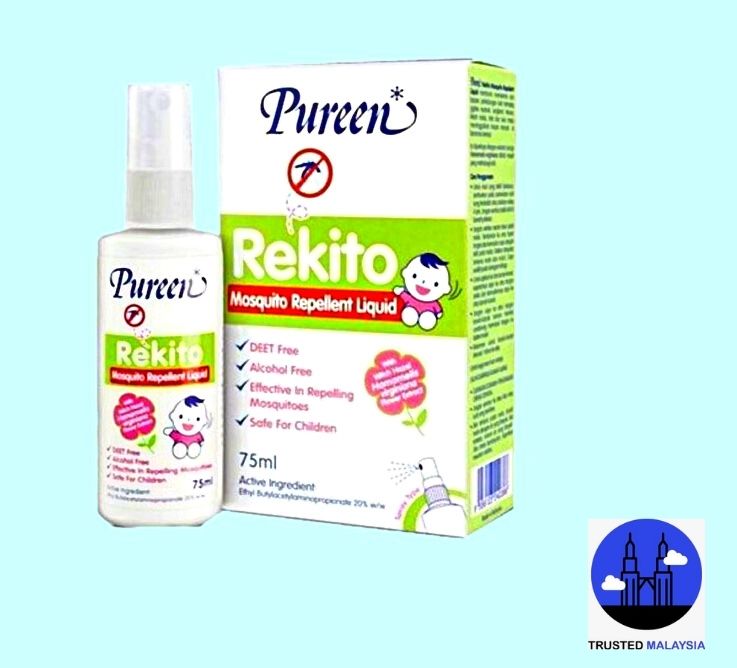 Price: RM 16.50
| | |
| --- | --- |
| CONTENT SIZE | 75ml |
| PROTECTION PERIOD | 6-8 hours |
| SKIN TYPE | Normal skin |
| USAGE | Clothe spray-on, Exposed skin spray-on |
| MAIN INGREDIENTS | Ethyl butylacetylaminopropinate 20% |
If you're looking for a mosquito repellent that isn't at all sticky, check out the Pureen Rekito Mosquito Repellent. It has a non-greasy formula too that'll keep you feeling fresh after application.
Its main ingredient is Ethyl butylacetylaminopropinate 20% which also protects you and your child against flies, wasps, bees, and lice. It also contains witch hazel which soothes the skin by relieving inflammation.
This repellent can be sprayed onto your clothing and exposed skin. Now, if you're looking for something to double as a home spray, you'll have to take this product out of the running.
Unlike most of the mosquito repellents here, this one isn't all-natural so it's not recommended for babies or those with sensitive skin. However, it is free from toxic chemicals so it's still completely safe for children and those with normal skin types.
The small size of this bottle makes it easy to slip in your bag or purse and just bring it out anytime you feel the need to reapply.
Toxic-free
Soothes skin
Best for children and adults
Convenient shape and size
Protects against different kinds of insects
Not all-natural
Can only be used on skin
Not suitable as a home spray
Not recommended for infants
Customer Reviews
Here are a couple of reviews left by users of this Pureen mosquito repellent:
"Item received. This is my second purchase. Terkejut dapat barang dlm kotak. Terbaik pembungkusannya. Sangat cermat dan berhati2. Barang2 dibungkis guna bubble wrap dan disimpan dlm kotak lg. Lepas tu ada free gift lg. Sangat2 recommended ya. Konfem tak menyesal." -Nina
"Received in good conditions……..sayang Pureen betul2 jaga barang dgn baik, bru 1st time nk cuba produk ni, org cakap berkesan and tq for free giftt…..tqtqtqttqtqtqtqtqtq" -Fauzia
5. OFF!® Active® Insect Repellent I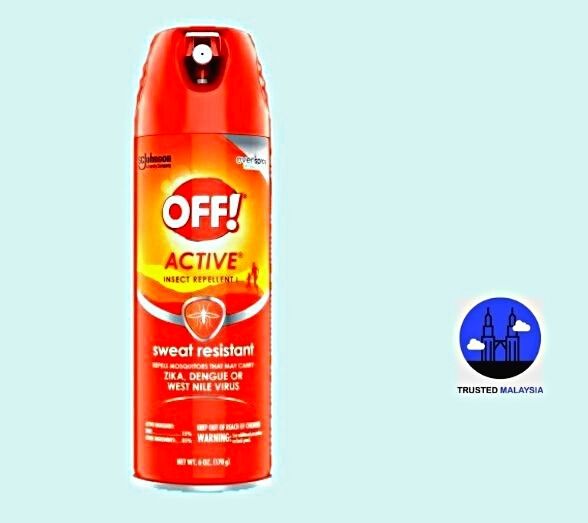 Price: RM 63.80
| | |
| --- | --- |
| CONTENT SIZE | 170ml |
| PROTECTION PERIOD | 5 hours |
| SKIN TYPE | Normal, Dry, Oily skin |
| USAGE | Direct skin spray |
| MAIN INGREDIENTS | DEET |
OFF!® Active® Insect Repellent I is a heavy-duty mosquito repellent that's perfect for those with active lifestyles who love hiking, going on walks, or just generally staying outdoors. This spray keeps away mosquitoes that carry the Zika, West Nile, and Dengue virus. It also wards off all kinds of insects like chiggers, fleas, gnats, ticks, and more.
The selling point of this mosquito repellent is that it's 100% sweat-proof so you don't have to reapply it every time you sweat. However, the protection period is only up to 5 hours so you'll have to remember to reapply it that often.
It's not recommended for children 10 years old and below due to its high concentration of DEET. However, if you or your child are 11 years old and above and don't have sensitive skin then there's nothing to worry about with this mosquito repellent.
When applying this repellent, make sure to keep it 6-8 inches away from your skin and clothing. This is so that it won't be too concentrated on your skin. Despite it being a spray, don't use it around your home on objects like furniture as it doesn't cling onto these types of material.
Heavy duty outdoor spray
Sweat-proof
Best for those adults
Not all-natural
May cause skin reactions
Not recommended for kids below 10
Customer Reviews
Here are a couple of reviews we picked up from the OFF! website:
"I ordered this off active via amazon, I live in germany and we have autan dry spray, which is good too, but not sweat resistant. Although, this season, the mozzies are really annoying and agressive, so I ordered off active and doesn´t regret it. It is so effective, even at high humidity and when I sweat. Because autan brand is also made by SC Johnson, I really hope that this "15% DEET Off Active" formula will be market here in germany next season. I don´t like the picaridin options, because they are not as good as DEET, plus sweat resistance. This off active is my new friend. :)" -Anon
"This is my savior, I am a big meal for the mosquitos 🦟 but this repellent is effective to avoid them, there are a lot of trees in my area so the mosquitos are around all the time." -Eddy
Things to Consider Before Buying Mosquito Repellent in Malaysia
Protection Time
If you have an outdoor activity planned, it's easy to lose track of the time so you may end up forgetting to reapply the much-needed mosquito repellent. Mosquito repellents are formulated differently, hence they vary in duration.
For maximum protection, you can opt for mosquito repellents that are made to last up to 6 to 8 hours. However, if not needed, some last for up to 4 hours only that you can use at hours when mosquitoes tend to come out the most.
Mosquito Repellent's Base Ingredient
Some mosquito repellents contain diethyltoluamide or DEET to ward off mosquitoes and other insects. It helps prevent contractions of serious diseases like malaria but could have skin side effects like irritation if the concentration level is not suited for your skin.
Natural ingredient-based repellents, on the other hand, are milder on the skin but do not guarantee medical-grade protection.
Your Health Concerns
Mosquito repellents, whether they contain DEET or all-natural ingredients, might still induce health repercussions if the ingredients contain particular allergens for the user.
If you have special concerns, especially on the skin, it's best to consult your physician on the kind of mosquito repellent you use.
Type of Users
Babies' and children's skin are far more delicate and sensitive than an adult's. Most of the mosquito repellents available are made from natural ingredients and should not do harm while some contain ingredients that may be too strong for younger users.
If used for kids and babies, you may opt for milder ingredients or all-natural ones.
FAQs about Mosquito Repellent
---
That concludes our list of the top mosquito repellents in Malaysia and all that you need to know about them. Keeping yourself and your family safe from disease-ridden mosquitoes is one of the most important things to stay on top of when living in a tropical country like Malaysia.
We hope this article shed some light on the most important aspects of mosquito repellents on this list and prompted you to purchase one of them. If it did, please feel free to reach out to us and let us know how well it worked!
If you think that your mosquito or other pest-related issues are getting out of hand, you may also want to check out these options for the best pest control in Malaysia.