8 Best Mortgage Brokers in Kuala Lumpur
Featured Image Source: Jared Rice via Unsplash
Getting a loan for your dream home can be difficult, especially if you don't even know how to go about getting it. However, with the best mortgage brokers in Kuala Lumpur, the house of your dreams should become less of a pipe dream and more of a possibility.
If you want to find a mortgage broker for your home loan but don't know where to start, you may find one in this list below.
1.  Thinq Wealth Consultancy Services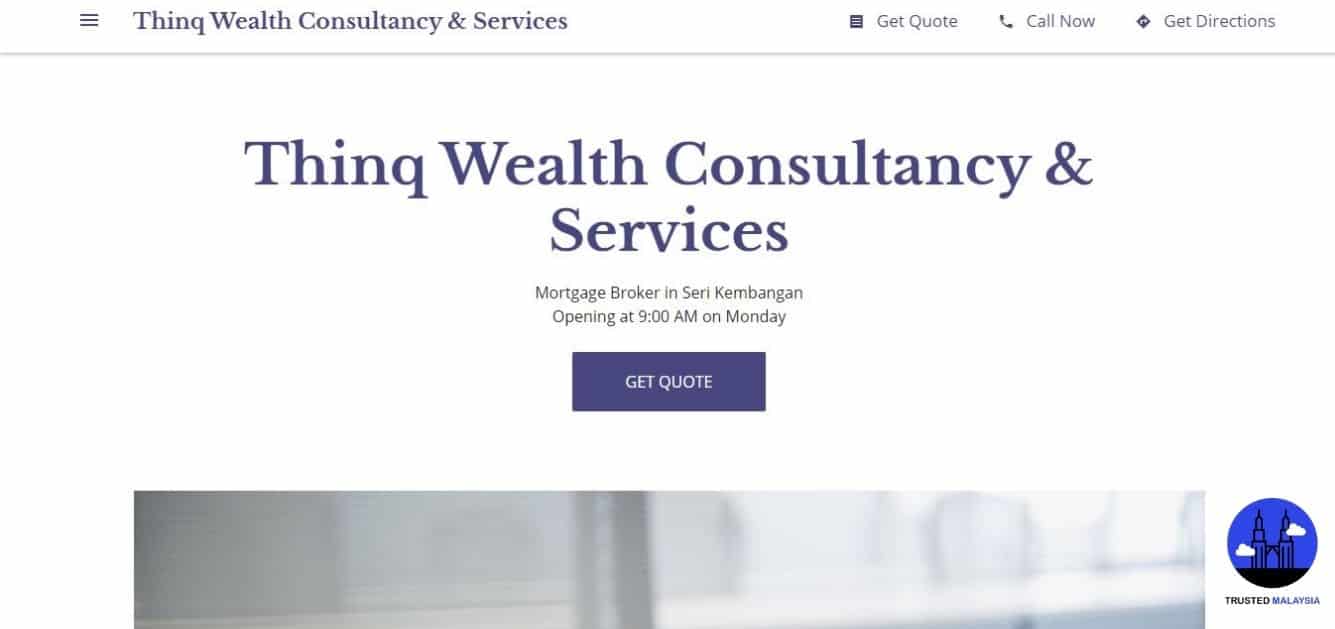 As one of the best mortgage brokers in Kuala Lumpur, Thinq Wealth provides one-stop mortgage loan services from Malaysia's leading financial institutions.
Their mortgage consultants are well-equipped for the processes and are dedicated to assisting you all throughout.
Their service even goes beyond in order to help their clients get their dream home. They go out of their way to understand their clients' budget constrictions, so you can trust them to guide you in selecting the best mortgage loan based on your financial situation.
They make sure you get the house of your dreams with financial freedom that could even allow you an early retirement.
Highlights
One-stop mortgage loan services
Assistance covers essentially every part of the mortgage process
Customer Reviews
Omar S., a previous client of this best mortgage broker in Kuala Lumpur, left this review:
"Mrs. Wendy is a very efficient and committed person. helped me a lot by giving me useful advice. Thanks to Mrs. Wendy and Thinq Wealth Consultancy & Services."
2.  Smart Choice Solution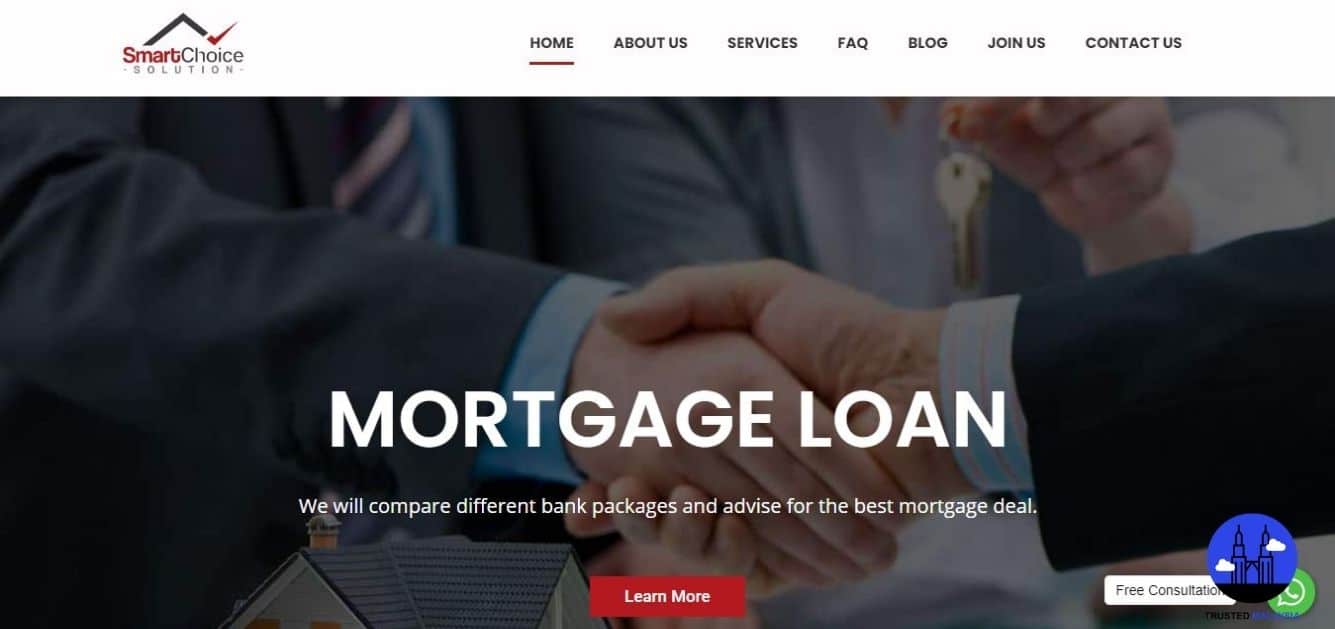 If you want a truly hassle-free home loan application from start to finish, Smart Choice Solution is the best mortgage broker in Kuala Lumpur for you.
First, they search for viable mortgage deals for which their client would be eligible. Then, they advise their client on the best mortgage deals as to interest and repayment.
Once the client has decided which bank to get the loan from, Smart Choice Solution submits the home loan application (after making sure you have the complete documents). This best mortgage broker in Kuala Lumpur will also be the one to do the follow-ups when the need arises.
Highlights
Hassle-free from start to finish
Submits your application on your behalf
Does the follow-ups
Customer Reviews
Wicky Sundram, who has been a client of this best mortgage broker in Kuala Lumpur, said:
"SCS has been my home loan adviser for both properties that I have purchased over the past 6 years. They are very dedicated and committed in providing the most possible solution to their clients.
They always go way out to look for the best possible financial options, in terms of interest rates as well as to ensure the package is well suited to meet the client's needs. Their after sales services is a commendable one."
3.  Redefined Mortgage Specialist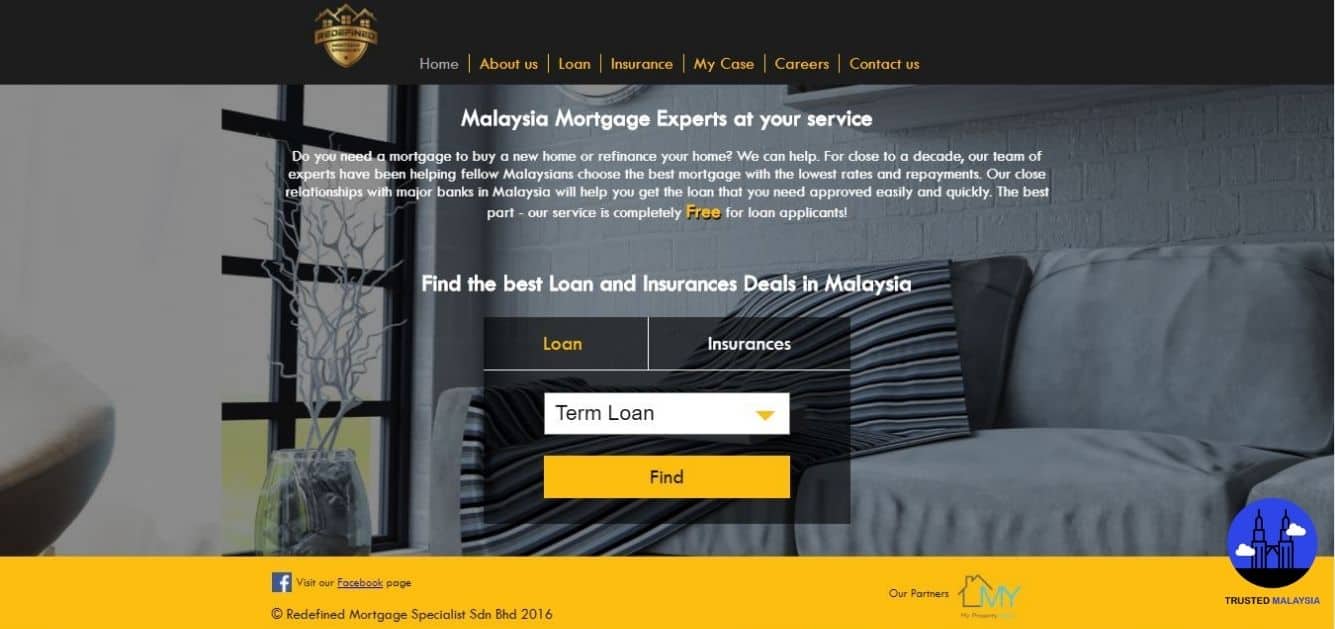 BEST FOR:
Free service
PRODUCTS:
http://rm-s.my/home
WEBSITE:
http://rm-s.my/home
ADDRESS:
Lot 1.3.13, 3rd floor,

Pearl International Hotel,

Batu 5, Jln Klang Lama,

58000 Kuala Lumpur

CONTACT DETAILS:
603-7988 0175;

603-7988 0275;

OPERATING HOURS:
Mon to Fri 9:00am-5:00pm
One of the best mortgage brokers in Kuala Lumpur, Redefined Mortgage Specialist, has been helping Malaysians get the best mortgages for nearly a decade.
Their close working relationships with banks in Malaysia help their clients get loans with the lowest interest and repayment rates easily and quickly.
With their help, you simply have to submit your loan requirements and discuss the loan options with them based on your needs. Then, you will receive loan options to choose from.
After you've chosen your bank, their consultants will guide you through the application process. If approved, you can receive your loan and move into your dream home in 3 to 6 months!
That's not even all of it yet. The best thing is that this best mortgage broker in Kuala Lumpur provides their service for free to home loan applicants.
Highlights
Nearly a decade of experience
Close working relationships with banks in Malaysia
Receive your loan in 3 to 6 months if approved
Free service for home loan applicants
4. PFA Asia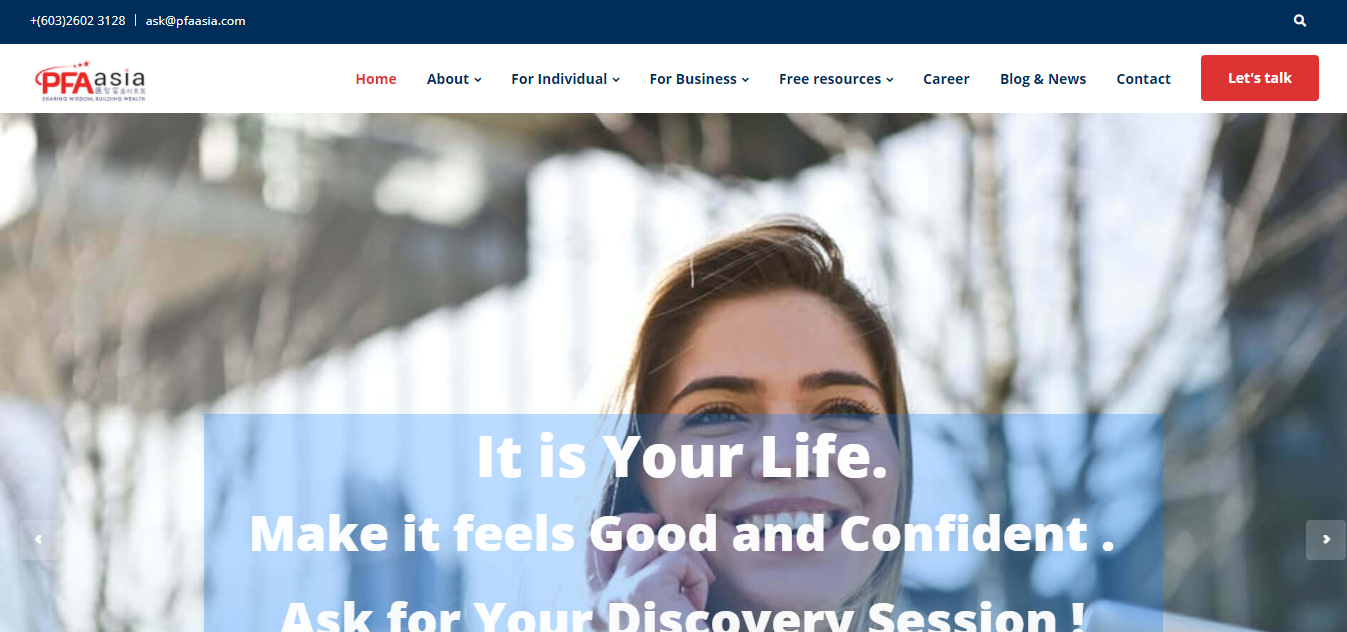 BEST FOR:

Individual and business Loans

PRODUCTS:
Individual
Plan your wealth
Invest your wealth
Distribute your wealth

Business
Finance your wealth
Grouw tour wealth
Protect your wealth
Exit your business

WEBSITE:
https://pfaasia.com/
ADDRESS:
Suite 29.09, Level 29, Capsquare Tower, 10 Jalan Munshi Abdullah 50100 Kula Lumpur
CONTACT DETAILS:
6(03) 2602 3128


[email protected]

OPERATING HOURS:
Monday to Friday 9 AM – 6 PM
PFA Asia is a boutique financial services company that offers customized solutions catered for Mass Affluent Market of Business Owners, Professionals, and Executives.
The best way to manage your financial matters is to get in touch with a financial coach  or advisor from PFA Asia. Unlike other comapnies on this list, their advisors are all licensed and have over 21 years of experience, thus, they can definitely help you with your financial planning.
In comparison to others, they are one of the companies who are very transparent on their fee structure and they work with different fee models. They have 4 and these are annual/hourly advisory fees from client, AUM percentage charges from client, commissions earned from products while helping clients implement the financial program, and referral fees aerned from other agent/advisor.
What's unique about them is they offer customized financial planning needs. It will be up to you to decide and choose what are relevant and important. They will still guide you all throughout the process, from the very beginning until the end.
Highlights
Discovery process meeting is free
Trusted by over 2000 local businesses
Wide range of services
5.  My Wealth Capital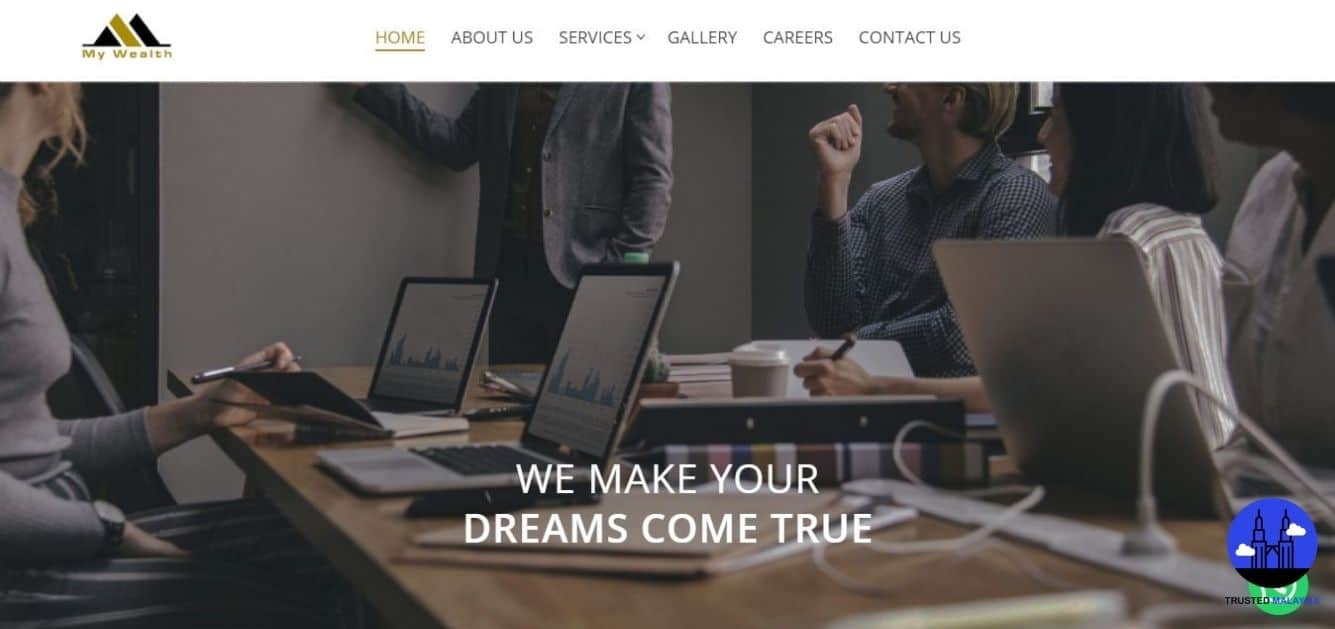 My Wealth Capital is the best mortgage broker in Kuala Lumpur that helps not only in home loans, but also loans for commercial properties.
They ensure that they provide the best advice for clients by helping clients identify the options with the highest approval rates. They also guide their clients meticulously for a quick and easy loan application process.
According to their experts, selecting a housing loan with a low base rate is a mistake other mortgage brokers commit often. My Wealth Capital's approach is to help their clients save more money in the long run by focusing on the interest and repayment rates, by contrast.
Highlights
Home and commercial property loans
Helps clients select options with the highest approval rates
Quick and easy application process
Tries to find low interest and repayment rates
6.  De Bancco Group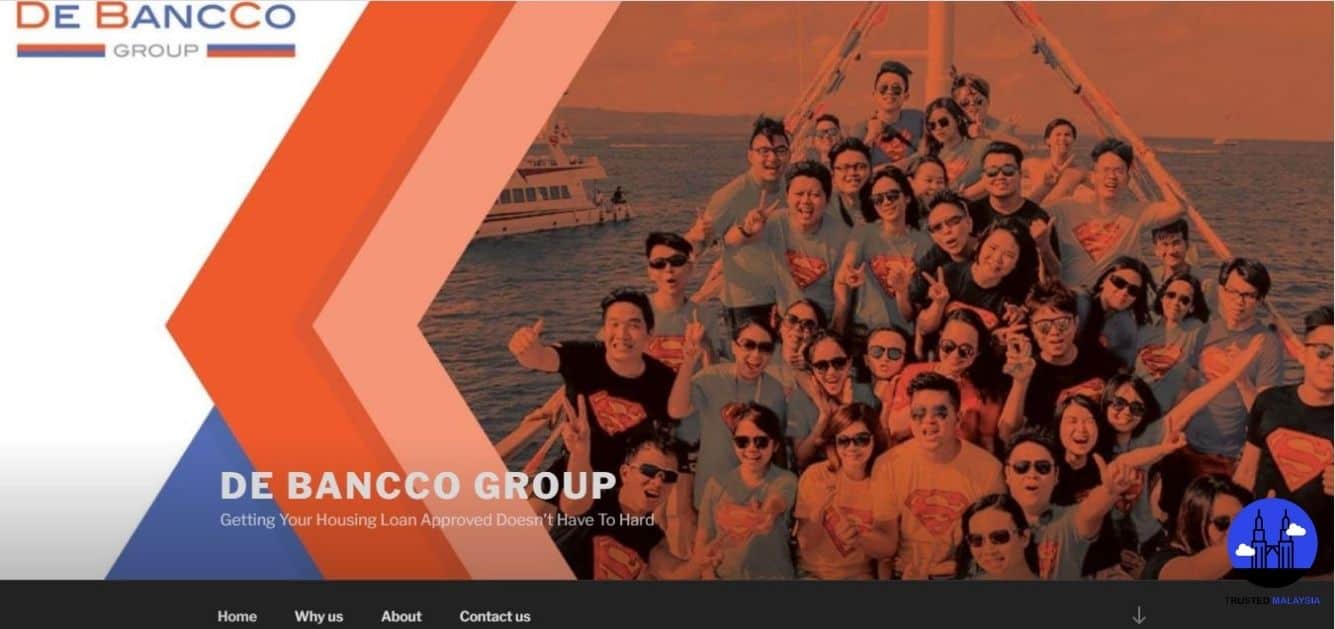 BEST FOR:
Home loan reapplication
PRODUCTS:
https://debancco.com/
WEBSITE:
https://debancco.com/
ADDRESS:
55-3, Jalan Radin Anum, Sri Petaling (15.12 km)

57000 Kuala Lumpur, Malaysia

CONTACT DETAILS:
+6012-6117784;
OPERATING HOURS:
Mon to Fri 10:00am-5:00pm
An award-winning bank loan advisory firm, De Bancco Group's expertise lies in helping prospective homeowners whose bank loan applications have been rejected before.
This best mortgage broker in Kuala Lumpur will help you identify the cause of your previous housing loan rejection and provide you with alternative solutions. Then, they will help you get your new home loan approved by working closely with you and your desired bank.
Their quality service starts with free professional advice through calls, WhatsApp, or Zoom.
Highlights
Award-winning loan advisory firm
Specialises in helping those who have had a rejected home loan application
Identifies the cause of your home loan rejection and provides alternative solutions
Free professional advice through calls, WhatsApp, or Zoom
7. Easy & Fast Mortgage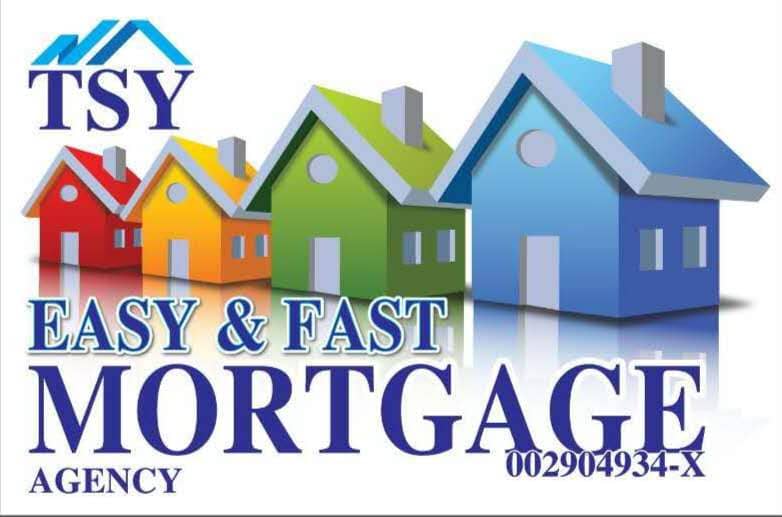 Trust Easy & Fast Mortgage to help you apply for loans, find competitive interest rates, and negotiate terms and conditions with lenders. You can be sure that your best interests are at the heart of their services.
Rest easy knowing that they will gather documents from you, pull your credit history, and verify your income and employment using the information to help you apply for loans and negotiate terms in a short time.
Highlights
Reasonable rates
Fast process times
Quick responses
8. Blue Bricks
BEST FOR:

Loan Rejected Services

PRODUCTS:

Loan Processing

WEBSITE:
https://bluebricks.com.my/en/
ADDRESS:

21-2, Jalan Radin Bagus 5, Bandar Baru Sri Petaling, 57000 Kuala Lumpur.

CONTACT DETAILS:

Phone: +603 9055 3678

Mobile: +6017-4883931

OPERATING HOURS:
Wednesday 9am–6pm
Thursday 9am–6pm
Friday 9am–6pm
Saturday Closed
Sunday Closed
Monday 9am–6pm
Tuesday 9am–6pm
Recognized as one of the top ten leading loan agency companies in Malaysia, Blue Bricks is definitely trustworthy with your loaning problems. They understand the law, and will customize a solution that is both legal and safe.
By trusting their guidance, loaning will be much more efficient as they will ensure giving you a wide range of loans and easy access up to date information and advice. Blue Bricks is truly an aid to bank loaning.
Highlights
As they work closely with banks, they ensure only safe and legal practices to protect you.

They do not take deposit or prepayment, and every consultation and reports are free before loan submission.
With the help of one of these best mortgage brokers in Kuala Lumpur, you will surely be a step closer to your dream home or property.
And if you're already gearing up for that by planning the details of your home — especially if you want to do renovations — you may want to start talking to a renovation partner ASAP. Start scouting your home renovation partner with our article on renovation contractors in Kuala Lumpur.