The 12 Best Massage Places in Penang, Malaysia
Spa Accessories in Dark Background via Freepik
Penang is famous as a culinary haven for both locals and tourists alike. But it's actually a haven for those who need some stress relief and TLC too — tucked away in some of the hidden streets of the island are the best massage places in Penang or even all of Malaysia.
With beautiful coastlines, lush greenery, and a relatively laid-back lifestyle, it's not hard to see why Penang is a great place for spa lovers. The spas on the island offer some of the best relaxing getaways in the entire country.
To give you an idea of where to go whenever you want to ease those tired muscles, we've rounded up for you the best massage places you can visit for some well-deserved pampering.
1. HealthLand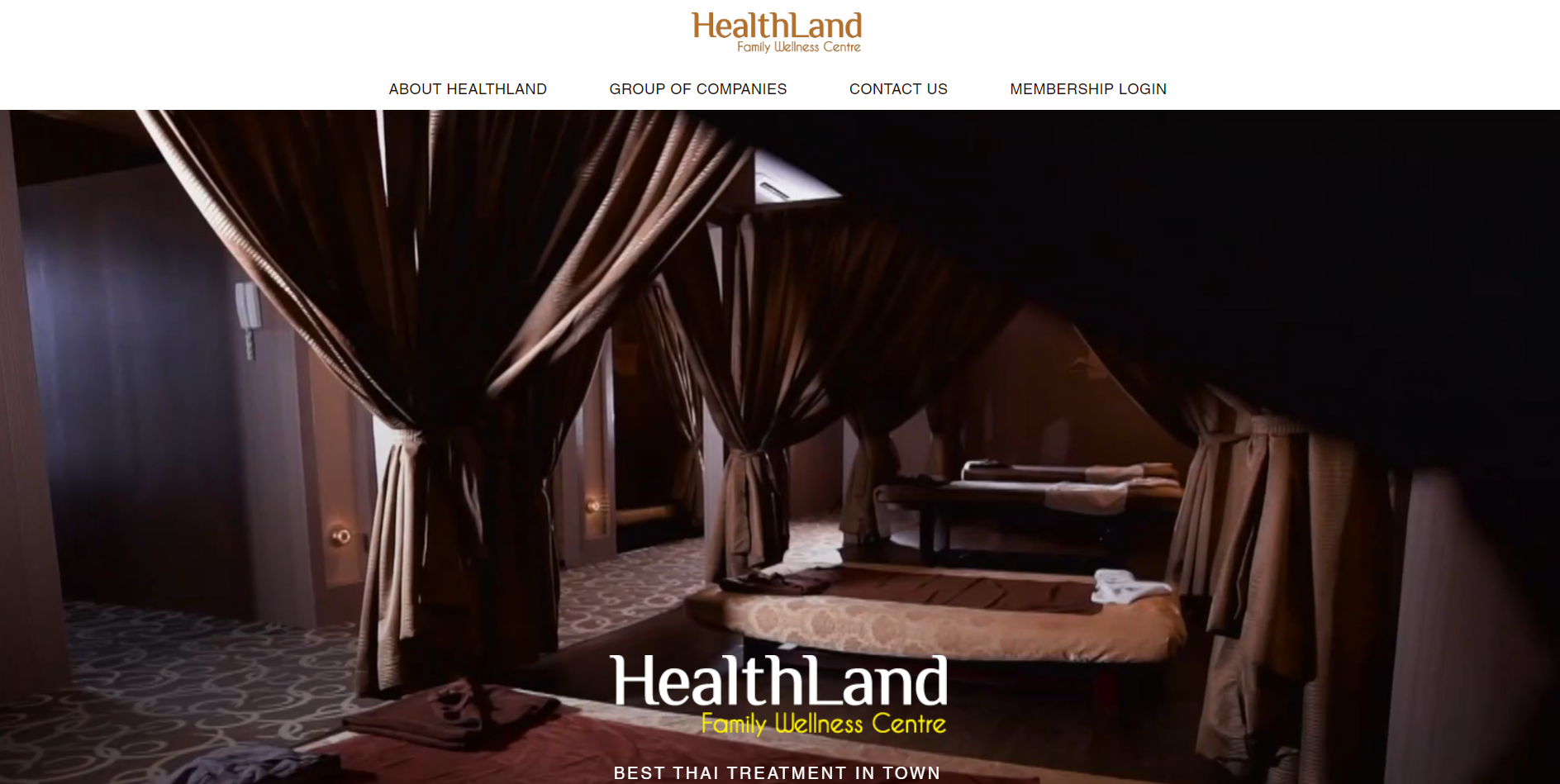 SERVICES 

Foot Treatment, Thai traditional treatment, deep tissue treatment, Thainess oil treatment, back and head treatment, half body treatment, ear scraping and candling, and Luk Pra Kob. 

WEBSITE

http://healthland.com.my/

 

ADDRESS

No. 56 & 58, Lorong Abu Siti Georgetown, 10400 Georgetown Pulau Pinang

CONTACT DETAILS

+604-217 0773

OPERATING HOURS

Monday – Sunday, 11:00 AM – 12 AM
Let's say you want a massage that is 3-star priced yet 5-star in quality. Then stop your search and head for HealthLand. It is a wellness center that provides a variety of massages for various purposes.
Do you have a foot ache from standing too long? You're covered by HealthLand's foot massage. Do you spend your entire day seated at a desk? Additionally, they provide head, neck, and back massages, which are excellent for relieving body aches.
If you want a more comprehensive approach, they also offer half-body, deep tissue, and Thai traditional treatments. We strongly advise trying the Luk Pra Kob therapy since it is a different but highly effective massage for your physiology and nutrition.
We heartily endorse HealthLand because of their qualified personnel, stellar reviews, and reasonable prices. Treat yourself to a high-quality massage from HealthLands to improve your health.
Customer Reviews
Very Relaxing
"Came for fave offer. Nice massage from masseur, felt very relaxed and did get the body feeling much better after the massage. Environment is very clean and cosy and definitely covid-safe!" – Felix Gan
Attentive and Skillful
"Had a great experience here today. Service was friendly, masseuse was attentive and skillful. Also when I request to get extra towel, she quickly provide one. Will definitely go again."- Ee Wei Lee
2.  Danai Spa at Tanjung Bungah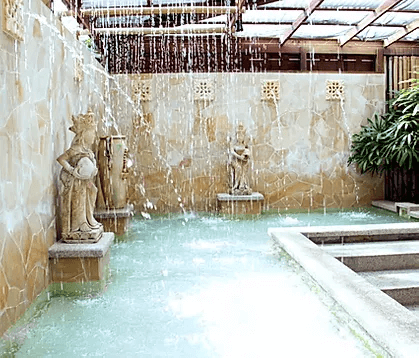 BEST FOR 
Danai signature massage and Danai spa aromatherapy massage
OTHER SERVICES
La Vie En Rose Romance Spa

Santorini-By-The-Sea Revitalize Spa

Ayurvedic – Balance the Doshas

The Asian Royal Collection Spa

Straits Peranakan Heritage of Senses Spa

Kahuna Wisdomkeeper of Polynesia Hawaii

WEBSITE
https://danaiwellness.com/
ADDRESS
103 Tanjung Bungah Park, 11200 Penang, Malaysia
CONTACT DETAILS
604 899-0899
 The Danai Spa at Tanjung Bungah is the dream product of the owners' travels to different resorts around the globe.
The Danai Spa at Tanjung Bungah is the first garden spa in Penang. We love the "zen-like" beauty that this garden spa brings, where you can experience not only tranquility but also relaxation with its many spa offerings.
Whilst you will be relaxed with Danai Spa's signature and aromatherapy massage, we suggest that you also try the The Asian Royal Collection Spa where you can revel in the Thai herbal pouch compress to totally get rid of fatigued muscles.
Another favourite of ours, which is a treat for those with a partner, is the La Vie En Rose Romance Spa where you and your significant other can indulge in the fragrant smell of roses as the therapists knead those knotted muscles.
Danai Spa has a couple of branches in Penang, but it's this branch in Tanjung Bungah that's most worth the visit.
Customer Reviews
These clients are all beaming about the excellent and mindful service that the therapists at Danai Spa at Tanjung Bungah deliver. Here's what they have to day:
"Went as a couple to experience the La Vie En Rose Romance Spa.
Hosted by May Lay and the two therapists, Lynn and Linda. They were all very mindful about our experience. Making sure we were well looked after.
Beautiful venue, lovely massage and genuine hospitality.
Would visit again, the next time we're in Penang."
"Had a wonderful HOT VOLCANIC STONE massage with my friend at Danai yesterday. Still feeling relaxed. Lynn and Monica were both excellent therapists. May and Sharon at the reception took excellent care of us. Highly recommended."
3.  Pañpuri Organic Spa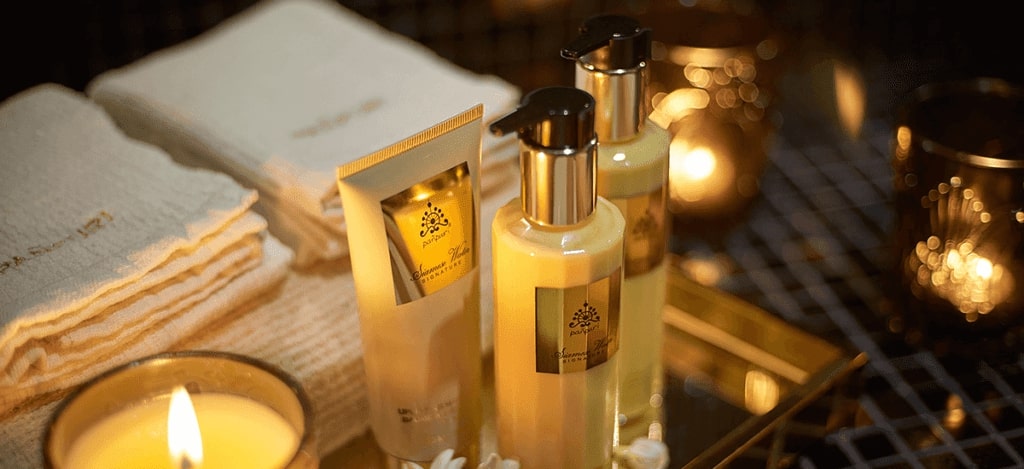 | | |
| --- | --- |
| BEST FOR  | Organic packages and signature facials |
| OTHER SERVICES | Organic massages, organic body treatments, organic spa treatments for men |
| WEBSITE | https://www.panpuri.com/organicspa/penang/index.html |
| ADDRESS | 6th floor, Victory Annexe 10, Lebuh Farquhar | Eastern Oriental Hotel Penang Island 10200, Malaysia |
| CONTACT DETAILS | +6 04 222-2000 ext. 3233 |
| OPERATING HOURS | 10:00 AM – 9:00 PM |
We love the good stuff that anything organic brings. That is why when we discovered the Pañpuri Organic Spa at the Eastern Oriental Hotel, we knew that it had to be included among the best massage places in Penang.
We love how the Pañpuri Organic Spa remains true to its name. Everything that is used in the spa—bathrobes, towels, sheets, fresh fruits, and refreshments—is organic.
Among its excellent offerings, it's the Pelau Penang Ultimate Signature Body Rituals that we truly love. That's because this signature treatment offers a toe-to-top kind of relaxation.
It offers the best four-hour body pampering you deserve. You'll be treated first to an organic tea tree foot ritual followed by an herbal steam to prepare your skin for an organic body scrub.
After this, your body and face will be treated to the organic massage and facial of your choice. And for the finale, you get an organic refreshment to cap off your relaxing escape.
Overall, the organic theme of the Pañpuri Organic Spa is woven all throughout its many offerings, which makes this spa a must-try in Penang.
Customer Reviews
Having a repeat client translates to excellent delivery of services, as one of these clients share. They're all praise for the professional ambience the Pañpuri Organic Spa offers.
"Me and my husband dicided to come for our honeymoon for the second time around, we are celebrating our anniversary,since we are staying at Eastern and Oriental Hotel we booked our room included the spa, which is the honeymoon packages,treatment includes jacuzzi for 15mins,body scub for 30mins,body wrap for another 30mins and 90mins.for the body massage. During our treatment we enjoyed it much, we loved to have this bonding.finally we got time to relaxed. The spa was totally amAzing, nice seaview and service was top notch! Kudos to the team of panpuri!You all did your job well. Special thanks to you all for making our stayed and treatments awesome and memorable. ??"
"Great my experience, with the body massage and facial treatment. Everyone was extremely professional and good knowledge. The quality of the treatment is also top notch, the treatment room nice of ambience and relaxing environment. Will be back soon."
4.  Eco Wellness Sanctuary

| | |
| --- | --- |
| BEST FOR  | Signature indulgence therapy |
| OTHER SERVICES | Aroma therapy, body therapy traditional Thai, foot therapy, organic face therapy, and far infrared sauna therapy |
| WEBSITE | https://www.ecowellness.me/ |
| ADDRESS | No.197 & 199 M Summit, George Town, Penang Island 10300, Malaysia |
| CONTACT DETAILS | 603 3318-3264 | 018 221-7455 |
From a spa with organic offerings, let's take this list a notch higher with this 5-star spa, the Eco  Wellness Sanctuary. This massage place offers the complete wellness package we all deserve.
A member of the Malaysian Association of Wellness and Spas, Eco Wellness Sanctuary offers not only your regular massage therapies, but also wellness and healing programs.
We love how this sanctuary uses only organically and ethically sourced formulations and treatments for its myriad of services. It also offers detoxification and weight loss treatments to get rid of the harmful elements that may be present in our bodies.
But let's focus on its massage therapy offerings since those are what we commonly avail of in spas.
What we like about the different massage and therapies offered is that you can avail of other kinds of essential oils the center provides apart from what's given in the treatment itself. You can take your pick from the usual lavender, peppermint, and formula 5 massage oil blends for a relaxing treat.
We suggest that you try the signature indulgence therapy where you can choose from a full body scrub treatment, foot scrub, aromatherapy with body body scrub, and the body, head, and shoulder massage.
Whatever service you avail of, you are sure to come out refreshed and rejuvenated from the centre.
Customer Reviews
Sometimes the great finds are those that you stumble upon without even knowing. These clients are all raving about the beautiful ambience the place has and the great massage experience from its therapists:
"Was here today with my fiance. They were so friendly! Note that we didnt had a booking just walk back from shopping and they could take us at once. Which was perfect. So friendly stuff and we loove the massage. Took the aromatherapy treatment 60 min. Highly recommend."
"Just had a wonderful 90 minutes aromatherapy massage. It was a strong full body massage that managed to loosen all my sore points. Will definitely recommend to my friends."
"We stumbled upon this place and gave it try! This place is amazing and you won't regret their quality service! Took their 90mins Aromatherapy massage. They used good quality organic oil and their masseuses are all from Thai. I totally love the ambience too. I asked for a strong massage even though it was pain but after the massage my body felt relax. You should visit here if ure in Georgetown!"
5.  Float for Health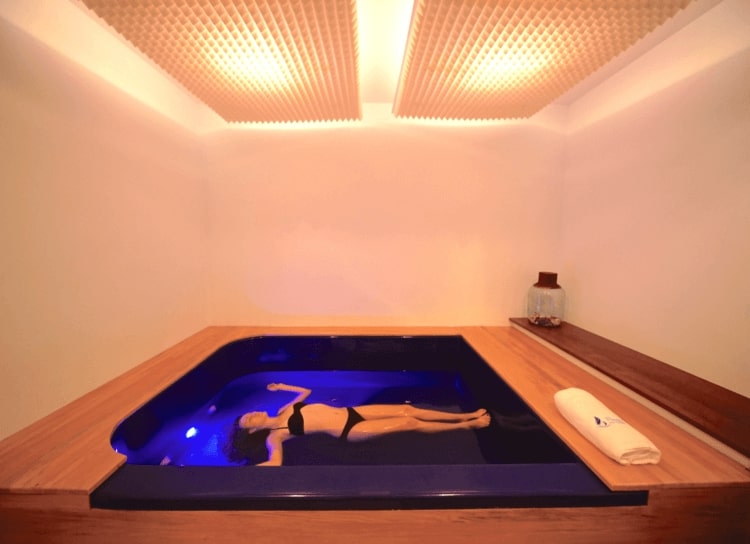 BEST FOR 
Floating treatment
WEBSITE
https://www.floatforhealth.com/
ADDRESS
Vantage,  Desiran Tanjung Block A-03-3A, Penang, 10470 Malaysia
CONTACT DETAILS
+60 4 892-0366 |

[email protected]

RATES
Click here for the pricing.
OPERATING HOURS
Monday – Sunday 10:00 AM – 10:00 PM
Imagine floating in a tank filled with water and entering a world devoid of noise and stress. That's made possible with floating therapy.
Float For Health is Malaysia's premier float center providing Malaysians and even tourists all the therapeutic benefits of floating. In fact, floating therapy has been around for some 50 years already, so this is not some avant garde trend in therapeutic healing.
Floating therapy is a treatment that we can all turn to not just for relaxation. Much scientific research supports floating treatment for recovering from injuries, flushing out toxins, boosting problem-solving skills and creativity, gaining mental clarity, getting rid of vices, and optimising athletic performance.
With all the many wonders floating treatment can do not just for the body but for our general well-being as well, we think that Float For Health is a must-try in Penang.
When you book a float session at Float For Health, you will be immersed in a tankful of water at 34 degrees Celsius and with 500kg of Epsom salt, which has a lot of health benefits for the body. With soothing music in the background, you'll float your way to serenity and meditative healing.
We suggest that you get Float For Health's packages so that you and your friends can buzz about the experience after your session. Rest assured that you won't be sharing a tank together, just the experience.
Lastly, if you feel squeamish about the sanitation of the tanks and water, you can put your worries to rest. Each float tank comes with its own pump that filters the water tank and uses a sanitising fluid, along with a portable O-zone generator to kill any bacteria that may be thriving in the tank.
Customer Reviews
From a zen-like experience and what-to-expect if you're a newbie at floating therapy to discovering new insights about it, these clients who've tried Float For Health give us tons of reasons to give floating a try:
"I was looking through TA for spa's in Penang when I came across Float for Health. I've floated quite a bit in England so liked the idea of having a session at a bit of a cheaper rate than back home!
From looking at the photos I noticed they don't have pods like I'm used to, but open float tanks. I wasn't sure if/how this would affect the experience, so I dropped them an e-mail and Arthur, one of the co-owners, wrote back to me and completely put any concerns I had to rest. I then booked a 2 hour session (180RM / £32)!
I was running late, which was completely my fault, and I hate being late for appointments so that was stressing me out in the taxi a bit. I sent them an e-mail from the taxi to let them know, and they were wonderful about it.
Arthur's colleague (whose name escapes me) was brilliant when I got there. He made me a drink and then went through the history of floating and put on a short video to show what you need to do when you go in the room. All worth listening to even if you have floated before.
I then went into my room to be greeted by the giant tank and then had my 2 hours. As it was my first time doing 2 hours, my mind did start to play with me towards the end, in terms of questioning how long I'd been in there and how long was left. These are all things you're likely to experience if you've not floated before or are floating longer than you normally would. Each time you float, though, the better your experience will be.
When I finished, I went into the relaxation area where there was some freshly cut apple and a drink waiting for me. I felt so revived and relaxed at that point! After a while, Arthur came through to introduce himself and then we had a bit of a chat. Arthur's a great guy and has a wealth of information about floating and I really enjoyed chatting with him
I won't go into the health benefits. There's a ton of them and a ton of information online.
Thanks Arthur for a great experience, and I wish you all the best for the next opening!"
"First time trying out floating and loved the experience. Customer Service was absolutely remarkable and pleasant. Be prepared to be completely relaxed after your session."
"This was my first time floating and I loved it. The staff is very welcoming from the very beginning, the facilities are neat, clean and warm. Everything they provide makes the experience very enjoyable. From the comfortable private rooms where the big tub is, the creams, shampoo, shower and warm towels, the music the pick and afterward reward tea and fruit. For sure I will be a regular if I ever go to live to Penang!"
6.  Relax Massage and Fish Spa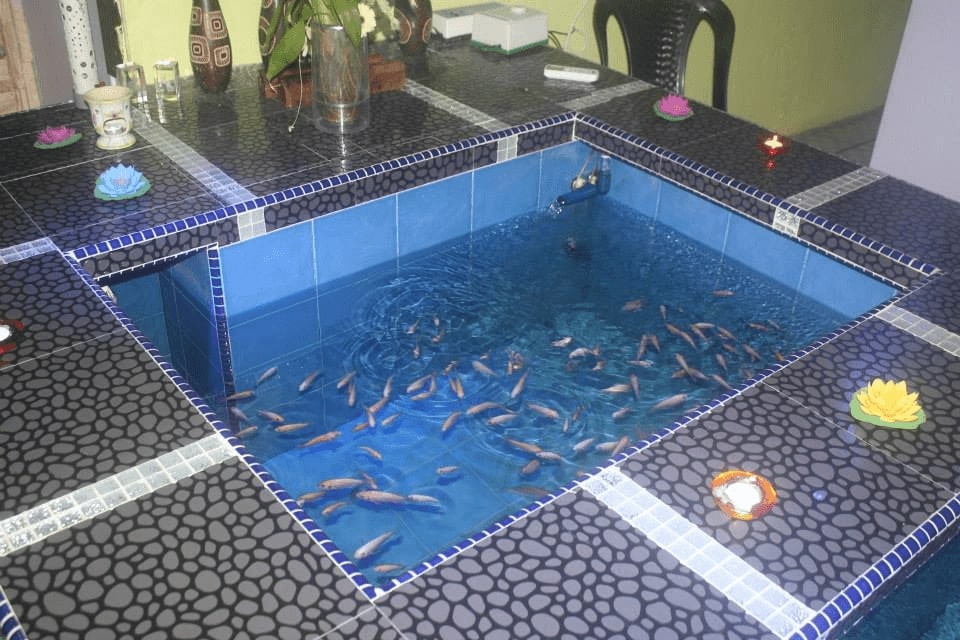 We're not getting out of the water just yet (kind of) as we bring to you the Relax Massage and Fish Spa. We like how the Relax Massage Fish Spa offers a one-of-a-kind relaxation not just for tired muscles but for our skin as well
To get that perfect relaxation you want, we suggest that you try out the fish spa first followed by a whole body massage. You can even add a body scrub if you want.
Our friendly "doctor" swimmers have been known to eat the dead skin cells on our legs and feet to make them smooth and encourage new skin to grow. You get not only renewed skin but also a good prep for your ultimate pampering afterwards — the massage.
You can take your pick from its wide array of massage treatments for the different parts of the body—neck, back, and lower back—along with sports massage, foot reflexology, lymphatic drainage, ear candling, and body scrub.
If you've never tried a fish spa, now may be a good time to do so in Penang.
Customer Reviews
These clients are all beaming about the excellent service they received from Relax Massage and Fish Spa. Here's why they highly recommend that you give it a try.
"The room is quite tight and you might find yourself waiting outside for an open spot. ALL of the staff are very professional and actually massage you with their 100% the entire time. Also very generous and gave us free fish spa time while we were waiting! The masseurs were great at what they did and the owner even talked with us while we were waiting! I've been to Shanghai, Siem Reap, Phuket, Bangkok, Ho Chi Minh, KL, Hanoi, Jakarta and more and this must be the best massage spa ever."
"My wife and myself went for a relax-massage, foot-massage as well as an earwax treatment. This was very good. Friendly staff. Highly recommended."
7.  Herbaline Facial Spa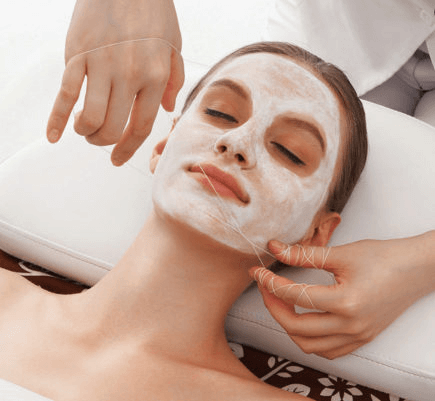 | | |
| --- | --- |
| BEST FOR  | Facial spa |
| OTHER SERVICES | Butterfly threading, foot paraffin, ear candling, body massage, and add-on treatment |
| WEBSITE | http://www.herbaline.com.my/ |
| ADDRESS | Click here for the different branches. |
| CONTACT DETAILS | Click here for the contact details of the different branches. |
 Because our face deserves pampering, too, we're throwing in a facial spa service like no other. We promise that you'll be pretty as a picture as soon as you step out of Herbaline Facial Spa.
We can't get enough of not only the many facial treatments we can get from Herbaline Facial Spa but also its other treatments and massage services.
What we like about Herbaline Facial Spa is that before any kind of treatment that will be done to your face, its staff always starts with a skin analysis. This is followed by the facial treatment that best matches your skin type.
You can also choose from its comprehensive list of facial treatments like express cleansing treatment, face lightening and moisturising, and micro peel skin rejuvenating, to name a few.
To complete your facial spa treat, you can also try the jade stone acupressure body massage. It uses high-quality jade to let energy penetrate the body, improve blood and energy circulation, and remove decongestion and muscle fatigue without giving you bruised marks.
Like what we said, we like massage places that offer a whole body kind of treatment we all deserve.
Customer Reviews
These clients love the affordability of the services and care that they received from the staff of Herbaline Facial Spa.
"Great place. The price seems affordable for the service they provided. The massage was good with complimentary fish spa. Clean and professional place. Highly recomended"
"Very good service. My daughter had her 1st facial done. The staff was very careful and took great care of her."
8.  Chi, The Spa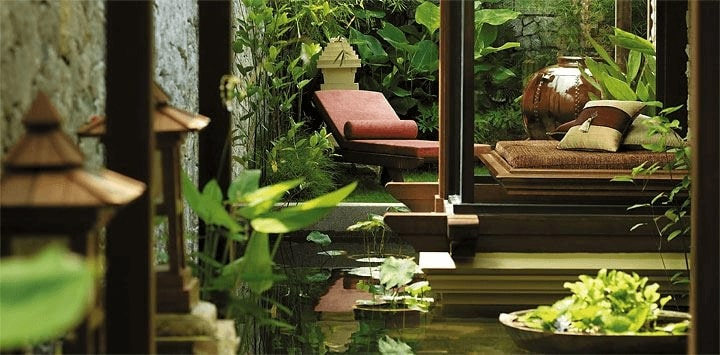 BEST FOR 
Wellness Journeys
OTHER SERVICES
Facials, body treatments, massages, and enhancements
WEBSITE
http://www.shangri-la.com/penang/rasasayangresort/chi-the-spa/
ADDRESS
7-11 Batu Feringgi, 1, Lorong Sungai Emas, Kampung Tanjung Huma, 11100 George Town, Pulau Penang, Malaysia
CONTACT DETAILS
Phone: 60 4 888-8888

Fax: 60 4 881-1800

OPERATING HOURS
10:00 AM – 10:00 PM
This is another spa from the Shangri-La Hotel in Penang that made it to our list of best massage places you should try in Penang.
Getting a massage treatment from any kind of hotel is a real treat, which is why if you will indulge yourself in such a fancy relaxation, we suggest that you get any of the treatments under the Wellness Journey offering of Chi, The Spa.
Two of our personal favourites are the One Malaysian Experience and Mindful Luxury Retreat for 2, which is perfect if you have your significant other with you. You won't need to ask for extra time because the pampering results are effective and immediate with these.
We love the One Malaysian Experience because you get to have an authentic aromatic herbal scrub that rejuvenates your skin.
This is then followed by the Janri Menari Massage, which is good for an hour; you then get the Spa Romantic Bath Soak to cap off your relaxing escape.
The Mindful Luxury Retreat for 2 also makes a perfect treat for you and your significant other. Each of you will receive an Organic Probiotic Body Scrub to prep your bodies for the Age-defying Organic Wrap Combo, followed by the Couples Rejuvenating Aromatherapy Massage for the finishing touch.
Whatever treatment you wish to avail at Chi, The Spa is already a treat by itself.
Customer Reviews
Chi, The Spa offers the perfect respite in its relaxing environment and mindful treatments. Here's what clients love about it:
"Everything you need for a great holiday the staff the food the ambience the accommodation make sure you stay in Rasa Wing
We will be back"
"By far, the best – woody rustic treatment room and outdoor bathtub surrounded by nature. Loved everything. Foot spa, milk and rose petal bath and aroma massage. Pricey, but worth every penny for this Cleopatra treatment. Customer service A1 standard as well. Can't be happier."
9.  Ke Wynn Medical Fitness Center
BEST FOR 
Sports Injury Therapy
OTHER SERVICES
Wellness Programs, Body Part Solutions
WEBSITE
http://www.kewynnpt.com/
ADDRESS
50E-2 & 50D-2 Fettes 10
Jalan Fettes, Tanjung Tokong
11200 Tanjung Bungah
Penang
CONTACT DETAILS
+604.890.2006‬ / +6012.233.8626
Email: [email protected]
OPERATING HOURS
7am-12pm, 3pm-8pm (Monday to Friday)

8am-12pm (Saturday)

BY APPOINTMENT ONLY
Feeling pain on a near constant basis isn't any way to live. This is the philosophy that Ke Wynn Medical Fitness Center follows to this very day, which is why they have dedicated their service to relieving their clients of pain and injury.
Every treatment they offer was created with both safety, effectivity, and functionality in mind. They take into consideration your body's current physical state and what your goals are, before carefully guiding you through the proper steps that you need to take in order to achieve what your goals.
Customer Reviews
Here is what previous clients have said about their experience at Ke Wynn Medical Fitness Center:
"Ke is amazing. Have had upper back issues for a while and he's really helped. He does deep tissue/sports massage and helps great at identifying pain points and releasing the tension. He also provides exercises to do at home for permanent solutions. Highly recommended!"
"Very intuitive and attentive to your needs. Well trained and specialized in sports injuries, friendly and very effective in treating your pains and aches."
10.  Tower Spa
BEST FOR 
Massages
OTHER SERVICES
Treatments
WEBSITE
https://www.towerspapenang.com/
ADDRESS
Level 67, The Top Komtar, Jalan Penang,

10000 Georgetown, Penang, Malaysia

CONTACT DETAILS
Tel: +60 16-692 1616

E-mail: [email protected]

OPERATING HOURS
 11am – 8pm
At Tower Spa, it's all about getting the full package when you come in for your self-care needs. That is, every visit showcases luxury, serenity, and tranquility. The sight itself that the spa offers is to die for, but that's only the first on the long list of things as to why they're our pick for one of the best massage places at Penang.
Second is their quality service. Every member of their staff is accommodating and patient when walking you through their services, as a means to help you understand what you're signing up for. Once you've entered the suites, they pay great attention to your needs in order to give you the best experience at their spa.
Another thing to note, and perhaps the most important, is their large selection of treatments for any possible bodily need. They offer massages, masks, and many more — all wrapped up in pretty affordable packages.
Customer Reviews
Here is what previous clients have said about their experience at Tower Spa:
"When visiting Penang on a holiday we visited this spa. This was a last-minute decision so the communication from staff and helping with last-minute booking was great. The atmosphere was so relaxed and the sunset was a great view to end our trip with. The staff were accommodating and the massages we received relaxed us and was worth the money. The studio was clean, open and intimate and focussed on us as customers. The service went above and beyond and was a great experience!"
"Good guest welcome, good massage quality and good guest send off. Patient staff, who will really try to deliver the best possible customer experience. Lovely views and decor. What more could you ask for?"
11.  De Villa Spa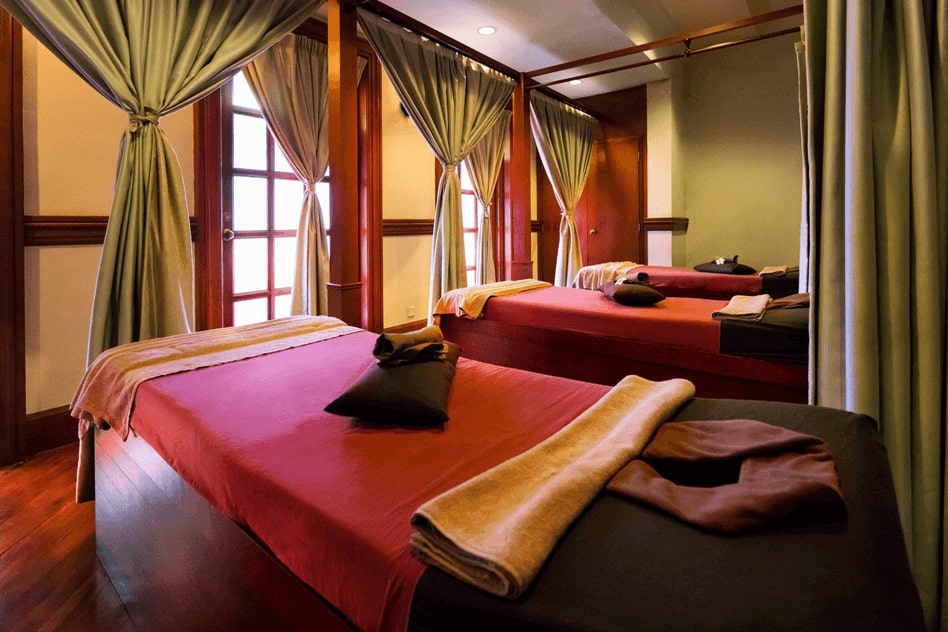 BEST FOR 
Dr Genesis DPL, De Stone Therapy Massage, and Traditional Javanese Massage
OTHER SERVICES
Aromatherapy massage, Thai herbal compress massage, GuaSha traditional massage, lymphatic brush massage, foot reflexology, perfect body slimming, womb care treatment, and body scrub
WEBSITE
http://devillaspa.com/
ADDRESS
The Heritage Club, Jalan Lim Mah Chye 10450 Penang, Malaysia
CONTACT DETAILS
Mobile: (+6) 012 512-5811

Phone: (+6) 04 229-8308

OPERATING HOURS
Daily 11:00 AM – 11:00 PM

***Including public holidays
Last stop on our list of the best massage places in Penang is De Villa Spa. Let's count the ways we love this place.
First, for the ladies out there, this spa is for you! We love that this spa has the womb care treatment.
If you want to improve and take care of your reproductive health, you might want to check out this service. It comes with a series of massage techniques that help support your menstrual cycle and fertility.
Secondly, we also love the Traditional Javanese Massage that stays true to the way it's done. You get to ease those muscles with traditional kneading techniques using hands, palm, and thumb.
This kind of massage also works well to relieve your back pain, improve blood circulation, and heal fractures.
All in all, you can't go wrong here because they really give the pampering you deserve.
12. CKMassage
At CKMassage, they are dedicated to providing you with professional massage services and treatments that cater to your needs. They have professionally trained masseuses that specializes in authentic Traditional Oil, Thai, and Balinese massages.
Rest easy knowing that their services help restore mental stability, improve blood circulation, as well as heal and enliven your mind, body, and spirit.
You will be able to feel at ease in their warm and relaxing environment. After a stressful day at work, you would just like to be back home and rest, but at the same time need a massage, and that's where their outcall massage services come in. This service also helps you to save time and eliminate the hassle of traveling around and dressing up for the occasion or worrying about being late for an important event.
So the next time you're looking for your sweet escape of relaxation, you might want to check out this place… or any of the other massage places on this list — the best massages in Kuala Lumpur, for example, or the best massages in Johor Bahru — Any of these will surely give you the best calm feeling, ever!
Have you tried any of the services of the massage places here? If so, please do share with us your relaxing experience in the comments below. We'd love to hear about them.