Where to Eat the Best Laksa in Penang
Laksa is a famous local food and a spicy noodle dish in Malaysia and it's loved not only by locals but also by expats who live here and foreign tourists.
We love all kinds of laksa and we know Penang is among the best spots in the country with amazing laksa. This is why we tried so many spots in Penang to find out where the best ones are!
To help you decide where to go if you want to taste the best laksa in Penang, we crafted this guide where we reviewed each restaurant. Read on to find out which place is perfect for your laksa cravings!
How We Picked the Top Laksa Spots in Penang
We always make sure that you'll get the best choices, so we made these criteria in making our list of the best places where you can get laksa in Penang:
1. Penang Road Famous Laksa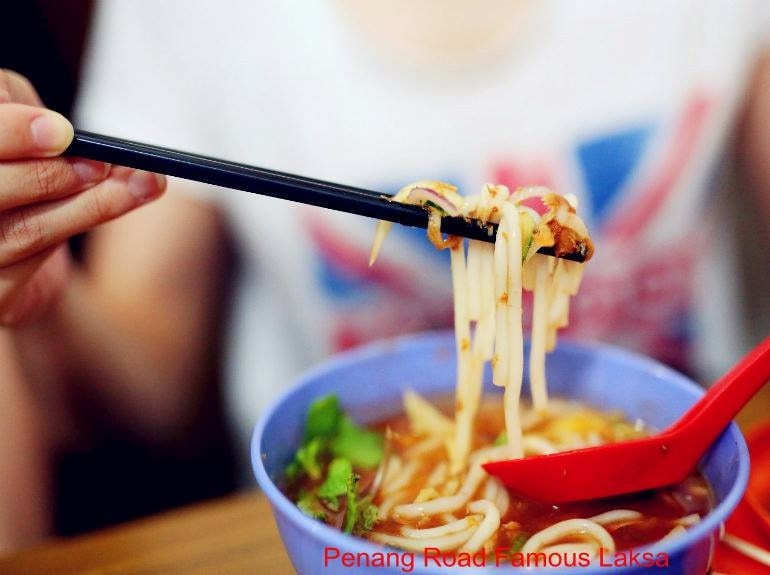 Criteria
Ratings
Variety of menu
★★★★★ (5/5)
Affordability
(A higher score means better value)
★★★★★ (5/5)
Establishment
★★★★☆ (4/5)
Facilities
★★★★☆ (4/5)
Amenities
★★★★☆ (4/5)
Location
★★★★☆ (4/5)
Customer satisfaction
★★★★☆ (4/5)
For laksa fans like us, Penang Road Famous Laksa is surely one of our top recommendations.
This is one of the most famous places in Penang where you can get this revered noodle dish and we're not even surprised to know that this is in the MICHELIN Guide.
What we like most about Penang Road Famous Laksa is that their laksa has a mild taste — it's not too spicy so we enjoyed every spoonful of their broth.
Their assam laksa is one of their best-sellers and it's no wonder why. The noodles are chewy, the broth has a sour kick and is rich in flavors, and the dish itself is very aromatic.
When we saw their laksa, we were happy to see how generous they were with the portions of sardines and mackerel they put in every bowl. You'll surely get your money's worth when you come here!
We were also taken away when we had a taste of their char kuey teow and cendol. Just like their patrons, we're sure you'd keep coming back for these too.
We believe it's worth noting how diverse and extensive their menu is. We discovered they offered different types of laksa and several cold and hot drinks, which is pretty impressive for us!
Another thing we're happy about this place is that they're Halal certified. It's a bit hard to find a great place to dine with delicious Halal food, so for us, Penang Road Famous Laksa is quite a gem.
Since it's a popular spot among locals and foreign tourists, it gets pretty crowded and people who come here might find themselves in a queue before they get to order.
Our only concern about this place is that they accept only cash payments. So if you're a tourist, make sure you bring cash if you plan to eat here.
Halal Certified
Gives big portions
Customers might have to wait in long lines 
Only accepts cash
Customer Reviews
Serves authentic food
"Had a great assam laksa and char kway teow. Thought the non Chili version was better. It's slightly touristy but still authentic" —Jeremy Lim, Google Reviews
Affordable and delicious food
"So good we came here twice! Both the laksa and the char kway teow were delicious and affordable, and the people here are all very friendly. The laksa was a good blend of sour, savory and sweet, and the char kway teow had that perfect wok hey taste with just the right amount of spiciness." —Raymond Chang, Google Reviews
2. Penang Air Itam Laksa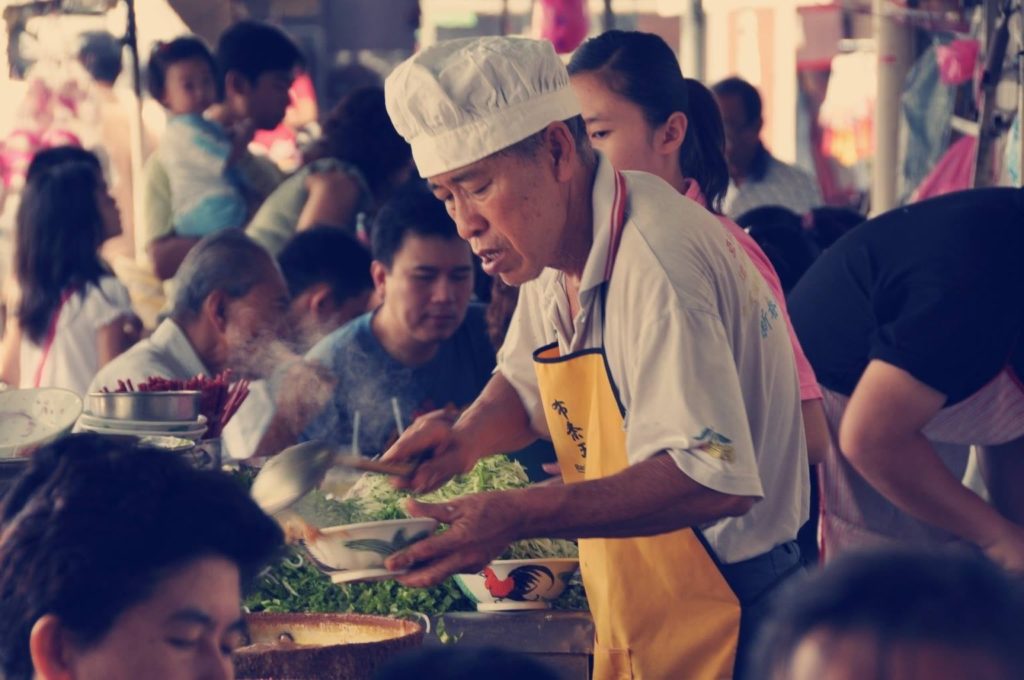 Criteria
Ratings
Variety of menu
★★★★☆ (4/5)
Affordability
(A higher score means better value)
★★★★★ (5/5)
Establishment
★★★☆☆ (3/5)
Facilities
★★★★☆ (4/5)
Amenities
★★★☆☆ (3/5)
Location
★★★★☆ (4/5)
Customer satisfaction
★★★★☆ (4/5)
Penang Air Itam Laksa is another place that's in demand for laksa in Penang.
It's popular because it has a reputation for serving the best laksa in Penang. The laksa here is top-notch — it's scrumptious and rich in flavors but it's also very affordable.
They have great assam laksa and curry mee laksa and anyone who tastes these dishes will quickly fall in love with them.
What we're most curious about their laksa is that they add pineapple so the broth has quite an interesting taste because it's extra stringy and not just spicy! We think it's perhaps one of the reasons why their laksa lives up to the hype.
With over 60 years of experience in the business, locals especially love coming here. And now, we noticed that plenty of tourists go here to taste their laksa!
However, this is only open during the weekends, specifically 3 weekends per month only. So it's usually jam-packed and waiting in line is common here because of the limited time and days they're open.
It's a roadside stall so it might be a bit uncomfortable to dine here but there are many tables so it can accommodate several customers.
Their customer service is a plus for us. We noticed that their staff is friendly and they make sure their customers are comfortable.
Reasonable prices
Amazing and savory laksa
Only opens on weekends
Difficult to find parking
Customer Reviews
Well-balanced taste
"First time trying asam laksa and I really enjoyed it, the broth is well balanced between sour, spicy and sweetness. I was expecting more sour but pleasantly surprised. Staff were very friendly and helpful to find me a table as I was by myself. Lots of people were staring at me though because I was the only white person in the whole area. The couple I shared a table with were very friendly and said not many white foreigners come to the neighbourhood." —Tristram Lucas, Google Reviews
Worth the travel
"This place is only open on weekends, but boy is it well worth the travel for. Perfect laksa broth with a really nice floral fragrance. We went around 2pm, so it wasn't as crowded as we had expected. Highly recommended for Penang laksa" —Claire Lee, Google Reviews
3. Laksalicious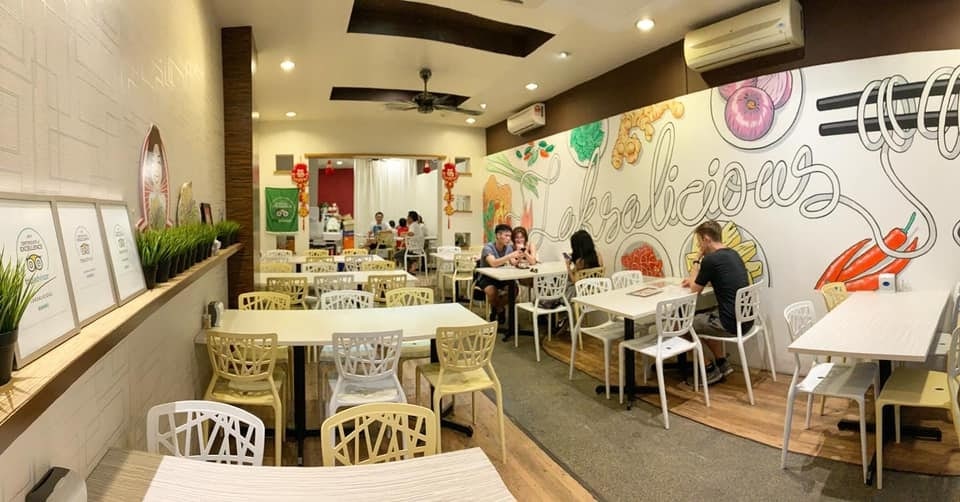 Criteria
Ratings
Variety of menu
★★★★★ (5/5)
Affordability
(A higher score means better value)
★★★★☆ (4/5)
Establishment
★★★★★ (5/5)
Facilities
★★★★★ (5/5)
Amenities
★★★★★ (5/5)
Location
★★★★★ (5/5)
Customer satisfaction
★★★★☆ (4/5)
Laksalicious certainly lives up to its name because their laksa recipe is just delicious!
Upon checking their menu, we immediately noticed that they offer several kinds of Nyonya laksa, including a vegetarian version of laksa.
There were so many options to choose from that it was hard for us to just pick one!
We tried their best-sellers, assam laksa and lemak laksa, and we were not disappointed!
The broth of these laksa varieties was tangy and really spicy but the real zing in the laksa came from the prawn crackers that they add!
We were initially concerned about the prices because they're on the higher end. For just 1 serving, you might have to pay almost twice how much a regular bowl of laksa would cost in Penang.
Overall, we really love this laksa shop because it's really comfortable to dine here.
We also love the ambiance of this laksa restaurant because it's very cozy, much like a cafe in Penang. Plus, they have air conditioning which is perfect to beat the hot weather in Penang so you can enjoy a hot bowl of laksa.
It's a plus for us that they accept other methods of payment like credit cards, debit cards, and NFC mobile payments, so you don't have to worry about running out of cash.
Accepts payment through credit cards and debit cards
Offers vegetarian laksa
Prices are on the higher side
Very spicy broth
Customer Reviews
Perfect spicy broth
"Absolutely delicious! Was walking around near our hotel and stumbled across this shop, with it's speciality of Penang's most famous food- Asam Laksa, so we decided to give it a try and it was easily one of the best last minute decision we've made during our visit in Penang.
We ordered the original Nyonya laksa and the mix laksa. The spiciness was perfect, the broth was fishy and thick and the vegetables were so refreshing. Don't get me started on the prawn crackers. Was a bit embarrassed to order more so i just stole my partner's prawn crackers, hahaha.
The drinks we got were chrysanthemum tea and iced coffee, perfect to cool down the heat from the laksa and afternoon sun. And for dessert we got the cempedak roll, delicately sweet and crunchy. I loved it so much, I even ordered it on GrabFood for the lunch (with extra 3 pcs of prawn crackers) the next day before we head to the airport. Definitely gonna miss it." —Taj L, Google Reviews
4. Kim Laksa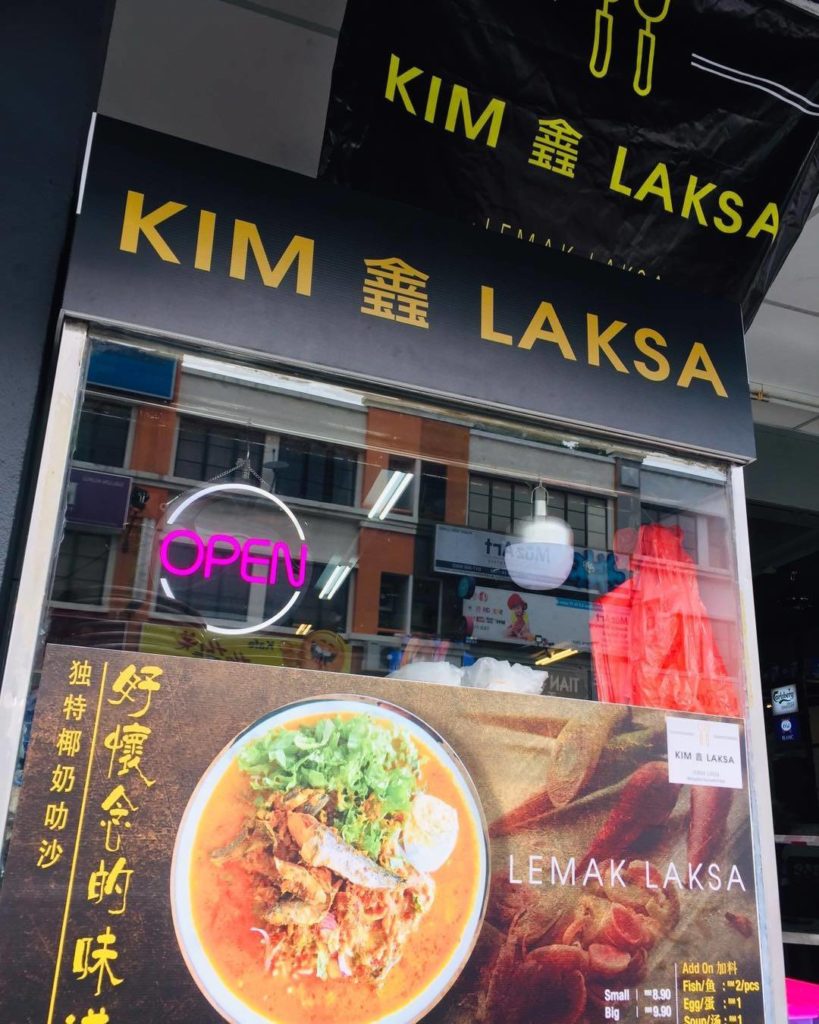 Criteria
Ratings
Variety of menu
★★★★☆ (4/5)
Affordability
(A higher score means better value)
★★★★☆ (4/5)
Establishment
★★★★☆ (4/5)
Facilities
★★★★☆ (4/5)
Amenities
★★★★☆ (4/5)
Location
★★★★☆ (4/5)
Customer satisfaction
★★★★☆ (4/5)
Kim Laksa is one of our favorite laksa shops in Penang and it's in our books because their laksa recipes are really good!
They only offer assam laksa and lemak laksa but we're sure that you won't get enough of these dishes, just like us!
Kim Laksa's broth is the main reason why we love coming here. Unlike most laksa shops in Penang where the broth is just sour and spicy, the broth in Kim Laksa is well-balanced: it's not too sour nor too spicy and it has a hint of sweetness.
We especially love how creamy their lemak laksa is, so much so that this is our go-to place when we're craving a bowl of this delicacy.
Plus, the prices of their laksa are so reasonable, considering how generous they are in the ingredients they add per serving. Every bowl is full of fish fillings and has a brimful of broth.
It's worth noting that they also don't allow outside drinks. But we especially recommend matching your laksa order with their nutmeg juice because it greatly compliments the taste of their laksa.
Another reason why we like this laksa shop is because of their fast service. We noticed that their customers rarely have to wait for long to be served their food and drink orders.
However, the space here is quite limited so there are only a few tables that can accommodate customers. You might find yourself waiting in line to be seated if you come during peak hours.
Generous servings of ingredients
Reasonable prices
Doesn't offer delivery services
Doesn't allow outside drinks
Customer Reviews
Highly recommended
"Today is replacements holiday and so crowded at lunch hour. Lucky still have the parking slots. Visited here a lot times, but always managed to get Siam Laksa. Need to be early , after lunch hour usually left Asam Laksa.
The Siam Laksa taste is awesome. I have finished the whole bowl. The shop tables are fully occupied, so have to sit next door cafe which is allowed. You just make sure you order the drink at the next door cafe. Foods are allowed to cross over between cafes but not drinks." —Kong Yong Foo, Google Reviews
Amazing as always
"Assam laksa is amazing as it has always been. The new Bukit Kukup Road makes it easier to drop by for a quick laksa meal.
They serve both Assam and Siam laksa but we only tried the Assam one. It has a great mix of sour and spiciness. Parking is conveniently located just beside the shop. Highly recommended for laksa lovers." —PS Chua, Google Reviews
5. Farlim Shell Station Laksa Cafe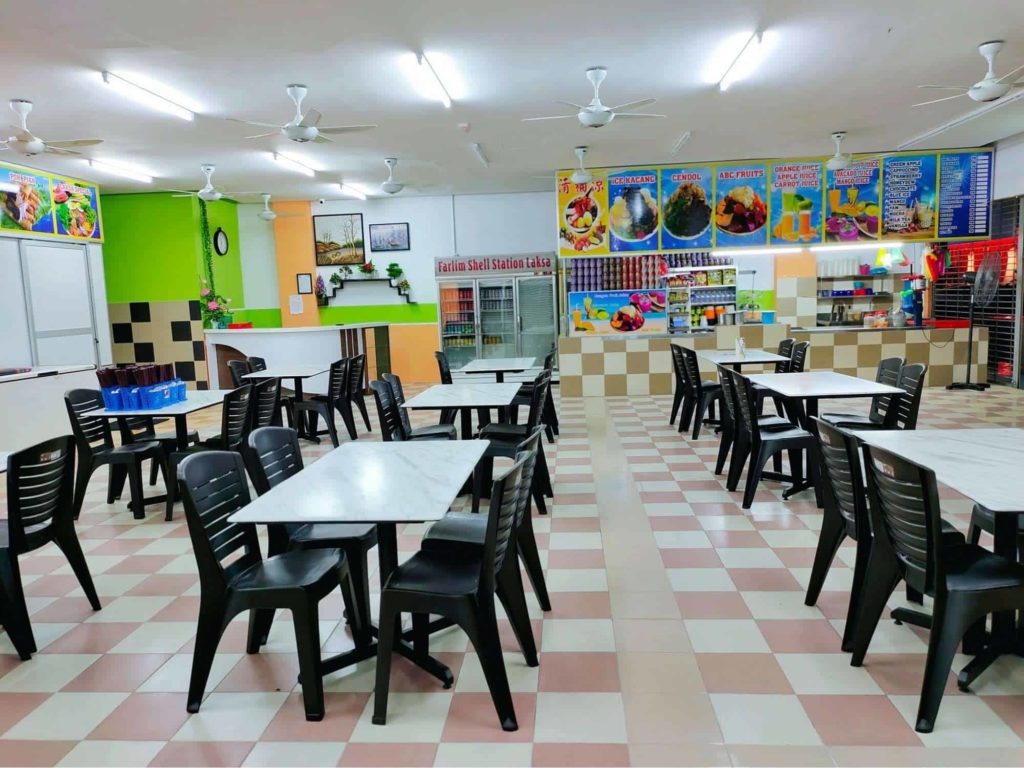 Criteria
Ratings
Variety of menu
★★★★★ (5/5)
Affordability
(A higher score means better value)
★★★★★ (5/5)
Establishment
★★★★☆ (4/5)
Facilities
★★★★☆ (4/5)
Amenities
★★★★☆ (4/5)
Location
★★★★★ (5/5)
Customer satisfaction
★★★★☆ (4/5)
Farlim Shell Station Laksa is a crowd favorite in Penang, especially among the locals. It's one of the shops with the most famous laksa in Penang and anyone who comes here will surely return as a regular.
Our favorite thing about this laksa shop is their unique laksa recipe that always surprises us.
It has a thick, mouthwatering, and aromatic broth that's filled with mackerel but with a strong prawn taste. Each serving is also loaded with chewy noodles as well as several kinds of toppings and fresh vegetables which are sure to fill up your growling stomach.
Their laksa is also best paired with spring rolls and trust us when we say it's a must to dip these crispy rolls in the laksa broth. It's an amazing combination!
Furthermore, the price of laksa here is very reasonable and you'd be stunned at how cheap it is for its quality and taste.
This laksa restaurant is definitely one of the gems of Penang and it's always packed with their patrons. Our main concern about this laksa shop is their customer service.
Based on our observations and from the feedback of their customers, some of them had to place their orders repeatedly before they were served. Sometimes, those who came earlier than others were served late.
We hope that in the future, they'd come up with a number or order system when serving their customers.
Reasonably priced laksa
Amazing broth with fresh ingredients
Doesn't offer delivery
No number or order system
Customer Reviews
Laksa is worth a trip back
"I am giving it 5 stars for its laksa. It uses fresh ingredients, the soup is nice and thick.  There is special laksa which comes with egg, Prawn, fishballs and there is the normal laksa. Portions are good. Price rm6 for a normal bowl, I would consider decent, if not cheap. Tried the ice kachang and chendol, I would skip it the next time. Will be back for the laksa again, I read much later that the fried spring rolls dipped in the laksa soup is a must try too." —Shawn Lourdusamy, Google Reviews
FAQs about Laksa in Penang
---