The 14 Companies for the Best Interior Design in Penang
Photo credit: Shutterstock
By Adam Wei
Designing your home or office can be tricky, especially when you're planning to do it alone. Luckily, with the help of the companies that do the best interior design in Penang, you're covered.Interior designers guide you with the budget and plans for your space — that's why we need them in the first place. With them, you can get the interiors of your dreams!Below, we've gathered a list of the companies for the best interior design in Penang. These are the ones both homeowners and companies think of first for interior design.
1.  ATAP
ATAP is a useful resource to have, especially for those who are on the search for the perfect interior designer. Their website lets you connect with interior design experts by having you fill out a detailed form.After clicking send, all you have to do is wait for a while for interior designers to contact you.Save yourself from the stress of having to scour the net or asking your friends for recommendations. Feel free to visit their site today for more information!
Highlights
Available on both your laptop and phone's browser
Easy to use
Helps you reach out to more interior designers
2. Qanvast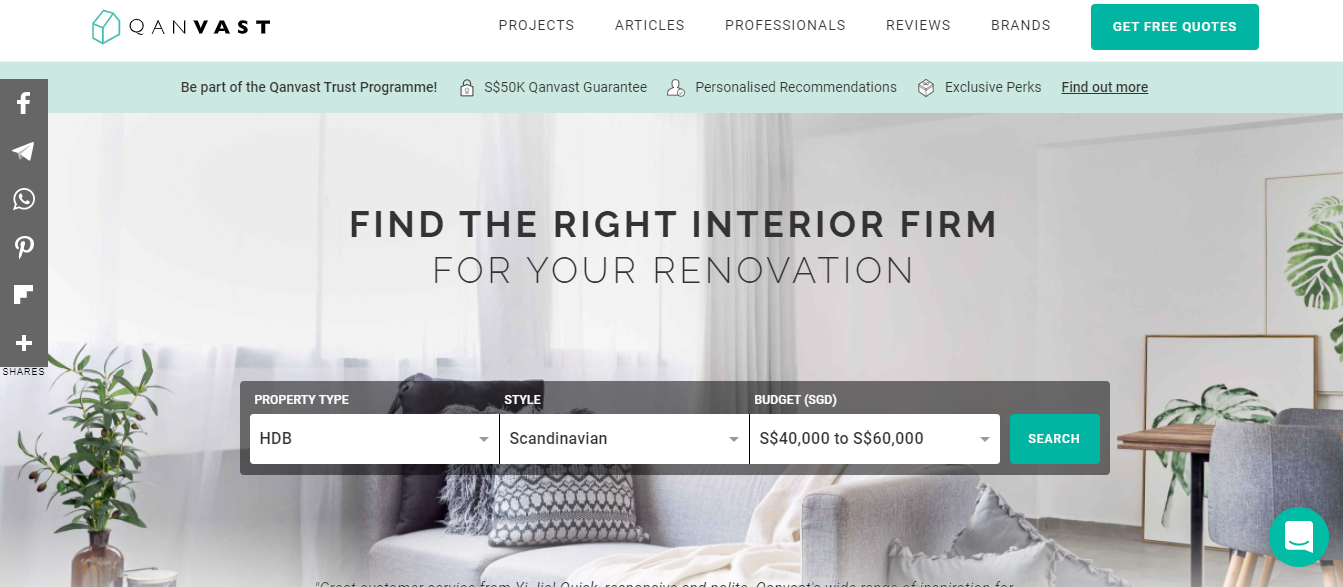 Qanvast is a go-to platform for homeowners to browse home ideas, find a local interior firm, and read blogs about budgeting, decorating, and more by other homeowners.We definitely recommend visiting their website when in need of interior design services since you can choose from their wide range of designers that suits you the best. Unlike other websites, if you request a non-obligatory quote from them, they will help and guide you through your renovation process.What's unique about them is that homeowners who engage a recommended interior designer following a quote request, are eligible for the Qanvast Guarantee, which protects up to S$50,000 of your renovation deposits. Unfortunately, this is only available in Singapore and Malaysia.With four simple, easy steps, you will be able to find the best design firm for you!
Highlights
Offers a lot of interior design firms
Wide price range
Has blogs that can help homeowners
Customer Reviews
Here are some testimonials of their previous clients:
"Qanvast was a great help in sourcing for design ideas and designers. We really love the app as it has good concepts that are relevant and it's easy to use.""Instead of browsing renovation magazines, Qanvast helped us shortlist designs and interior designers." 
3.  Vogueas Interior Design
BEST FOR 
3D drawing
PRODUCTS
2D space planning, 3D perspective concept drawings, design consultation, renovation works, electrical wiring, painting, carpentry
WEBSITE
https://www.vogueas-id.com.my/
ADDRESS
Prima Tanjung Business Centre, Jalan Fettes, Tanjung Tokong, 10470, Penang, Malaysia
CONTACT DETAILS
Tel: +6012-728 6290Email:

[email protected]

OPERATING HOURS
Mon to Fri: 10:30am-7:00pm
Vogueas Interior Design is an up-and-coming design studio developed in 2018 by a pair of senior designers.They believe in understanding the needs of each client in order to visualise and come up with unique designs made just for them.Offering their services to the different regions of Malaysia, Vogueas Interior Design is one of the companies for the best interior design in Penang.
Highlights
Residential design
Office design
Commercial design
Customer Reviews
Vogueas Interior Design is praised by their clients for their good service, dedication in their work, and responsible work ethics.A satisfied client wrote a review and said:
"I am very blessed to meet both of the senior designers because they are very passionate & talented in their jobs. During the first meet up, they asked me few questions to find out what kind of design that I want. They had came out with very practical yet modern design to fit in my office space (which is very limited) and also best fit my budget. They even collaborate nicely with my own Contractor & Electricians just to get their job done. Thank you for your excellent service and I will definitely refer friends to them in future. Thanks ya" 
4.  ST Concepts
ST Concepts is a well-known Malaysian interior design and furnishing practice established in Penang, and has expanded further to Singapore, Bangkok, and Shanghai.The company was created in 2002, providing stable and admirable designs and decor for clients nationwide.Trusted and respected for being multi-awarded as well as for gracing the pages of renowned magazines, ST Concepts is considered one of the companies for the best interior design in Penang.
Highlights
Exhibition projects
Private residences
Retail endeavours
5.  Classic Decoration
Previously known as Classic Decoration & Trading Centre, Classic Decoration was established in 1985.Passionate about their work and dedicated to making clients fall in love with their places, Classic Decoration guides each individual through a step-by-step process.Today, it's one of the companies for the best interior design in Penang and offers unique services to meet the needs of customers with regards to finding the perfect design.
Highlights
Imported and locally made products
All kinds of window treatments
Soft furnishing products
Customer Reviews
Classic Decoration is well-known by their customers for providing excellent service and professional consultation. Some of them wrote their reviews:
"One of Penang's top curtain supplier. Good service and large fabric collection.""Professional consultation and tips provided with good workmanship" 
6.  Archiplan
Established in 2005, Archiplan is a top interior design consultancy service catering to both commercial establishments and individual clients, making them one of the companies doing the best interior design in Penang.For the company, architecture and design go hand in hand with nature.The Archiplan Approach consists of function, form, and finishing. They believe that any kind of space always needs to be functional, with good aesthetics and great attention to detail.
Highlights
Customer Reviews
Customers of Archiplan raved about their awesome experience for always doing an amazing job, smooth process, and professional and easy service.One customer wrote a review:
"We are so happy for the services and explanation for the design.  Thank you !" 
7.  Lambert Interior Design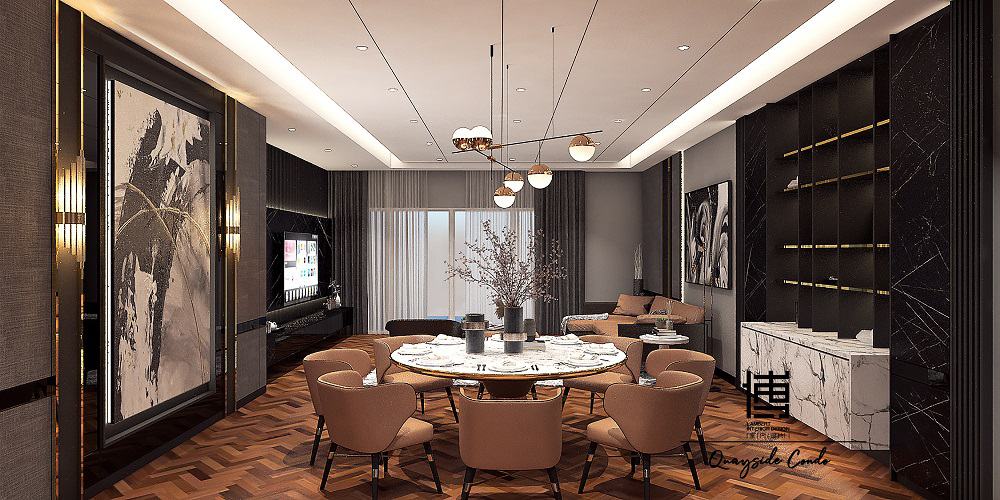 Are you interested in high-end, unique designs that are tailor made to fit the space that you have? Then Lambert Construction is the perfect interior design firm for you.You won't go wrong with Lambert Construction, considering how their seven years worth of experience in the industry has resulted in their constant growth. This has also allowed them to carefully perfect the craft of design consultation, renovation, project management, and furniture Design.No matter the property, they'll take on the project for you.
Highlights
Residential
Commercial
Tender Projects
Customer Reviews
Here are some reviews left by satisfied clients of Lambert Construction:
"A very professional and supportive team with great design and great handcraft. Thank you so much for the marvelous job done for my house! Would recommend Lambert if you are looking for quality and professional Interior Design firm."
-Sunny Tang Song Yee, Google Reviews
"Excellent service and quality."
-JB MedicalOxygen, Google Reviews
8.  Legno ID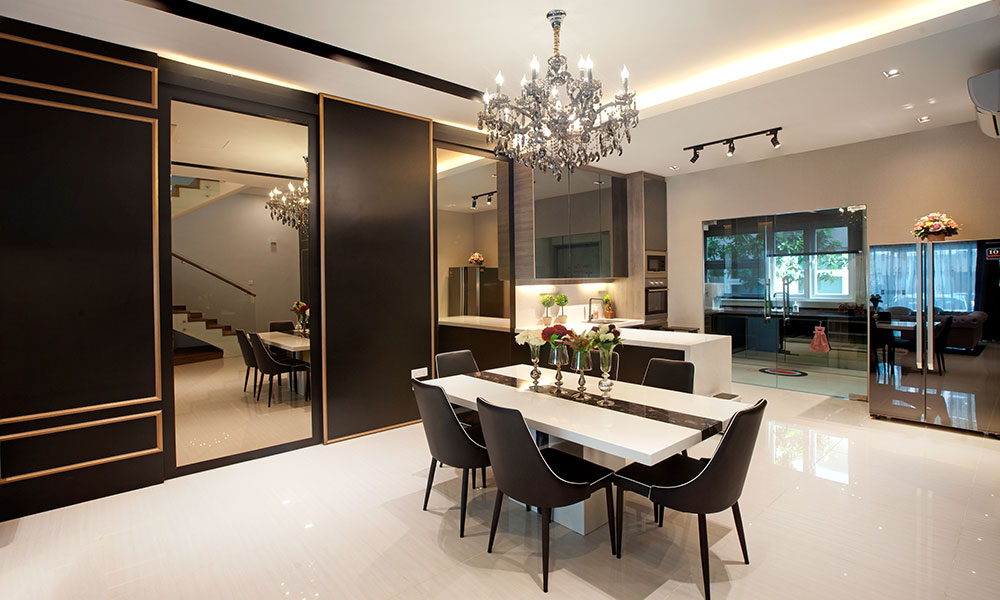 Legno is an interior design firm comprised of young, bright minds. Since they first began operating, they have worked on over 500 projects — unfailingly providing design concepts that are so memorable it leaves a lasting impression on the minds of their clients.Aside from their obvious skill and expertise in interior design, the team at Legno is also well known for their professionalism and approach in designing. That is, a collaborative one where they take into consideration the client's input. They even provide resources so the clients can innovate alongside them.As a result, the designs coming from Legno are one-of-a-kind, perfectly tailored to meet the needs and tastes of their clients.
Highlights
Spatial design
Design and build
9. Innerbelle Interior Design
BEST FOR 
A trustable boutique design consultancy specialising in design, architecture and construction services; from residential to commercial, from interior to exterior and landscape.. to the finest art and tastefully decoration.
PRODUCTS
Design & Build is a boutique design consultancy specialising in interior design, architecture and construction services
WEBSITE
http://www.innerbelle.com.my/
ADDRESS
12Q, Jalan Delima, 11700, Penang.
CONTACT DETAILS
60125774422 |

[email protected]

OPERATING HOURS
Whenever you need them.
Innerbelle is a full service, Penang, Malaysia based interior design studio specialising in refined, sophisticated contemporary interiors. Whether designing residential or commercial spaces, Innerbelle has built a reputation on achieving highly individual results for a discerning, international clientele.With a foundation in modern contemporary design, Innerbelle designs refrains from unnecessary embellishments and is defined by a sense of openness, simplicity, practicality and contemporary architecture which celebrates innovative design. They take a refined and minimalistic approach to our concepts and focus on a sophisticated neutral palette accented with well blended of colour.They are a dynamic team dedicated to being different, not for difference sake. They believe in the importance of curating a bespoke look for every property, to create a unique space.
Highlights
VALUE | Turn dreams into reality
PRINCIPLE | Perfect balance Aesthetic, Practicality, and Quality.
CLIENT | Malaysia, Hong Kong, Taiwan, China, Australia, Middle-East and Singapore.
Customer Reviews
Here are some reviews left by satisfied clients of Innerbelle Interior Design:
"My experience with Innerbelle was interesting, illuminating and rewarding. Their attention to detail throughout the project has resulted in beautiful, crisp and unique finishes that are frequently commented upon – even five months on. I am now employing Innerbelle's interior design services to manage our holiday home is one of the best things I have done. Their approachable nature, enthusiasm and the quality of their communication while we were away are second to none." – Madam Ho, Singapore."Working with Amy and Innerbelle team is a delight – you can be sure that your project will be on time, on budget and with an incredible finish you will be proud of" – Madam Yun, Indonesia"From the moment my husband and I began to do business with Amy and her professional Innerbelle staff we knew we were in the right hands. Amy is passionate about all aspects of her business. She responds fast, listens to what you have to say and gets engaged. She developed our brief into something well beyond my dreams. I feel lucky that I have found a truly talented designer and someone I call a friend. Thank you." – Datin (Private Client)
10. Fuka Interior Decoration
Fuka Interior Decoration believes that interior design defines how we live and how we experience spaces in our daily lives. Founded by Lim Swee Chong, they have been serving passionately sine 2000.
It is their mission to craft designs that suite your personal preference. They also aim to be the most preferred interior design firm who is quality driven.
Highlights
Award-winning company

Specialize in residential & commercial projects

Quality work
Customer Reviews
Here's a review from one of Fuka Interior Decoration's clients:
"Very professional and great service that provide by their team. One of the best interior company i have ever met." – Xian Yi
Here's another one:
"Working with Fuka Team has been a pleasure and a positive experience. The project team went above and beyond their call of duty. I'd highly recommend Fuka. Thanks your team for all that you have done for us." – Choo Ssim
11. JGiCONCEPT DESIGN
BEST FOR 
Interior Design
PRODUCTS
Planning, Conceptualizing, Design Development, Sourcing of materials and Documentation
WEBSITE
https://www.jgiconceptdesign.com/
ADDRESS
5101 Tingkat 1, Dahlia Park, Jalan Kampung Benggali, 12200 Butterworth
CONTACT DETAILS
+60174753306 |

[email protected]

OPERATING HOURS
Contact for more information
JGICONCEPT DESIGN turns your dream home into a reality. This interior design studio in Malaysia is known for its unique and creative way of designing residential and commercial spaces by incorporating environmental and social principles in every step of the design process.After years of planning, conceptualizing, and designing, JGICONCEPT Design has been featured in Design Concept Magazine and mentioned by Handyman Reviewed as one of the best options for interior design in Malaysia. For more information and consultation, you can contact JGICONCEPT Design using their phone number and email address provided.
Highlights
Featured in Design Concept Magazine
Featured in Handyman Reviewed
Customer Reviews
Here's a review from one of JGiCONCEPT Designs' clients:
" For the 1st timer who r looking for ID services, I truly recommend this guys. U will never regret anything cos they will give u an excellent service. They are very dedicated , professional, honest , n their work is clean n almost perfect. Thanks to Joel n Joey!!!!now i have a place called home !! Loads of love!!" – Ann Hamid, Kedah"I worked with JGICONCEPT as interior consultant from Medan Indonesia. I refer my client to have their condo interior build n finish by JGICONCEPT. They finished it very well n my client also very satisfied with their job. Good job bro,..nice working with you." – Apique Creative Studio, Medan Indonesia
12. Geometry Design & Build
BEST FOR 
Space planning
PRODUCTS
Site measurement and discussion, space planning and material selection, 2D layout presentation and quotation, 3D design rendering, renovation project delivery, overall defect check
WEBSITE
https://geometrydb.wixsite.com/home
ADDRESS
1-01-26, Persiaran Halia 3, Mt Erskine, Tanjung Tokong, 10470, Pulau Pinang
CONTACT DETAILS
012-455-2099 |

[email protected]

OPERATING HOURS
Contact for more information
Geometry Design & Build is your one-stop shop for all your residential or commercial building design needs. They use modern technologies such as 2D layouts and 3D rendering, to make sure that you have a great look at your prospective new property.The company also specializes in Space Planning, which ensures that every nook and cranny of your new investment is properly used and maximized.
Highlights
Professional Defect Checks
High quality services
Free quotations
Customer Reviews
Here's a review from one of Geometry Design & Build clients:
"Madly in love with my kitchen now! It was totally the right thing to do! The layout, floor and backsplash, are wonderful. Thank you for Geometry for putting great effort in making my dream kitchen a reality!! Patience, professional and quality will be my overall comments and feedback??Appreciate your input and wonderful ideas. It's truly my pleasure to work with Geometry Design and Build team."
Here's another one:
"I'm one of the owner in Edge360 apartment and for me Mr Harry and his team has done their job so efficiently! Communication,understanding is the key to make the process of renovation smoothly. Great job Mr Harry! I definitely akan recommend banyak orang dekat you???"
13. Dare Solution
Based in Malaysia, Dare solution is an interior designing firm that is all for the finest attention to details in having to provide service to their clients. They offer a wide array of intelligent and innovative ideas and designs.
With them, you are guaranteed a pleasant experience. They are equipped with just the right knowledge and expertise to go above and beyond your expectations. 
Whether it is for residential, retail, healthcare and a lot more, they have you covered.
Highlights
Excellent designs

Great customer service

Outstanding variety of service
Customer Reviews
Here's a review from one of Dare Solution clients:
"Thanks to Dare Solution team for turning my dream house into a reality. Covid & lockdown made us appreciate the little things in our life and enjoy the time we spend in our sweet 🏠. With the amazing design & cozy house, making us wanting to stay at home during this pandemic period."
Here's another one:
"Deepest gratitude to Dare Solution for giving us a wonderful and unique place to call Home. The support from the team has been beyond expectations, providing a pleasant experience throughout the journey. Two thumbs up!"
14.  Grov Design Studio
BEST FOR 
Adorning space and conceptualizing experience
PRODUCTS
Interior garden, interior styling, interior makeover
WEBSITE
https://www.grovdesign.com/
ADDRESS
98-3-2A Prima tanjung business centre Jalan fettes 11200 tanjung bunga Penang 10470 Pinang, Pulau Pinang, Malaysia
CONTACT DETAILS
Tel: +60 11-1643 6896Email:

[email protected]

OPERATING HOURS
Mon to Fri: 9:00am-5:00pm Sat: 9:00am-12:00pm
Grov Design studio focuses on creating original interior design that withstands time and surpasses comfort, elegance, and value.Their speciality ranges from a line of kitchen home designs, bathrooms, carpentry works and furniture to house styling, top-to-bottom renovation, extensions, studios, cafes and offices.Grov Design Studio is one of the companies for the best interior design in Penang for their commitment to bringing extraordinary, enjoyable, and intimate interior architecture to clients.
Highlights
Free consultations
Online interior design
AutoCAD drawings
Customer Reviews
Grov Design Studio has been praised by their clients for their professionalism, excellent service that exceeded expectations, and an overall marvelous job.Clients wrote their reviews online:
"Proper designers with style, practicality and professionalism. They know what they are doing, so trust them!""Thanks Cherry for the forward-looking design! It managed to take into account our needs and also at the same time the strict requirements of the mall."
Once you hire the interior design company that best fits your needs, you're already one step closer to reaching your dream space.Did you find the perfect interior designer for your home? Leave your comments down below and let us know how it went. We'd love to hear from you!And if you're on the lookout for expanding your horizons, why not check our list for the
best interior designers in Malaysia
! That list shows our picks for the top designers in the country itself!