Ready to spill the tea? Don't do it literally when you're at the places serving the best high tea in Malaysia!
High tea, a drink accurately meant to be taken during supper at a dinner table, is one of the most popular things around the world. If you want to enjoy it here in Malaysia, these are the best places serving it!
1.   Colonial Cafe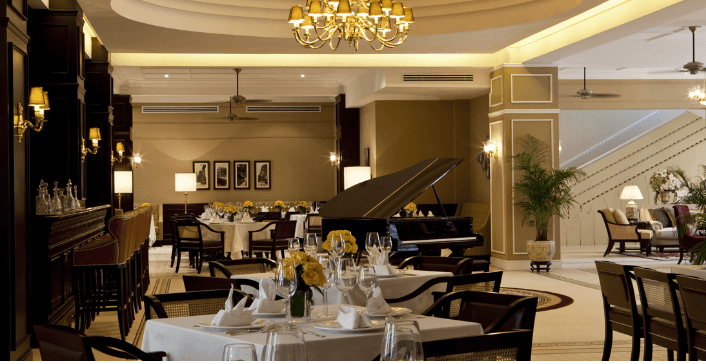 If you're after a relaxing day at a hotel for some tea, you should definitely try the Colonial Café. The ambience here is incomparable and would definitely beat any other place!
The Orchid Room part of the hotel is an Orchid Conservatory—filled with hanging gardens surrounded by glass. It adds to the atmosphere, and you'll surely never want to leave your seat while you finish your drinks.
Their house-blend tea is the star of their high tea set; it's served on a three-tier stand filled with appetizers, sandwiches, scones, and desserts. Is it any wonder they're on our list of the spots with the best high tea in Malaysia?
Highlights
Instagram-worthy dishes served with high tea
Customer Reviews
Here's a review from someone who has tried high tea at the Colonial Café:
"Afternoon Tea Majestic style in this grand old hotel is something not to be missed. The ambience of the Colonial Café is hard to beat and add the excellent attentive service from the staff plus the afternoon piano player and you have an experience not to be missed.
Here's another one:
"The setting is nice and the 'feel' changes with the different meal themes. The food & service is generally quite good but the highlight for me is the high tea. There are several tiers of high tea (basically it is the sitting location) but my favourite one, is the outside area (cheapest too), where you feel like you are mingling with local royalty, especially on a weekend. It is a classy place but do take note that it is it comes with an equally classy price."
2.   Pastryville

If you're after freshly baked goodies with your high tea, then Pastryville should be first on your list of places for the best high tea in Malaysia.
This black-and-white themed area is a quaint little place where you can chill for an afternoon. The high tea set has coffee or tea filled with bread, desserts, and a variety of their other baked munchies.
Cream puffs and scones are their usual desserts, but sometimes they change it up so the usual customers don't get bored with their selection.
Highlights
Customer Reviews
Here's a review from a Pastryville customer:
"The coffee shop is a small open air cafe in the middle of a walkway in eCurve mall. The ambient is very casual and a convenient place to sit and rest.
We had some cakes, pastries and bread. They were soft and freshly baked. And not too sweet too."
 And here's another one:
"A small coffee shop in the mall. Serves an excellent latte, especially the caramel latte. Also has a selection of pastries in a self serve area at reasonable prices. Ideal for a second breakfast or in-between snack."
3.   The Lobby Lounge
| | |
| --- | --- |
| PRODUCTS  | Menu |
| WEBSITE | The Lobby Lounge |
| ADDRESS | The Lobby Lounge, 168, Jalan Imbi, 55100, Kuala Lumpur, Wilayah Persekutuan Kuala Lumpur |
| CONTACT DETAILS | 0321428000 |
| OPERATING HOURS | All day |
Ritz-Carlton's high tea is offered at the Lobby Lounge. Their people offer the best service, mirroring the English origins of the hotel.
The Lobby lounge offers over 40 different kinds of tea blends from their menu. For that variety alone, they had to be in our roundup of the spots offering the best high tea in Malaysia.
The ambience here is totally worth the trip as well—from their live harpist to the dulcet playing to soothe your spirit, it's a nice place for special occasions and social gatherings.
Their high tea is served with pastries, finger sandwiches, and desserts. You might not know it yet, but you'll surely want to get more!
Highlights
Classy tea experience at a hotel
Customer Reviews
Here's a review from a Lobby Lounge patron:
"The lobby lounge at the Ritz Carlton Kuala Lumpur has a lovely ambience, with a live music band playing, while you enjoy your hi-tea. They have the choicest collection of teas, which will spoil you for choice. The sweet and savoury snacks served alongside are delicious and healthy.
The service was great and everything was just perfect. We had a great time."
And here's another one:
"Not very many places have a song written about it, namely, the Ritz, London. While London is a good few hours by plane, we certainly enjoyed our top notch High Tea experience here at the Ritz, Kuala Lumpur. I'd venture a guess, the service here is even better because the Ritz London does not have Sally, the Stellar! Manager, who went all out to make our BFF Girlfriends day out, the Best time! Evaaahh!! Thank you! The tea selection is world class. They even have live music with String section! to serenade you as you sip high tea tea and eat scrumptious scones with clotted cream (Yum!!). We'll definitely be back."
4.   Carcosa Seri Negara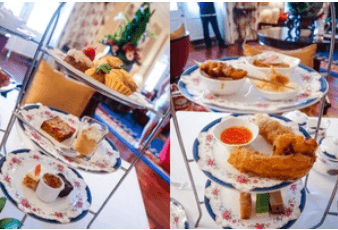 Carcosa Seri Negara is famous for serving some of the best high tea in Malaysia. It used to be the official residence of the highest British reps of what used to be the Malay states—rich in both history and flavour, this place is perfect for tea time.
Choose from the Malay and English set, both with three tiers of gastronomic indulgence. The English set is filled with western favourites, while the Malay set is jam-packed with Asian flavors.
Highlights
Two sets of high teas to choose from!
Customer Reviews
Here is a review from a Carcosa Seri Nagara customer:
"This is secluded (but very affordable!) luxury at its very best. Located in the middle of the city, but on the top of a small hill, surrounded by a park. You will need a cab or limo to get there, as it's on a semi-private road, but the cab is economical. (So as it happened, was the limo company, they were stunning-reviewed separately!!) The whole staff of Carcosa were waiting to greet us, and (not being sure) had prepared a (Complimentary) afternoon tea for us… just in case we needed it. We enjoyed a huge suite, two balconies, and great room amenities. Food was stunning: along the lines of that offered by a good lodge or premium ship: slightly limited in choice, but selected and cooked to perfection. Service throughout was friendly and impeccable. If we returned late, the manager was always waiting to greet us, and the chef had always prepared food … just in case! During weekends there is the opportunity to meet local families, who come for High Tea or a meal, bringing children who play on the lawns. Perfect, and economical for what is available."
And here's another one:
"We stayed one night after attending a black tie event at the hotel. Afternoon tea on tea on the terrace was lovely with a good spread of pastries. Breakfast was served in bed as we had a very late night and the staff offered to serve it in the room in anticipation."
5.   Thirty8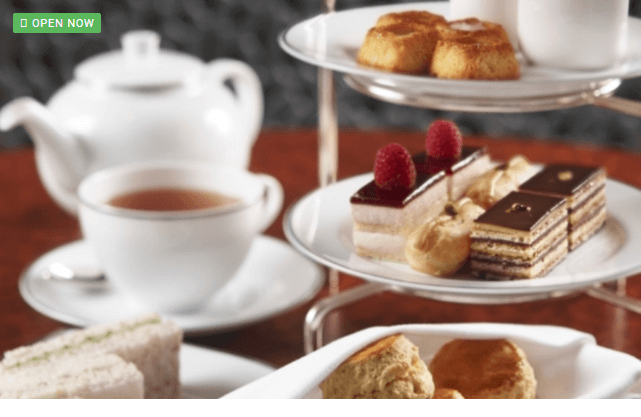 Thirty8 is a famous place where Instagram and social media influencers stayed for high tea. It's been the talk of the social media world as it gives off a hipster vibe that coincides with the classic feel perfect for tea.
Their stack, like the others, has three tiers, but they're the only ones who have macaroons on their set. Plus, they're wallet-friendly so anyone can get a taste of their good food.
Highlights
Enjoy breathtaking views of the city as you enjoy your high tea
Customer Reviews
Here's a review from a Thirty8 patron:
"There's a new pastry chef and western kitchen chef at Thirty8, Grand Hyatt and we recently tasted some of their new additions to the menu. Some current don't-misses are the white asparagus in hollandaise sauce, the beef ribs, and the lavender cheesecake (absolutely scrumptious). The views are the best in the city looking straight out over the twin towers and KLCC park."
And here's another one:
"I will describe the restaurant/hotel as:
–  Outstanding services
– Great food
– Awesome view
– Reasonable Price
–  We have decided it to be our annual wedding anniversary gathering either for lunch or  dinner."
6.   Empire Hotel Subang
Kitchen Art Brasserie at the Empire Hotel Subang is the perfect high tea location for those who enjoy substantial treats with their tea.
The restaurant boasts a mixture of international and local flavours in their wide array of selection, which features appetisers, actual meals, and desserts. Perfect for those who prefer either sweet or savour (or even both)!
A few of their sweet treats include cheesecakes, fondue, and jelly — all of which will leave you wanting for more.
Highlights
Large food selection!
Instagrammable treats
Customer Reviews
Here's a review from a Kitchen Art Brasserie patron:
"Well,this is an ideal place to have a buffet but they should consider topping up the lamb and pizza even though ther's a 1hr gap before the hi-tea ends. Would appreciate if this will be taken into consedaration.😁😁👍👍
But i must say the food taste good and bravo to the chef👌👍"
-Logan Erusia, Google Reviews
You've finished our list of the places offering the best high tea in Malaysia, now it's time to call up your friends and spill the tea on your personal lives.
By the way, if you're not keen on going out today, you can get food delivered to your home instead, whether for high tea or supper. If you'd prefer that, try our list of the best food deliveries in Malaysia.
*Images sourced from featured websites and Google.