The 5 Best Hair Tonics in Malaysia
If you notice that your hair is thinning, receding, or just plain dry, no worries, as you might be able to remedy it by using the best hair tonics in Malaysia!
So here, we listed the products that can make your hair healthy and thick again based on their ingredients, reviews, and popularity.
Besides that, we included a buyer's guide section to help you choose the ideal one for your hair situation and budget. You can find this immediately after you've scrolled through our choices.
The Best Hair Tonics in Malaysia
Without any further ado, we give you our top choices for the best hair tonics in Malaysia!
1)   SOMEBYMI Cica Peptide Anti-Hair-Loss Scalp Tonic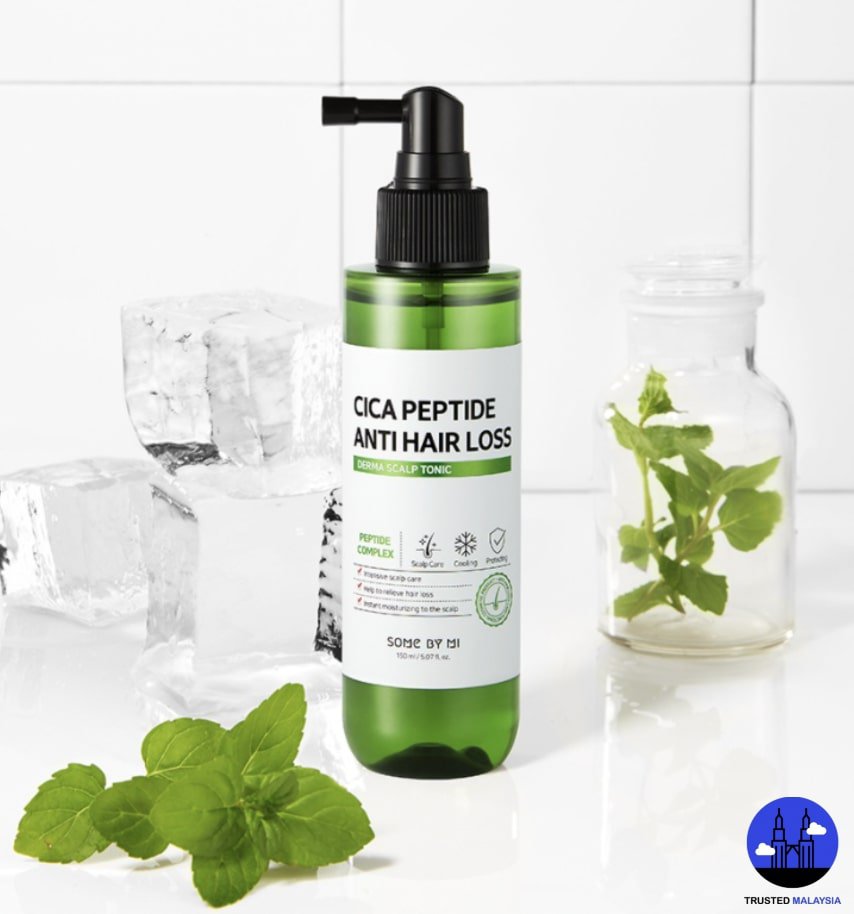 Price: RM36.99 – RM102.60
Main ingredients
Centella asiatica
Nutrients
11 types of peptides, Biotin, and vegetable proteins
Benefits
Anti-thinning, hair loss, damaged hair, split ends, anti-frizz, and others
Capacity
Cica Peptide Anti Hair Loss Derma Scalp Tonic: 150ml

Or if you purchase a bundle or set:

Cica Peptide Anti Hair Loss Derma Scalp Treatment: 50ml
Cica Peptide Anti Hair Loss Derma Scalp Shampoo: 285ml
If you've been having a lot of hair fall or are worried about your hairline receding, the SOMEBYMI Cica Peptide Hair Tonic might help.
Its chief ingredient is Centella asiatica, which soothes the scalp from being externally irritated and stressed, thereby reducing hair loss, split ends, dandruff symptoms, and more.
Meanwhile, it is packed with effective nutrients, particularly peptide complex, Biotin, and vegetable proteins to keep your scalp and hair healthy.
The scent is gentle and fragrant as a lot of buyers can confirm. Upon spraying it onto your hair, you can immediately feel a cooling menthol and moisturising effect and your hair.
It's designed for both men and women and is very easy to use. Simply shake the bottle, divide the affected hair area into sections, spray a bit onto the scalp, and pat and massage so that the tonic is absorbed.
Each bottle has a capacity of 150ml but it can take more than this to see the complete hair benefits. Depending on your needs, you can buy a single bottle, two bottles, one with a treatment, or the complete Cica set of shampoo, tonic, plus a free gift on Shopee.
Having given great hair results to thousands of buyers and available at a great price, this Korean-made Cica hair tonic is truly one of the top hair tonics in Malaysia!
Best for damaged hair or split ends
Intensive scalp care
Alleviates hair loss symptoms
Quickly moisturise the scalp
Has a gentle fragrant scent
May take more than one bottle to see the complete effect
Complaints about the shampoo product
Customer Reviews
This hair tonic received numerous rave reviews on Shopee. Most users said that it was very effective in lessening falling hair, felt cool and breezy, and had a nice scent.
Some, though, complained about the Cica shampoo in which they wrote that it didn't fit those with oily hair and felt uncomfortably sticky.
One user left this review about the product:
"on second bottle already. noticed some improvement on my hair, just that, perhaps one bottle won't show you 100% effectiveness yet. the scent is nice, won't sting your nose."
Also, an elated client wrote this one:
"Wuuuuuuu .. Woot woot woottt … 2nd repeat .. Best gileeee wear cool jeee pale n hair less daa fall … Yipppiii .. From korea but it's worth it fast until ❤️❤️❤️❤️❤️❤️❤️❤️❤️"
2) LEHAIRBOSS HB Hair Tonic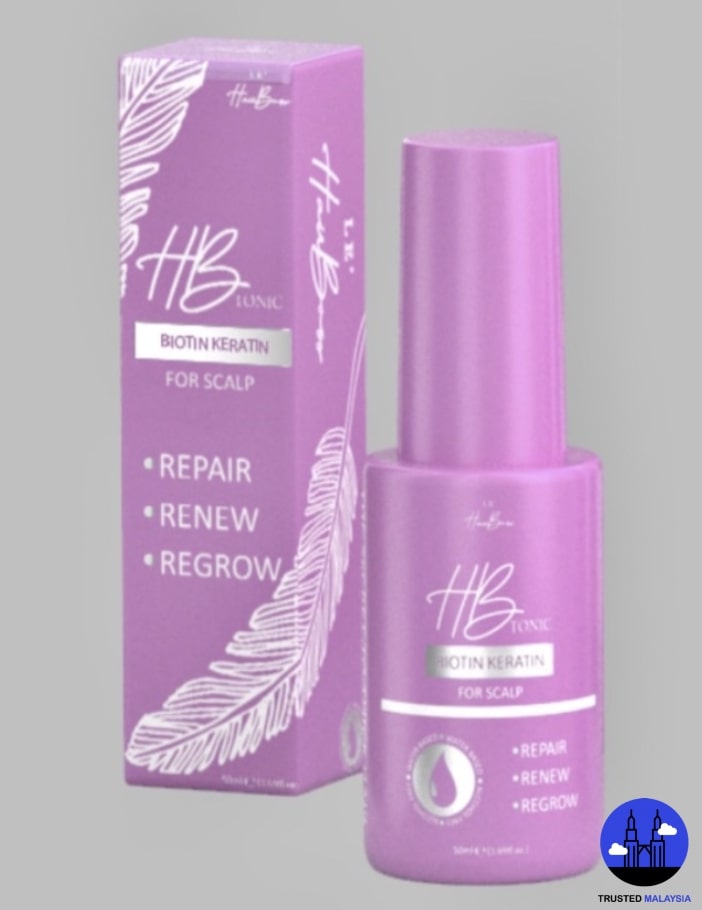 Price: RM59 – RM147
| | |
| --- | --- |
| Main ingredients | Hibiscus flower extract, onion extract |
| Nutrients | Biotin, Vitamin E, Vitamin B5, Vitamin B3, Glycerin |
| Benefits | Reduces hair fall, promotes hair growth, relieves itchy scalp, cures dandruff, gives more baby hair, strengthens hair roots, and more |
| Capacity | 50ml |
Another of the best hair tonics in Malaysia is the LE'HAIRBOSS HB Hair Tonic. The great thing about this hair tonic is that it's suitable to be applied to all types of hair, even those that are coloured.
It's formulated with hibiscus flower and onion extracts and has essential nutrients, such as glycerin, Biotin, Vitamin E, B5, and B3, that nourish, comfort, and revitalise the scalp and hair.
Not only does it alleviate flaking scalp and itchiness, but it also prevents hair loss, strengthens hair roots, and gives more baby hair, making it possible for you to look your best when you go out.
In fact, in as little as two weeks to several months, users have seen a significant improvement in which their balding sections produced more hair.
Furthermore, this hair tonic contains no paraben and silicone that can damage the hair and weigh it down. Plus, it comes with a mixed berries scent, which is pleasant to the nose.
Our complaints are that it sells for a premium price and the container is quite small at 50ml. So, you have to get at least two or three bottles to continue your hair care or treatment journey.
Accompanying shampoo and conditioner are also available with the hair tonic as a set. But you can just use your regular shampoo and use this versatile tonic afterwards.
Suitable for all hair types
Promotes hair growth
Repairs damaged hair
Reduces dandruff
Mixed berries scented
Higher-priced item
Small tonic container
3) Schwarzkopf Seborin Aktiv Hair Tonic
Price: RM21.88 – RM50.88
Main ingredients
Ginger extract
Nutrients
Pro-vitamin B5
Benefits
Regenerates the hair from root to tip, revitalises the scalp, reduces flake build-up
Capacity
Seborin Aktiv Hair Tonic: 300ml
Peter & Guys Bioecolia Shampoo: 250ml
The Schwarzkopf Seborin Aktiv Hair Tonic is a German-brand hair tonic used for thinning hair recovery, scalp relaxation, and dandruff control.
It has two primary main agents, one of which is the ginger extract which seeps into the scalp to foster hair growth, and the other being Provitamin B5 to revitalise the scalp.
As characterised by its bottle and scent, this product is designed for men's use. The scent can be described as mild, minty, and fragrant.
Despite this, women can also use this hair tonic to eventually cover up thinning hair areas. As indicated in the reviews, they've had great results in using this thing too.
Price-wise, you can get value for money with this product as its size is big enough (at 300ml) for you to use often and see results. Speaking of, there's even a bigger one (at 400ml) available.
To use this, you can put a small amount on your palm and massage it onto your dry or towel-dried hair after a shower. You don't have to rinse it so it can penetrate the hair's root and scalp.
The ginger hair tonic has been voted by many reviewers and clients as one of the best hair tonics in Malaysia.
Regenerates the hair from root to tip
Revitalises the scalp
Fragrant scent
Can be used by both men and women
Affordable
No refund or replacement from the seller
Takes up a bigger space in the bathroom
Customer Reviews
There have been complaints about spillage among buyers. However, most people had received the product safely and in good condition.
Furthermore, the hair regeneration results were fantastic and speedy according to users.
Let's hear this feedback from one buyer:
"I purchased combo for two. But only received single bottle. Chat with the seller. Seller very responsive and apologized for the mistake then made refund immediately. Great service by seller! I've tried the product for about 3-5days already & i can see some of my baby hair growth. Highly recommended!"
What's more, another one said this:
"✅Good Packaging ✅Original Product ✅Fast Delivery First time buy because many highly suggest this product is good for less hair loss. The smell is actually not very strong, it smells like mint². Just spray a little ² near the scalp, and cool when used 😊 I will repeat the order with the same seller 😁"
4) Aromatica Rosemary Hair Tonic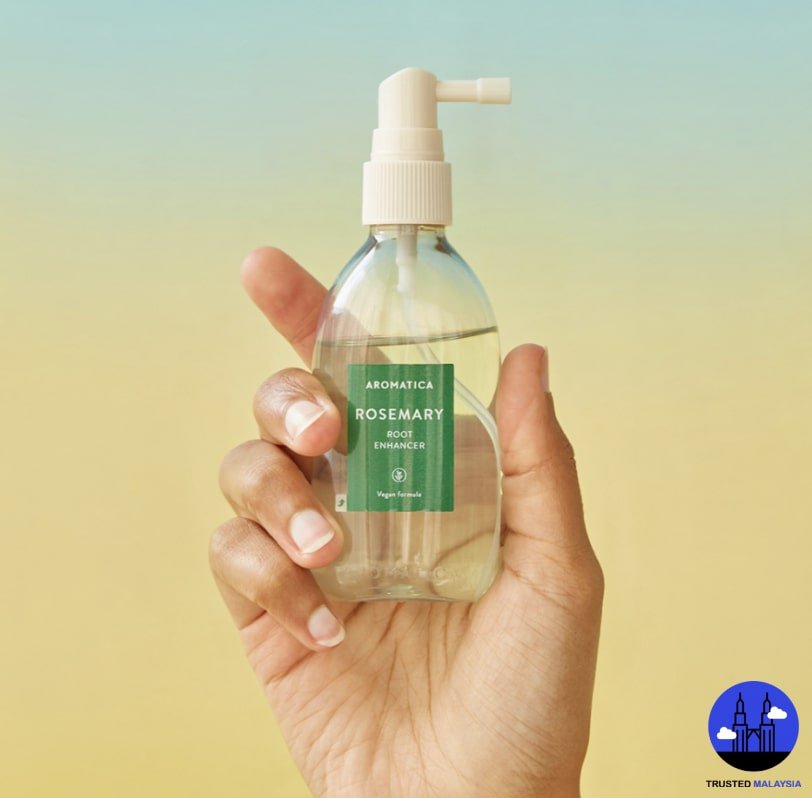 Price: RM44
| | |
| --- | --- |
| Main ingredients | Rosemary oil |
| Nutrients | Provitamin B5, vitamin B7, thiamine, pyridoxine, vitamin C, vitamin K3, vitamin B2 |
| Benefits | Strengthens hair roots, gives hair shine and elasticity, and completes healthy hair |
| Capacity | 100 ml |
To keep your scalp residue-free and healthy, we highly recommend the Aromatica Rosemary Hair Tonic. This is a natural hair tonic product derived from 99.4% rosemary oil.
You can actually see the essential oil lying on the surface of the tonic on the transparent container. Whenever you spray and shake, that oil comes in contact with your scalp and hair.
It contains 7-vitamin complexes that can powerfully nourish the hair and 6-black food complexes to strengthen the hair root and maintain healthy growth of hair.
Another benefit of using this is your hair can retain its shine and elasticity, thus it isn't prone to split ends or breaking off when you fix your hair.
However, it comes only in a 100 ml can, which is smaller than other hair tonic brands. Also, the price is relatively high but can be worth it given the results it can bring.
Best of all, we like that this product is cruelty-free, silicone-free, and totally vegan. In other words, it's a safe, responsible, and ethical product.
As soon as you see signs of thinning or sagging hair, you can get yourself a bottle of this so your hair can be taken care of while it is early and you can see better results soon.
Plus, it's available in two other varieties: tea tree to relieve itchiness and Rosemary Active V, which is great for hair loss. The prices for the three with the Shopee seller are almost the same.
Vegan and cruelty-free hair tonic
Strengthens hair roots
Gives hair shine and elasticity
Available in 3 varieties
Higher price tag
Smaller capacity compared to other tonics
Customer Reviews
Using this product was relaxing for many buyers. In addition, they said it cooled and soothed their scalp, lessened hair fall, and their hair looked significantly better after using it.
One buyer from the Aromatica website wrote this:
"This feels amazing after coming out of the shower. I only wash my hair twice sometimes once a week. So after I use the cleansing oil, and then shampoo, only condition my ends and hop out of the shower, i will spritz this all over my scalp. My hair has noticably less fall out and its smoother. I dont know if its my new regimen for my hair thats caused less fly aways and dry scalp but I LOVE the entire Aromatica scalp/hair care line!"
And here's another review from a satisfied user:
"Really Good!
Surprised at how good it is.
My hair loss is less and I feel I gained strength."
5) Kérastase Spécifique Stimuliste Anti-Hair-Loss Tonic
Price: RM120
| | |
| --- | --- |
| Main ingredients | Aminexil, arginine, gluco-lipid GL |
| Nutrients | Vitamin PP |
| Benefits | Stimulates hair production, improves hair density, stimulates hair matter production, prevents premature ageing of hair follicles |
| Capacity | 125ml |
Panicking about hair loss? No need to worry, as there's a hair tonic you can use for that too, namely the Kérastase Spécifique Stimuliste hair tonic.
It's expertly formulated with four active agents to bring your hair back to the way it used to be. Let's take a look at each of them below:
Aminexil – in simple terms, this carries the nutrients from the scalp down to the hair bulb to nourish it and stimulate natural hair growth.
Vitamin PP – this is a B-vitamin that facilitates the absorption of sugars, protein and lipids, improves nutrient circulation, and the production of keratin, which makes hair healthy and renewed.
Arginine – an essential amino acid that enables efficient nutritional exchange, strengthens the new hair, and reduces hair loss.
Gluco-Lipid GL – this is a combination of revitalising glucose and nutrient-filled lipid so that the hair can look young, strong, and beautiful.
As you have seen, these ingredients can nourish the hair from root to tip, make the new hair thick and voluminous, and strengthen hair fibres to stop and cure hair falls and loss.
And that is why this Kérastase hair tonic is one of the very best hair tonics in Malaysia. That said, you would have to pay a premium price for this.
Also, the directions indicate that you should spray ten times onto the roots before distributing them evenly on the affected scalp areas. So it would take a lot more work, but it can be effective nonetheless.
Prevents and cures hair loss
Improves hair volume and density
Slows down hair follicle ageing
Suitable for men and women
Expensive
Smaller bottle capacity
Requires ten pumps onto the roots each time
Customer Reviews
The premium hair tonic was commended by reviewers from different sites. They wrote that it was very pricey but the quality was well worth it.
An independent reviewer from IMBB concluded of the product:
"I am a Kerastase fan! And that is because it has always produced good results on my hair. I wash my hair around 2-3 times a week and ever since I got this spray, have been using it after each spray. This spray is supposed to reduce my hair fall. My hair was in good condition after using the Kerastase Initialliste as checked by the Kerastase hair professional, using their special, camera-like machine, but I still had hair fall. So, I was recommended to try this product."
And also, check out one more from another reviewer:
"After 4 or 5 times of usage, I noticed that hair fall has reduced dramatically and at one point, I was amazed looking at my hair brush after I combed my hair while it is wet… there were hardly any strands of hair stuck on the brush. It was really astounding."
How to Buy a Hair Tonic
When shopping for a hair tonic online, you have to take into account these five things so you can pick the right one.
1) Purpose
First, you have to identify your hair problem: do you have bald patches, dandruff, dryness, lots of hair fall, or a receding hairline?
Some hair tonics can manage a few of these symptoms, whilst others can juggle them all. And it's important to find one that's specifically designed to combat or alleviate your hair problem.
2) Primary Ingredients
Each hair tonic contains ingredients that have different vitamins and minerals to benefit the hair and scalp. What largely determines the efficacy of the product is found in the main ingredients.
Here are some of the popular ones and how it keeps your hair young and beautiful:
Rosemary oil is a natural oil that has been shown to promote hair growth. In addition, it has anti-inflammatory properties to reduce itchiness and sensitive spots on the scalp.
Therefore, if strands of your hair are falling out frequently as you take a bath and/or sleep or you have bare hair patches, a hair tonic with rosemary oil could work for you.
Peppermint oil is a highly concentrated aromatic oil that's excellent for hair loss. When applied to the affected scalp area, it can revive the inactive hair follicles, allowing new hair to grow.
If you have dry and brittle hair, we suggest getting a hair tonic with birch. Birch is great as it invigorates the scalp and moisturises the hair so you don't feel any pain when combing it.
Yarrow is particularly effective for dealing with hair loss. That's because it closes the pores on the scalp as well as nourishes and keeps the hair in place so that less hair will fall out.
Another popular ingredient in a hair tonic is nettle extract. This is suitable for people with severe dandruff, thinned-out or dull hair.
The reason is that it contains the necessary vitamins and minerals that foster hair growth as well as sulfur and silica that make the hair healthy and glowing.
3) Scent
Like perfumes, each hair tonic comes with a distinct smell such as orange, grape punch, mixed berries, menthol fragrance or even a vintage barbershop tonic scent.
Be aware, however, that some can have a pungent smell or one that's suited only to either a man or woman. Thus, it's best to peruse the details online or read the reviews before buying.
4) Results
The only way to gauge the results of the hair tonic—at least until you've tried it yourself— is to read the buyers' testimonials.
Try to see whether or not the product is effective and comfortable. Additionally, you should know what disadvantages it has (but we've done the work for you with our recommendations).
Knowing these things will help you decide as to the best product to use for your hair and scalp to improve their state.
5) Capacity
Also, always double-check the hair tonic capacity before you buy. You don't want to buy one only to find out weeks or months from now that you should have bought a bigger one.
However, it's understandable that other buyers want to try out the product first. But after the time you've taken to consider it, we suggest getting at least two or three bottles so you can continue using it for your hair.
You can commonly find hair tonics that are between 50ml to 300ml. By the way, we'd also like to note that you can purchase a tonic, shampoo, and conditioner in a single set too, depending on the seller.
FAQs about the Top Hair Tonics in Malaysia
---
And those were our top picks for hair tonics in Malaysia. These products could reverse your hair symptoms and make you look better and younger.
Have you tried any one of these products before? If you have, we'd like to know so feel free to share them with us by message and we'll get right back to you.
But, if using a tonic is not for you, you might want to view our list of the best hair transplant services in Malaysia instead, which can give you a permanent solution for hair loss!