6 Best Gynae in Johor Bahru for Checkups and Treatments
Featured Image Source: Freepik
Women's health is a personal and sensitive topic that requires a doctor who fully understands these needs. For this reason, we've prepared a detailed list of the best gynae in Johor Bahru for checkups, consultations, and treatments.
We picked a few of the most sought-after Gynae in Johor Bahru who offer safe, reliable, and comfortable services. We also have a few tips that can turn your gynae appointments into a smooth and hassle-free experience.
From annual checkups to complex gynaecological surgeries, this article covers everything you need to ensure your health. So keep reading and discover the leading clinics for the best gynae in Johor Bahru.
How Much Do Gynaecological Services Cost in Johor Bahru?
You can find the list of common prices for gynaecological services in Johor Bahru in the table below. These prices are only estimates and can change according to each clinic and gynaecologist that you visit.
| | |
| --- | --- |
| Gynae screening | RM258 |
| HPV vaccine | RM500 – RM1,500 |
| Women's health package | RM350 – RM480 |
| Fetus ultrasound | RM100 – RM180 |
| Antenatal check up | RM100 |
| Ultrasound package | RM100 – RM600 |
| Maternity package | RM3,000 – RM8,800 |
| IVF package | RM17,000 |
How to Prepare Before Your Gynae Appointment
Do you feel a little nervous about seeing a gynae in Johor Bahru? You shouldn't, because gynaecologists are medical professionals who will listen to your needs and will keep your talks confidential.
For extra help, we've prepared a few tips that can help you prepare for your future gynae appointment. You can now ease your mind and let our tips guide you to a smooth gynae experience.
Cleanliness
You don't have to wax your pelvic area or do anything special before your appointment. All you have to do is wash properly and avoid using lubricants and similar products.
You want to be as natural as possible especially if you're having a genital exam which we'll discuss further.
External genital exam
First of all, you shouldn't feel ashamed because this is an essential process to ensure the health of your womanhood. Your doctor will inspect your private parts including your labia, clitoris, and anus.
You shouldn't be alarmed if your doctor uses a mirror to show you how your body looks. This is important for you to better understand your body and your current health condition.
Appointment and follow-ups
Being prepared for common questions can help make your appointment more quick and convenient. For example, you should be prepared to answer questions regarding your menstrual cycle and medical history.
If you receive any type of examination, you can check for your results around a week after your appointment. You can either call the clinic for your result or access a patient portal online for more convenience.
Best Gynae in Johor Bahru
Choosing the best gynae in Johor Bahru is hard when you have so many clinics to choose from. Luckily, we've compiled a list of certified and trust-worthy clinics that offer the best obstetrics and gynaecological services.
For more convenient bookings, we also included important details such as their clinical specialities, patient reviews, and contact information. Put simply, this list has everything you need to find the best gynae in Johor Bahru for checkups and treatments.
1. Dr Sharifah Women's Specialist Clinic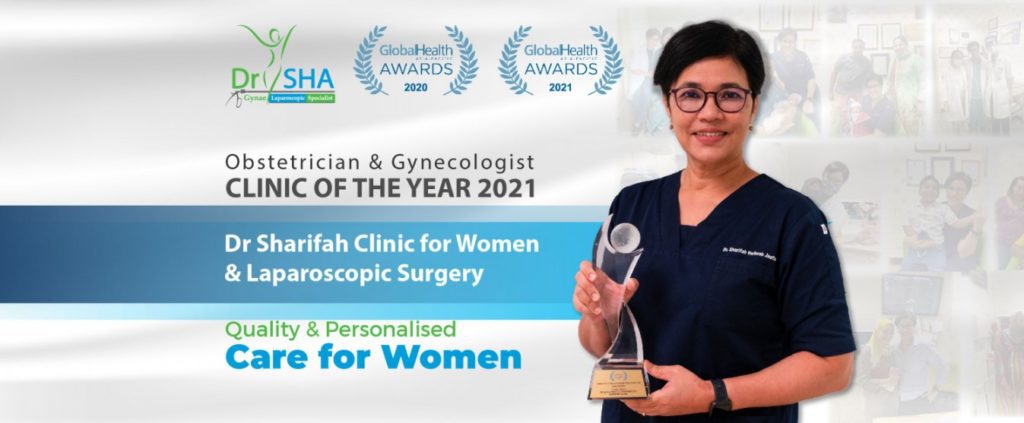 WEBSITE
http://www.drsharifah.com.my/
Facebook
SERVICES
Gynae diseases, Women's Heath Screening, Fertility & Infertility Treatment, Women's Gynaecological Cancer, Cervical Cancer Screening and Prevention, Vaginal heath and infection
OFFICE HOURS
Monday – Friday: 8:30AM – 5:30PM
Sunday: 8:30Am – 1:00PM
Saturday: Closed
ADDRESS
Gleneagles Medini Hospital, Suite 609 & 610, 2, Jalan Medini Utara 4, 79250 Masai, Johor, Malaysia
CONTACT INFORMATION
Email:

[email protected]


Direct Line/Whatsapp: +6010-2888645 | +6017-8471000
If you find it easier to talk to a female gynaecologist, you should see Dr. Sharifah's clinic. Unlike others, she is a senior consultant obstetrician and gynaecologist with more than 25 years of experience.
As a Fertility & IVF specialist, we do not need to say more as she is already an all-in-one doctor!
What's great about Dr. Sharifah is that she has already managed extensive gynecological diseases and women's health issues from simple to complex and her center of excellence is for treating Endometriosis.
Aside from this, what made us put her in number on is her ability to perform core and specialized procedures in the obstetrics and gynecology field.
She is known for her skills in minimally invasive surgery which is pretty great since you will experience less pain and even little to no scarring.
If you want to book an appointment, you can click here. They are open from Monday to Friday, 8:30 to 17:00, on Saturdays from 8:30 to 14:00, and is closed on Sundays and Public Holidays.
Award-winning gynaecologist
Offers online booking for appointments
Shows detailed information for each service
Does not have discounted or promotional services
Customer Review
One of their patients, Jill Lee, wrote this comment:
"I went to Dr Sha for a 2nd opinion and find that not only she is a friendly doctor, she is patient at answering my questions and gives professional diagnosis and explanations…I'm glad I found her."
2. Dr Rabin's Women's Clinic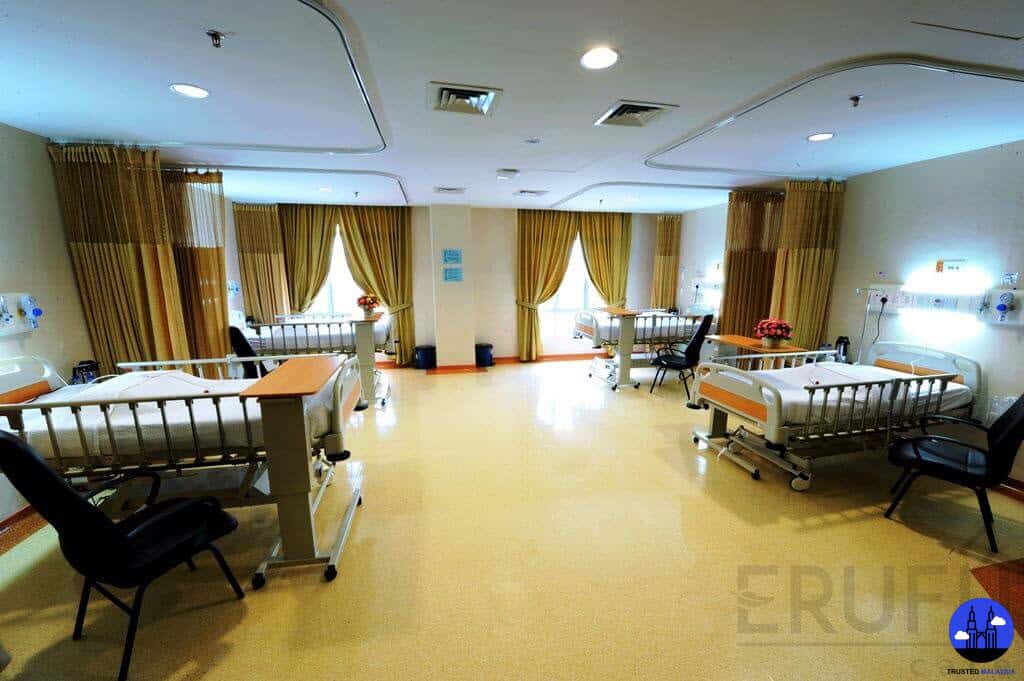 WEBSITE
drrabinwomenclinic.com, Facebook
SERVICES
Pap smear, irregular menstruations, manopause, laparoscopic gynae surgery, infertility treatment, pregnancy, and more
OFFICE HOURS
Sunday – Thursday: 8:30AM – 5:00PM
Friday: 8:30AM – 12:30PM
Saturday: Closed
ADDRESS
Suite 3, Level 5, KPJ Pasir Gudang Specialist Hospital, Jln Persiaran Dahlia 2, Tmn Bukit Dahlia, 81200 Pasir Gudang, Johor, Malaysia
CONTACT INFORMATION
Email:

[email protected]


Contact Number: +607-257 3903, +6019-715 5407
Are you looking for a time-tested and value-for-money gynaecology clinic? Dr Rabin's Women's Clinic is known for their affordable obstetrics and gynaecology services.
They specialize in women's health and offer services such as diagnostic laparoscopy, removal of ovarian cysts, fertilisation, and more. Their facility has everything patients need like a comfortable waiting lounge, a nursery for children, breastfeeding stations, and a nearby cafeteria.
Payment also isn't an issue because they accept cash as well as credit and debit card transactions. With their convenient facility and a long track-record for gynaecology, this clinic should be at the top of your list.
Provides discounted service packages
Wide array of gynae treatments
Does not offer an online quote option
Does not have online booking for appointments
Customer Review
One of Dr. Rabin's patients, Devi Majudev, wrote this comment:
"I have had nothing but WONDERFUL and POSITIVE EXPERIENCES with Dr Rabin and fellow staffs in this clinic. Dr always provided the absolute best care, best advice and treatments for every visit and every issue. If you are looking for a doctor who is knowledgeable, accomodating and concerned, then Dr Rabin is the one you should consider visiting."
3. Dr Badrul Obstetric & Gynaecology / GynaeOncology Clinic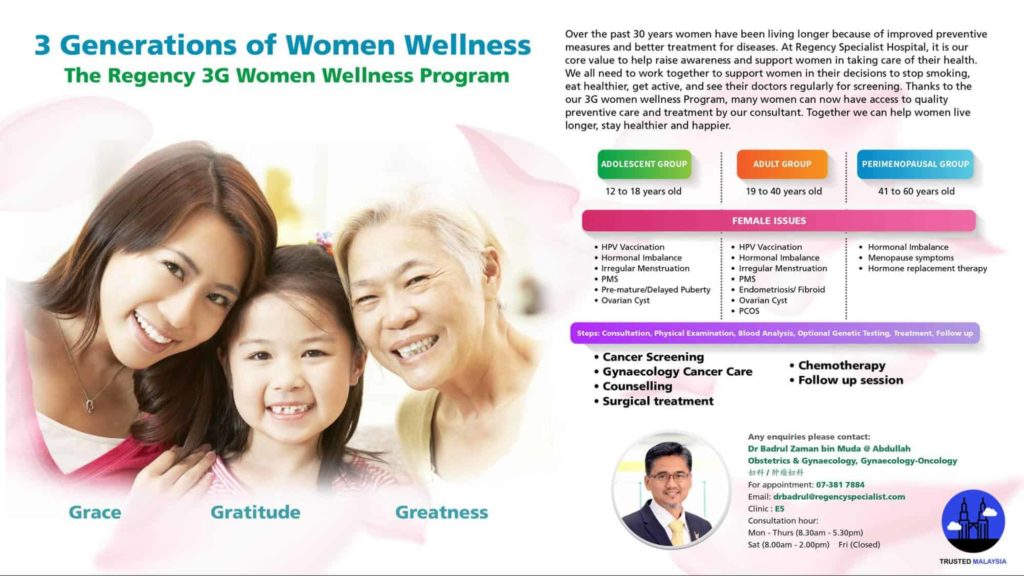 WEBSITE
drbadrulwomenspecialist.com, Facebook
SERVICES
Pregnancy and childbirth, menstruation, fertility, birth control, cancer and tumour treatments, and more
OFFICE HOURS
Sunday – Thursday: 8:30AM – 5:30PM
Saturday: 8:30AM – 2:30PM
Friday: Closed
ADDRESS
Clinic E5, Regency Specialist Hospital, No 1, Jalan Suria, Bandar Seri Alam, 81750 Masai, Johor, Malaysia
CONTACT INFORMATION
Email:

[email protected]


Contact Number: +6011-2880 2472
From regular checkups to genital complications, Dr Badrul Obstetric & Gynaecology / GynaeOncology Clinic covers it all and everything in between. This clinic is renowned for its women-centric treatments for fertility, cancer, tumour, pelvic, and urinary complications.
They have a clean facility, complete with a waiting area, a cafeteria, changing room, and a multifaith area for prayers. Additionally, they have a convenient drop-off and pick up area as well as wifi access for your convenience.
If convenience and quality is your top priority, we highly recommend this clinic. After all, with their extensive expertise and well-equipped facility, Dr Badrul's clinic is an easy pick for anyone in Johor Bahru.
Has multiple cervical and uterine cancer treatments
Offers a long list of major gynaecological surgeries
Wheelchair accessible facility
Does not offer price estimates of their services
Does not have online booking for appointments
Closed on Fridays
Customer Review
One of their customer's, Zaid Jasmin, wrote this comment:
"Dr Badrul offers you fast access to a one-stop clinic for gynaecological health and consultant-led assessment. As part of a one-stop service, your consultation will include discussion of your concerns, consultant assessment and a range of diagnostic tests to assess your overall gynaecological health, or address a particular health concern. Dr Badrul delivers sensitive and individualised care designed to meet the needs of his patients."
4. Women Specialist Clinic at Kempas Medical Centre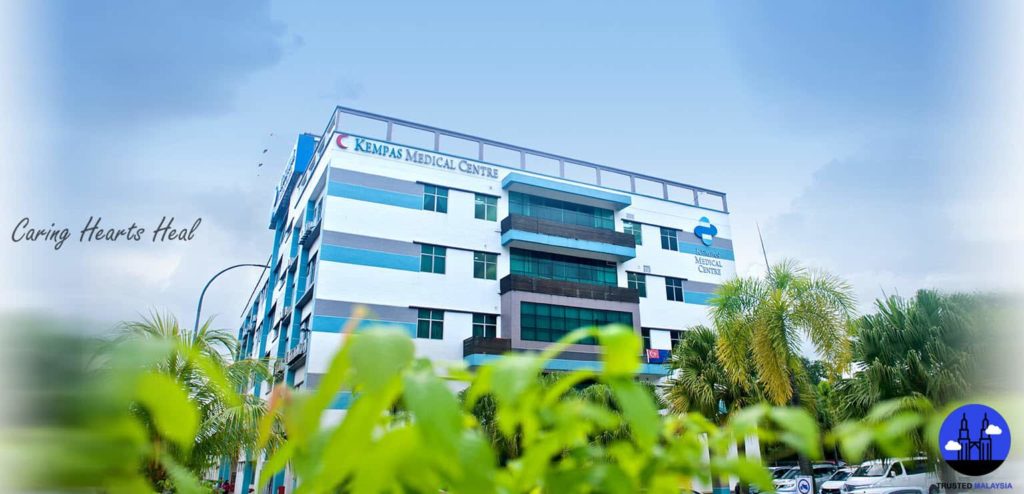 WEBSITE
kempasmedical.com, Facebook
SERVICES
Obstetrics and gynaecology services, minimally invasive surgery, menopausal medication, colposcopy suite, and more
OFFICE HOURS
Sunday – Friday: 8:30AM – 5:30PM
Saturday: Closed
ADDRESS
1st Floor, Lot PTD 7522, Jalan Kempas Baru, 81200 Kempas, Johor, Malaysia
CONTACT INFORMATION
Email:

[email protected]


Contact Number: +6072-368 999, +6072-330 899
Established in 1995, Women Specialist Clinic at Kempas Medical Centre offers proven gynaecological services. They're notable for providing specialized services in the prevention of cervical cancer, laparoscopic hysterectomy, and extensive ovary-related treatments.
Their other services include childbirth packages, gynaecological surgery for pelvic issues, menopausal medicine, and a colposcopy suite. Their facility is fully-equipped with a waiting lounge, breastfeeding station, cafeteria, and other essential amenities.
As a fully-functional hospital, Kempas Medical Centre is a one-stop-shop for all your medical needs. From women's health to general medical treatments, nothing is more convenient than having everything you need in one location.
Has 3 resident gynaecologists
Offers women's wellness promotions
Does not offer estimated prices for their treatments
No online appointment booking
Customer Review
Dina Deint, a former patient, left this review:
"Good and friendly doctors. Easily negotiable. Provide plenty of services. Good packages for women wellness, fertility scan and health screening! Sometimes the pharmacy will have good offers."
5. Kensington Green Specialist Centre

WEBSITE
https://www.kgsc.com.my/
SERVICES
General Medicine
General Surgery
Orthopaedics
Paediatrics
Women Health
Fertility (IVF) Center
Aesthetic
Anaesthesiology
Emergency Department
Fertility and IVF
General Surgeon
Obstetrician & Gynaecologist
Physician
Psychiatrist
Psychologist
Radiologist
Reconstructive Surgery
Urology
OFFICE HOURS
Visiting hours are from 9am to 9pm
ADDRESS
No. 2, Jalan Ceria 20, Taman Nusa Indah,
79100, Iskandar Puteri, Johor, Malaysia.
CONTACT INFORMATION
General Line: +607-2133 899
Emergency contact (24 Hours):+607-2133 999
Email:

[email protected]


Whatsapp: +6016-953 5113
Kensington Green is a multi-disciplinary, private hospital located in Iskandar Puteri, Johor, Malaysia. They are one known as the best private hospital because they are fully equipped with 80 general and acute care beds. Plus, they provide a broad range of clinical specialties and ancillary services that include rehabilitation therapy and imaging services.
Dr. Hoo Sing Nguang, founder and managing director of KGSC, specializes in Obstetrics & Gynaecology (O&G). He is a doctor who is known to provide high standards of personalized and compassionate care to his patients. With his seamless coordination, forward thinking leadership, and collaborative approach people trust them and begin to go back to them when they need help.
In comparison to other hospitals and clinics, they have a multidisciplinary team of specialists. They ensure to always focus on delivering the latest evidence-based medicine to their patients.
Previous clients mentioned that they would definitely go back to KGSC for many reasons. A patient mentioned that they had a wonderful session with Dr. William Hoo who was very informative and gave them pieces of advice. Another patient mentioned that their staff was all friendly and very organized.
Amazing facilities
Polite and attentive staff
Provides detailed explanation of their treatments
Customer Review
Here are some reviews from their previous patients:
"First time dapat treatment kat sini layanan nurse sangat baik dan friendly,nampak kegembiraan mereka di saat mereka bekerja.Doktor sangat professional dalam memberikan pendapat dalam menyelesaikan isu dan masalah berkenaan penyakit saya,duduk di ward best rasa secure dan selesa walaupun double bed,nurse akan sentiasa check pesakit dan memberi layanan terbaik dengan penuh kemesraan,menu makanan bolehla diterima cuma banyak western sikit, tapi cuba lebihkan kepada menu makanan malaysia yang ada unsur diet,kalau boleh bilik mandi letak hot shower supaya boleh mandi dalam keadaan selesa supaya kebersihan pesakit pun terjamin,apa pun saya bagi 5 bintang untuk layanan terbaik dari kakitangan hospital ni"
"Semua baik. Daripada bahagian check suhu,kaunter, bahagian pertanyaan dan bahagian Sales pun baik. semua baik hati dan cepat respone. Soalan yang remeh pun diorang akan jawab. Semua baik dan tidak sombong. Terima kasih utk anda semua.."
6. TMC Fertility and Women's Specialist Centre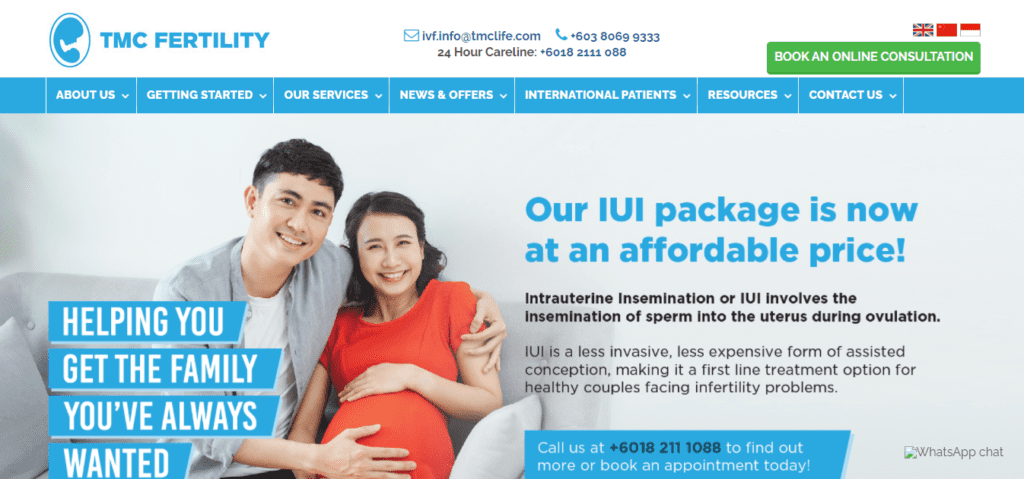 WEBSITE
https://www.tmcfertility.com/
SERVICES
Fertility Treatments
Time-Lapse Imagin
Pre-Implantation Genetic Testing
Fertility Support Counseling
OFFICE HOURS
Monday & Wednesday (8.00am – 9.00pm)
Tuesday & Friday (8.00am – 5.00pm)
Thursday (8.00am – 1.00pm)
Saturday(8.00am – 3.00pm)
ADDRESS
02-03, Medical Suites, Level 4, Menara Landmark, 12, Jalan Ngee Heng, 80000 Johor Bahru, Johor, Malaysia
CONTACT INFORMATION
[email protected]
+607 278 0088
TMC Fertility & Women's Specialist Centre is a full-fledged fertility treatment centre offering a wide range of treatment options for both male and female patients, ranging from simple to complicated cases.
They have advanced medical and technological facilities and skilled fertility specialists. Coupled with superior patient support services, affordable packages, world-class IVF labs and uncompromised use of quality medications, TMC Fertility in Malaysia is poised to become the region's leading fertility treatment centre.
TMC Fertility has over 25 years' experience and has produced the highest number of IVF babies in Malaysia. They also have the largest network of fertility centres in Malaysia, with branches located in Puchong, Kepong, Kota Damansara, Ipoh, Penang, and Johor Bahru.
Furthermore, they are also always open to patients who have questions regarding their latest procedure. They do not charge them anything for this and happily attend to any of their concerns.
Detailed explanation of treatments
Have been awarded numerous accolades over the years
First center in Malaysia to be certified by the Reproductive Technology Accreditation Committee,
Customer Review
Here are some reviews from their previous patients:
"Very polite nurses, patient services and registration staffs! Professional services!! Best fertility centre!"
"TMC is the right place with professional, friendly doctor, nurse, staff. Wonderful."
"Friendly, warm and knowledgeable professionals with lots of patience and calm."
FAQs About the Best Gynae in Johor Bahru
---
As a woman, you want the best gynae in Johor Bahru who can listen and treat all of your concerns. With the help of this article, we hope you find a gynae who you can personally trust with your health.
If you found this article helpful, we'd love to hear your thoughts. You can send us a message about anything you want to say regarding this topic.
Finding the leading gynae in Johor Bahru is one thing, finding other qualified medical professionals is another. If you want to maintain your radiant skin complexion, you should check out the best aesthetic clinic in Johor Bahru.